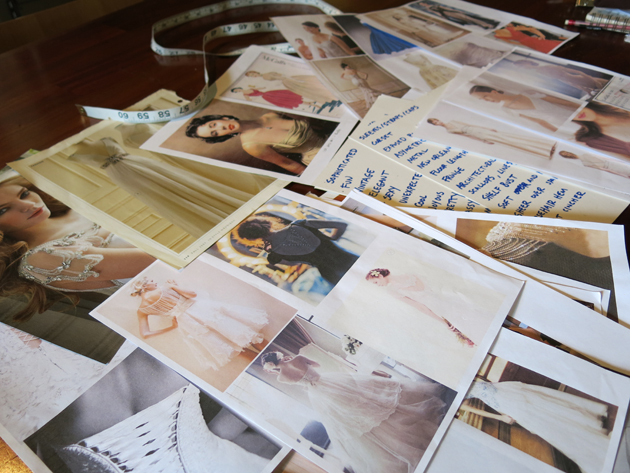 I visited my best friend Loula in New Orleans late last year to start delving into creating her custom wedding dress.  We had each been using Pinterest to share favorite images, and now it was time to sort through them a bit, take some measurements, and (a first for both of us) go to bridal boutiques to try on some dresses!
On Pinterest, we went wild.  Since we know each other so well and were having so much fun talking about dresses and weddings, we pinned a lot of images.  Maybe it was a sleeve, or a fabric, or a neckline…  Maybe it was just a feel of what she might want her wedding dress to look like…  We set up a group board and each pinned hundreds of images.  Feel free to browse our initial inspirations here!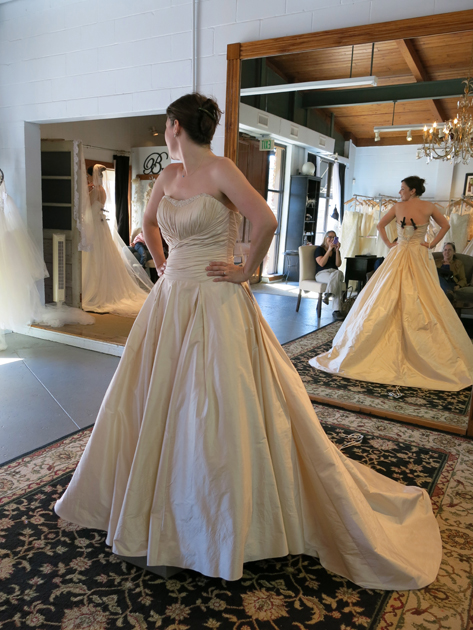 An experience that some brides (and mothers and sisters and girlfriends of brides) really enjoy is going to a bridal boutique and trying on lots of different wedding dress samples.  I often recommend that my brides do this before coming to me.
One reason is that trying on lots of pre-made dresses can help a bride decide what styles and colors she looks good in, which is sometimes a surprise.  Another reason is, that if the perfect dress is out there to purchase and the bride has an excellent experience in the salon, she may decide not go through with commissioning a one-of-a-kind wedding dress.   I want the brides who come to me to be perfectly suited for custom couture experience, and often going to a bridal boutique is a way to find out!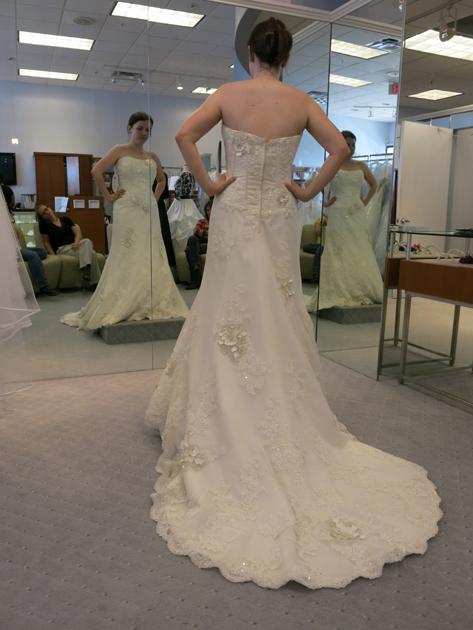 Loula's moms and her sister came with us and we visited 3 boutiques in Baton Rouge.  We had an incredibly fun time spending the day together and playing dress-up with Loula!  By the end of the day we were able to pinpoint styles and colors that looked good on her, but we never found a dress that was even close to "the one".  Loula wanted something truly one-of-a-kind that had elements of Deco and New Orleans, while being sophisticated, fun, sexy, and elegant.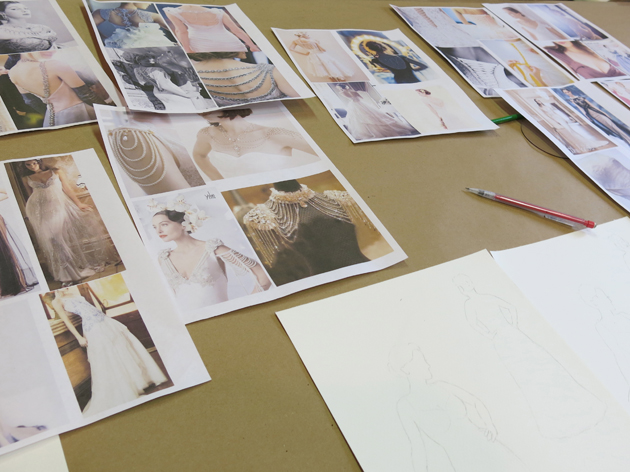 When I got home to North Carolina and back to my studio,  I started to sort though all of our ideas and inspirations to come up with a sketch.  This was going to be a tough one!  And perhaps my most magnificent creation yet!
Never miss a post! Sign up for my email newsletter.