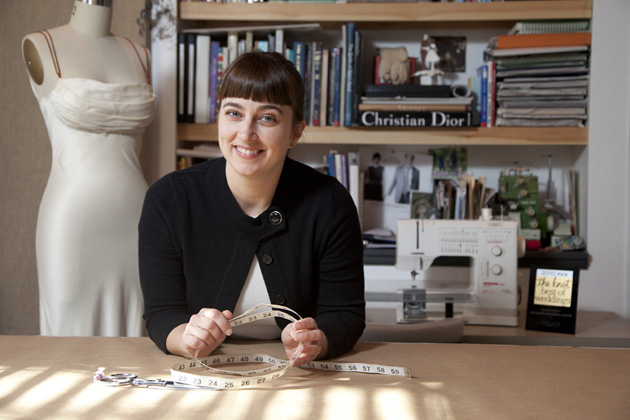 Lots!  I just thought I'd check in to let you know that I'm as busy as ever, just with a myriad of different projects.
New bride consultations!  New graphic designs!  New photography!  A Steampunk bouquet!
I have taken a little time off of making dresses to work with the amazing graphic designer Linda Misiura of Ruby Red Design Studio.  She has created an awesome new logo for me (to be revealed later), is working on my new business cards and most importantly a brand spankin' new website!
I'm so excited about all of the changes!  I hope to be sharing them all with you in the next couple of months.  I've hesitated to update the current website and blog in anticipation of the new one, but there's just been so much excitement lately that I can't wait to share!
You may be asking "Why a new website?  We like the old one!"  I do too, but wait until you see what Linda has come up with!  The current website was created 100% by me and was my very first attempt at graphic design.  I created the website with the web program that came with my computer.  The program was really designed to be used as a personal website:  updates from travels, sharing photos with relatives, personal blogs, etc.  For example, in order to create this blog post today I had to use their stock blog template, replace their stock photo of a person on a surfboard and replace their text "A long day of longboarding" with my own text.  There are serious limitations to what I can do with this program, and I have pretty much maxed out what it can do for a business.
The main reason for the move is that my current web program does not appear to be 100% Google compatible or 100% Facebook compatible.  Google can't search my text and Facebook can't recognize my photos or text in a post.  In these days and times, that is almost like my website does not exist.  So I'm on to bigger and better things!  Prepare to be impressed!
In anticipation of all of these changes, I've been keeping my marketing and sewing to a minimum,  but I did accept a small job that was so much fun!  I just finished creating a custom Steampunk bouquet for a fun bride who is getting married next month.  What is a Steampunk bouquet?  Well, it's so awesome that it deserves a blog post of its own.  So, until next time…