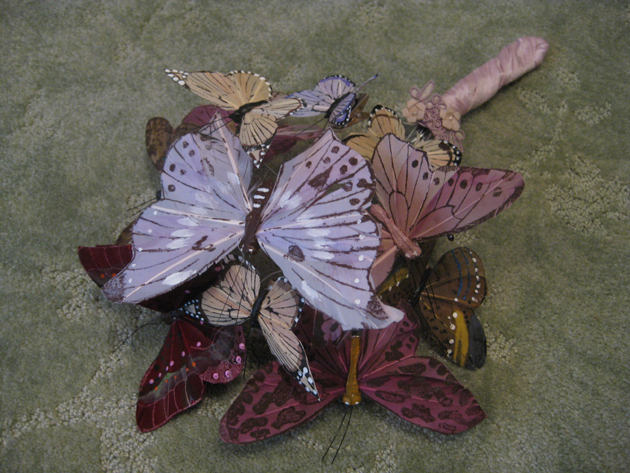 I'm not just a dressmaker.  When people ask me "what do you do?"  Sometimes I list my professions, but most of the time I just say "I make things".  Pretty much, if you can think of it, I can make it.
One of the 'add-ons' that I offer my brides is creating custom accessories.  Jill is having a bridal portrait session prior to her wedding and wanted to have a bouquet to hold in her photos.  Her actual wedding bouquet won't be prepared by the florist until her wedding day, and rather than purchase another perishable floral bouquet, she wanted one to be handmade so that she could keep it as a keepsake.

A few months ago, Martha Stewart published a picture of a butterfly bouquet that has become pretty popular.  (You can see this bouquet if you scroll down to almost the end of Jill's Design Consultation page)  Jill asked me to create something similar for her Bridal Portrait Bouquet.  She was hoping to also use some of the butterflies in her Wedding Day Floral Bouquet, hovering over her real flowers.  Of course, I welcomed the request!
I found these beautiful butterflies made from feathers and chose all the colors that I thought would look good with her wedding palette of purples.  I fastened each butterfly to a clip and then used a fairly thick floral wire to create the 'stems'.  Each butterfly simply clips onto the strategically placed and strategically bent wires.  This way she can remove whichever butterflies she chooses after the bridal portrait to add to her floral bouquet, and can easily return them once the wedding is over for a keepsake.
I also chose to only do half of a bouquet with a distinct front and back.  Since it's primary purpose was for still photographs, it saved Jill half the price of materials and will be much easier to set down, and to keep for a keepsake.  It can be hung to a wall or laid flat on a shelf.
I delivered the bouquet to Jill when I visited for our fitting and she absolutely loved it.  The word she used to describe it was "perfect!"  Just what I like to hear!