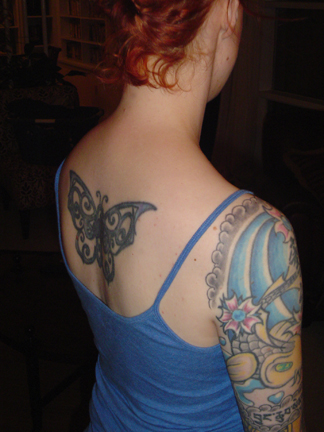 Jill's dress is a strapless dress.  Jill also has many beautiful tattoos.  Some of Jill's family members (that she really loves and respects) do not currently know about her tattoos.  Her wedding day is not the day she wants to spring this information on them.  Instead, she's got a cousin in North Carolina (me!) who is going to make the perfect custom shrug to cover the tattoos and compliment the dress!  I am very excited about this project.
Since Jill lives so far away, we are going to have to bend my process quite a bit.  I will not have the chance to meet with Jill but one time before her wedding.  This would be impossible if it were a full wedding dress.  But I feel like since this is just a shrug, I should be able to come up with creative solutions to get by with only one fitting.  Even I am not sure exactly what is going to happen, so stay tuned to the blog to find out!
I normally only do Design Consultations in face-to-face meetings.  We'd sit and talk and bounce around ideas while looking at photos, swatches and sketches and really get to know each other.  Fortunately, I've known Jill since she was born.  I know who she is and I have a very good sense of her style.  In return, she totally trusts me to fully handle this important task.  In fact, she says she wouldn't have it any other way.
So, creatively, Jill and I did our Design Consultation via a series of emails, a custom website and phone calls.  She filled out my questionnaire and also scanned and emailed me lots of examples of things she loved. Inspired, I then did a lot of research on my own.  Using these inspirations, I worked up a custom website 'design consultation' for her to look over.  Then, while both logged into her site, we discussed everything over the phone.  This really started to help us narrow down her choices and really start thinking specifics.  It is going to be just gorgeous!
You can view my first ever Design Consultation via the web by clicking here.