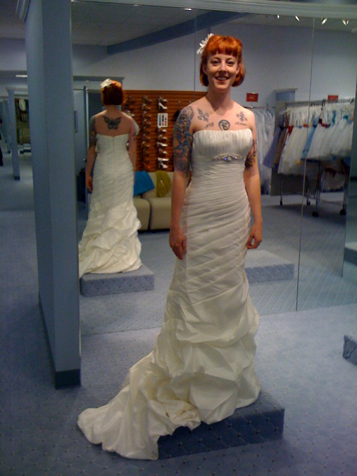 Let me tell you a little bit more about Jill's wedding to help set the scene for the design we are trying to capture.  Jill and Chris will marry at the American Rose Center in Shreveport, Louisiana.  It will be an afternoon wedding outdoors in their butterfly garden early this spring.  Jill has always loved butterflies and is using them throughout her theme.  She also really loves purple and is going to feature lots of different soft shades.  Jill's wedding will have an elegant, whimsical and vintage feel.

Jill will be wearing the dress you see above and her great-grandmother's birdcage veil.  She loves looks from different eras.  She loves the 1940's, Audrey Hepburn, Art Deco…  She also mentioned that she'd love her jacket to look 'antique'.  So as you can see, we've got some wonderful inspirations for this jacket design!
Butterflies, gardens, purples, spring…  Soft, Elegant, Whimsical, Vintage, Antique…
With these inspirations, and the information I gathered from our design consult and her questionnaire, I feel fully equipped to start swatching and sketching!