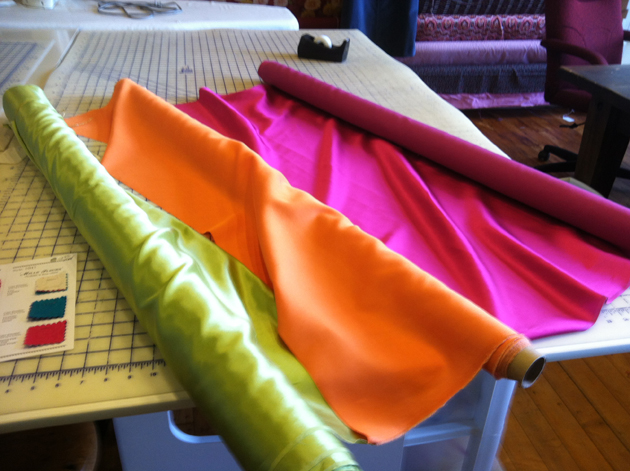 Between the first and second mockup fittings, during the few days that Lila Rose was still in town, I did pattern corrections, made the second mockup, and we went fabric shopping!
Since fabric shopping is the flashiest, I'll start this post with fun our trip to Mulberry Silks and Fine Fabrics in Carrboro.  The fabrics in the photograph above sparked our interest!  As you may remember, from the sketch our color palette is neon pink, orange, and green!  These fabrics screamed "Lila Rose"!
We purchased some of the lime colored fabric pictured above for the lining of the train, collar and sleeve heads. 
The other two fabrics were almost right, but not quite.  We wanted there to be contrast in sheen, but these were the opposite of what we needed.  We wanted the orange to be shiny and the pink to be matte.  The pink was also just a tad too dark for her.  We went searching in the special order books to find the perfect match.
We ordered an orange version of the green fabric (both cotton/silk blends) for our accent color and lining fabrics.  It had just the right amount of shiny!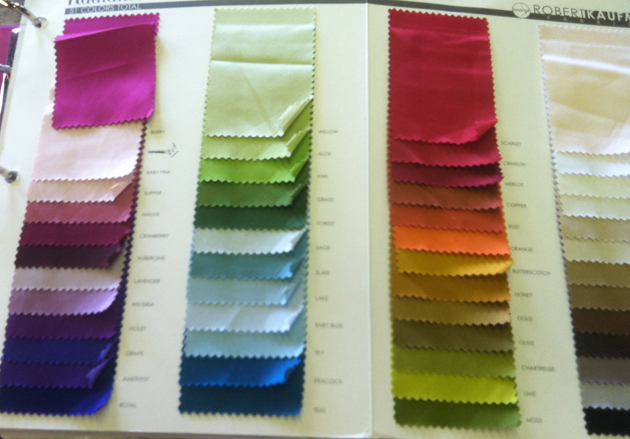 Then for our main matte pink fabric we chose a cotton sateen in Pagoda Pink.  This pink had an amazing pop!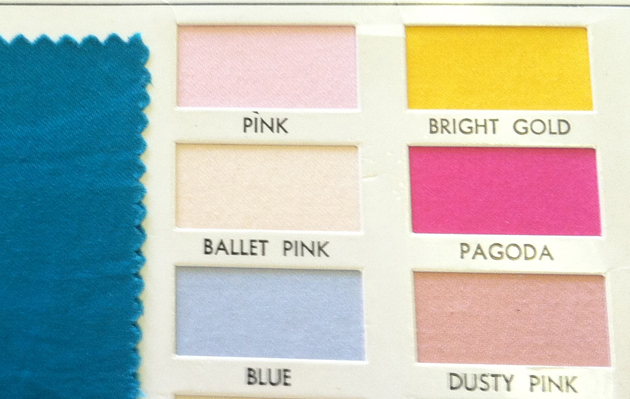 We had a really fun trip!
Then it was back to her friends for Lila Rose and back to the workroom for me!  I still had to get the mockup ready for our fitting the following evening.
After Lila Rose's first fitting, I took all of the information from our marks and pins and translated them back to the paper.  I also took this opportunity to eliminate any extra seams.  Folding, cutting, taping, and redrawing, I came up with new and improved paper patterns.  Once I was happy with all my corrections, I used the patterns to cut and construct a new mockup out of muslin to try on in our second fitting.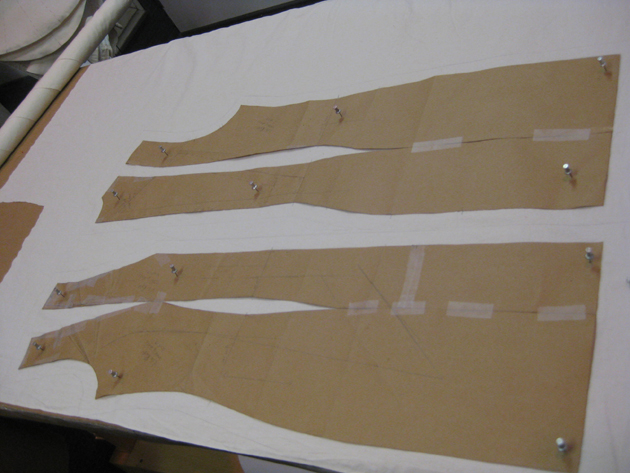 I only needed to remake the "dress" part of the dress.  There were no corrections to the bustle or the train!  Often I can get by with just "altering" the mockup for the second fitting, but since I had eliminated so many seams and needed to redo the neckline opening, it was best that I just cut and sew a whole new dress.  (My hopes were also that I would be able to use this new and improved mockup as my underlining in the actual dress.  More on that later…)
This time around we would also be fitting the decorative panels to go on the front and back of the dress.  In our first fitting, I simply drew them onto the dress where they looked best on Lila Rose.  This time I would be cutting, interfacing and basting them to this new second mockup.
My work was fast and furious, but I did manage to snap one photo during the process of making the second mockup dress.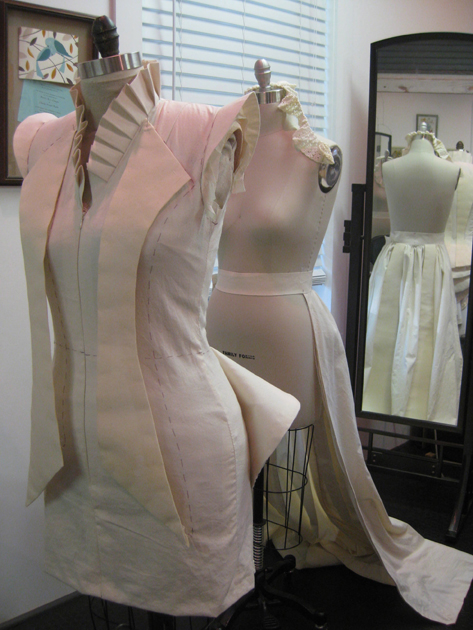 And here's the preview of what Lila Rose would try on for her second fitting!  All basted together and ready to go!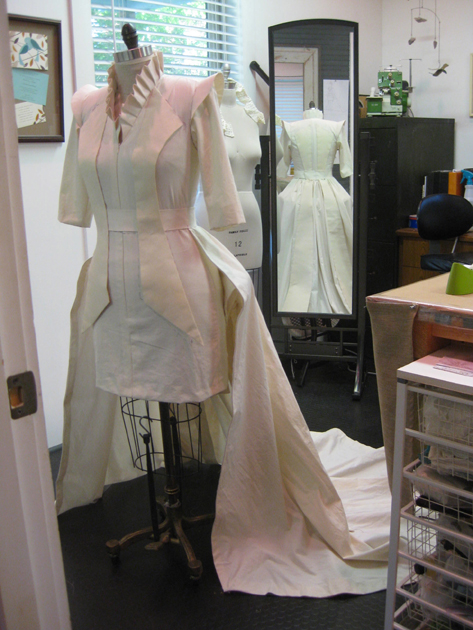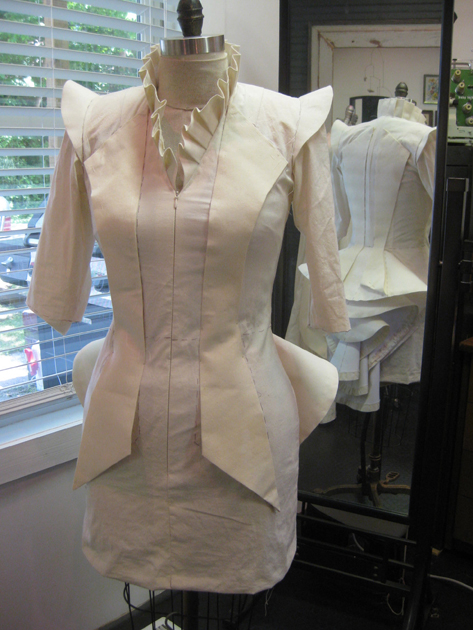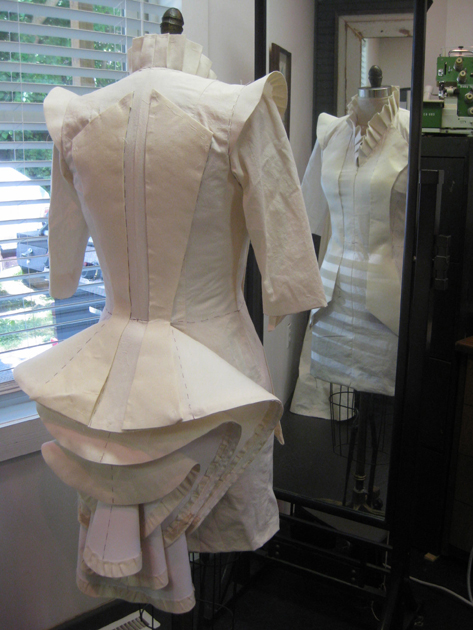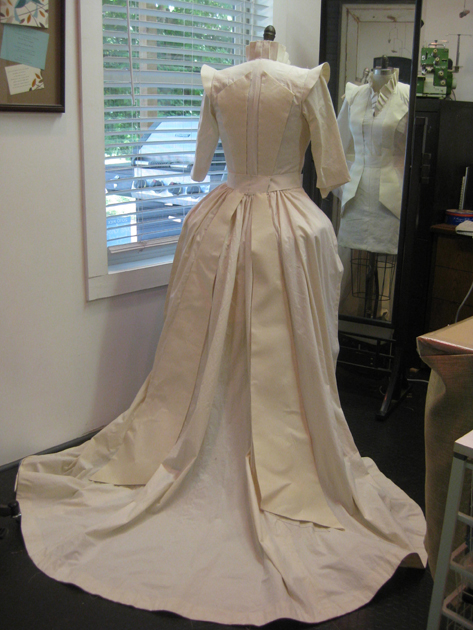 Now we are starting to get somewhere!
I was confident that during this second fitting I would gain all the information that I needed for the final pattern adjustments before cutting the real fabrics.  Which should be arriving via special order shortly!
Next post:  Fit Week Continues with Lila Rose in the dress pictured above for her Second (and final) Mockup Fitting!
Never miss a post! Sign up for my email newsletter.