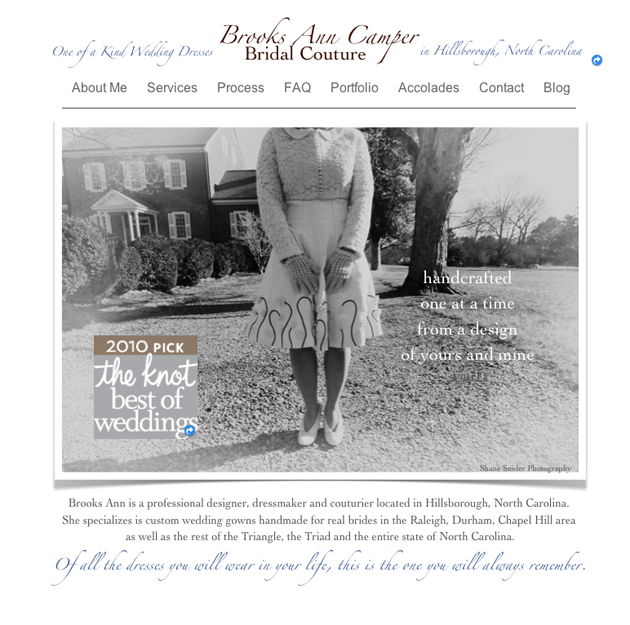 I'm back!
For the past few months, I have been traveling, taking classes and -most noticeably- working on updating my old website to this fancy new one.  It has been a fun as well as tedious project where I learned a lot.  I thought I'd share a little about how my website went from the one pictured above, to the one that you are currently viewing.
If you really want to do some comparison, the old website is still live, just no longer using my URL.  You can view it by clicking here.
The old website, I made 100% myself.  Content.  Design.  Publishing.  It was created via iWeb on my mac, which is an incredibly easy program to use.  Really, anyone can make a website using iWeb.  I used the iWeb website from 2008 until last week.  Why the change?  Some of the reasons I talked about in a previous blog post, but mainly iWeb is not really designed for business websites.  Obviously you can still use it for business, but it is designed and geared toward being a simple program for individuals to make personal websites (of their travels, or of their newborn, or of a special event…) and share it with their friends and family.
It worked great for me and I am glad that I had the initial experience of making that website, but as a business I felt that I had outgrown it.  It didn't have a lot of search engine optimization, wasn't completely compatible with analytics, had a lot of limitations in design options, and other boring things that I have learned about during my adventures in graphic design.
I was ready for a fresh new start and to start hanging with the other serious businesses on the web.
I wasn't sure exactly where to start.  I had considered making my website all by myself again, but decided I also might want some help and design advice.  It's always good to have an expert on your side, if you are trying to make a good impression!
A friend recommended a young graphic designer based in Carrboro named Linda Misiura.  She recently started her own graphic design business called Ruby Red Design Studio.  She and I clicked right away and I decided to hire her to create my new logo, business cards and website.
My new website is on WordPress, which I am in control of and is editable over the internet.  I wouldn't say it is difficult to use, but it definitely requires more skill and action than my easy-peasy ol' mac program.  But in my opinion, the benefits far outweigh the blood, sweat, and tears put into the new site.  Linda and I both worked diligently for a few months, working out every little detail and making sure that the new site created an amazing and informative experience for the viewer.
It was amazing working with a designer and I highly recommend it.  In some ways, my business and Linda's businesses are very similar.  A designer collaboratively working with a client to create something very personal, that essentially expresses to a larger audience who they are.  I do this with brides; Linda does this with businesses.
This time I got to be on the other side of the design process and I think the experience will really help me when I'm working with my future brides.  I know a little more about what it is like to be in their shoes.
There is anxiety of not knowing exactly what's next, and not being able to be in total control, while trusting that the designer is the expert.  I actually had a ball editing things, and Linda was always full of encouragement helping me strike a balance between what I was asking for and what would work best for my project.
And I also learned the thrill of FINALLY after months of work seeing the amazing finished project that we designed together.  I now know what an amazing relief it is when my bride's finally get to see their dress.  In the real fabric.  On their body.  Thrilling!
So in case you can't tell, I am thrilled about my new and improved website and about my experience working with Ruby Red Design Studio.  If you are looking for someone to make your marketing materials, she's amazing.  She also makes beautiful stationary and is an all around lovely person.   I hope we keep in touch and stay friends.  Just as I do with my brides!
It's so fun to get to know a person through design, and I am so happy that I have been able to experience it from both sides now!