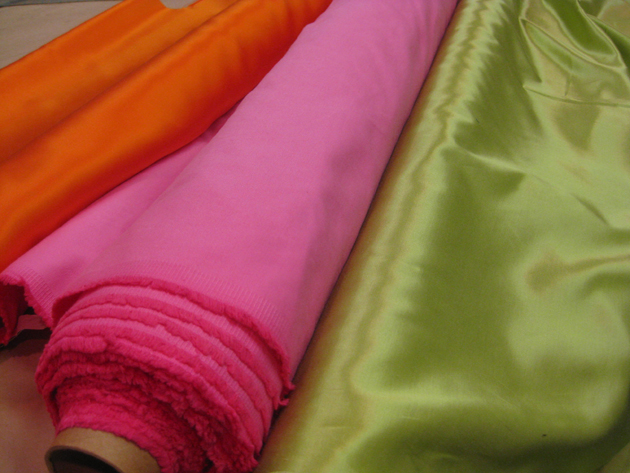 The fabrics arrived!  They were perfect for Lila Rose's colorful wedding dress.  In case you forgot what the color sketches for this very unique dress look like, you can see them here.
The orange and the lime fabrics are a cotton/silk blend blend with a beautiful shine.  The catalog said this 55% Cotton/45% Silk fabric "has the sheen and look of silk with the added benefits of cotton. A superior blend together, this fabric is truly gorgeous."  I agree.
The bright hot pink is a cotton sateen that has a gorgeous matte quality and the sateen weave gives it a look of luxury.  It's the most amazing shade of hot pink!  It truly has the 1980s neon vibe that Lila Rose loves.
I was anxious to get to work marking and cutting these gorgeous fabrics, but first I needed to test them for shrinkage.  This will definitely be a dry-clean only garment, but I always want to make sure that any shrinking takes place before the pattern is cut.  Sometimes a fabric will shrink when it is steamed, or even after it is taken to the dry cleaners.  I find it essential to know what I am dealing with from the start, so I know how to proceed with my dressmaking.
I cut and measured 8 x 12 rectangle swatches of each of the fabrics.  My cutting table is covered in paper, so I also drew an 8 x 12 rectangle onto my table.
Then, I machine washed and dried the swatches in with our laundry with hot water.  This is a much harsher treatment than this dress would ever undergo, but it would give me an idea of what each fabric could handle.  Would it fade?  Would it shrink in one direction?  Both?  By how much?  How wrinkled does it get?  Would it remain exactly the same regardless of this harsh treatment?
Once the laundry was done, I pressed the swatches and compared them to the rectangle that I had drawn onto my table.  Though a bit wrinkled, the orange and green cotton/silk blends held up with no shrinkage or fading.  Yay!  I would just steam the fabrics onto the rolls before marking my patterns.  Since this garment would be dry-cleaned, I felt like no additional pre-treatments were needed.
The pink fabric, on the other hand, shrunk.  A lot.  And I had 10+ yards of it.
I took the hot pink yardage and my shrunken swatch to the dry cleaners and asked them how I should handle pre-treating this particular fabric.  John at Perfect Image Cleaners in Chapel Hill is a pro at this kind of thing.  He recommended pre-drycleaning.  He said when I finish the dress I should put a label in it that says "Dry Clean Only – No Joke".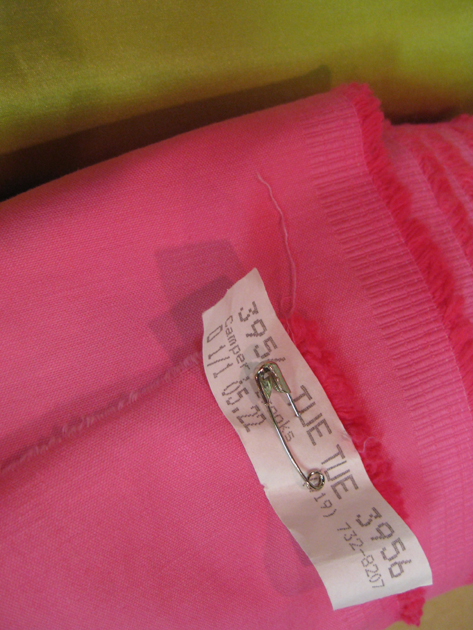 They did a great job!  When I got the fabric back to my studio, I steamed and rolled the pre-treated yardage.
FINALLY, my fabrics were prepped and I was ready to start cutting Lila Rose's actual wedding dress.
Next post:  Using my mockup as underlining!
Never miss a post! Sign up for my email newsletter.