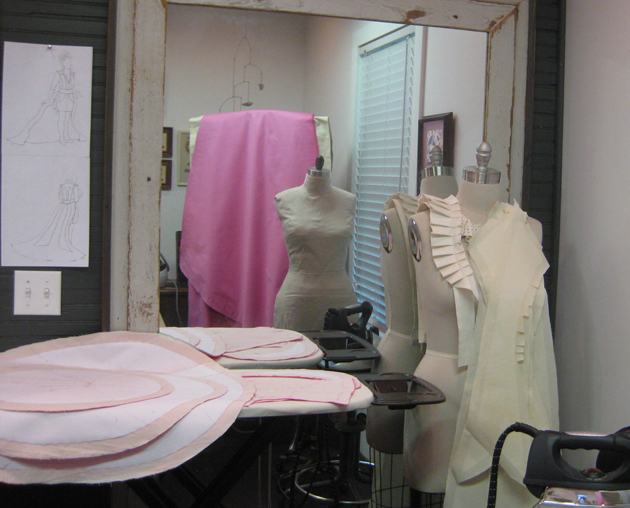 Underlining!  If there is one step that takes a garment from homemade to couture, it is underlining.  If you sew and don't know about underlining, once you try it you'll see that it makes all the difference in the world in your quality.
Underlining is often also known as flat lining, interlining, or innerlining.  Not to be confused with interfacing (which provides stability to specific parts of the garment), underlining is a layer of fabric that is attached to the entire back side of each piece of the fashion fabric.  It is hidden inside the garment, between the fashion fabric and the lining.
The advantages to underlining a garment are numerous.  So much so that I have been stuck trying to write this blog post.  It seems more like something I should teach a class on!
Here are a few of the highlights of adding an underlining to your garment:
1) It gives extra body or stability to the garment.  Underlining can make a flimsy fabric substantial.  By the fabric you choose as your underlining, you can change the hand of the garment to be exactly what you desire.  You can even have different underlinings for different parts of the garment.  Maybe you want a sturdier bodice, but a lighter sleeve.  In that case, maybe you'd use muslin or flannel as your bodice's underlining, and silk organza in your sleeve.
2) It is the base for all of your internal stitches.  For example, hem stitches need only to go through the underlining layer, leaving your fashion fabric free from any pricks at all!  This creates a flawless finish.
3) It provides a hidden and sturdy base for closures, stabilizers, and fashion details.  You can hide boning channels, interfacings, stays, horsehair trims…
4) All of your markings are on the underlining, so you don't ever have to worry about your marks bleeding through to the right side of your garment.
And those are just a few of the advantages!
So why don't people who sew use this technique all the time?  Well, it does take an extra layer of fabric (so extra expense) and it is time consuming because it must be done by hand.  But when you consider all of the advantages, it often saves you time in the long run!  And it can be fun!
(Update:  For a newer and more in depth series of posts and a how-to video on underlining, start here!)
For Lila Rose's dress I was able to use our mockup dress as the underlining!  Muslin seemed like a perfect match for our cotton sateen, and it was already marked and cut, saving time and money.
After our fitting, I marked my pattern corrections onto the mockup dress.  I then took it completely apart ironing each piece flat.  I rolled out my fashion fabric and laid out the muslin pieces carefully onto the backside, making sure all grainlines were matched.
Then, I pinned the fabrics together and cut them out!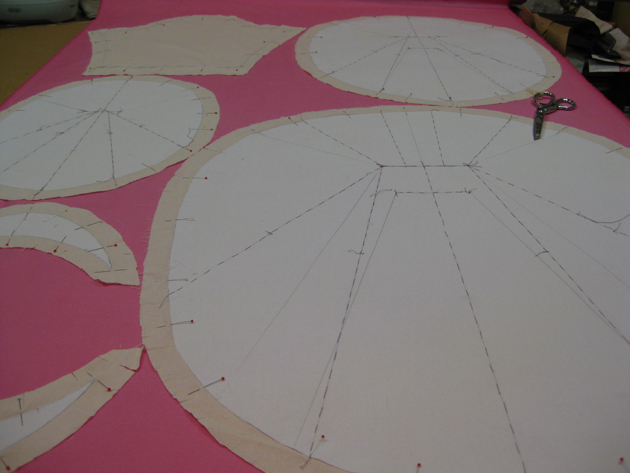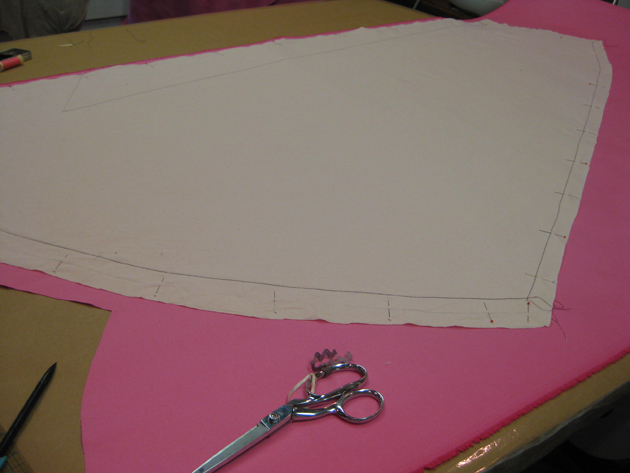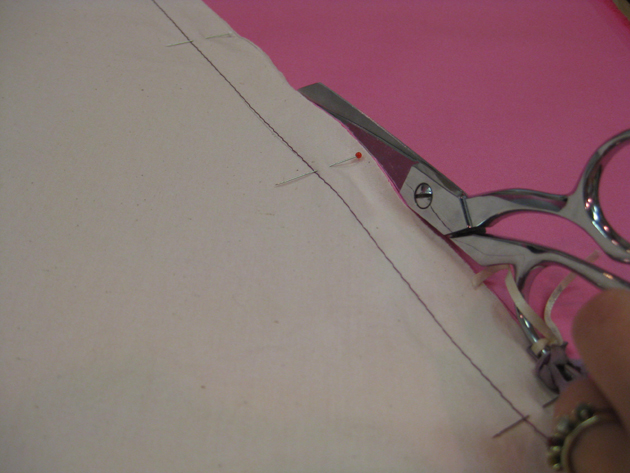 I did this with every piece of the dress whether it was the bustle, or the train, or the sleeves, or the accent fabrics…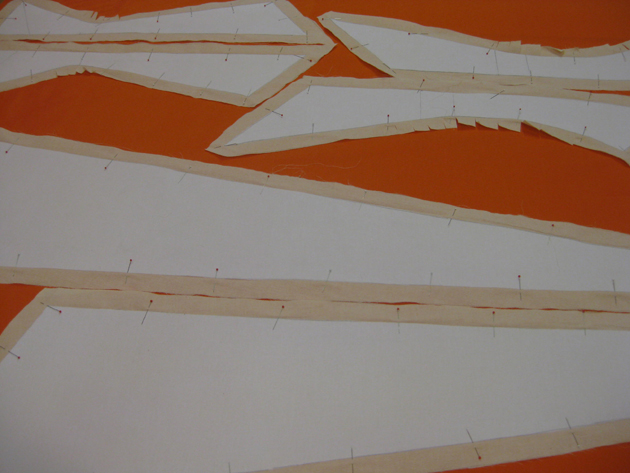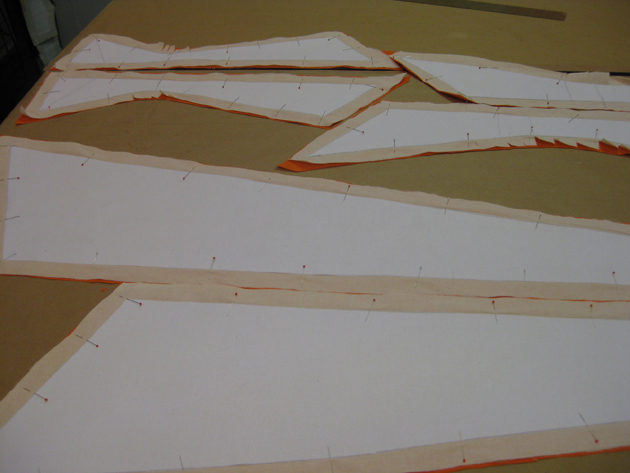 The next step is to baste by hand the two fabrics together.  I baste just outside the stitch line.  That allows me to leave the basting stitches hidden inside the garment and there's never any reason to take them out.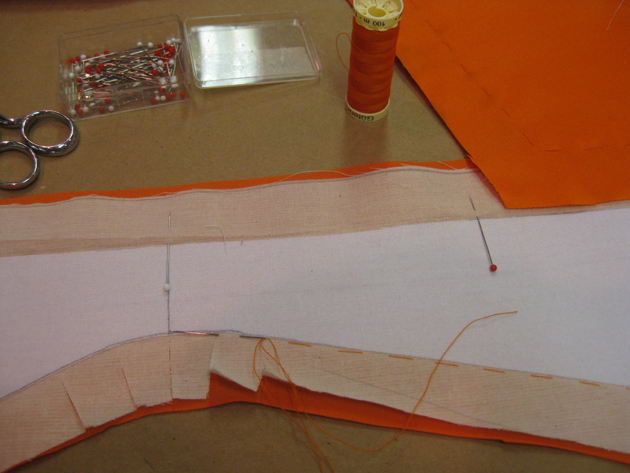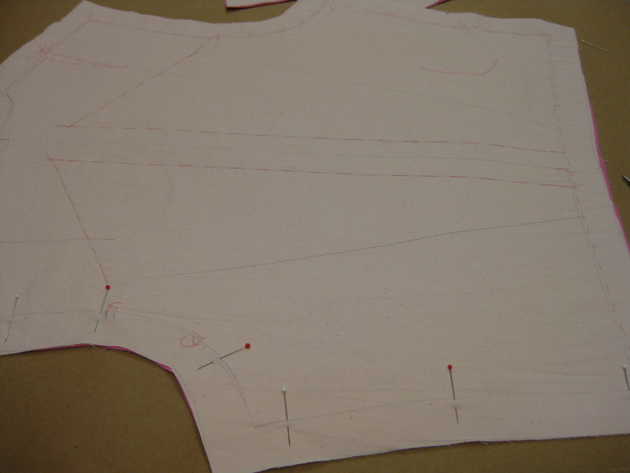 I also threadmark important lines that I will want to see from the outside during construction.  The photo above is of the back of Lila Rose's bodice.  I will be attaching the orange panels from the outside, so it was important that I know exactly where the top and inside of the panels will go.  These threads will be removed after the panels are beautifully attached.
Once I got all my pieces underlined, I was able to hang them and make sure that the two pieces were joined absolutely perfectly.  You almost always have to adjust a little, as fabrics shift in the process.
From now on, the two fabrics are treated as if they are one.  You'll see more of how underlining is crucial to a couture garment as Lila Rose's unique dress progresses!
For a newer and more in-depth series of posts and a video on underlining, start here!
Like this post?  Join my mailing list!
Want to take an online class with me?  Check out Skirt Skills!