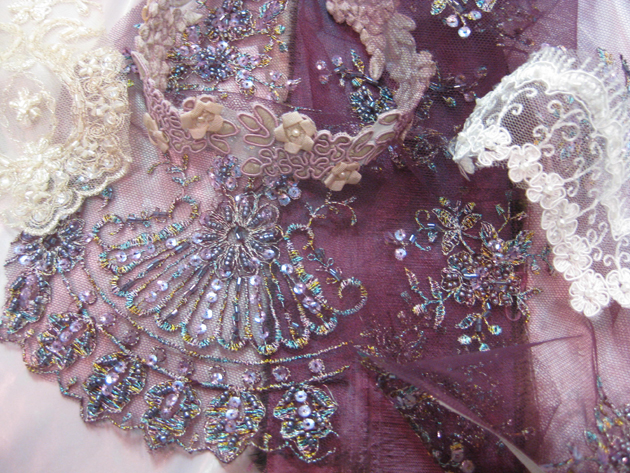 Jill and I decided that it would be perfect if I used shades of purple in the jacket, rather than the traditional all-white bride (not to mention that it will look incredible with her red hair!).   She also really loves lace, beaded overlays, and beautiful textured silks.  Mixing these elements together could create something really whimsical, elegant and unexpected.
My first stop of fabric shopping, as always, was Mulberry Silks in Carrboro.  This store is just incredible and I don't know what I would do without them. 
I got a few samples  of a few fabrics there (swatches), but for what Jill was looking for, I thought it would be worth the drive to Mary Jo's in Gastonia.  I was not disappointed!  It is a 2.5 hour drive each way, but I did find some great options that I think she will really love.
I was so excited about all the fabric and trim options that I found at both stores, that I couldn't keep it to myself.   I emailed Jill immediately to tell her about my incredible finds, even though I knew I wanted to keep the swatches for at least a week to play around and design with.   I wish she lived nearby so that we could play around with them together!
I'll now spend some time thinking and sketching from my amazing inspirations.  Next week or so, I'll snail mail Jill the fabric samples and sketches and see what she thinks!