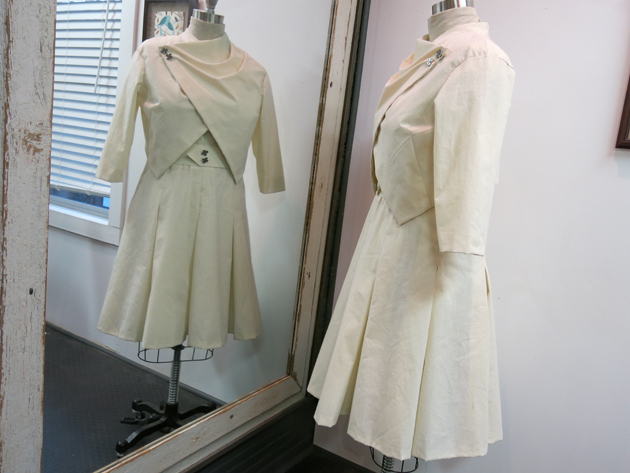 As you may recall from my previous post, Margaret's custom mother-of-the-bride dress was ready for our first mockup fitting!  A mockup is a "test dress" made out of inexpensive materials, usually muslin.  This test dress allows us to adjust the fit and style of the dress on the body by cutting, pinning, and marking all over it and then transferring that information back to the pattern.
Mockup fittings are rarely pretty.  The first time a custom pattern is tested on a real body, it will almost definitely fit a little oddly.  That is why we have fittings!  It takes a little patience and imagination, but multiple fittings are imperative to the custom process.  Fit and proportion are so important to good design, and these things vary wildly from person to person.  The mockup makes it possible for the end product to be flawless.
When Margaret came over to my studio for our first fitting, we tried on and adjusted the dress first, and then made adjustments to the jacket second.  As you can see in the photo below, the dress was a little frumpy and didn't fit very well.
But with some cutting, pinning, marking and fitting, it was starts to look much better!
Once the dress was adjusted, we tried the jacket on.  It also had some problems at first.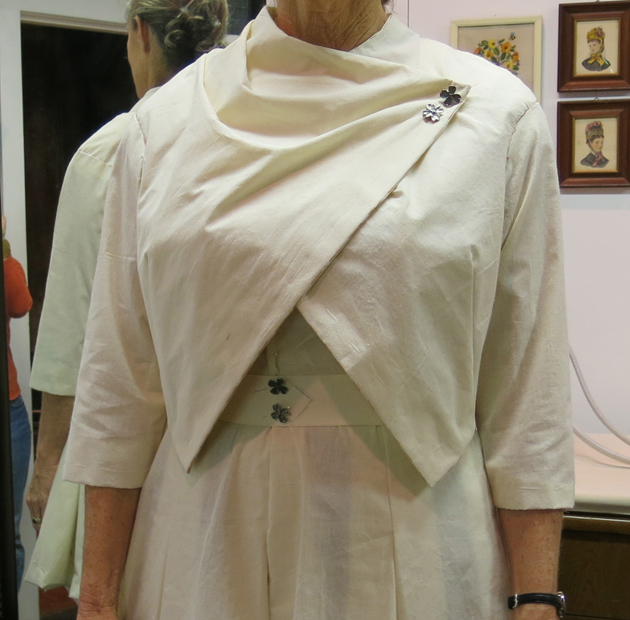 I did some major adjustments to the pattern for fit and proportion.  We also decided to lower the neckline, significantly lengthen the jacket,  and to use a different type of fabric in the drape.  It's a little confusing to tell what is going on with all my markings and pins, but I assured that there was method to my madness and that the second mockup would look gorgeous.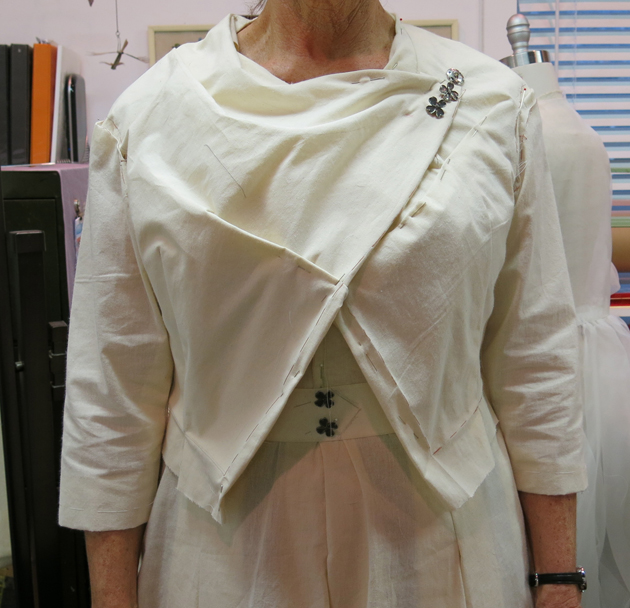 Margaret was a great model working through all my adjustments during our first fitting!
After the fitting, I was ready to start making our second mockups!  Most of the dress itself was able to be taken apart and put back together using the pattern corrections, but the jacket had to be entirely remade and a new pattern drafted.
Here you can see the new drape taking shape using crepe de chine this time, rather than muslin.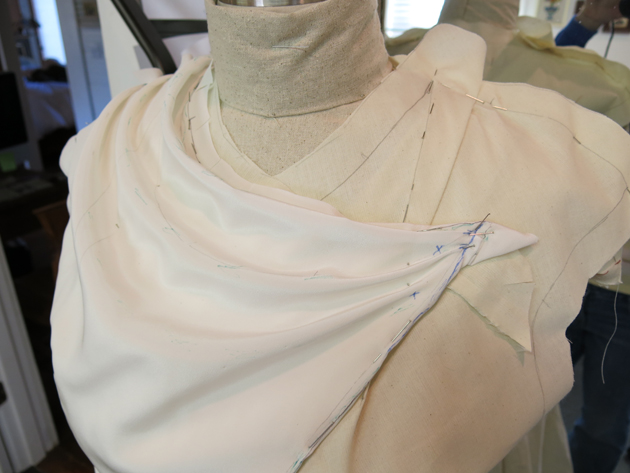 Finally a new dress was ready for our second mockup fitting, featuring a new slightly wider belt, a shorter hemline with horsehair stiffening, and all of our fitting notes.  Margaret was still unsure whether she liked the dress with sleeves or sleeveless, so here it is shown with one of each.
Finally the new and improved jacket was also ready to try on, featuring a new fabric, a new neckline, and a new hemline!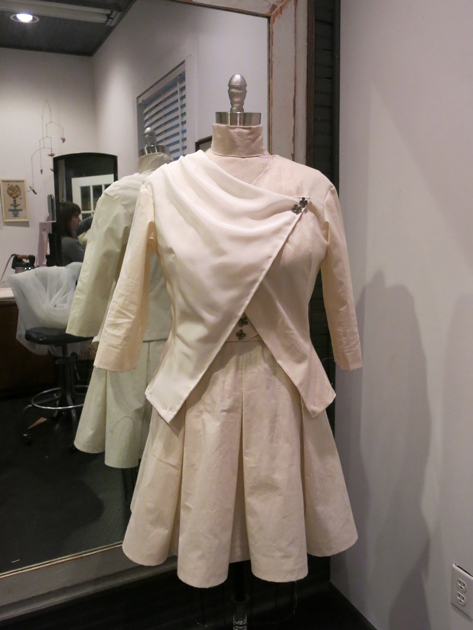 I was so excited to try these new and improved versions on Margaret!
The first fitting really helped us refine the style and fit!  The second fitting we'd get to try out the improvements and get one step closer to a gorgeous custom dress.