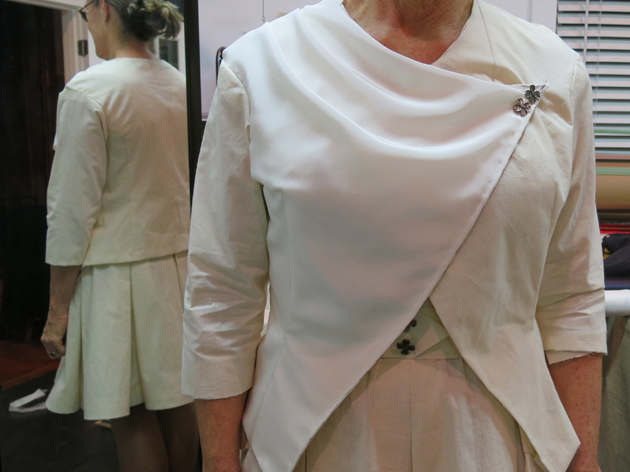 As you may remember from my previous post, Margaret's mother-of-the-bride ensemble was in the mockup stage of the custom process.  We had our first mockup fitting, I remade the mockups, and we were now ready for our second mockup fitting!
Margaret came back to my studio and we tried on the corrected versions of her "test" garments. Doesn't the jacket look gorgeous!?
Margaret and I both loved how the new jacket design turned out and there were very few changes.  This mockup now was ready to get handcrafted into a gorgeous custom mother-of-the-bride jacket in a beautiful dark hammered silk!
The dress was a little less successful.  We both loved the changes to the skirt, but Margaret admitted that she still did not think that the bodice looked good on her.  I really believed that the style was flattering, but I wanted Margaret to be confident and to have a dress that she truly loved and felt beautiful in.
I'm not one to design on the spot.  I really put a lot of thought into all of my designs, but to get a better idea of what Margaret liked, we played with the neckline a bit during the fitting.  Since Margaret and I are both busty, I remembered a dress that I made for myself that had a really flattering neckline.  You can read the 2 blog posts about the making of this dress here.  Maybe Margaret would feel better in a neckline like this?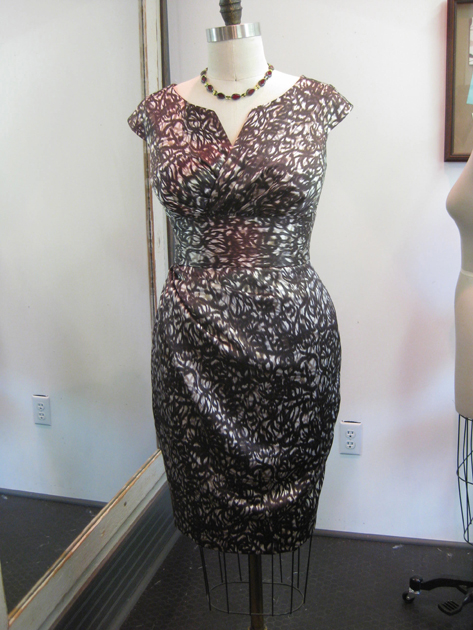 I quickly cut out a piece of muslin to pin onto the neckline of the dress Margaret was wearing to try to replicate the neckline of the inspiration dress.   Margaret didn't seem to like it much, until she then flipped the piece of muslin outward and turned it into a "sailor collar".  She seemed to like it!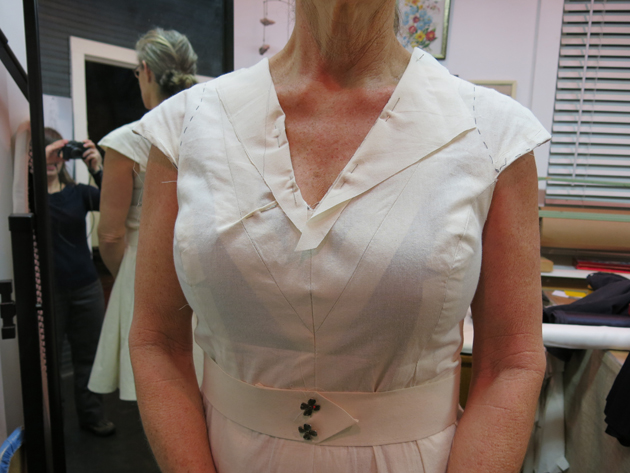 I was happy that Margaret had found something that she thought looked flattering on her, but to be honest, I wasn't sold on this collar idea.    It didn't seem to work for me with the jacket, which we both loved, and I had a fear that it might end up looking overworked.
If Margaret was jumping for joy loving it, I would have made it for her in a heartbeat.  It seemed like we both thought this new design was pretty good, but neither of us were thrilled.  I would not be defeated!  I will make something that Margaret would be thrilled with and will feel like a million bucks in!
I agreed that we should try again using this new collar idea, but I also wanted to really put some thought into coming up with something fresh.  We agreed to have a third mockup fitting.
To prepare for this third mockup fitting, I worked up some options on the Margaret-sized dressform and photographed them.  I posted them on her website with explanations and inspirations for her to preview.
So first, I mocked up the "sailor collar" version.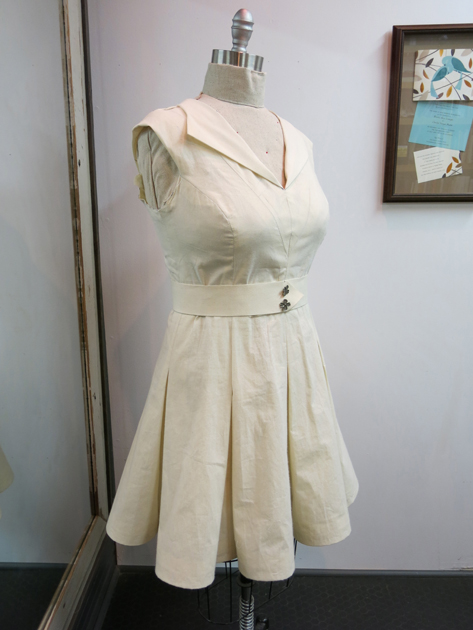 Then I came up with two new ideas.
Since the jacket was asymmetrical, I remembered an asymmetrical neckline that we had talked briefly about in an earlier consultation.  It was based on this inspiration image: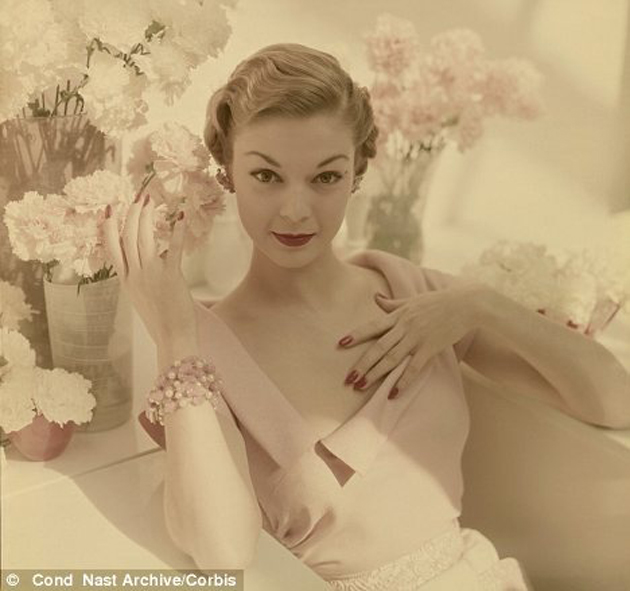 So, I came up with something like this for Margaret: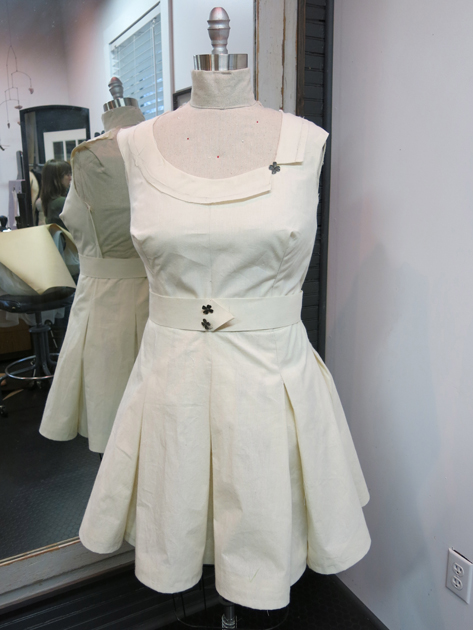 I thought that maybe the princess seams on the previous mockup were distracting to her, so I opted for simple under-the-bust darts and a clean open neckline.
And then I was inspired by the gorgeous Dita Von Teese in this amazing Roland Mouret dress.  I thought it was edgy enough to be worn with the cool jacket and was flattering on a full bust.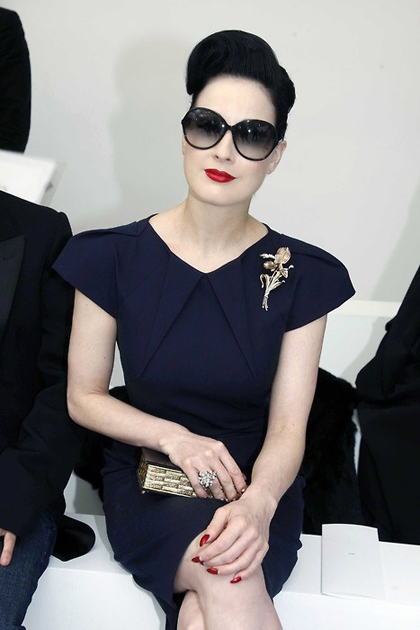 I mocked up something similar that I thought would look great on Margaret: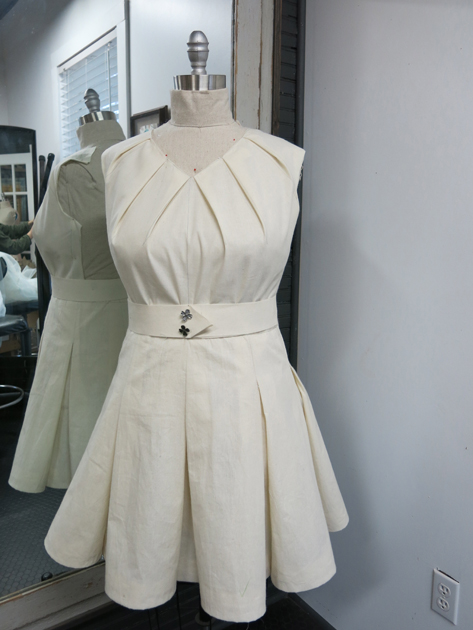 In this version, I kept it completely clean under the bust, kept the center front seam, and featured cool pleats pointing to her beautiful face.
I sent her the link to the website with the photographs, explanations, and inspirations and couldn't wait to hear her thoughts!  Whichever option she liked best, I would make into a third mockup for our upcoming fitting.
So dear readers, with this jacket…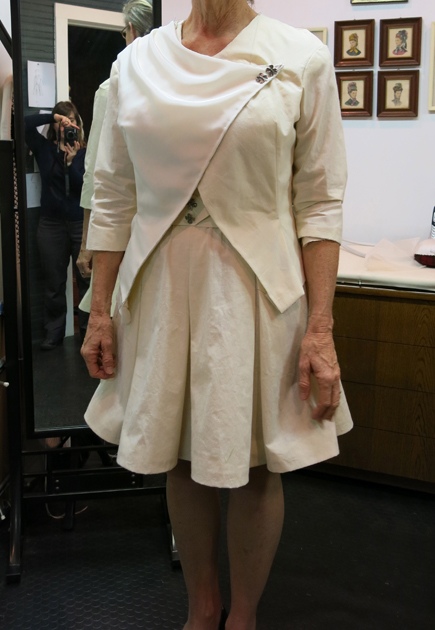 … which mockup do you like best for Margaret?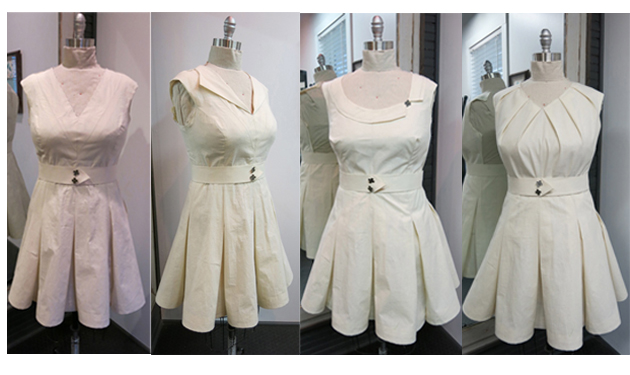 Is it the Original V-neck design from the sketch?    The Sailor Collar from the second mockup fitting?    The New Rounded Asymmetrical Collar idea?   Or the New Pleated Neckline idea?  Do you have a favorite?  What changes would you have made?
Next post, I'll share what we decided in Margaret's third mockup fitting!