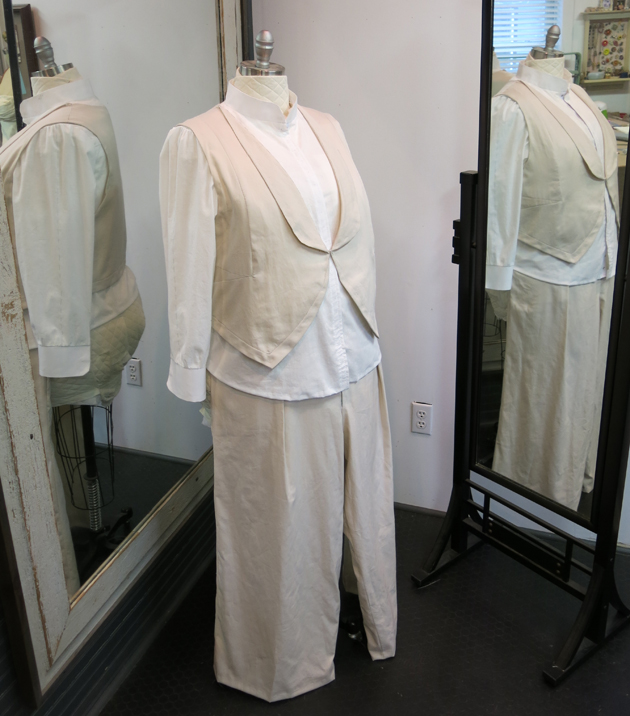 Those of you who guessed that Diane would choose the neutral palette for her custom bridal pants ensemble were correct!
The pic above is of one of our mockups.  Mockups are sample garments made of similar, yet inexpensive, fabric so that we can make all of our pattern adjustments before beginning the real garments.  In Diane's case, the mockup process would be more essential than ever since she was undergoing weight loss surgery and would prove to be "the incredible shrinking bride" during the time we worked together!
Diane loved the sketches!  She could not believe how "spot-on" they were and she couldn't wait to go forward with the process. She came over to my former home sewing room and we took an extensive set of measurements.  I am usually a dressmaker who makes very fitted dresses for brides, but in this case, Diane wanted more loosely fitting garments including pants and a button down shirt.  I asked her to bring her favorite pair of pants and her favorite button down shirt with her to our measurement session.  I would use these "inspiration garments" as starting points for our patterns.
There are 3 main ways to make a custom pattern:  Flat Patterning using measurements on paper, Draping using a custom-sized dress form, and Recreating using an existing garment.  For Diane, I decided that I'd Recreate and then improve upon her favorite garments.  I "took a pattern off" of each one and then used the pattern pieces as starting points to create new and improved patterns that worked with our custom design.  (Side note: I'll be teaching Flat Patterning in my upcoming Skirt Skills e-course, as well as Draping and Recreating in future courses.  Get on my mailing list to stay informed!)
In the first pic below, you can see Diane in the inspiration garments the day we took our measurements. Then I used them as a basis for what I drew in the sketch in order to create "test garments" for her to try on.  As you can see, I changed the original garment quite a bit, and Diane's body changed quite a bit as well!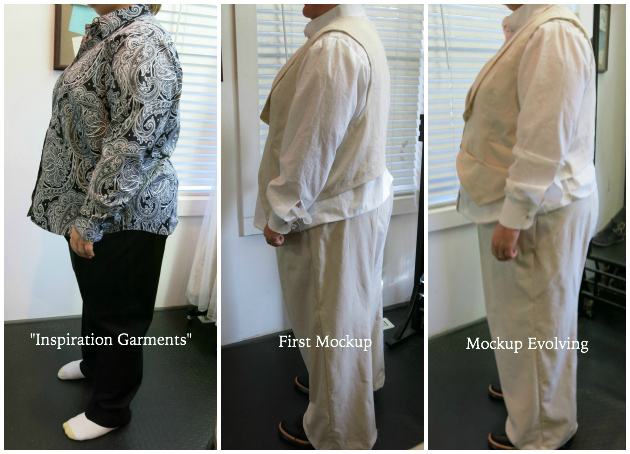 As expected, the mockup needed more adjusting.  After some more corrections (and more time for her to get closer to her wedding day weight), she came back for more mockup fittings!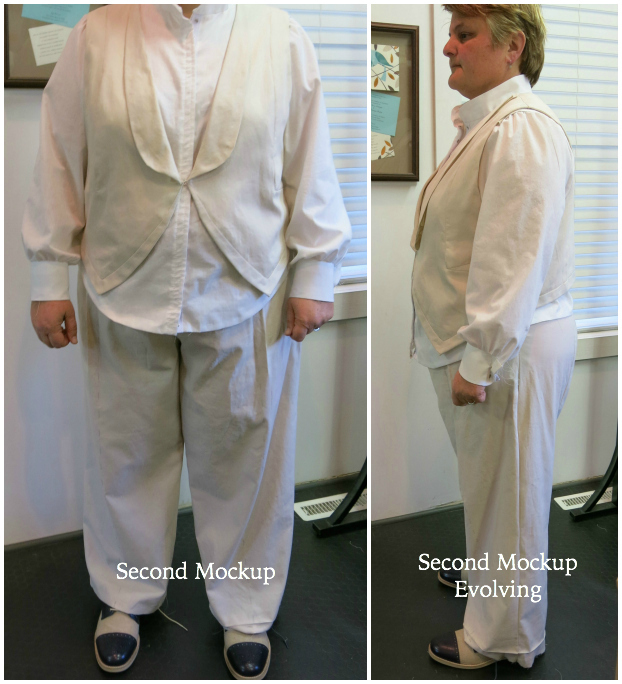 It was really fascinating to see what happens to a pattern as a body changes so much!  In the few months that we worked together, Diane would lose about 30 pounds between each fitting.   We were always catching up, correcting, and adjusting to fit and flatter her, while having a great time in the process.  She was liking her new "skinny" self, so the idea of "flowy" pants, got slimmed down to show off her new look.
By the time I was ready to start cutting the patterns in the real fabric, they had been cut and taped and manipulated so much that they barely resembled the original inspiration garment.  Check out the comparisons!
Some changes were for fit and other for design aesthetics.  The pants (which were hard to fit into a blog-worthy photograph) had a 6″ change in the size of the waistband!
Diane and I picked out some seriously gorgeous fabrics for her ensemble!  I love Mulberry Silks & Fine Fabrics in Carrboro and they had the perfect neutrals to compliment her design.  We opted not to use the "blush" or the "gold" fabric in the design proposal and went for something very similar in color to what she had been trying on in her plain cotton mockups.
We chose an absolutely stunning Carolina Herrerra silk faille for the pants and vest and the most gorgeous silk/linen matelassé for her blouse.  Seriously drool-worthy.  I knew Diane had great taste when she picked my absolute favorite options in the store!
I couldn't wait to get these fabrics home to start steaming and underlining!
More on that: next post!