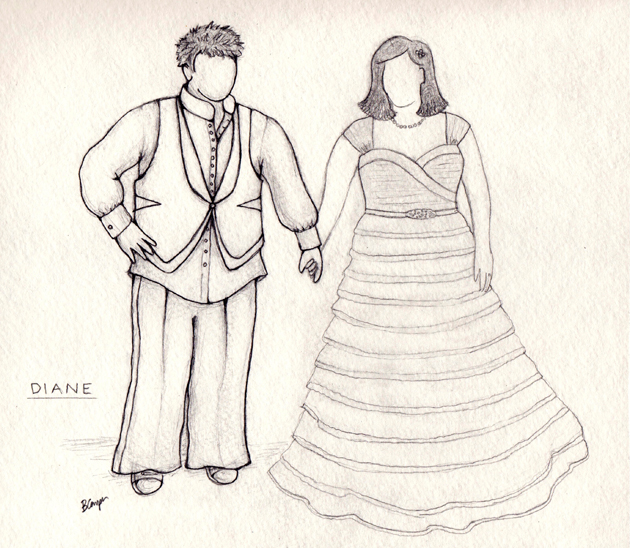 Diane and her fiancé met me at my home studio for our Design Consultation just before the New Year.  We talked a lot about what she was looking for in a wedding ensemble and her preferences in colors and fabrics.  It would be an evening Spring wedding and the ceremony would be outdoors at Fearrington Village with the reception in their beautiful barn.  The colors for the wedding were to be navy and coral.  Diane's fiancé had already purchased a dress and brought me a pic for inspiration.
Given the circumstances of Diane's upcoming weight loss surgery, we had limitations to what we could accomplish before the wedding.  I knew we would be constantly adjusting the design for fit, so a very fitted garment (such as a jacket) wasn't an option.  Luckily, Diane was looking for something a little more "flowy".  We would end up using Ellen DeGeneres's wedding outfit as a main inspiration, as Diane really liked the idea of a loose blouse and vest over a pair of pants.
We had so much fun together during our Design Consultation looking through images, getting to know each other, laughing, and learning each other's style.  After we hashed out some design details, we took a trip to Mulberry Silks to look at their beautiful fabric options.  By the end of this meeting, it was clear to me that this couple was top notch and this outfit was going to be stunning.
After thinking over all of our ideas and options for a few days, I sat down to sketch.   As I mentioned in last week's post, Diane is a little more shy than her partner and a little less comfortable with having all of the focus on her.  So I decided that, since I had the pic of her bride in her dress, I'd add them both into the sketch (above), holding hands.  It just seemed to add a bit of comfort and ease, as well as show whether the custom outfit would look good with the already purchased dress.
I always draw my sketches by using a photo of the actual bride as a way to virtually "try on" the clothes.  (I'll be teaching this technique as part of my upcoming e-course Skirt Skills.) Even though Diane would be changing sizes, I started with the outline of her body and drew the clothes "on her".
I gathered our favorite images for the design and presented it all on her own little wedding website.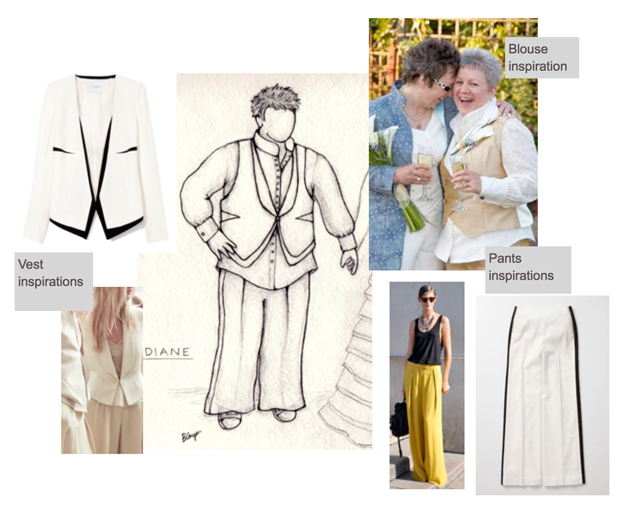 We looked at a lot of different fabric options and Diane loves shoes (what girl doesn't?), so I worked up a couple of different ways we could take our main design and change it up.  I was still trying to get a feel for how she wanted to look and what styles she was most interested in.
Here are three options that I offered…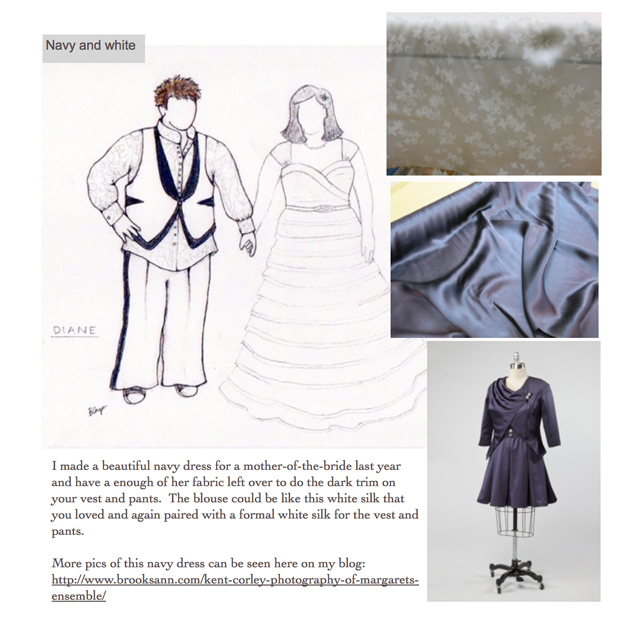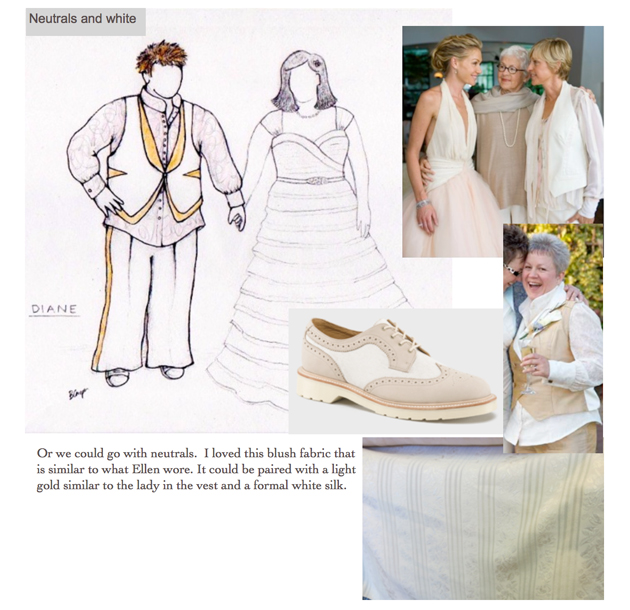 Do you have a personal favorite?  Which one do you think Diane liked best?