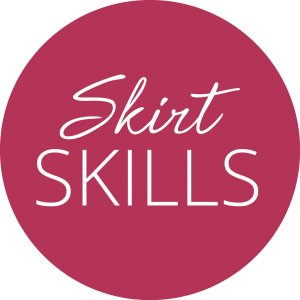 Ever wonder why clothing never quite fits you? Not sure what 'size' you are? Want to take control of your wardrobe and have fun doing so?
As many of you may know, I'm venturing into teaching an online course that is very special to me. After pouring in a lot of research and a lot of heart and soul, I believe that Skirt Skills will be a spectacular class chocked full of valuable information for the sew-curious.  The course is for motivated beginners as well as more advanced makers looking for a new approach.
Registration is now open and the class starts on September 22.  Each time I get a sign up, I feel so excited for me and for the student.
Want to know more about the class?  Here's a sneak peek of just a little of what is happening over at SkirtSkills.com.
[separator]
Skirt Skills is a 5-week intro e-course where you learn the process of creating custom clothing.
Learn the basic foundations and skills of pattern drafting, fitting, and sewing unique designs made to fit unique bodies. You'll draft, design, create, and complete a perfectly fitting skirt (or two!) with the personal help and guidance of instructor Brooks Ann Camper and an online community of interesting people.
Do any of these statements sound like you?
You've always wondered how to make clothing of your own design.
 You are tired of trying 'industry standard' sizing on your non-industry standard body.
 You would like to be more conscious about where your clothing comes from.
You've struggled with sewing, drafting, or using commercial patterns and are looking for a fresh start.
 You need time, feedback, and motivation in order to finish a project.
 You like sewing, but you want your clothing to look professional rather than "homemade".
 You are new to sewing and don't want to waste time making clothes that don't fit or aren't your style.
 You love being creative and would like to know more about the art of custom garment creation.
 You love skirts and want to create a closet full of them!
Skirt Skills is a great fit for you!
Together we will create and complete:

A personally sized skirt block that can be used as a template to create future patterns
At least one hand drafted skirt pattern of a customized design, and options to create many more
A finished skirt in your custom size from your own pattern
A notebook of samples and design inspirations to reference in future projects
A foundation for pattern drafting, fitting, design, and construction of custom garments.
As a Skirt Skills Member, you'll receive:

5 weeks of lessons, including audio/video, text, photos, and hands-on exercises.
Access to a private course website to view and download all of the lessons and materials.
Membership in a private Facebook Group where you can connect and share with Brooks Ann (that's me!) and your fellow Skirt Skills participants.
Skype or In-Studio Office Hours where you can schedule to consult with me privately or opt to share recordings with your classmates.
Two Skype Group calls:  First as a meet-and-greet and a second at the end of the course to show off your skirts!
One-on-one email support throughout the course for all students, including those who may be less inclined to share in a group.
One private follow-up Skype call or In-Studio session that can be scheduled up to 6 months after the course ends.
Upcoming Course Sessions
The next session of Skirt Skills starts September 22, 2014.
Earlybird Registration opens August 8 and runs until August 29.
Single Earlybird Registration is $175.
Sign up for two spots for an Earlybird price of only $300.
After August 29, regular registration rates will be $225 for one, and $400 if you sign up with a friend.
Space is limited! Snag your spot today!
[separator]
And that's just a tease!  Head over to www.SkirtSkills.com to see the Course Breakdown, learn more About me and my approach to this class, read the FAQs and the Supply List, and find the pink "I'm Ready To Register" buttons!
Interested, but not quite ready to register? Sign up for the Skirt Skills mailing list to stay informed about this and future sessions.
And please help me spread the word about:


Next post: Back to our regularly scheduled program following the creation of Diane's custom wedding ensemble.