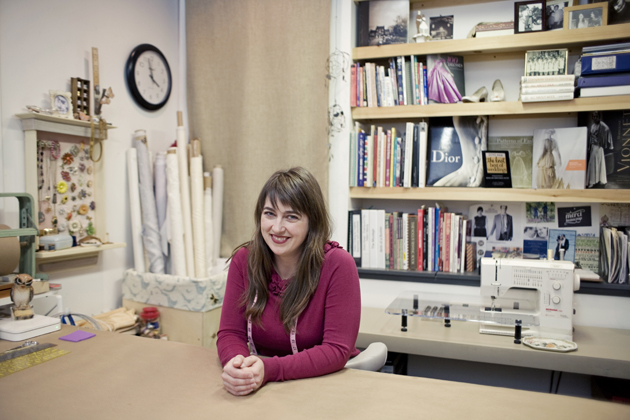 I admit, I am one of the lucky ones. No matter how small my living space, a huge portion of it has often been dedicated to creative space.
My first dedicated 'home sewing room' was in a garage in Astoria, Queens circa 2002. My one-bedroom apartment was approximately 430sf  and had its perks. Not only was it the ground floor apartment of a 3-story walk-up (with friends in the two apartments above), it had a small backyard, a parking space, AND A GARAGE. I drove my grandmother's 1986 Celebrity Station Wagon, but I parked it in the parking space used the garage as my Sewing Room. My now-husband Charles built the table that I still use today to go into this garage space.
In actuality, this garage was impossible to be in most of the year as NYC seems to fluctuate between miserably hot and miserably cold. But it was mine and I loved it, nonetheless.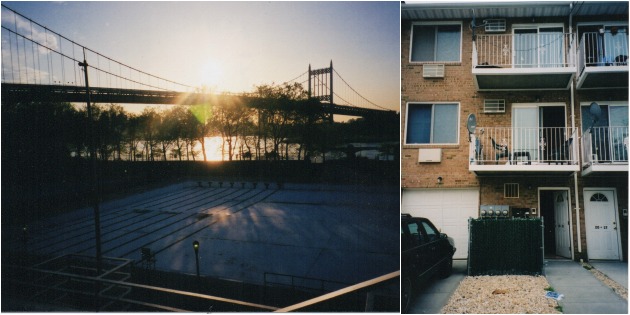 When we left New York for North Carolina, we temporarily rented a little place in Carrboro, while we searched for a house to purchase. At ~650sf, the apartment seemed huge compared to our New York place and had a second bedroom, which became the "craft room".
When we finally found our home in Hillsborough,  a circa 1912 circa 850sf mill house with lots of potential, it was a dump. No really. The entire place needed renovations and my amazing carpenter husband and I would be doing all of the work ourselves, while we were living in it. We spent the first month creating a bathroom, and then the subsequent seven months creating a kitchen, all while going to our regular full-time jobs.
Even during that time, I was able to pull down enough of the most disgusting parts of the "front bedroom" in order to find some space to do some sewing…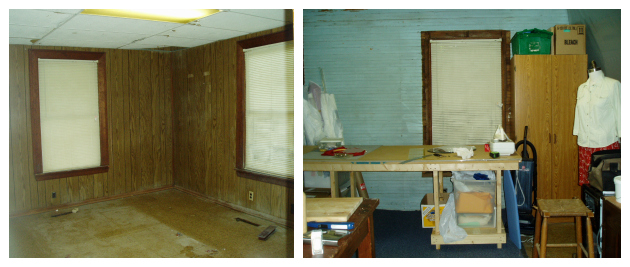 On that Thanksgiving, in front of the entire family, my now-brother-in-law Corey proposed to my now-sister-in-law Katie. I remember talking to a family member about how we'd like to do something really nice for them. I said,  "Maybe I could make Katie's wedding dress…" Though I had a Masters Degree in Costume Production, I had never made a wedding dress before.
She said 'yes'.
But, in order to create this wedding dress, we'd need to create the sewing room first! So my gift to Katie would be the dress, and Charles's gift to Katie (his sister) was to build the room for me to build the dress. So before we had a living room or a bedroom, we started building the Sewing Room.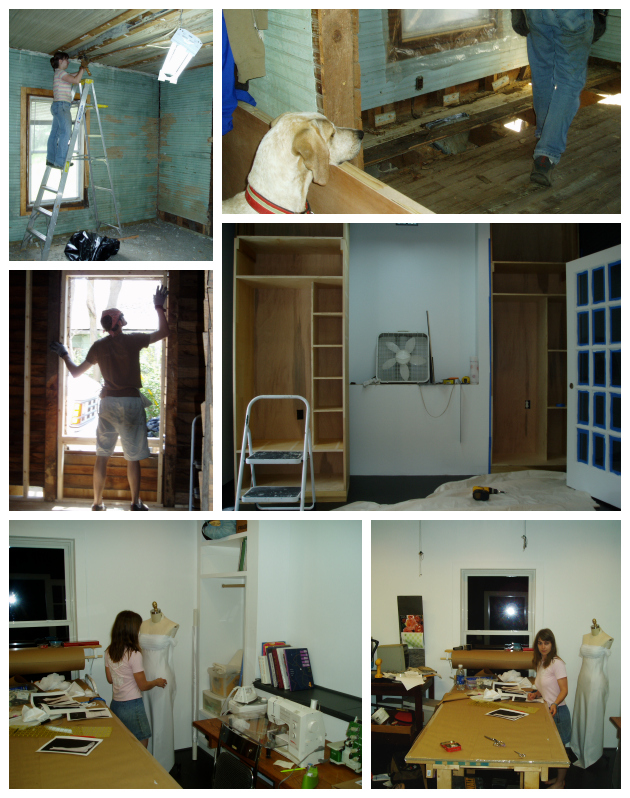 The room evolved and I made another wedding dress for Charles's other sister and eventually my own wedding dress in this room.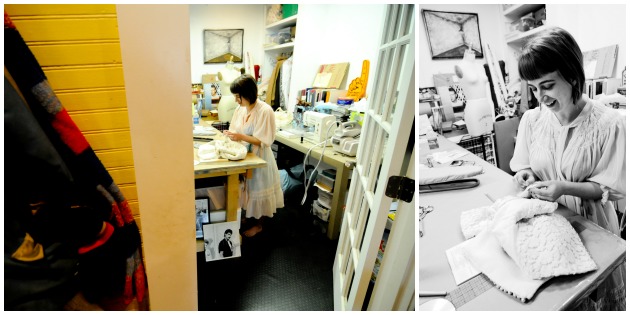 Once this wedding dress thing started to click, I started my own business out of this room. Every wedding dress I ever made and everything you have read from my blog to date (approximately 200 posts which started with Leah's dress in 2009) was created in this Sewing Room in my little house. (We also eventually finished a charming living room and a cozy bedroom for ourselves…)
My Home Sewing Room was approximately 12×12 and it constantly evolved during the 8 years that it was heavily used. The essentials:  my large cutting/drafting table, an ironing station, my Bernina, a mirror, and dress forms. The closets that Charles built-in were really helpful, as well as the bookshelves as my collection grew and grew.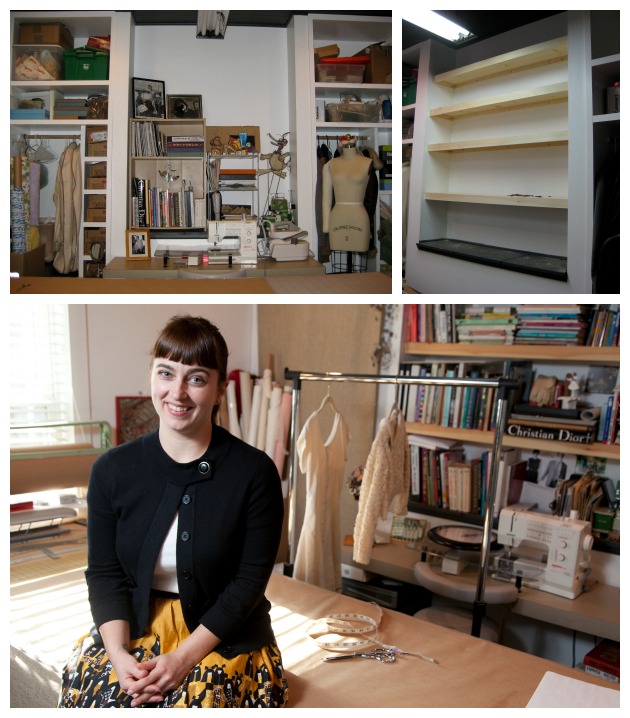 Eventually I did start to outgrow the space. Every bit of it was utilized and, though brides never complained about the small space, the lack of a dressing room (or place to sit) (or the coonhound) (etc. etc.), it was limiting my ability to grow. I didn't have the space to work on more than one project at a time… I started teaching, but could only really see one student… Every inch was used for something….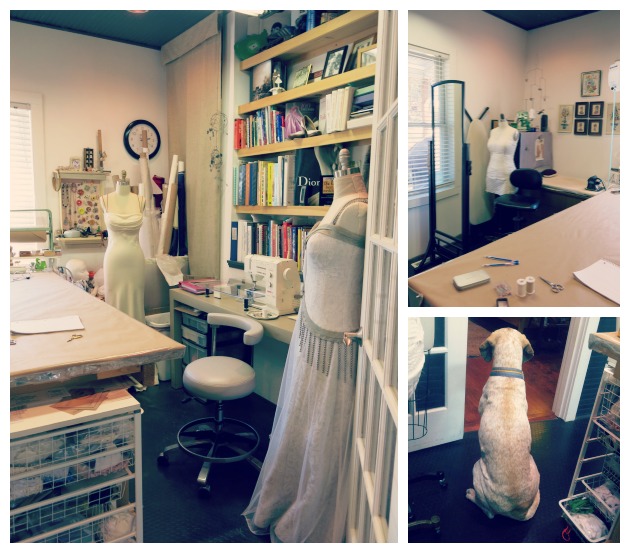 I absolutely loved this room and I also loved inviting brides over to my adorable home, but an opportunity came along that I couldn't pass up.
May 1st, 2014, I started leasing a ~650sf space in the Eno River Mill as my Sewing Room. It's amazing.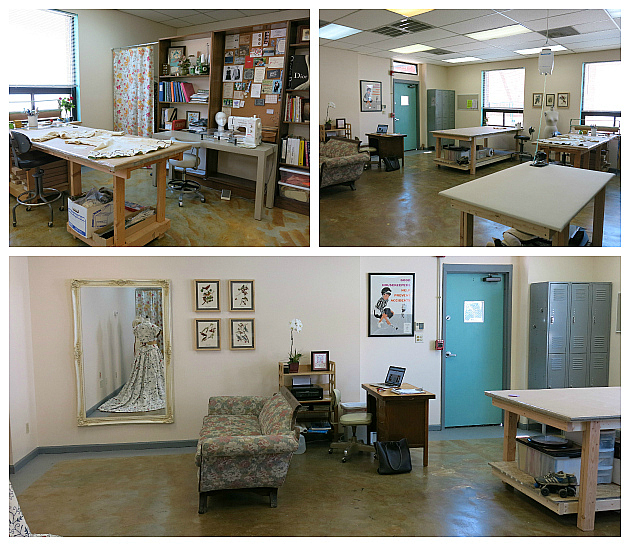 And there's an empty room at the house…
My recent bride Diane was my last bride in the Home Sewing Room. During the recent transitions, I was not able to also keep up with the blog in real time, but I did take photos and will start blogging her story soon. So you'll retrospectively get to see one last bridal journey in my Home Sewing Room…
Then look forward to upcoming adventures in the new space! Thanks so much to everyone who came to my Open House last weekend. I hope to see you all again soon!
Want to know a clever tip or two about working in a small space? Next week, I'll be sending some bonus content to my email-listers.  Have you joined my mailing list?