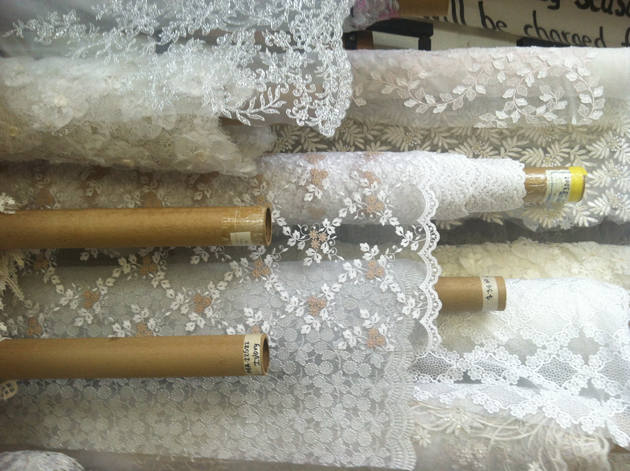 Loula and I visited two fabric stores while she was in town for her first fitting.  Usually the first fabric shopping trip comes a little earlier in the process when we are still working out the design of the dress.  Since Loula is from out of state, this was actually our first time really diving into fabrics.  By the end of the weekend, we'd need to have most of our fabric choices finalized and purchased.  After the mockup fitting, the next step was to start constructing the real dress!
Loula flew into Charlotte, so we visited the fabric mecca that is Mary Jo's.  Mary Jo's is a huge fabric store in Gastonia, the likes of which I've never seen.  The facility's size and their quantity of stock is staggeringly impressive.  They have literally thousands of bolts of fabric at reasonable prices.  That said, I have not actually purchased much from Mary Jo's in years.
While the employees of Mary Jo's can be helpful, it is not a customer service based business.  They rely heavily on lots of signs to tell you their policies and to guide you around the mountains of fabrics. It is a cash and carry store that doesn't often reorder and won't allow you to put anything on hold.  If you see something you love, you need to buy it and walk out with it!  (I learned this the hard way once.)  But if you are ready to buy, you could find an amazing deal on some great fabrics.
We had a lot of fun at Mary Jo's looking through all the formal and bridal fabrics.  There was a possibility that the absolute perfect fabric was somewhere in the store, so we took our time and tried not to get overwhelmed.  They had some pretty laces, but they seemed a little to "traditional" for Loula's style.  She really liked the idea of having something blue somewhere in her dress and this blue lace caught our eye.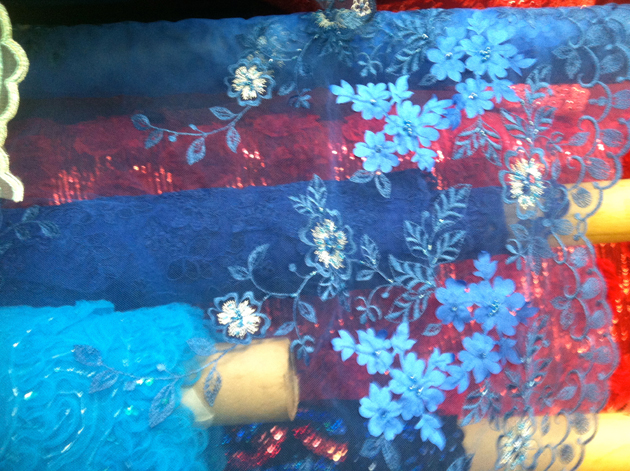 There were a few other choices that we took note of, but ultimately we didn't think we'd found "the one".  We hoped the trip to our second fabric store would be more successful.
The second fabric store was Mulberry Silks & Fine Fabrics in Carrboro, which is just a short drive from my home in Hillsborough.  This is my go-to place for everything and I buy almost all of my fabrics from this store.  It is a much smaller store than Mary Jo's, but their excellent staff has curated the best of the best fabrics.  The customer service is fantastic, they will put yardage on hold for you, and help you with special orders if what you are looking for is not in stock.  It's much less overwhelming and I really enjoy bringing my brides here to shop.
For Loula's dress, we had been playing with the idea of two different layers of fabric:  the main dress fabric and then a sheer overlay of some sort.  We liked the idea of the layer underneath being something really special and the layer on top being more plain, rather than the traditional "lace overlay" look.  On her Design Proposal Website, you can see a photo of a woman who has a pink sequin dress with a black net overlay.  We both liked this idea, but had yet to find the right fabrics to pull it off.
Two silver metallic fabrics caught our eye at Mulberry Silks.  The first was a funky floral fabric: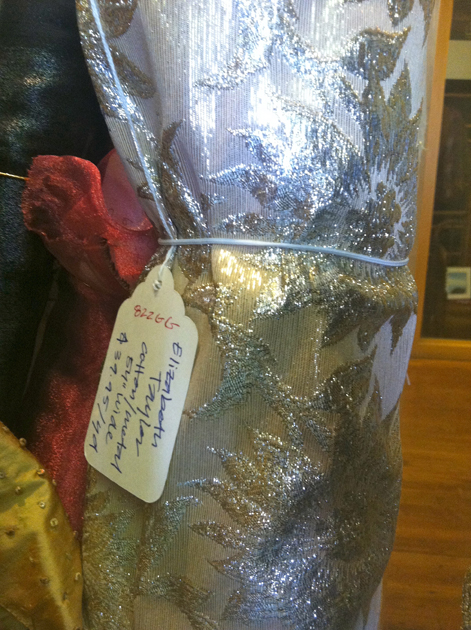 The second had a silver swirl design:
We loved this one!  We played with adding a bit of white chiffon over the top…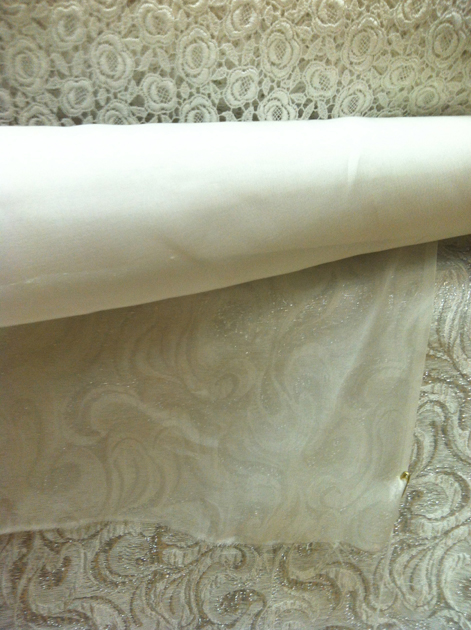 And then we revisited the blue idea by adding some blue tulle over the top…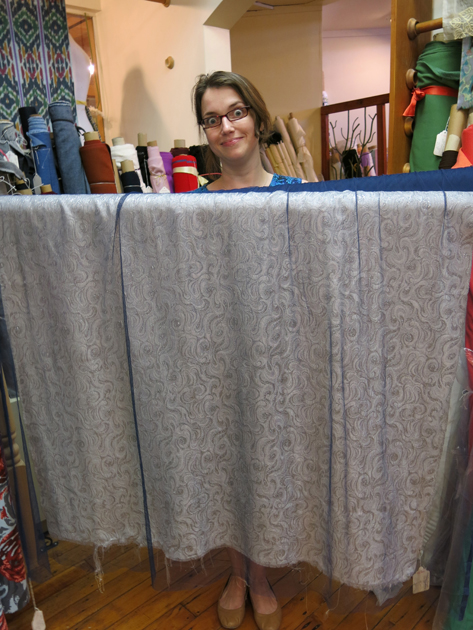 We loved it!  It looked great on Loula and could be really fun for our design.  All the folds and gathers would bring out the blue color, but on the majority of the dress the blue fabric would just knock down the shininess of the silver.  We walked out of the store with these two fabrics ready to cut into her custom wedding dress!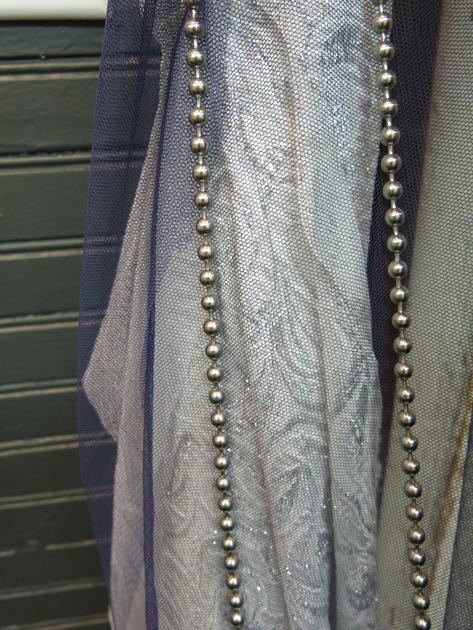 The bolt of stainless steel ball chain had arrived the day earlier and we were able to imagine what all three elements would look like together.  I was excited to get started on the dress and perhaps even more excited to spend the rest of the weekend giggling and catching up with my best friend for the short time that she was in town.
Next post:  Finishing the bustier!