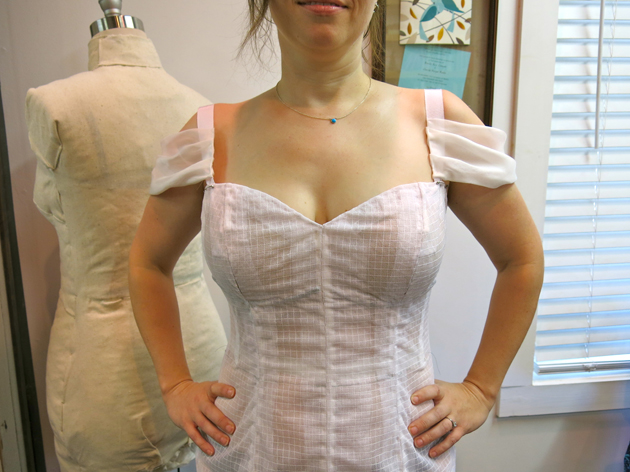 Back in June, my best friend Loula flew from her home in New Orleans to my studio in Hillsborough (NC) for the first fitting for her custom wedding dress.  We had done some mockup fittings of her undergarment via the mail, so she was trying on the basted version of the real understructure for the first time.  She also got to try on the muslin version of her dress for the first time.  It was very exciting and we had a lot of fun!
Above you can see the undergarment before we did any fitting work.  Not bad at all!
And here's a shot after some pinning…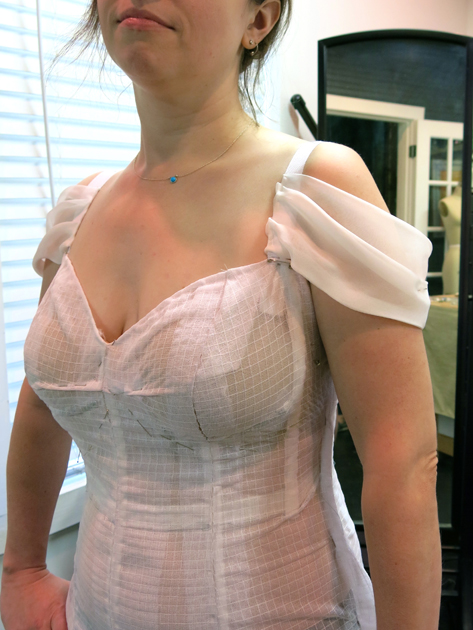 The information gathered in this fitting will allow me to take this "bustier" apart and stitch it permanently together using real steel bones and reinforced cups.
The zipper in the back will get traded out for corset lacing.  Most of the fabric inside the "V" shape in the back will be removed and replaced with beautiful silk ribbons and loops.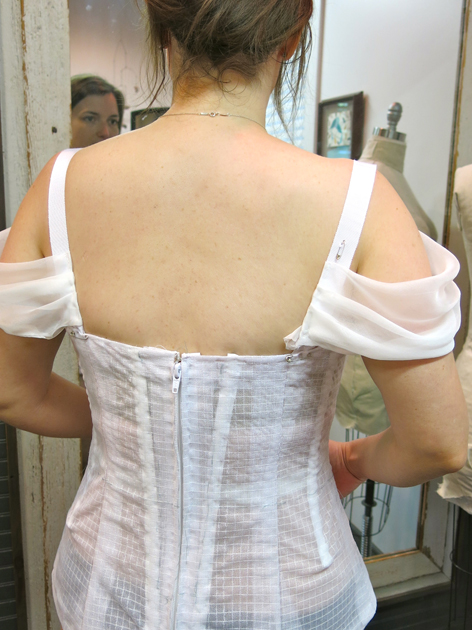 Once we fit the understructure, Loula finally tried on the mockup version of her wedding dress.  I simply pinned this muslin dress onto the bustier at the shared neckline and closures.  She looked beautiful!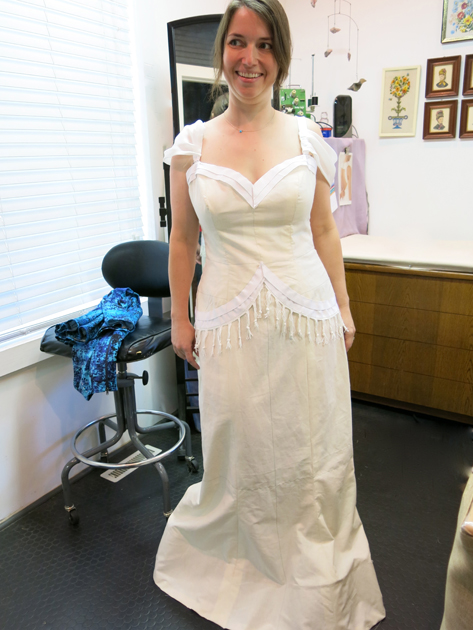 This photo shows Loula seeing herself in the mirror wearing her mockup wedding dress for the very first time.  The dress still had to be fit, but it naturally had similar minor fit issues as the undergarment that shared its pattern.
Loula and I have been friends for almost 20 years.  (Can that be true?)  It was so fun to see my gorgeous friend in my studio in the mockup of her New Orleans inspired wedding dress.  I couldn't have been happier about her upcoming marriage and I couldn't wait to get started on the real dress!
Next post: Fabric shopping!
Never miss a post! Sign up for my email newsletter.