So much has been happening lately with me and my business!  Are you following along?
Did you know that I've just moved out of the Sewing Room in my home (where I've been working for the past 8 years) into a brand new Sewing Room in the Eno River Mill?  My hero/husband and I have been renovating and moving every day for nearly two weeks and it is looking fantastic.  (I know you want to see pictures!  They're coming soon…  Just as soon as I can get the camera, the camera cable, the computer, and my brain all in the same place…)
Did you know that I am developing Couture Courses (both in-person and online!) and will start teaching Private Lessons as well as hosting Handmade Social Club events soon?  I'm hoping to expand my bridal business slightly, but I'm also now reaching out to a wider range of interested folks to share what I know about sewing and pattern making.
Did you know I'm having an Open House on Friday May 30 from 5-9pm to show off my new digs?  It will be held the same night as the Downtown Hillsborough Last Friday Art Walk, so there will be lots to do in my cool little town.  Please stop by and bring your friends!
Do you know all the ways to keep up with me online?
Social Media
I've really been embracing social media lately.  I've been experimenting and sharing on a few different sites.  I'm still a bit of a novice, but I'm learning and having fun.  If you want to follow along, here are several ways that you can engage with me online.  Each has something a little bit different going on, so choose your favorite(s)!
Follow me on Twitter as @brooksanncamper 
and on Instragram as @brooksanncamper
"Like" my Facebook Fan Page for Brooks Ann Camper Bridal Couture.
I love Pinterest.  Find me as Brooks Ann Camper.
Email
I also have a brand new email subscription list for all my news and updates.  This is the best way to make sure that you don't miss any of the important stuff, as it goes straight to your inbox!
This new "News and Updates" list will allow me to keep publicly blogging the story of the latest bride with less interruption, and still get you all the latest info about my future teaching gigs and whatever else is going on.   It's a bit of an Insider's Club where I can privately share exclusive content to my biggest fans including special offers….   If you are the least bit curious, get on the list!
Many of you have already subscribed to having my blog posts sent to your inbox (thank you!).  I've just consolidated these subscribers with this new News and Updates list.  For everyone who has previously been on either list, I automatically added you to the other, as a courtesy.
If you find that you'd rather not receive one or the other, you can "update your preferences" at the bottom of each email.
Aren't on either list yet?  Sign up here!
Just for signing up you'll receive an exclusive link to a "Peek Inside Brooks Ann's Library" where I share a little about some of my favorite sewing, patternmaking, fabric, and design inspiration books!
You (and your friends!) can also sign up via my new Classes page, on my blog's sidebar, and on my Facebook Fan Page.  I'm still working to get the "checkboxes" onto all of these.  If you don't check any boxes, I'll subscribe you to both lists.  You can change your preferences (or unsubscribe completely) at any time.
Once I get out from behind the computer and out from under the pile of rubble that is my studio at the moment, I'll get back to my regular blog posts (I can't wait to share the story of my most recent bride with you!) as well as keep you informed about the teaching gigs and the Open House.
Whew!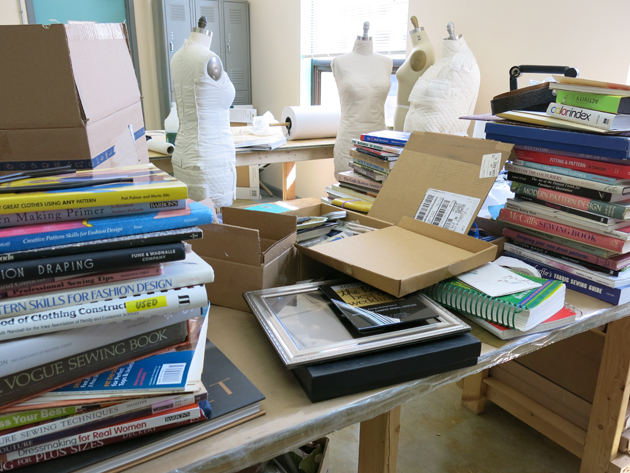 I'm pretty new to all this and I welcome your feedback and comments.  Please ask questions and/or let me know how you prefer to keep in touch!