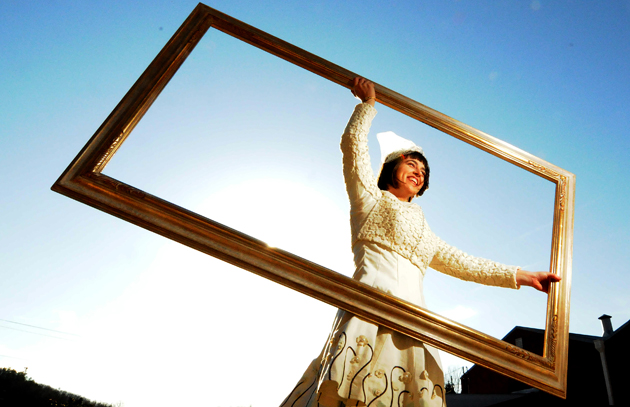 In last week's post, I mentioned that I no longer have a day job.  You may not have known for the past 9+ years, while starting up and growing my dressmaking business, I spent my days working as a custom museum-quality picture frame craftsman.  I've often wanted to write a post about the similarities between creating one-of-a-kind picture frames and creating one-of-a-kind wedding dresses, so now's the time!  I hope you enjoy this slightly off-topic glimpse into what I've been doing while slowly growing my couture business into what it is now.
In 2004, I left my theatrical milliner job in New York City for a quieter North Carolina life.  I worked creating custom costume pieces for Broadway shows and theatrical productions for a many years, and was looking forward to a new life outside of the theatre and the Big Apple.  Not long after settling into North Carolina living, I happened across an ad for a woodworker in a local paper.
I originally pulled out the ad for my (now) husband Charles.  He is a carpenter and was working at a local hardware store and lumber yard.  Since I was hostessing at a diner, he suggested that I pursue the job rather than him.  I had done a little woodworking before and the ad was for someone who would train and work handcrafting custom one-of-a-kind museum-quality picture frames.  I interviewed and I got the job!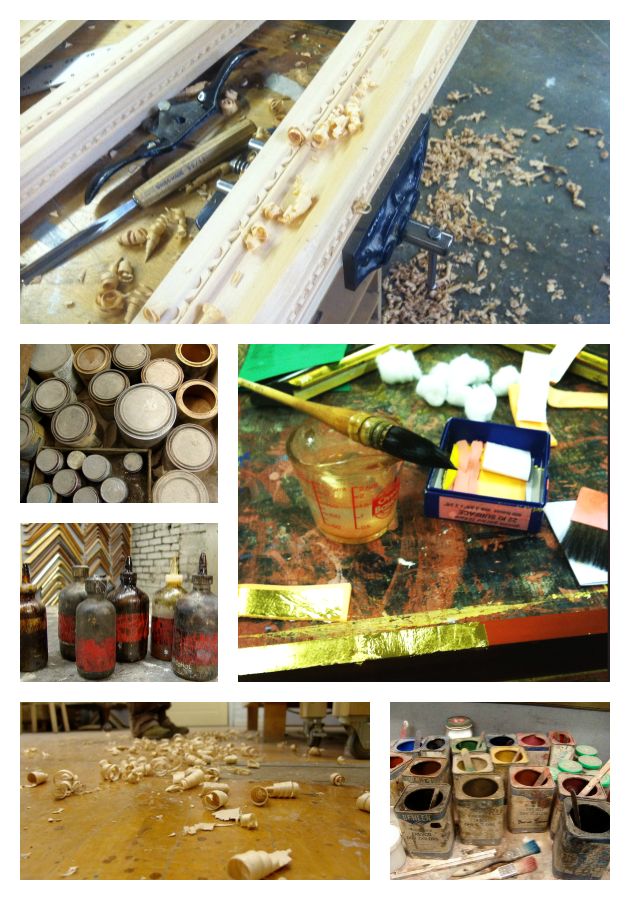 This job was for a wholesale company that created closed-corner frames for sale to museums, galleries, and frame shops.  Closed corner means that the frame is joined in raw wood and finished as a frame, rather than pre-finishing lengths of moulding to be quickly joined later.  Each frame was custom made to order using old world techniques by a single artisan.  Much like my wedding dresses!  Man, I do love a dying art!
My first 9 months were spent training in skills like hand carving, joinery, surfacing, and gilding in a variety of metals (including real gold and silver).  Eventually I was able to take an order card and create the entire piece by myself, even building the shipping crate!
I fell absolutely in love with the process!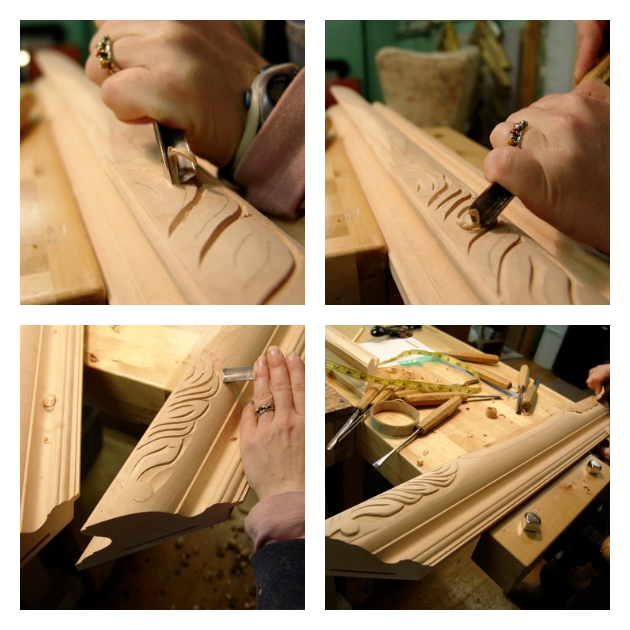 It was soooo hard to choose photos to share!  After 9 years of creating a few new frames each and every week, I had amassed quite the portfolio!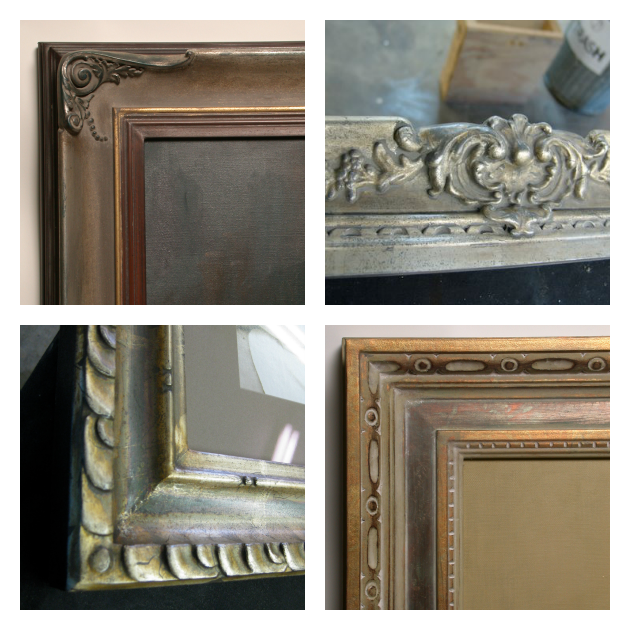 Just one year after my training was complete, my first wedding dress walked down the aisle.  I had started my dressmaking business out of my home and began my 'double life' of custom creations.  My passion for woodworking was strong, but my passion for sewing and pattern making was deep in my blood and I couldn't keep away from it for long.
Both jobs highlighted things that I am good at.  They both require a lot of problem solving, focused hands-on skills, an understanding of an entire process, attention to detail, the reward of starting from absolutely nothing and ending up with a masterpiece…  the list goes on and on…
What I found most similar and suited to my personality was the supporting role of each finished product.  In custom frame making, the goal is for the frame to bring out the beauty of the artwork inside it.  In custom dressmaking, the goal is for the dress to bring out the beauty of the woman wearing it.
For Charles's birthday in 2006, I made the frame shown below for a piece by one of our favorite artists, Charley Harper.  I hand carved the basswood creating crawfish claw corners. I water gilded it in 16K green gold over hand mixed orange clay, antiqued it with gray casein and sealed it with hand-mixed shellac and wax. This particular birthday was on the same day as his sister Katie's wedding, who would be wearing the first wedding dress I ever made.  In fact, Charles opened this gift in the hotel room just before I laced Katie into the very first custom Brooks Ann Camper wedding gown!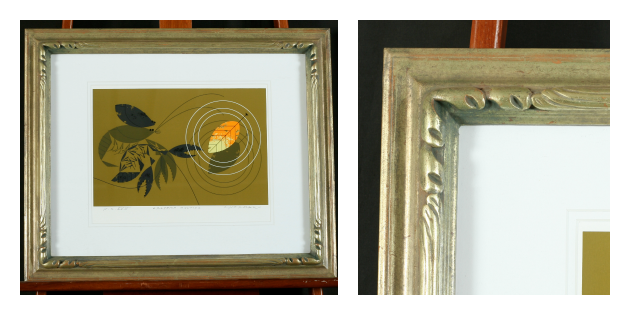 A more recent project that I was particularly proud of was a frame I made for the North Carolina Governor's Mansion.  This was designed by Veronica at Campania Fine Moulding in Charlotte, one of my favorite customers.  She sent a me sketch of her design to frame a portrait of Governor Bev Perdue, and I was up for the challenge.  It's highlights were gilded in 22K gold and the design featured dogwoods, North Carolina's state flower.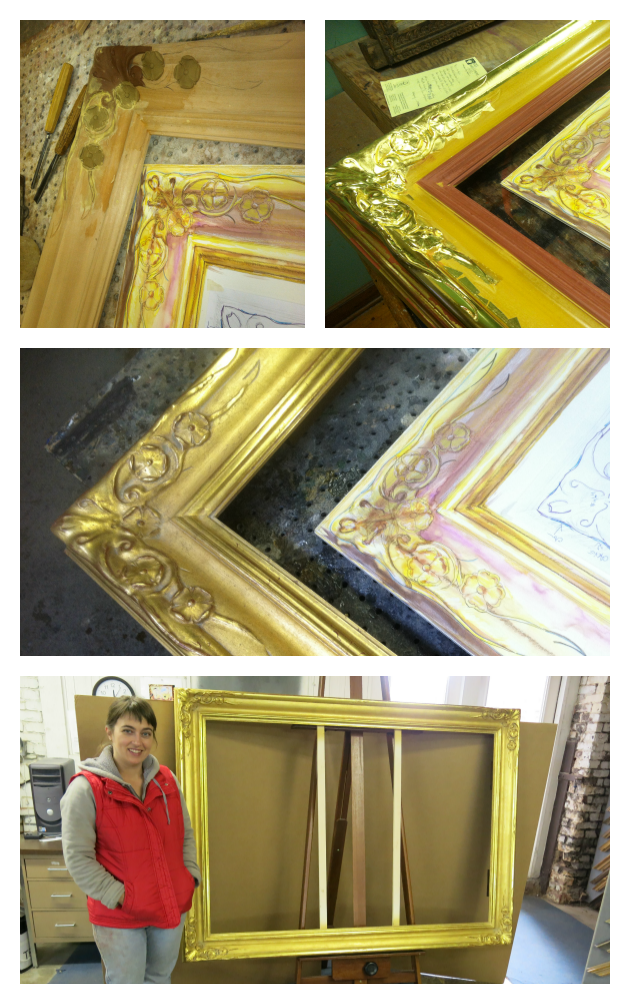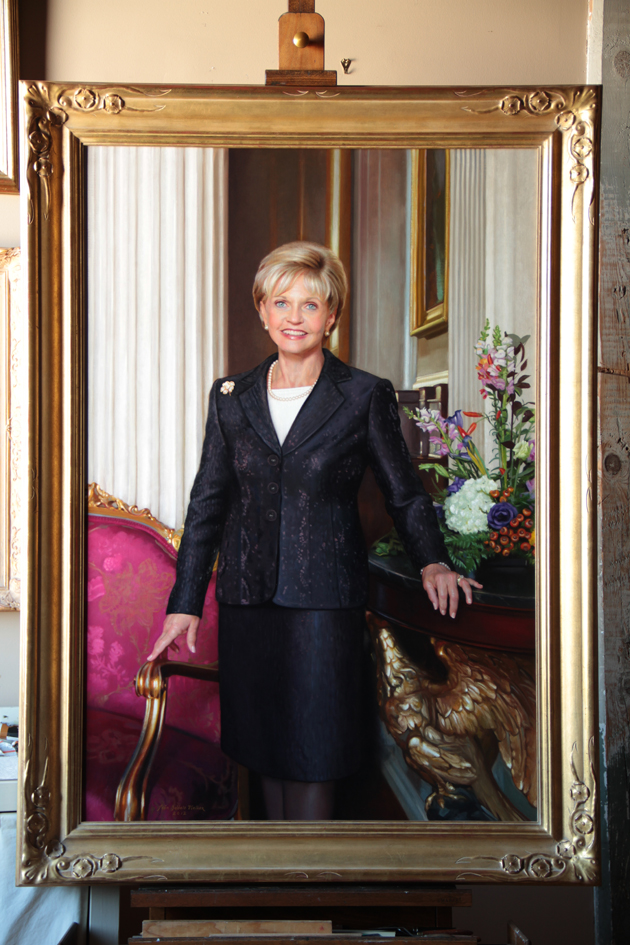 Throughout the years, it was hard not to fall in love with the work.  People who knew me as a dressmaker would always ask me why I didn't just quit my day job and go full time.  While it provided the income and flexible schedule necessary to startup/run my own business, my answer was always "Unfortunately, I love my day job!"
But after 9+ years there were some drawbacks and it was proving hard to live a 'double life'.   I had finally grown my custom dressmaking business into something awesome and I had developed a new passion for teaching my sewing room skills, right at the same time that my boss announced he was going to take his frame making business in a new direction.
While initially sad to leave frame making, I realized that I don't have to give it up completely.  My husband Charles has also been bit by the frame bug.  You can see his custom picture frames at www.CharlesMakesFrames.com.  So if I get a hankering for woodworking, I am always welcome to be his assistant!
And I welcome my new direction with open arms!  Couture is truly my passion and it is an incredible feeling to finally be able to realize it completely.   The past few months working full-time on my own business has been busy and exciting (and terrifying…  but in a good way).  I can't believe I'll be able to start renovating and moving into my own workshop/classroom in the Eno River Mill in less than ONE WEEK!
Things are looking up and there's no looking back!
Please spread the word to your sewing-curious and engaged friends that I'll be open for (new and improved) business soon!
2019 UPDATE: On the 5 year anniversary of quitting this day-job, I shared more pics on Instagram.