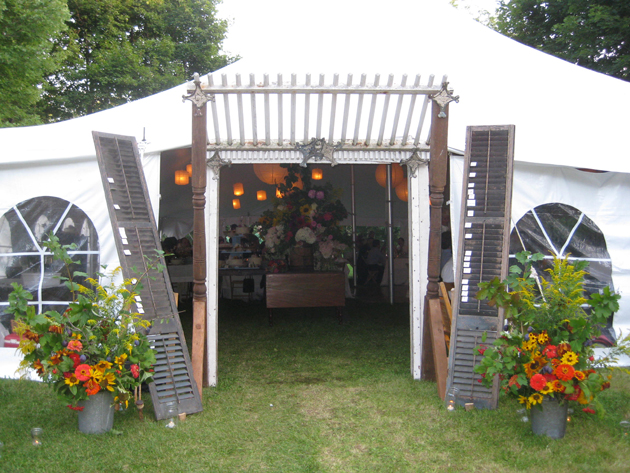 Happy 2013 everyone!!!
I've been a little absent from the blog lately, but I'm really excited to finally introduce you to Margaret!  She will be wearing the next Brooks Ann Camper Bridal Couture original dress for her daughter's wedding in March.
Yes, I know that I normally only work with brides on bridal dresses, and while they still take precedence in my scheduling, I've started taking smaller jobs in between brides for accessories and now for my first Mother of the Bride Dress.  I'm really excited to work on a dress that is for an important member of the wedding, while keeping in mind that the bride is still the star.  It's a supporting role dress!  It's an exciting departure from my bridal work, and I couldn't be happier working with Margaret.
I met Margaret at Leah's wedding.  I made Leah's wedding dress back in 2009.  My husband Charles, using stuff he found in Leah's parents' barn, whipped up the cool entrance to the reception tent at that wedding (seen in the photo above).  Charles and I had been friends with Leah's fiancé Jonathan for years and that weekend both of their families and all of their friends became our family and friends.  Seriously amazing relationships were made and new friendships to last a lifetime.  It was truly magical.
A friend of the family even wrote a song about the day.  One of the lyrics was "A friend built the door to the tent where they danced, and his wife sewed the dress that she wore.  And they all gathered round and stood up one by one and wished them love forever and ever more."
I honestly can't listen to the song without getting a tear in my eye and a lump in my throat.  That friend was the very talented musician Patrick Dyer Wolf who is now in the band Goodnight,Texas.   I met him and his girlfriend Mary (and Mary's mother Margaret!) that magical day.
Fast forward–
Mary and Patrick are now engaged!  My husband and I have been friends with them and Mary's family since the day we met them and we are so happy to see the couple so in love and ready for the next step in their lives together.  I must admit, when I heard that Mary already had a dress to wear at her wedding I was a little disappointed.  She is a beautiful person inside and out and it would have been a joy to make a very special wedding dress for/with her.
But, as luck would have it, this did not keep me from being a part of the wedding!  Mary's mother Margaret contacted me a month or so ago wondering if I'd break my brides-only trend to work with her to create a custom mother-of-the-bride dress.  Since my schedule allowed, I was more than excited to accept the task.
Margaret is a beautiful woman with a lovely soul and I can't wait to take you along on our dress journey together!  I'm sure it will be fun and full of surprises!