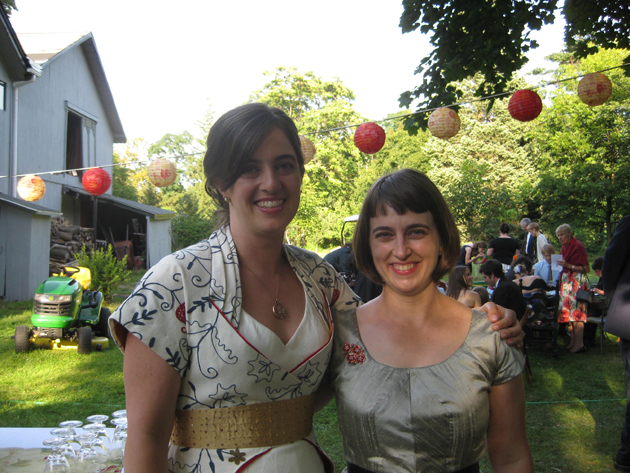 The wedding was perfect.  I really mean it.  I think this is why I have been putting off this blog entry for 2 weeks.  I really don't know how to express how perfect this wedding was.
I guess since this is the dressmakers blog, I will tell the wedding story from the dressmaker's perspective.
It was in Lima, New York, which was just the cutest town ever, with just the nicest people.  It was in her family's backyard that had a beautiful garden for the ceremony and a lovely tent for the reception.
The dress was almost embarrassingly well-received.  Everyone gasped as she came out and was all a-chatter.
It was nice because only a few people knew who I was, so as an attendant of the wedding, I got to hear some honest opinions in the chatter.  Wonderful comments!  People were just crazy about it and she looked breathtakingly beautiful.  As she walked into the ceremony, the wind caught the panels of the jacket and exposed the gold lining.  It was just perfect.  At the reception, just before the first dance, Leah and I left to remove the jacket.  I walked in first with the jacket and hung it on the wall.  Everyone again was a-chatter.  When she entered in her second look, everyone cheered!  She looked so beautiful.  I'm getting a little choked up just writing about it.
After the ceremony, I was treated like a rock star.  Everyone wanted to meet me and talk to me.  I'd hear conversations around me, asking who I was etc.  Pointing.  "She's short, with bangs…"  People were so in love with it.  I made friends with a lot of unmarried women (and/or their mothers) that day, for sure.
I was just overwhelmed with praise.  I was most proud when people actually used some of the words that we had chosen in the initial design proposal.  Many times the word 'Unexpected' came back to me.  Many times people said that it was just 'so Leah'.  That 'it fit her style and personality as well as it fit her body'.  One woman said about her figure in general 'it celebrated everything that is great about Leah's body'.  I heard a lot of comments like 'I've always hated wedding dresses, but this was incredible.' and  'When I get married, I want you to make my dress.'  One guy even said he 'worshiped me', (though it was pretty late in the evening by then).  All of this was a bit unexpected and was a little overwhelming, but also made me very proud.  I truly love what I do, so I am glad when others appreciate and love it as well.  What a day full of love!!
I made sure to not take all the credit, because truly Leah was an enormous part of the success of the dress.  She was the inspiration. She was the muse.  She was there giving her input every step of the way, designing, picking fabrics, addressing fit concerns…  I never would have come up with this without the bride's beauty, tastes and personality as an inspiration.
Thank you, Leah!  And congratulations!