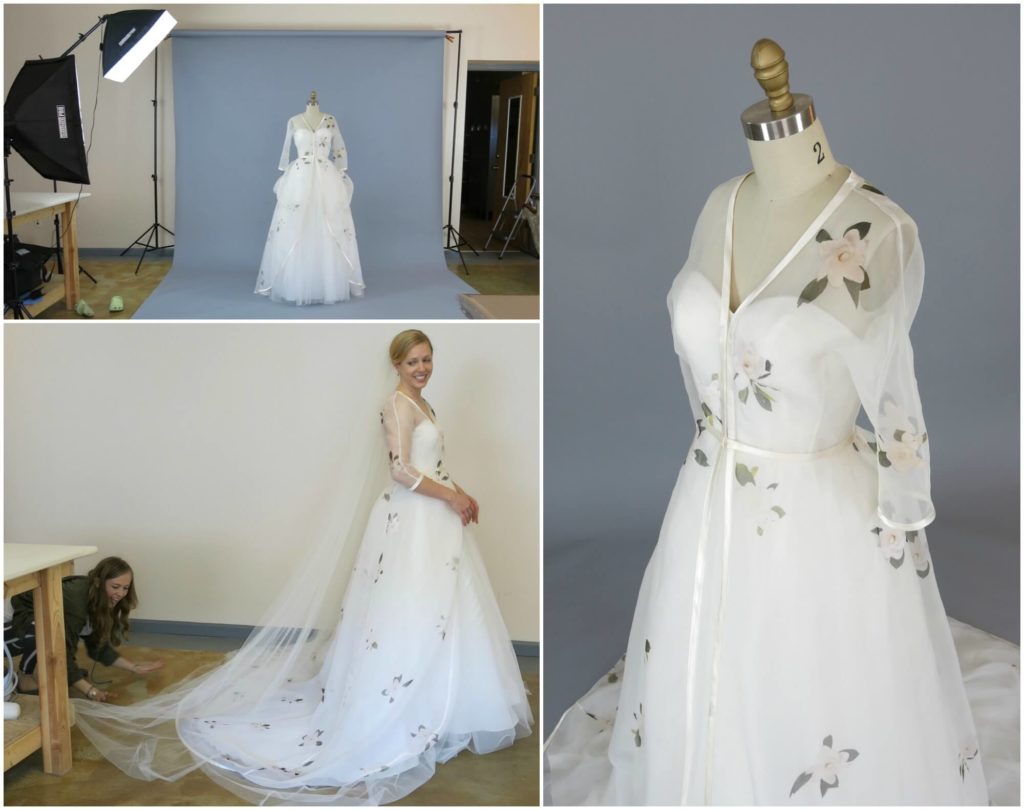 TWO POSTS IN ONE!
As we are nearing the end of the bridal blog series following the creation of Cameron's custom wedding overdress, I am really feeling the anticipation and excitement. After I made the final stitch, there were still a couple of events before the Wedding Day: The Photo Shoot and the Delivery Day.
Instead of drawing the wedding day suspense out any further, I decided to share them both in this one epic photo-filled post!
The Photo Shoot
Cameron married in Scotland, so I was unfortunately unable to attend. Luckily, her wedding photographers were awesome. They took gorgeous photos of the Big Day and were thrilled to have me share as many as I'd like with all of you (in my next post)!
But before a dress leaves my studio, I have learned to get my own shots. I get really attached to my work and I am too nervous to let it go without some serious sharable documentation. With the help of my handsome husband Charles, I turned my sewing studio into a photo studio and pretended I was a photographer for a day. 
Enjoy a few of my favorite shots!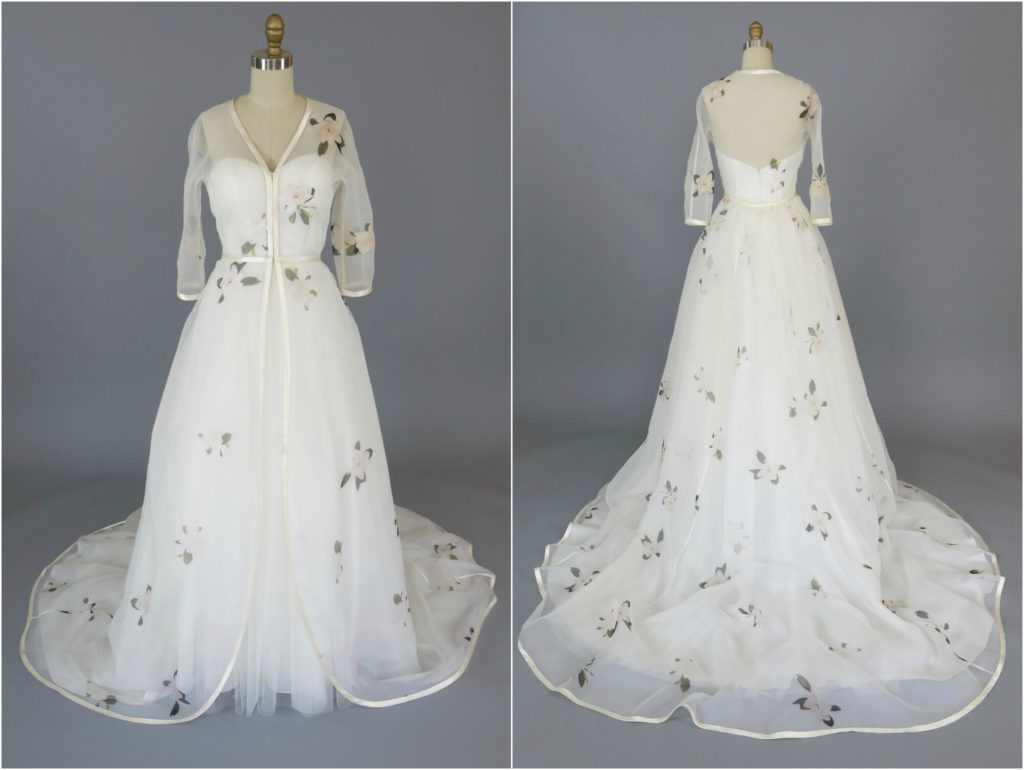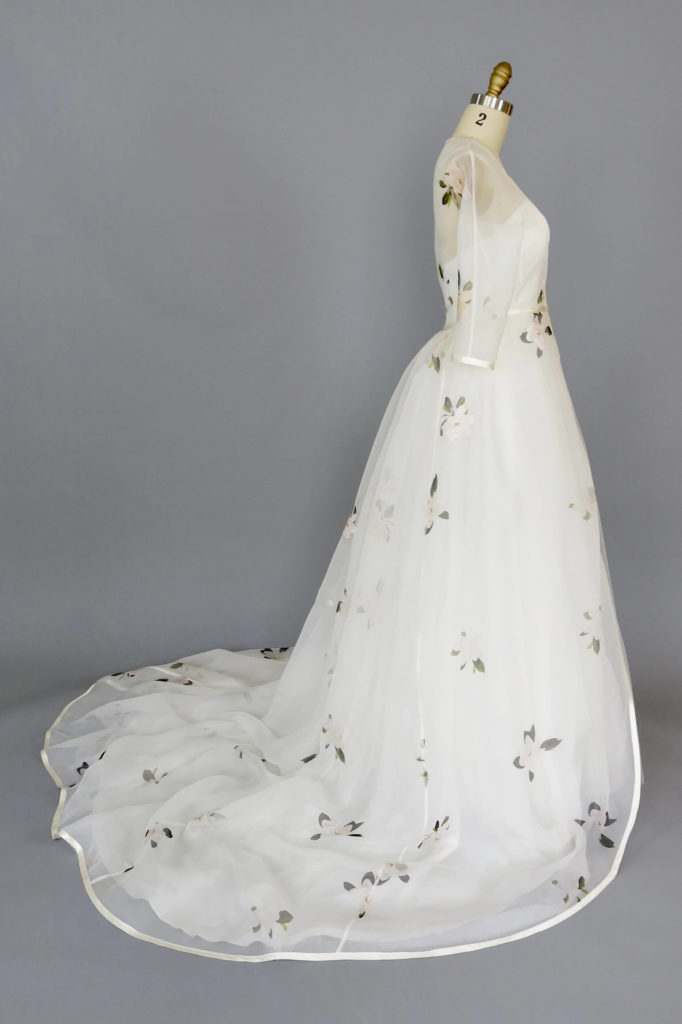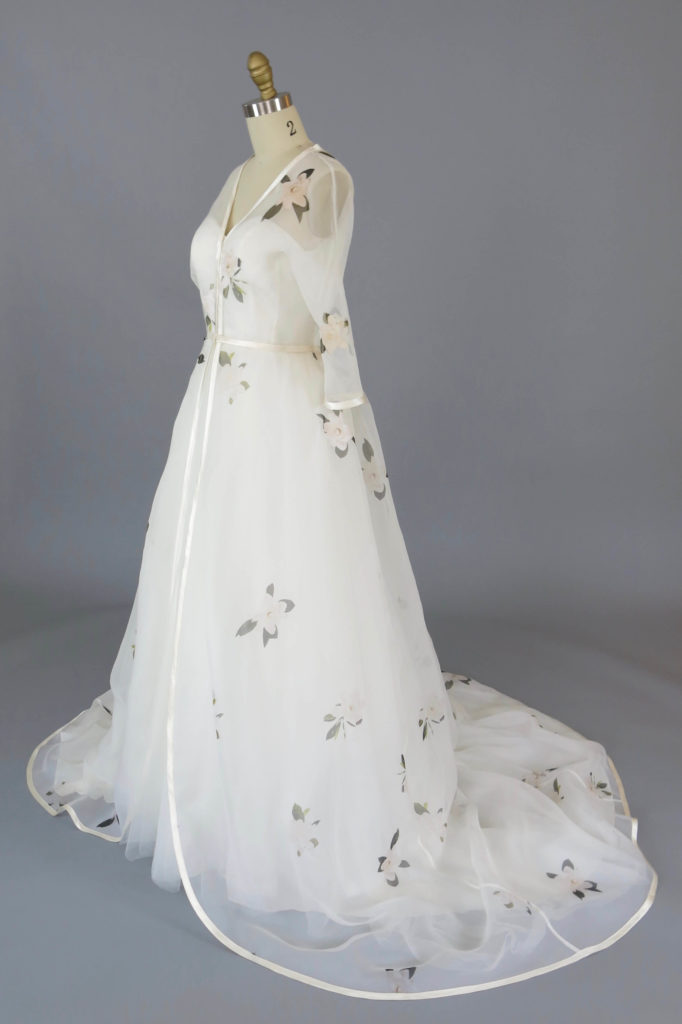 And some close-ups of the details…
I love the shots above and below showing the inner workings of the cut-in-one sleeve with "rocketship" gusset…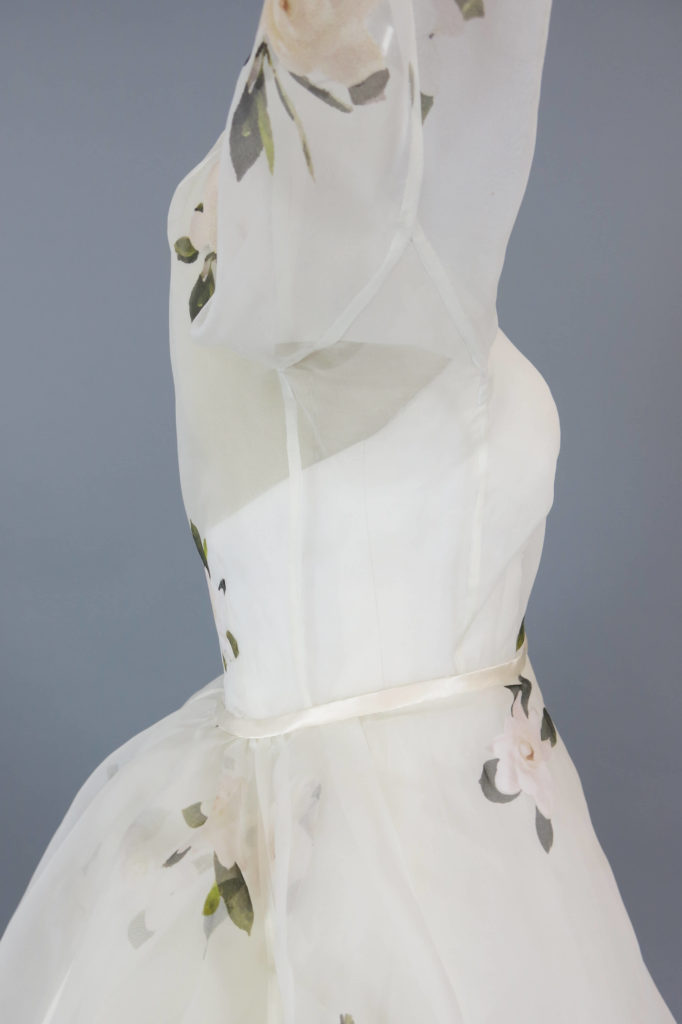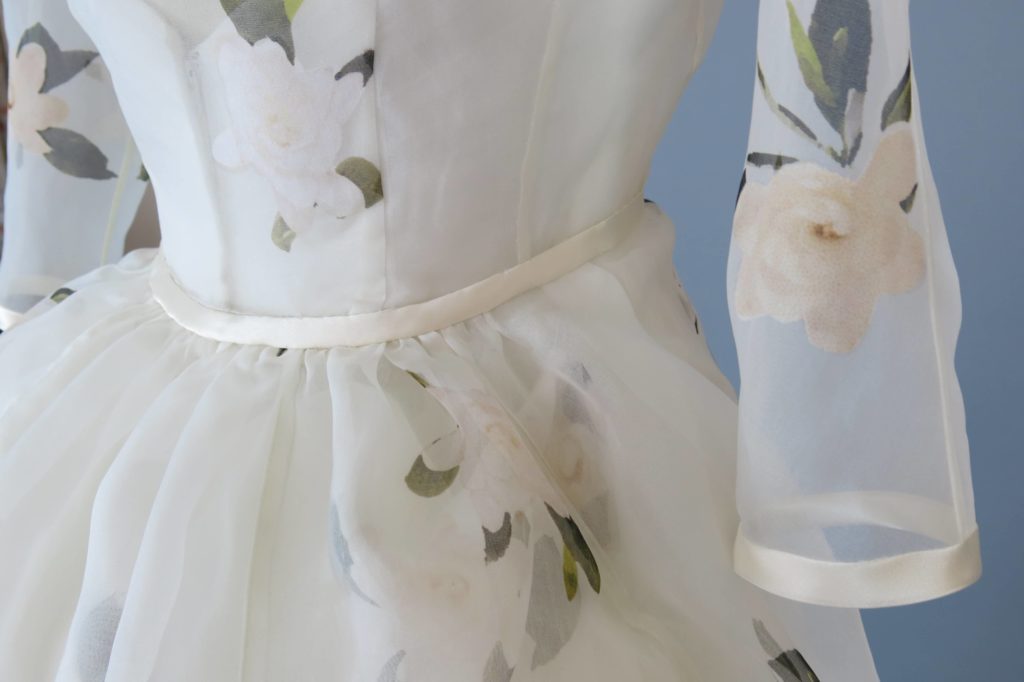 I love the shot below which looks like it's an X-ray of a dress…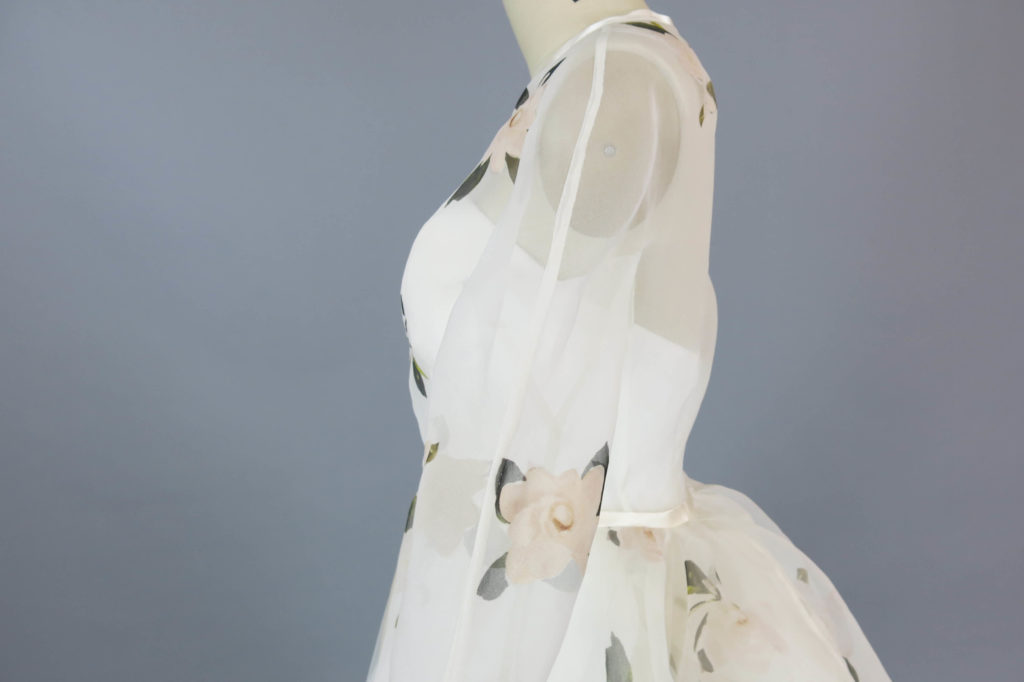 And the bustle…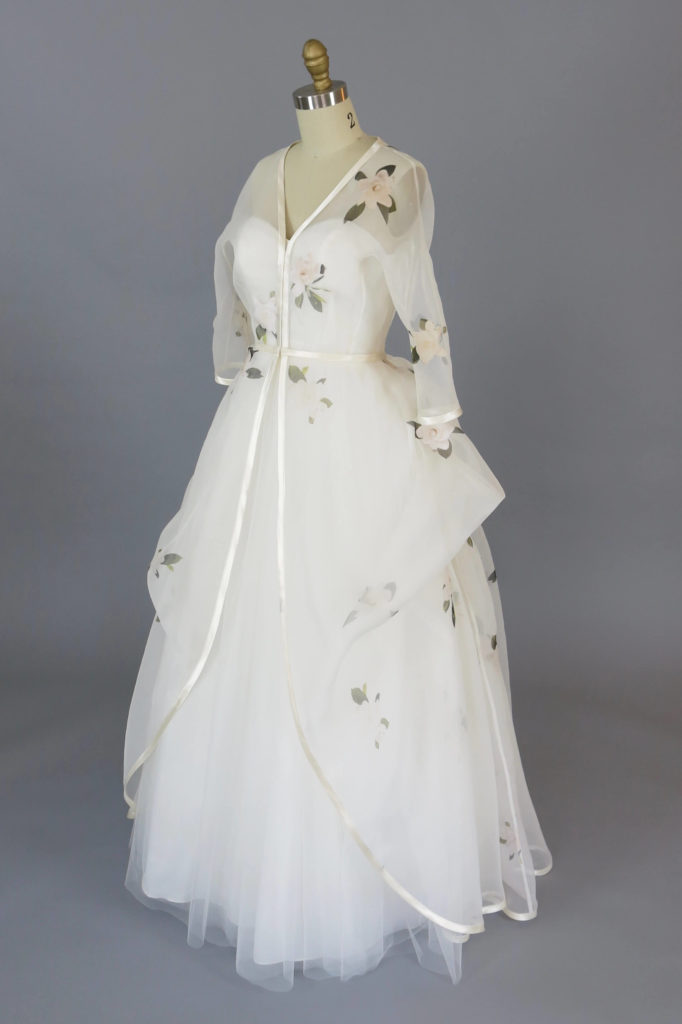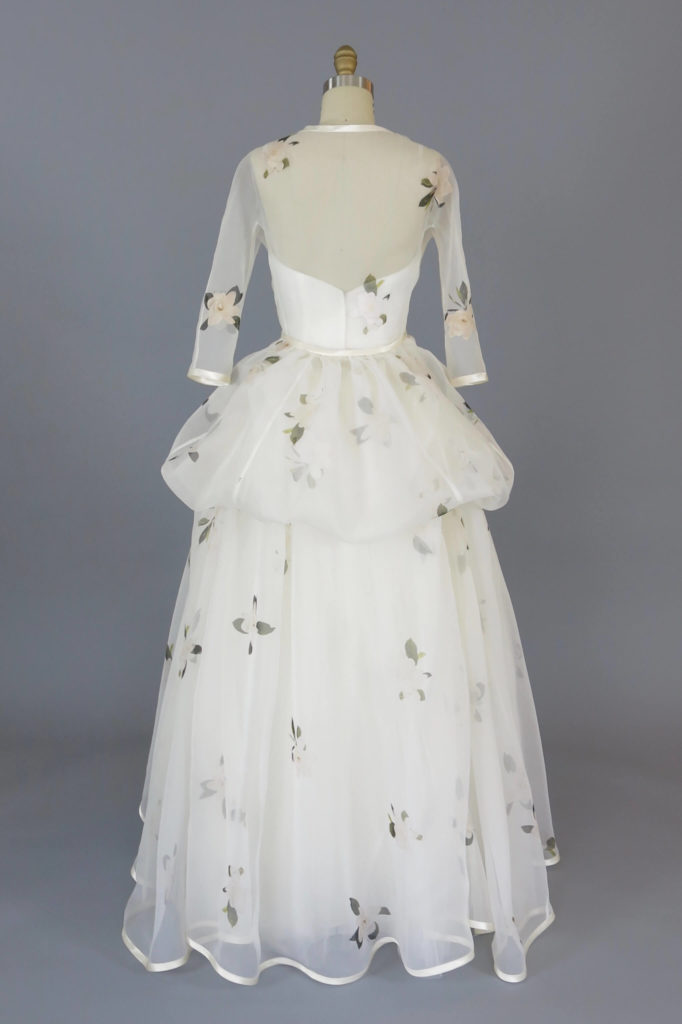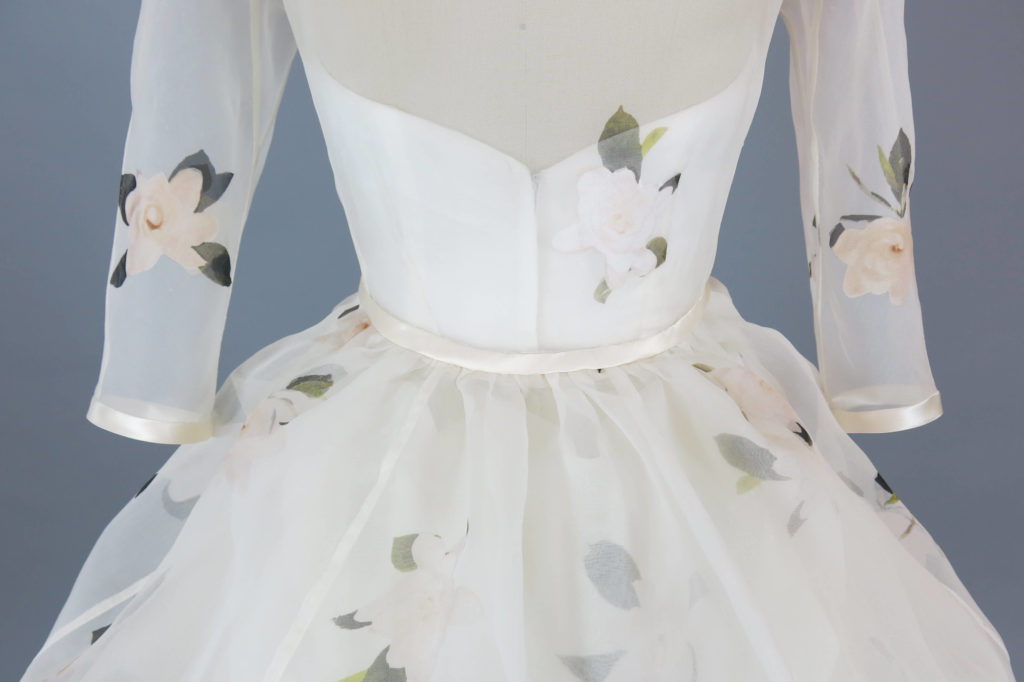 The silk organza fabric that we designed and had custom-printed at Red Canary was breathtakingly beautiful in this original design. I was so so happy with how everything turned out!
The Delivery Day
Very soon after the photo shoot, Cameron and her sister Abigail came to my sewing studio. The Delivery Day is the first time Cameron would try on the completed ensemble and she would also be taking it home with her!
The blur of Cameron's hands and feet in the pic below might tell you how excited she was when she first saw the completed dress on the dress form!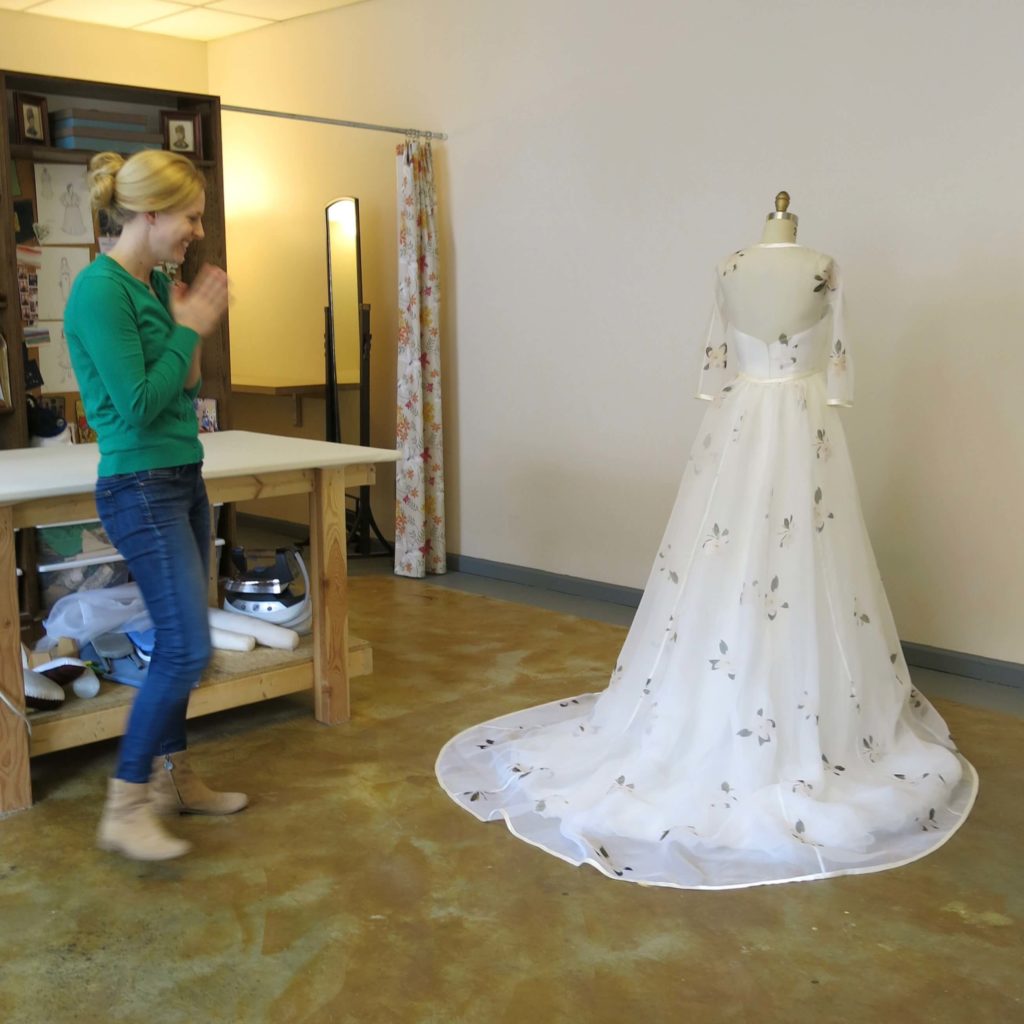 Cameron's sister Abigail would be the one helping her get dressed on her wedding day, so she did the honors on the Delivery Day. Music from my own wedding was playing and I fondly remember hearing the two young ladies singing along from inside the dressing room…
"… because I loooove you… And the way you look tonight…"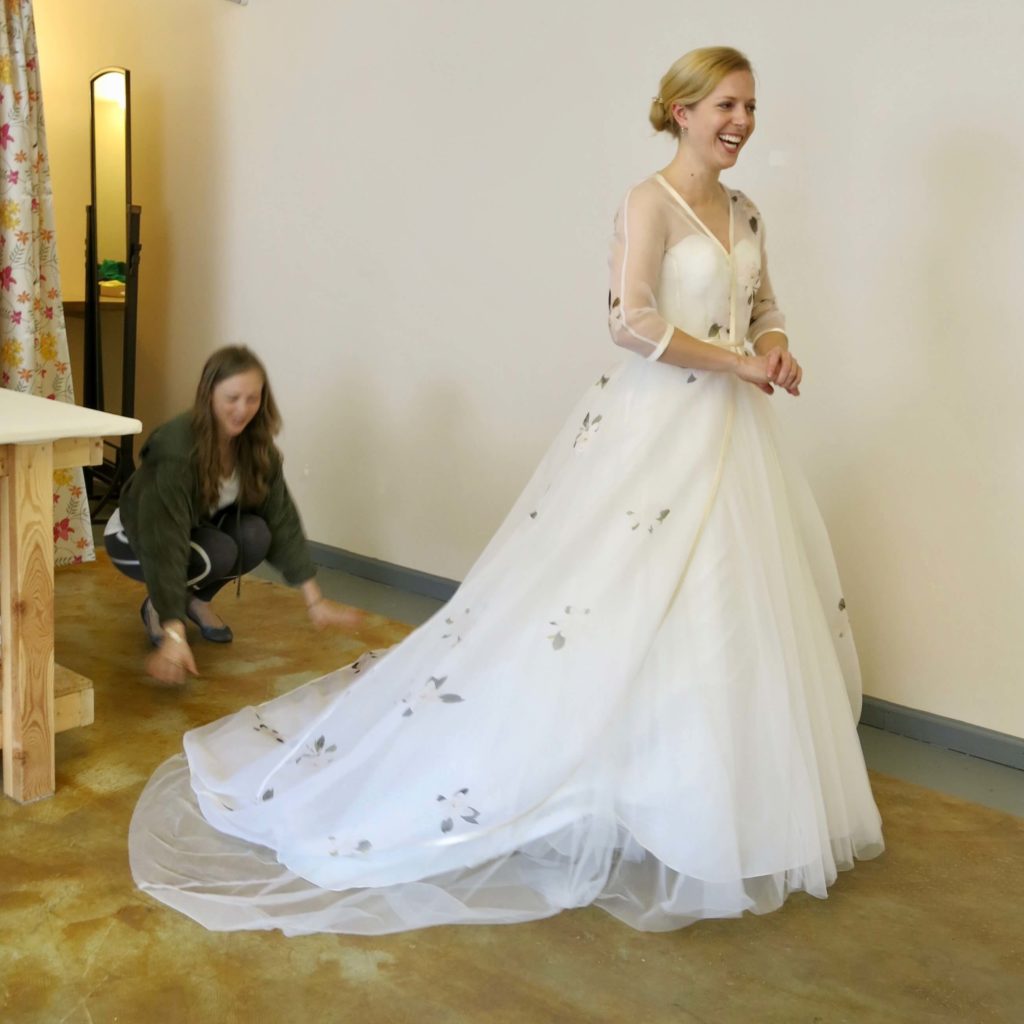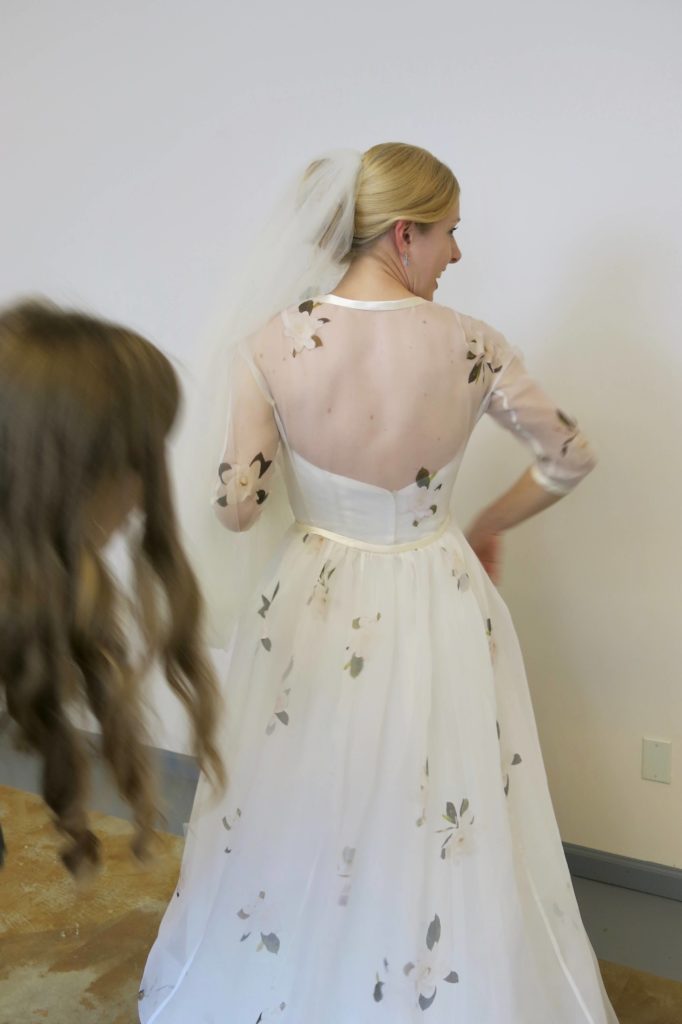 She liked it!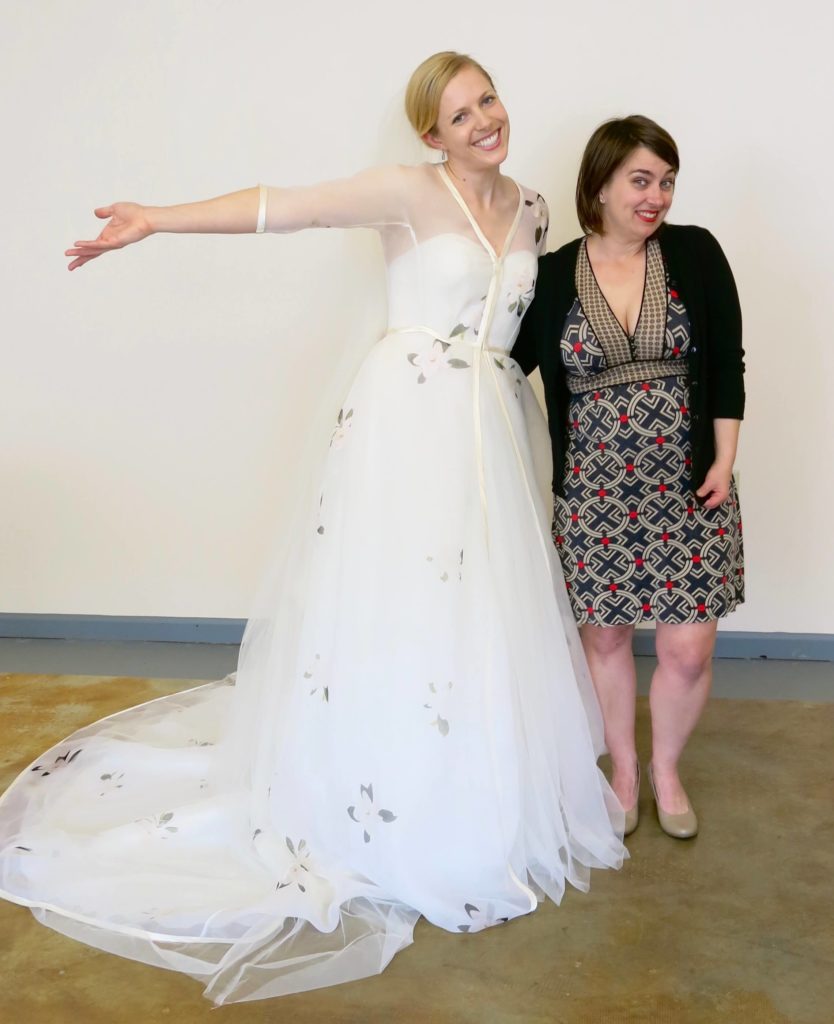 Train Training
Part of our Delivery Day plan was to train Abigail how to bustle the long trains on Cameron's dresses. I think these photos tell the story of how much fun we had! How fun is this shot the bride caught of me and Abigail underneath her over dress?!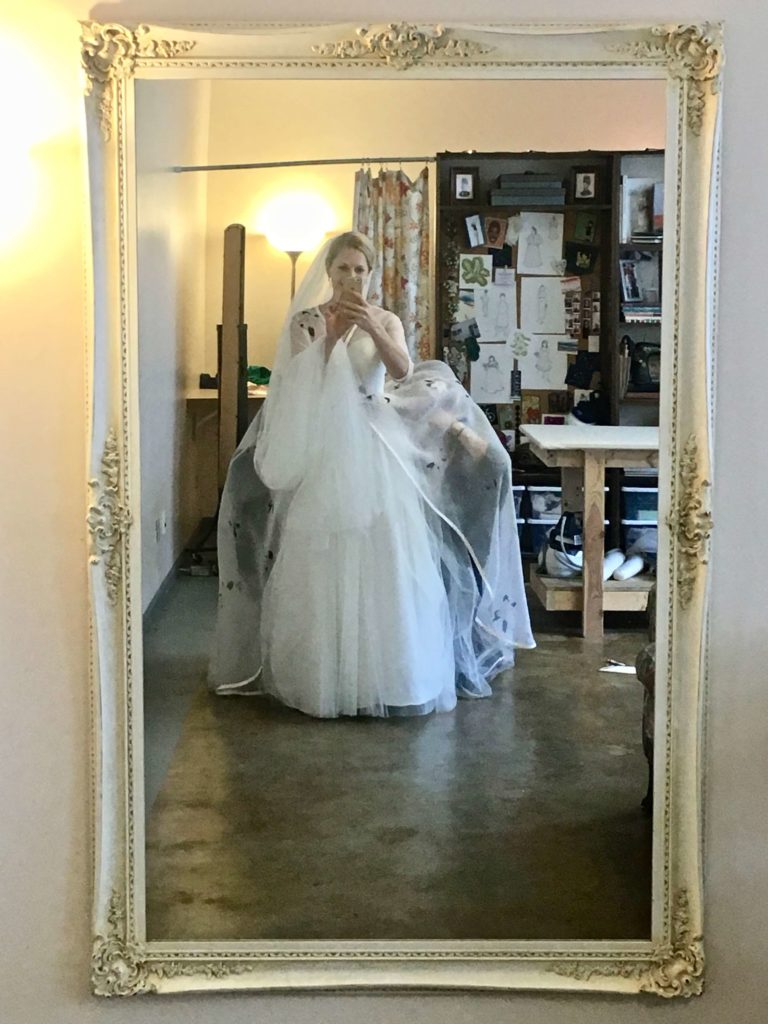 Cameron also caught this silly shot of me under her dress from over her shoulder!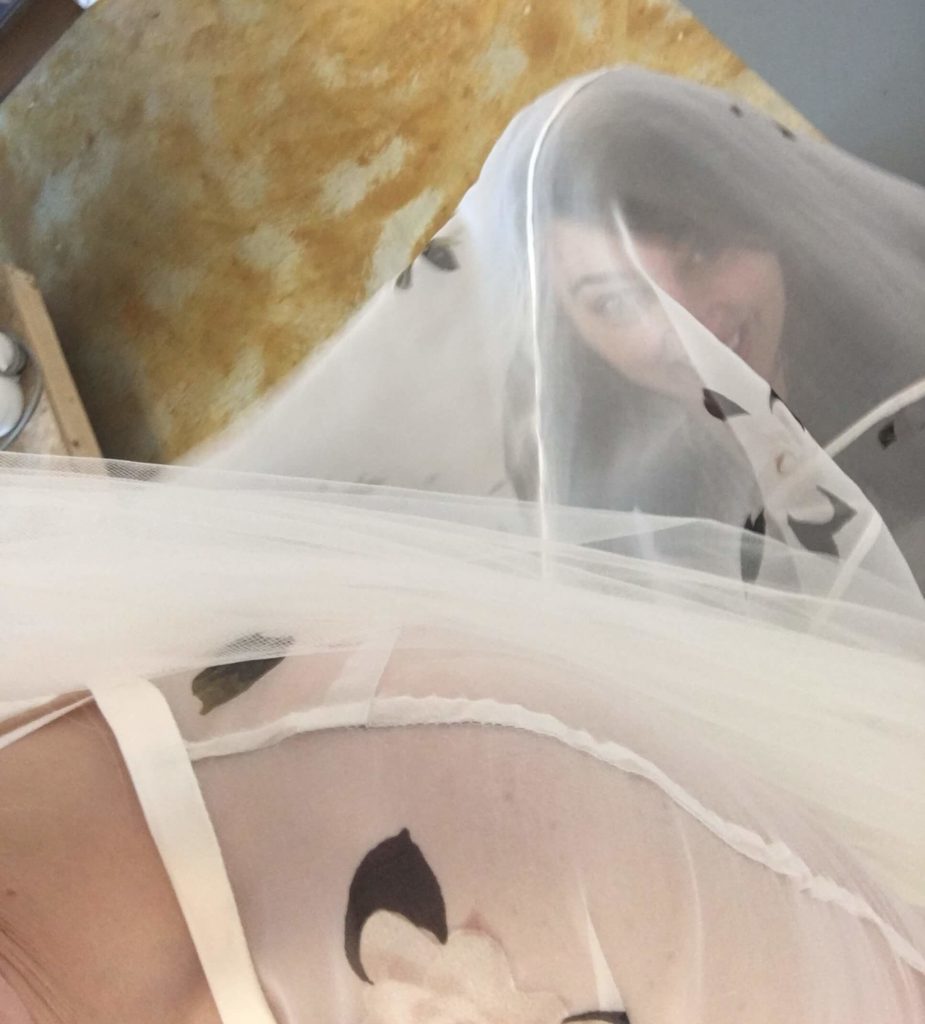 Ok… So I had my camera too. Abigail and I could not stop laughing…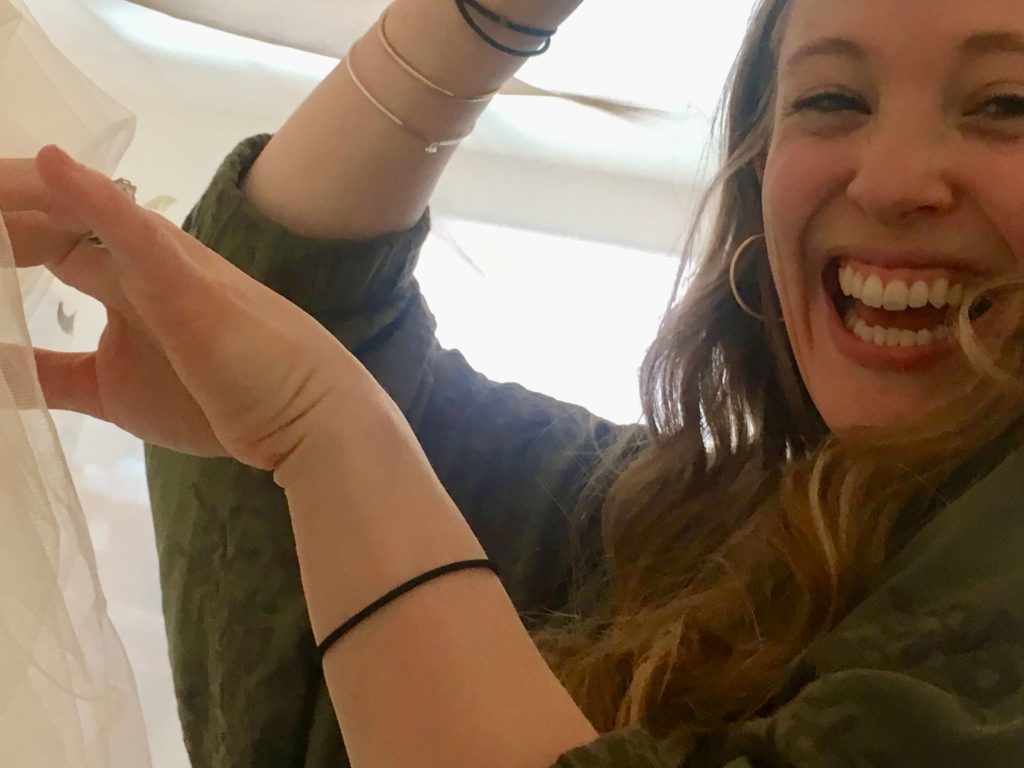 …and taking silly selfies as we bustled Cameron up!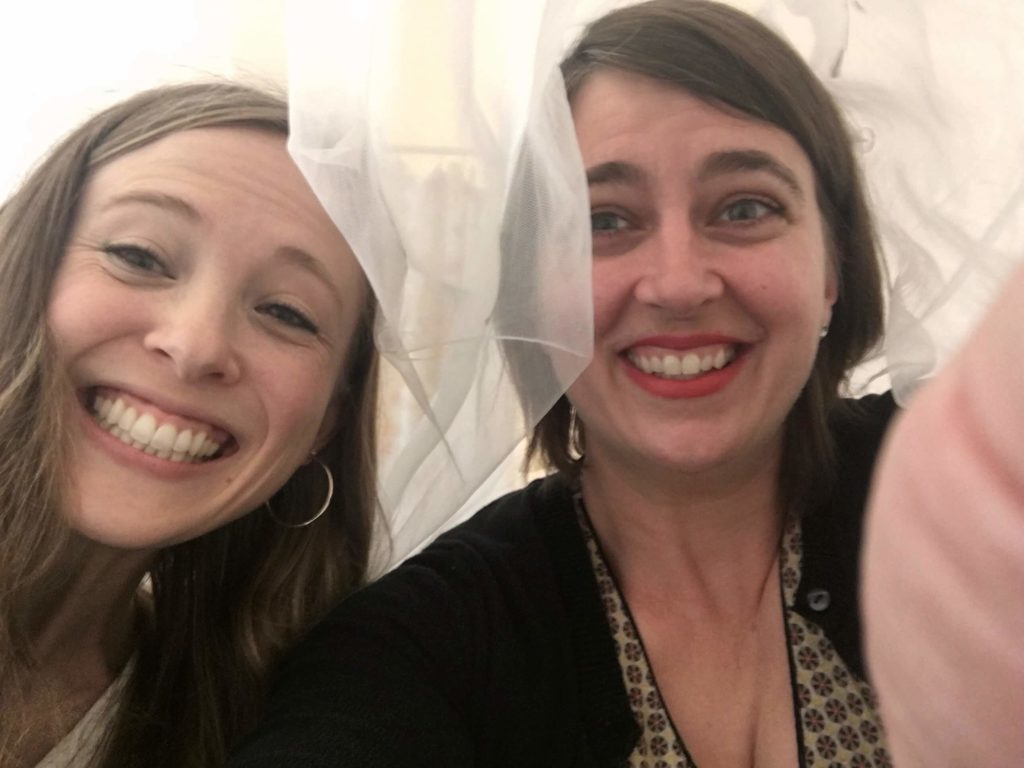 All buttoned up for a bride in bliss!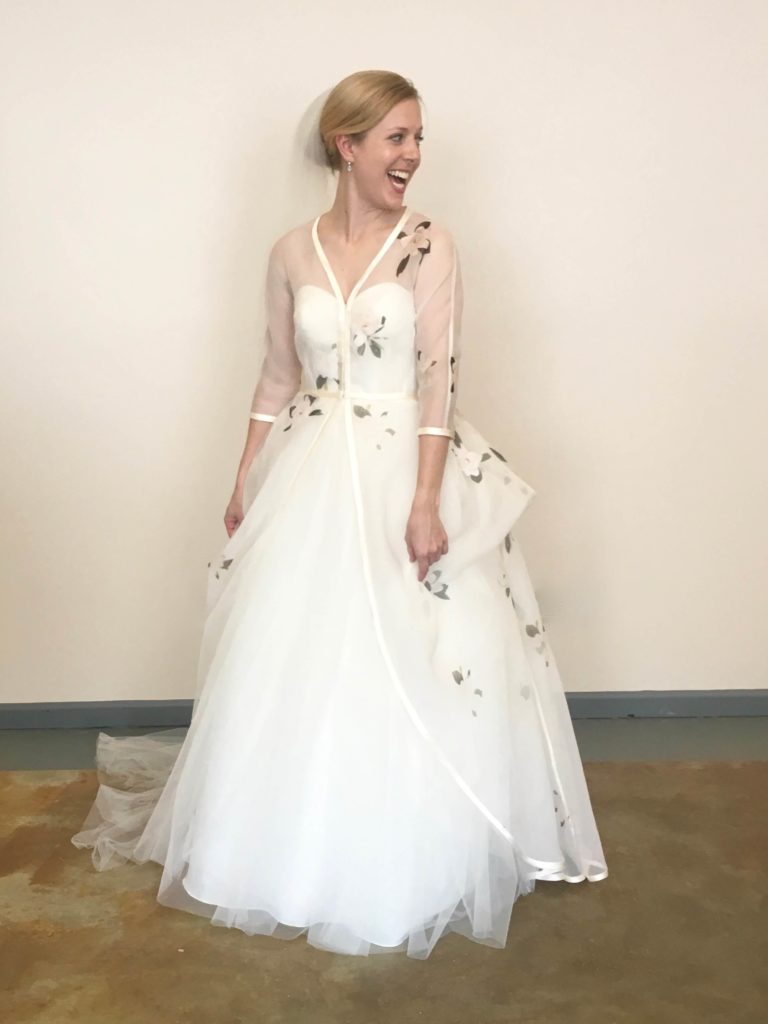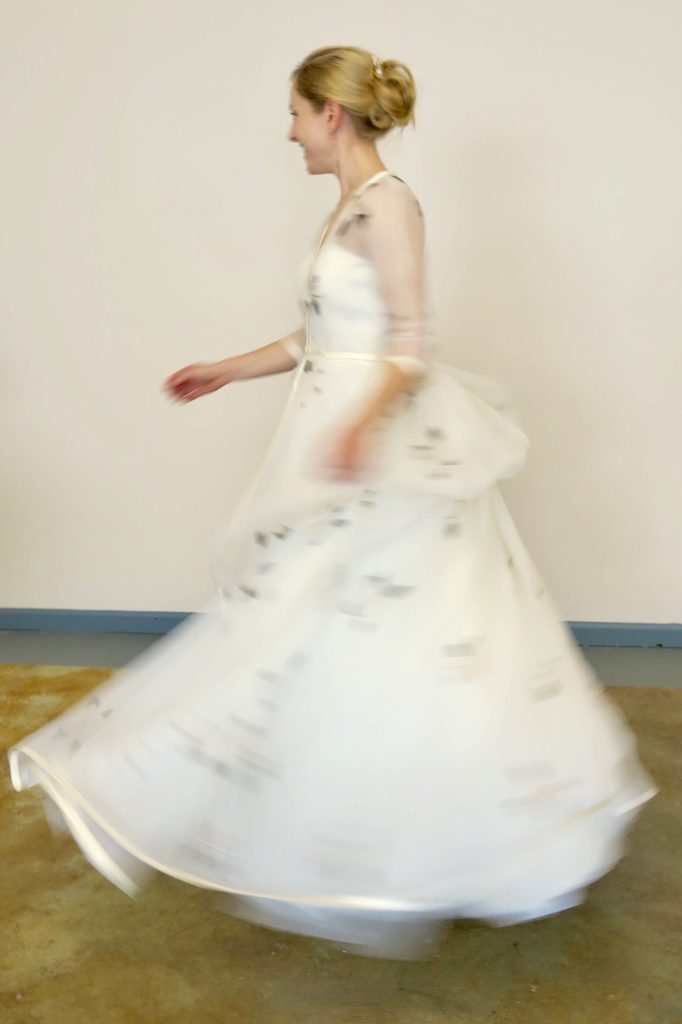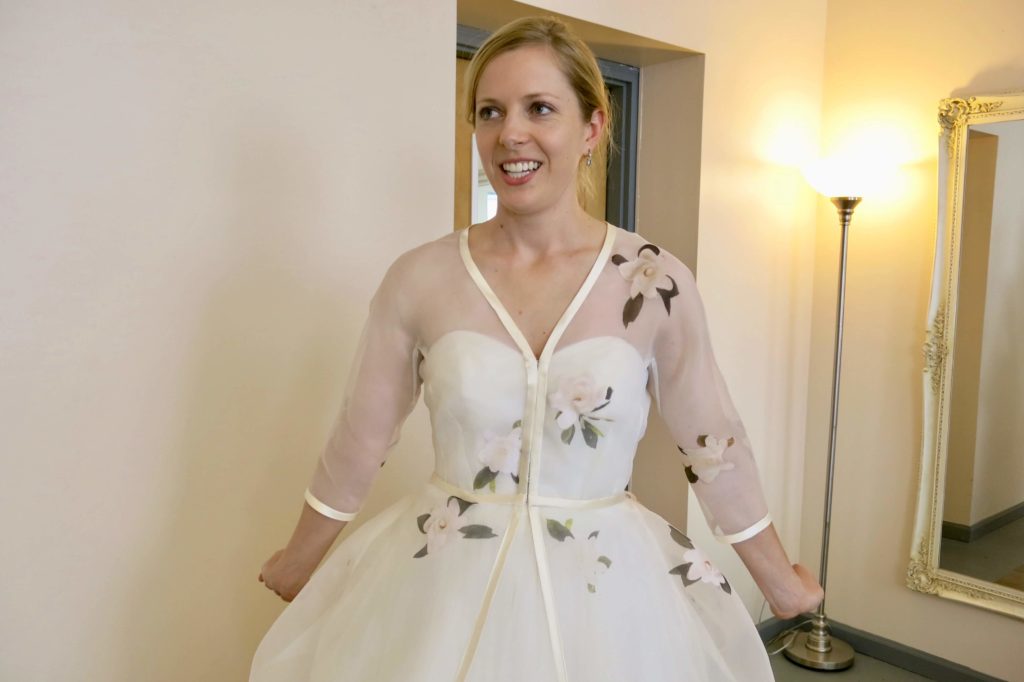 Ahhh…. It was so fun and inspiring to work with Cameron throughout our whole journey together! It was incredibly satisfying for both of us to finally see Cameron's gorgeous vision come true.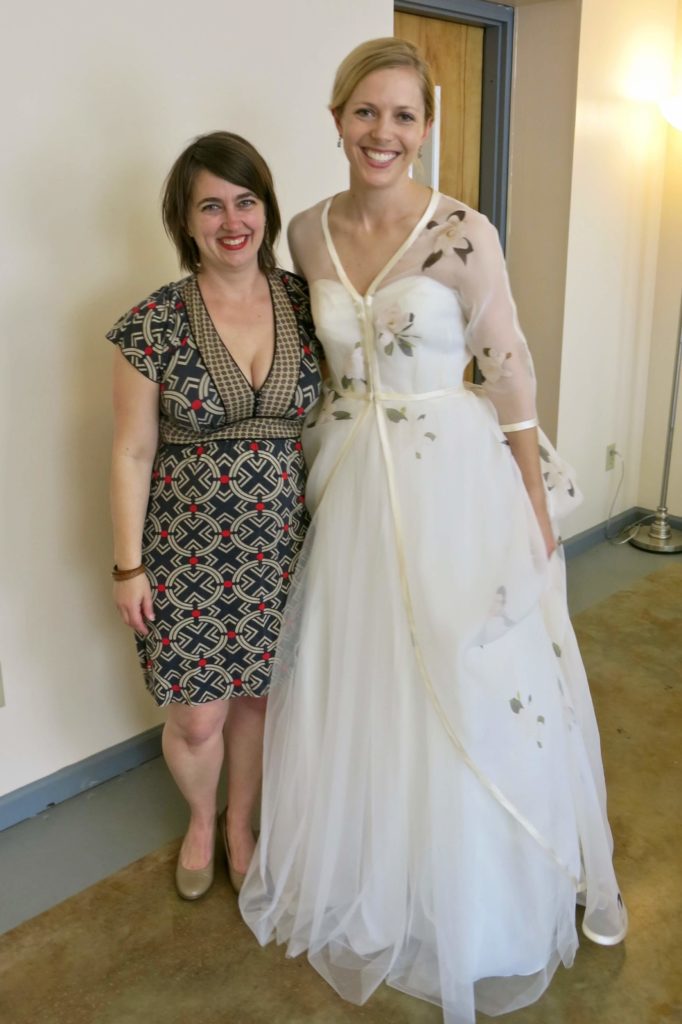 Packing up and Parting Ways
All good things come to an end, and though Cameron was still a bride-to-be, my work was done. I packed everything away in a cotton garment bag…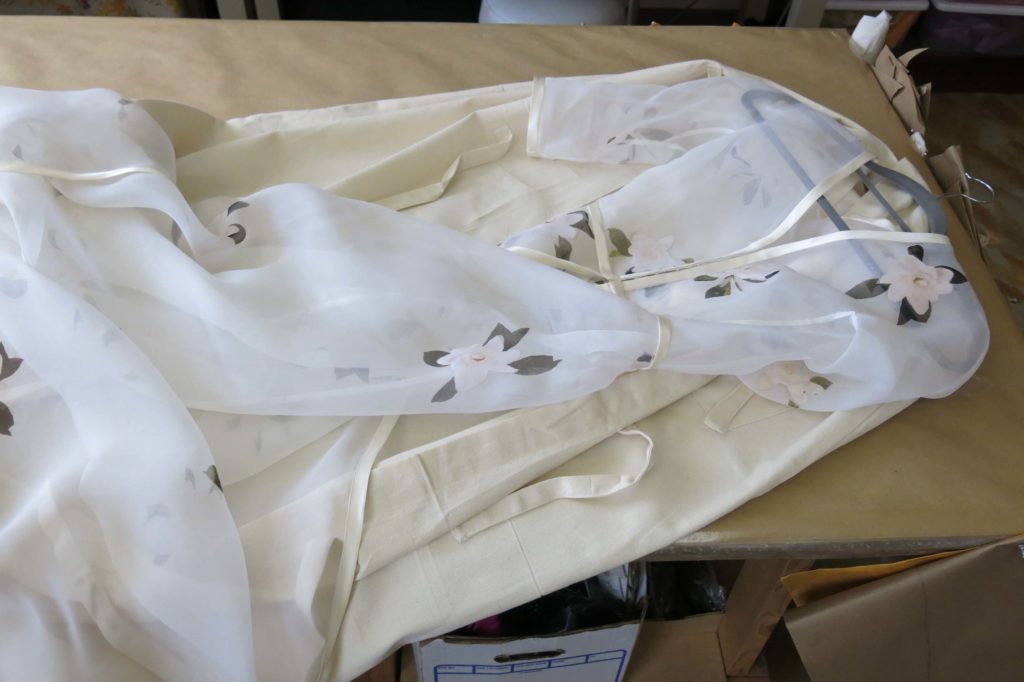 …and watched Cameron, Abigail, and the dress leave the studio.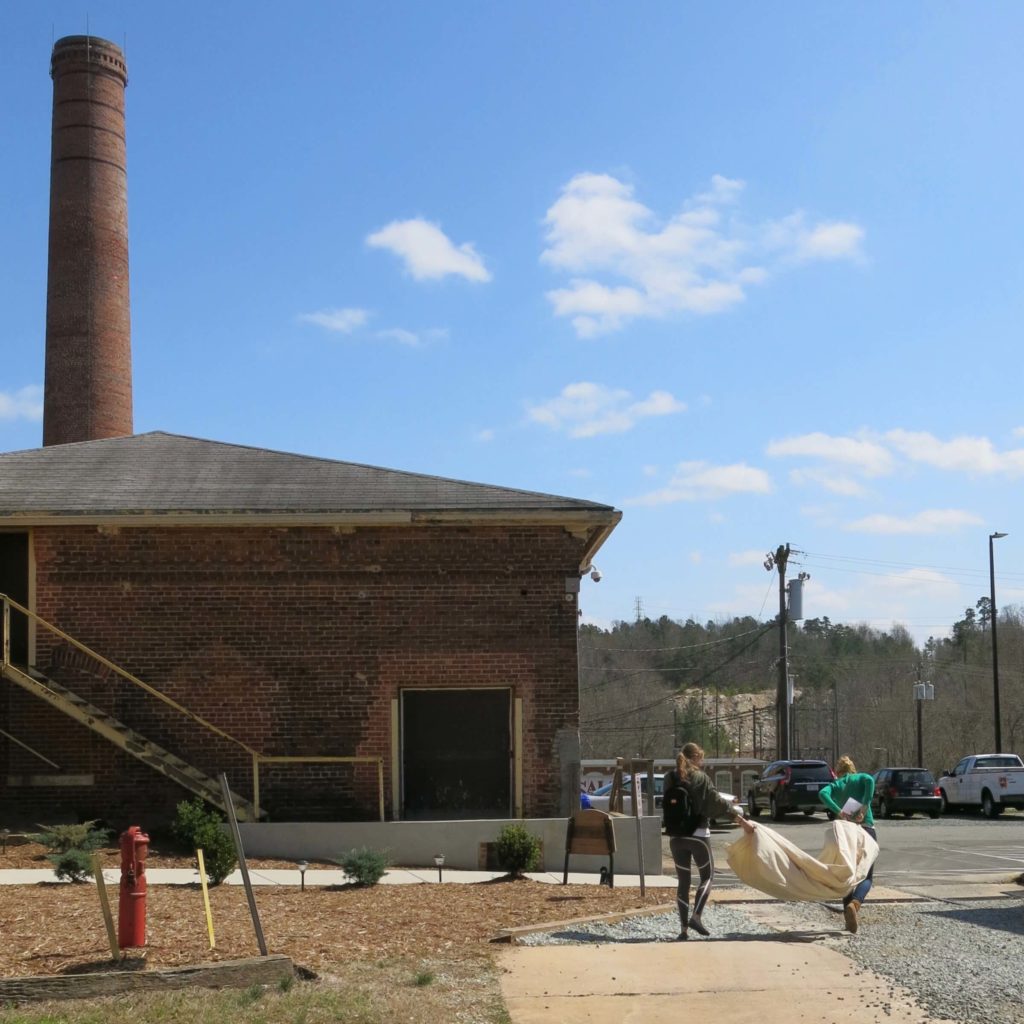 I will admit that I shed a tear or two while packing up All Things Cameron. Once the studio was quiet again, I began folding up the custom drafted patterns, the rough drape, the mockup, the fabric samples, the flower experiments… all to be tucked away…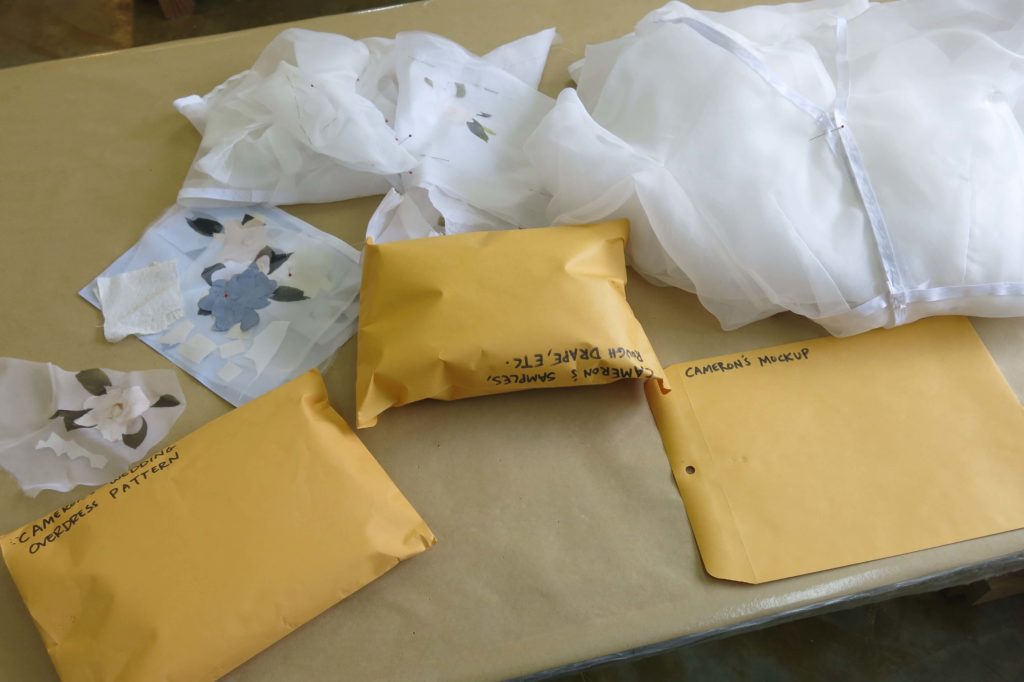 While I was sad to miss the Scotland wedding, a local reception was planned after the Big Day. To keep myself from missing Cameron and her dress too much, I started day-dreaming about making myself a dress for the local occasion…
NEXT POST: What you've all been waiting for: CAMERON'S WEDDING DAY!!!!
SaveSave
SaveSave
SaveSaveSaveSave
SaveSave
SaveSave
SaveSave
SaveSaveSaveSave
SaveSave
SaveSave
SaveSave
SaveSave
SaveSave