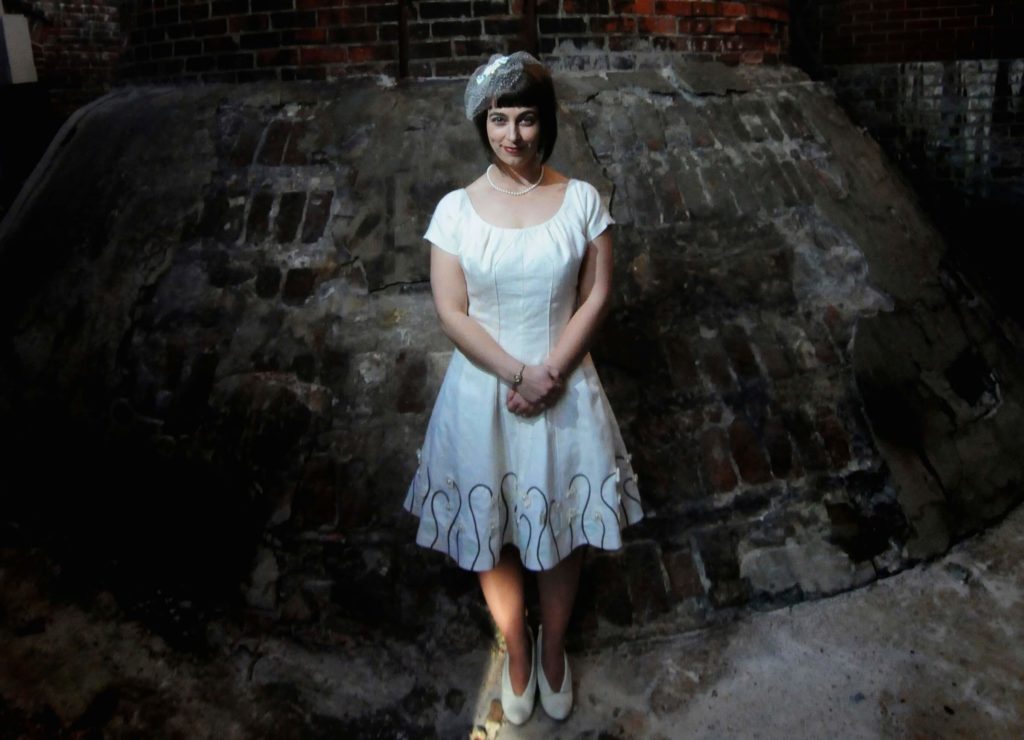 Yes, I made my own wedding dress.
After making his sister Katie's wedding dress and his sister Melissa's wedding dress, I got engaged to my wonderful amazing handsome husband Charles.  Our wedding was held on the afternoon of the Ides of March 2008.  It was our seven year Kissaversary.
So what does the wedding dressmaker design for herself?
I knew I wanted a knee-length wedding dress.  I am (less than) 5 feet tall and have never really felt comfortable in long gowns.  I always feel like I look like I am playing dress-up in someone else's clothes.  Plus, a short dress will be appropriate for our daytime wedding, as well as show off my legs and some cute shoes.
I was designing for myself, so I didn't make a presentational sketch drawn on my body for proportions,  but I did do a few quick sketches just to brainstorm ideas.  I found these cuties when I was searching through old wedding stuff, collecting things to share in this blog post.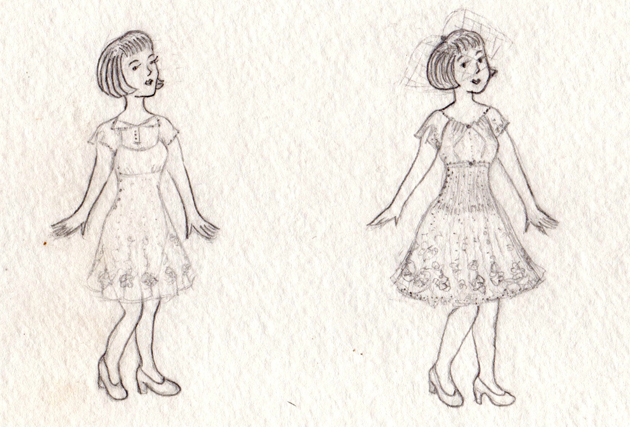 I was inspired by a vintage pattern that I saw online. I really loved the neckline of the lady in green, and the idea of the short jacket.  Our ceremony was going to be outdoors in chilly March and I loved the idea of a ceremony look (with the jacket) and a separate reception look (without).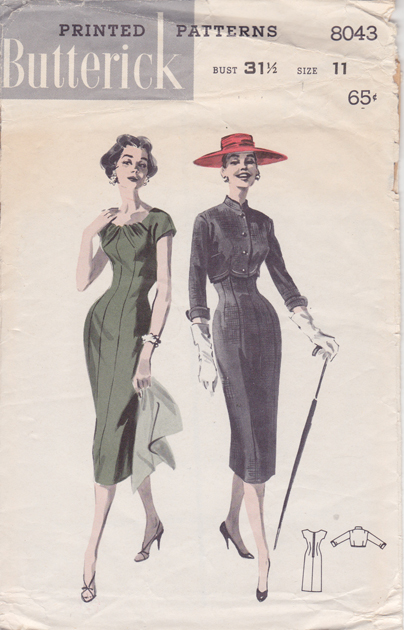 I was also inspired by this image.  I loved the idea of interesting hem decorations in teal and brown.
Using these inspirations (and many others- including some gorgeous cotton lace and some beautiful ivory raw silk), I ultimately decided to go with something like this quick sketch: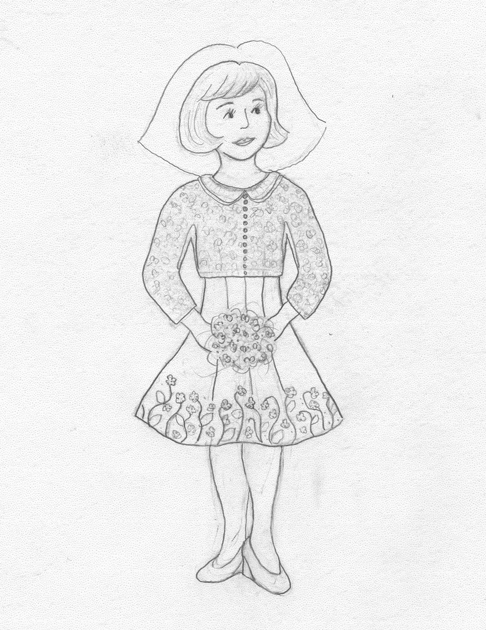 My introduction to website creation and blogging was actually when I made my own 2008 wedding website.  I wanted to make a simple site where all of the guests could find information about the wedding.  On this little DIY website, I first blogged about the wedding planning and process.
These pics were my some of very first process shots for possible blogging purposes.  This was shortly after I got my very first non-film digital camera.  I had no idea how important photography would someday be to me!
Here's a shot of the rough drape of my dress (over the teal petticoat!) on one half of the dress form, and playing around with the jacket and fabrics on the other half of the form: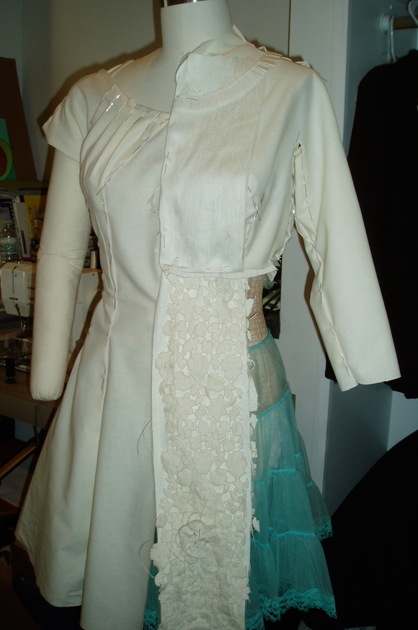 I drafted the pattern (pictured below) and made a mockup dress which I had my professor from my Master's program, Judy Adamson, fit on me. (sorry no pics)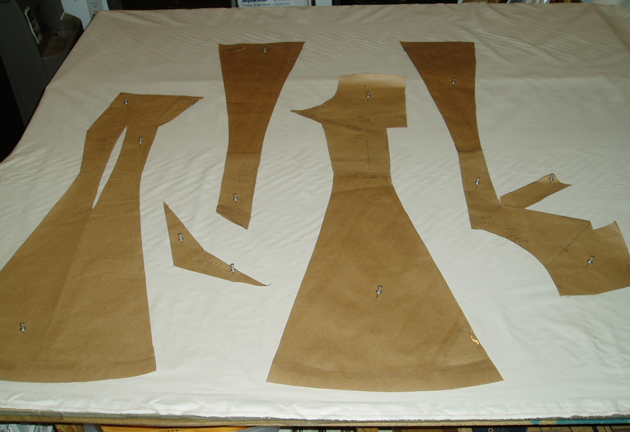 I found a few other messy process shots:
This must have been right before my first fabric fitting.  You can see the unfinished edges and temporary closures.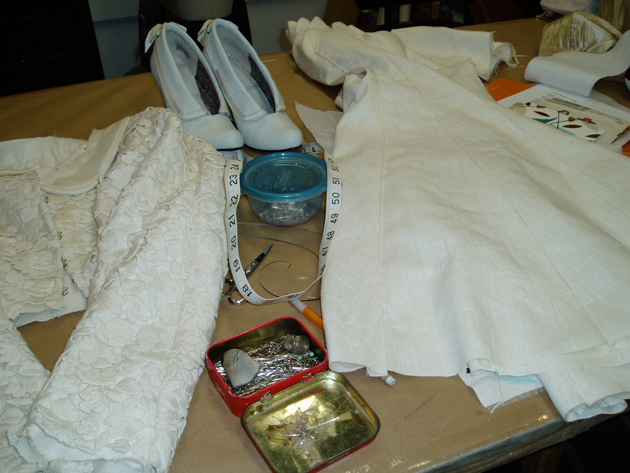 And the photo below shows the jacket finished on the form and the dress unbasted and laying flat on the table as I finished all the hem decorations.  Look at all those pink shopping bags from Mulberry Silks and Fine Fabrics!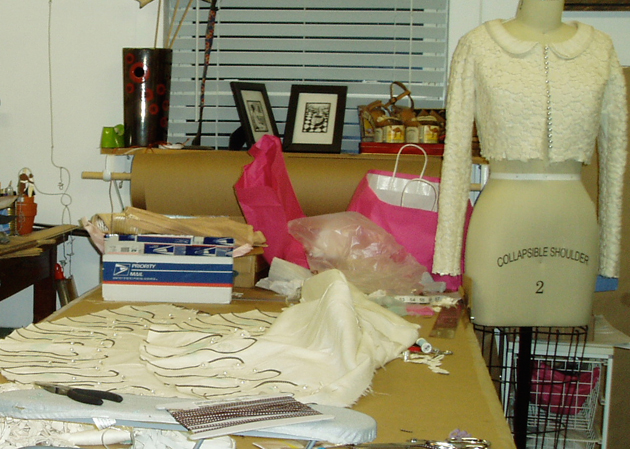 My wedding dress would ultimately become this!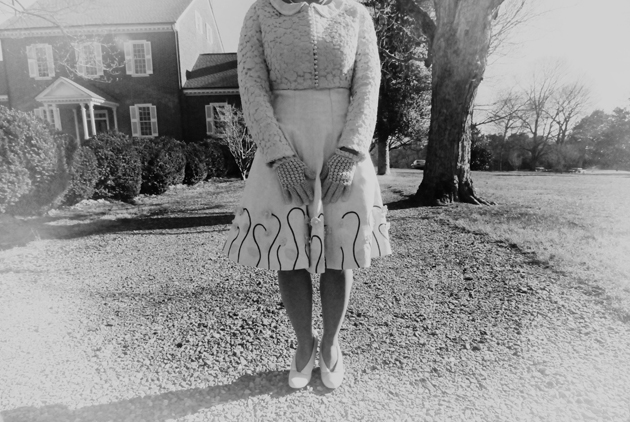 The jacket has cut-in-one sleeves with triangle gussets.  The lace was all hand pieced so that it appeared sculpted on the body, rather than having lace caught in darts etc.
The dress was crafted from a gorgeous textured raw silk and was worn over a teal petticoat.  The hem decorations of flowers, stems, and leaves were made from ribbons, buttons, organza, and flowers cut from the cotton lace of the jacket.
The day of the wedding turned out to be a beautiful day, so while the girls were getting their hair done, I decided to turn the long sleeves of my jacket into 3/4 sleeves.  In some ways, I think I just needed something to do with my hands and sewing was able to cut my nerves a bit as I was getting ready for my wedding ceremony.
The talented wedding photographer Shane Snider was there to document the day.  I highly recommend Shane to anyone looking for an excellent wedding photographer.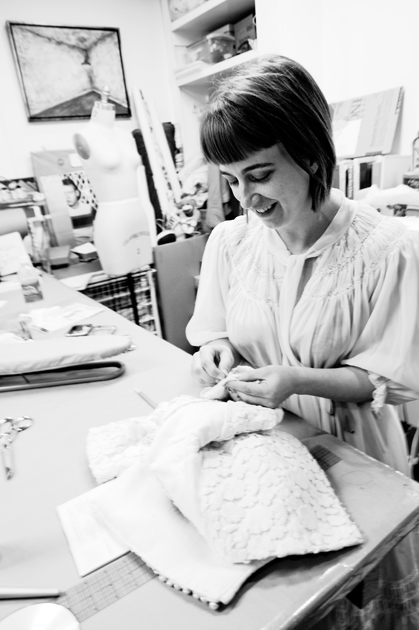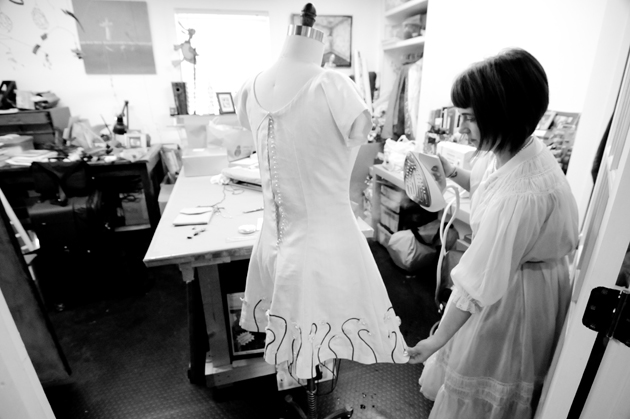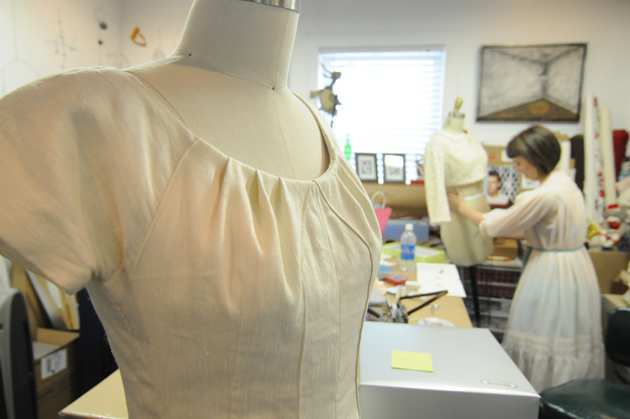 I believe that closures should be real (no fake buttons on top of zippers) and that you should have a few minutes before your wedding to have someone else help you get dressed.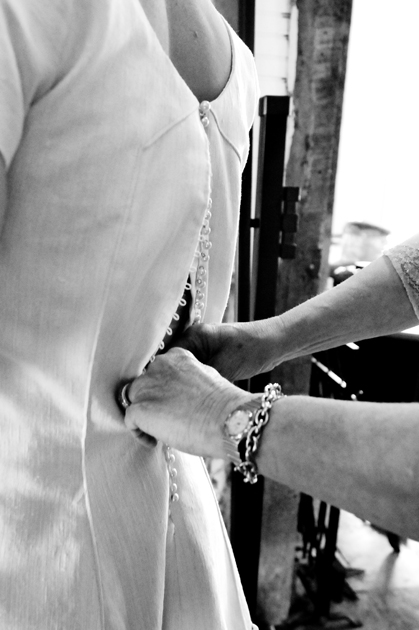 My wonderful and gorgeous mother was there to help me get buttoned up!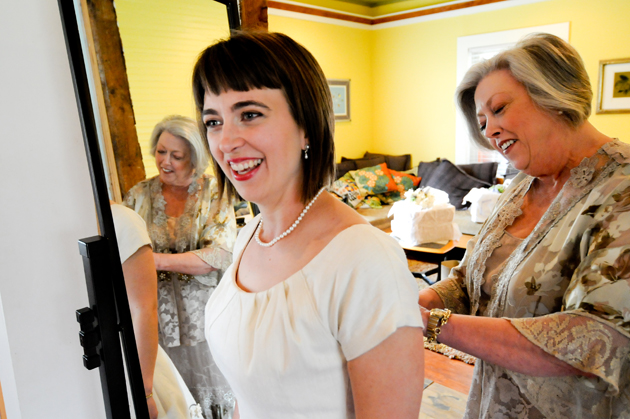 I really could go on and on about my wedding day.  It was so amazing to be around all of my favorite people and to marry my best friend.  I loved the ceremony and the party and everything about it so much that it inspired me to go into the wedding business.  I decided to start offering my services to other brides who wanted something special for their wedding day.  It was a magical experience that I will cherish forever.
The wedding party: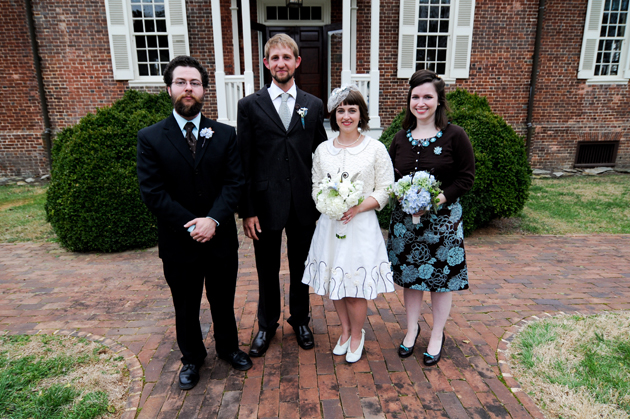 The ceremony: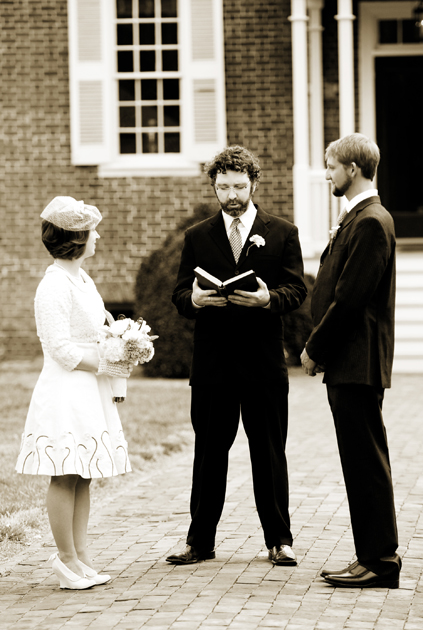 The reception: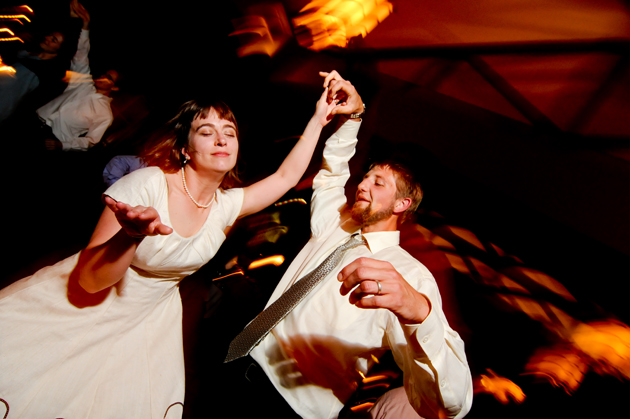 I hope you enjoyed a little glimpse into my wedding day as well as my process of creating my own wedding dress.
It was truly the start of something special.
To see more photos, check out the page for my dress in my Portfolio.
SaveSave
SaveSave
SaveSave
SaveSave
SaveSave