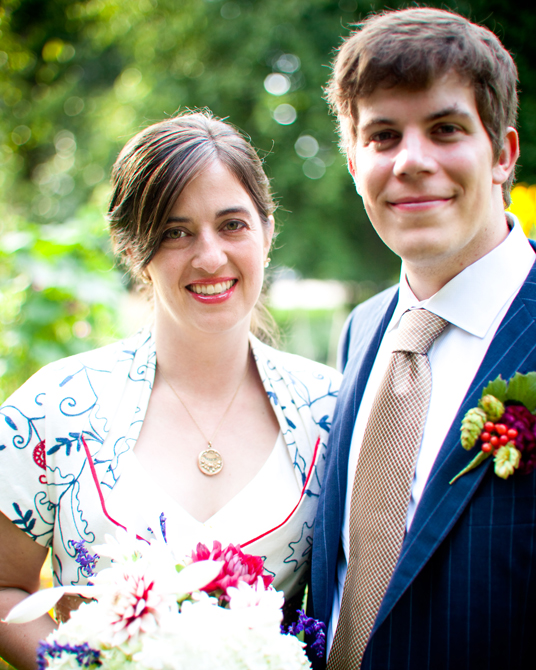 Leah's wedding dress was the first real wedding dress that I created for someone I did not already know.  It's funny to think of it that way, because since working with her on her dress, Leah has become one of my most treasured friends and someone I hope to always have as a part of my life.
I did, however, know her fiancé Jonathan.  He did a reading at my own 2008 wedding ceremony which Leah attended.  You can see Leah (with her dark hair and blue floral dress) in the following photo from my own wedding hoping to catch my bouquet.
Leah did not catch my bouquet, but she was the next to get engaged!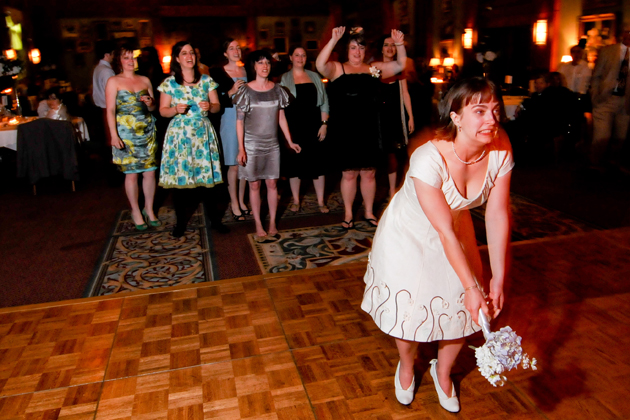 When Leah contacted me about possibly making a custom dress for her 2009 wedding, I knew we'd be a good match.  Anyone who was in love with my friend Jonathan was someone who I knew I'd be able to get along with.
Basically, we worked out a deal.  While making her a custom wedding dress, she'd help me figure out my business.  I knew it might be clumsy at first, figuring out my system, but Leah was happy to be helpful and provide honest feedback along the way.  We were a match made in heaven.
Leah, a writer and comedienne, was getting married in the backyard garden of her childhood home in the Finger Lakes area of Upstate New York.  It was an Edwardian home so the thought was that we might somehow play into that for our design.  It would be a daytime ceremony at the end of summer and she was interested in using cottons in her custom dress.
Leah's dress was the first dress that I drew from "inspiration words".  I now give all of my brides a list of words (or they can use their own words) that could describe how they want to feel or look like on their wedding day.  Leah chose the words "Joyous, Vintage, Easy, Timeless, and Unexpected".
We had an absolute blast at our design consultation mixing images from Edwardian fashion illustrations and vintage Christian Dior, to Carolina Herrera and  J.Crew.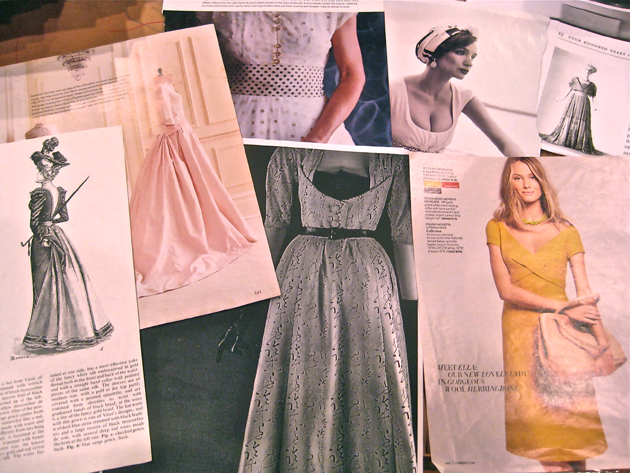 We also had a lot of fun shopping together at Mulberry Silks during our consultation.  Though I don't usually recommend buying fabrics before the patterns are drafted, Mulberry Silks was having a 40% off sale and Leah found some amazing cottons that she really loved.  We went ahead and purchased our fabrics during the sale, knowing that we could overbuy and still be saving $$.  If there were leftover fabrics, they could be used for table runners or other wedding decorations or keepsakes.
We bought this amazing embroidered cotton featuring blue vines, red leaves, and gold flowers.  We also bought a gorgeous white cotton damask.  The possibilities were very exciting.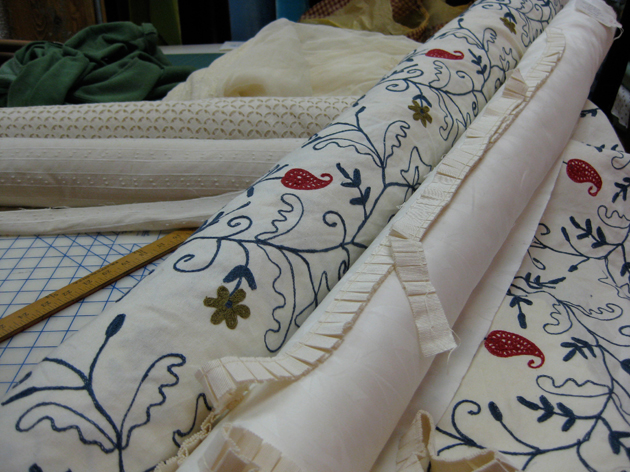 Leah lived out-of-state, so while I was working on creating my first website for my new business, I decided to make a little website for her.  It was a nice way to communicate ideas back and forth in a way that was a little more illustrative than an email.  I worked up Leah's sketches and Design Proposal and presented it to her via this website.
The idea of having a website to share visuals with each bride is also something that I still utilize today.
Leah's sketches: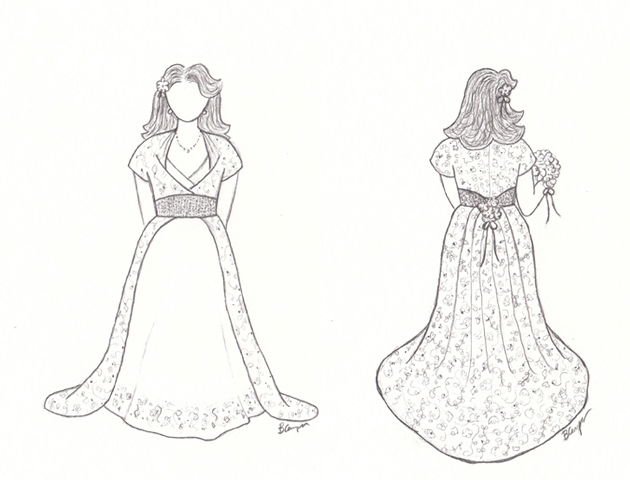 Leah would have two looks.  For the ceremony she would wear a Dior/Edwardian inspired jacket made from the embroidered cotton.  It would be bustled and have a train with contrasting trim and lining.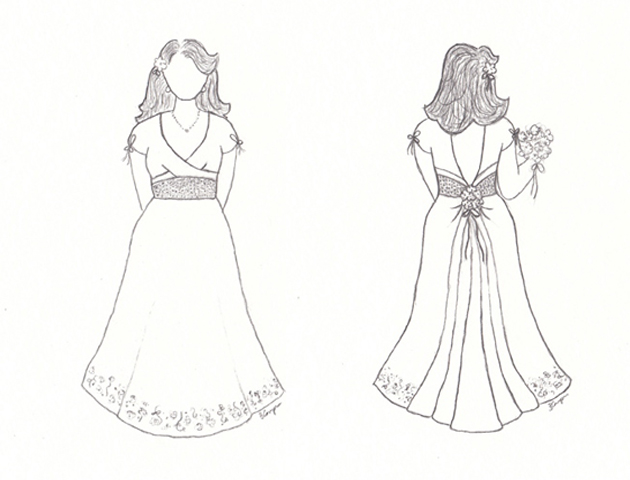 For the reception, Leah would remove the jacket to reveal the cotton damask dress with criss-cross neckline and a low V-back.  The A-line skirt would have fullness in the back in the form of very deep pleats coming from the waistline.  Each look would share a gold belt with a "bouquet" and ribbon closure.
Leah was in love with the designs I created.  I was able to get right to draping and drafting her patterns.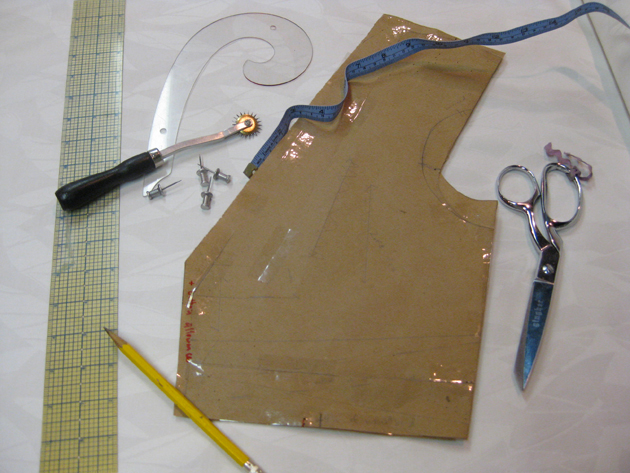 I created a mockup dress for Leah to try on out of muslin.  Before our mockup fitting, I sent Leah some photos (via her little website) of the muslin dress on a customized "Leah Size" dress form to see if she had any immediate changes that she'd like to see.
Here's one of those photos.  (See if you can find my dog Digs peeking about in the photo!)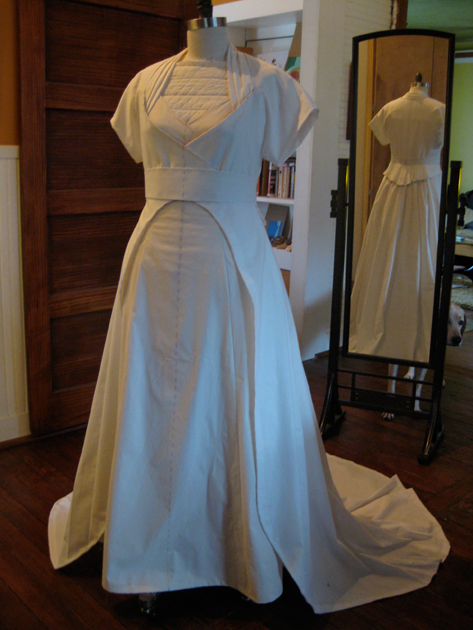 Leah looked great in her muslin dress at our first fitting!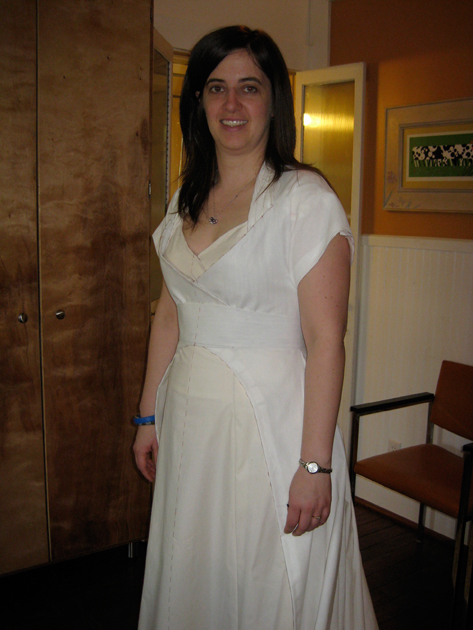 Since Leah and I had been communicating with each other over email and over her little website about her dress, as well as how to craft a business from my talents, she suggested that I start a blog.  I had blogged very briefly about my own wedding, but didn't really know much about blogging for business.  She thought I'd be great at it and I decided to give it a try.
I started blogging my dressmaking process in detail.  My very first Bridal Couture blog entry can be found here dated May 14, 2009.
This blog post that I am writing right now is post #150.  I owe it all to Leah!
For more very specific details about Leah's dress, I recommend you read the blog about her dress post by post!  It's always a fun adventure to follow along as the dress takes shape,  especially if you are interested in sewing or fashion or weddings.  I let you in on all the behind-the-scenes secrets!
Once Leah's patterns were corrected and the real dress was cut and basted, Leah and I had a Fabric Fitting at Mulberry Silks.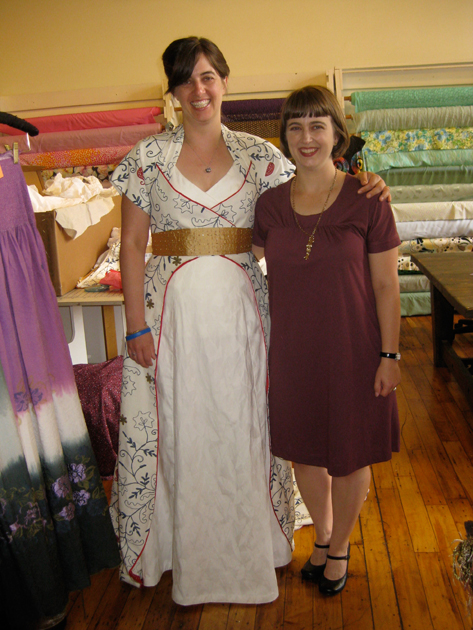 Here's what Leah had to say:
"Brooks Ann ended up making a dress that spoke exactly to who I was. It was beyond what I 'wanted.' It's a dress that I didn't even know how to want. But when I tried it on, it was perfect."
And perfect it was!
Once I finished her dress, I asked a friend and local product photographer if he'd shoot some photos of the dress before the wedding.  Not only did Leah help me build my business and my blog, it was the beginning of a great dressmaker/photographer relationship!  Kent Corley Photography now shoots all of my custom wedding dresses!
Here's one of Kent's first Bridal Couture shots: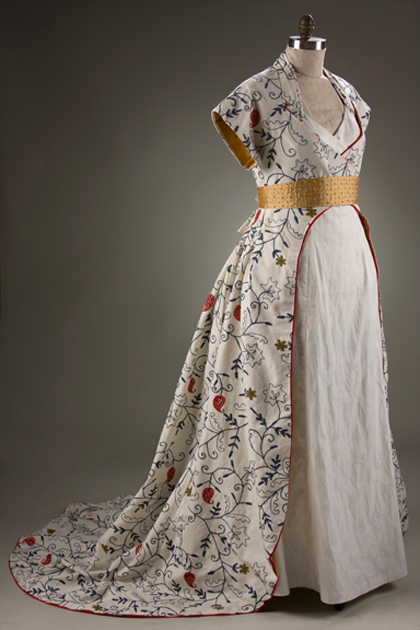 Leah and Jonathan's wedding was amazing.  Ah-mazing.  I was there to help her get dressed and could not have had a lovelier time.  I could gush about all the details for literally hours, but I fear this blog post is already bordering on "too long".
So, here's just a few of my favorite shots from the big day: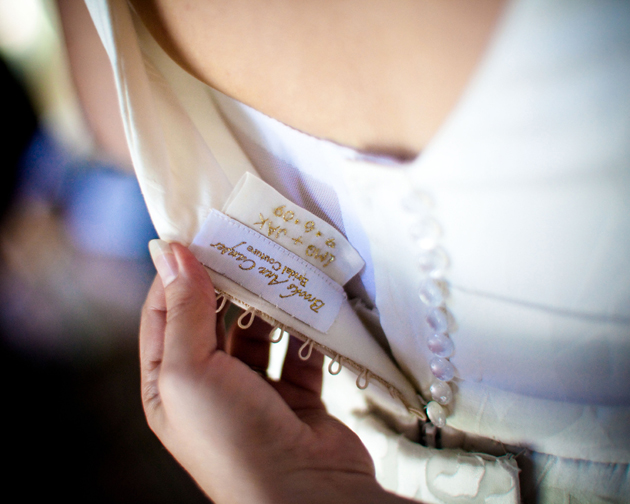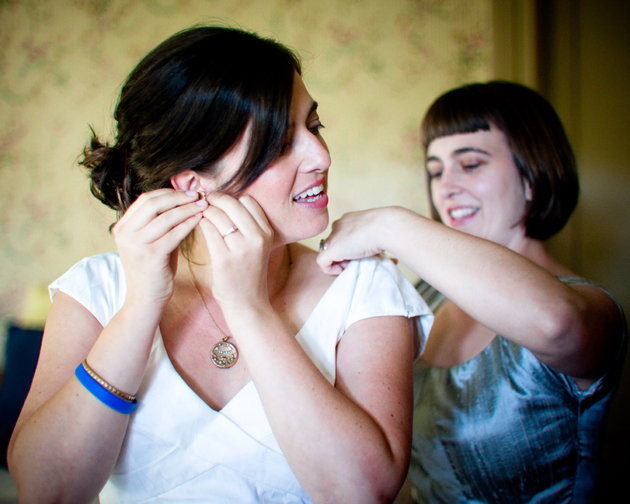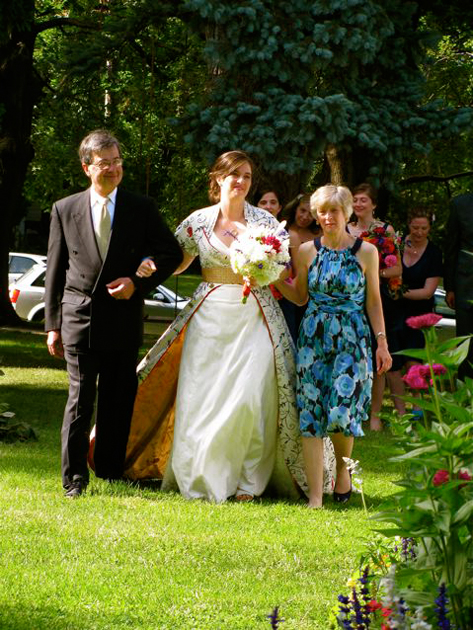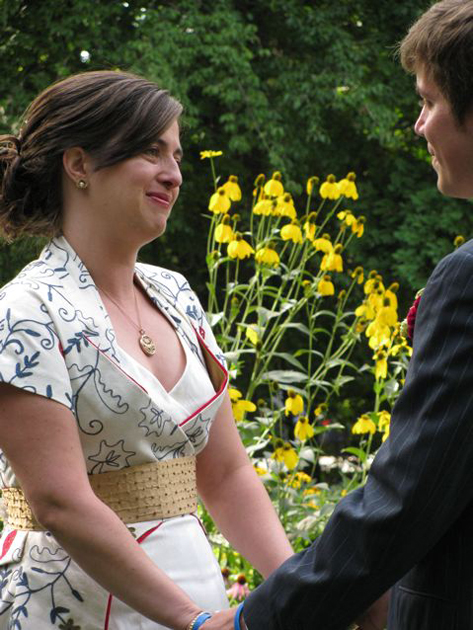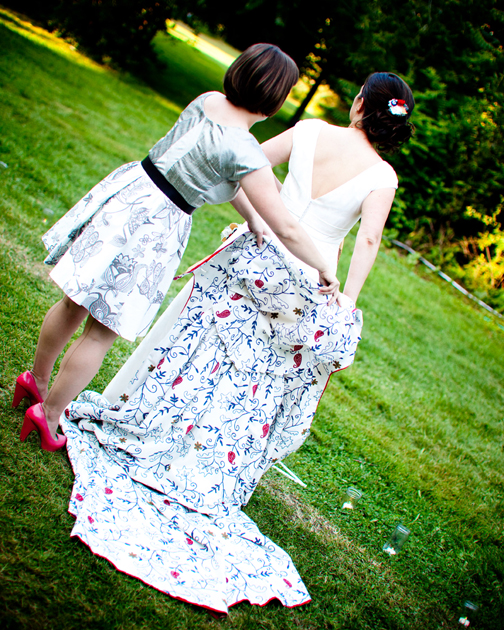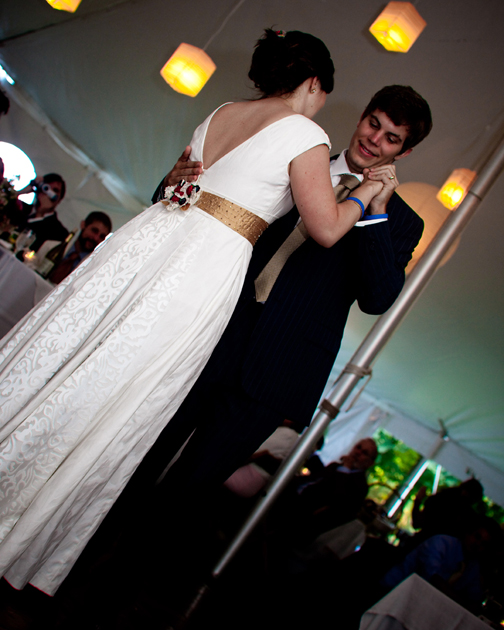 For more shots of Leah, check out her photo gallery in my Portfolio, or look at her album on my Facebook page!  For more wedding day details (and what the guests of the wedding thought about the dress!), read my blog post about Leah's wedding day.
So a dress, a business, and a blog were created with Leah as a true inspiration and collaborator.  With Leah's help, I was really able to define my process (and Jonathan's mother is a lawyer who helped me draw up my contracts!) and get my business off the ground to start to offer custom dresses for unique brides of all sizes and styles.
Thank you so much Leah for all your help and for being such a beautiful and incredibly helpful bride!