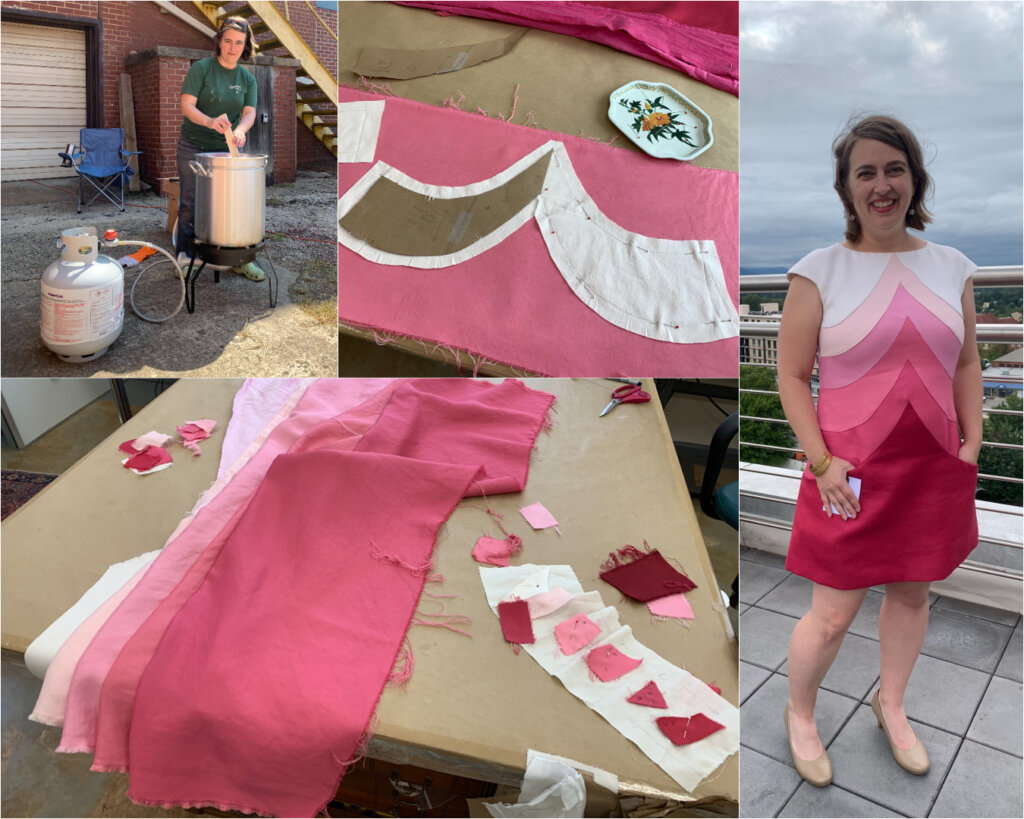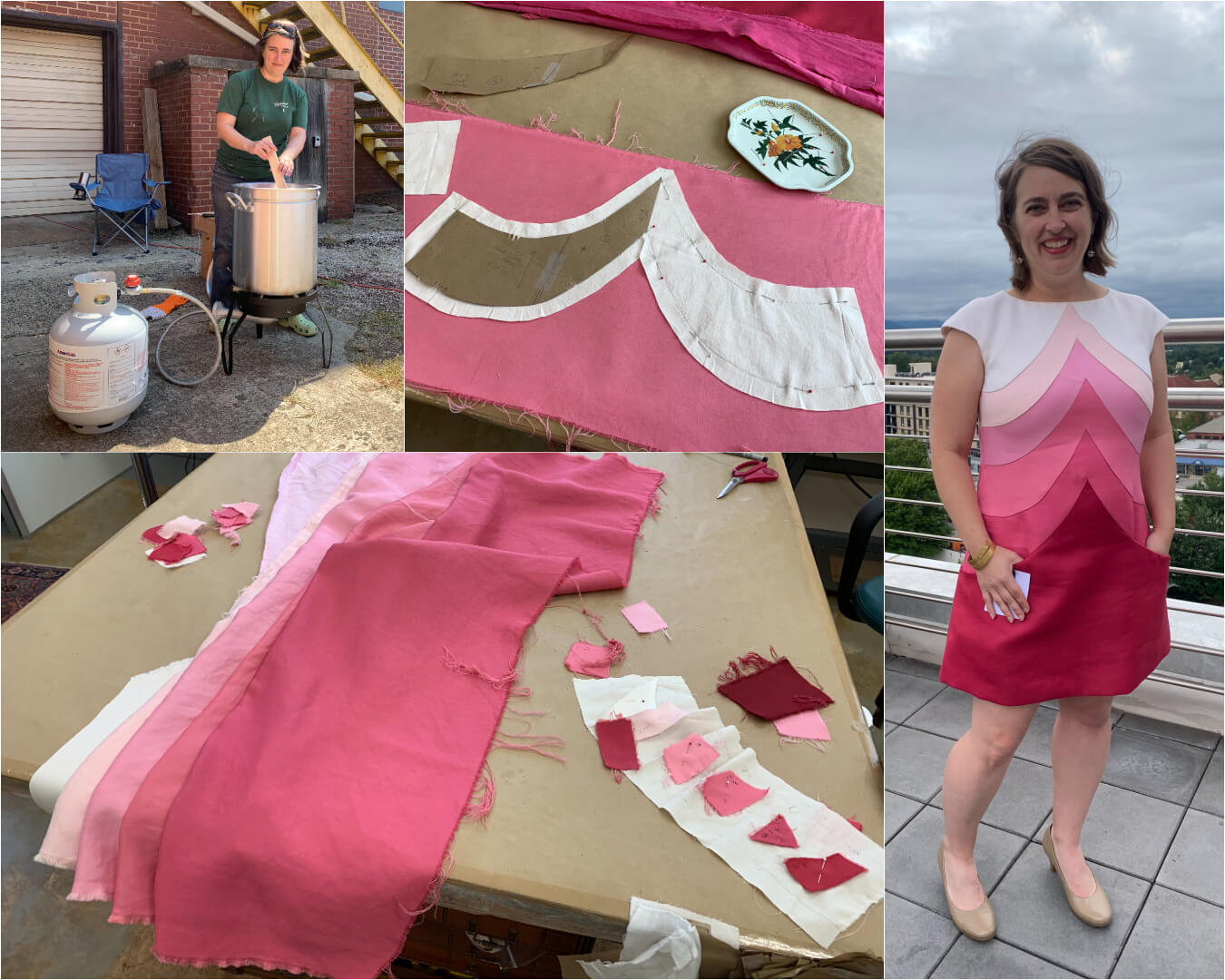 In part 1 of this short blog series, I tell the story of how I designed, drafted the pattern, and fit the mockup for a super-cool dress for myself. This second post is all about the fabric!
My rule of thumb for purchasing fabrics is to buy enough for my pattern + plenty of technique tests + enough to recut the largest piece if I had to. Since my sewing practice involves plenty of prep, I rarely need to recut, so as a one-of-a-kind custom wedding dressmaker, the "fabric stash" I've accumulated over the years is mostly white.
I rarely wear white. And in addition to Frocktails, I was planning to wear my new dress as to a special wedding (more coming soon!) (spot my hem and elbow in People Magazine!)… But with a custom dye job, I could make white fabrics any color I want…. 
…and since I so rarely sew for myself (#thedressmakerhasnoclothes) I might as well work with a favorite…
Deborah's bridal gown was made from the dreamiest silk/wool satin. It's not only goooorgeous, it was really fun to sew. I did not need to recut while creating her dress, so I had some scrumptious yardage left over…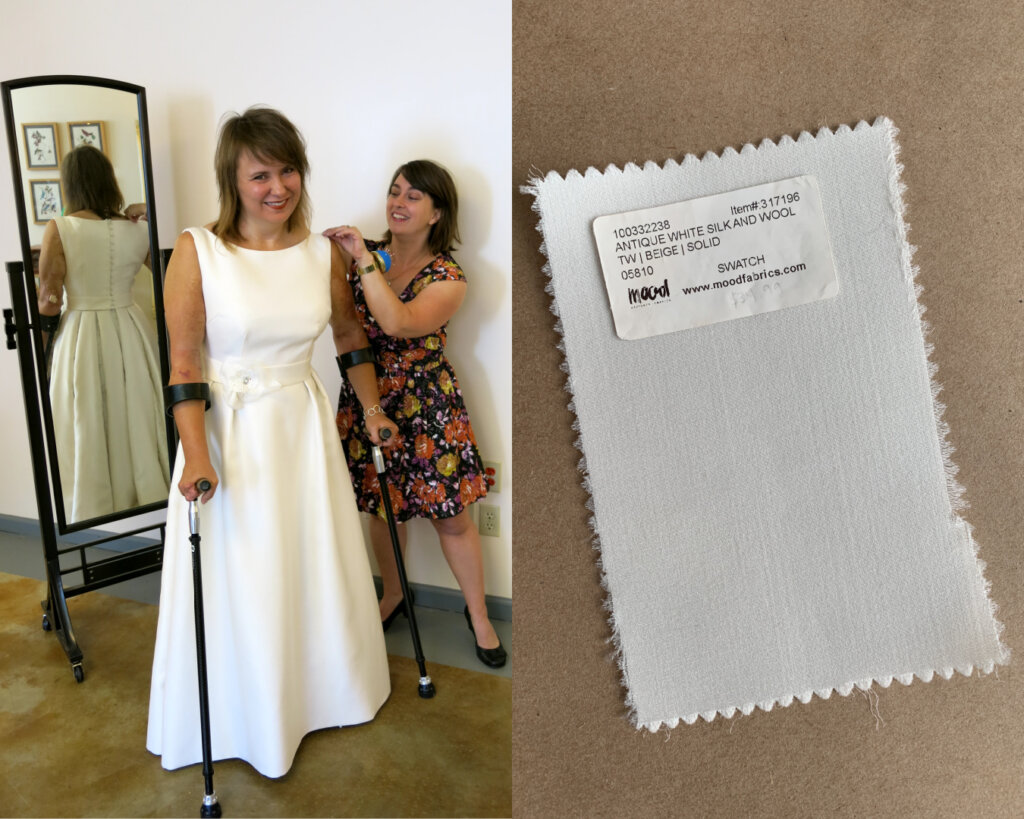 Since my dress was going to be all about curves, I cut a sample of Deborah's leftover bridal fabric for some tests. Beautiful!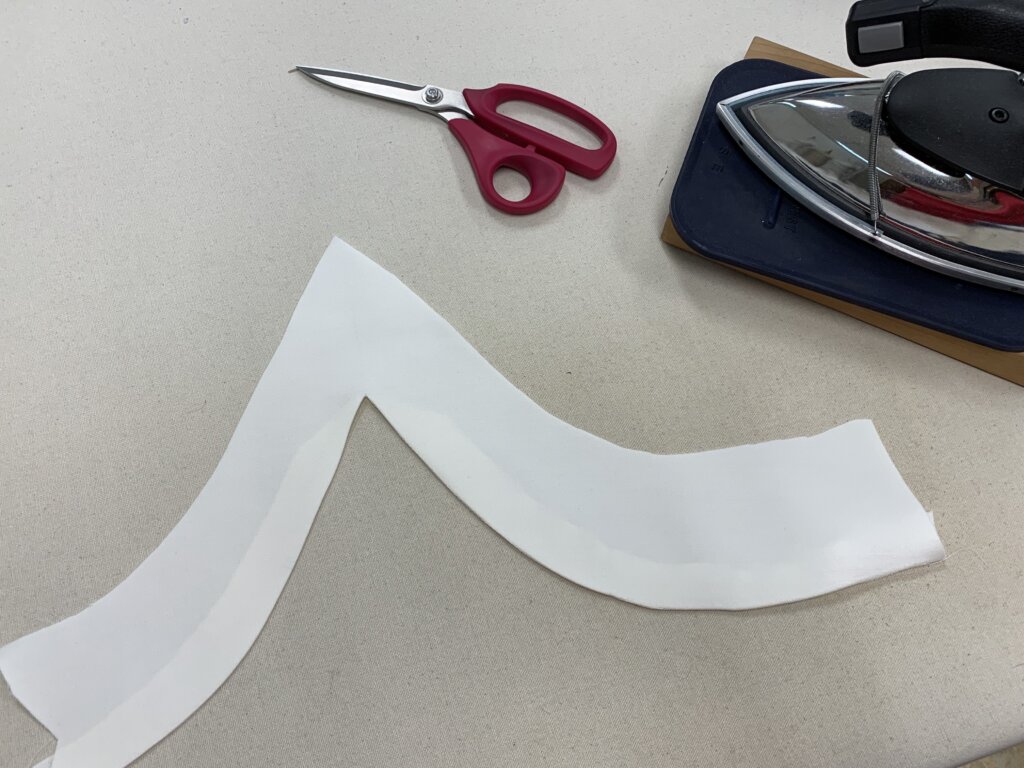 Since I would be dyeing different pieces of the same fabric different shades of the same color, I'd need to be strategic about my layout. I fiddled around…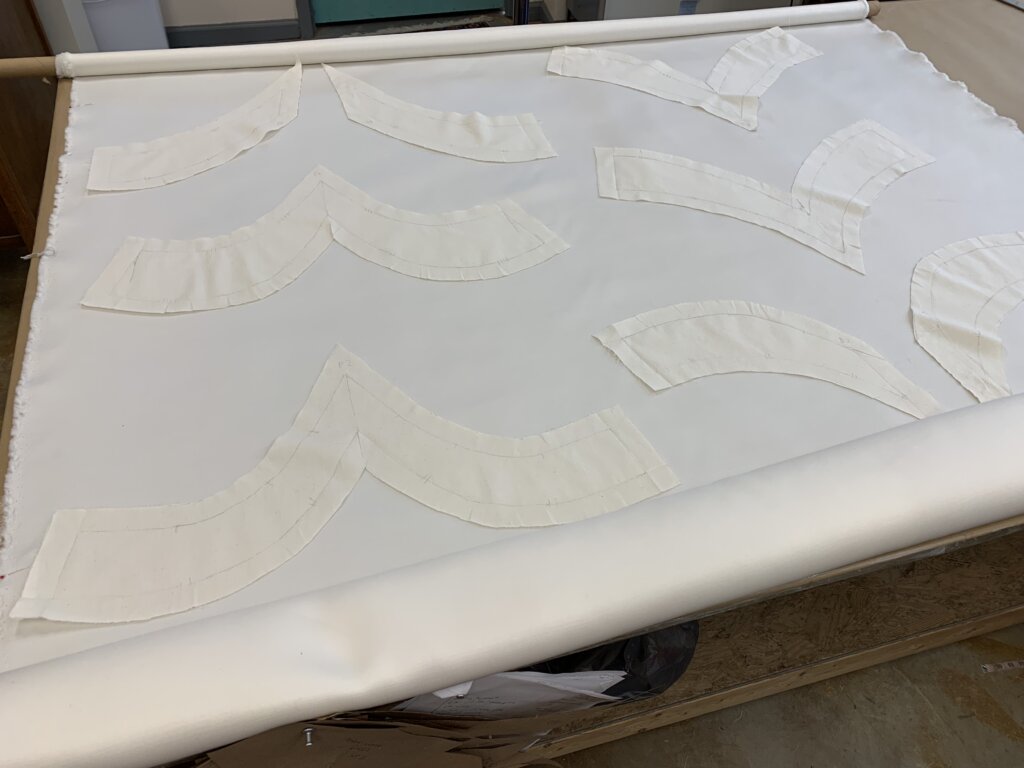 …and found that I had just enough. Eeek! I double checked that Mood Fabrics still had more in stock (and at that time they did.)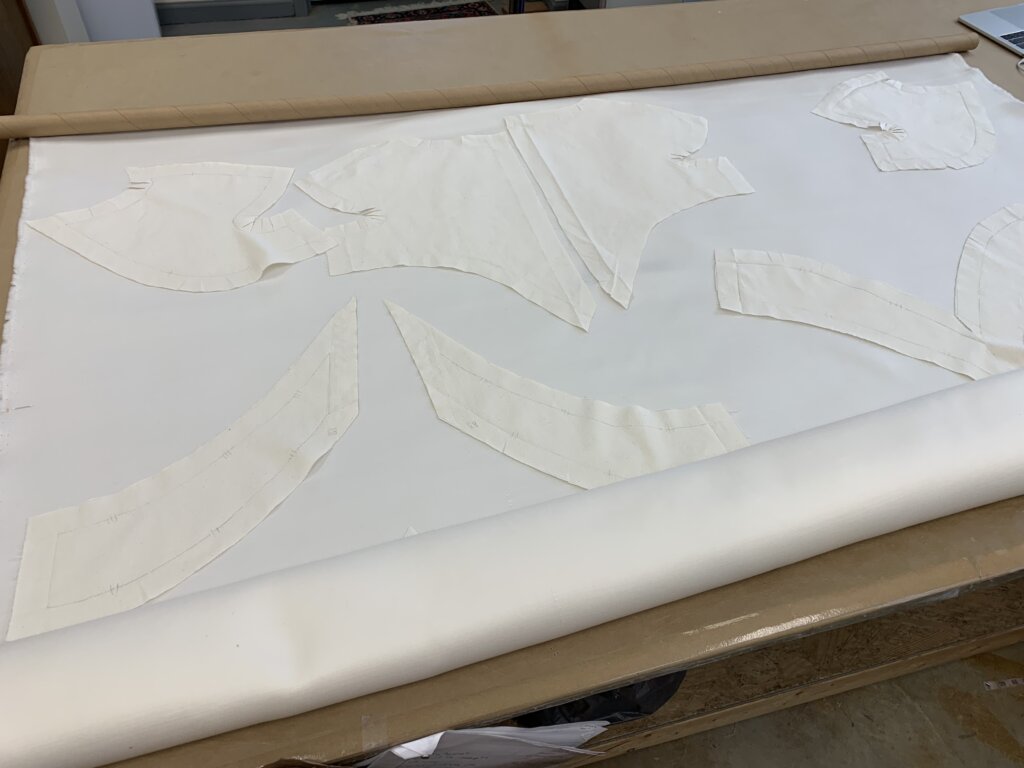 But to make more room, I trimmed my allowances.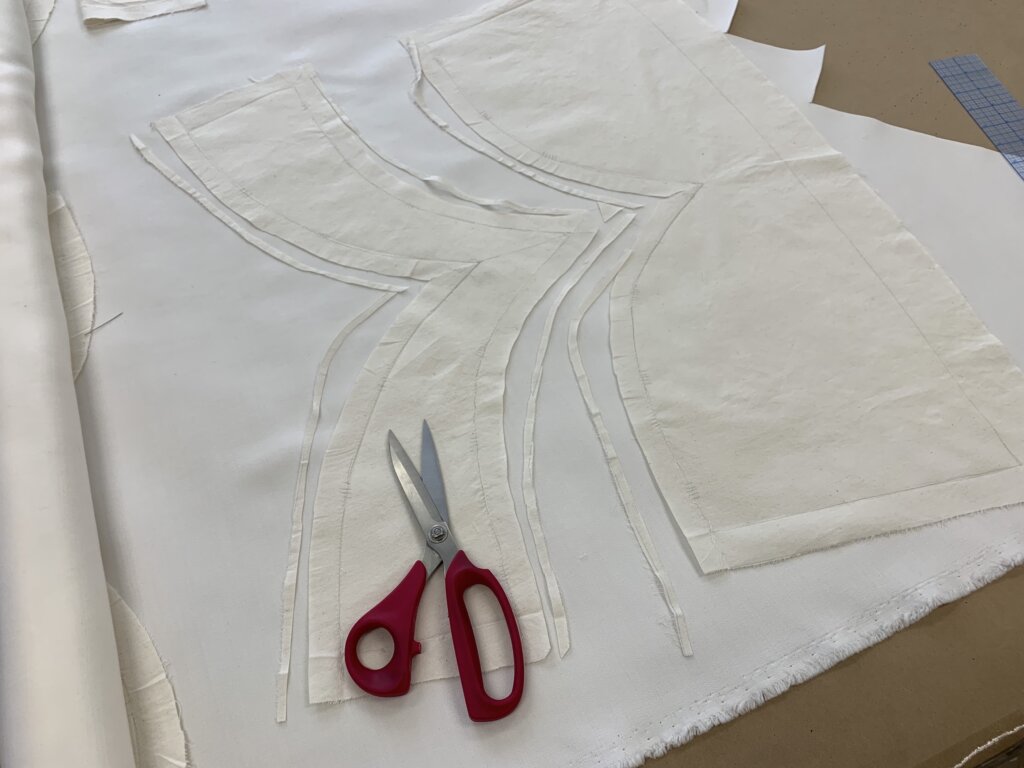 A fun and messy way to make more space!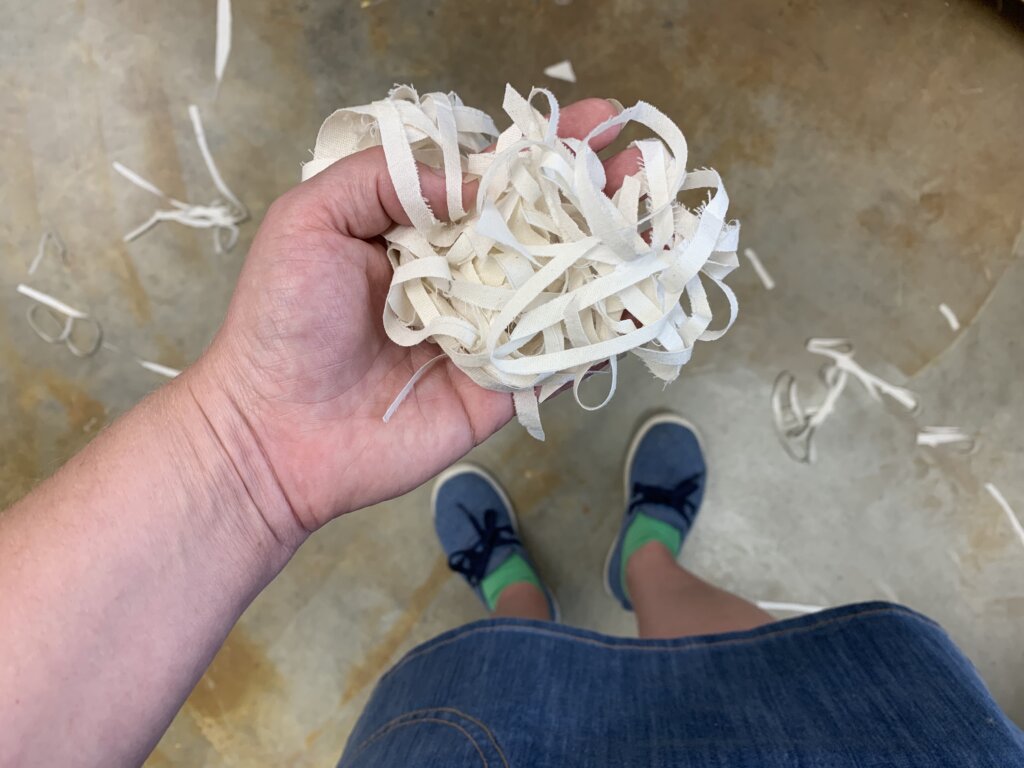 The white pieces at the top of my design were prepped for underlining…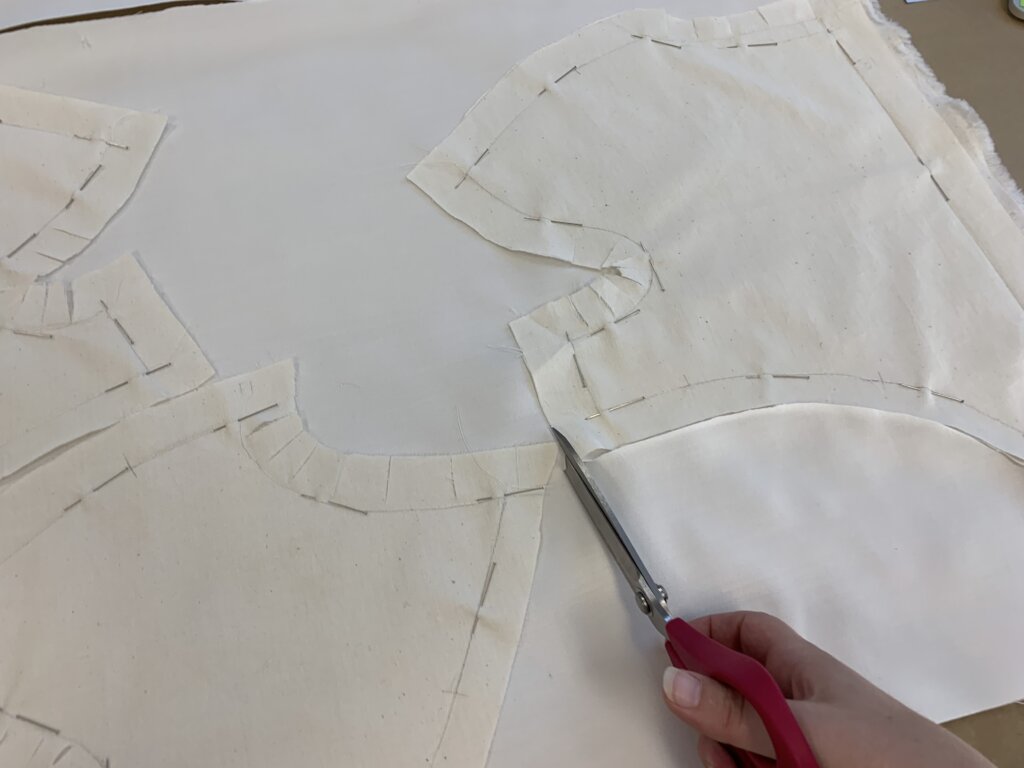 …while everything else was prepped for dyeing.
To keep myself organized, I ripped strips of muslin…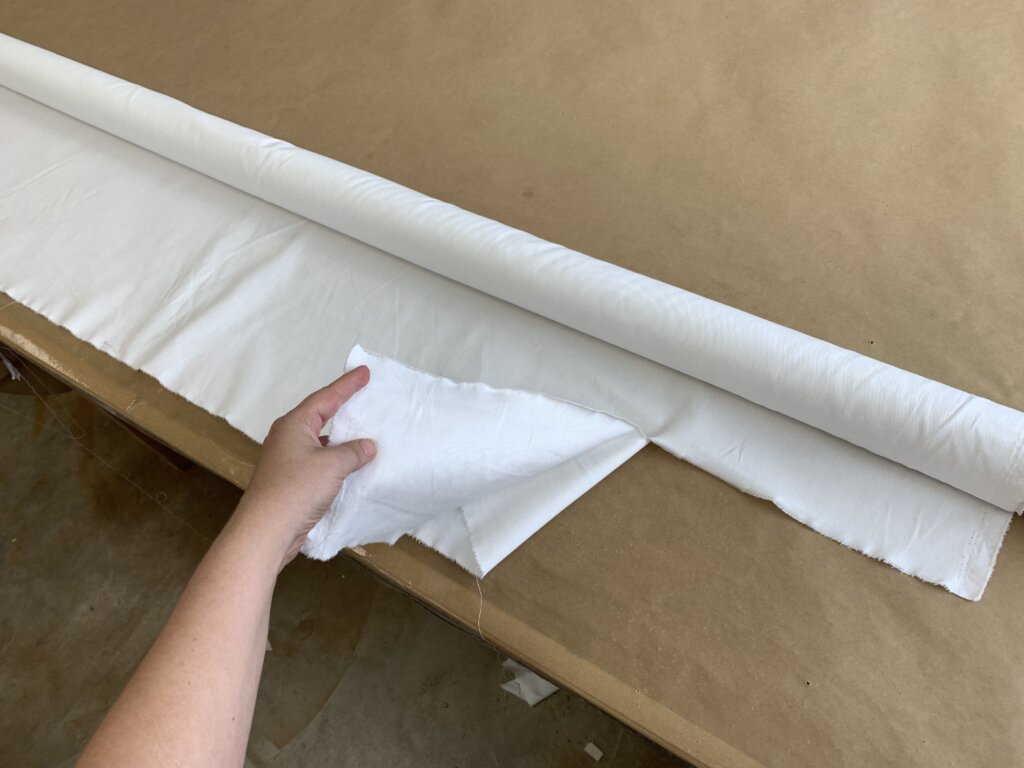 …and labeled them with a number for each color.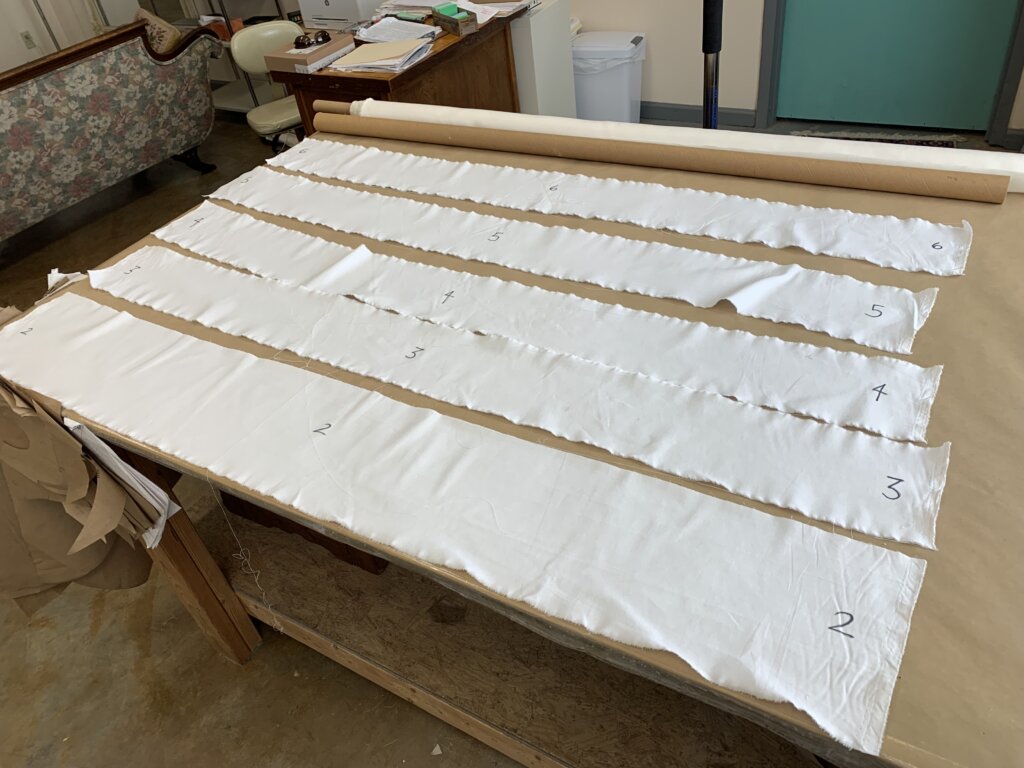 Using the muslin pieces from the mockup dress as my guide, I cut custom-sized strips of the silk/wool fabric- each just long enough for the pattern pieces that would become each color shade.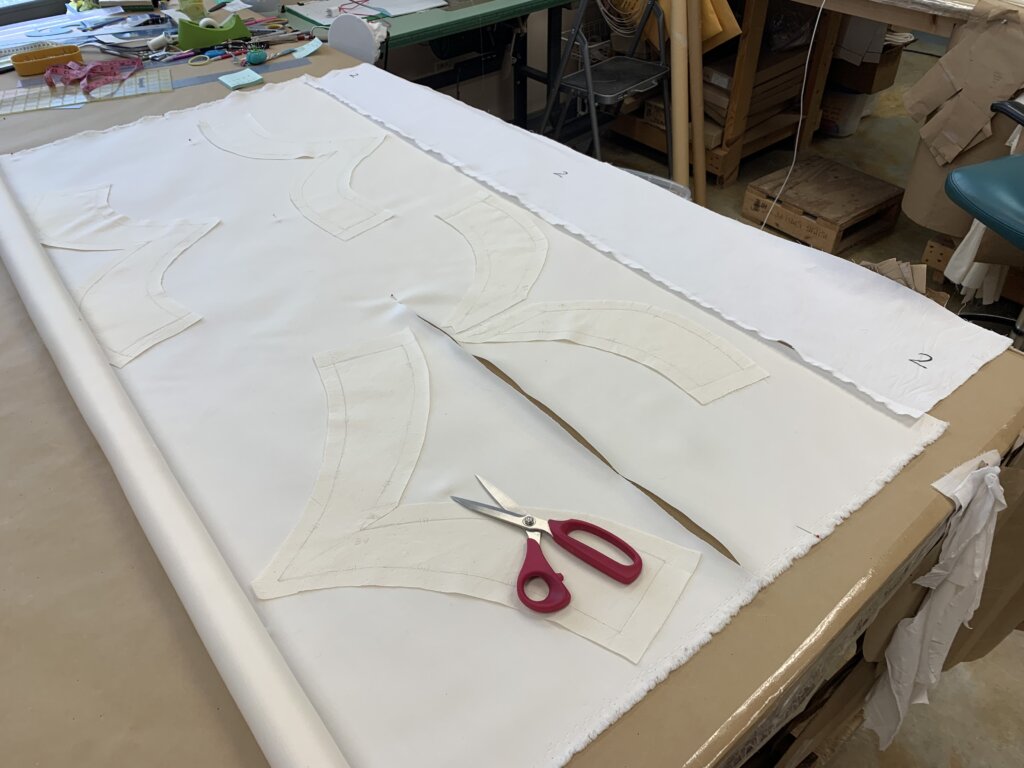 This was tricky and took forever (but was also kinda fun.)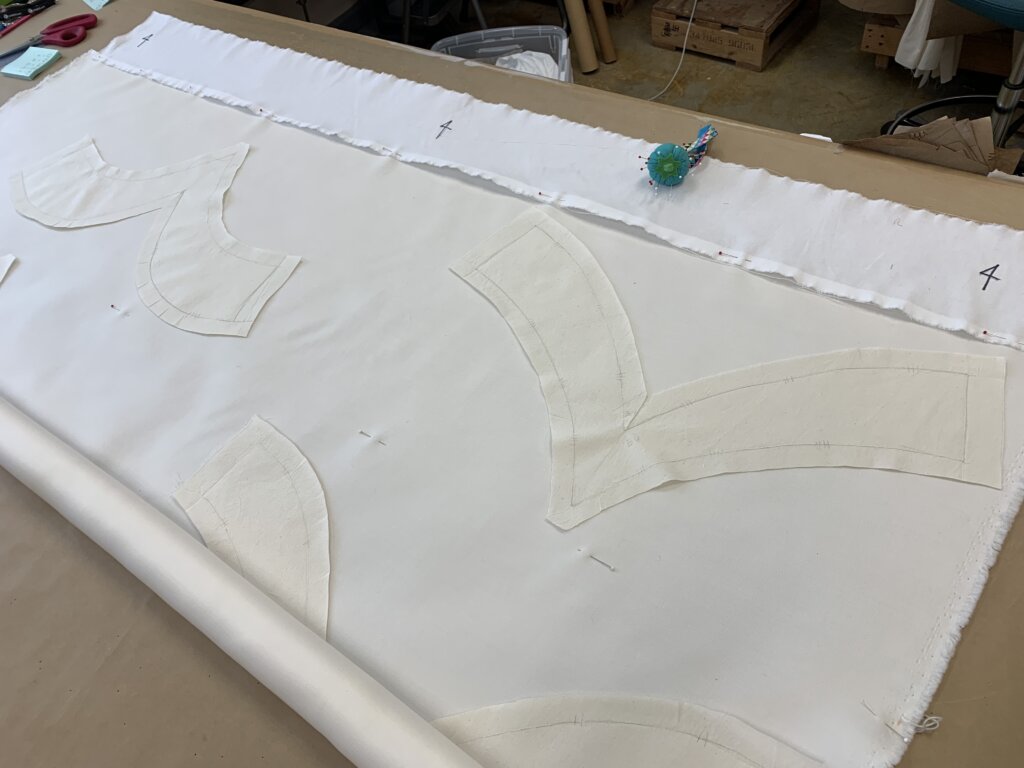 Then I machine basted the silk/wool strips to the muslin strips.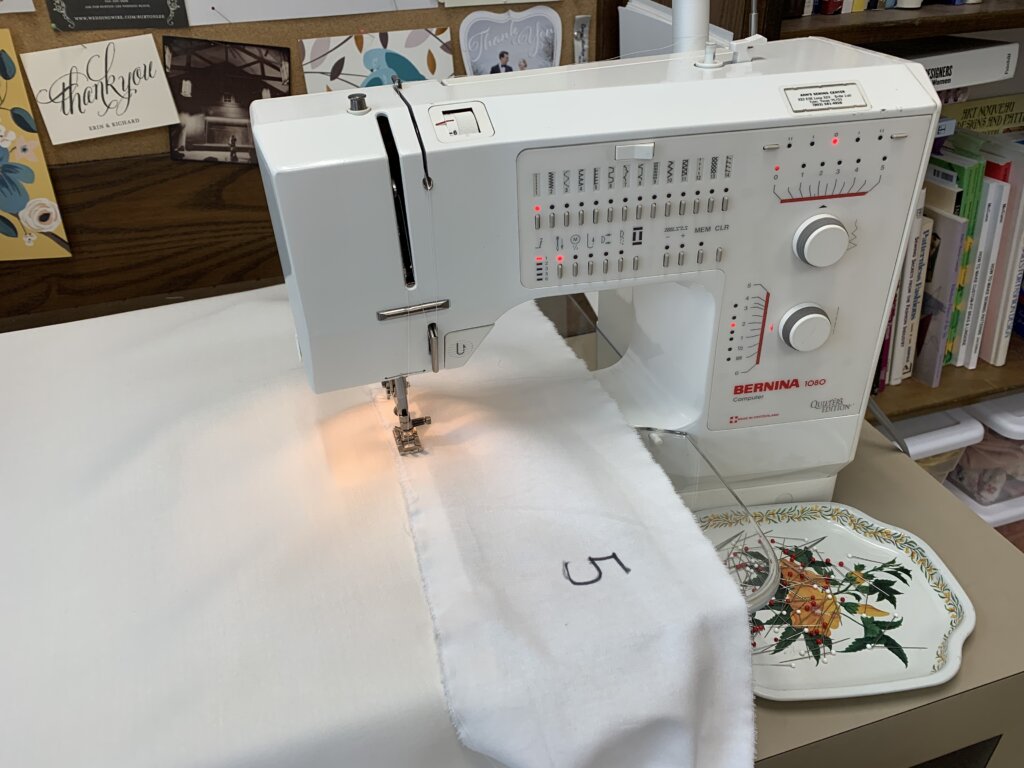 I am not one to "play chicken" with fabric (remember my rule of thumb above?), so this was a real nail-biter!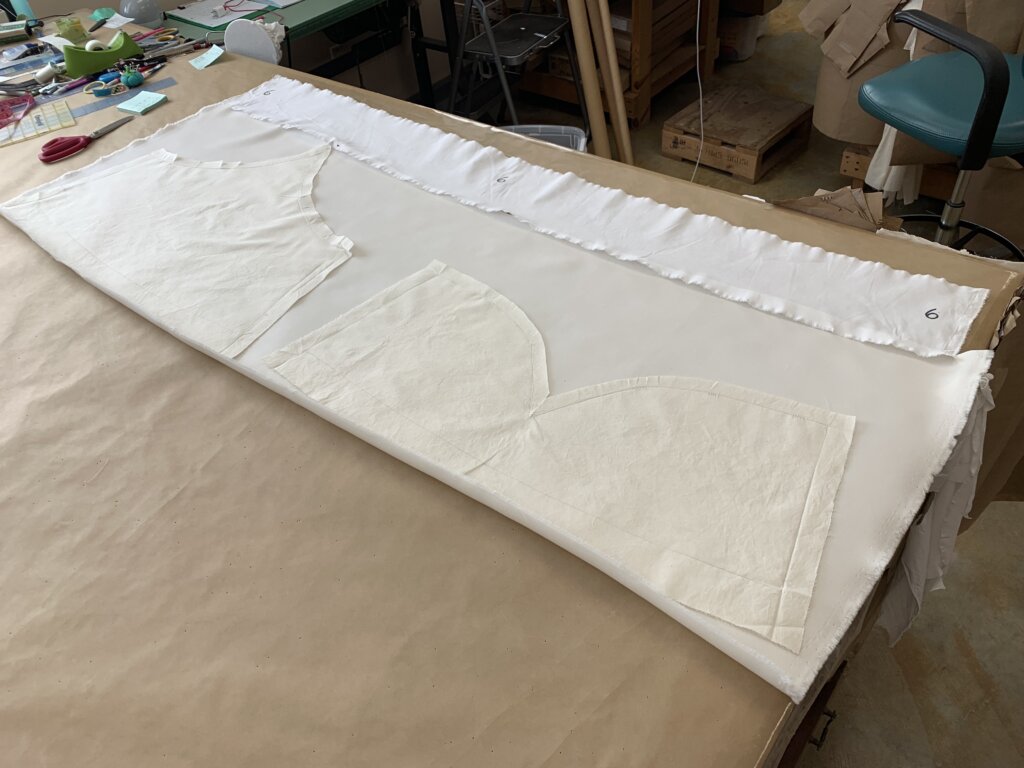 Ready or not- my fabric was now prepared for dyeing!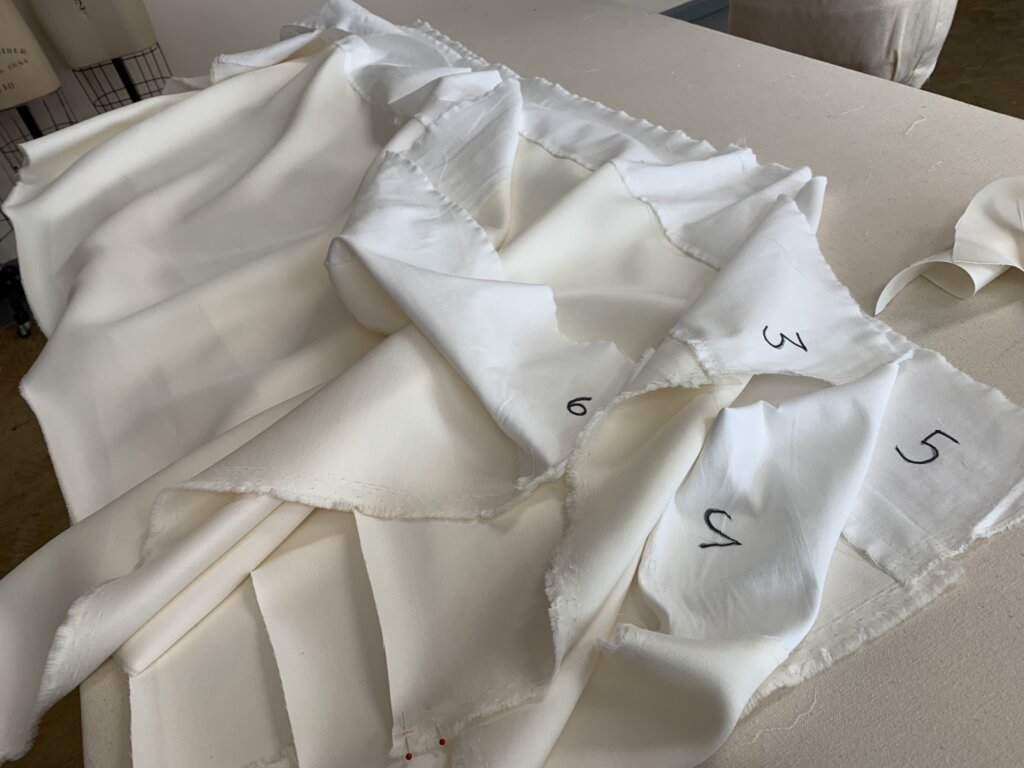 With the help of my handsome husband Charles and some scraps of the silk/wool fabric, I tested the colors to come up with a plan. To keep things simple, I decided to use the RIT dye color of "Wine" straight from the bottle but with varied lengths of time in the dye bath.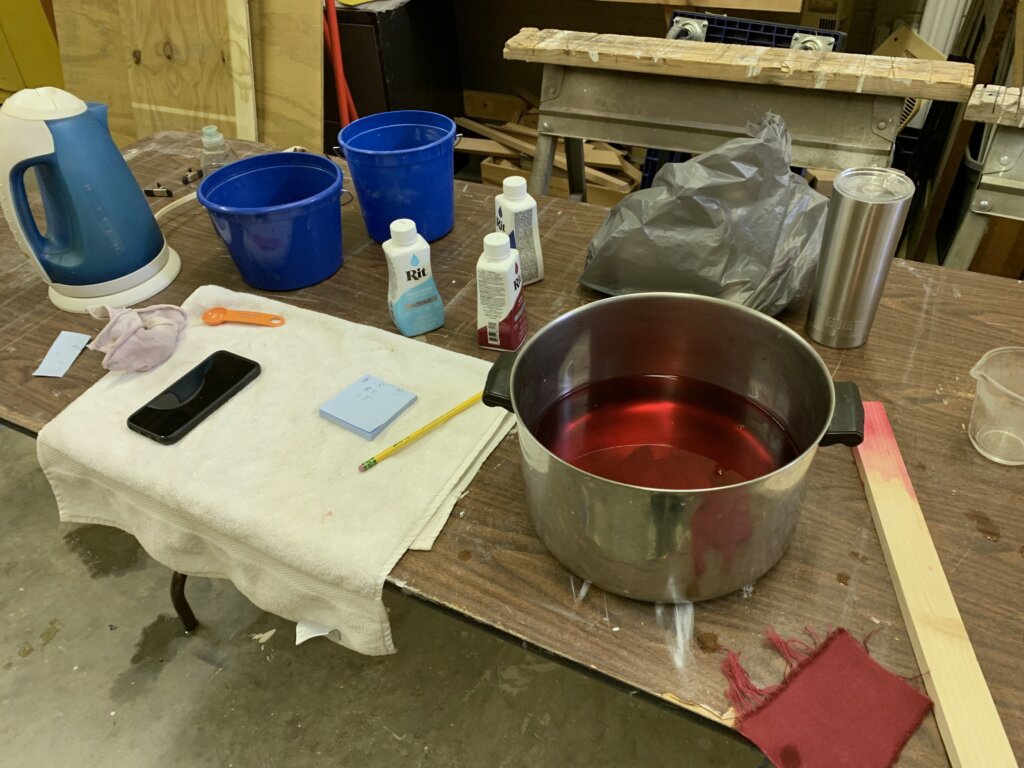 And it's important to see how things look when dry!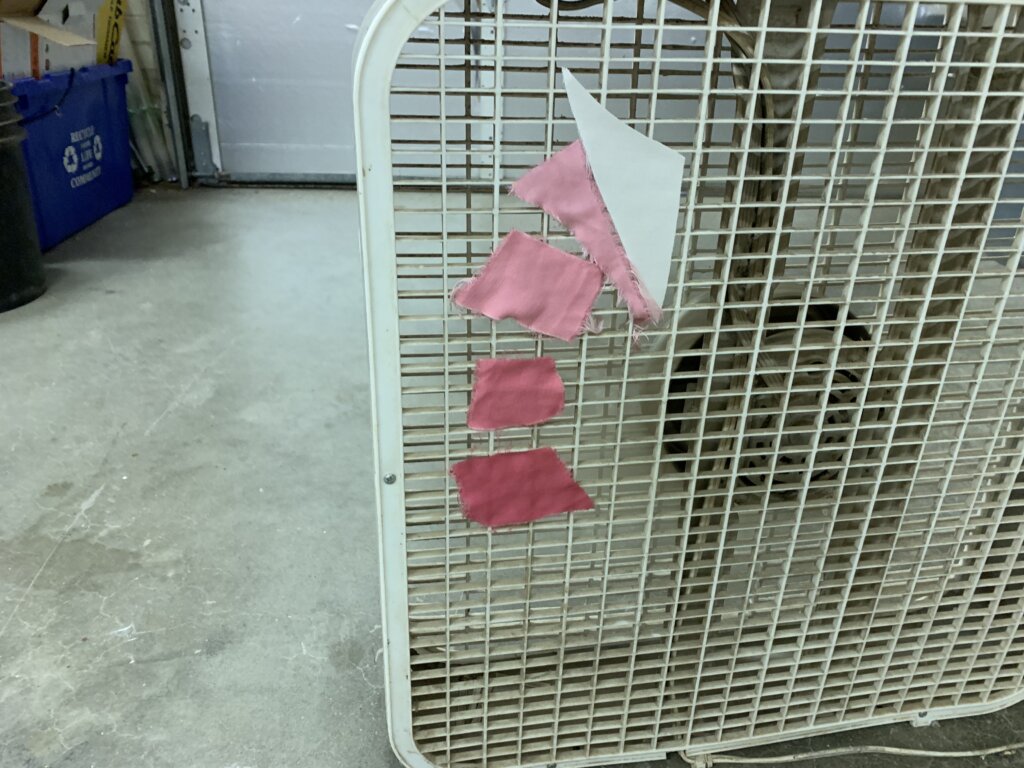 Well, my original thought was that I could simply throw all the fabric into the dye, and then remove the strips in order at strategically timed intervals- allowing the higher strips to soak less and the lower strips to soak up the dye the longest. But after testing a bunch of samples, it became clear that I'd need to be very careful and that I'd need to have at least 2 different baths. The fabric loved soaking up the dye!
On each of my preferred samples, I wrote the recipe for how much dye was used and how much time it spent under water. My ombre color plan became much more tedious than I had hoped, but I felt it was too late to turn back now so…
Charles set up the "dye vat"…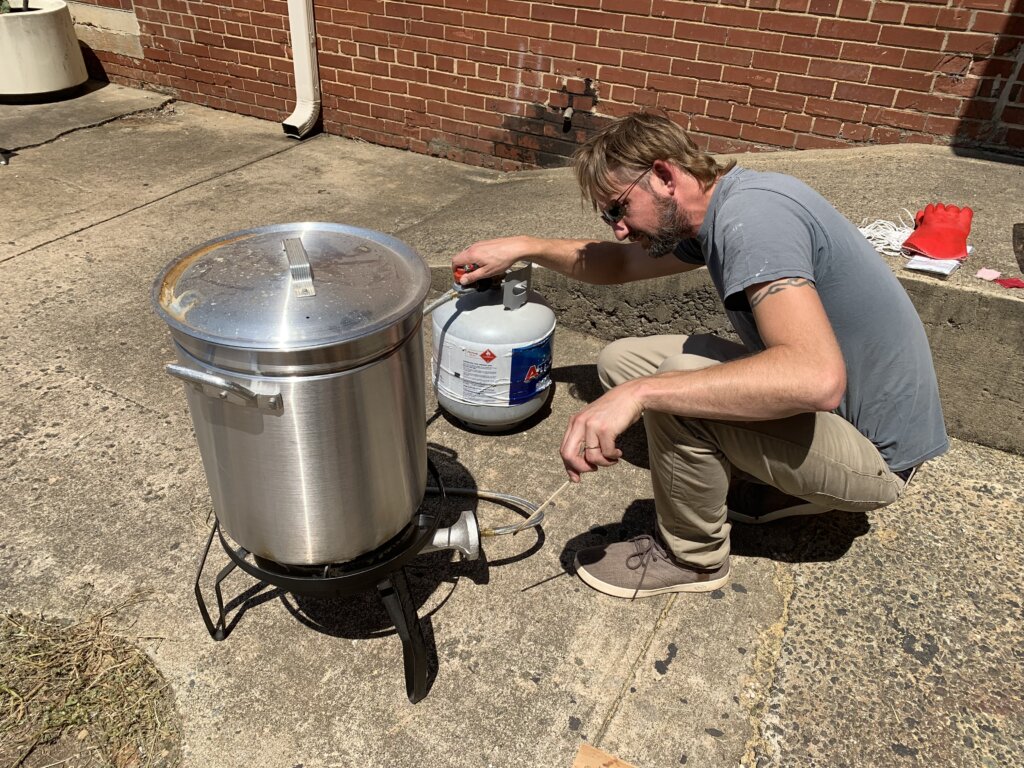 …and I got started soaking the strips in the wine dye bath!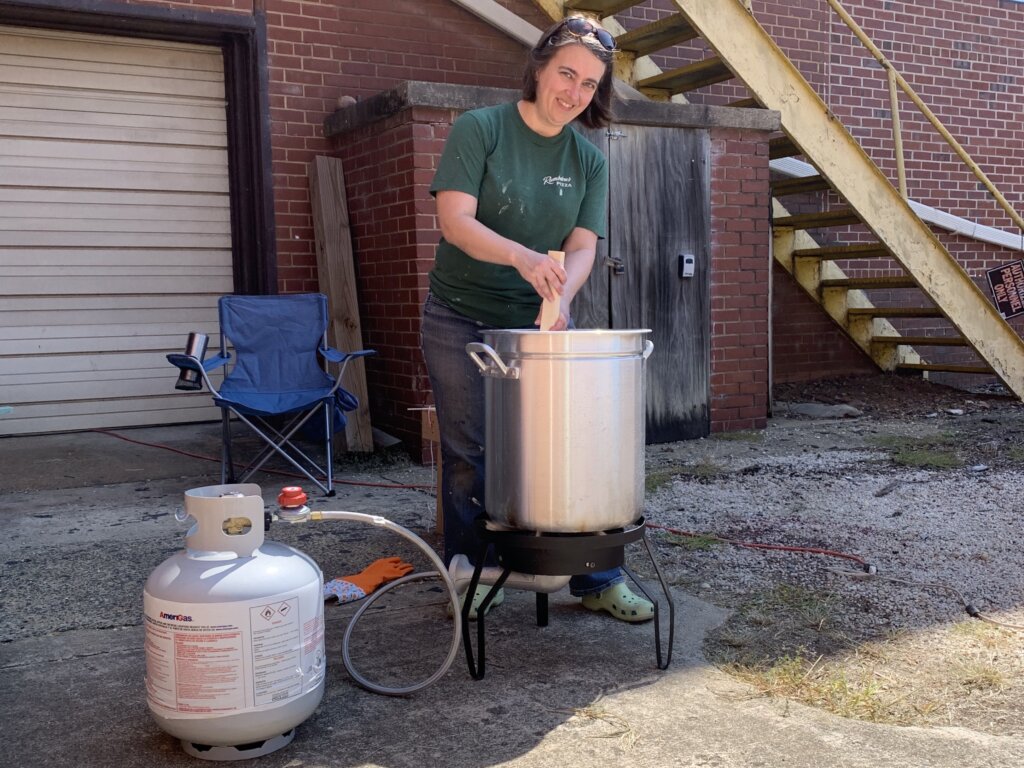 After each strip soaked its appropriate amount of time, it would get rinsed..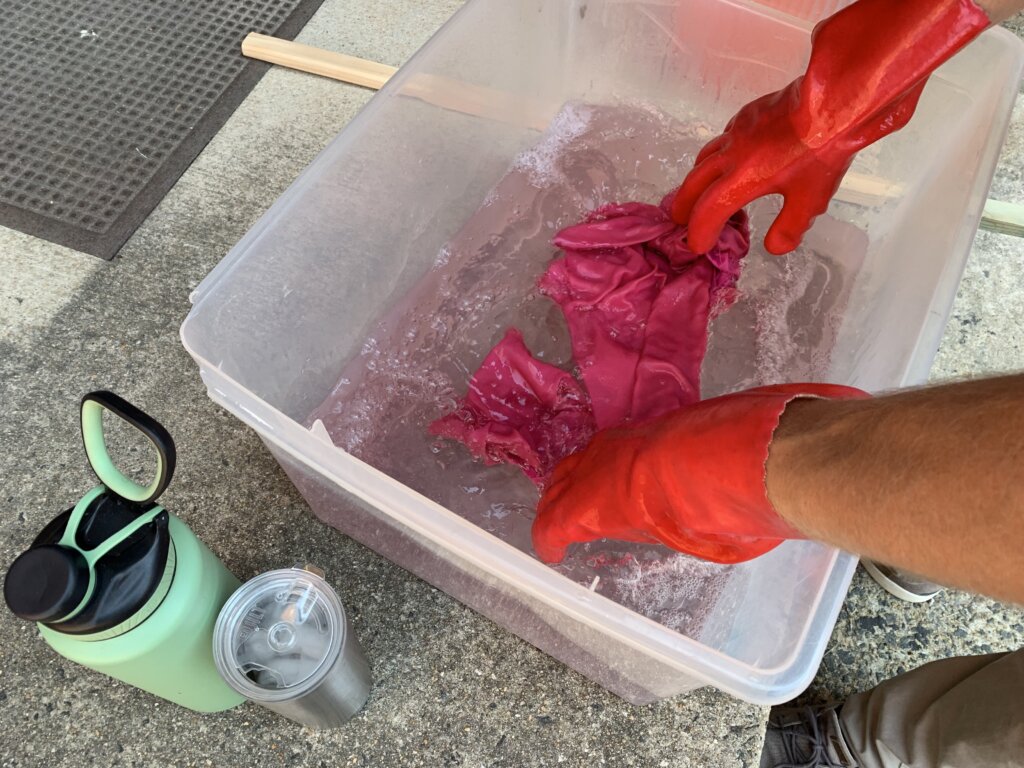 …and then hung out to dry.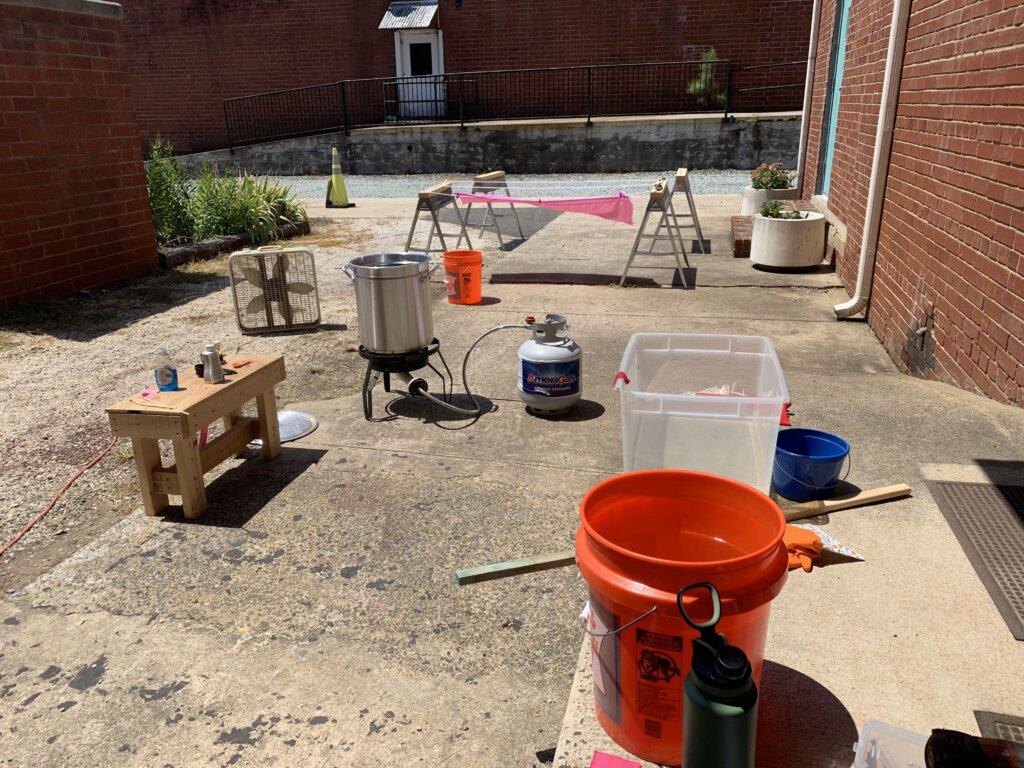 And then we'd dye another strip…
…and hang it to flap in the breeze…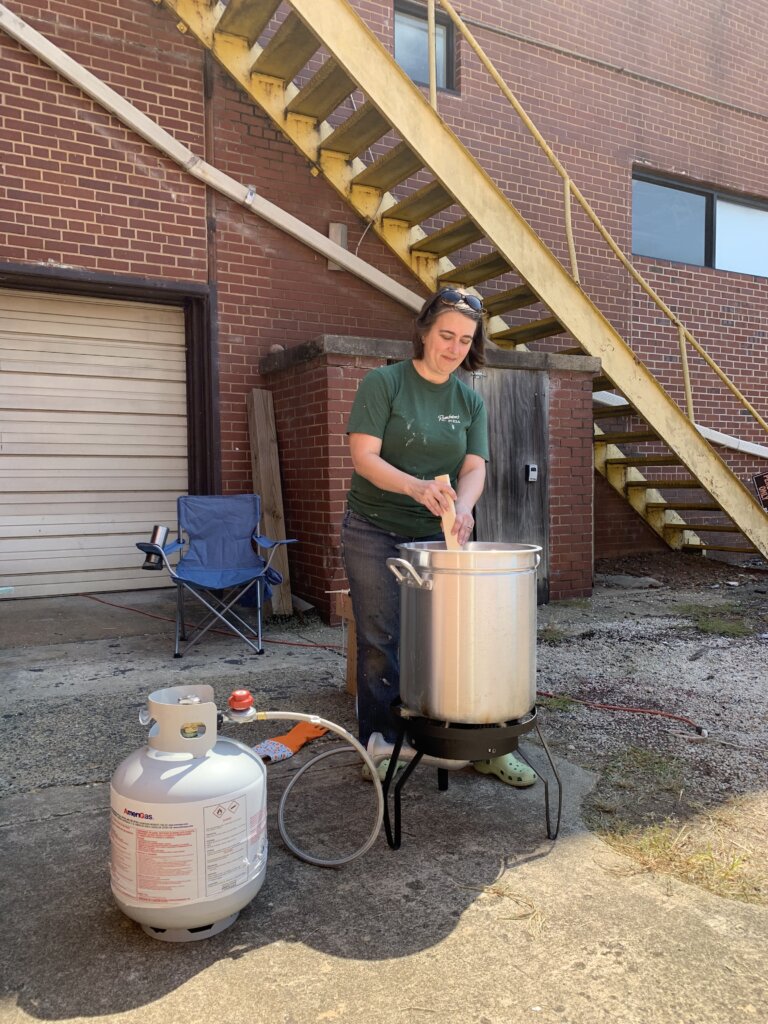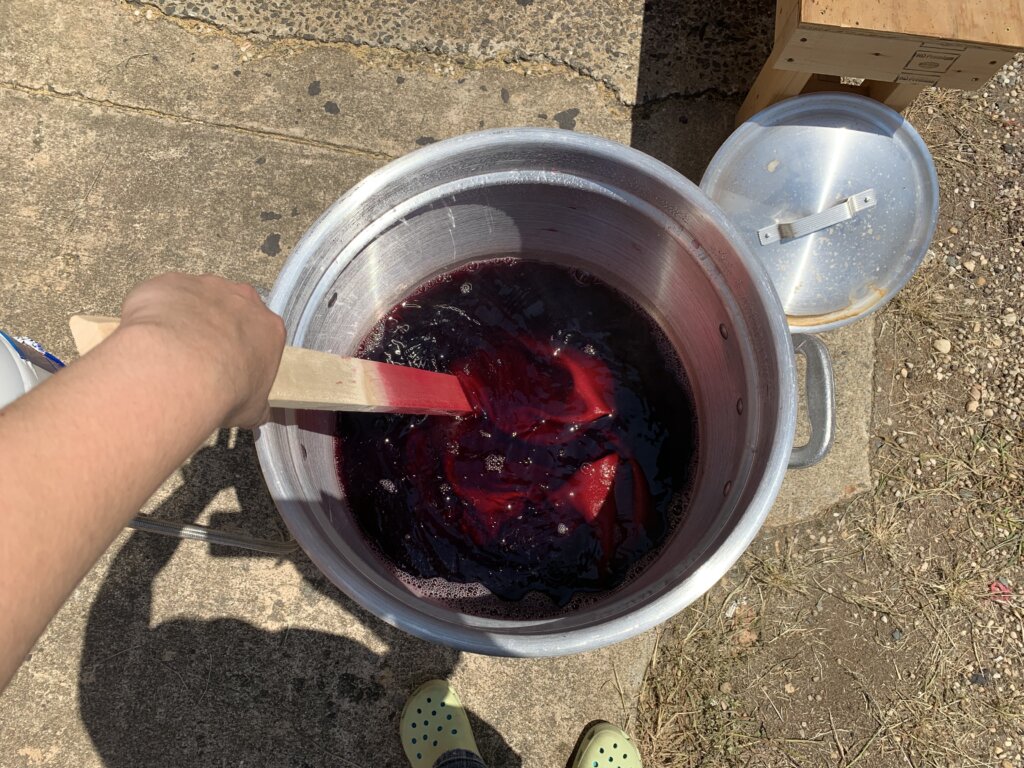 …until I was happy with the colors! Whew…  Aren't they gorgeous! ?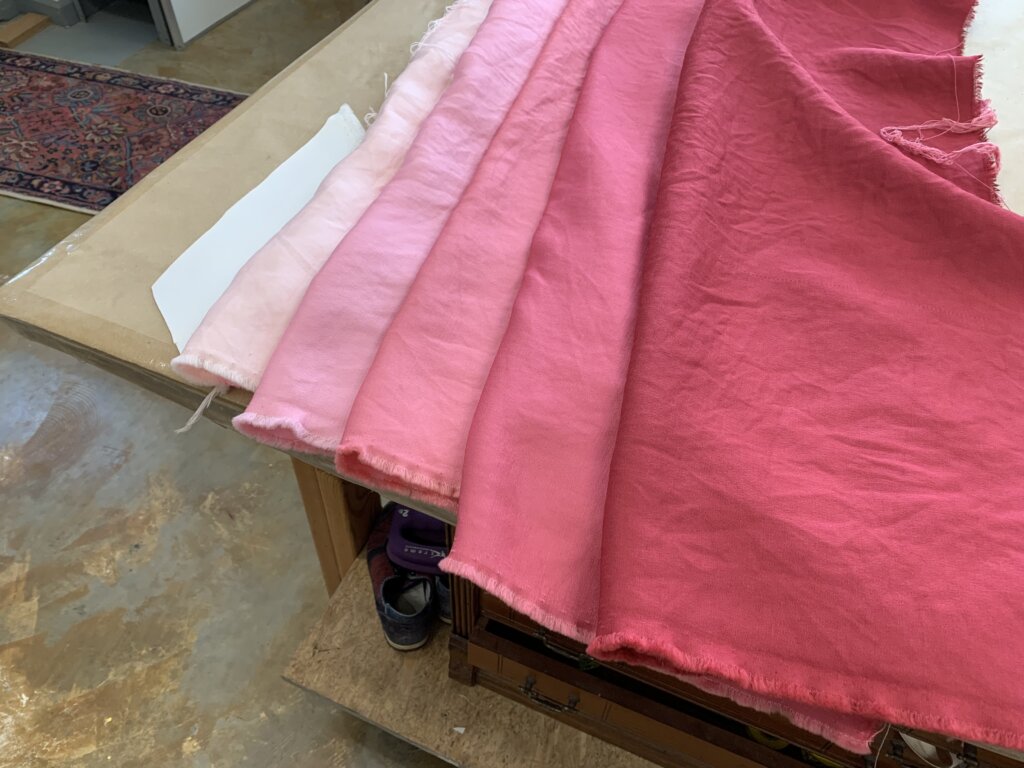 And I couldn't have done it without the help of (Charles and) my samples!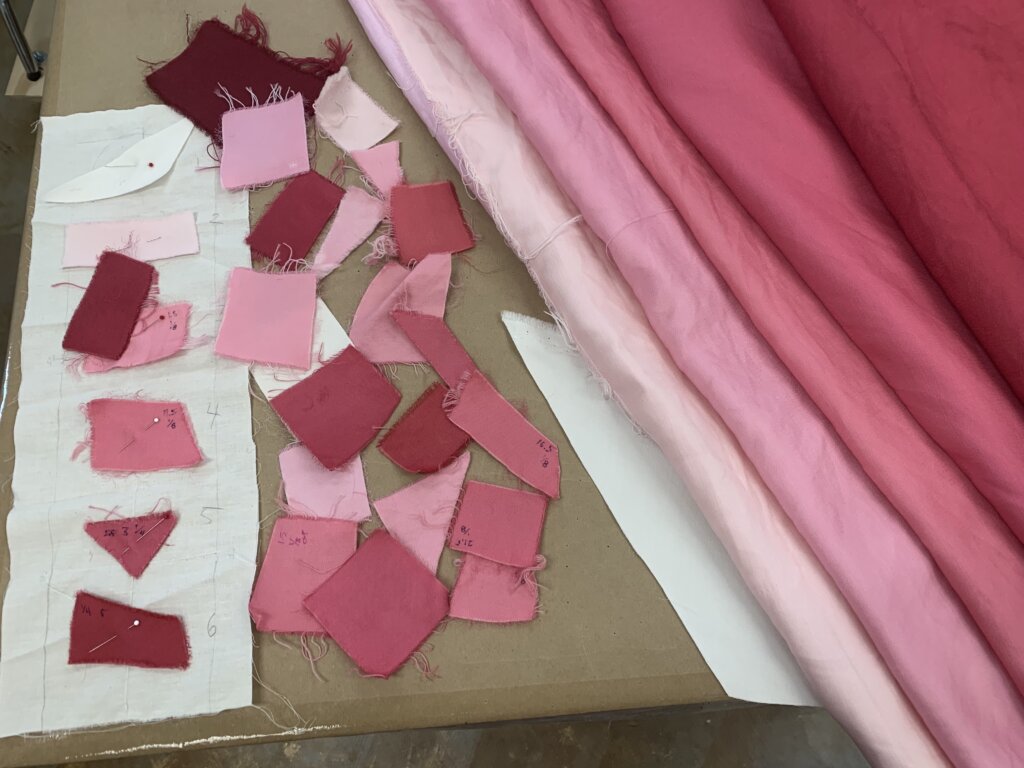 Underlining & Fabric Prep
Next up, I'd prep the fabric for underlining and cutting the curves! First, I removed the muslin strips…
…and laid the appropriate muslin pieces onto the dyed silk/wool making sure the grain lines matched…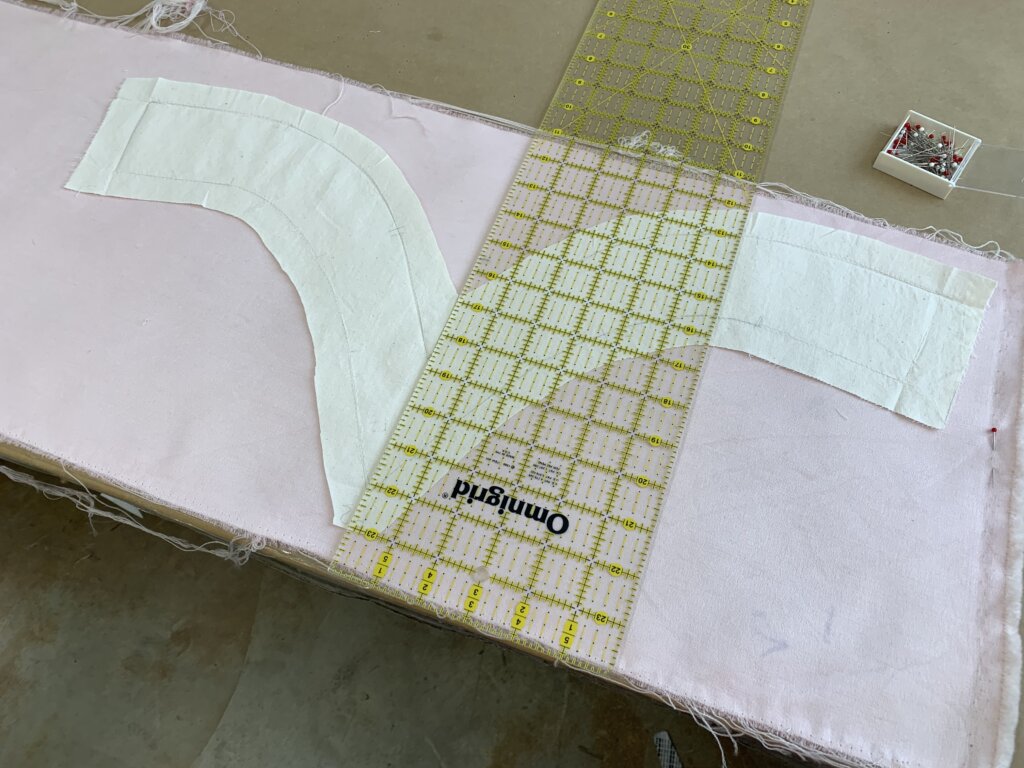 …and used my paper pattern to double check that the curves were exactly as I meant them to be.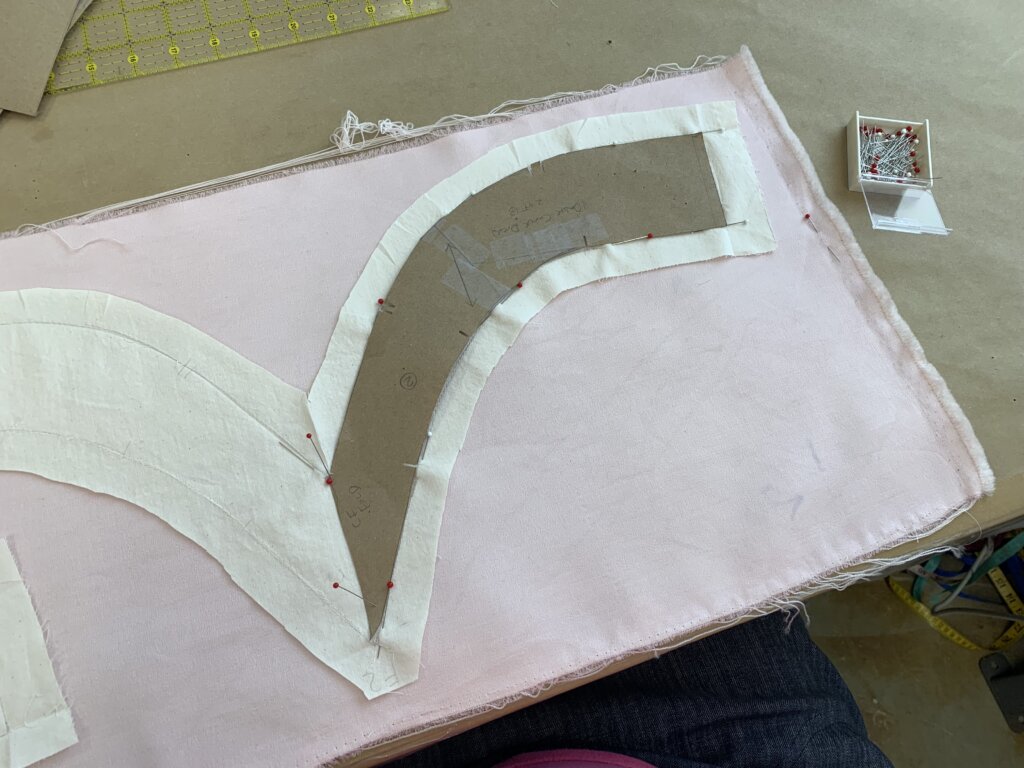 Then I carefully pinned the layers together…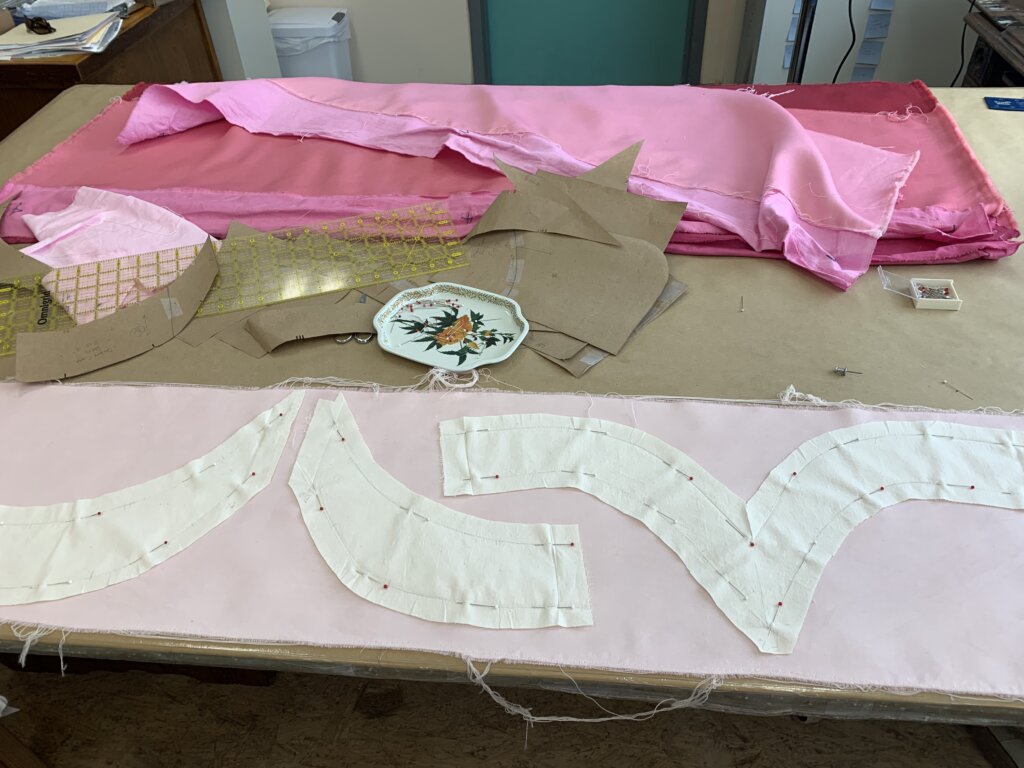 …and cut the silk/wool into its final shapes.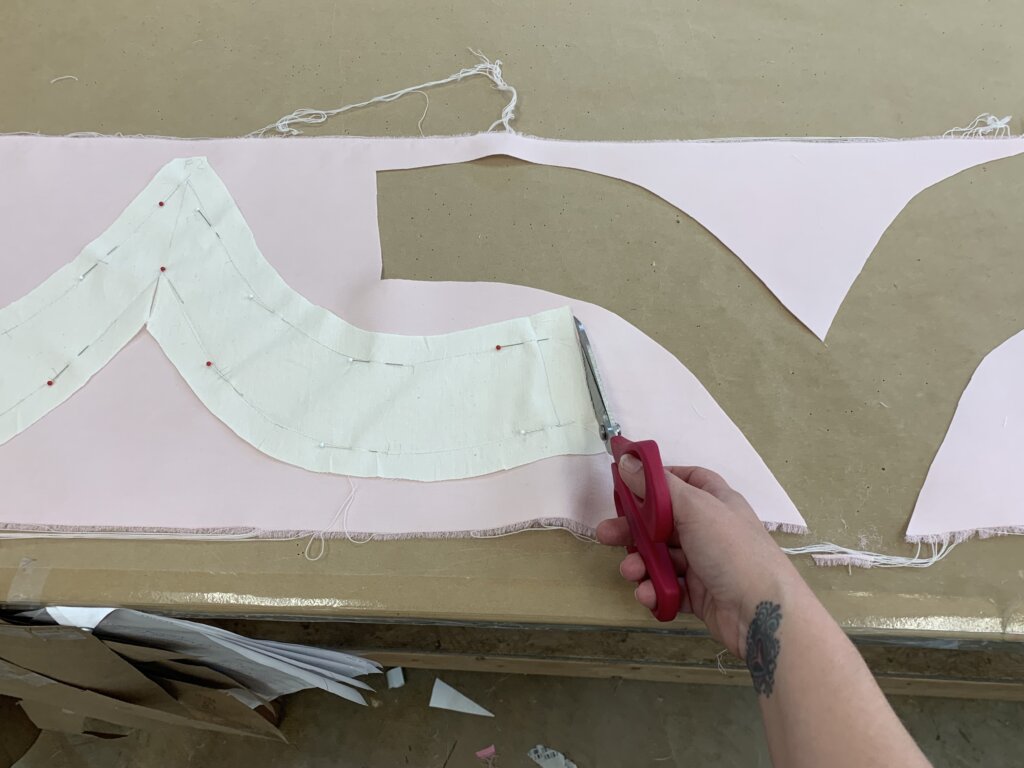 …repeating the process with each new color…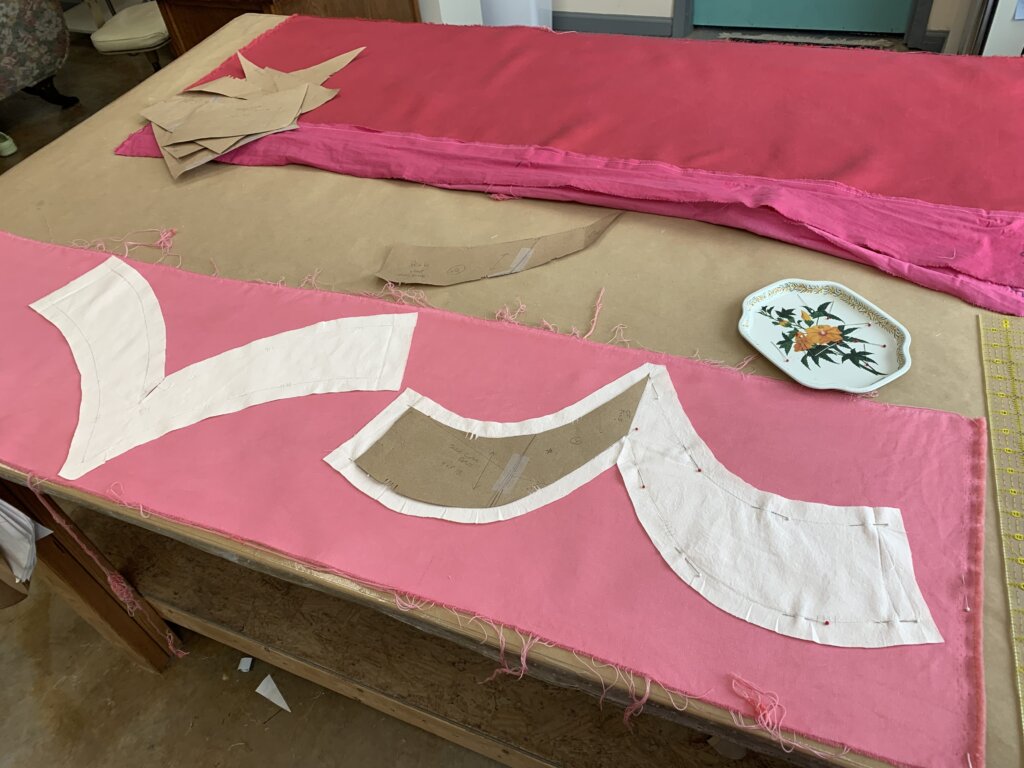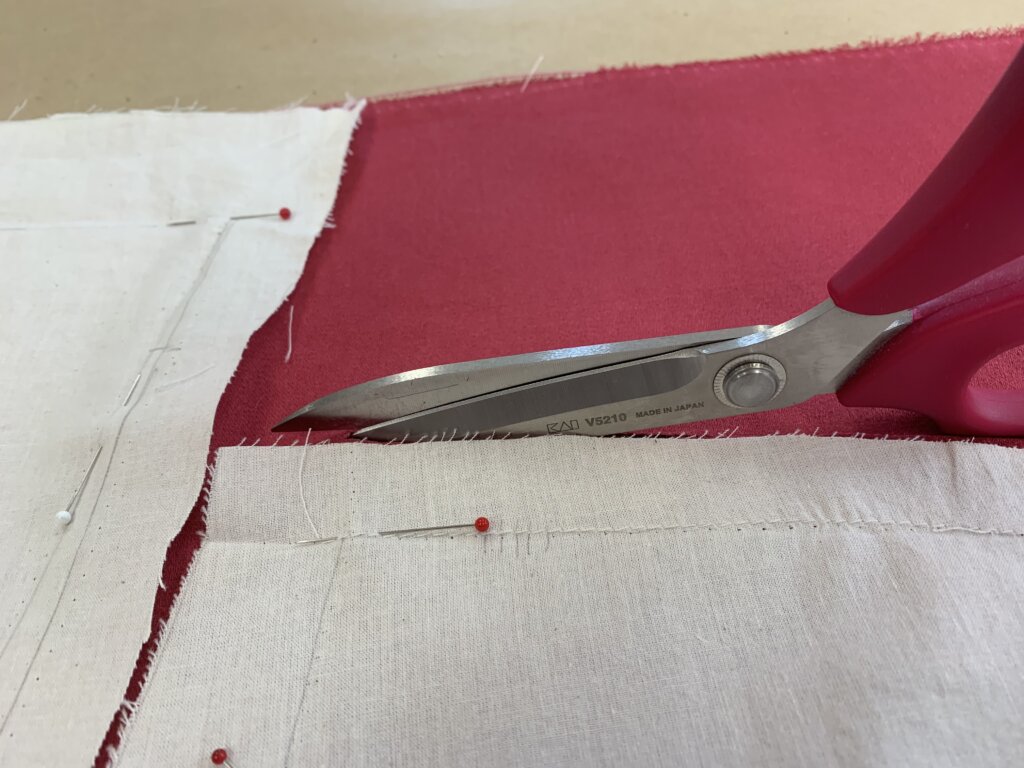 …until all the pieces were cut and pinned!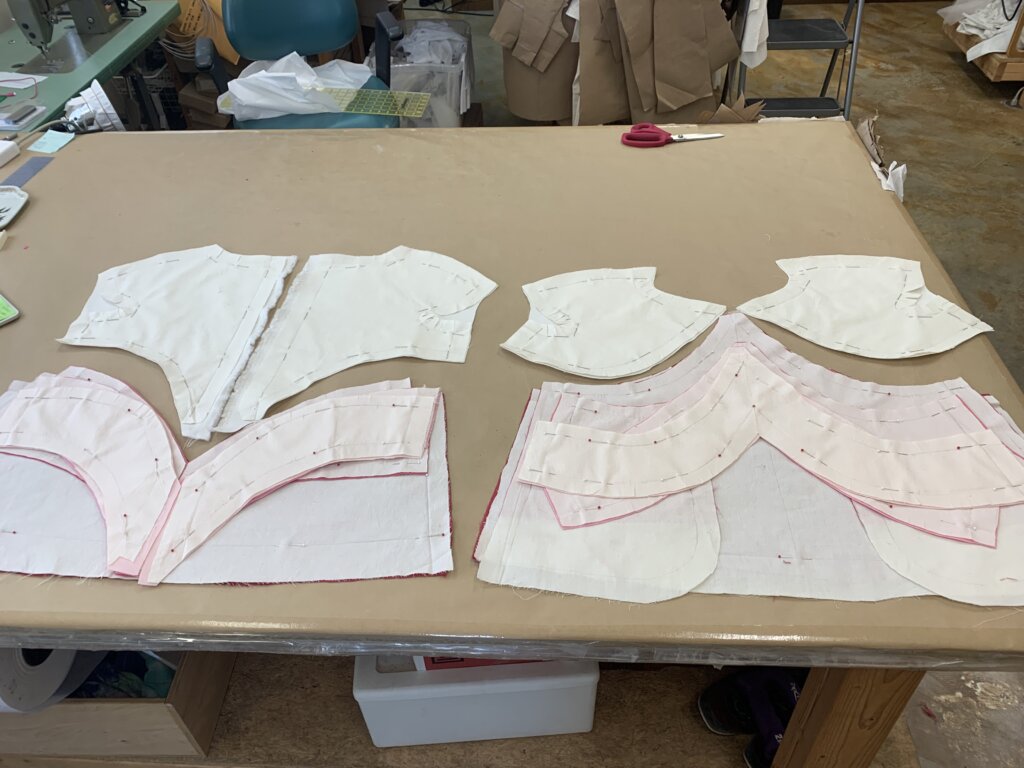 As you may recall from when I made my mockup, the inside curve has a weak spot where the fabric has to be clipped during construction. To combat any weakness, I cut a tiny square of woven fusible interfacing…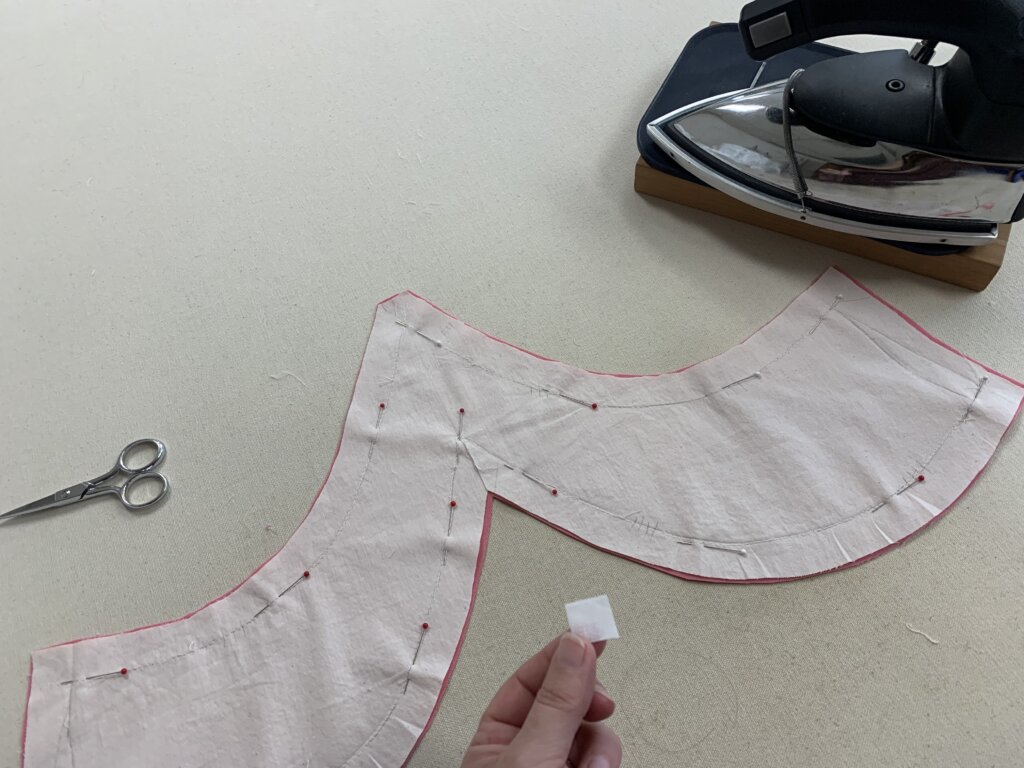 …and fused it right at the spot where the silk/wool will be clipped…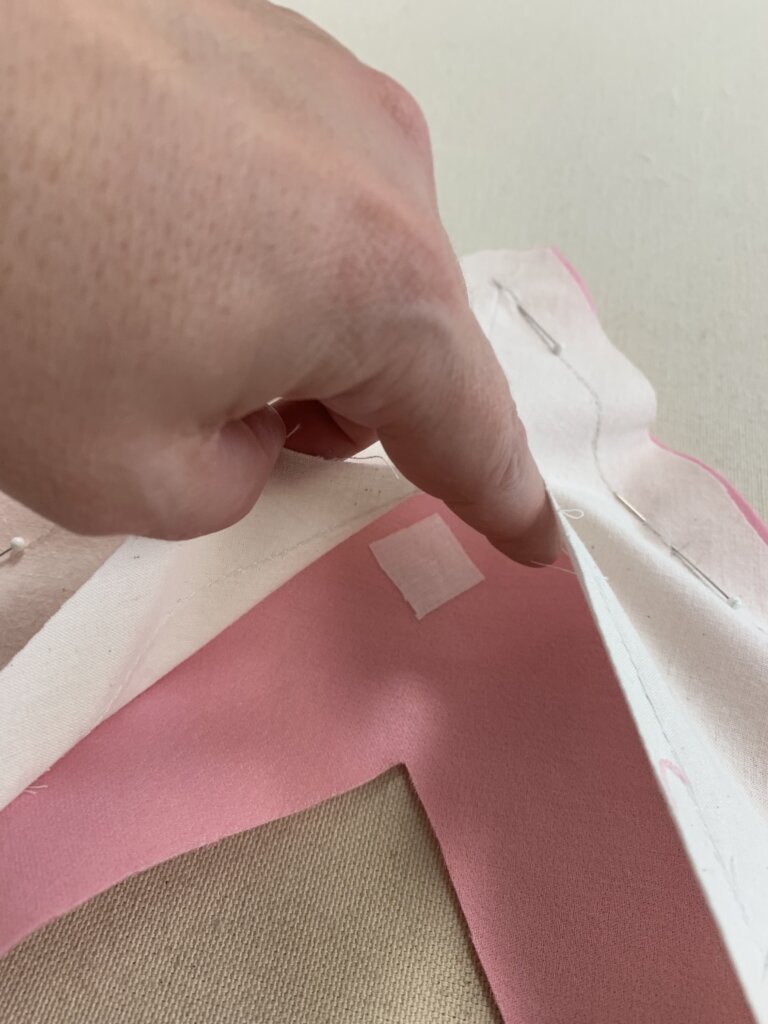 …before slowly stay-stitching every curve by machine.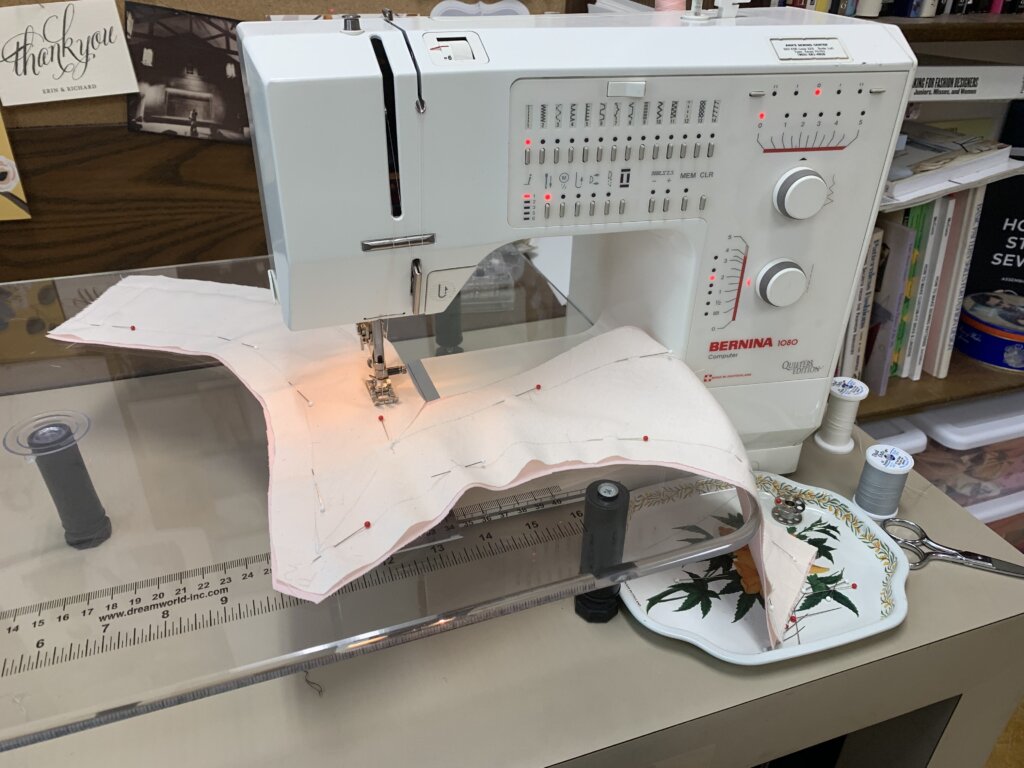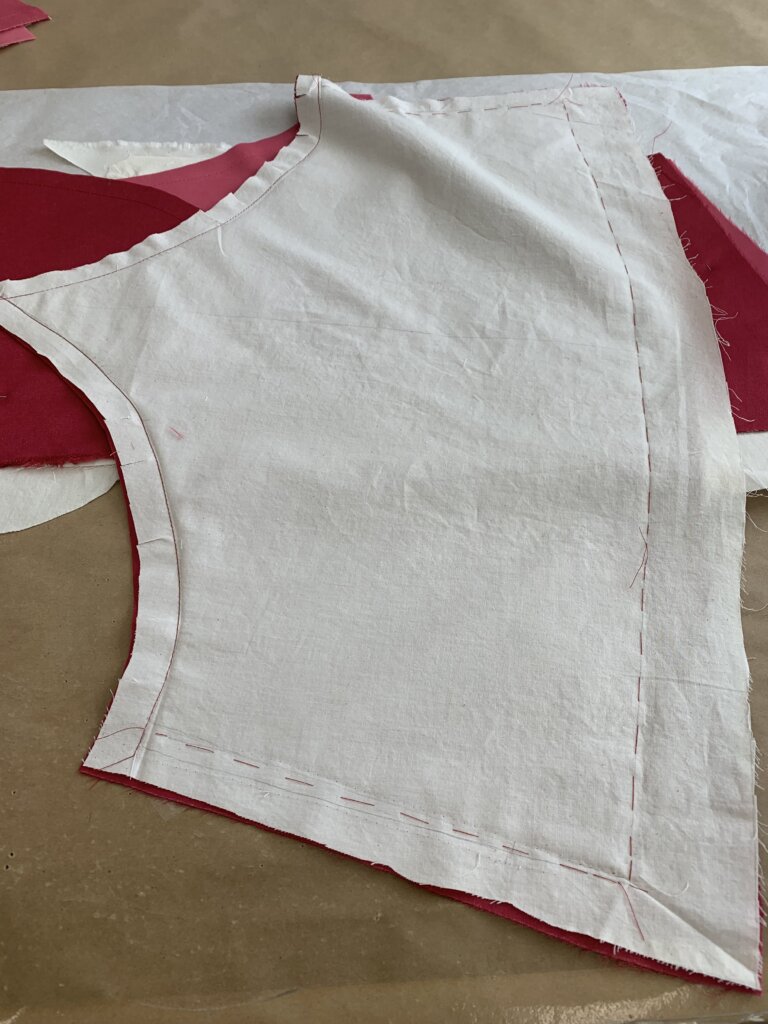 …(and getting creative with the pocket pieces).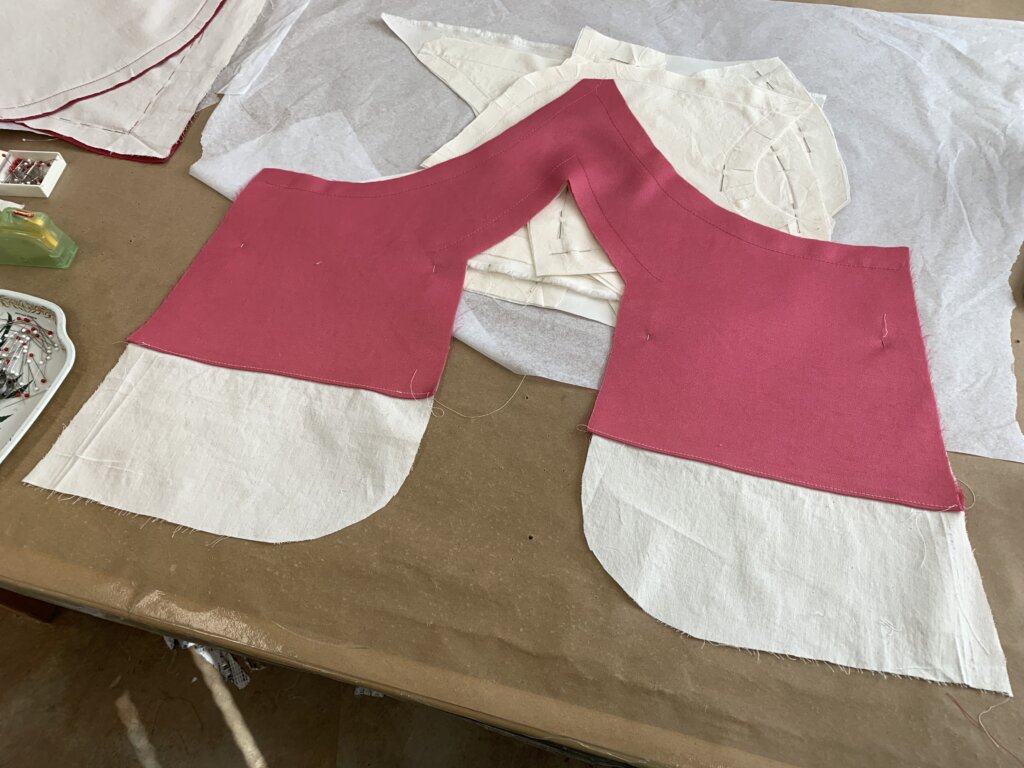 Though it was more work than I was expecting, it was also more beautiful than I was expecting! Pushing through the puzzles paid off.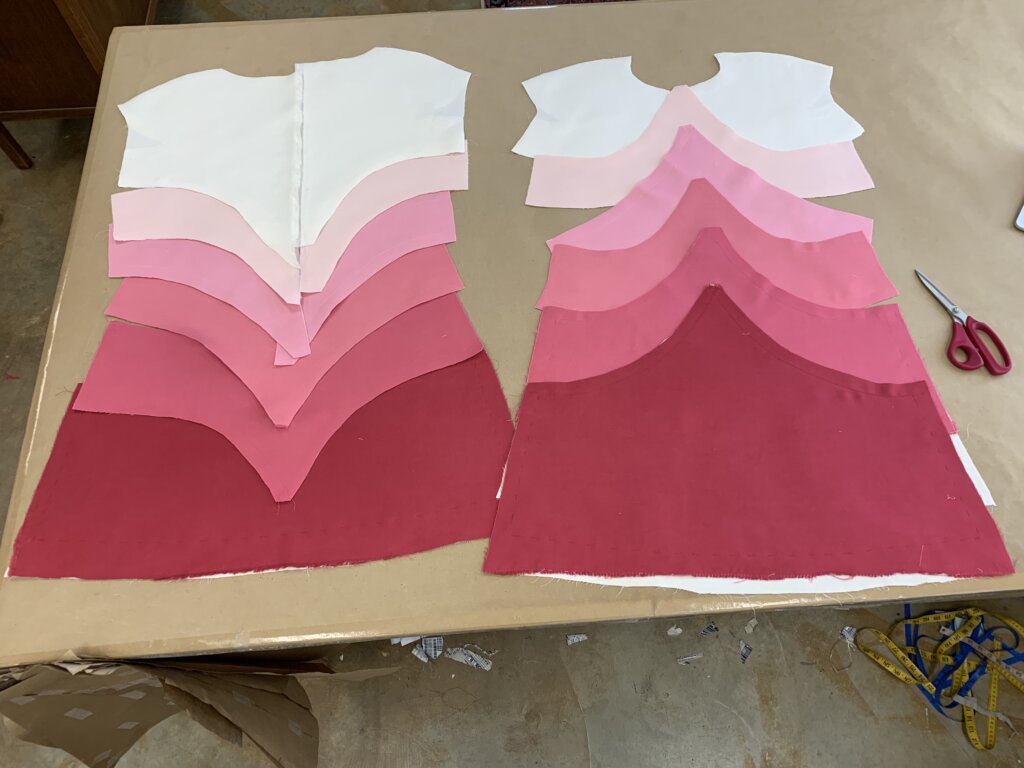 Isn't it the coolest?
NEXT POST: I share all the juicy construction details to finish up this dress! 
Wanna know more about the way I sew?

The next session of my Intro to Custom Sewing eCourse starts online Jan 6! Registration is OPEN! Learn more on my new website LearnWithBrooksAnn.com! I'd love to work with you!