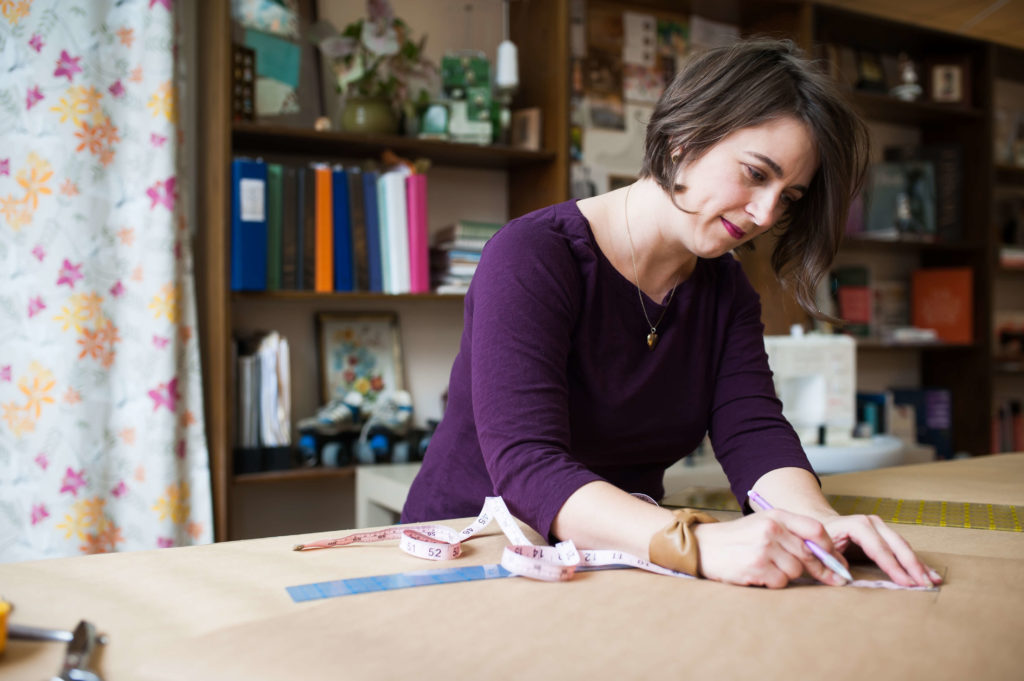 Before becoming a custom wedding dressmaker, I had an unusual introduction to sewing which took me from absolute beginner to sewing professionally for Broadway in only 5 years. I did not learn to sew as a child and I did not attend design school or fashion school. My MFA is in Costume Production.
When creating costumes for professional theatre, I did not learn to work with standard sizes like they do in fashion. Everything was custom designed and custom made to fit each specific actor. This is a different type of sewing (and one of the many reasons why I don't call myself a "fashion designer".)
Fashion Sewing vs. Custom Sewing
In fashion, the idea is to make something that fits the most people possible. When your goal is to sell lots of garments or patterns, it is not possible to create for any one individual. Averages and formulas are keys to fitting the most bodies.
Drafting from fashion textbooks or following courses from fashion-based schools (even if you are learning to "customize" by plugging in some of your own measurements) can be very technical, rigid with rules, math and formula heavy, and often offers very little understanding of how to transfer a specific person's body onto paper.
When drafting custom, I only need information from the one specific individual's body and preferences. Industry standards aren't necessary when you've got the person right in front of you. The way I draft and sew is more about creative critical thinking and less about following instructions. I do not use (or customize) textbook calculations. I map people's bodies.
Learning to draft, fit, and sew using custom methods like mine won't help you start your own fashion collection and won't help you make clothes for lots of people. Instead, it will allow you to create one-of-a-kind garments designed only for one specific individual.
Fashion sewing fits everyone in general and no one specifically.
Custom sewing fits one person and nobody else.
Myths of Patternmaking for Home Sewing
I've recently learned of the amazing world of home sewing. This creative community of individuals making their own clothes is truly inspirational and keeps me constantly checking Instagram. The home sewing process seems to be a little bit fashion, a little bit custom. Instead of buying ready-to-wear clothes, they buy fabric and sewing patterns!
I've noticed a lot of myths in the home sewing community about learning to draft your own patterns. Since home sewing is based in altering from standard sizes and most patternmaking books and classes aimed at home sewers are based in customizing fashion industry formulas, I can see why it might seem daunting.
Based on my professional and personal experience (and nearly 20 years of sewing only from custom drafted patterns), I'd like to dispel a couple of myths for those who do not want to go into fashion and only want to make yourself patterns that fit.
Myth #1- You must be excellent at math and precision.
I'll come clean. Math was always my very worst subject and I don't recall ever taking a geometry class. If math was one of my talents, maybe I'd be even better at what I do. But maybe not. In some ways, I feel like my inability to understand and compute math has led me to find other ways to get the results I'm after. It forces me to get creative while mapping people's bodies and has inspired me to develop my own style beyond the formulas.
Fashion needs patterns to be precise for production because the work is produced by others. There must be a common language learned (which includes specific symbols, charts, and processes) to make sure the patterns are successfully interpreted by everyone who will work with it. Precision is imperative.
If you are only working for you, your system only needs to work for you. Freedom!
Though I support my custom sewing students who love to get super-precise, I'm a little more loosey-goosey. Since bodies are moving changing things, my style of creating custom clothes is rarely rigid.
Myth #2 – You must be experienced at sewing commercial patterns before learning to draft for your body.
Nope. I've never completed a garment following a commercial pattern and do not believe the process is a great basis for learning to sew custom. I love teaching beginners to make their own clothes via self-drafted patterns! Many of my experienced students have mentioned being jealous of the beginners who got to learn custom sewing first.
Since I am not altering from a fashion standard, I don't have to compare myself to the standard and then pinpoint all the ways my body is different. I don't have to learn "adjustments" with names that coordinate with all of my non-standard body parts. I don't have to figure out what size I am or learn to grade sizes. The layout, marking, cutting, pinning, stitching, and fitting processes in commercial patterns also seem to be different, with my style being less about speed and more about accuracy and the ability to make changes. Since recently learning details about the home sewing process, there are lots of skills involved that I never had to learn!
Do you have your own sewing style?
One of the things I love about sewing is there are so many different skills involved (designing, patternmaking, fitting, stitching…) and that there are so many different ways to get these steps done. If you try something that doesn't suit your fancy, there's almost always another way!
There are limitations and advantages that go with every type of sewing (and it often depends on who you are sewing for and who will be doing the sewing), but sometimes myths can get in the way of giving something a try. What might be true for most, might not be true for everyone. We all have different goals, histories, talents, personalities, abilities, and bodies… and that is a beautiful thing.
Custom sewing is obviously my jam. Since I've seen very little info anywhere about how to do it, I've started teaching online! In my comprehensive eCourses, I work together with beginners to garment sewing (or those looking for a fresh start) as they learn to make clothes for themselves using versions of the methods I've developed over the years.

Sound interesting? My Intro to Custom Sewing eCourse is Skirt Skills.

Visit www.SkirtSkills.com to learn more about me and my process, see the course breakdown, read the frequently asked questions, check out the tools and supplies list,  hear what former students had to say about their experience, and join the Skirt Skills mailing list to stay updated about upcoming sessions.

"Skirt Skills was the tallest, coolest, most refreshing drink of sewing education I have ever tasted. I have found my Jedi Master." –Najah
NEXT POST: ??? While waiting for my current bride to get married (I don't start blogging behind-the-seams until after the wedding to keep the dress a secret), I'll be posting on various topics. If there's something you'd like me to write about, comment below or contact me! I'd love to hear from you.
SaveSave