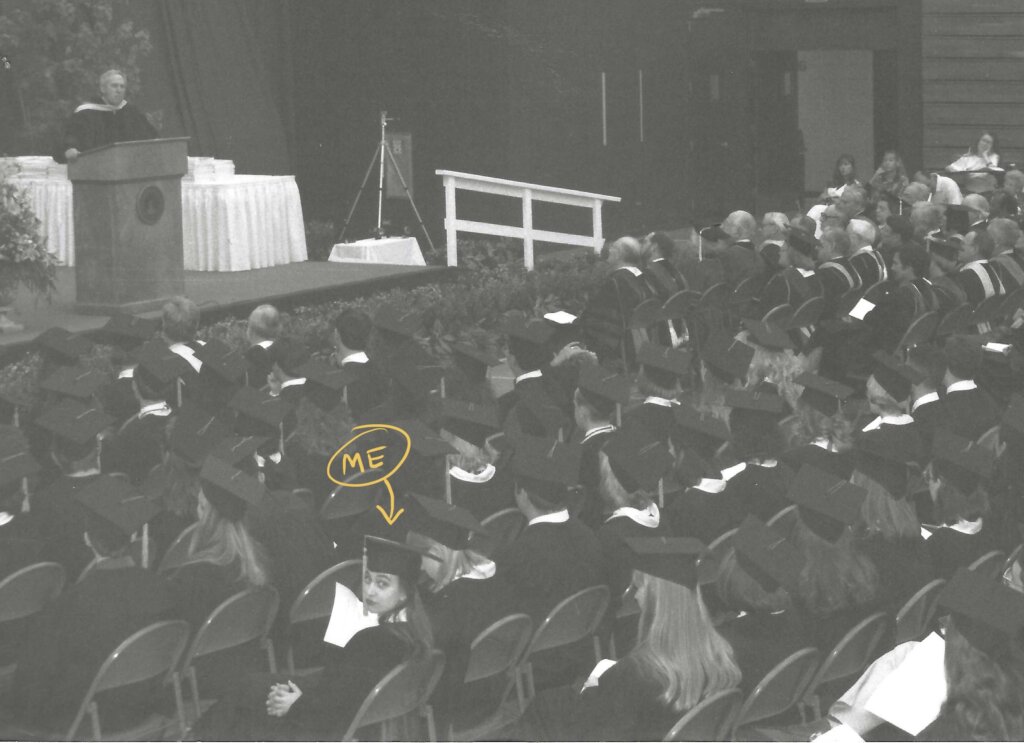 Hi there! I'm Brooks Ann Camper and I love making things. You may already know that I've been blogging about making custom wedding dresses since 2009 and have been teaching those who sew solo how to design and handcraft garments from their own self-drafted custom-fit patterns online since 2014. But that's only a part of my story…
My sewing origin story started in 1996. That's 26 years ago! I know a 25 year Sew-iversary post sounds better- but I didn't think about it last year. I thought about it this year!
I had quite an unusual introduction to sewing. Unlike most origin stories, I did not learn to sew as a kid, or as a hobby, or even because it was something I was interested in!
I grew up in small-town East Texas. I loved school, I loved playing dress-up, and I loved making things. But, even though my grandmother was a seamstress, I never gave sewing much thought. When asked "What do you want to do when you grow up?", the best answer I could come up with was "To make a living making art." I enjoyed making all kinds of things and I also loved performing, but I didn't really know what my art would be. 
And the first time I was introduced to sewing was, in some ways, a punishment. 
In 1996, I was a 21 year old senior at a very small liberal arts college in Louisiana as a theatre major. The theatre department was run by a brilliant curmudgeon named Bob Buseick and the (truly top-notch) productions were all performed and completely custom-built by both the students and community volunteers. 
During my college years, I found myself focusing my art on acting and building stage sets. The costume shop wasn't ever as interesting to me, as it was mostly filled with "little old lady" volunteers. I loved being onstage and/or with the guys and the power tools in the scene shop.
I was cast in a period play where I had a lot of time offstage sitting around in my layers of petticoats and fancy fabrics. Buseick noticed that I had gotten my dress wrinkled and told me to go to the costume shop to iron my dress before I went back onstage. 
My response: "I don't know how to use an iron". (Which I didn't.) 
I think my 21-year old self thought this reply would be a really smart way to get out of the menial chore. That's not what happened.
Miffed at my smart-ass remark, Buseick took me to the tiny costume shop and sternly showed me how to use the iron. At the ironing table, he also issued my next assignment.
Instead of working on the set, I'd be working with him in the costume shop for the upcoming musical Oliver! I would be responsible for all the workhouse orphans' rag-tag clothes. It'd be fine if they ended up looking cruddy, and I'd sure learn how to use an iron before graduating college. 
I accepted my fate.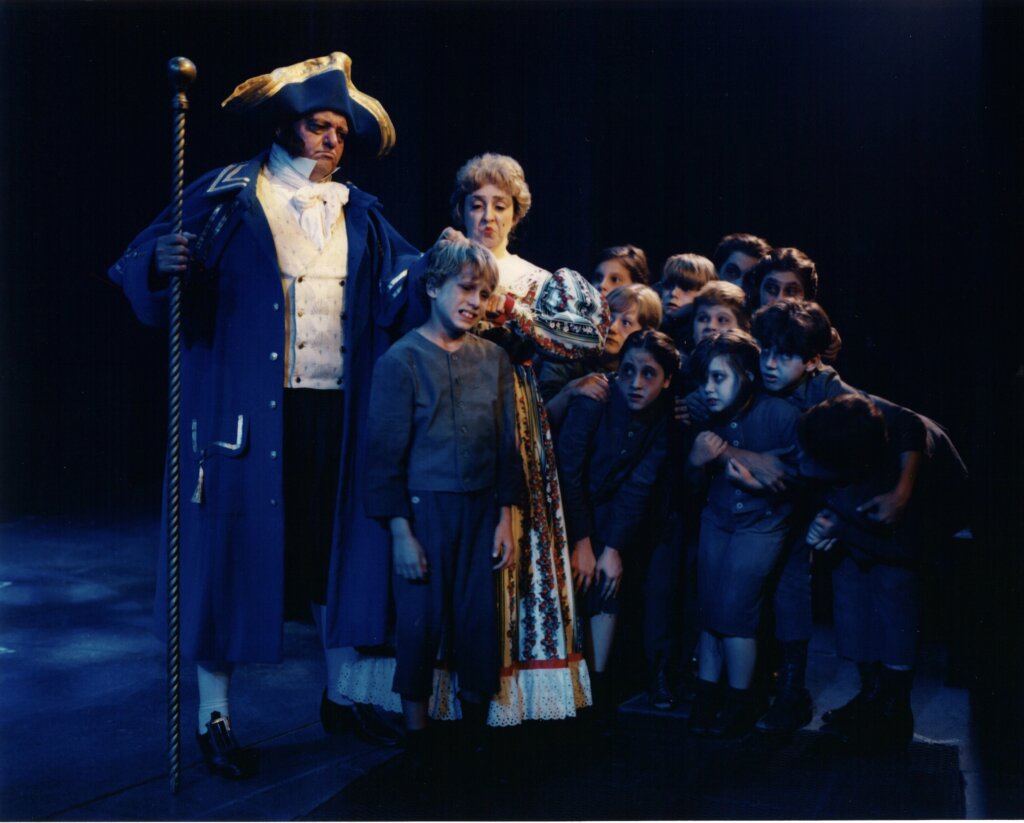 And, as you may have guessed, I unexpectedly had a blast with the grumpy old man and the little old ladies, with the sewing machine humming to CDs of show tunes, working with the energetic designer, creating one-of-a-kind garments based on watercolor sketches… I not only enjoyed the assignment, but I actually loved the work, and found myself to be really good at it!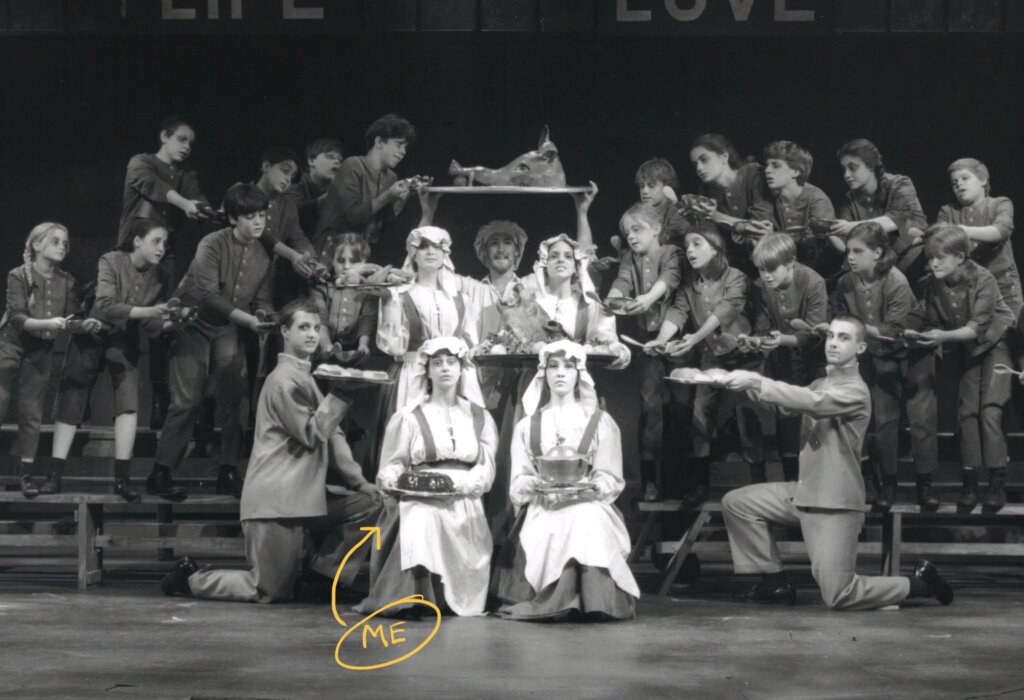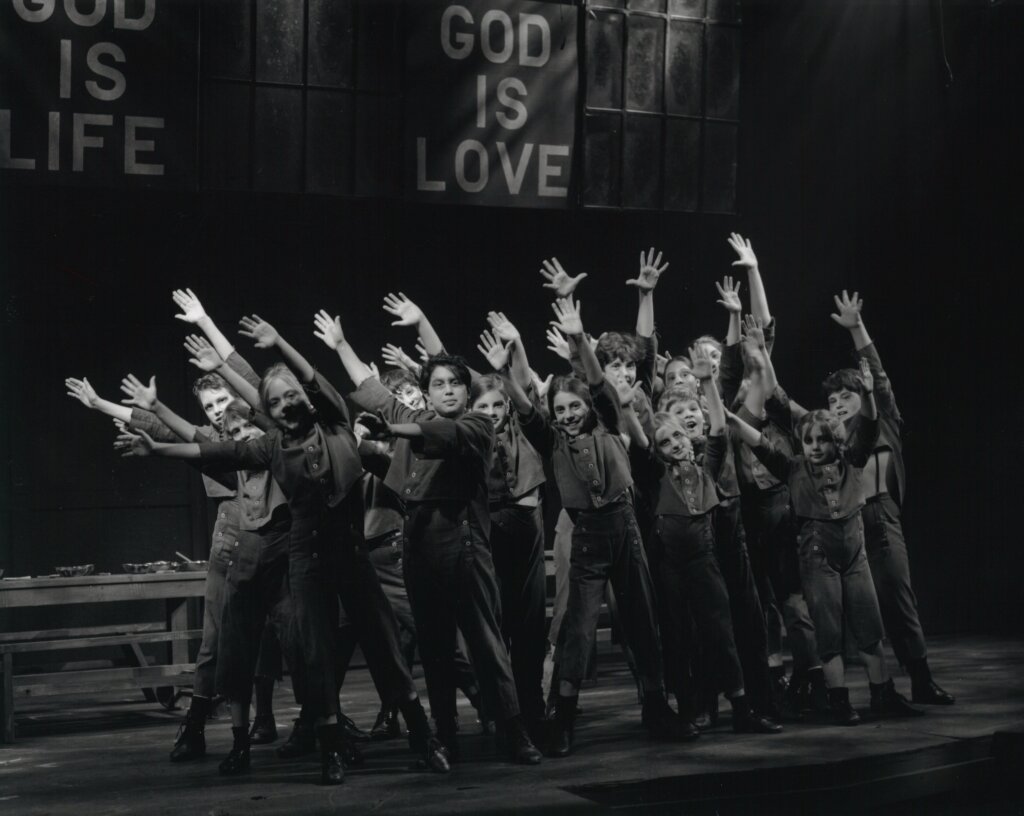 So now what? I was a senior in college and I just discovered a possible new direction. I wanted to learn more, but one of my next ironing assignments would be for my own cap and gown!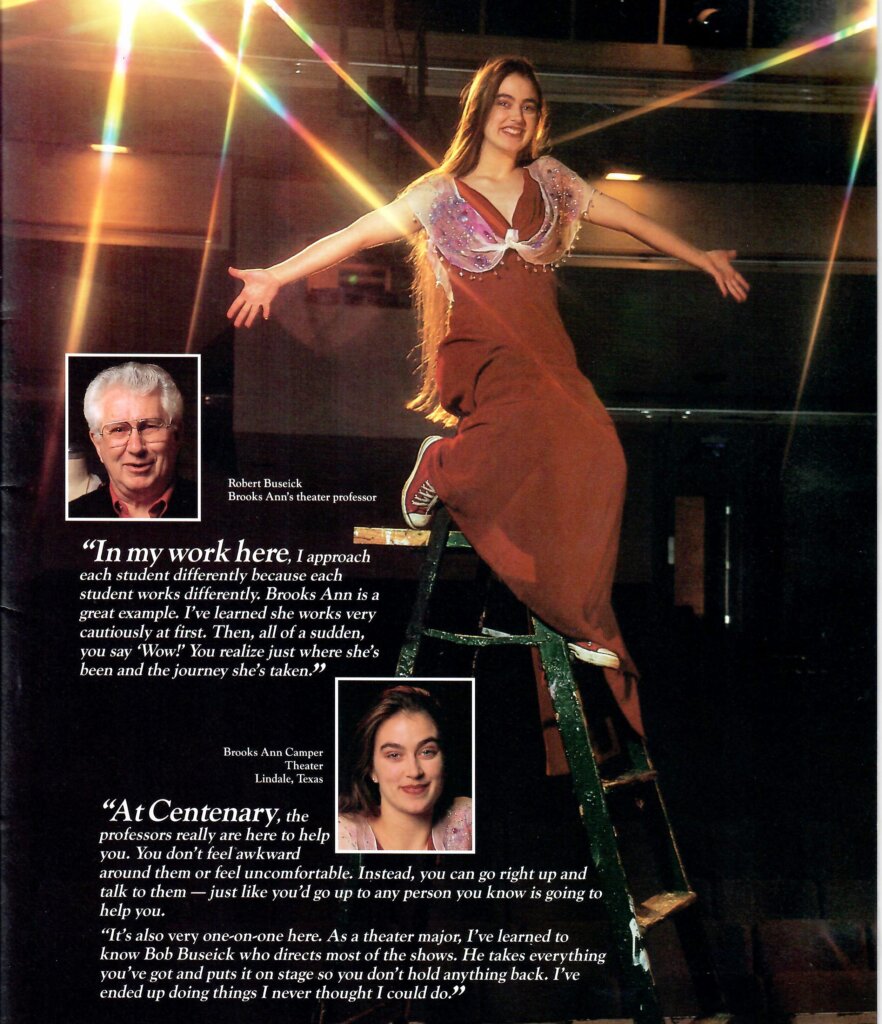 I still loved school, so I researched graduate programs and internships in costuming while imagining how I'd apply: "Hi there! I just learned to use an iron and I made some wearable rags for some kids once. Don't you want to choose me for your intensive program?"
Almost as a joke, I decided to complete an application for an internship at the Yale School of Drama, the #1 drama school in the US. They accept only one costuming intern each year.
I was really surprised when they asked me to fly to Connecticut for an interview. I saw no point in spending money to fly up for a position I'd never get, so I told them I was "too busy in the costume shop to leave for an in-person interview" but that I could talk over the phone.
I honestly don't remember what I said in that phone interview, but I did end up flying to Yale that summer. To look for an apartment to start my internship in the fall…
After an unusual summer job (which I'll share in Pt 2: Employment), I joined this team at the Yale Costume Shop in chilly New Haven, Connecticut. Tom McAlister (pictured right) was the costume shop manager and the person who hired me.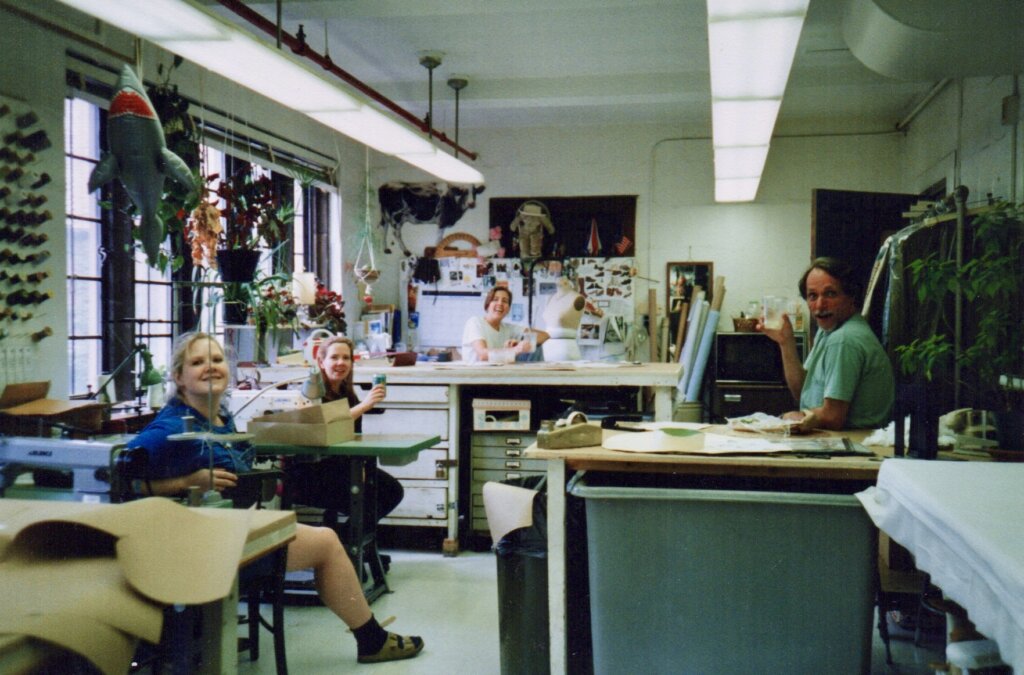 Because everything was so new to me, yet nothing was new to anyone else, I never had time to be a beginner and no one treated me like a beginner. So, I skipped the "beginner" thing went straight into "couture". Not knowing much about sewing, I didn't know that I was "out of my league". I didn't know enough to be timid or overwhelmed. I just pretended like I knew what I was doing until I did.
One of my very first assignments was sewing these linen suits, that ended up being featured on the cover of the New Haven Advocate!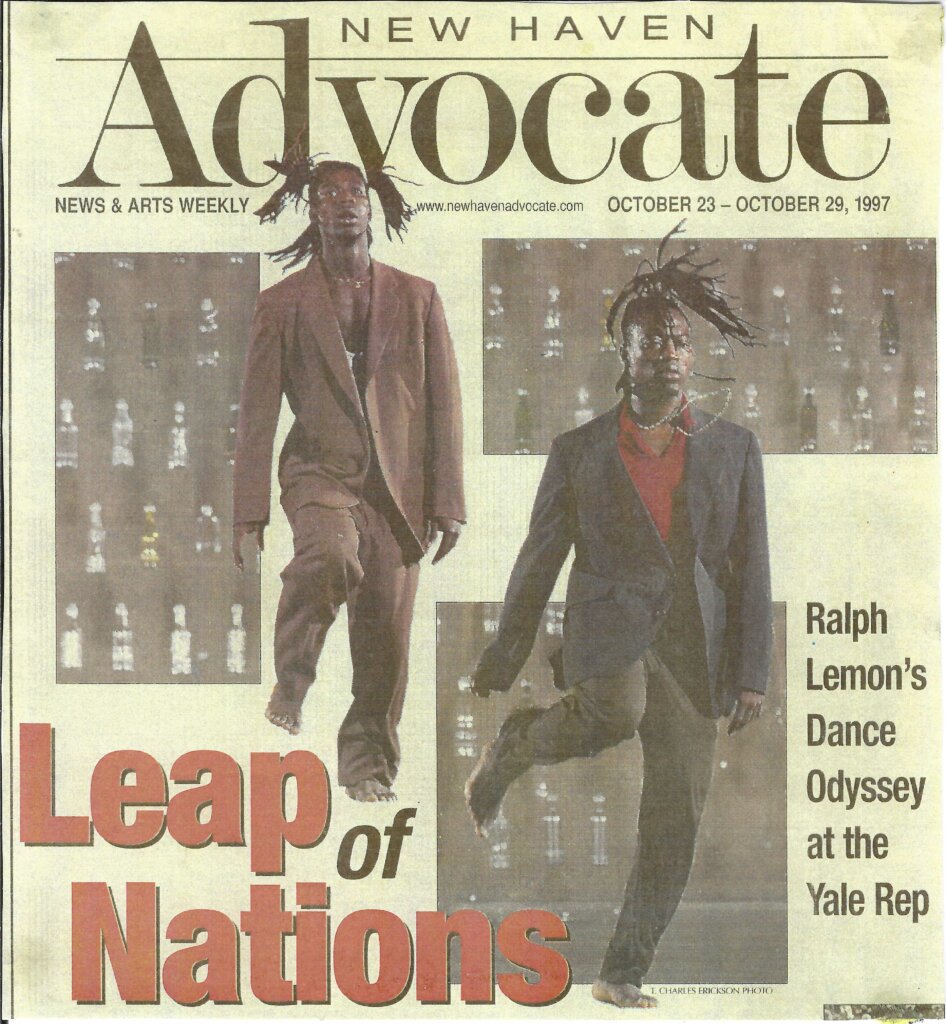 At Yale, and in most high-end professional costume workshops, all of the patterns are draped and drafted specifically for each actor based on a designer's sketch. All the equipment and tools and fabrics are also the highest quality. 
I remember that the first dress I ever made was cut from fabric that was $120 a yard. It was for the character of Arkadina in the 1997 Yale School of Drama production of "The Seagull".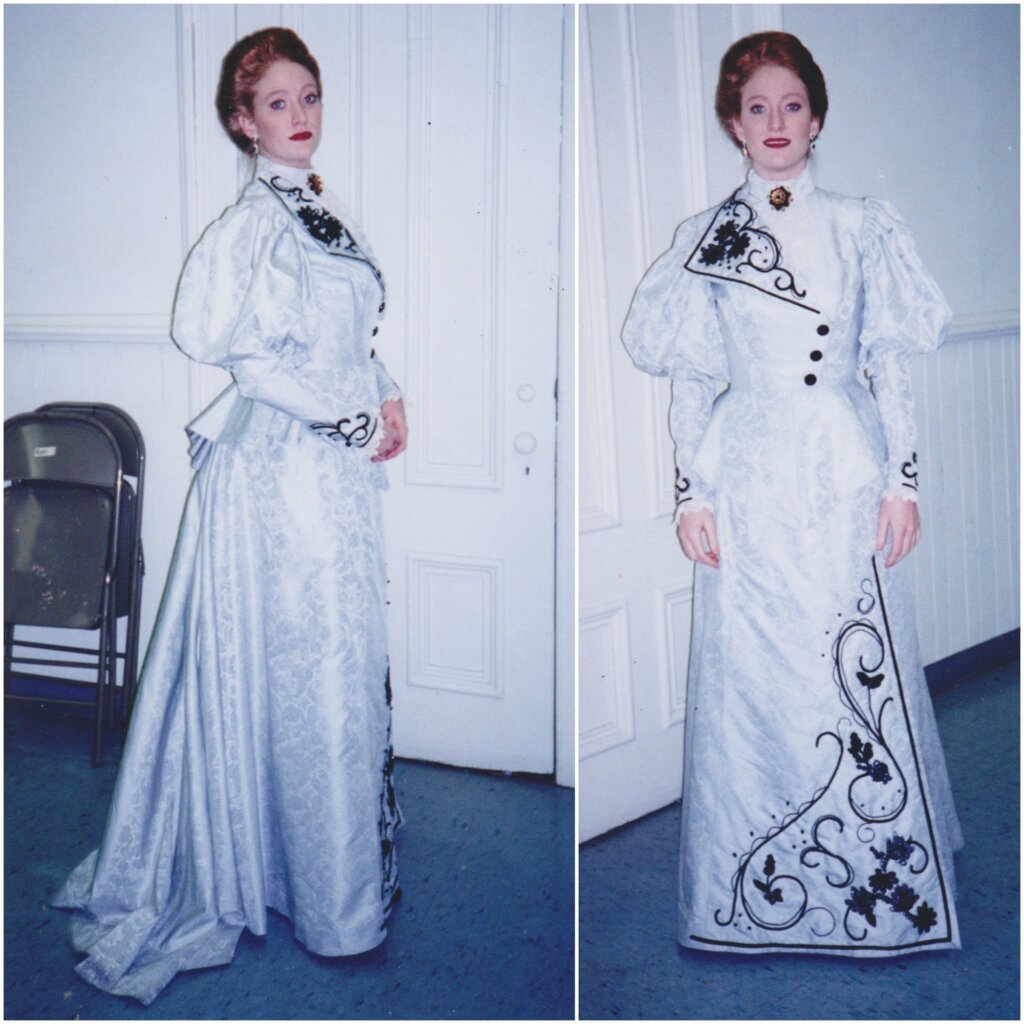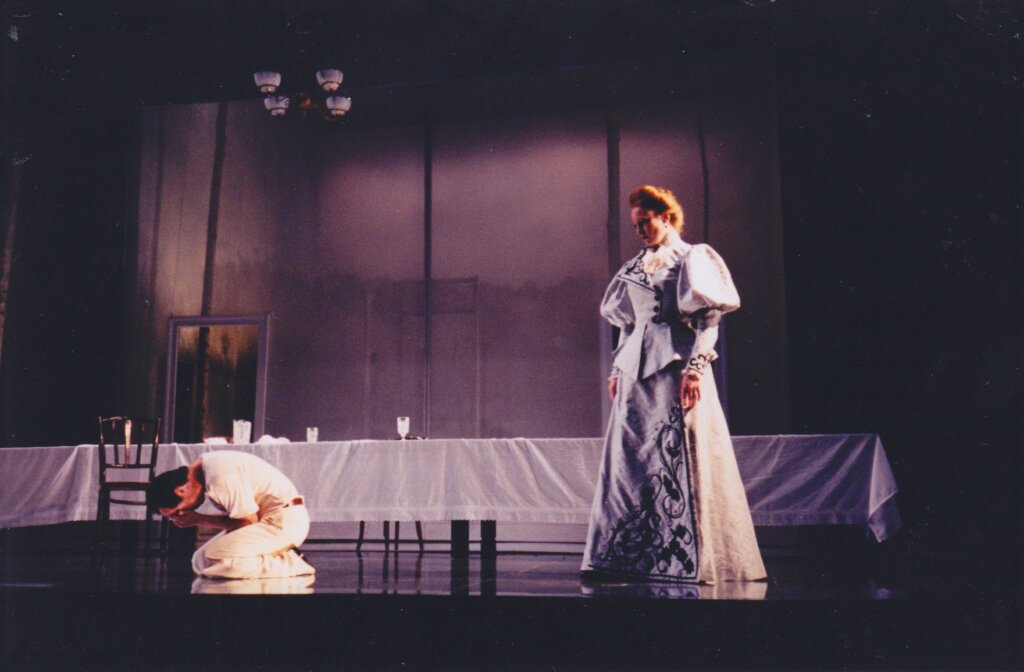 In that magical costume shop, I was learning how custom patterns work. I was developing couture-level sewing skills and learning why different techniques work for different scenarios. I was learning about fit and fabrics and all kinds of bodies. I never had an instruction booklet. I never learned short-cuts. I never started with sewing projects that were "quick and easy". I learned by being forced to "figure it out".
This link will take you to the 1997-1998 season at the Yale Rep. I worked on the costumes for all these shows (and lots more Yale School of Drama shows). It was fun to see they have the full programs for each show online- and my name is listed in each!
In addition to the costume shop position, the internship allowed me to take classes with the Yale School of Drama MFA students, which was an extraordinary experience as an absolute beginner. My costume design professor was Jane Greenwood– who has more than 100 Broadway/Off-Broadway credits and has been nominated for more than 20 Tony awards. It still blows my mind to remember spending my 23rd birthday in her Manhattan brownstone after seeing a Broadway show she designed and visiting the vibrant Broadway costume houses where all the custom garments had been meticulously handcrafted. 
Another one of my professors was Dennita Sewell, who was also working at the Metropolitan Museum of Art's Costume Institute. I don't remember the class itself, but my classmates and I went on an unforgettable Field Trip into the storage facilities at the Met for white glove examinations of various significant couture and historic garments. 
These truly amazing early experiences, and countless others, absolutely shaped the way I create and think about clothing.
I don't have a lot of photos from this era of my life, but I met a lot of amazing people and made a lot of weird and wonderful stuff. Maybe the most memorable student production I worked on was "The Blind",  designed by Lora Dole. The audience was seated above the stage on platforms surrounding the show. The set was a larger-than-life zen rock garden. The characters were rocks that s-l-o-w-l-y moved together by the end of the play. Each costume was made from yards and yards of dyed, starched, and distressed silk.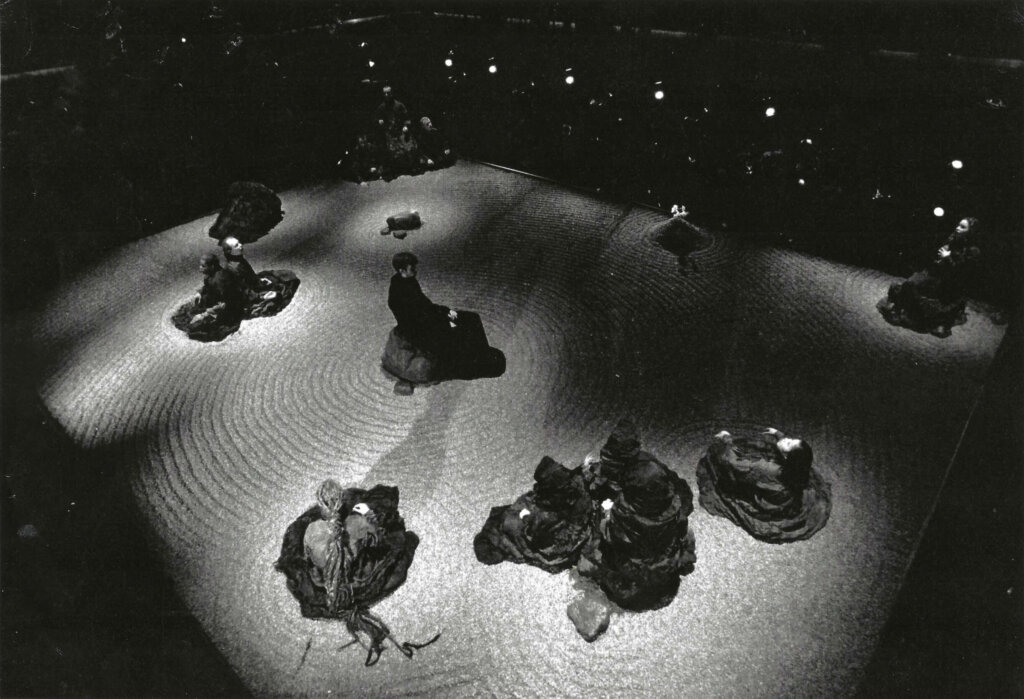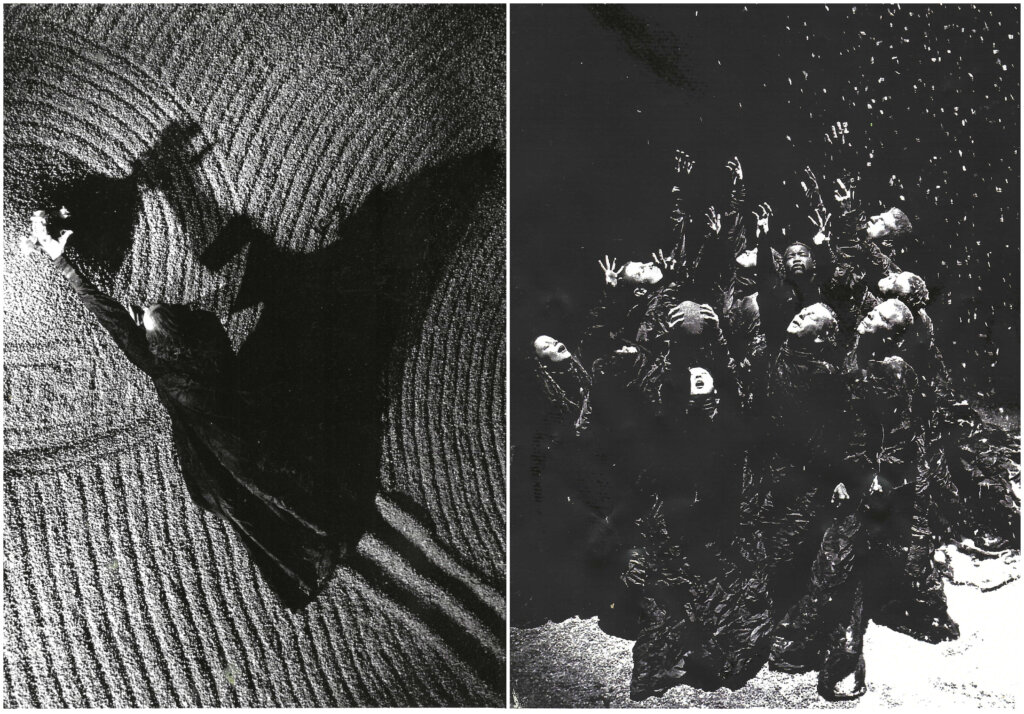 In the Yale Costume Shop, my job was mostly as the "Stitcher"- the one who stitches the garments together. So naturally, I learned a whole-heckuva-lot about sewing from some true artisans. But via the MFA-level patternmaking courses and working closely with the "Draper" of each production, I discovered an unexpected and unquenchable passion for custom patternmaking and draping. 
And best of all, my introduction was through making custom patterns from scratch to fit specific individuals, instead of learning to modify fashion formulas. To this day, I have never sewn from a commercial pattern, since all those averages and charts and sizes are mostly irrelevant when you're creating something unique to fit a specific person (which is all I've ever been interested in)!
At Yale, I also realized that I loved the technical production side of custom sewing much more than Design. Doing research and coming up with ideas and drawing pretty pictures was okay, but I was far more interested in making things. 
So when my glorious one year internship was up, I looked for graduate programs that had their focus as Costume Creation instead of Costume Design….
Well, pretty much every college and university offered a Costume Design program but, at this time (in the late 90s), I only found two programs in the US that offered Masters degrees in Costume Production. Which is kinda baffling, since every Designer usually needs a team of talented people to carry out their vision!
I really wanted to continue an academic education, so I applied to the University of North Carolina's Costume Production MFA program. Even though I had earned a Yale Internship Certificate, I still had less than two years experience and they only accept two students per year into the three-year intensive program. It seemed like such an unattainable long shot that, when they asked me to fly down for an interview, I repeated the "let's just talk on the phone" routine…
Well, it worked again! 
I next moved sight-unseen from Connecticut to North Carolina and completed a 3-year full-time intensive Masters of Fine Arts program, full of demanding courses all about couture sewing, pattern drafting and draping for individuals, dyeing, millinery, all kinds of fun stuff…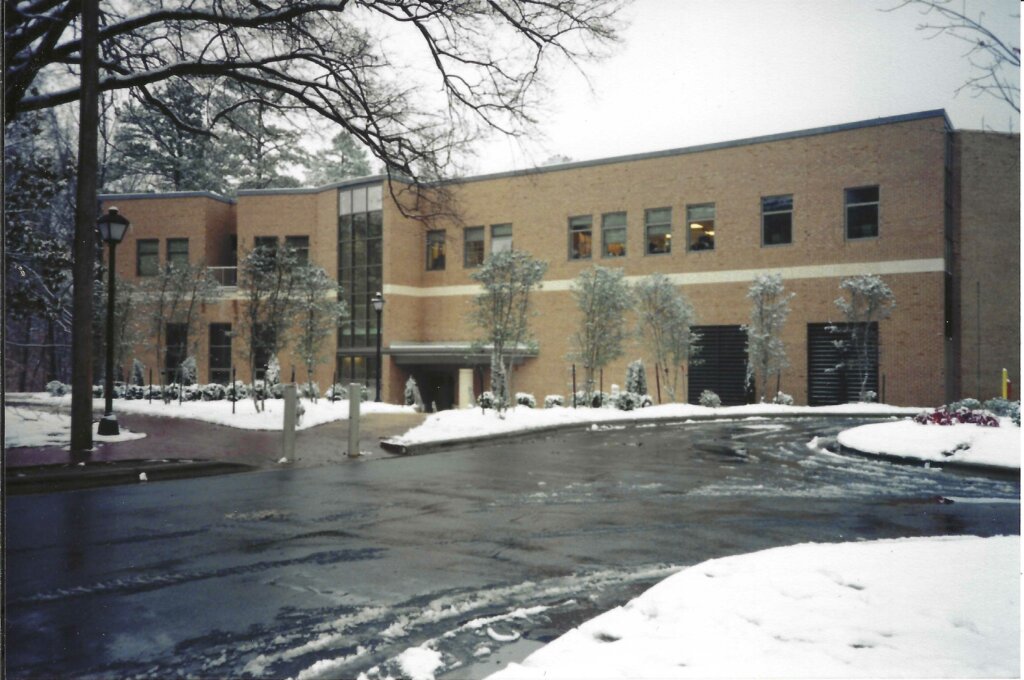 The department head and the teacher for most of my classes was Judy Adamson who, now that I think about it, I'd also describe as a brilliant curmudgeon. Her professional resume was prolific, having worked for many years in Barbara Matera's Broadway costume house. Judy even made the strapless foundation for the dress Hillary Clinton wore to Bill's first inauguration. There's an article all about it in Threads Magazine Issue #51 (which doesn't seem to be online).
And, you bet, each student learned how to make something similar before graduating.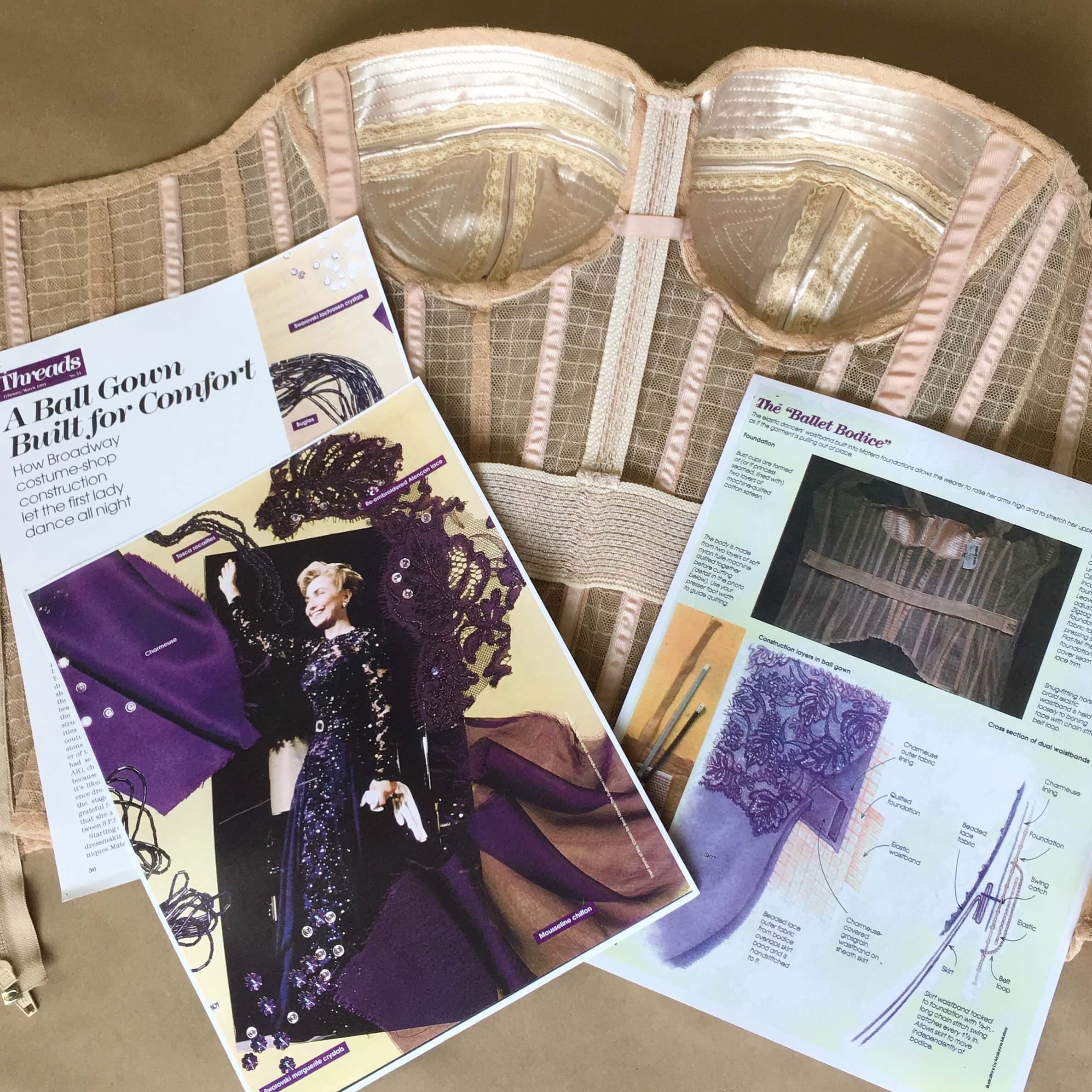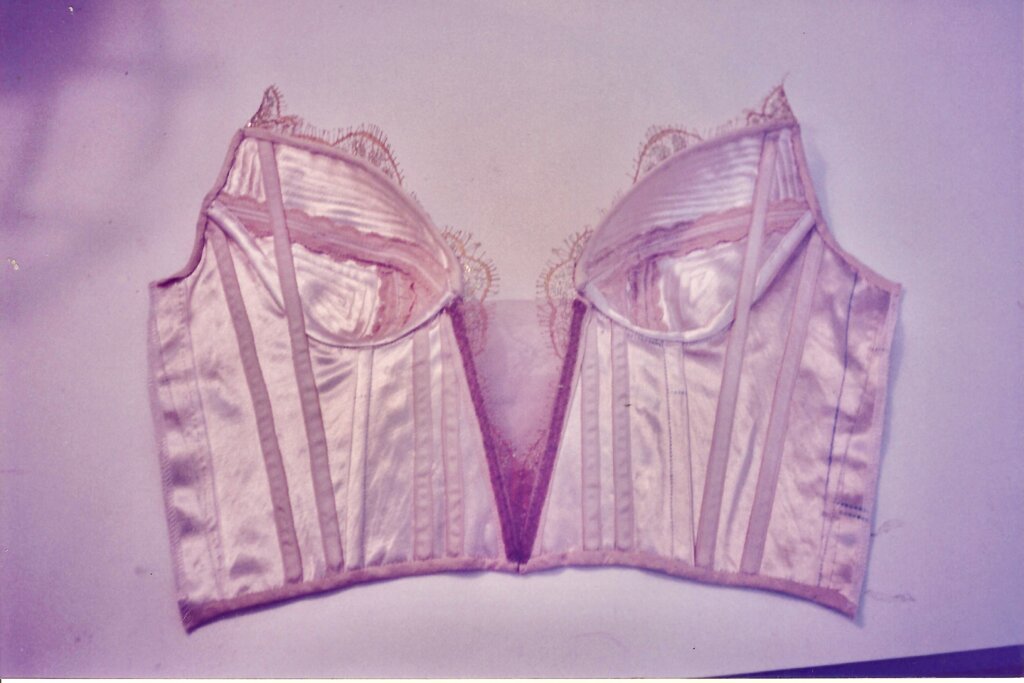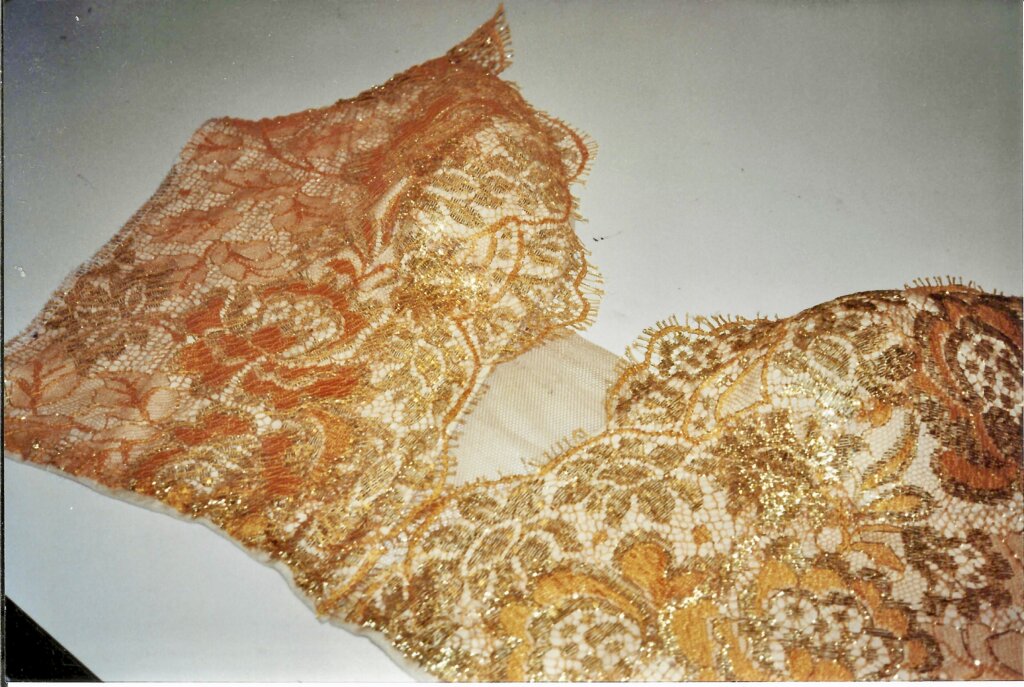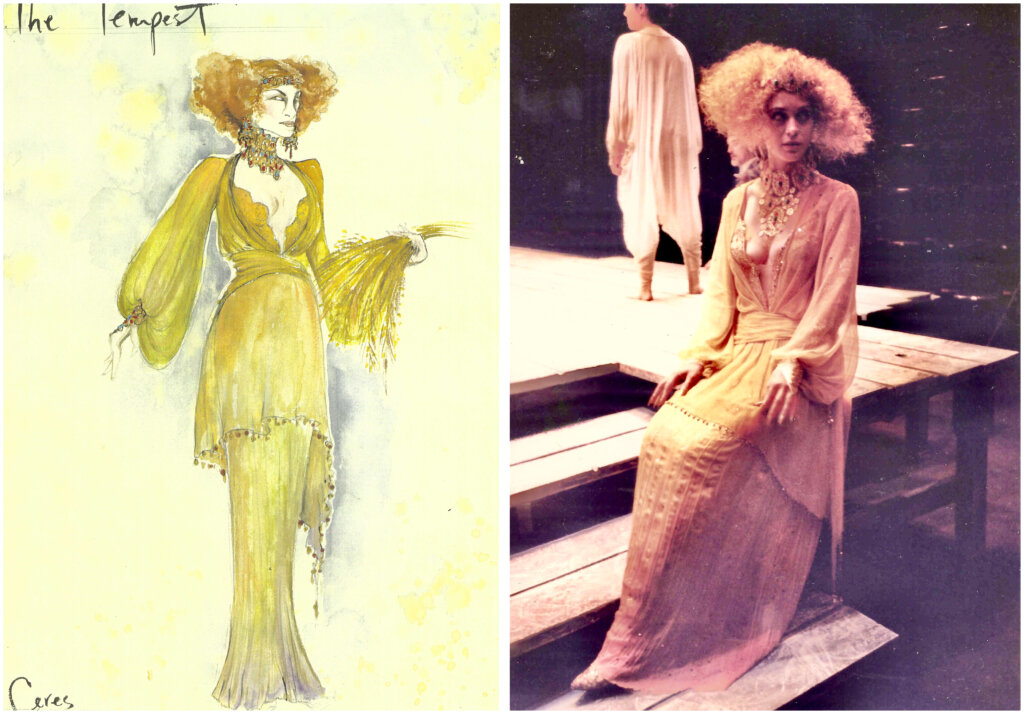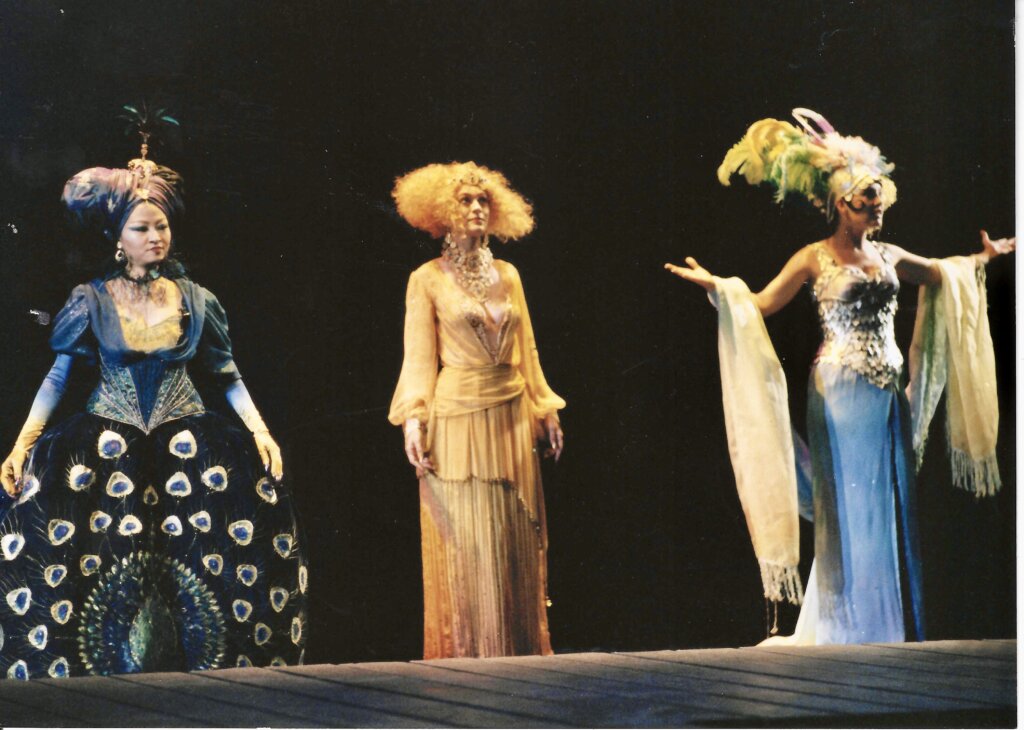 A costume technician's job is to take the costume designer's sketch and make it a reality. (Many designers don't know how to sew at all- since it's not often part of their job.) One of my favorite classes was where Judy would offer each student a photo or illustration of a garment. Our assignment was simple: To figure out how to make it- and then make it. She hands you a sketch; You turn in a dress (or whatever).
Here are some of my favorite recreations from those classes. I fell in love with Dior and Vionnet respectively via these two projects.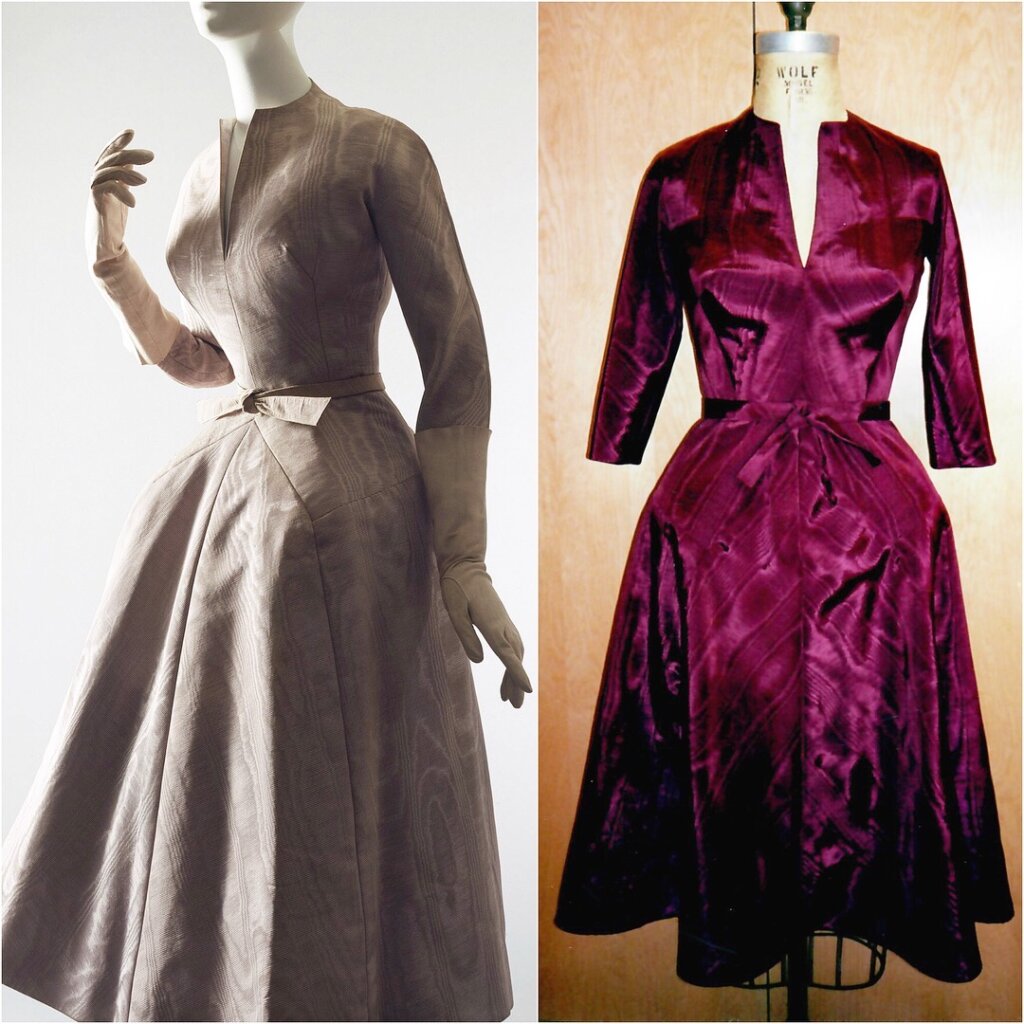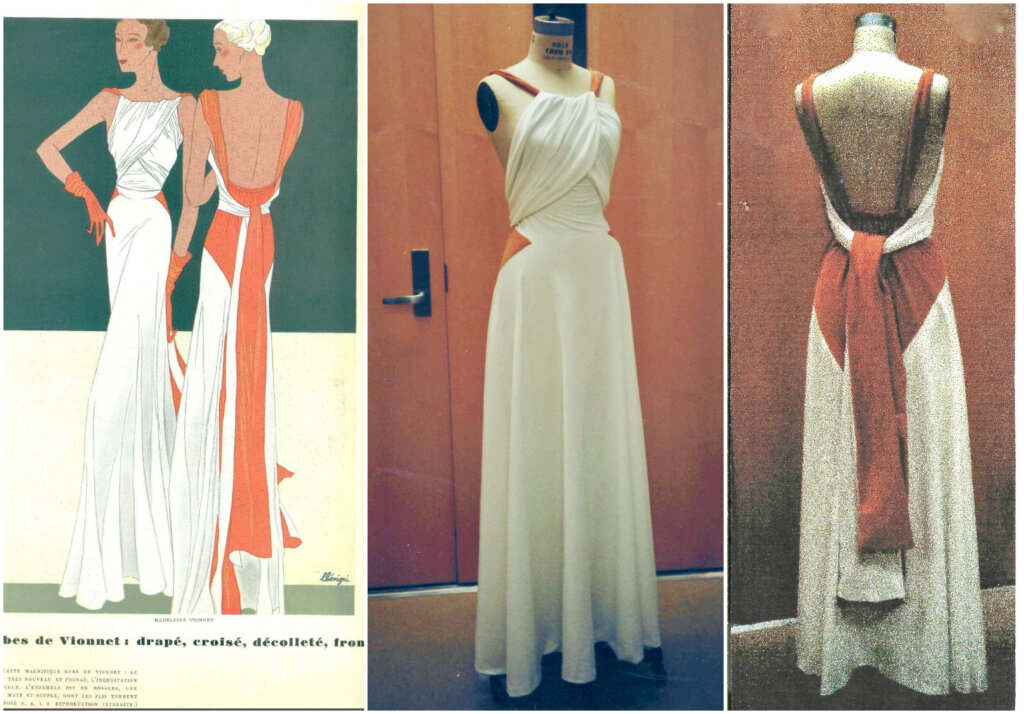 In this sketch-becomes-reality, I asked a guy I had a crush on to be my model. He is now my husband.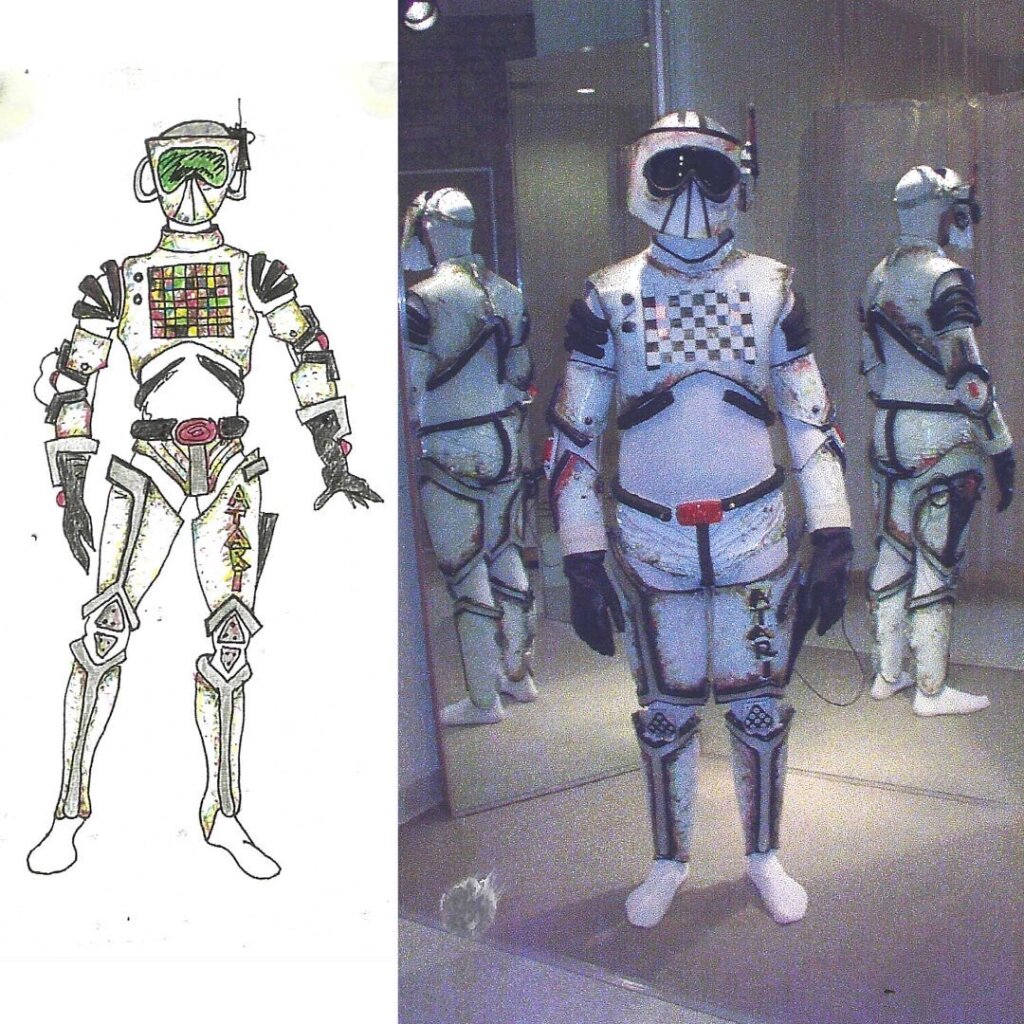 Judy also taught us the professional process for creating tutus for professional ballet. Here's my start-with-a-sketch turn-in-a-garment assignment from that class.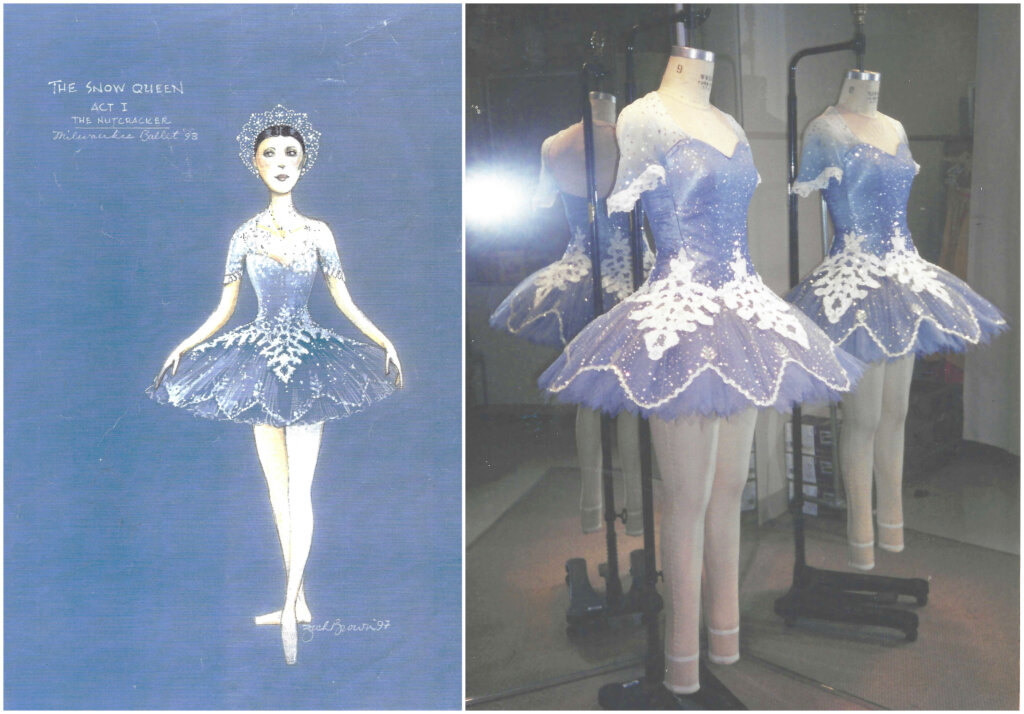 Not to mention the productions. So many productions! Again, I found very few photos from this era. But I'll share all the bad 90s photography I've got!
I learned a bit about hand beading after draping and stitching this dress for "Violet: A Musical" designed by Kim Sorenson.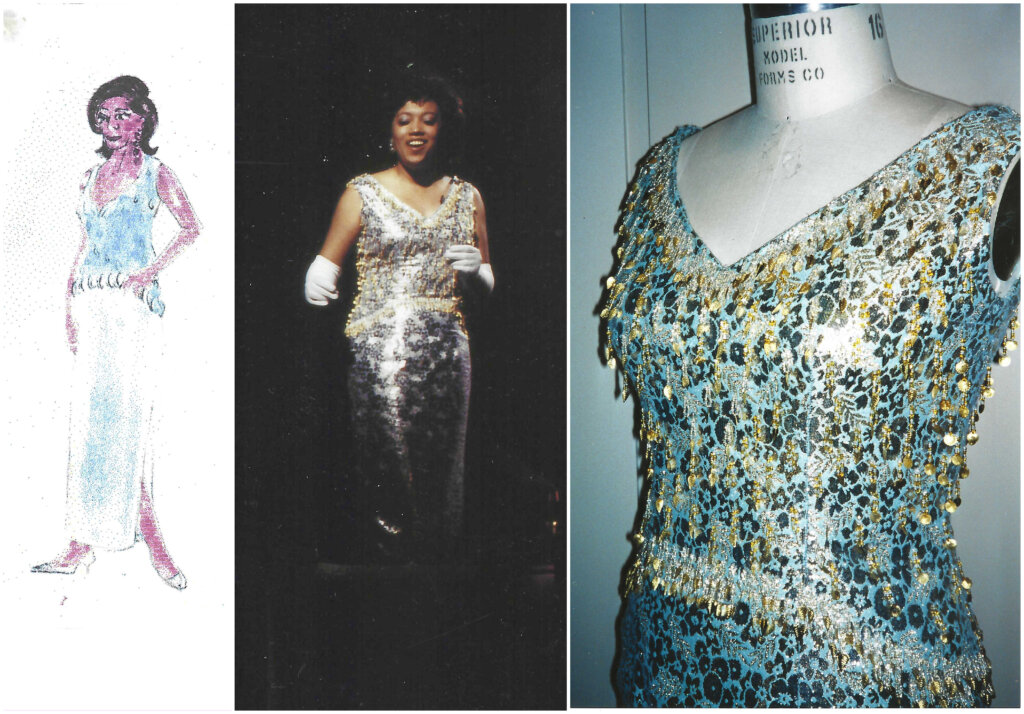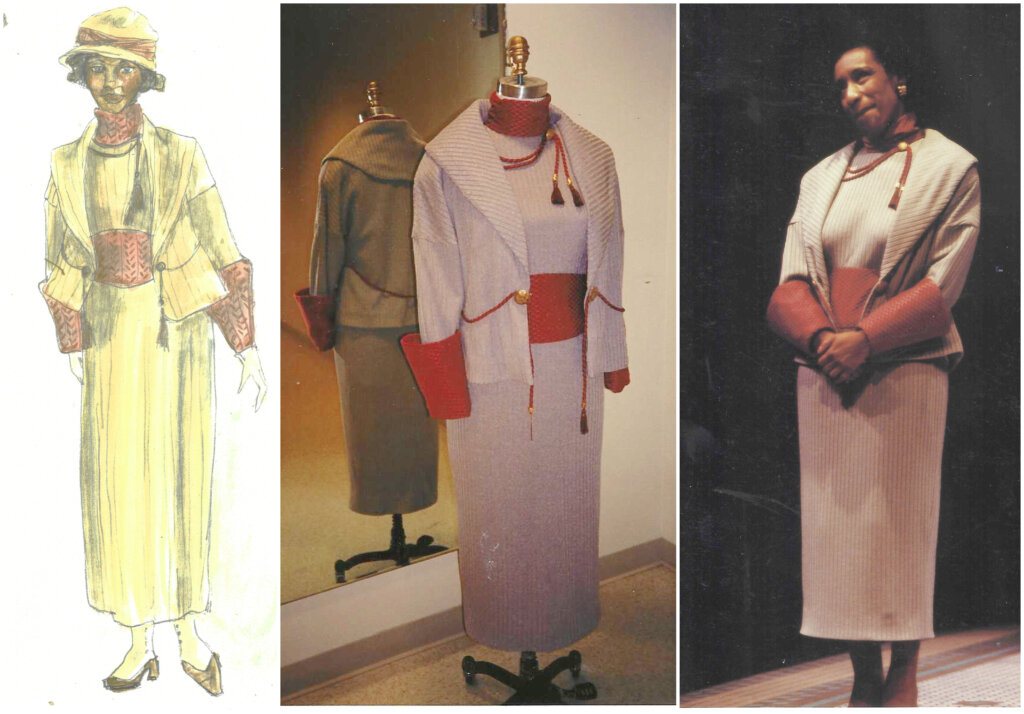 And for this PlayMakers production of "Hay Fever" designed by Bill Clarke, I draped and constructed this 20s dress from silk, while learning a lot about tambour beading. Each little bead was attached one at a time…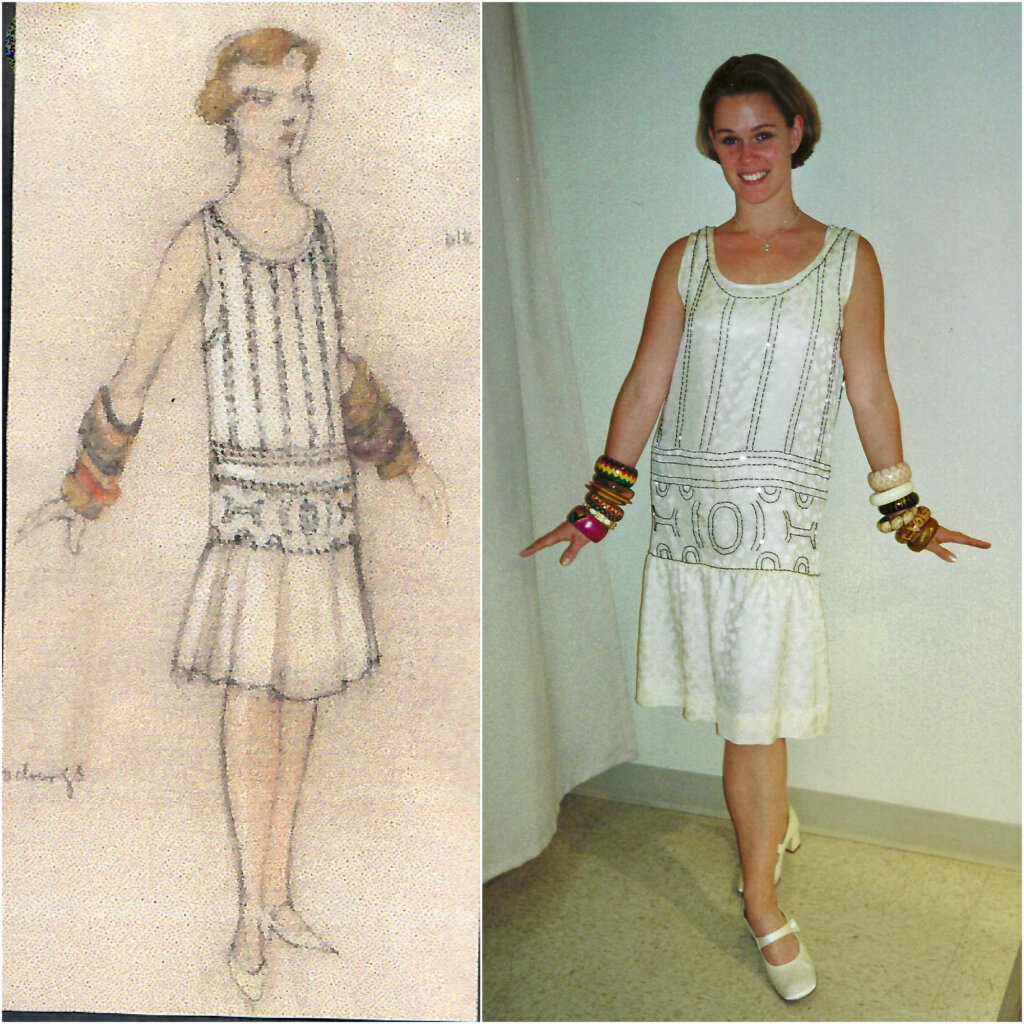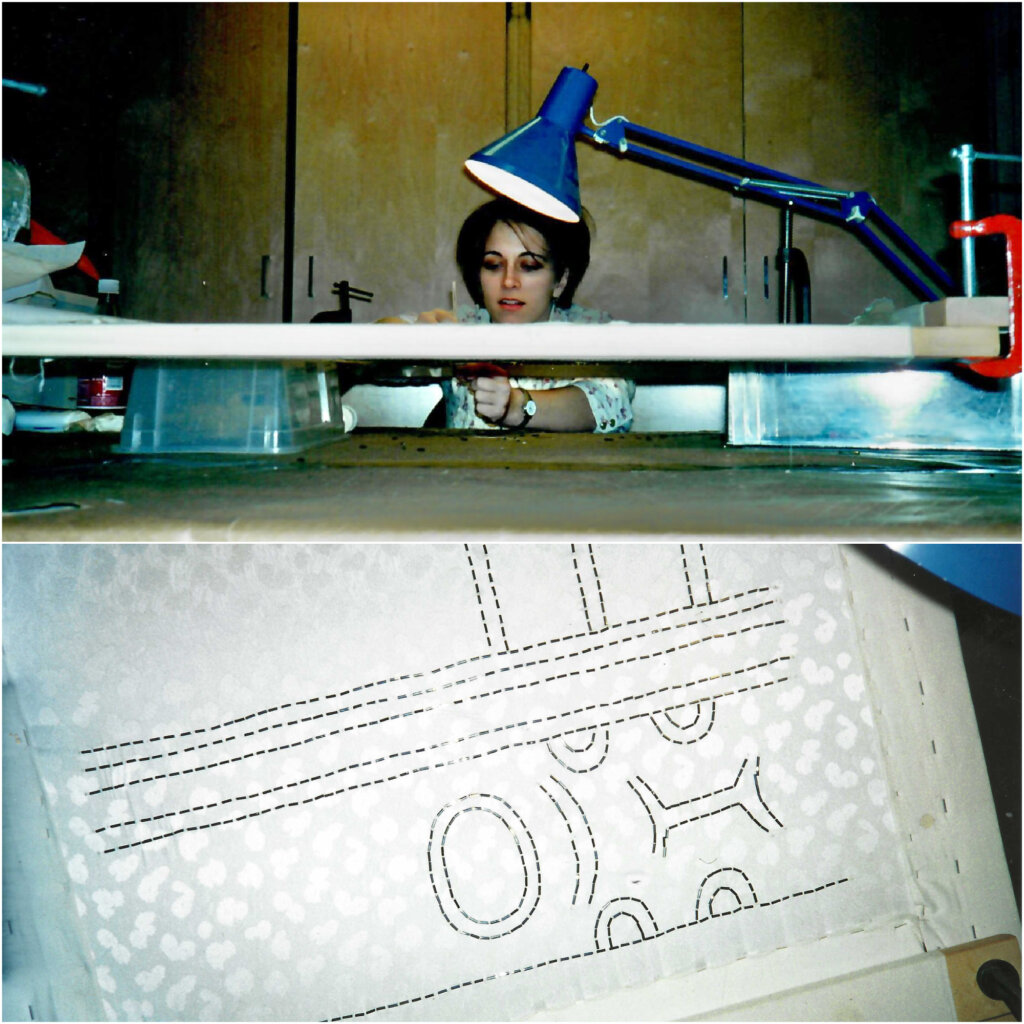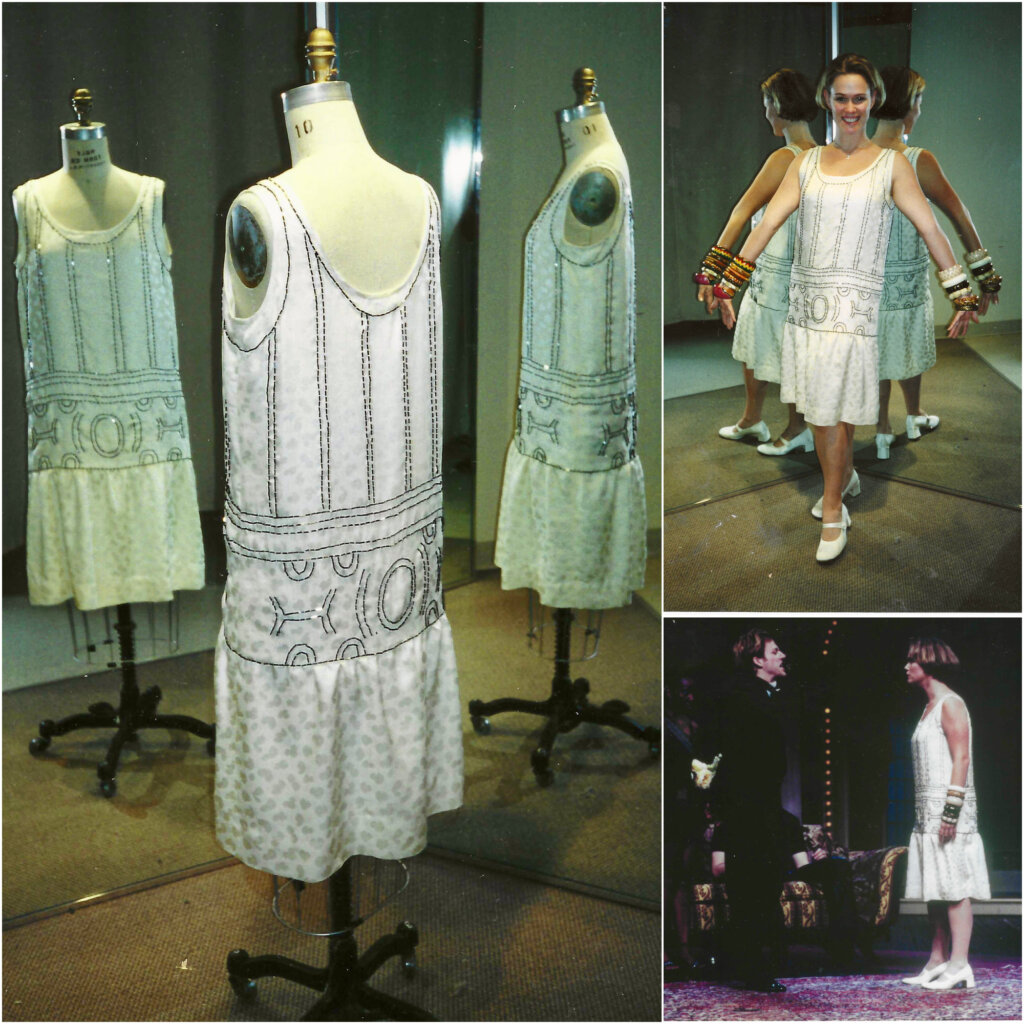 In the same production, I learned silk painting while draping and constructing this Moleyneux-inspired outfit.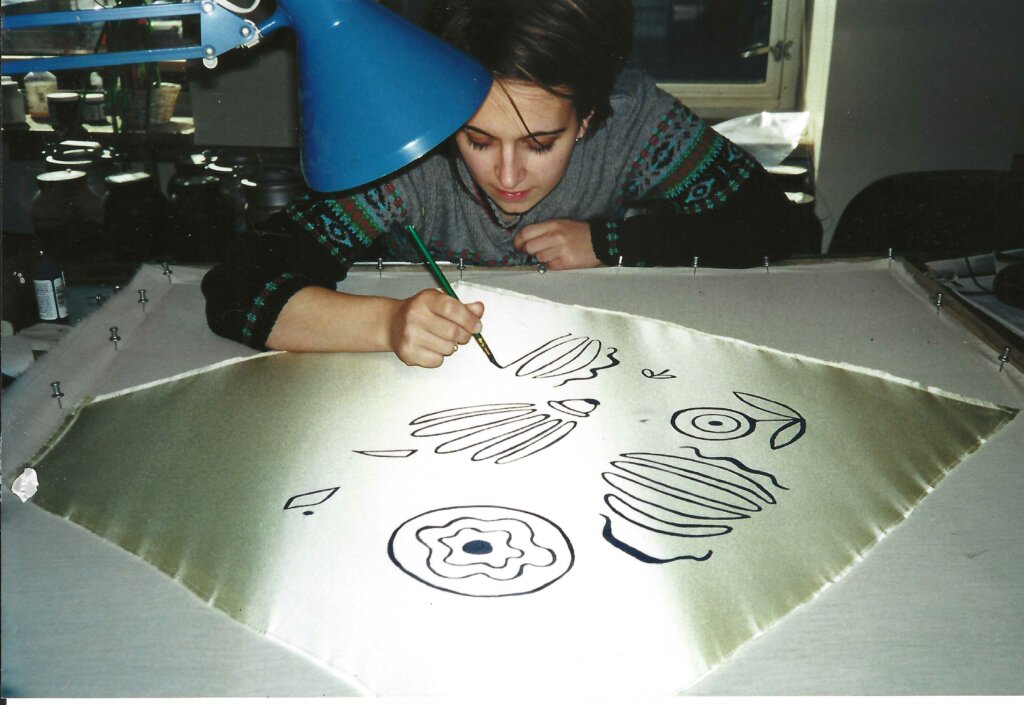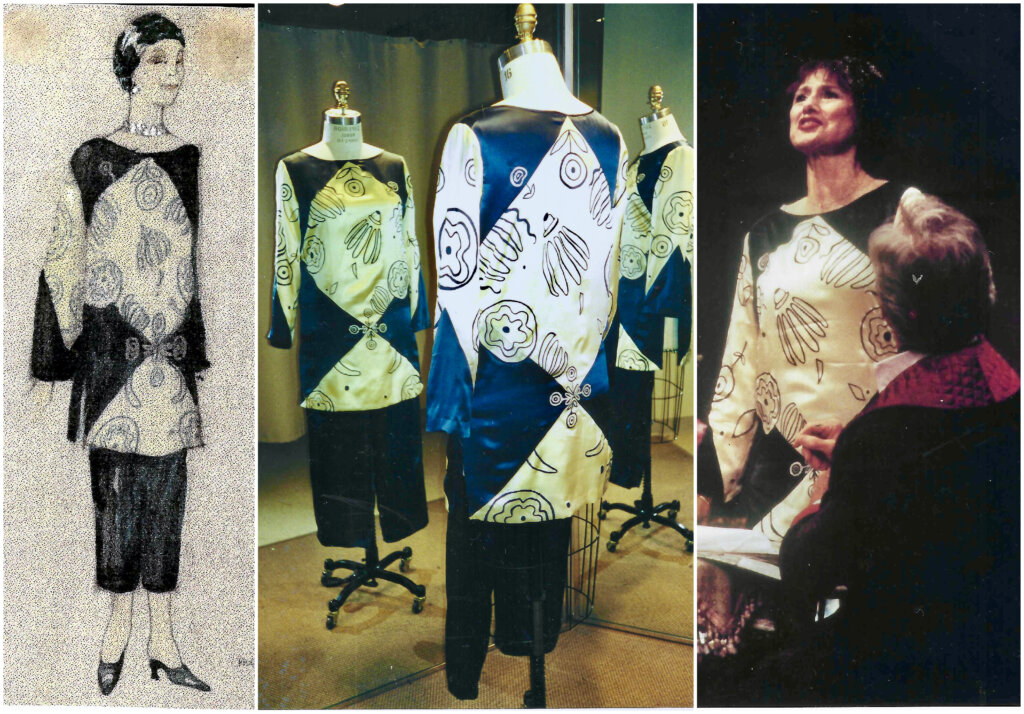 And I learned a lot about working with leather while recreating this sketch by designer Alan Armstrong for PlayMaker's production of "School for Wives".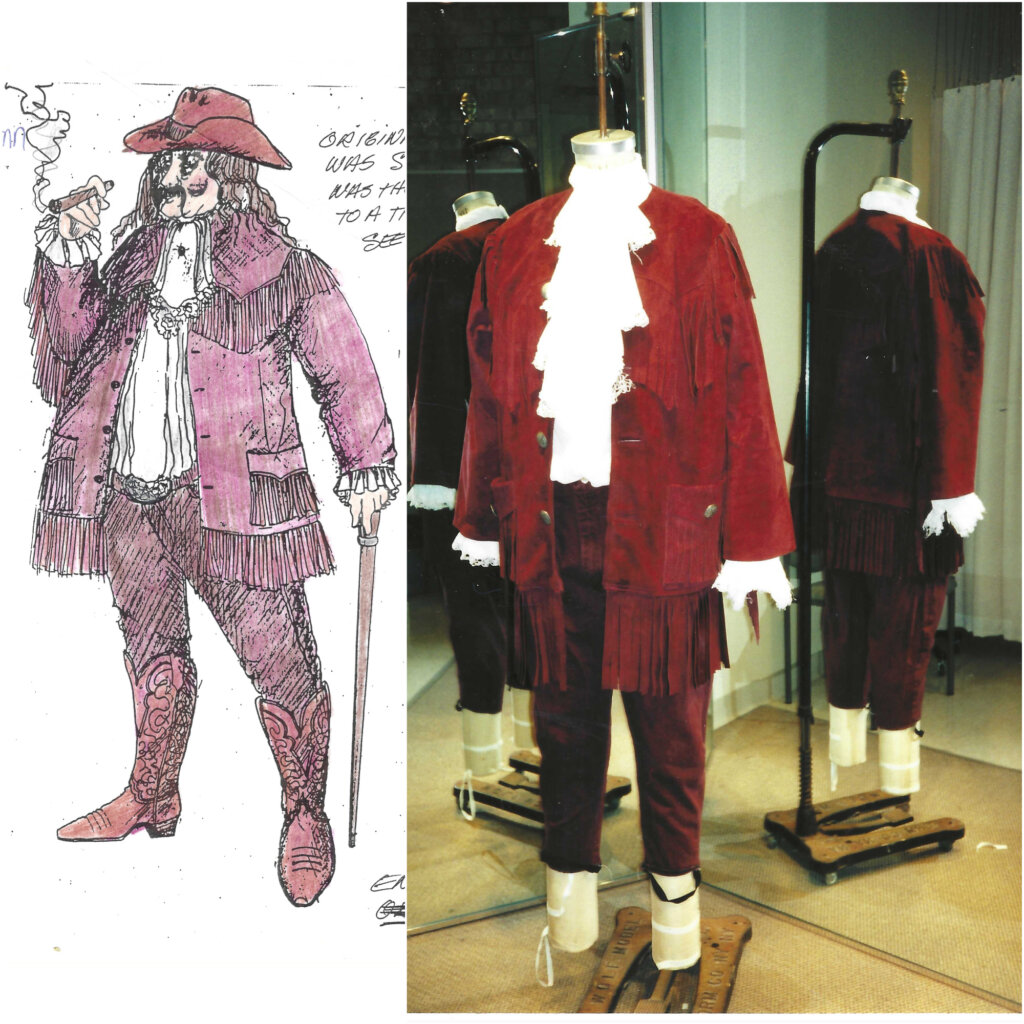 Oh and if you want to read one of my research papers, click here to find photos and details about a green boiled wool side-saddle riding habit c.1886. Part of the project was recreating its pattern to scale (without taking it apart). And yes, it had an adorable heart quilted inside the bodice.
I think there's a misconception that costumes are of lesser quality than regular clothes. But I think the opposite is much more true. A costume at this level is a couture garment, but it must be comfortably worn night after night. And probably also needs to look flawless during a sword fight…
During my academic years, I gained a lot of experience fitting a lot of bodies and I got really good at developing custom-fit garments from an image. In retrospect, I'm so grateful that I didn't learn to sew before being immersed in "couture". Twenty six years later, I still don't think I'd want to sew any other way!
I'm also eternally grateful for Bob Buseick, Tom McAlister, and Judy Adamson- the pros who first taught me to sew.
It's amazing that I cannot find any photos of us from "back in the day", but here's a shot from the last time I saw Buseick in 2013. Sadly, he passed away in 2018. I encourage you to read this Shreveport Times article remembering his remarkable life.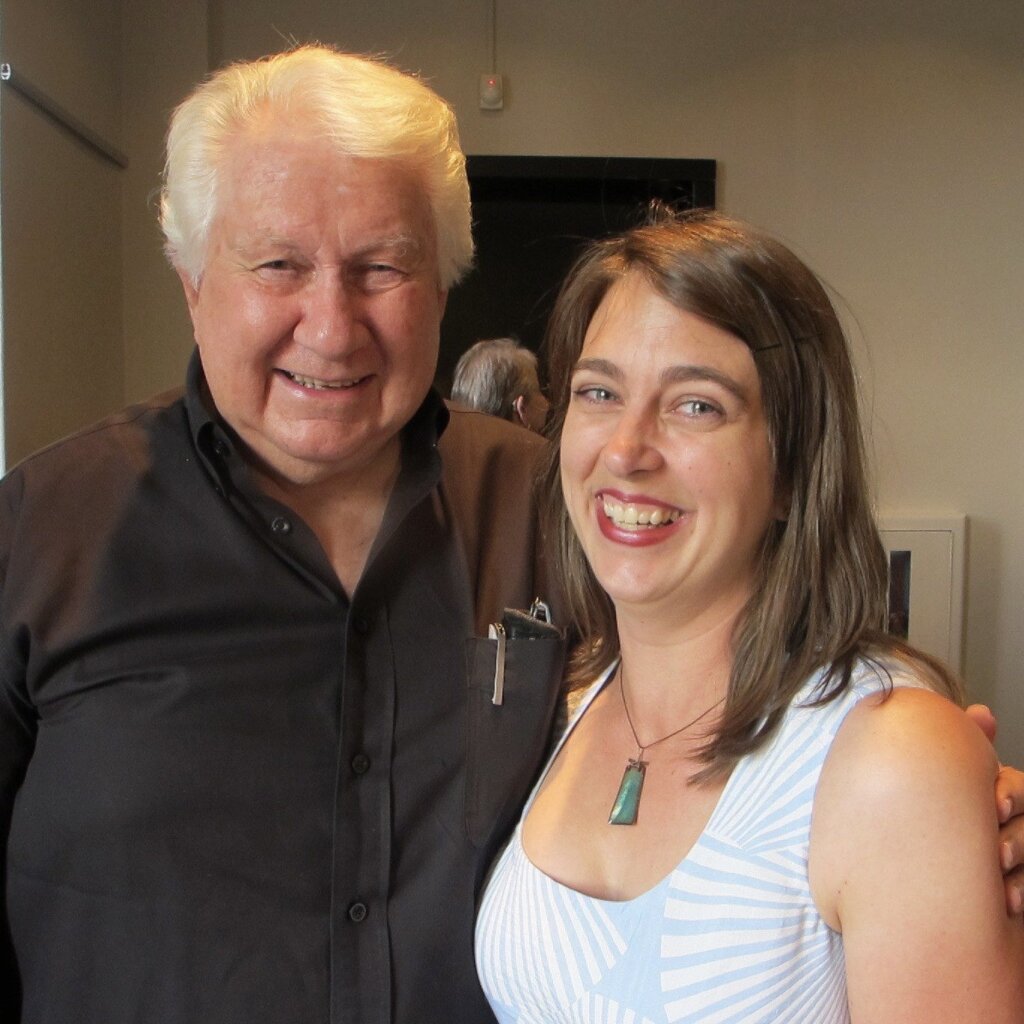 I've kept in touch with Tom, but have not seen him since I left Yale in 1998. He's the one who really took a shot on me and guided the beginning of this journey. When I said "I just learned to use an iron and I made some wearable rags for some kids once. Don't you want to choose me for your intensive program?" He said "Yes!". Thanks Tom!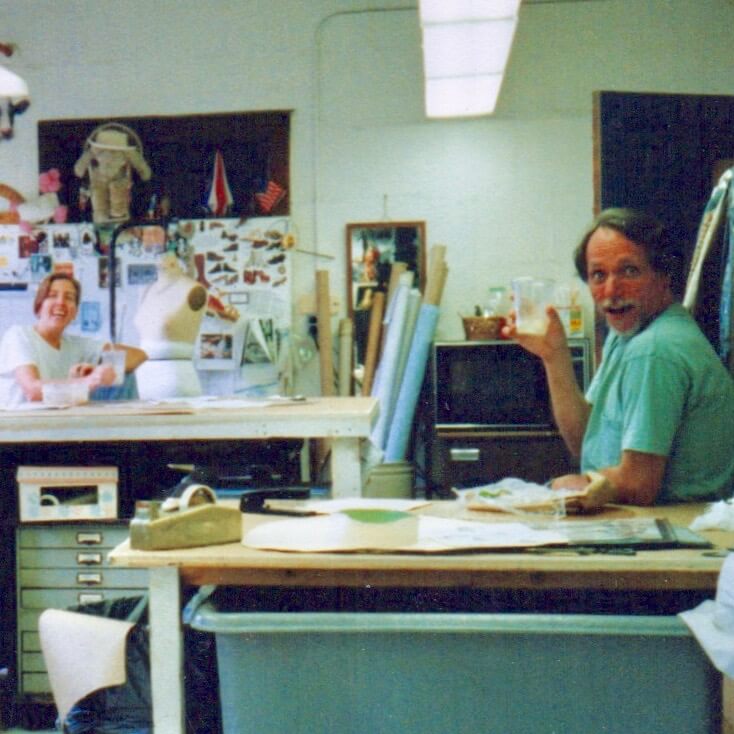 I think a major part of my early success in sewing was that I started out learning from people who (for whatever reason) believed in me. From the start, I was treated by professionals as more or less an equal, rather than a "beginner".
As a consequence, I felt confident and I believed in myself. I was blissfully unaware that I was supposed to feel intimidated. I was never given the chance to hide behind the excuse that something was too "advanced" for me. 
I've also learned that if you enjoy the creation process, it will shine through in the final results.
Here's a peek into the Portfolio I put together after graduating in 2002 (which has gotten a bit messy during the following two decades), showing off some of the best things I made during the Academic years of my sewing career.