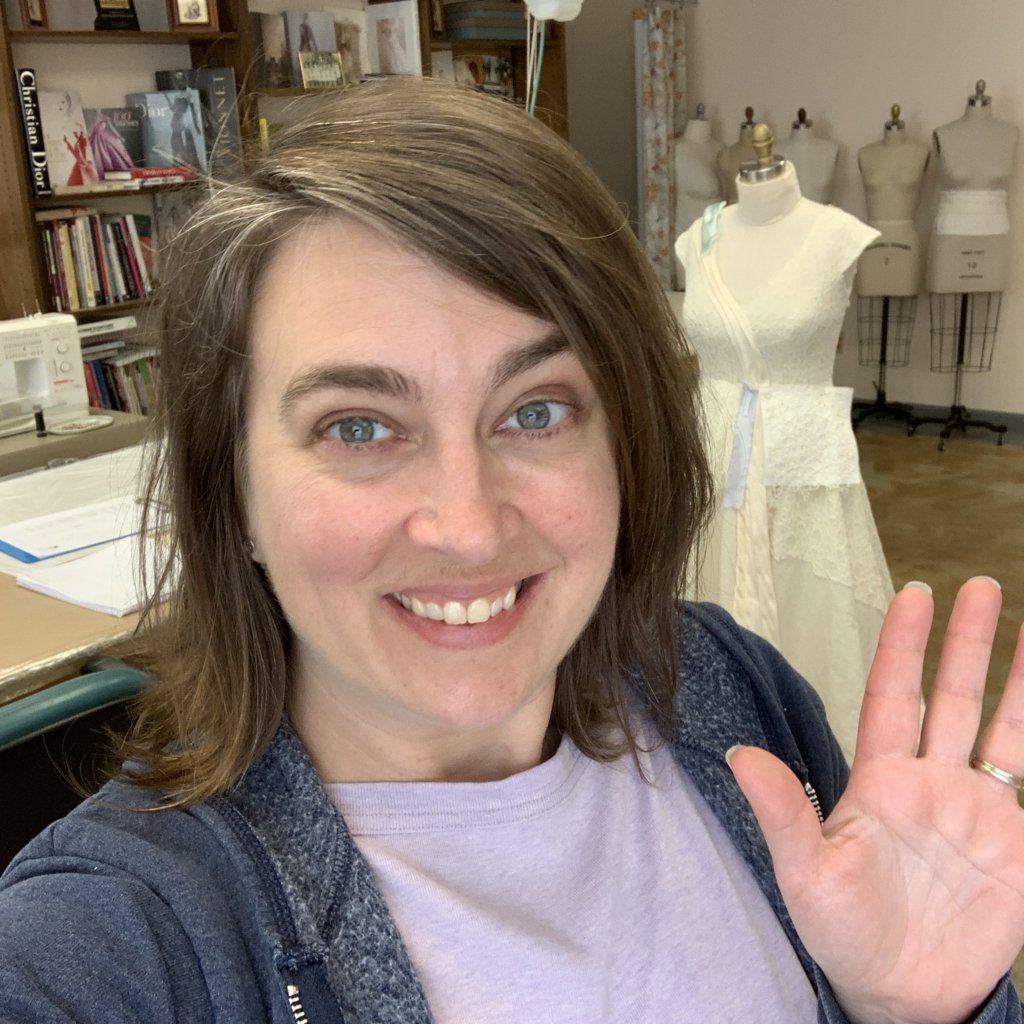 Hey ya'll! Hanging in there?
In case you are new here, I'm Brooks Ann Camper! I first learned to sew as a young adult in professional workrooms and have been creating custom garments for individuals ever since. After a costuming internship at the Yale School of Drama, I earned a Masters Degree in Costume Production and past jobs include sewing for Broadway productions such as Wicked and Mama Mia!, creating unique dramatic pieces for clients such as Bernadette Peters, Felicia Rashaad, Kristin Chenoweth, the Rockettes, the Muppets… just to name a very few. I now create custom couture wedding dresses (while blogging the process) and I teach my unique methods of custom sewing and patternmaking online.

Learn more in my interview on the Love To Sew podcast.
For the first half of March, I put everything aside to focus on creating a gorgeous wedding dress for a bride named Claire. (That's a peek at the mockup dress behind me, which seriously might be my favorite ever!). Checking wedding dressmaking off my To-Do List was going to allow me to get back to finalizing epic projects that have been in-the-works since the end of 2018. 
Then the world turned upside down.
I'm doing okay. In some ways, I've been unknowingly training for this. Not only do my child-free husband and I already work solo, we live with our 15-year-old coonhound. To support him as best we can, we took our last vacation in October and then cleared our schedules indefinitely to have at least one of us home every few hours.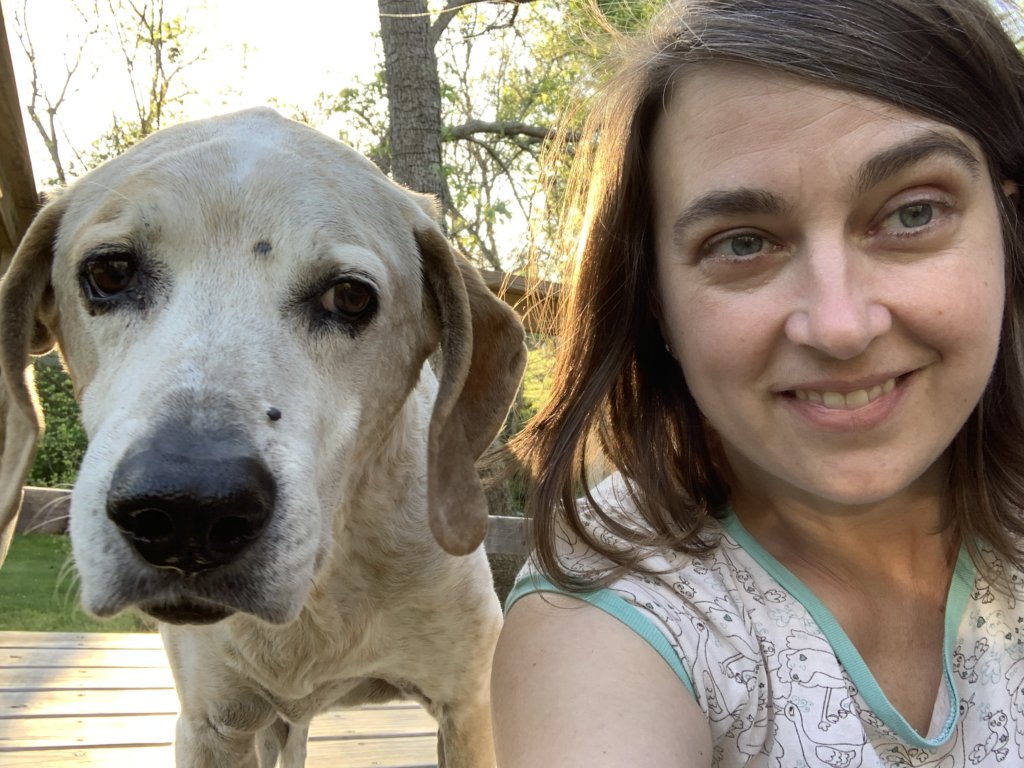 And- I teach online! And have been doing so for 6 years! During the Lockdown, I've been leading a fantastic session of my online custom sewing, fitting, and pattern drafting course Top Class (a follow up to Skirt Skills) to a truly inspiring bunch of individuals from all over the world. 
Yet, even though I could continue to work and not much about my lifestyle changed, I'll admit that the pandemic put me in a big slump. 
But then one day… I got jazzed!
And you know what did it? (And I feel so silly saying this, but) it was reading my reviews and watching my own videos. It gave me warm fuzzy feelings to realize that I had the ability to help people in a unique way, especially if I keep moving forward with a shift in focus.
I love teaching custom sewing, patternmaking, and fitting online. Love it. And my enthusiasm is unstoppable. I created my first eCourse Skirt Skills back in 2014 and it has been so much fun to be a part of empowering women to design and make their own clothes from their own custom-fit patterns.
Learn more about Skirt Skills here.
Learn more about the difference between custom sewing, home sewing, and fashion sewing here.
The Original (Secret-until-Now) Plan:
(Among other projects) Over the past year+, my fantastic web designer/developer Linda (of Ruby Red Design Studio) and I have been working quietly behind the scenes to create a new bridal website and blog, a completely custom private classroom and brand new public website for my online courses, and I've been producing new-and-improved content while revising all of the original videos that hundreds of students have loved over the years with new info inspired by what I've learned from all of them!
I think all this new stuff is great, ya'll.
Everything is getting close… but nothing is complete.
We've been slowly working on a little of everything all at once and planning to get absolutely everything complete before making a BIG announcement to share it ALL…
but as my schedule (and everyone else's) is upside down due to the pandemic….
The Revised Plan (which will likely be further revised):
…I've switched my focus and am working to offer whatever I can give you whenever I've got it!
One of the things that you'll learn in my online classes on following the custom process is that moving forward successfully involves making revisions and improvements along the way. The original plan never goes exactly how you envisioned when you got started- it's almost always much better!
So for the past few weeks, we've been concentrating our efforts into what is the most achievable and most valuable to go ahead and get out into to the public.
That said, as Stay-At-Home orders, the health of my dog, and the world around us changes daily, I've decided to keep my own stress-levels in check by only sharing about something when I am 100% sure I can successfully deliver it. (Keeping true to my couture nature of Quality > Quickness.)
Here's what I'm extremely excited to share NOW!

I'm offering a limited invitation into my new Skirt Skills classroom FOR FREE though the end of April!
Inside the classroom, you'll find brand new video lessons introducing my custom process, as well as the intro lessons on fabrics, design, sketching and toolmaking! You'll get access to the first ~2.5 hours of content for FREE for a limited time. (Though most online courses from other teachers are only a few hours total, my comprehensive courses each contain ~12 hours of video content.)
If you like what you see, want to keep your access forever, and get forever access to all of the additional lessons of a brand new version of Skirt Skills (New graphic design! New techniques! New skirts!), get full ongoing support from me and a community of classmates from all over the world, and earn your prerequisite for my follow-up courses on creating custom tops and pants, I'll be offering the next full Skirt Skills session really soon!
Ready already? Click here to join the Free Preview right now!: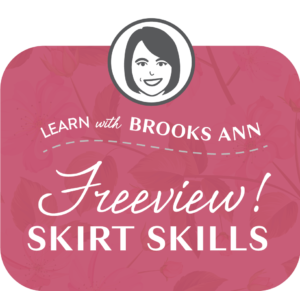 What's included:
The first video, which is an introduction to me and Skirt Skills, is already available to the public on this page of the Skirt Skills website. Watch it now here!
Within the Freeview, you'll also find a dozen more brand new videos:
Tools & Supplies (19:02)
Intro to the Custom Process (10:53)
Intro to Fabrics (17:34)
Intro to Custom Design (16:27)
Intro to Custom Sketching pt 1 (15:34)
Intro to Custom Sketching pt2 (15:27)
Intro to Blocks & Toolmaking (6:56)
Circumferences (9:37)
Cylinder Measuring (14:04)
+ 3 "Fabric of the Day" videos!
That's 2.5 HOURS of video content (+ bonus resources) for FREE for a limited time!
Then you'll be able to peep the titles of additional subjects that will be covered in the full course where, while only using info from your unique body and personal preferences, we turn your custom design ideas into wearable custom-fit masterpieces. In the full course, you'll create yourself a custom fitting and patternmaking tool (while also learning how to sew during the mockup process). Then learn how to use the tool to create custom-fit patterns of your own designs. Then, learn mix-and-match construction, fitting, and finishing techniques as I create 3 custom skirts for myself on camera from start to finish- including seam finishes, zippers, waistbands, underlining, you name it… It's really fun, ya'll!
Join now to have the most time to work through the free content! This offer expires and the Free Preview will disappear on May 1, 2020.
More About Skirt Skills
Answers to lots of questions including "Who is this course designed for?" and "Will it help me start a fashion business?" can be found on the Skirt Skills FAQ page.  
And don't take my word for it! One of the best ways to decide if Skirt Skills might be right for you is to read the dozens of glowing reviews! And here are two new quotes that I haven't had time to add to the website yet:
 "I'm a total beginner sewer and I used to regret that I didn't learn to sew when I was a kid. But now I'm glad I didn't learn way back when or I would have thought I knew it all and I would not have sought out online lessons and stumbled across Brooks Ann's ingenious, superior way of doing things! As far as I'm concerned, it has all worked out beautifully. I've fallen in love with sewing and I'm going to be a life-long sewer, making unique clothes, following my own tastes, separate from the masses." – Julia

---

"This course changed my sewing perspective. I've loved sewing for a long time but have never been 100% happy with my makes. I wanted them to be more unique, I wanted the ability to change them for my style and I wanted them to FIT ME. I've read pattern design books, fashion design textbooks and taken another online course to create blocks and it never resulted in an actual garment at the end, there was always some piece missing. 

I was a little trepidatious in signing up for Skirt Skills 1) Because I don't wear a lot of skirts and 2) I wasn't sure I could justify the cost. Well let me say it was worth every penny and every hour invested! I now get excited about steps I used to dread, and I understand so much more about my body and fitting it! 

I was also a bit concerned that Skirt Skills would be "too beginner" (I've been sewing for nearly 10 years), but it wasn't AT ALL! I learned so many things about fitting, about hand sewing, about finishing techniques! 

My sewing practice is now no longer about how many garments I make, it's about how each one fits and how often I'm going to wear it. I'm really excited to continue to experiment and create garments that turn out like I see them in my imagination!" – Chris
Sold? Then, you may be asking "How/When can I join the Full Course?"
Good question! I'm working out the answers slowly one step at a time. My current thoughts are that the next session of Skirt Skills (with unlimited ongoing access and optional 5 1/2 week schedule) will start May 7, but this is still subject to change. The status of the world, Claire's wedding, and my elderly dog will likely factor in…
Join the Mailing List (or join the Freeview) and you will be updated! More soon!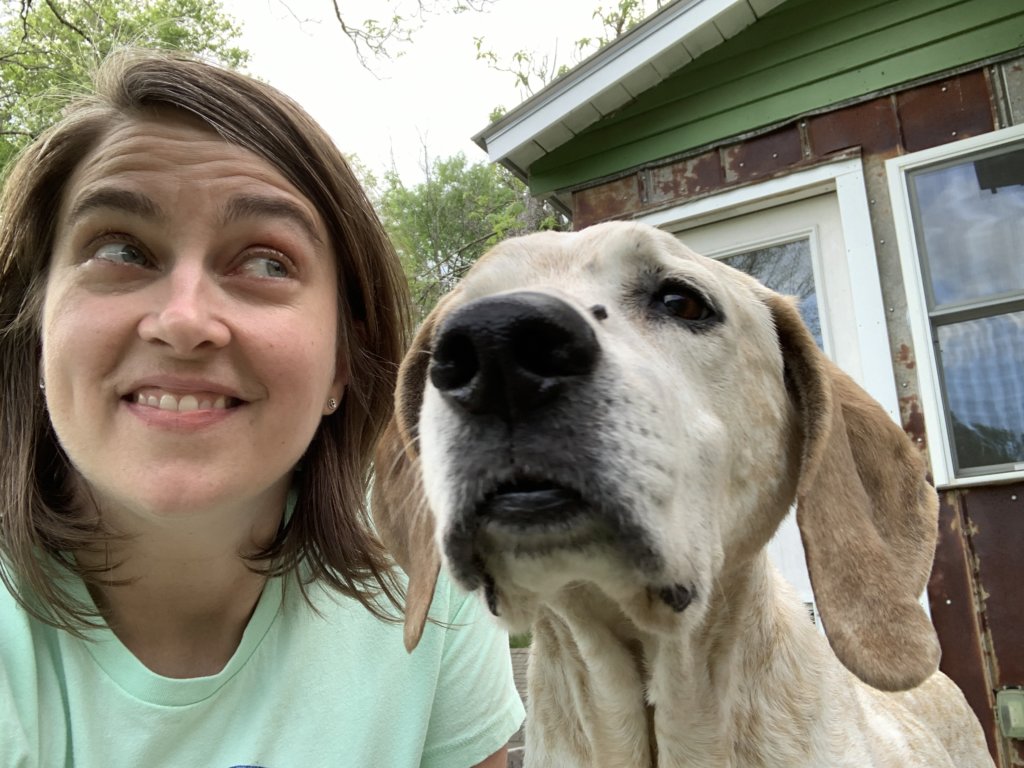 UPDATE: The dates have been set! The next session will begin May 14!
Let's get through this together!
Even if you aren't into sewing (yet!), you can still join the FREEVIEW just to watch me in my element doing my thing!
Here's a little secret: Skirt Skills isn't all about skirts ya'll! It's really all about training your mindset for creative critical thinking and problem-solving. It's about learning how to adapt and go with the flow when you are forging your own new path without having a specific a set of instructions. Seems like a pretty timely skill to hone right now- while doing something you might really enjoy!
I've been secretly using all of you to motivate me to accomplish big things. Feel free to use me to do the same for you!
And what have you got to lose? This preview is FREE through the end of April!
Click to join now: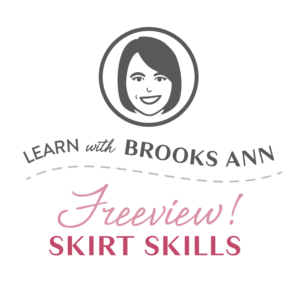 Thanks for unknowingly picking me up simply by thinking of how I might offer something to help you. I'm an enthusiastic person who truly loves teaching my unconventional methods to those with unconventional bodies.
Even though life has thrown us all a curve-ball, I am exited. I'd love for you all to catch a little of my excitement and allow it to spread…. Pass along this offer to anyone who might be interested!
Things rarely work out as planned. Let's make the best of it together!
NEXT POST: I'll be back to blogging about Tiffany's custom wedding dress! I don't begin blogging about a bride and her dress until after she is married, so I'll be picking back up where I left off and slowly taking you through to her Big Day! Yay!