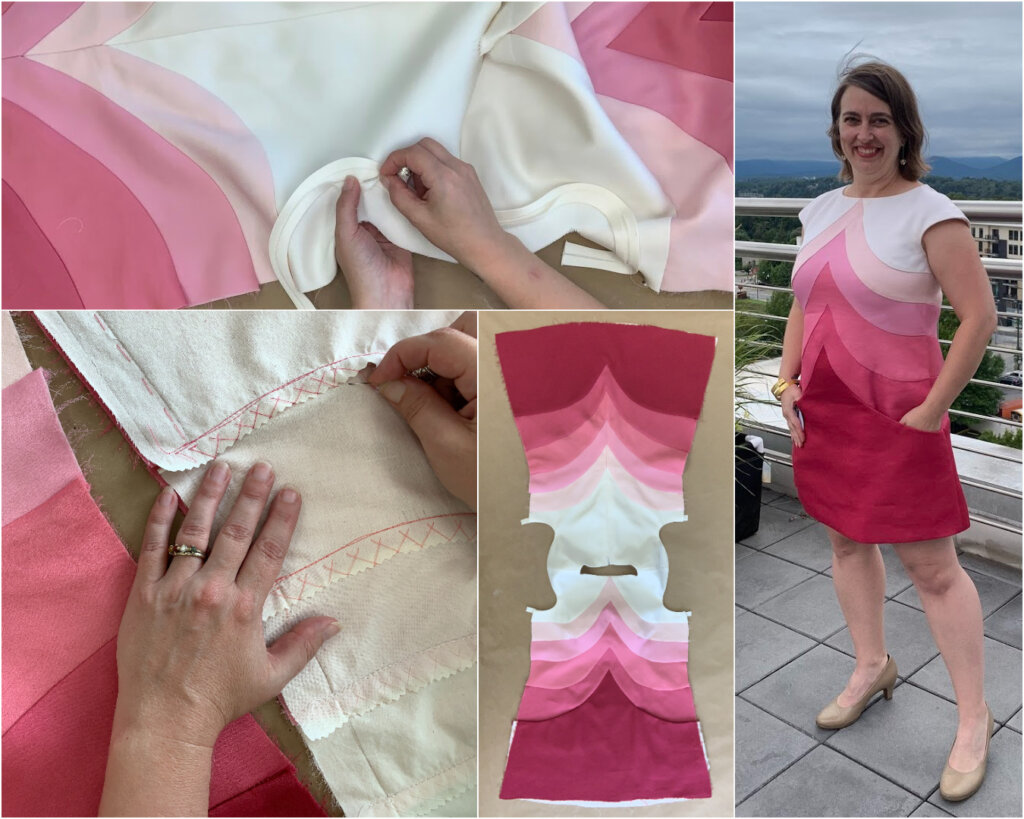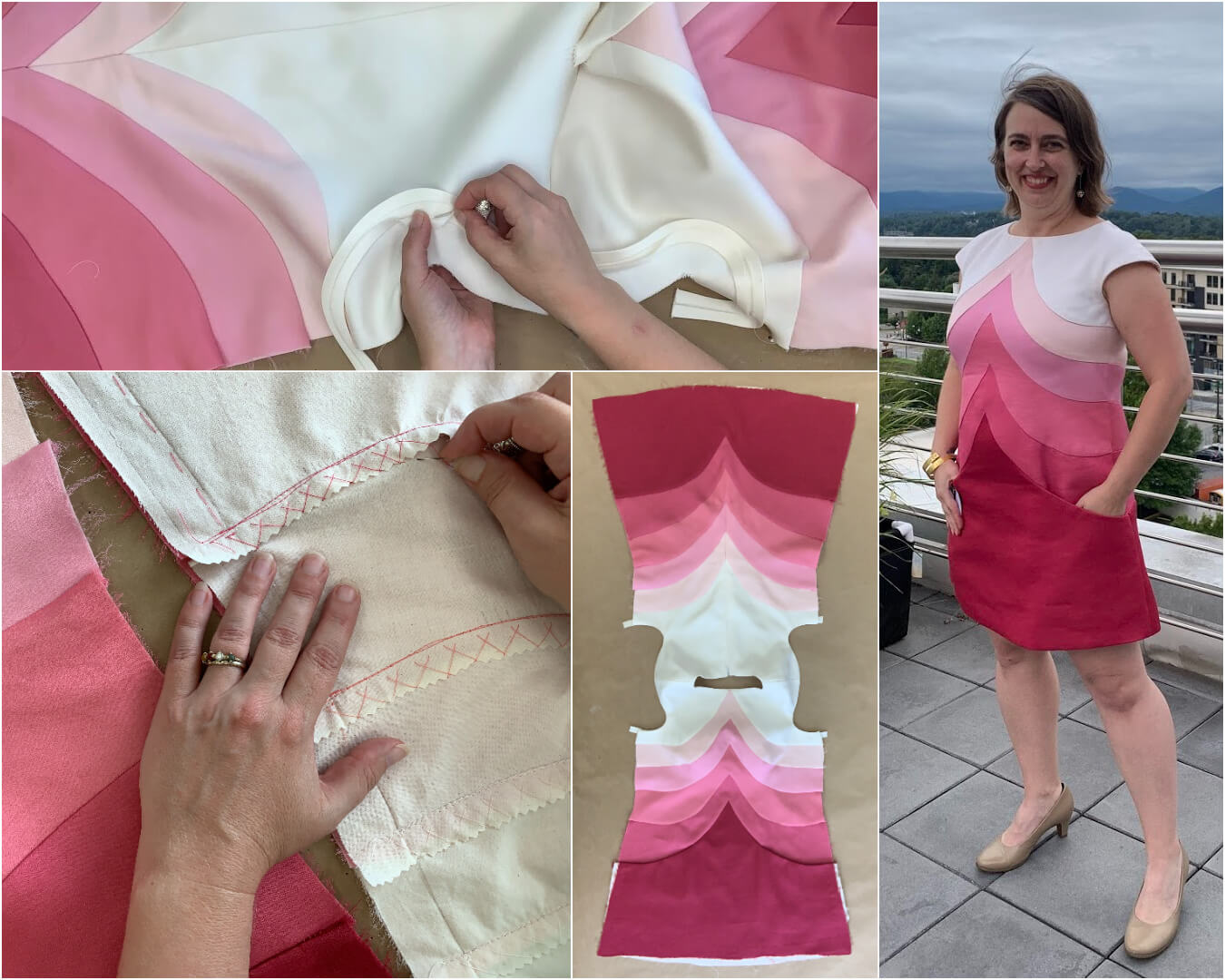 The final post of this short blog series following the coolest dress I made for myself is here! (And it's a doozy! I have over 50 photos to share!)
In Part 1- I walked you through my design process, the custom pattern making, and fitting my mockup. In Part 2– I shared how I dyed the silk/wool fabric and prepped it for construction by underlining each piece with my deconstructed mockup. Caught up? Good.
In this final Part 3, I'll do the actual dressmaking- stitching and finishing it all up! Let's get right to it!
To get myself warmed up, I started assembly with one of the short pieces of the back. I figured that working through the back first would give me enough practice to confidently stitch up the front.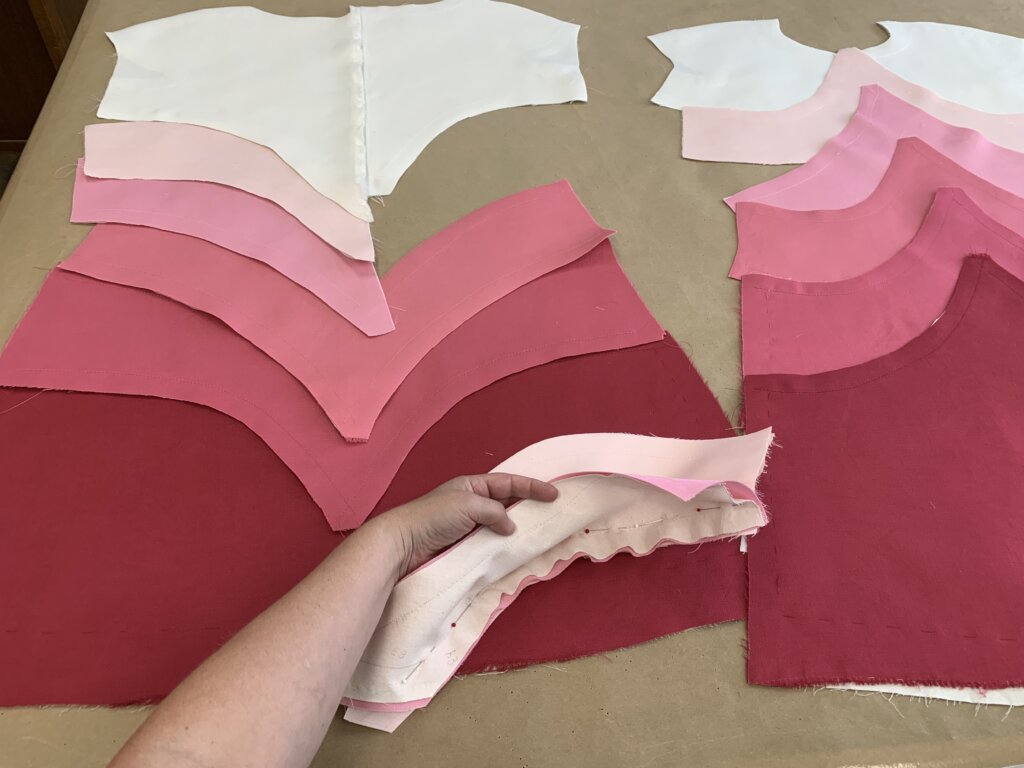 It was exciting to sew the first double curve…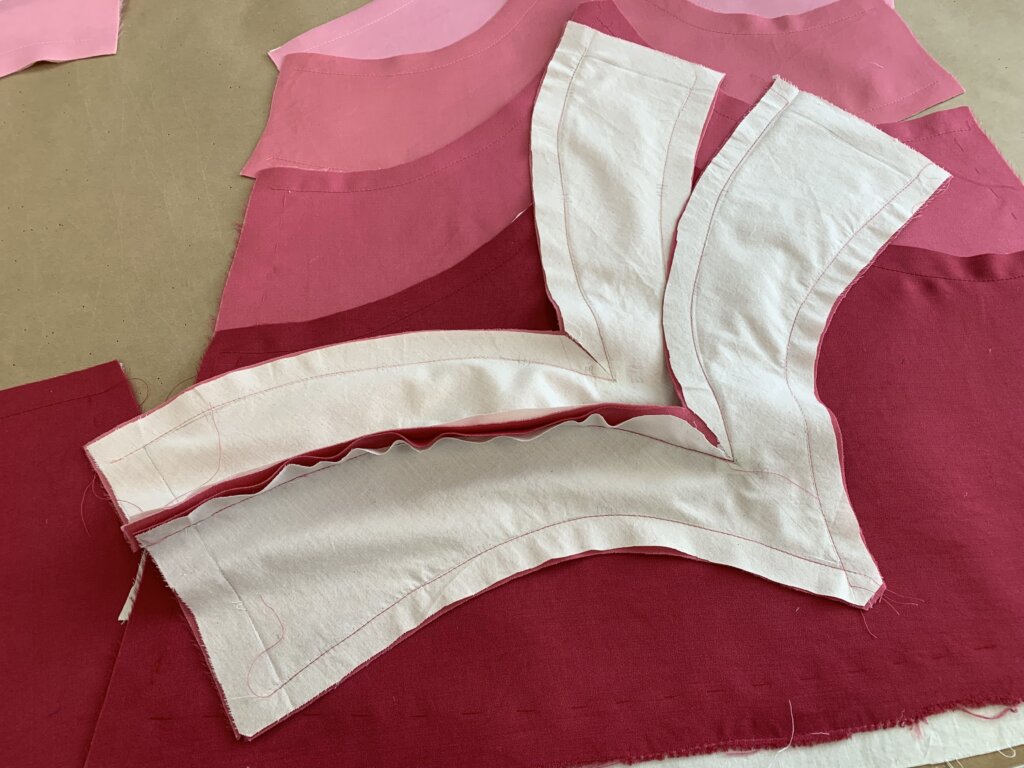 …and to see how gorgeous it looked when pressed!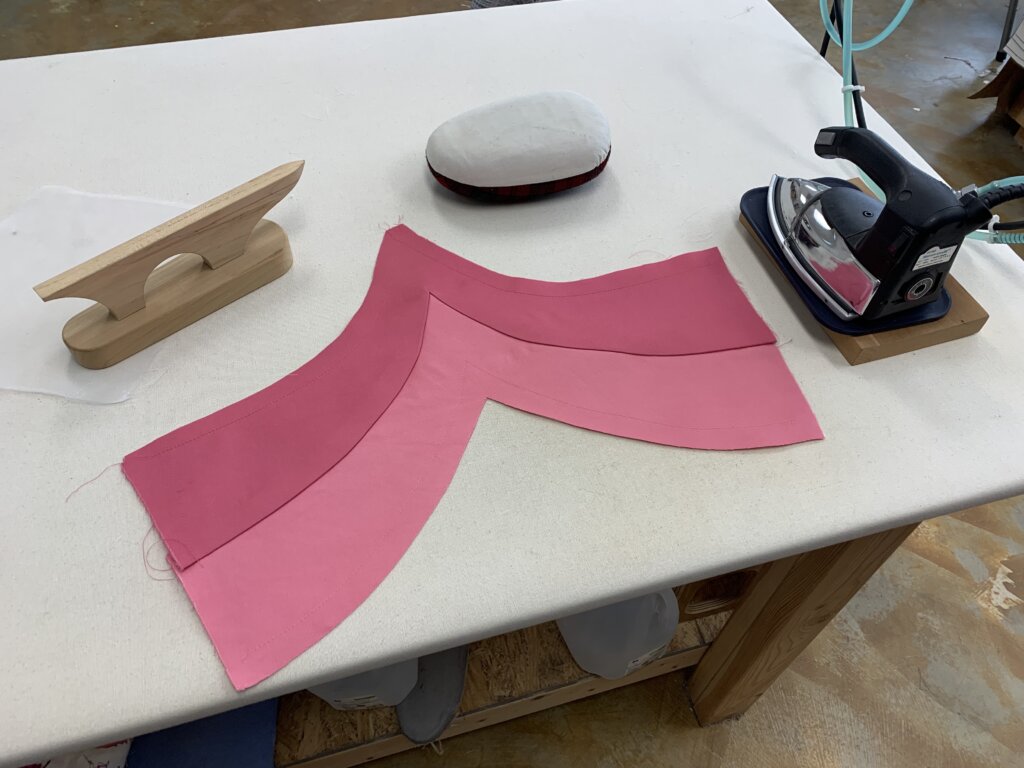 One curve at a time, I worked my way down the back, pinning…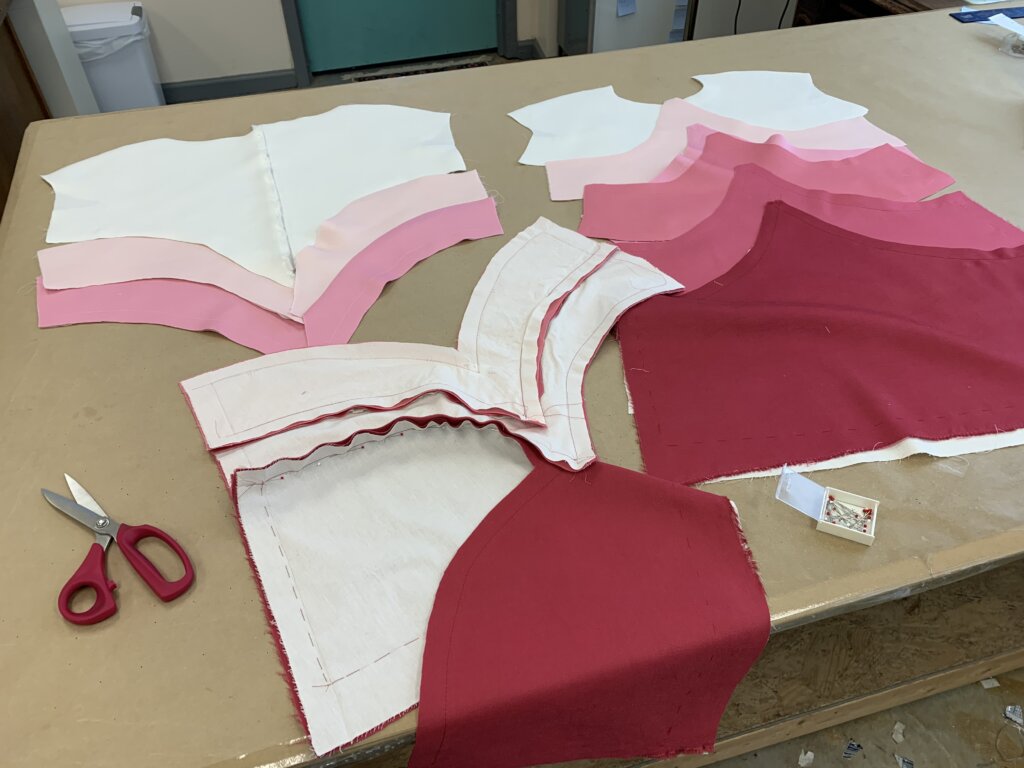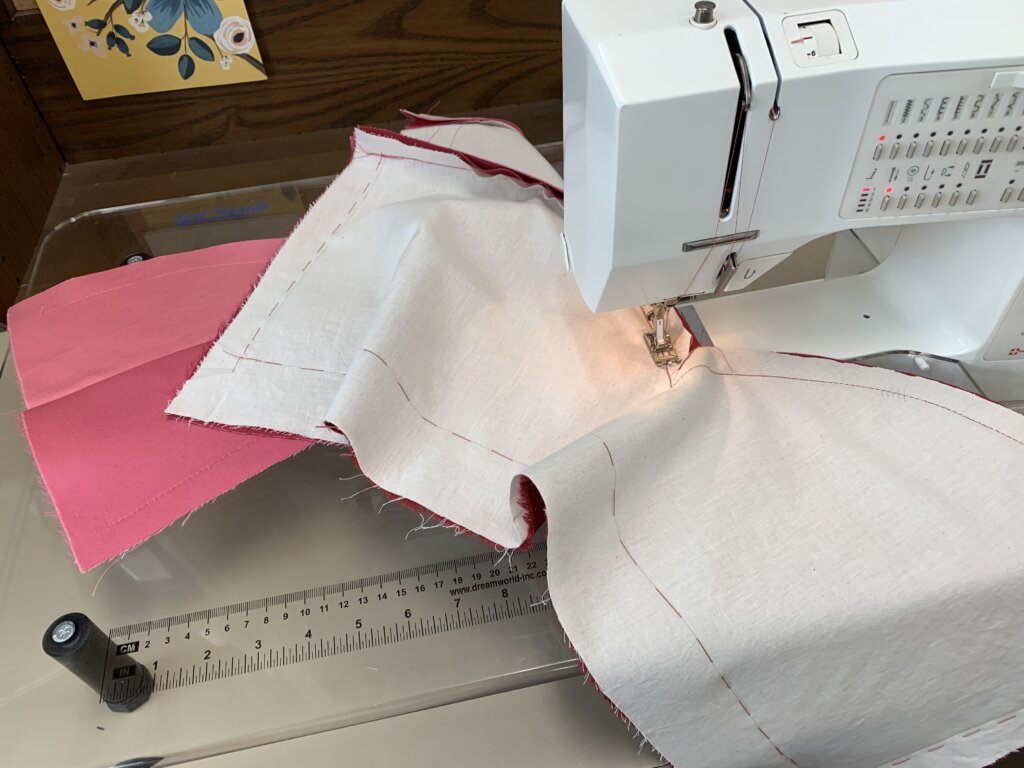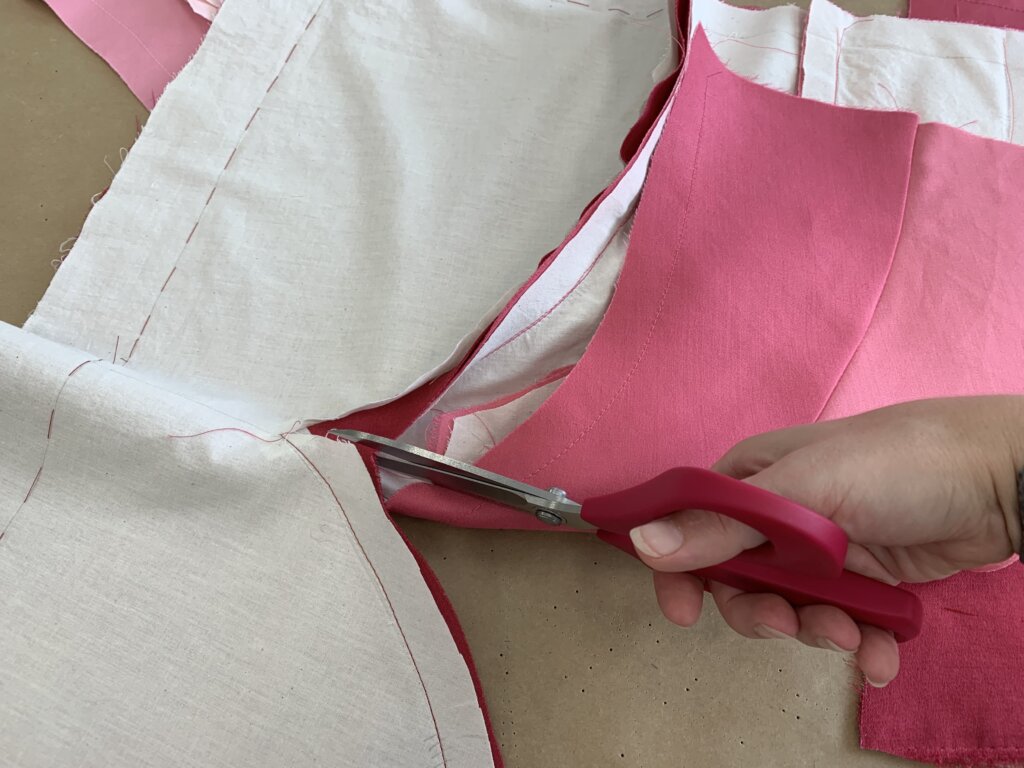 Next up, I decided to tackle the pockets. I got started by creating a couple of short bias strips from the scraps of the darkest color.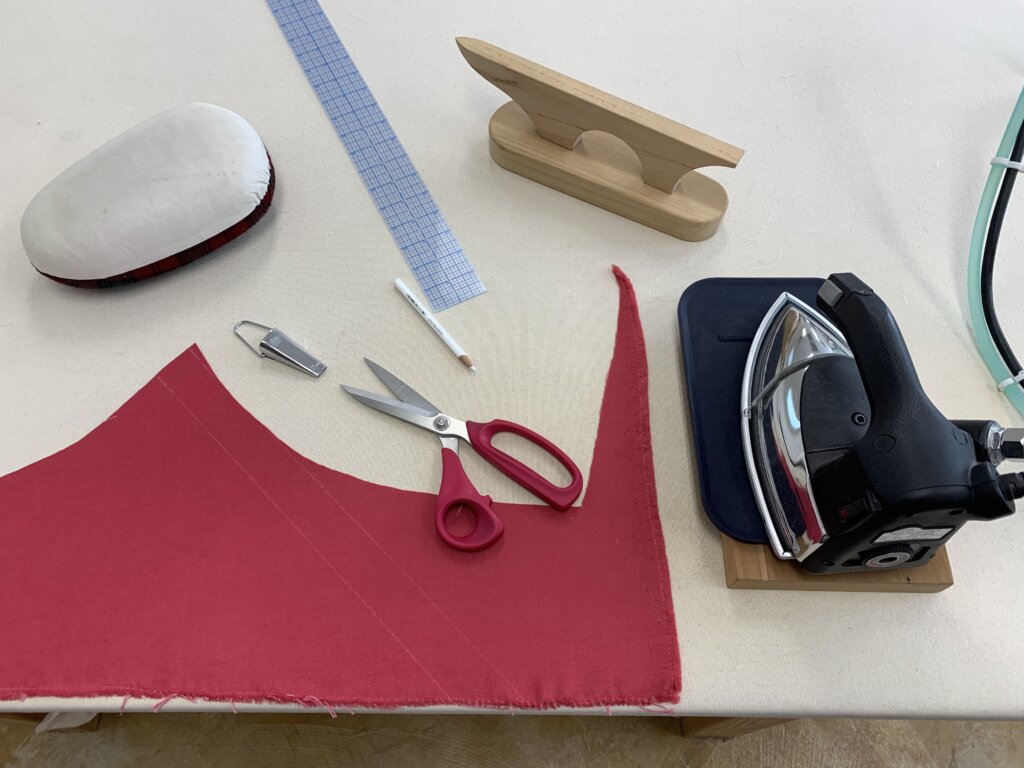 I pinned a bias strip and a muslin pocket piece along each pocket opening…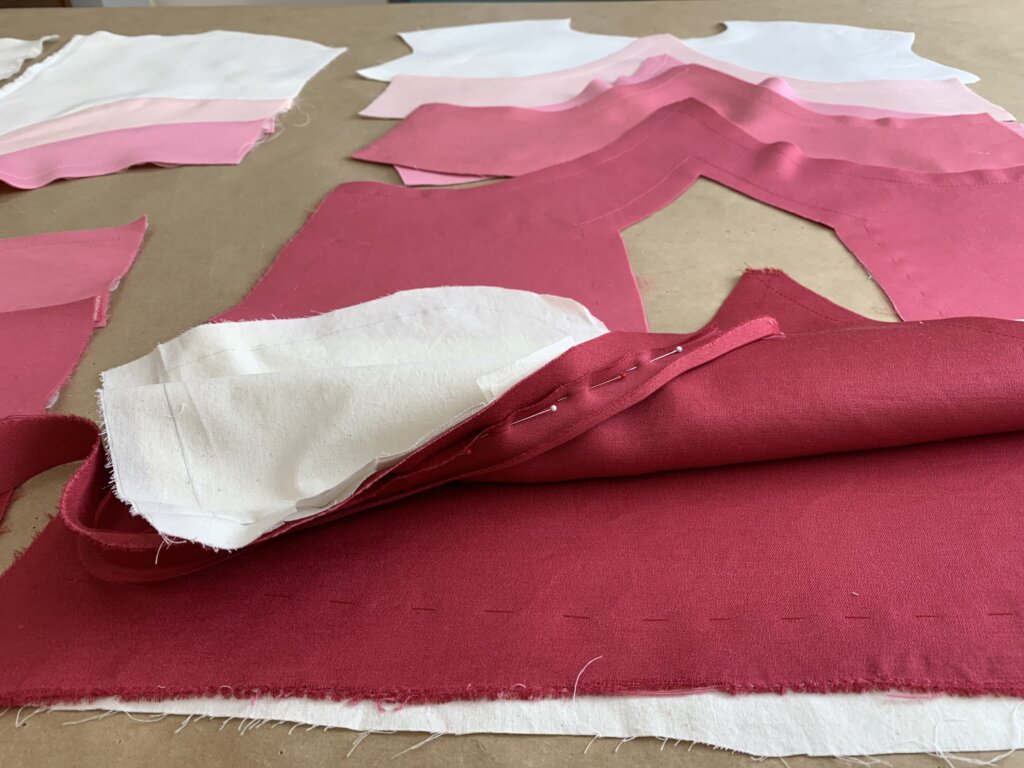 …before hand basting them securely in place.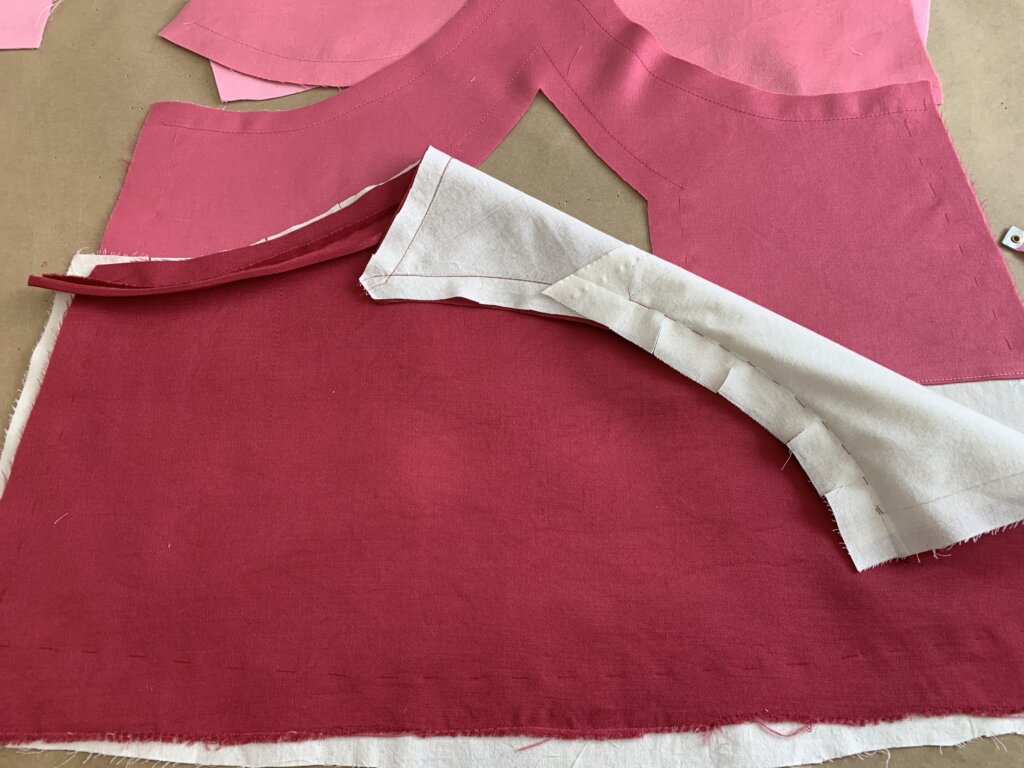 Next, I machine stitched along my basting lines and gave the strips a press…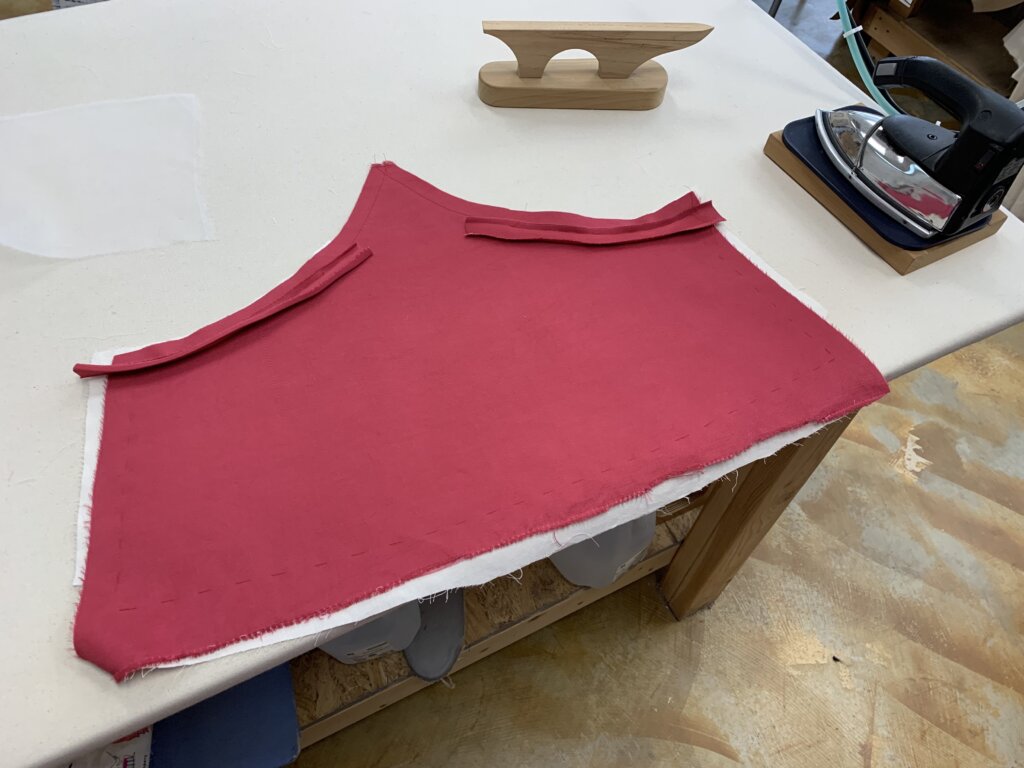 …before pinning and stitching the point to next curve- which includes the back of each pocket bag.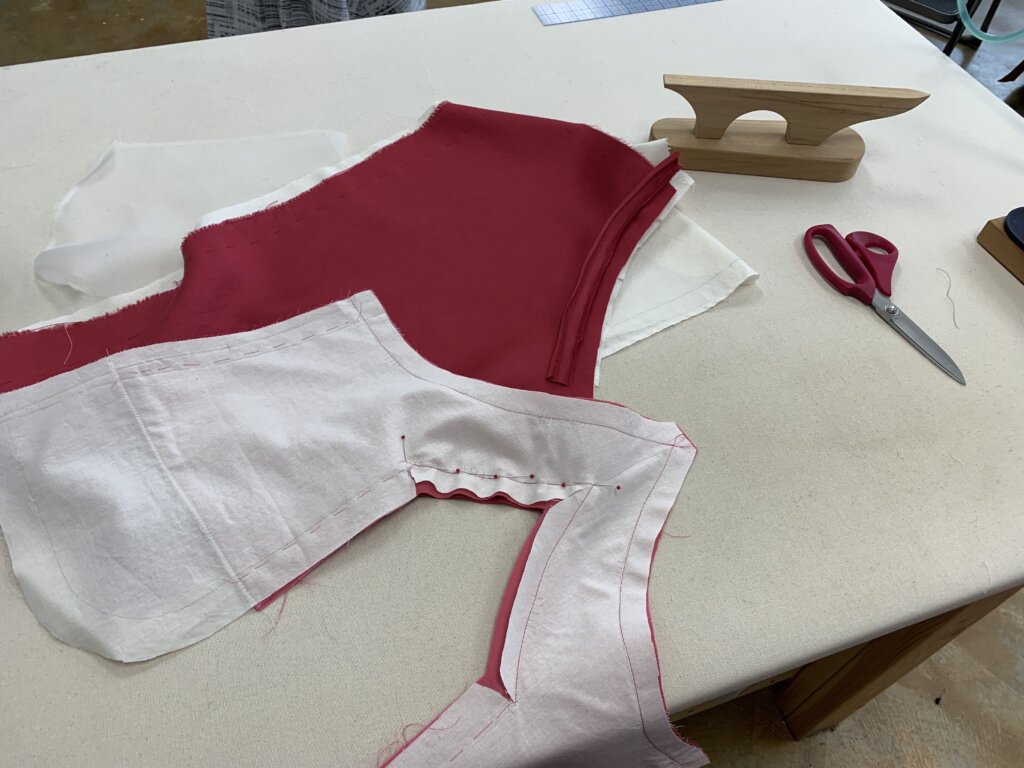 I needed to clip it in order to flip it…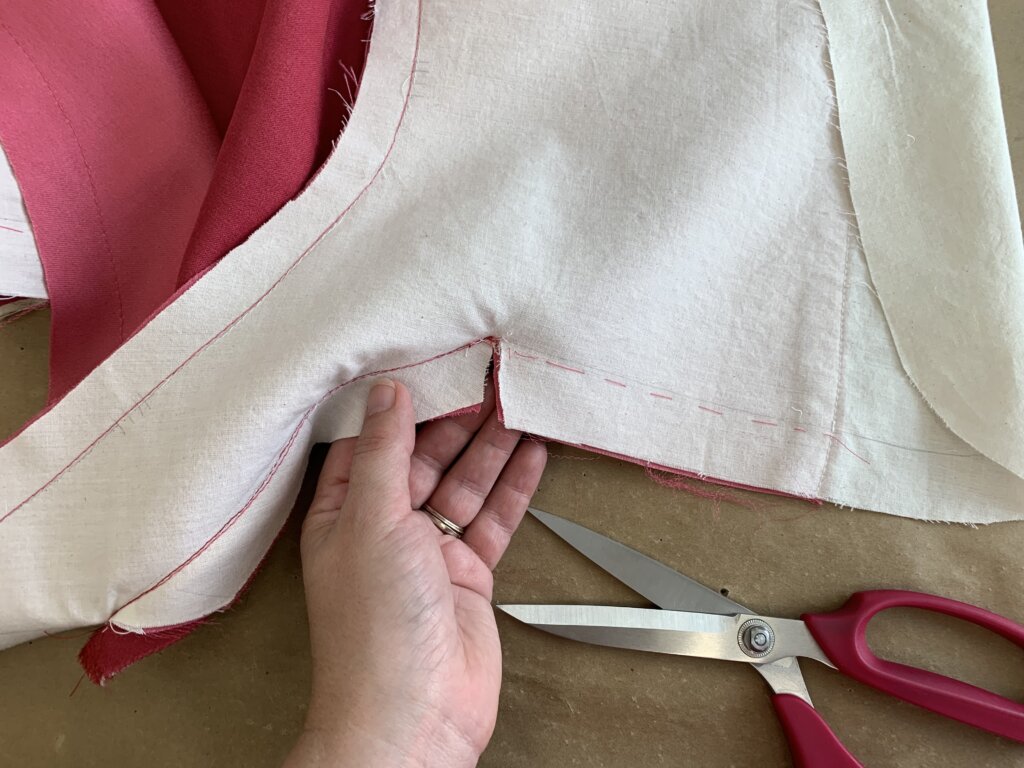 …and to finish off the edges. The bias strips were turned to the inside and slip stitched by hand only through the underlining layer. I love that underlining allows you to hide hand stitches from the public side. Even if your stitches are big or wonky or uneven, you can achieve a clean invisible finish. Win-win!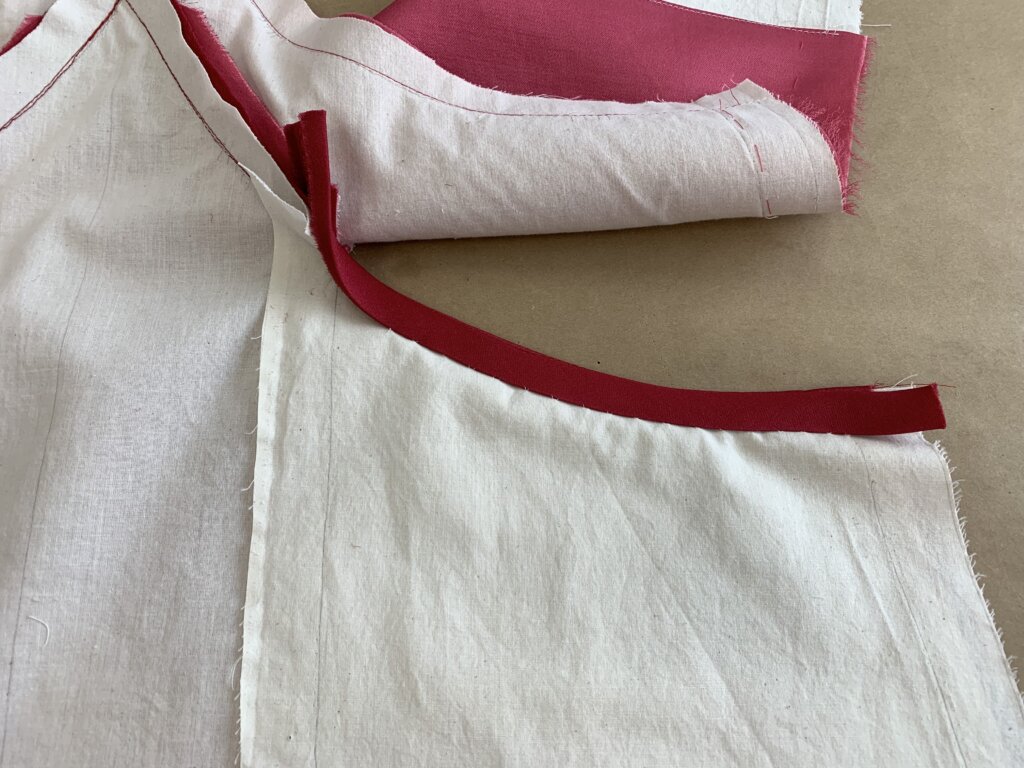 With the edges finished and the point sewn and clipped, I was able to flip the upper piece to the inside…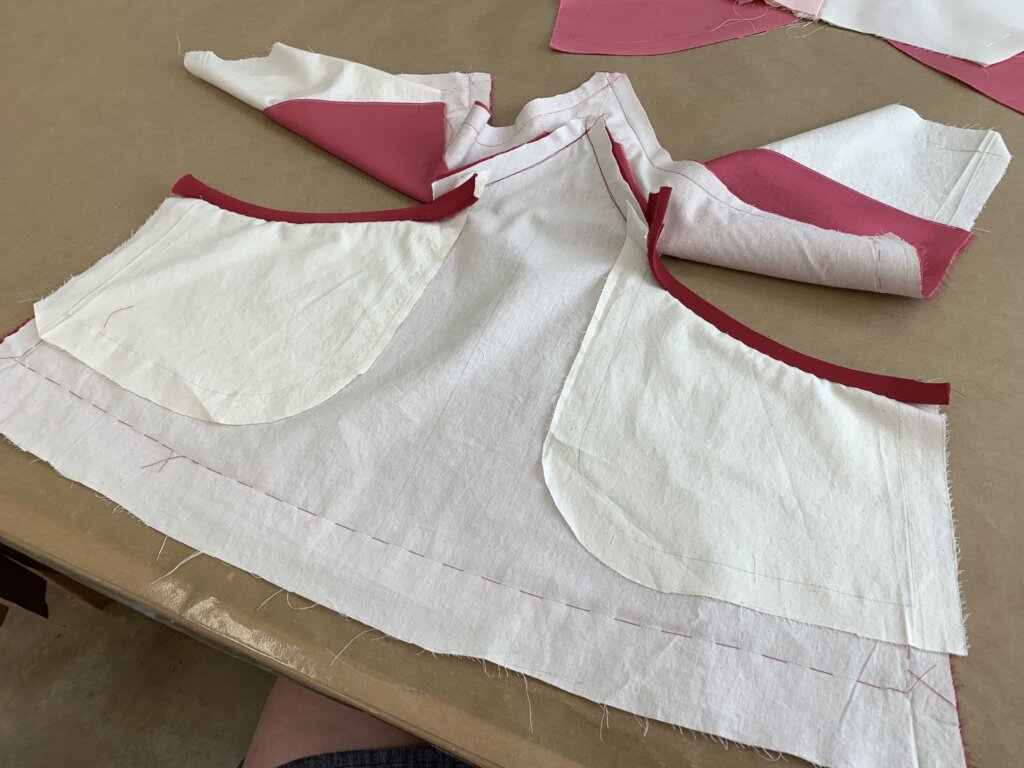 …to sew the front and back pocket bags together…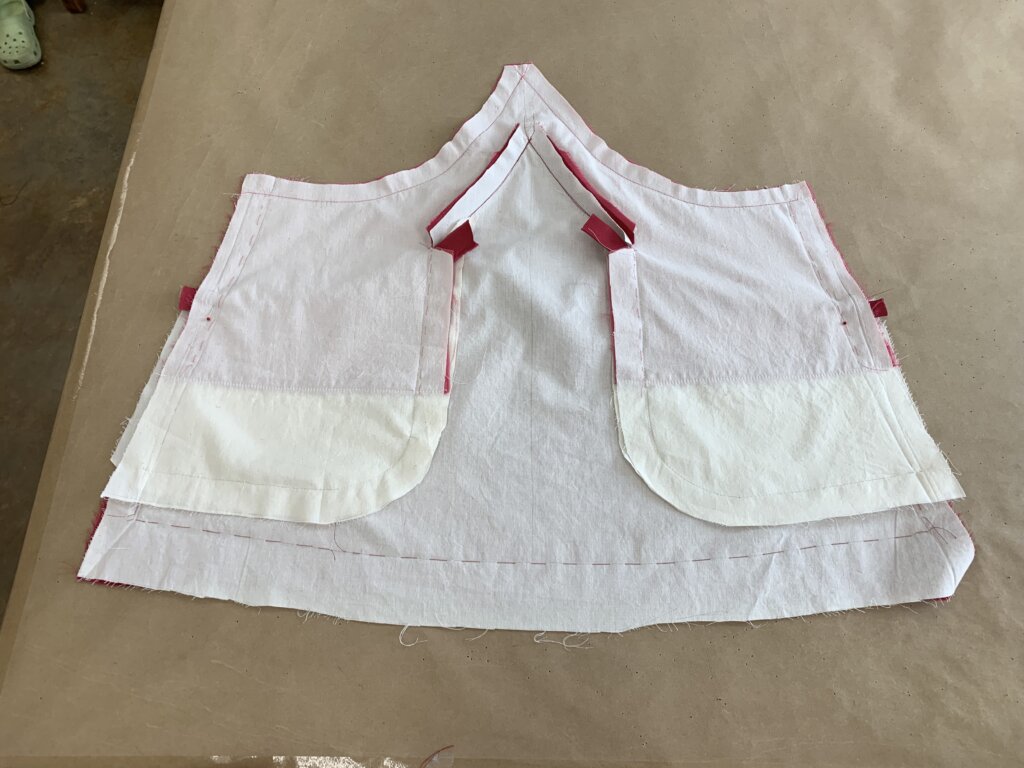 …for a cleanly finished outside. Hidden pocket success!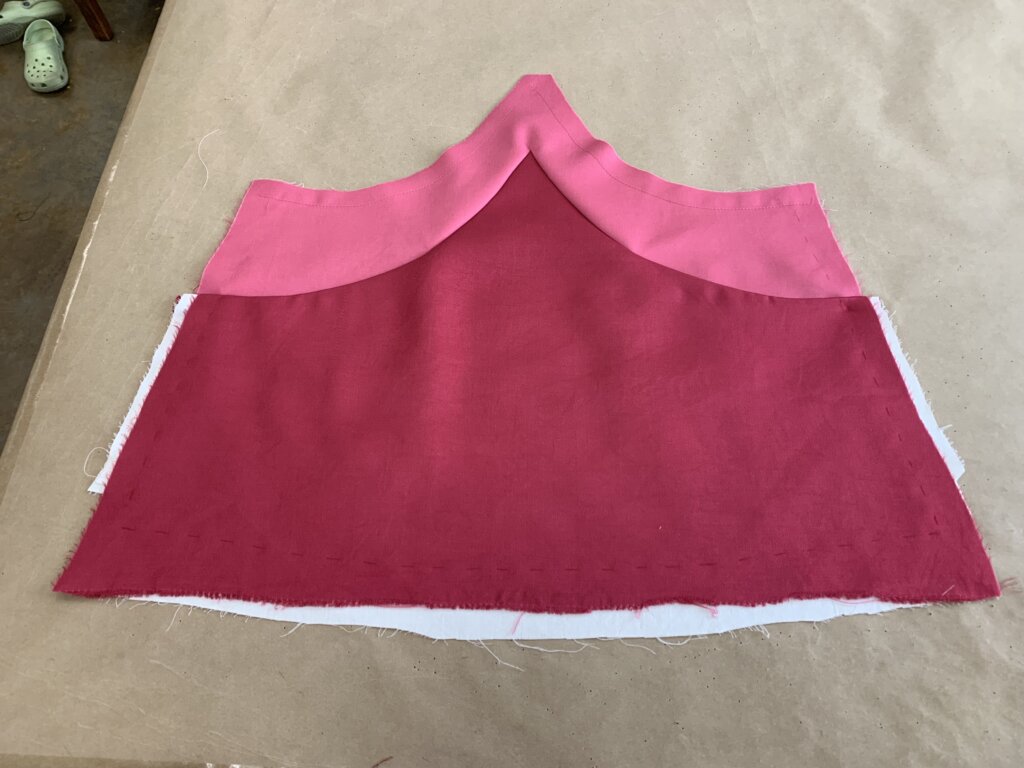 Then, curve by curve, I pinned…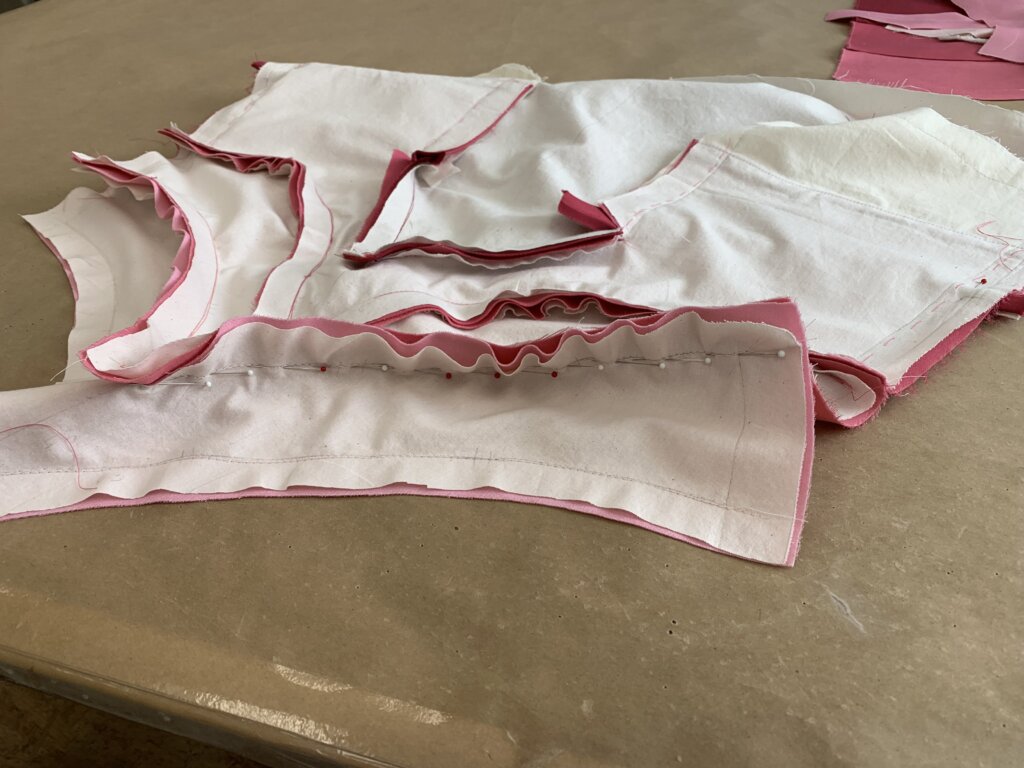 …and stitched my way up the dress!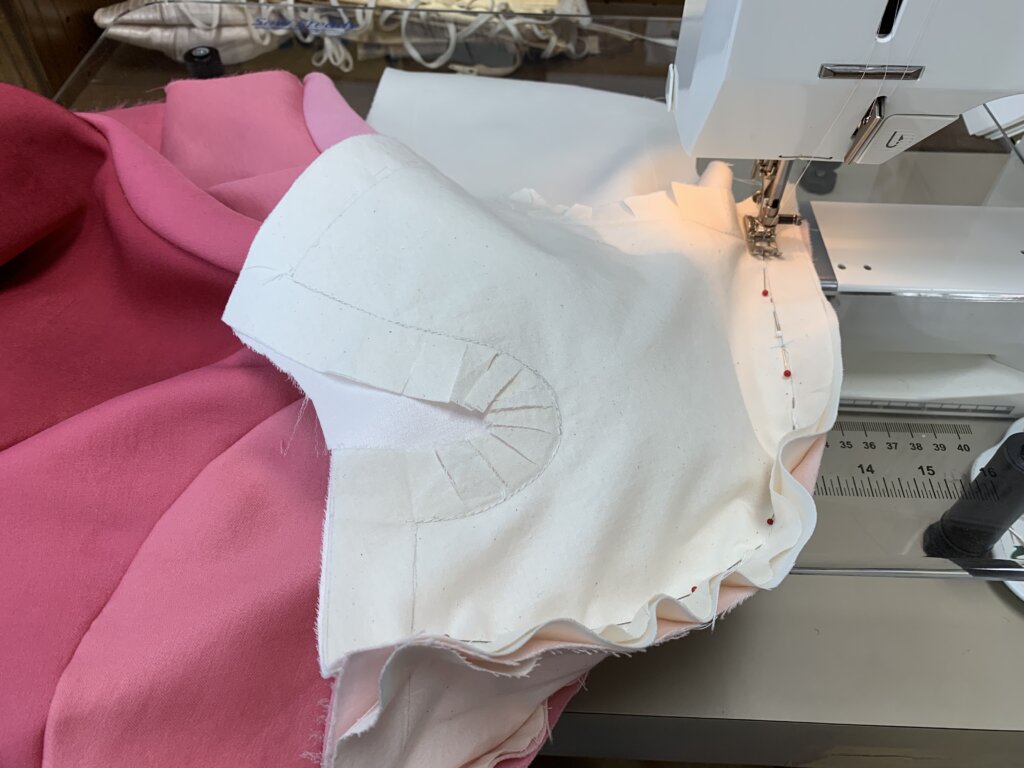 Invisible Closure & Seam Finishes
Next, I decided to tackle the closure- an invisible zipper down the back.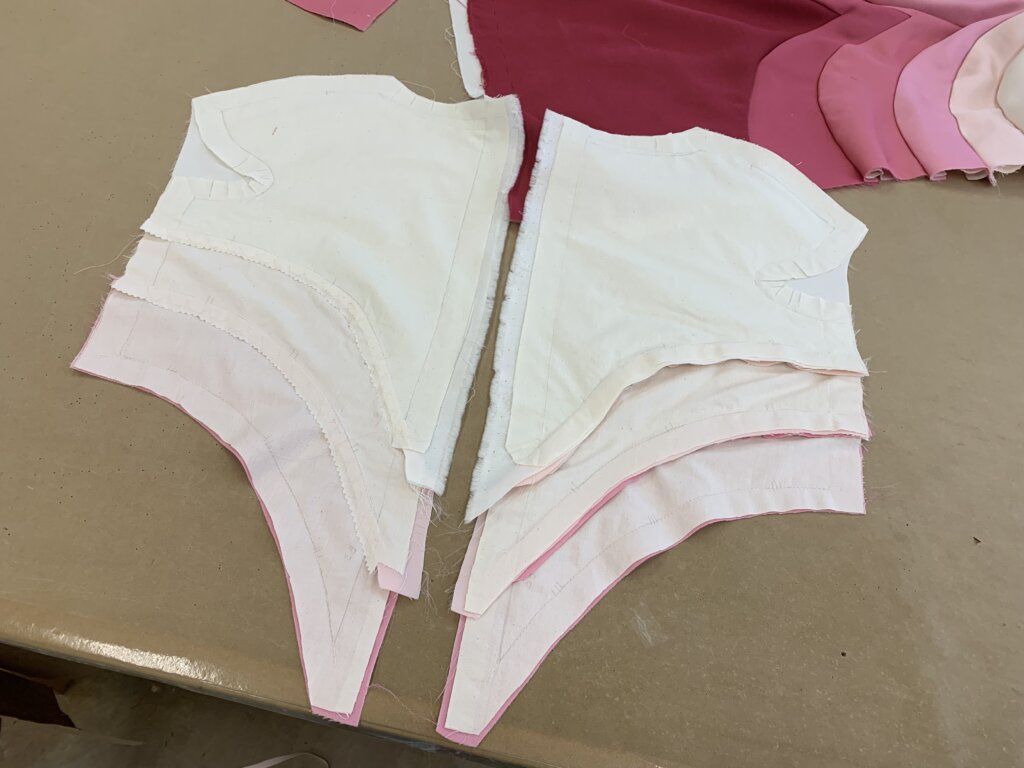 To prep for invisible zipper installation, I decided to go ahead and finish the seams. There are a bazillion different ways to finish a seam, so I came up with my own plan based on a mix of what I wanted to accomplish and what sounded fun to do.
Each curve has a lot of layers on the inside, so I wanted to eliminate excess bulk in a smooth and sturdy way. I first pinked the top layer. Then I graded the allowances below it- cutting each layer a little shorter than the one above. Grading allowances after they are sewn offers a smooth transition- lessening the possibility of a ridge showing through to the public side. 
Next up, more hand sewing! I used a cross-stitch (my favorite stitch!) to enclose the seam and control the allowances. The needle travels only through the allowances and underlining layers, so no stitches reach the silk/wool layer. I'm practically addicted to designing and crafting where zero stitching can be seen on the outside of my makes.
But on the inside, show me the stitches! I could line the dress to hide the stitches for a clean finish inside, but this dress his for me. And I personally love seeing all the secret guts and lines and stitches on the inside! (And those in my Hand Sewing Intensive have loved seeing it too!)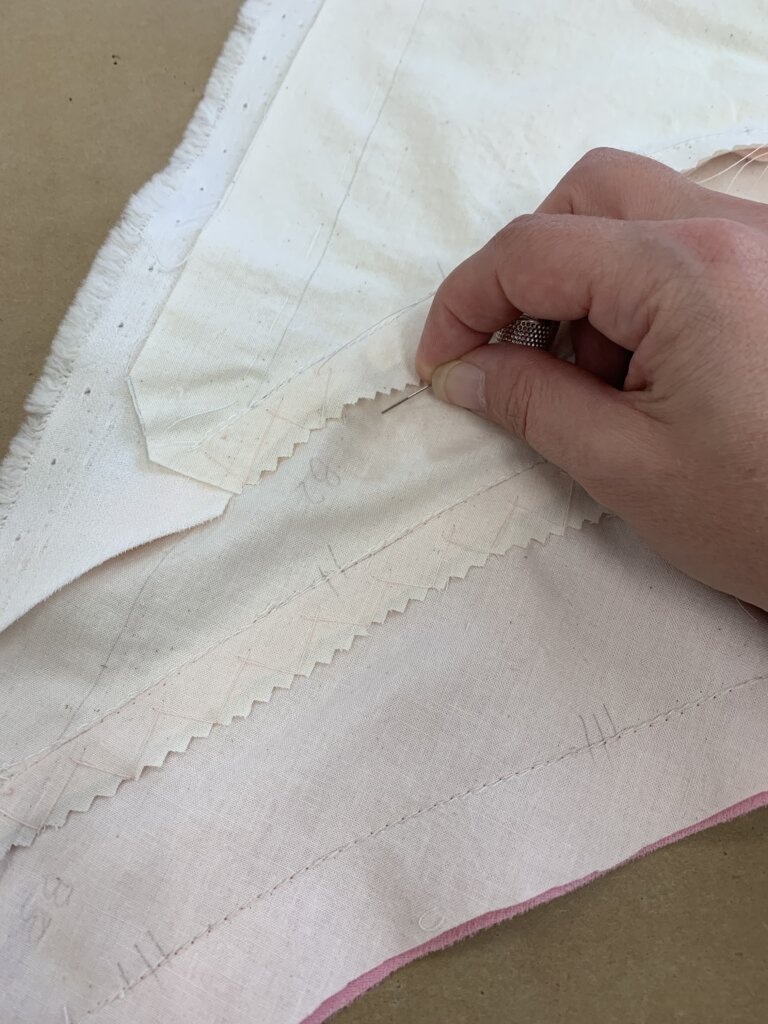 With my allowances now beautifully under control, I installed one side of the invisible zipper.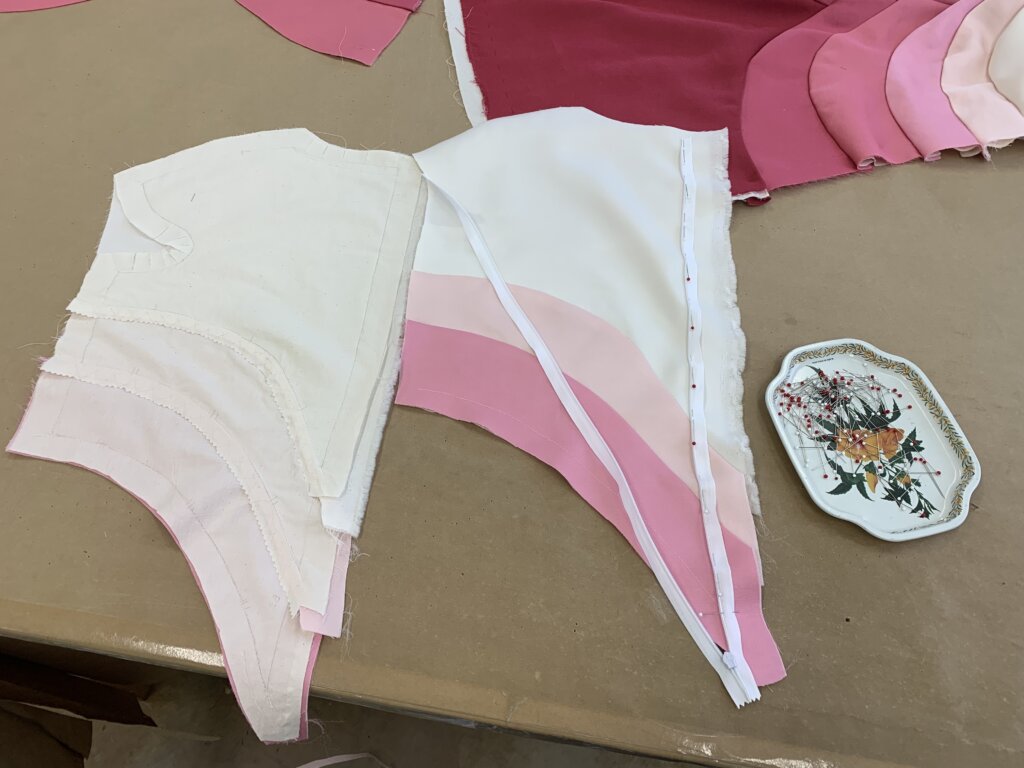 Then I zipped it up, adding pencil marks at each seam…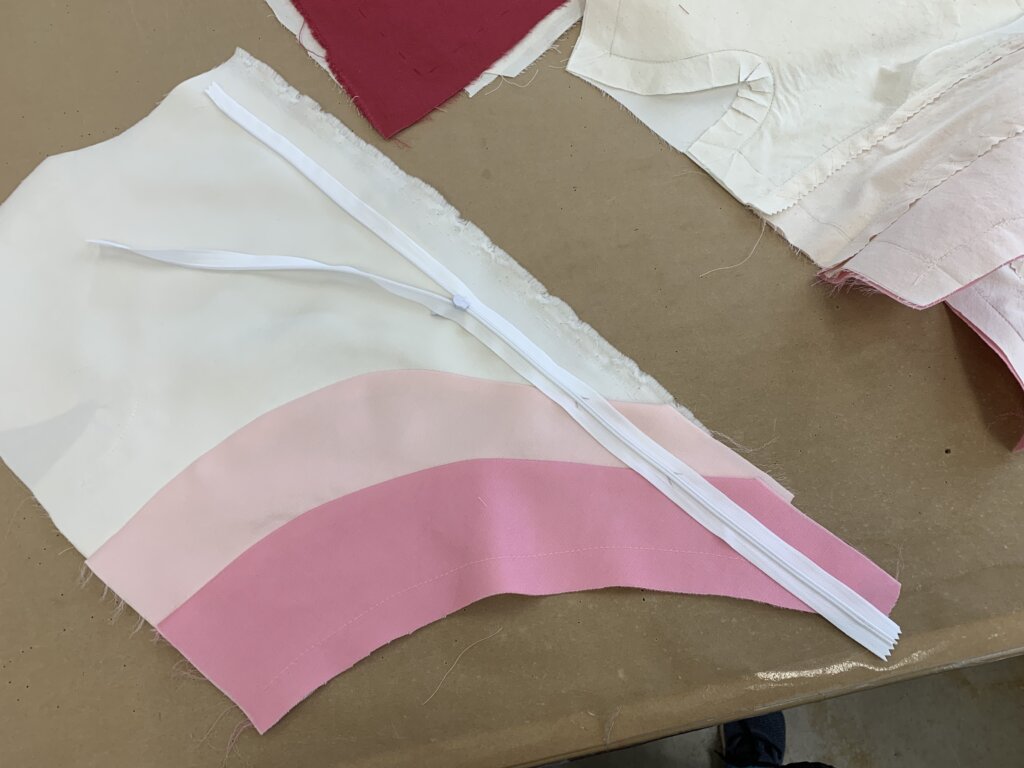 …which allowed me to line up and stitch the opposite side for a beautiful match. Invisible Zipper For the Win!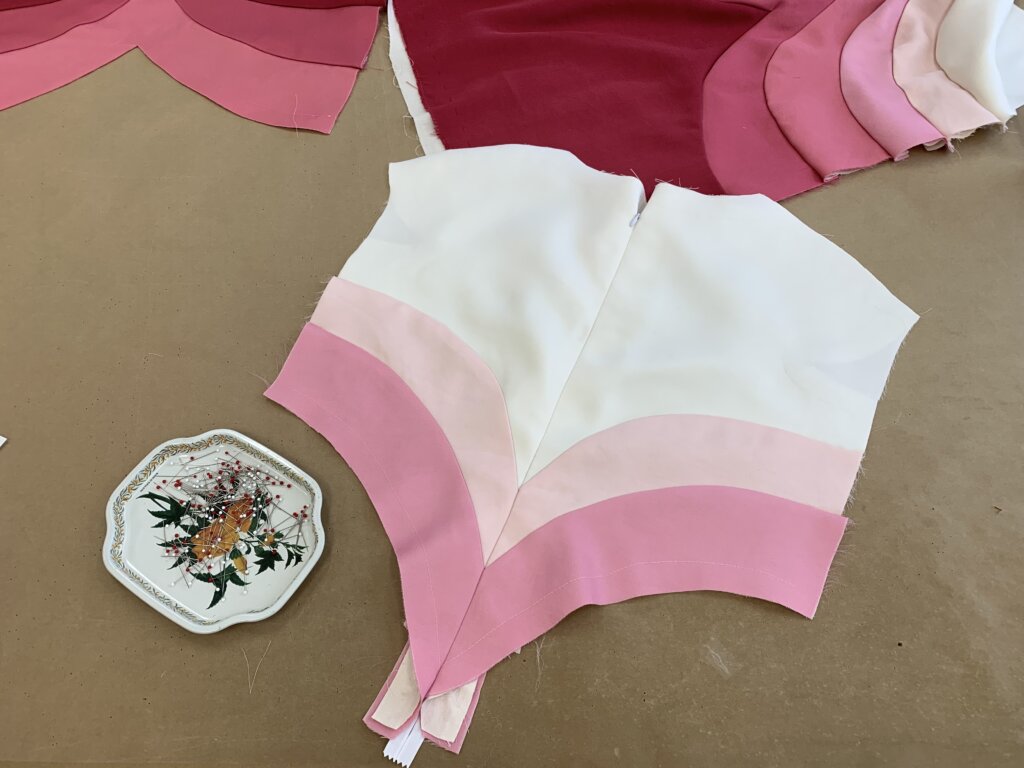 Once the back was complete (beautiful, right?), I needed to finish the raw allowances of the front…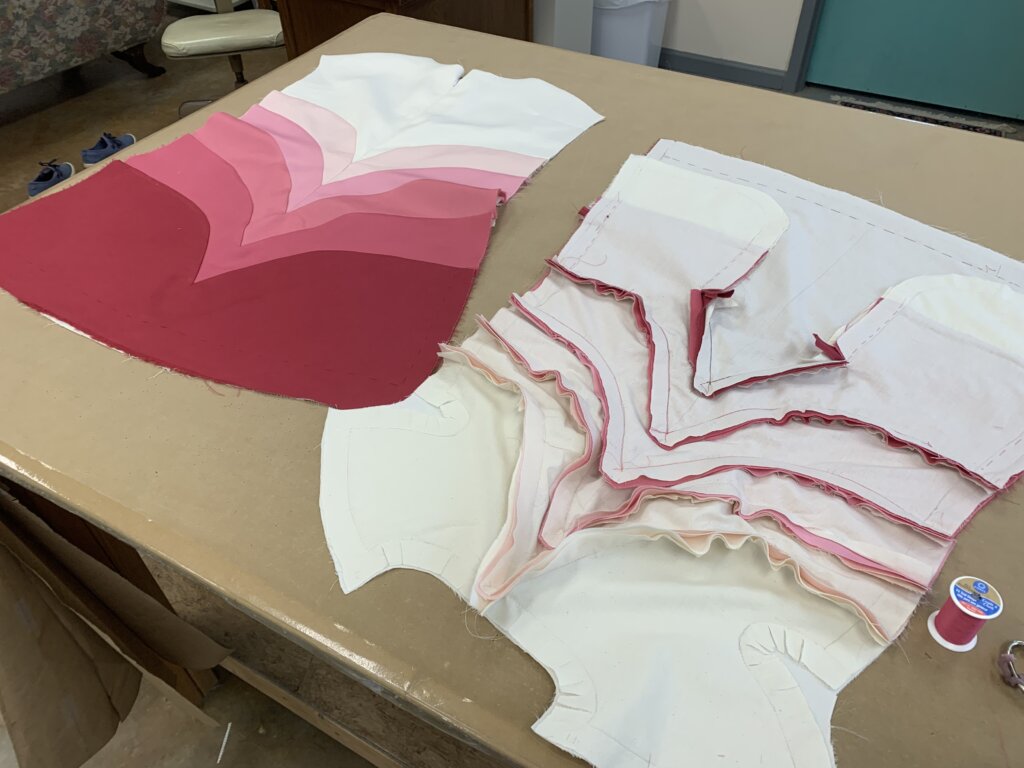 …which involved careful grading…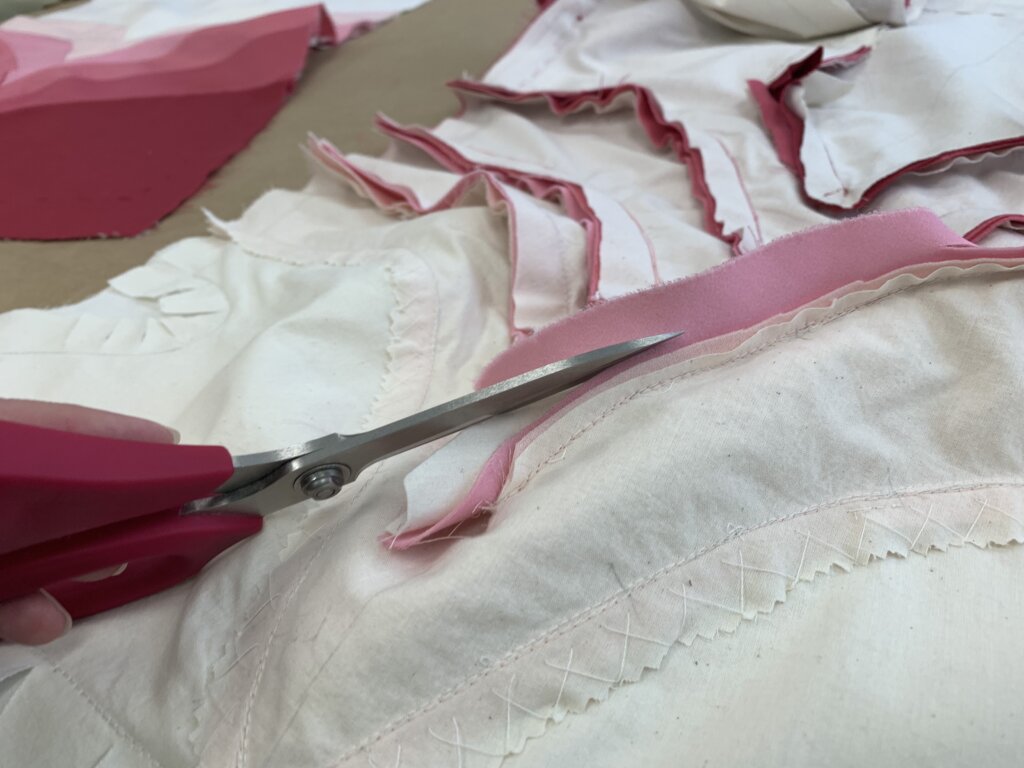 …pinking and hand stitching…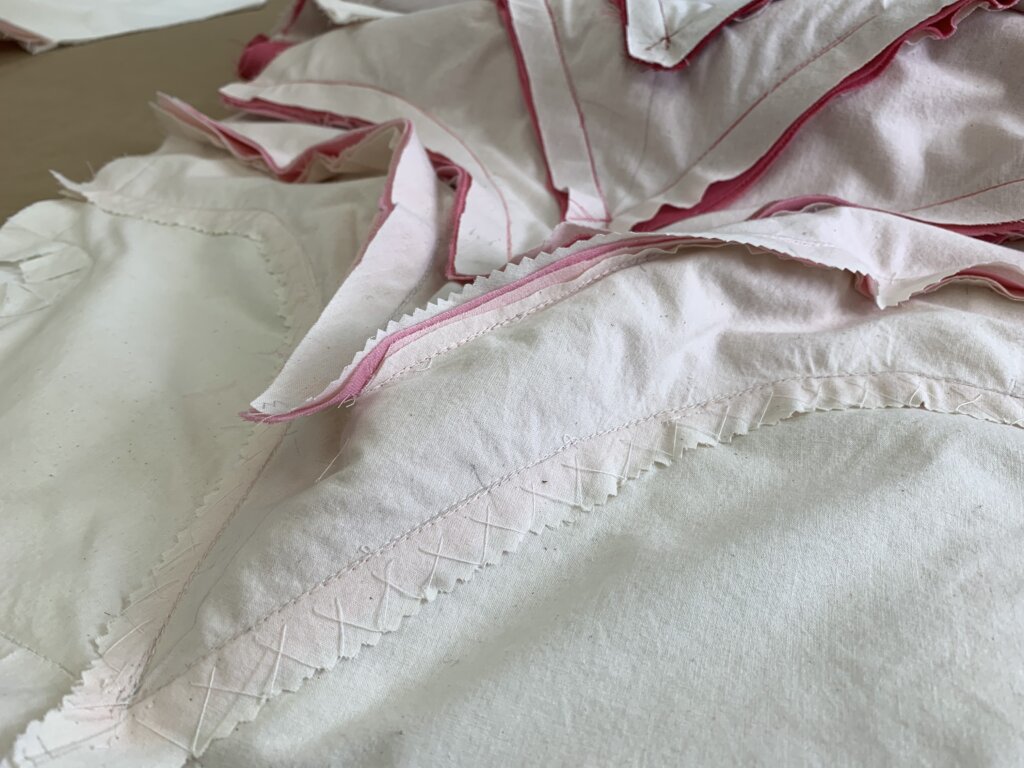 …curve after beautiful curve.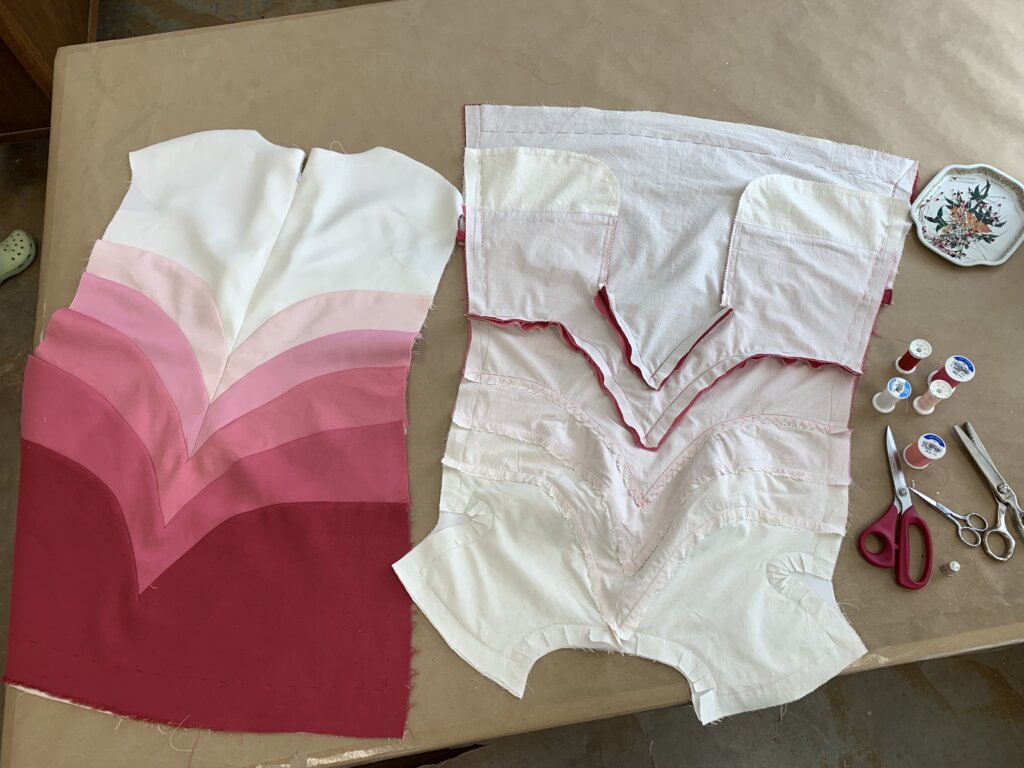 Even though the stitches were only sewn through the underlining layer, therefore invisible to the public side, I still switched up my thread color for fun. I love hand sewing, so this part was a real pleasure!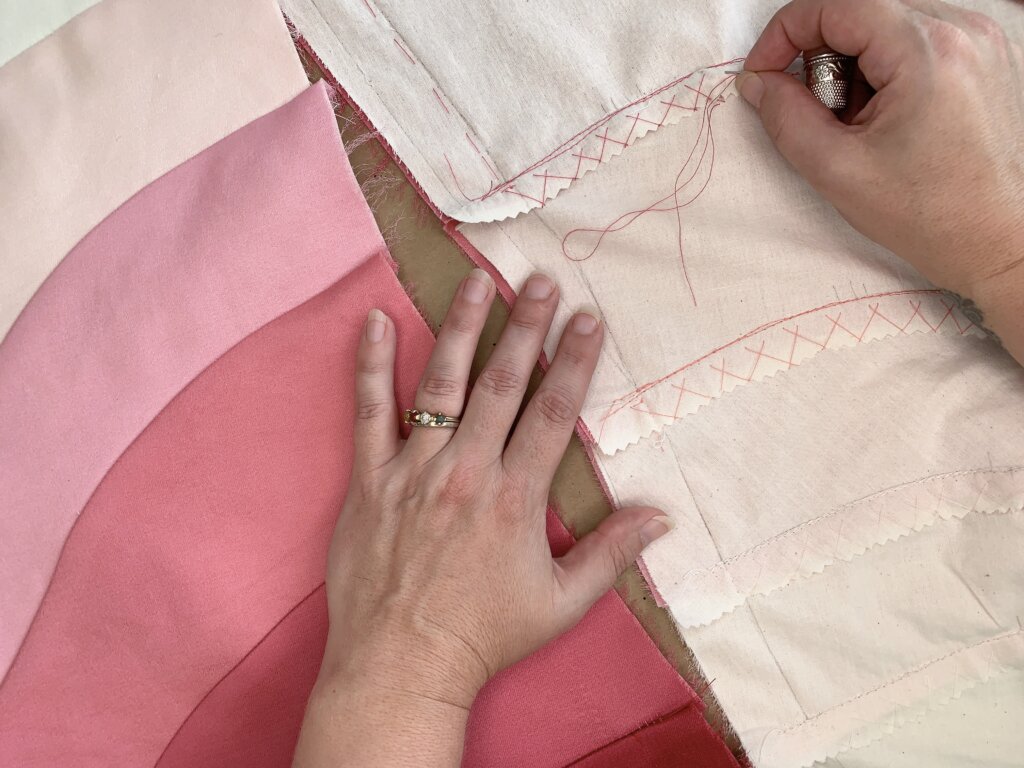 Each seam was carefully pressed (with a silk organza press cloth)…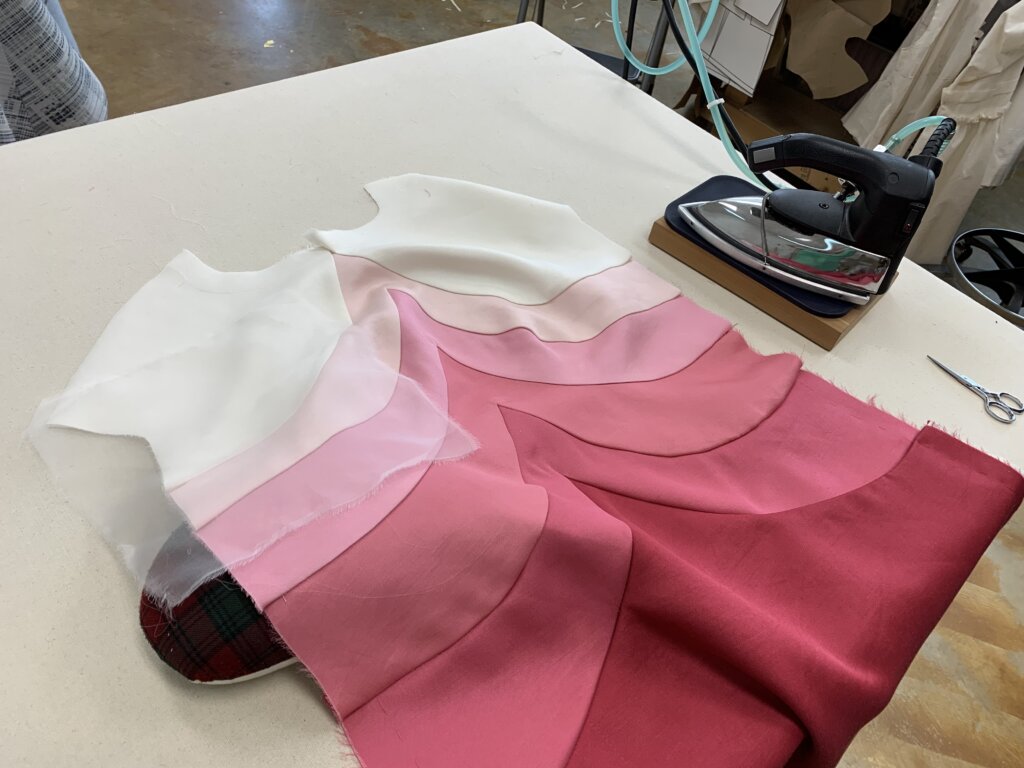 …before the shoulder seams were joined. 15+ pieces finally become one!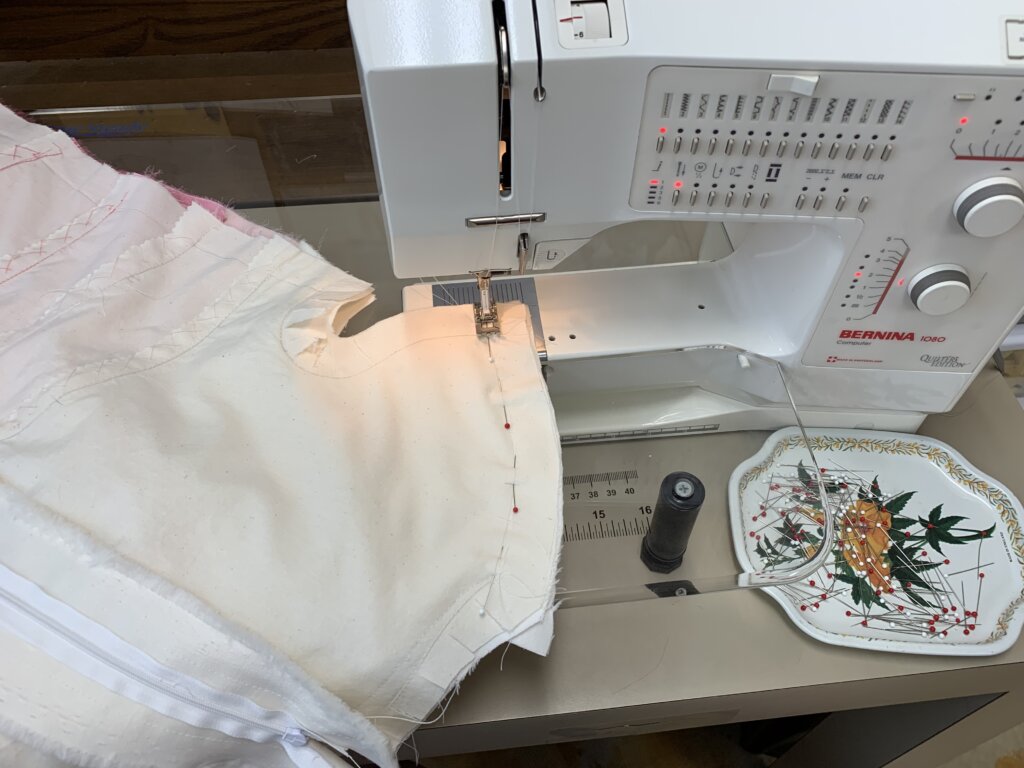 And I couldn't resist a quick try on!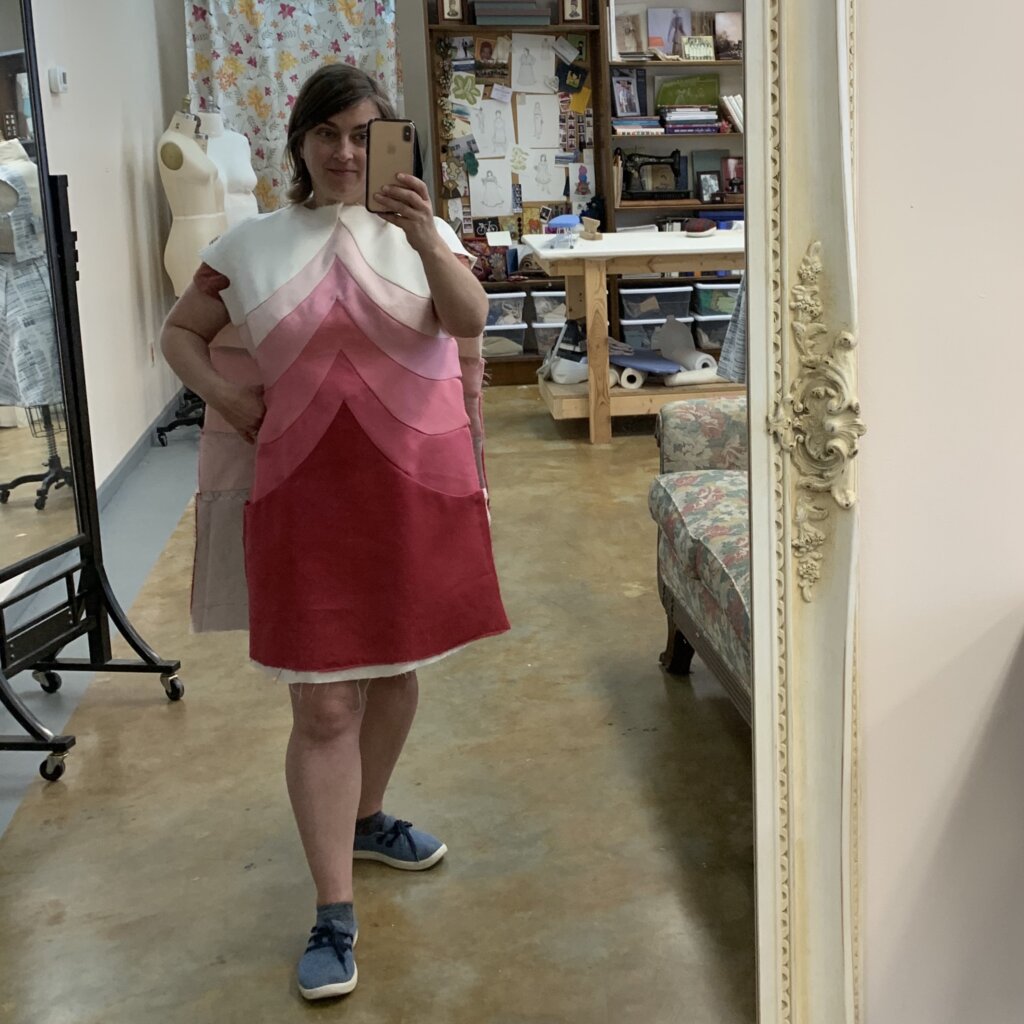 Finishing the Armholes &Neckline
To finish the armholes and neckline, I made my own bias strips from scraps of the undyed silk/wool fabric.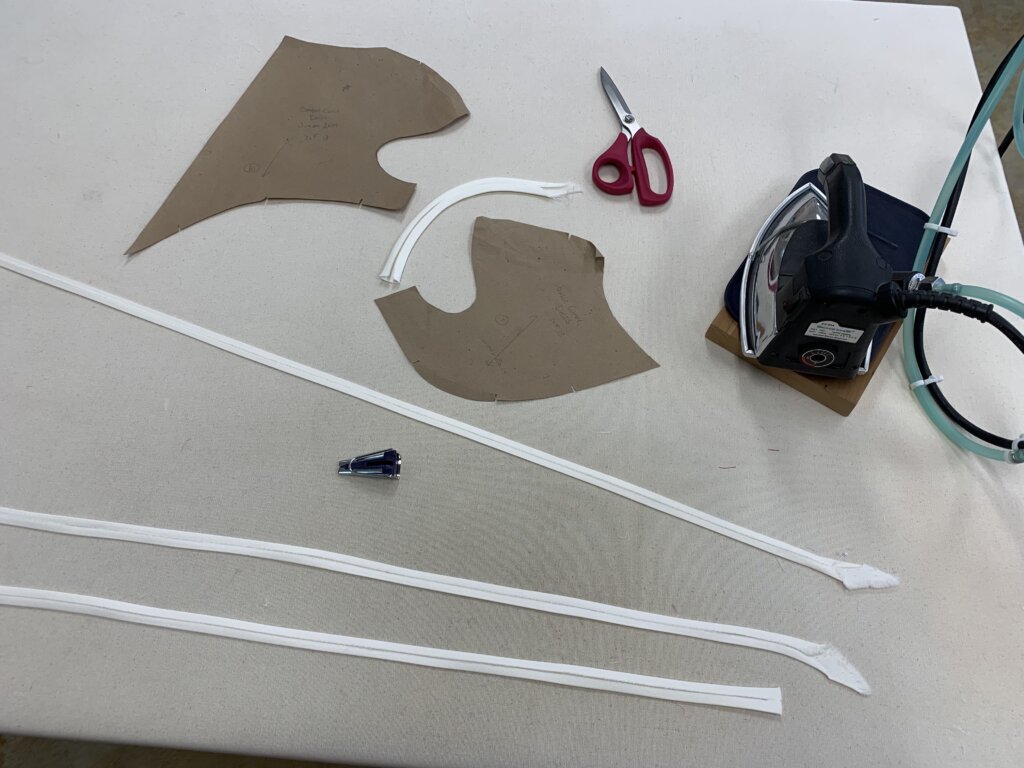 At the iron, I used my paper patterns to shape the tape to match the curves…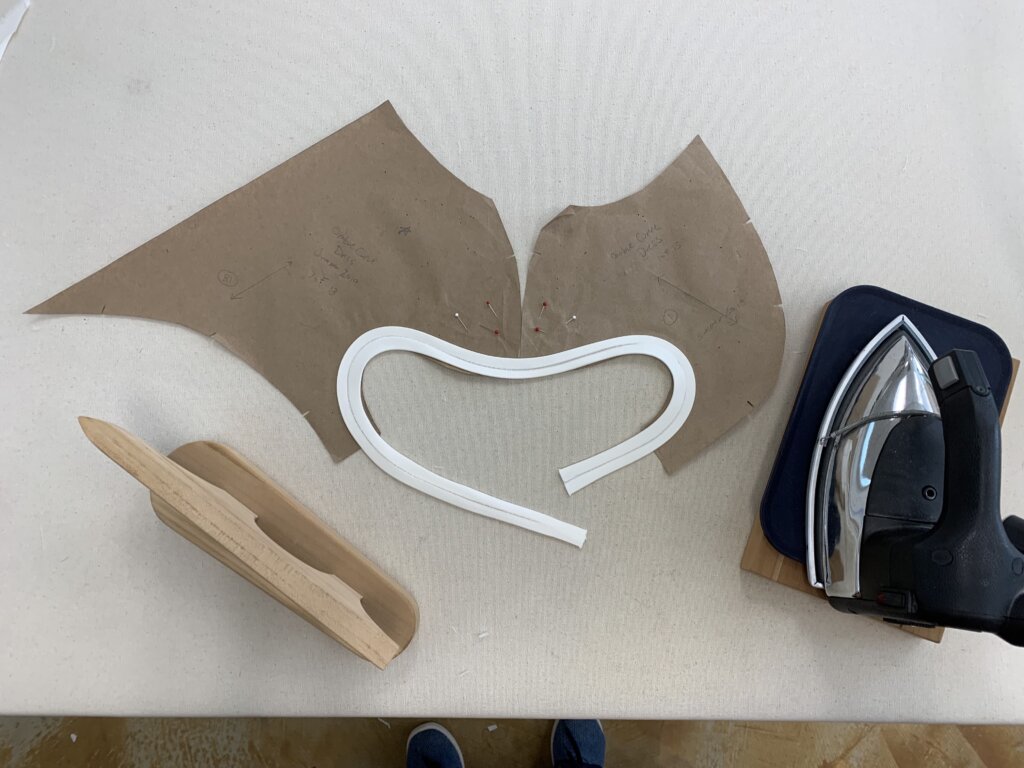 …before laying the shaped tape in place.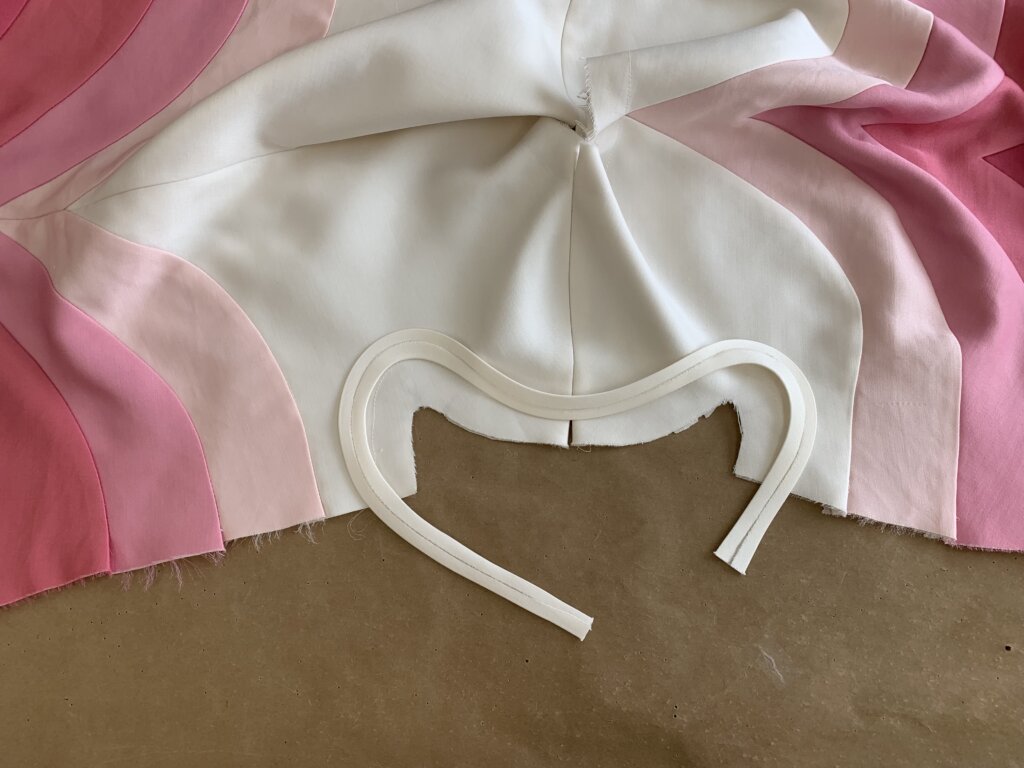 Then I carefully hand basted the curved strip- feeling the stay stitches of the dress layer with my fingers and matching it to the inside fold of the tape. Basting is a temporary stitch, so it took only a few minutes to secure each curvy strip.
With the custom curved tape basted to each armhole and the neckline, I followed my temporary hand stitches with permanent machine stitches…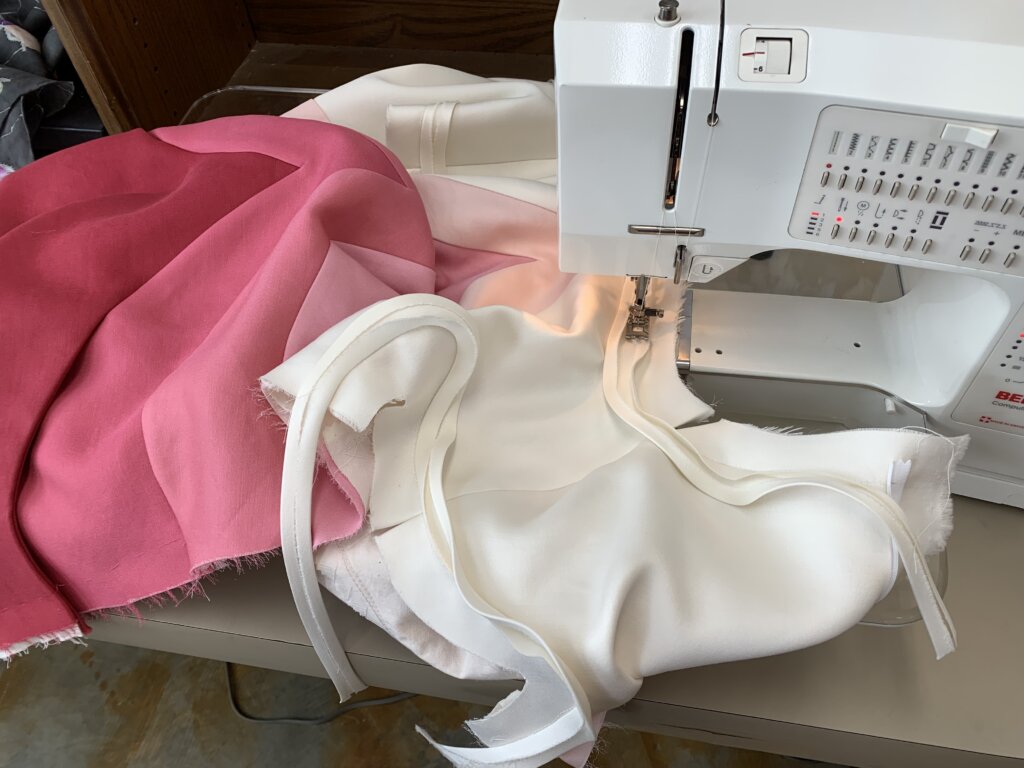 …then trimmed away the allowances…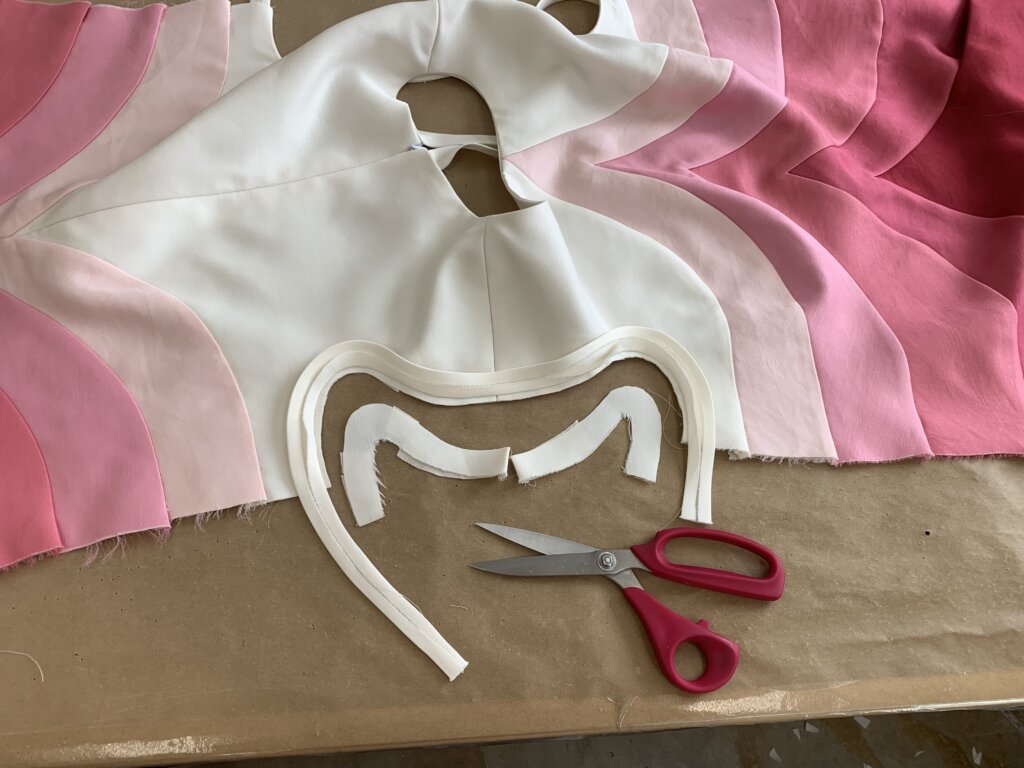 …turned the tape to the inside…
…and used a slip stitch (by hand, only through the underlining) to invisibly enclose the edges with a crisp clean finish.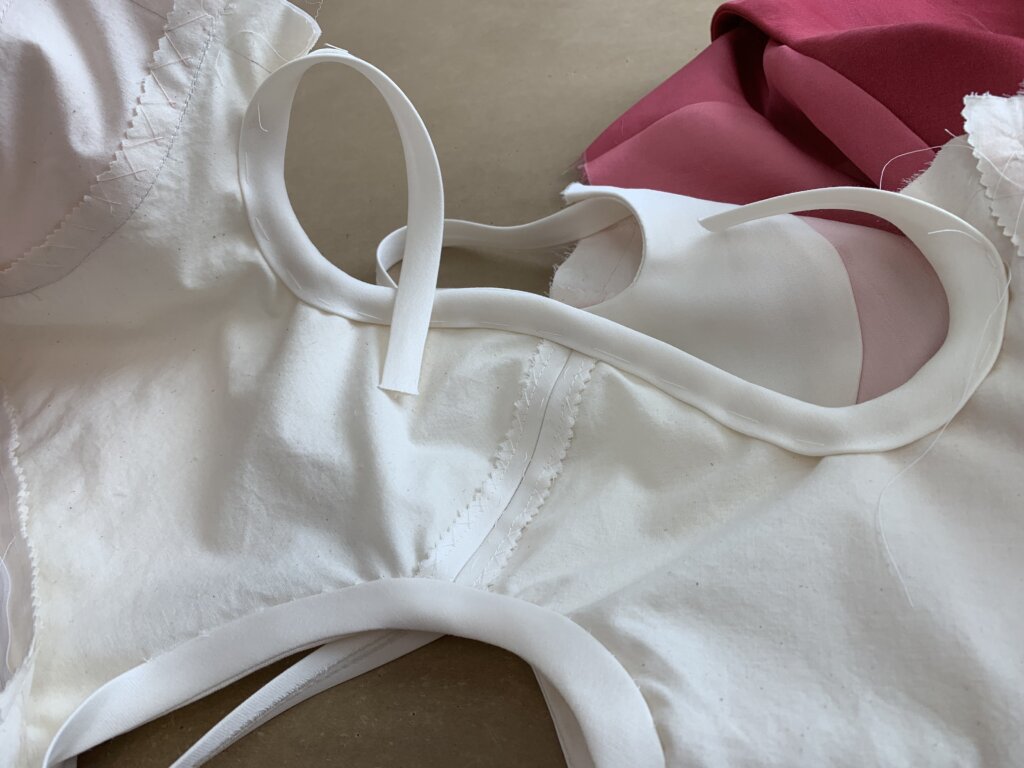 A white hook and eye would also be (invisibly) added behind the zipper for successful dressing.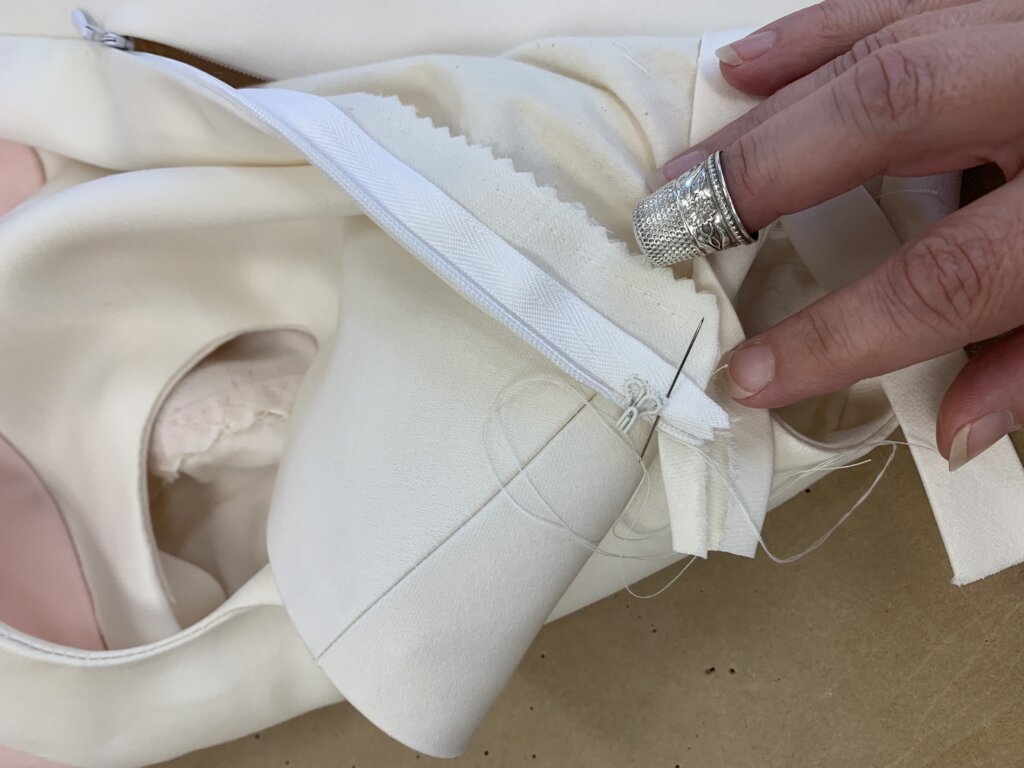 The Basted Fitting- Before, During & After
OMG so gorgeous…. Here's a little inside-and-out peek before the dress gets closed up!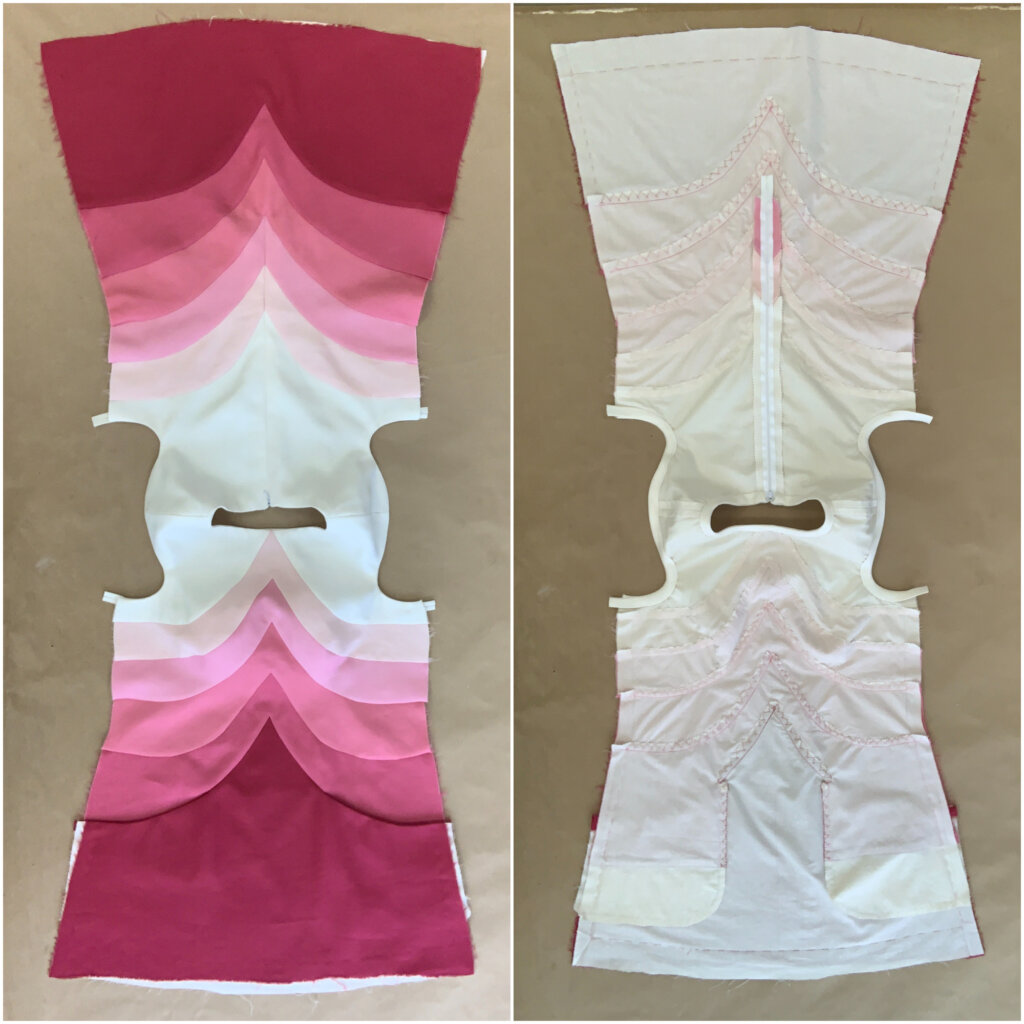 Next, I quickly hand basted the side seams together for my basted fitting!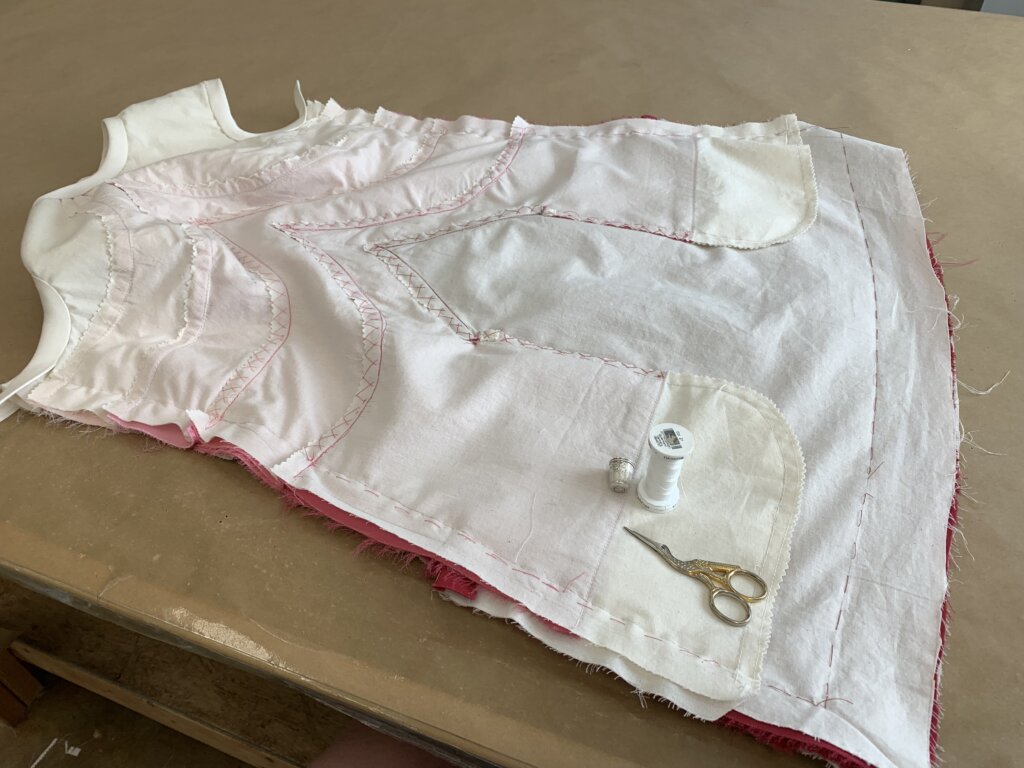 Fantastic fit! I was in love… And I love a short hem, but I also love dancing and hugging people taller than me (I'm only 4'11). Before finalizing my hem length, I did a reach test. With arms up, my butt was still covered…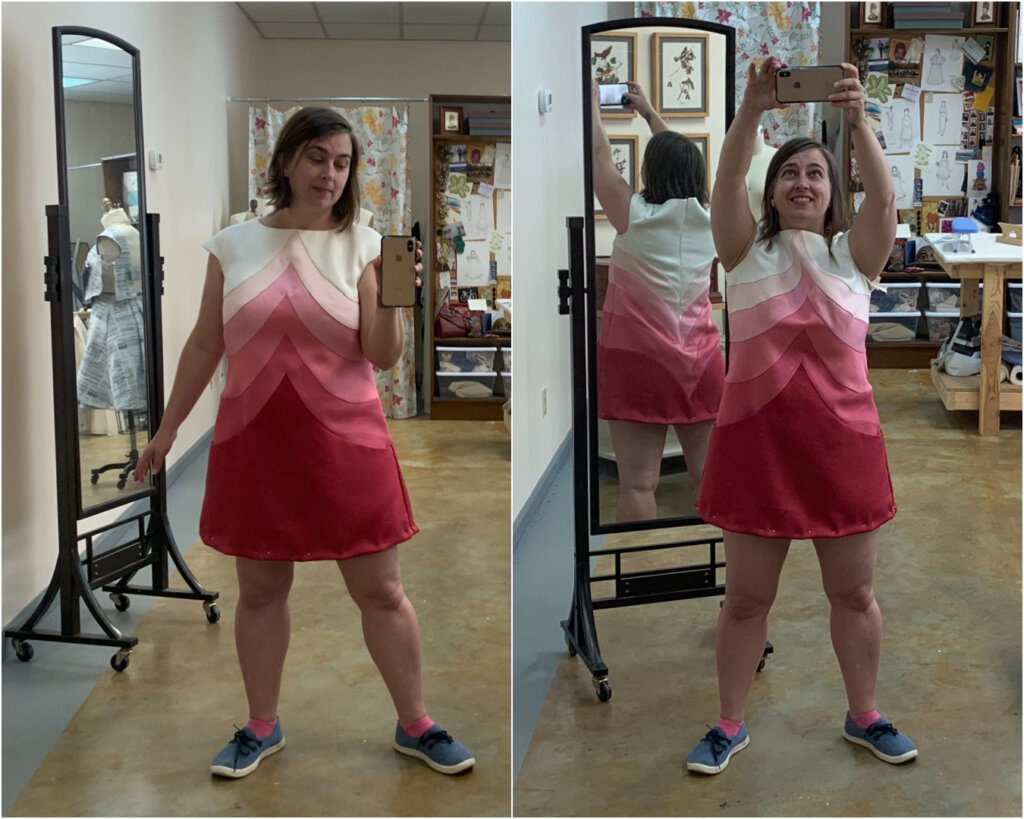 …so I finished everything up permanently!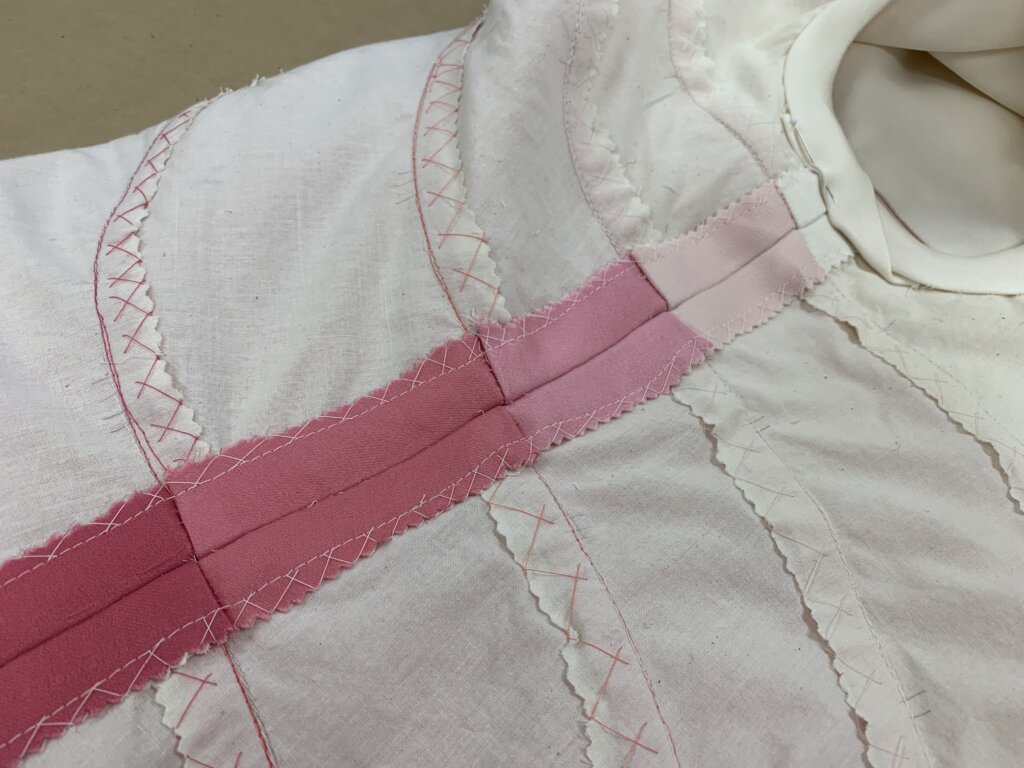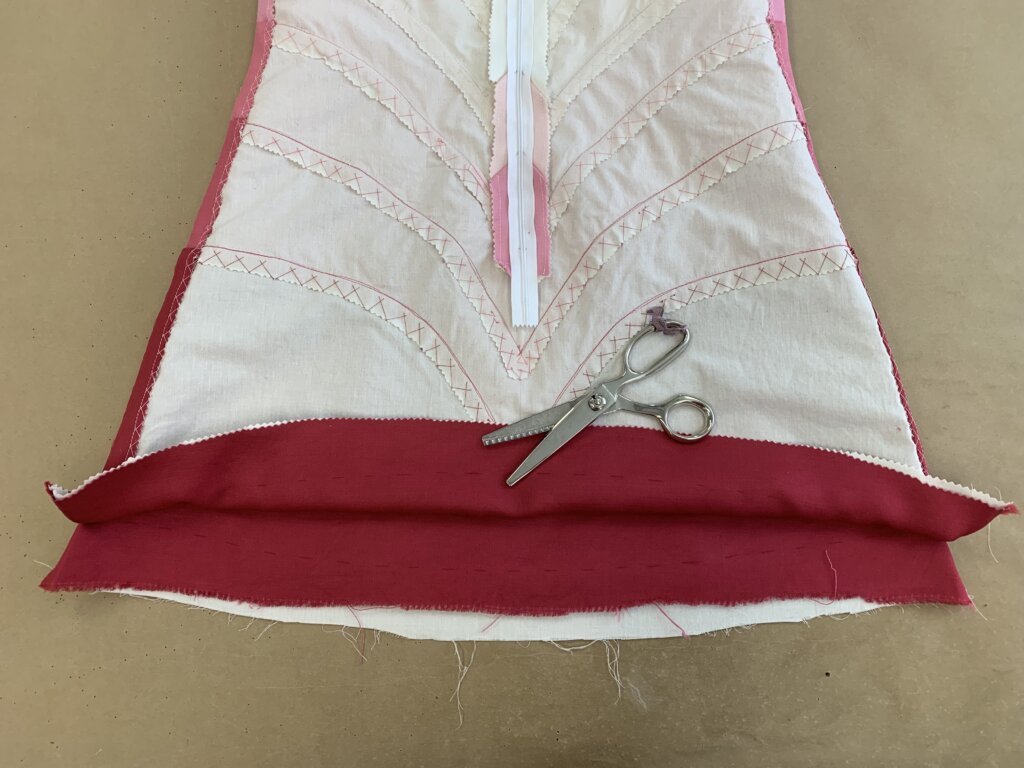 Ta da! Beautiful inside and out. I MADE MYSELF THE COOLEST DRESS!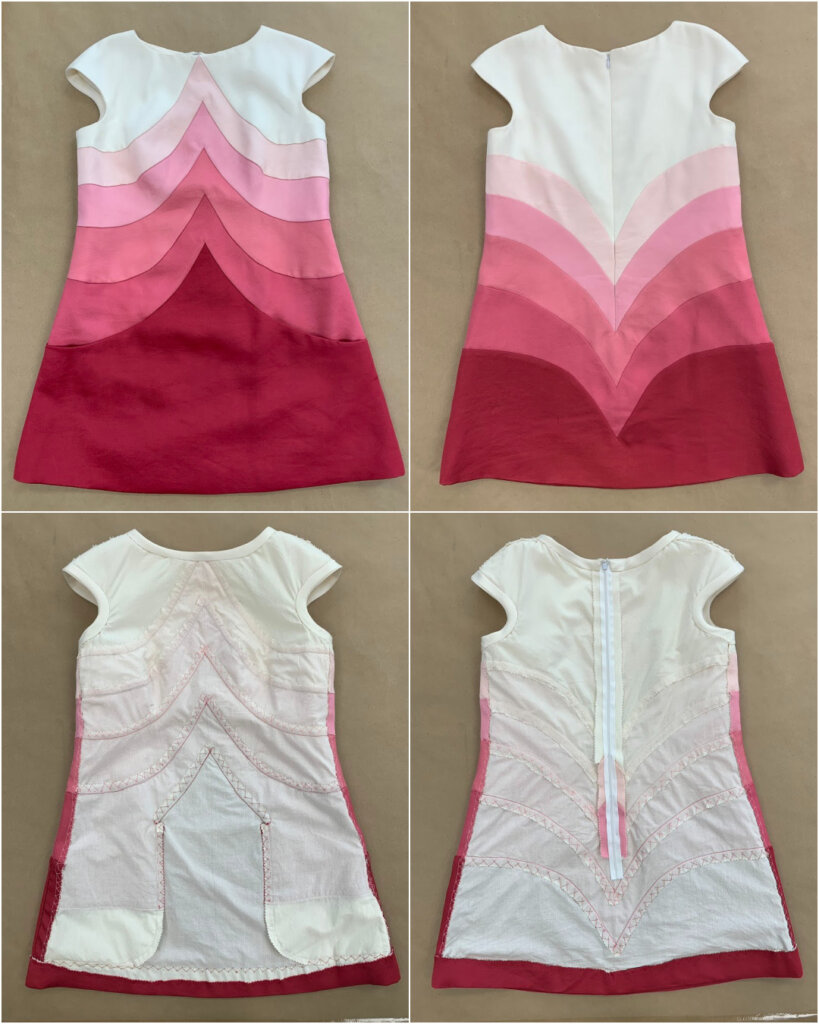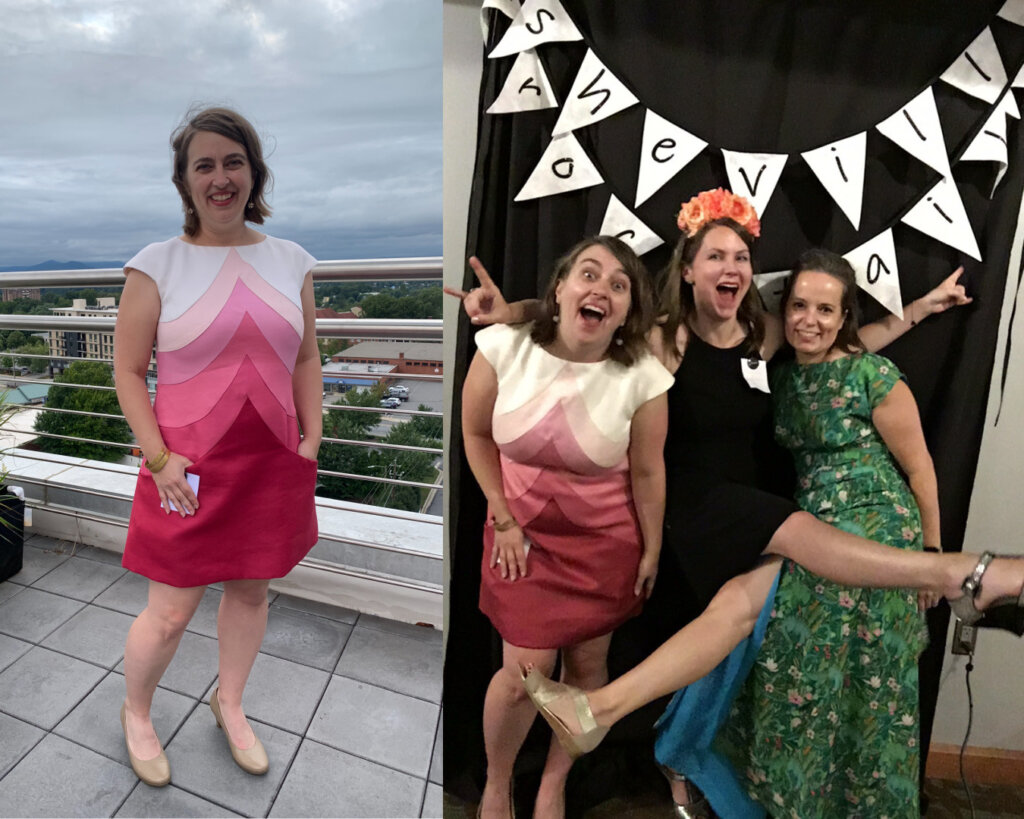 (Side Note: I'm going to be one of the Special Guests at World Frocktails online in February 2021! I'd love to meet you there!)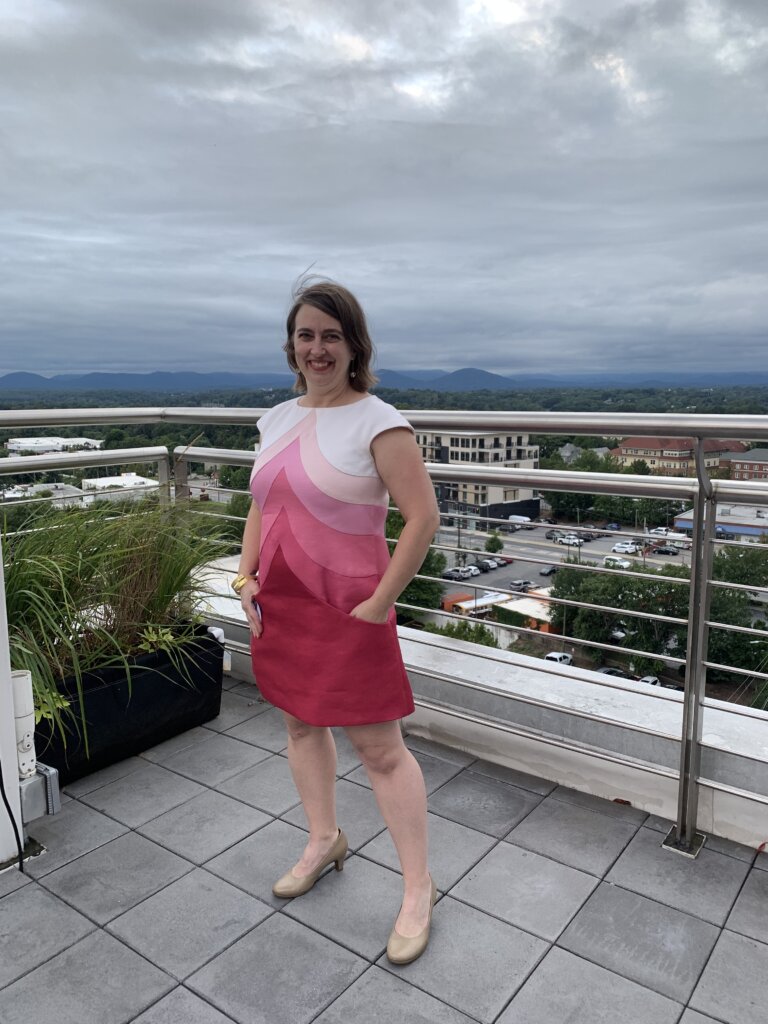 Thanks for following along! Have my custom dressmaking adventures inspired you to try something new? Color blocked pattern drafting? Dyeing? Underlining? As a custom wedding dressmaker and sewing educator, I really enjoyed making a dress for myself for a change. I'd love to learn more about what you are making for yourself!
NEXT POST: I'll either do a 2020 Year in Review sharing big plans for 2021, or I may jump right in to Jenn's bridal blog series… Stay tuned! Happy New Year!
Wanna know more about the way I sew?

My Intro to Custom Sewing eCourse starts online Jan 6!
Registration is OPEN!
Learn more on my new website LearnWithBrooksAnn.com!
I'd love to work with you!