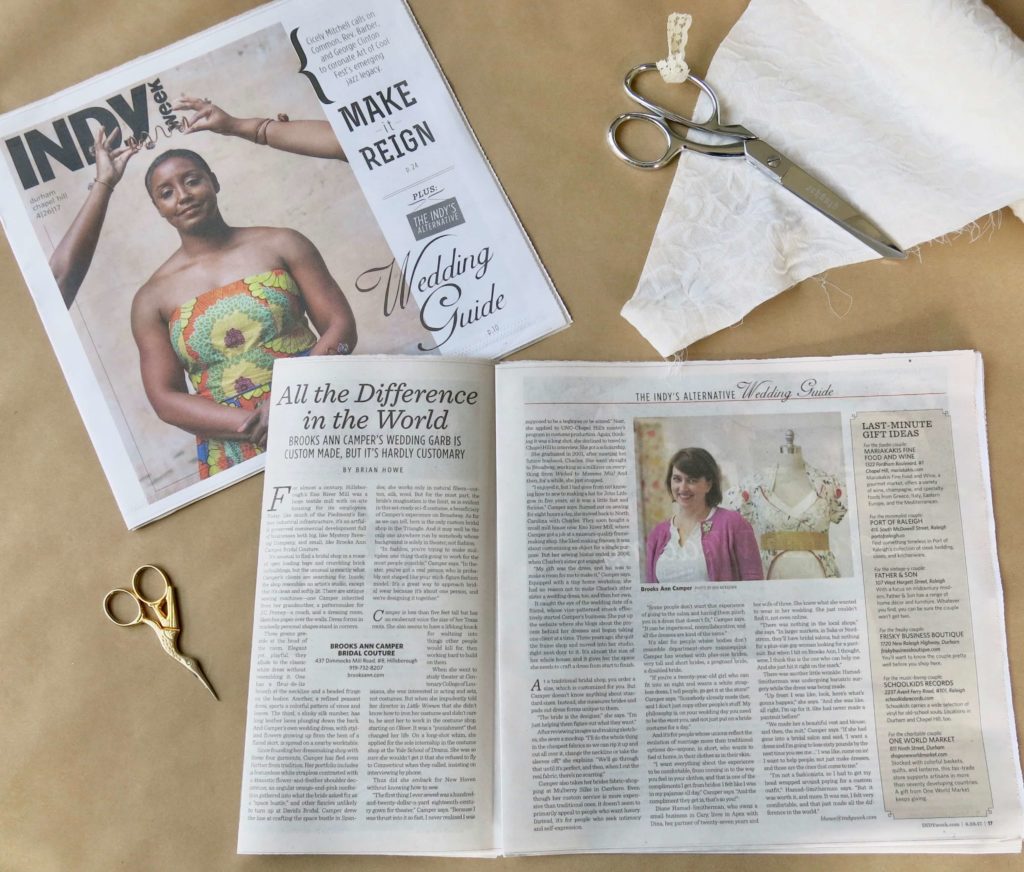 If you are local to the North Carolina Triangle, be sure to pick up a free copy of the INDY Week that just hit newsstands this morning! Reporter Brian Howe and photographer Ben McKeown visited my studio (the morning after I got back from a vacation to New Orleans) for an interview and photoshoot for a special Wedding issue!
When Brian first contacted me, he said they wanted "to feature someone local who's shaking up the generally more staid world of wedding clothing design. Looking at your site, you would seem to fit the bill!" He was hoping to talk to me about my custom bridal wear business and "how a more flexible design philosophy can serve people of more varied gender identities, body types, backgrounds etc. than a traditional white dress can."
Well, naturally I agreed that he had found the right person! I was in and felt like he had kinda nailed my philosophy of wearing something uniquely you on your wedding day.
As soon they showed up at my door on a rainy day last week, we hit it off gabbing non-stop. Both Brian and Ben were a joy to meet and work with! I talked so much that I was super nervous about what would be published but, after grabbing my copy this morning, I think they did a great job!
But don't take my word for it, you can read the feature online here:
http://www.indyweek.com/indyweek/brooks-ann-campers-wedding-garb-is-custom-made-but-its-hardly-customary/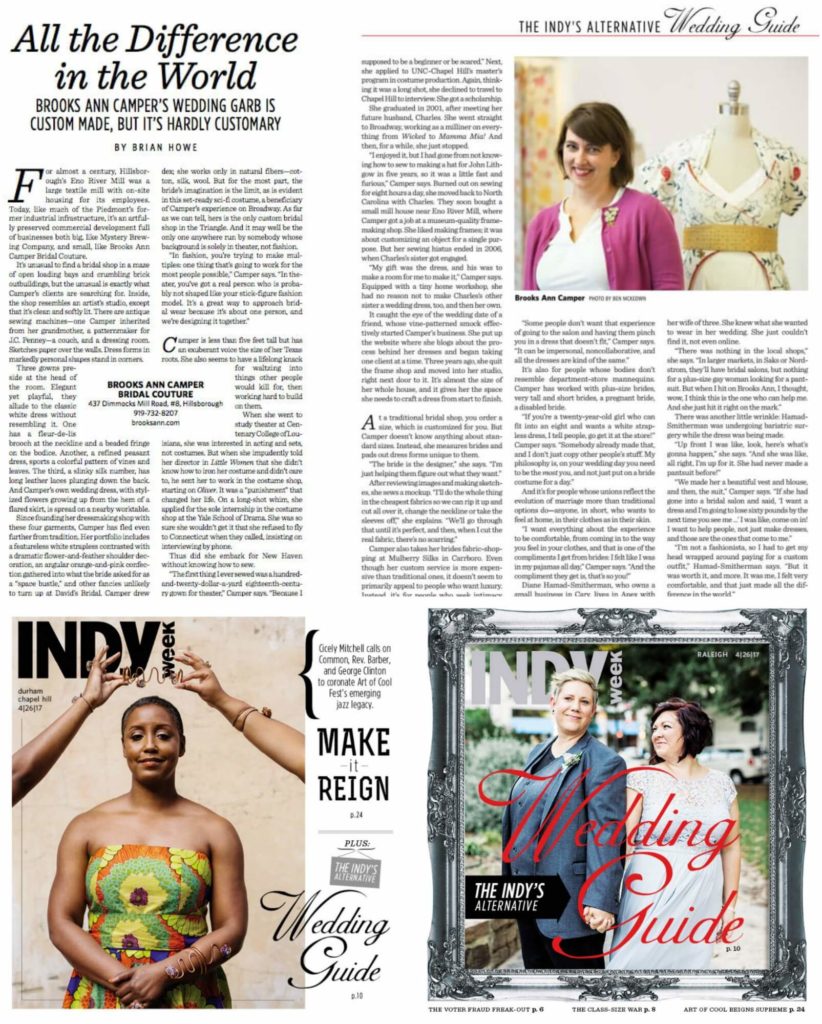 While we were talking, Brian became particularly interested in the story of my bride Diane, who was also quoted in the feature. Three years ago last week, Diane married her partner of 24 years in a blouse, vest, and pants ensemble that I made out of fabrics from Mulberry Silks. As an older gay bride who was also undergoing weight-loss surgery, Diane might have been shooed out of a traditional bridal salon. But I was thrilled to make her look gorgeous on her wedding day in a comfortable style that fit her body and her fun personality!
To see photos of Diane's bridal ensemble, check her out in my Portfolio!
To follow along behind-the-seams as we designed the outfit together (with her fiancé) and learn more about my couture process as the ensemble was hand crafted from scratch, my bridal blog series following Diane starts here and you can click through all seven posts leading up to her gorgeous wedding day!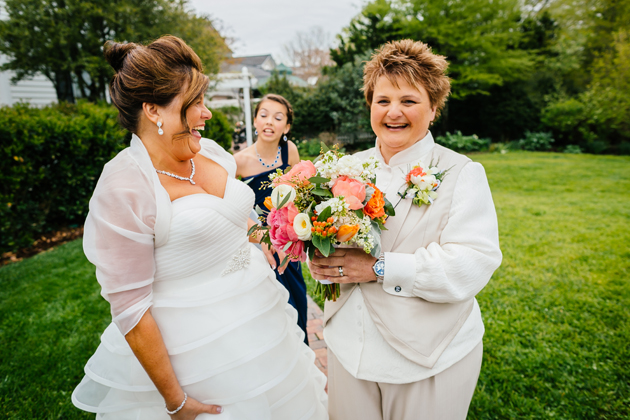 It was a pleasure working with Brian, Ben, and the Indy. I hope this piece inspires brides to seek out alternatives while planning their wedding and to truly showcase who they are on their wedding day.
As Coco Chanel said "Luxury must be comfortable, otherwise it is not luxury."
More bonus reading on topics mentioned in the article:
My personal essay "Pressing Forward" from Seamwork Magazine
From my blog:
The Making of a Dress, a Blog, and a Business
My Years as a Custom Picture Frame Craftsman
The Construction of Lila Rose's Space Bustle pt.1
The Construction of Lila Rose's Space Bustle pt.2
My Home Sewing Room(s)
My Sewing Machines (which shares a lot about my seamstress grandmother.)
---
Aaaaaand…. guess what ya'll!?
My most recent bride Cameron gets married this weekend (in Scotland!). That means…
NEXT BLOG POST: The beginning of A NEW BRIDE SERIES following the behind-the-seams process of creating Cameron's custom wedding dress! HOORAY! Sign up for my free newsletter for lots of fun bonuses and to make sure you never miss a post!