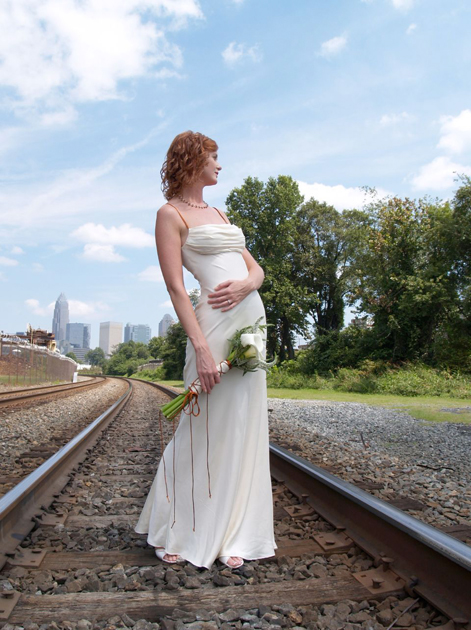 This is my gorgeous sister-in-law Katie.  She got married in 2006 and wore the very first Brooks Ann Camper Bridal Couture dress ever made.  Before the blog, before the website, before the logo, and almost before the studio, Katie accepted a wedding gift of a custom wedding dress, a feat I had never attempted before.
Before I start blogging about my next bride, I thought it would be fun to do "retrospective" posts about the custom dresses I've made in the past, some of which don't have blogs about them at all!

Where better to start than the beginning!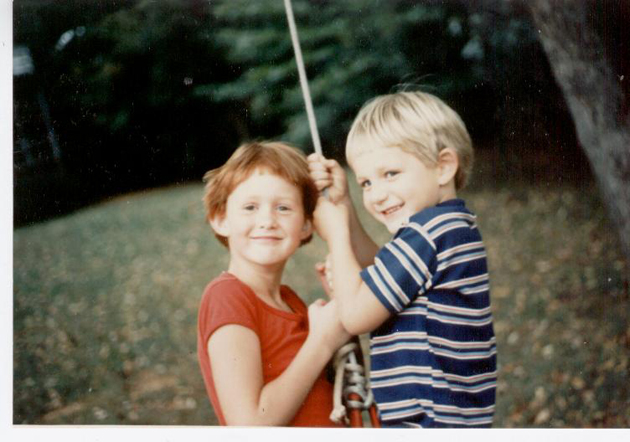 Katie is my (now) husband Charles's sister.  I had joined his family one Thanksgiving and Katie's boyfriend surprised us all by proposing to her right before Thanksgiving dinner!
My (now) husband and I had just moved into a century-old 850sf millhouse that we were gutting and renovating while we lived in it.  I really had no business offering to make her a custom wedding gown, (I barely had a place to live, much less work!) but it just seemed like the right thing to do.  I offered to make her anything she wanted, paying only for materials, as our wedding gift.  She joyfully accepted!
So that meant, my husband had to first build the room so that I could have a place to build the dress!
Here is a photo of me draping the my very first wedding dress in my brand spanking new studio.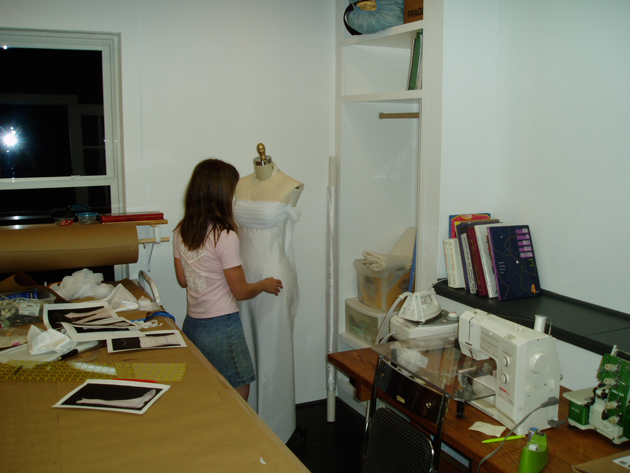 Some brides need a lot of design help and others pretty much know what they want.  While I don't directly copy other designer's work, I often work with inspiration images.  Katie's dress was based on a dress that she had seen on Ebay.  She loved a lot of the Ebay dress's design features, but didn't want an exact copy.
Here's the "inspiration dress":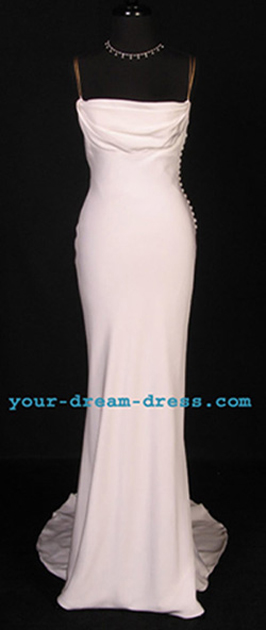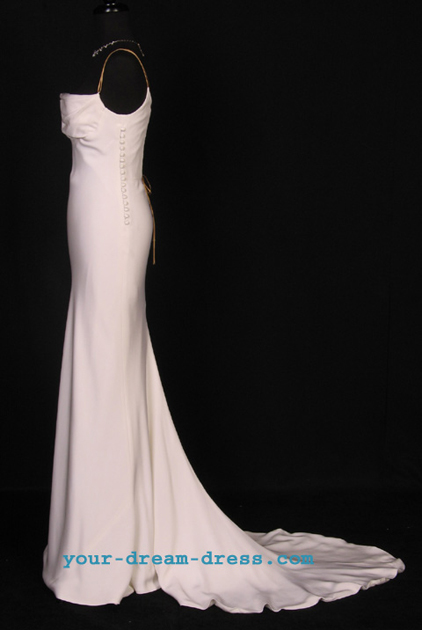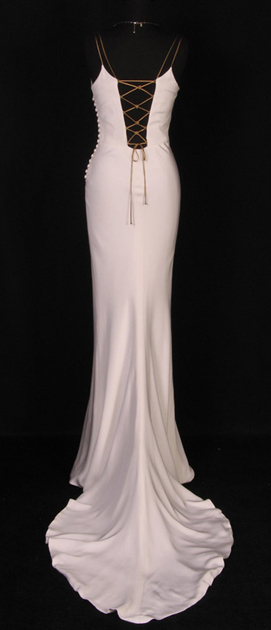 She loved this dress, but there were a few improvements we both thought might work better for her dream dress.  Right off the bat, she knew she did not want a train.  She did, however, like the dramatic fullness in the back, so we traded the train for 3 very full godets.  We also eliminated the buttons on the side, opting to use the lacing in the back as the actual closure.
Here's the sketch I drew for Katie's custom wedding dress: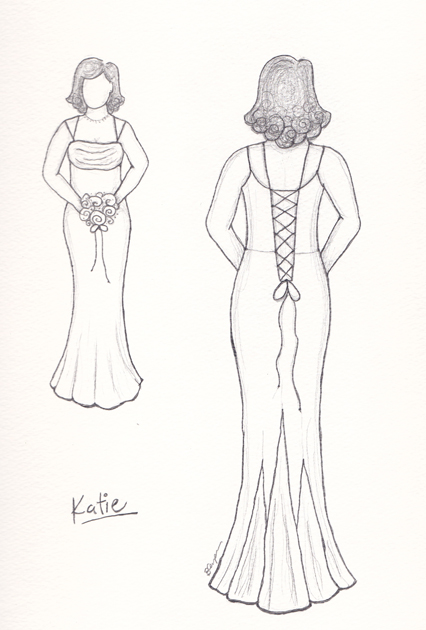 I draped a mockup dress out of cheap slinky fabric on a dressform that I had padded exactly to Katie's slender figure.  While draping and drafting her patterns, I found a more flattering way to drape the bust area and decided to lower the back opening to further accentuate Katie's beautiful back.
We had our first mockup fitting up in her mom's attic!  You can tell that there is some fitting to work out, but a great start to what will become a beautiful dress.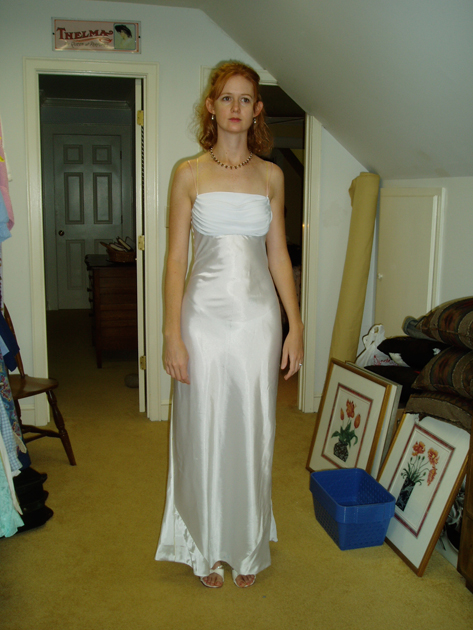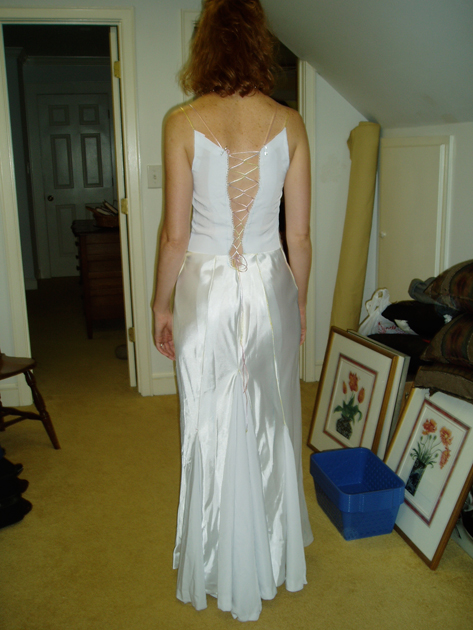 Katie and I went fabric shopping and picked out a gorgeous silk charmeuse in an ivory color that looked beautiful with her skin tone.  I also hand dyed the lacing to match a her auburn hair as well as a copper necklace from her fiancé.
If any of you sewing buffs are reading, you know what a challenge bias-cut silk charmeuse is!  You have to cut extra long seam allowances and hang your bias overnight, before marking your final stitch lines.  I was only able to get the flawless results you see in her wedding day photos by carefully hand basting the entire dress together before taking it to the machine.  It was totally worth it.
Here's a photo taken when I was draping the final bust detail on the real dress: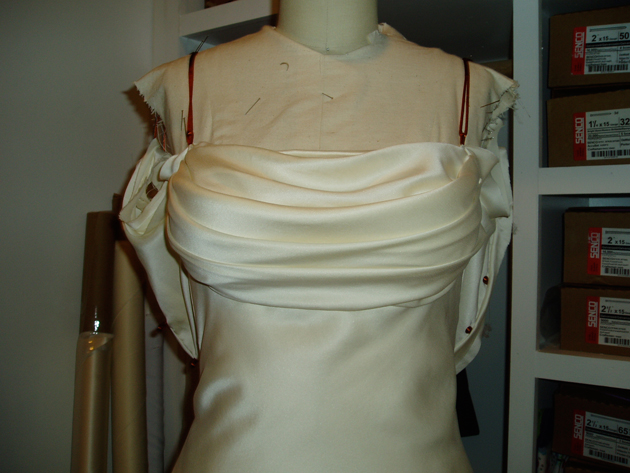 And since it was my first dress, it was my first label!  I enjoyed the process of working with Katie on her wedding dress so much that I started thinking of starting my own business, offering these services to other brides.  This dress has a completely hand embroidered label that says "Brooks Ann Camper Custom Couture".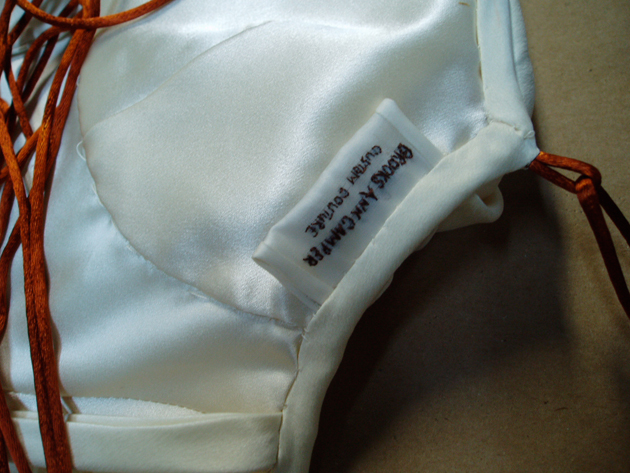 She loved it!  And I loved it too!  It fit her flawlessly was perfect for her Uptown Charlotte wedding.  Here's some pics from the big day!
That's me lacing Katie up!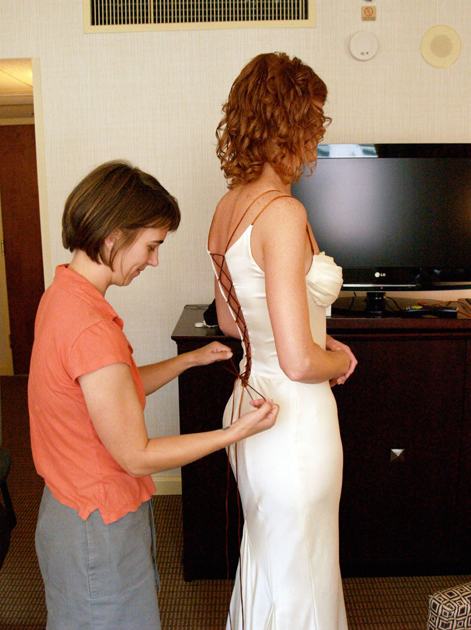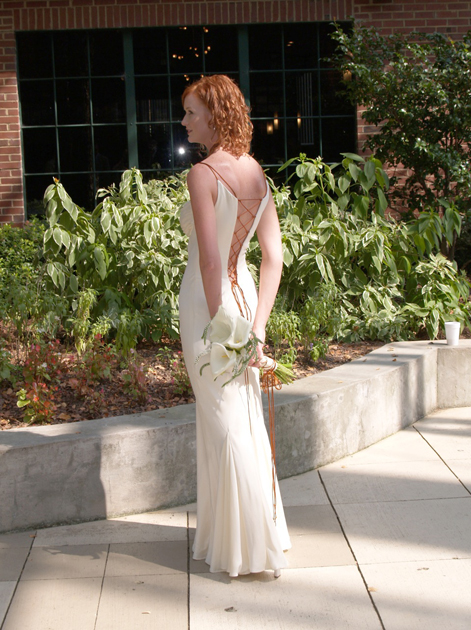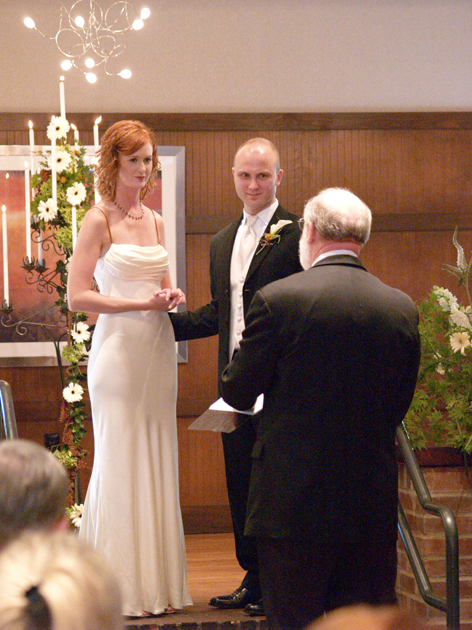 She was completely comfortable all night long, never worrying once about the dress.  She danced the night away with her new husband…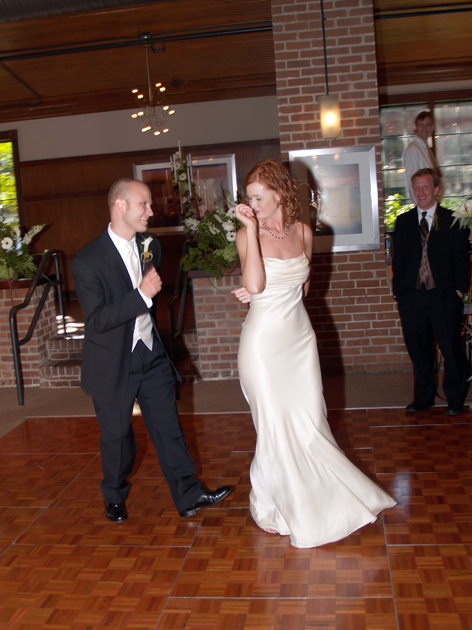 …and with my (now) husband, Charles, her brother!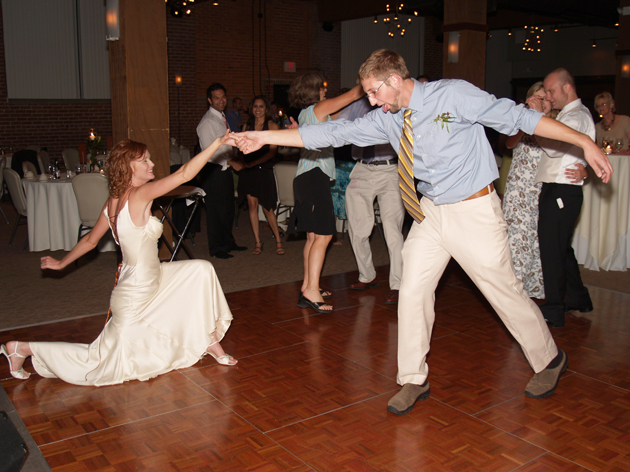 A perfect dress for a perfect night!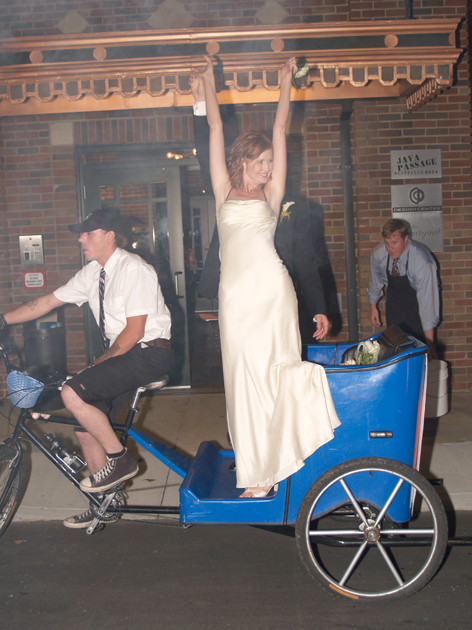 Congratulations Katie and Corey!  Without this wedding, I don't know if I'd be where I am today.
Thanks to Katie for being such a wonderful muse and thanks to Charles for building the studio and loving me throughout the process of building a small business in our tiny home.
This was the start of something special…