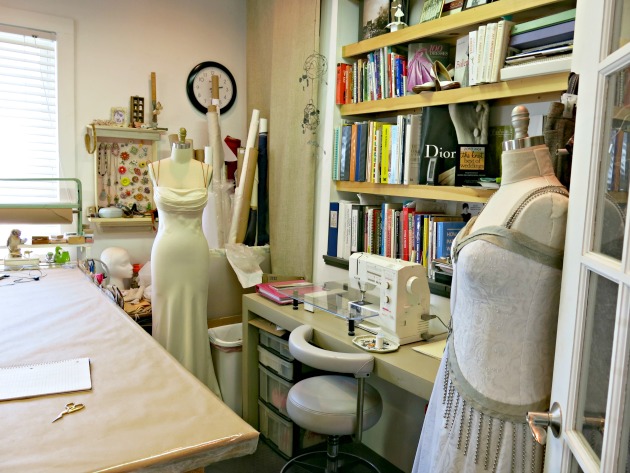 2014 has been a busy year and I'm just getting started!
I'll go into detail about all of these points soon, but for now I just wanted to write a quick post to update you on what has been going on in my sewing studio and life, as well as things to look for from me in the near future!
1.  I just finished a gorgeous wedding ensemble for a non-traditional bride.
Not only did my bride not want a dress, (opting for an outfit with pants, a blouse, and a vest!) throughout our process, she was in the process of weight-loss surgery.   I call her 'The Incredible Shrinking Bride"!  I didn't have a chance to write blog posts in real time, but I took lots of photos as the ensemble was created.  I can't wait to start sharing the story with you.  Blog series coming soon!
2. I no longer have a 'day job'.
Didn't know I had one?  For the past 9+ years, while starting up and running my own dressmaking business, I had a job in another field of high-end one-of-a-kind craftsmanship.  I worked for a small business as a woodworker who handcrafted custom museum-quality picture frames from start to finish using old world techniques, such as hand carving and gold gilding.   Post coming soon!
3.  I'm moving my sewing studio out of my house and into a space in the Eno River Mill.
For the past 8 years, I have run my business and created everything you have seen in my Portfolio and blog in a 12×12 ft room in my 850sf house.  In just a few weeks, I'll be moving the studio into a much larger space in the Eno River Mill.  Originally built in 1897, the former cotton mill is just blocks away from my home, a mill house originally built for the workers of the mill.  How apt!   Post(s) coming soon!
4.  With the new space and going solo full-time, comes lots of new opportunities!
In addition to accepting new brides for custom bridalwear and accessories…   We're talking private lessons and DIY studio hours!  Sewing and Pattern Making classes!  Personal Fittings!  Handmade Social Club!  Get excited to come on over to Hillsborough and learn to make your own clothes!  Spread the word!
5.  I'm developing my first e-course…
…which will become a series of e-courses!  Don't live close enough or have a flexible enough schedule to attend my in-person classes?  I'm developing some really fun interactive online courses with lots of videos and teacher/student interaction on some of my favorite topics.  Details coming soon!
 …and so much more!
I can't tell you how excited I am about all the new projects and possibilities.  Please keep in touch and spread the word that I am finally going to be in my own fantastic new Hillsborough studio full-time: creating one-of-a-kind wedding dresses with more brides than ever (my brides are THE BEST!) and spreading the joy of creating custom clothing with anyone who has a passion to learn.
Join my mailing list in my blog's sidebar, on my Facebook Fan Page, or using this form to be the first to know details about upcoming classes and get exclusive content. I'll never get spammy, you can unsubscribe at any time, and you'll get a freebie peek into my library just for signing up!