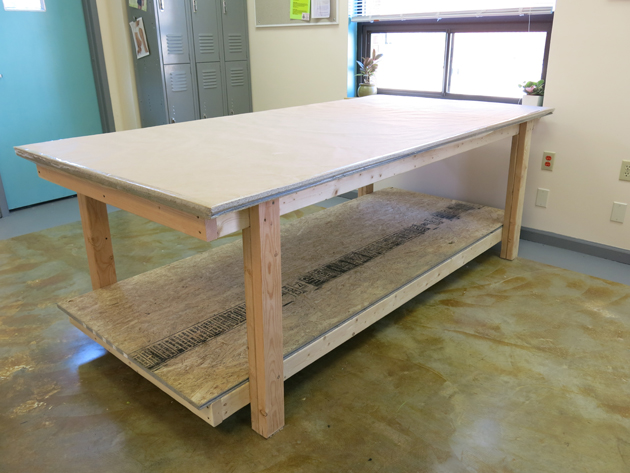 Last week, I sent an email to those on my free newsletter subscription list featuring a clever solution for making a small sewing space feel like a large professional studio.  It was about adding an extender to your work table (that can double as an ironing station) to be pulled out for large projects and tucked away when not in use. It created a bit of buzz.
People wanted to know more about professional sewing room tables! That got me excited because I love my work table and it is something that (if you have carpentry skills) you can make yourself and can completely customize to your needs.
This post will assume that you have some carpentry knowledge/tools and is not a step-by-step tutorial. It's just a general peek into what we did to create my custom table. Hopefully it will inspire you to use your favorite building methods to execute and customize your own table.
♥ Like in custom dressmaking and pattern making, knowing some measurements and seeing some details can inspire you to make something uniquely yours with your favorite methods and design choices. ♥
DIMENSIONS:
My table is 4′ by 8′ wide and 34″ high (all customizable dimensions) and is modeled after the tables that have been in every professional shop that I have ever worked in. When it comes to custom sewing, this is what the pros use.
I chose 4×8 because that is the size of the sheets of plywood and homasote used to make the top.  If that is too big for your space (like it was for mine before I moved into my new Sewing Room) you can rip the sheets to your customized dimensions using a table saw or a circular saw.
I chose 34″ high because that is what feels comfortable to me. Warning:  I am VERY short! Less than 5′ short! So your table might feel comfortable at a taller height. (Most surfaces feel too tall for me, so I'd often wear platform shoes or roller skates to work.)
To decide what height you'd like your table to be, pretend to draft or cut or sew standing at different surfaces. Is the height of your kitchen counter a comfortable working height for you? Maybe the kitchen table? Or bathroom counter? Somewhere in between?
For me, what feels comfortable is a height that is pretty much right where I hinge at my hips. I want to be able to lean far over the table without getting on my tippy toes. 34″ high puts my hip bones right against the edge of the table's top. If I am standing up straight, my elbows are about 3″ above the surface.
♥ Once you've decided on dimensions that work for your body and your sewing space, you can start designing and building your table! I'll show you how this table was built, but if you'd like to build it or design it a different way, have at it!

The important bits (for me) are that it has a pinnable paper covered top, that it is a good size/height, and that it is sturdy/stable. ♥
MATERIALS YOU MIGHT NEED:
2  sheets of 3/4″ plywood or fiberboard
1  sheet of homasote (ask your local lumber yard to order this for you. One sheet costs about $35)
2x4s  (my custom cut list was 5@7'6, 2@42″, 2@39″, 4@32 3/4″, 4@29 1/4″)
a box of 2 1/2-3″ screws
4′ roll of brown craft paper (if you are making a skinnier table, you might want skinnier paper)
clear packing tape
TOOLS YOU MIGHT USE:
a power drill for screwing
marking tools
measuring tools
a circular saw (you can use other saws too- such as a table saw for the sheet goods and a chop saw for the 2x4s. My husband did all his cuts with a circular saw.)
THE TOP:
Let's start with the top, since that is the most important. If you have a top like this, you can add it to any table base you'd like. In my last email I added one of these to the base of an ironing board!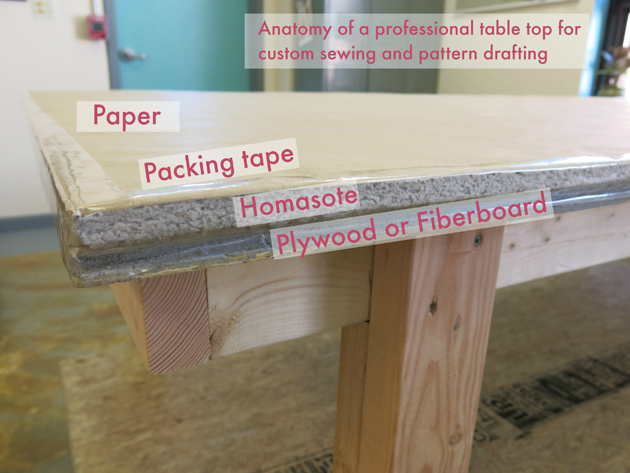 The top is made from a 4×8 sheet of 3/4″ plywood (or in this case fiberboard) with a layer of homasote laid (not screwed) on top.
The homasote is then covered with brown craft paper (which is exactly the same paper I use to draft all of my patterns) by simply taping its edges to the table with packing tape. No need to worry about scratchy edges of the wood or that the homasote might slide off the table. The tape does all the work!  Each time you want to refresh your paper, just add it to the top and then add more tape. My old table has layers upon layers of paper on its top and layers upon layers of tape around its edges.
I kind of like knowing that all that history is stored in the table…
Since this table is brand new, I recently added my inaugural paper and tape layer. The first time it doesn't stick super great, but if you can get it to stay in place you are good. I like to keep my paper exactly the size of the table top, rather than folding any edges around the sides.
THE BASE:
This type of top can be added to any base (maybe something from the thrift store?), but here's a glimpse into how my husband built the base for my 34″ tall table: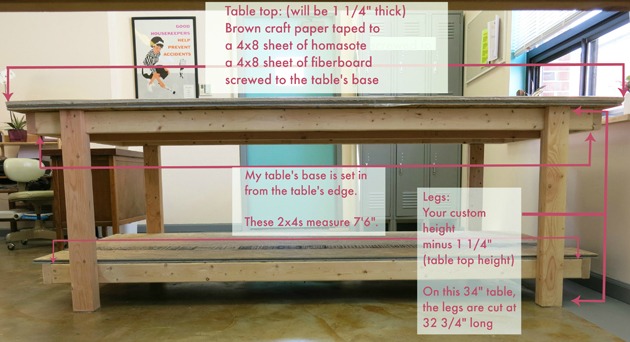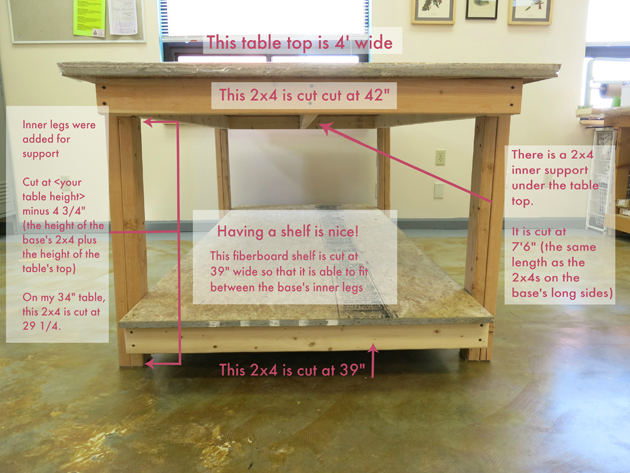 That's a quick detailed look into my custom work table with a pinnable top! This type of table is really helpful (and fun) for custom pattern drafting, cutting, and sewing as you can pin and stabilize your project directly to your work surface.
I hope this helps you build your dream table and opens new sewing and drafting possibilities for you! If you are building your own Sewing Room table or have any questions, please leave a comment!
♥ Interested in learning how I use this table? Check out my interactive online course Skirt Skills! I teach you the basics of pattern drafting and sewing custom designed clothes for unique bodies all from the comfort of your own home. More information can be found at www.SkirtSkills.com.

Starved for images of brides and weddings? I recently updated my Portfolio and Testimonials page! Check out the new galleries and hear the amazing things these women had to say about their experience working with me. They honestly make me either blush or tear up… My brides are the best… ♥