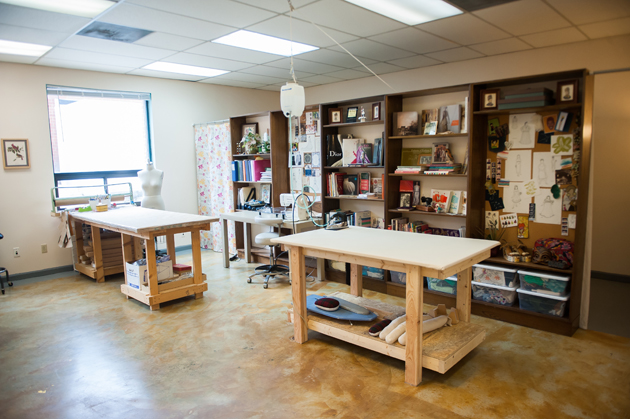 I've been blogging at BrooksAnn.com for a little over 6 years now. While most of my posts are following the story of a bride and the creation of her custom wedding dress and/or accessories, I often throw in sewing posts or personal posts in every now and then.
One of my most popular posts ever was from last year when I shared how to create a professional pinnable-top sewing table modeled after the tables used in all the professional costume shops where I have worked in the past. My most recent post expanded on this idea, sharing how I created a "table extender" by adding a pinnable paper-covered top to an ironing board base. This also doubled as my ironing station while I was still working out of my home.
When I moved into my studio in the Eno River Mill last year, I finally had room for a full-size permanent ironing station! (Happy dance!) I think the iron is absolutely one of the most important tools in garment creation. When people think of "sewing" what comes to mind is a sewing machine. Personally, I feel like I use my iron way more than I use my sewing machine. It is quite a luxury to finally have such a nice place to do these tasks!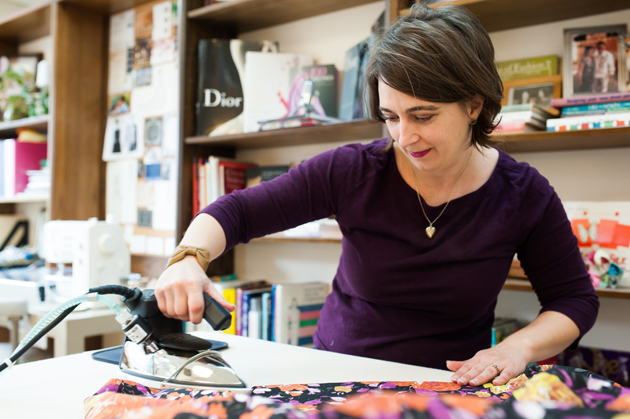 My custom ironing table started with a custom-made wooden base. This was crafted in the same way as my Sewing/Cutting/Drafting tables, which you can read more about here. What's great about making your own table is that you get to customize it to a height and width that works for you!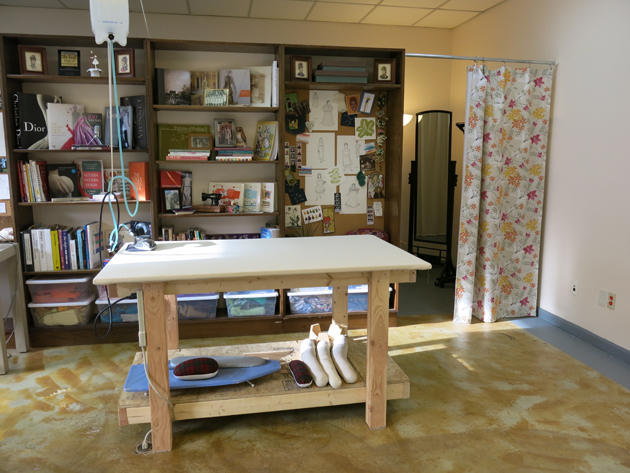 For height, I prefer my tables to be a few inches above where my hips hinge. This gives me plenty of room for my arms to reach across the table and is a comfortable height for holding my iron.
When deciding what size to make your top, consider not only how much space you have available but also how you'd like to use your table. What frustrations do you have with your current configuration? What could you do to create an ironing station that you'd love to use?
For me, I don't ever cut "on the fold" so I always press my fabrics out in a single layer onto a roll. Performing this step with ease is what I missed most when working in my small home sewing space. Because of this, I made my table top 60″ (the widest commonly used width of fabric yardage) by 36″ (the extent of my reach while standing at the table.)
The top is created by cutting a piece of sheet good (plywood, fiberboard, chipboard…) to your desired size. (Excuse the mess in these photos! This table was made as I was moving into the space last year.)
Cover the top with quilt batting and trim away any excess.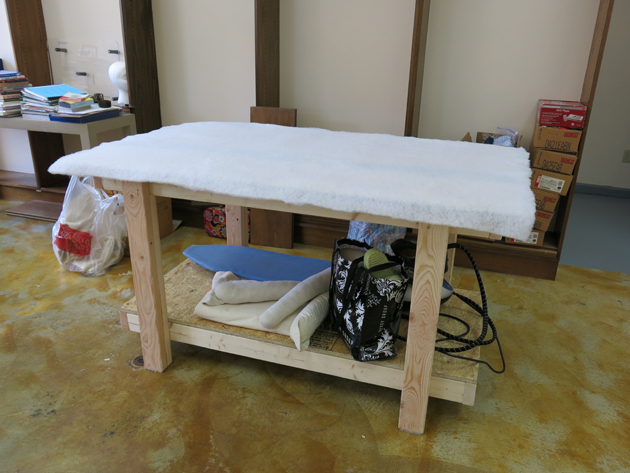 Take a piece of canvas and cut it to where the edges could wrap around the wood of the table top.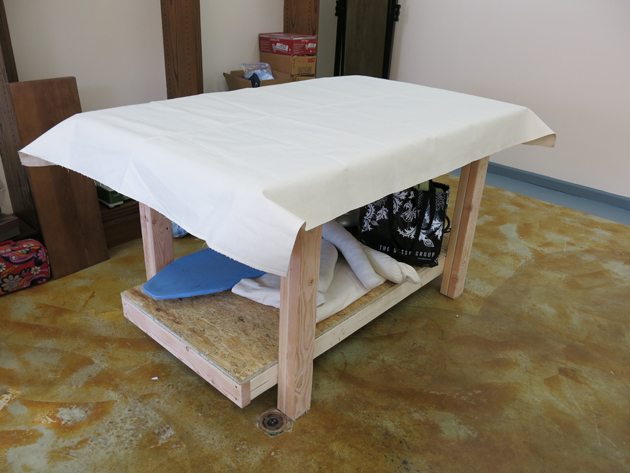 Staple the canvas in place underneath the table top.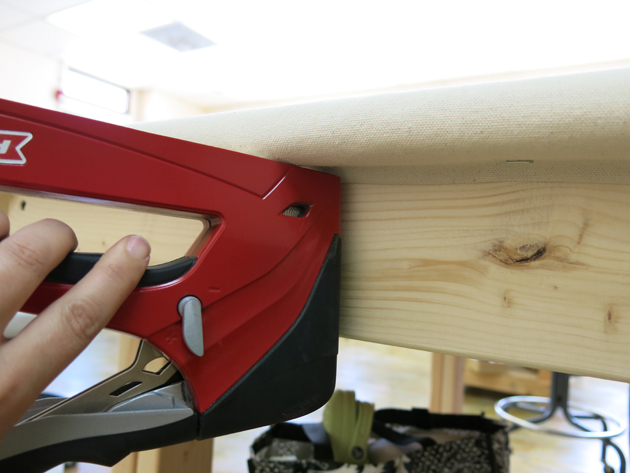 As far as the excess fabric that you'll encounter in each corner, do as Tim Gunn says and "Make it work".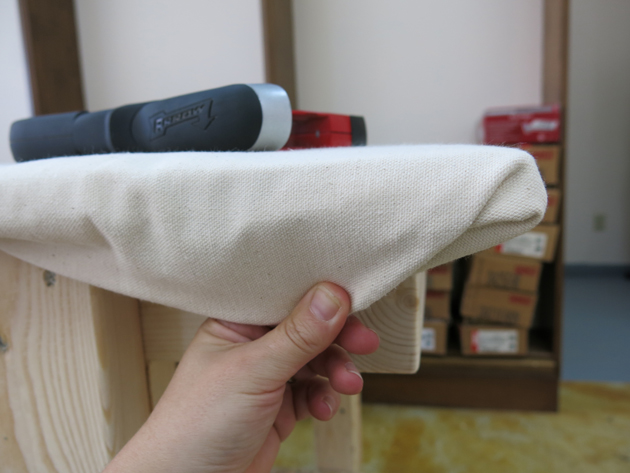 Fold a bit, staple a bit, trim out if you'd like…
And that's it!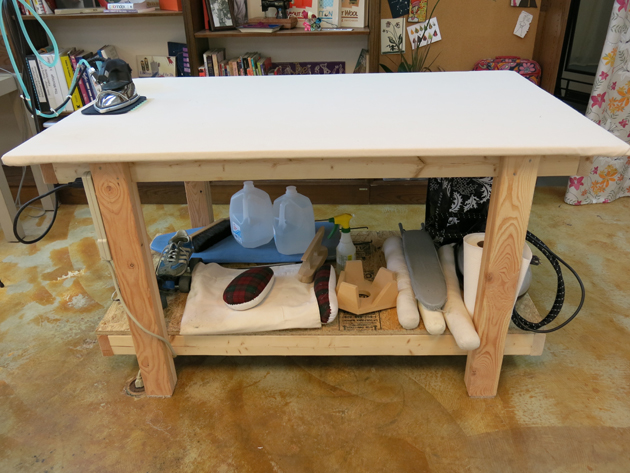 I like having a shelf underneath my ironing station as a place to keep my ham, my sleeve board, my dress form arms, my roller skates… I also like having the table placed out from the wall so that I can skate work all the way around it.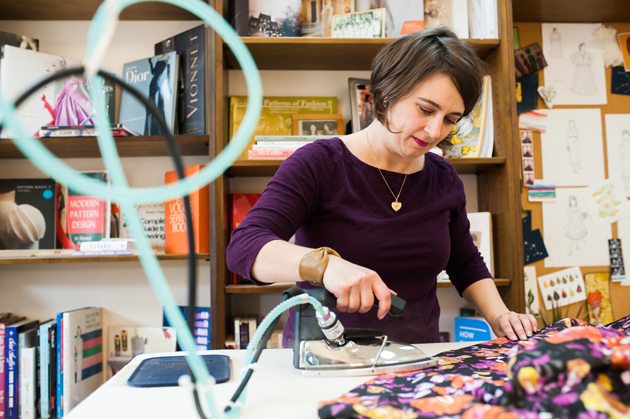 I know not everyone has space for something like this, but having a custom pressing station has truly been a joy. I hope it inspires you to design a system that works for you and your space!
Interested in learning how I use this table?  Check out my interactive online courses!  I teach you the basics of pattern drafting and sewing custom designed clothes for unique bodies all from the comfort of your own home.  More information can be found on the Intro course at www.SkirtSkills.com.
Will you be rethinking your ironing space or even making your own custom pressing station?