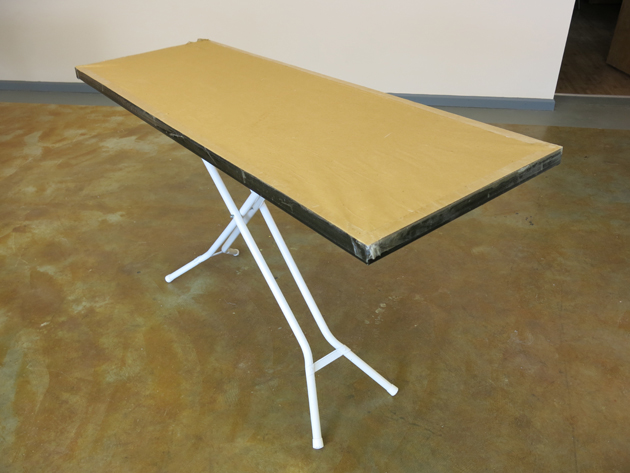 As I work with my students through my online courses, we often talk about solutions for working in small home sewing spaces. While it's fantastic if you have room for a large professional pinnable-top sewing/drafting/cutting table (like the one I show you how to create here), I also understand that most people don't have the space for such a large and heavy permanent table.
In fact, until I moved into my studio at the Eno River Mill last year, neither did I.
For the first 8+ years of my custom wedding dressmaking business, I was working out of my 850sf home in a space that's approximately 11'x12′. By the time I moved my business out of the house in 2014, every nook and cranny was filled with "stuff".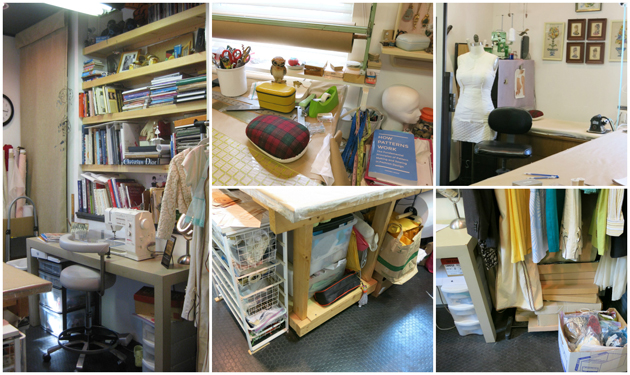 While it was essential to my business to have a large professional work table, I wasn't quite able to fit one that was full-size. My handsome husband Charles came up with a clever solution.
Enter the portable table extender …
Charles took a sturdy ironing board base and added a stable pinnable top, just like the one on my work table. It is easily tucked away just like an ironing board (only much heavier… hey, we can't have it all…) and very useful for those big project days.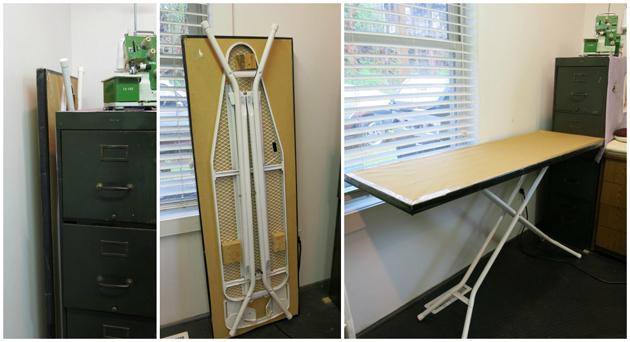 If I had a project that required larger cutting/drafting space, I'd set the side of my extender on blocks added to the side of my current table. Instantly wider!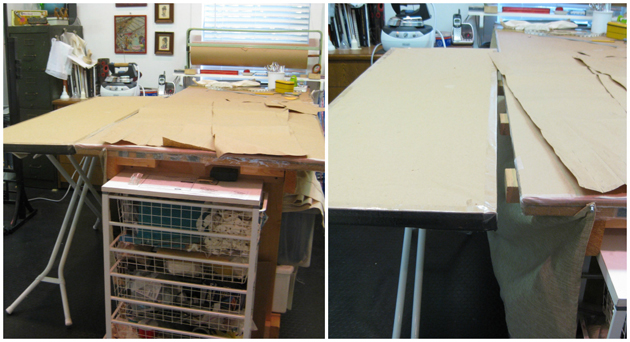 I suppose you could also find a creative way to use this portable "extender" as your main table, if you don't have any space for a permanent work station.
It also doubles as an ironing/pressing station!
My home sewing space also didn't have a proper ironing station (like the fabulous one I have now, which I will share in my next post!). So, I also used this clever contraption as an ironing table when I wanted to do large tasks, like pressing the full width of fabrics onto a roll. I made a pad for its top out of canvas and quilt batting which was also easily stored away when not in use. The pad keeps the steam away from the tabletop and gives a nice surface for ironing.
To make the "table":
Find a sturdy ironing board base and take off any padding or fabrics.
To create the top, cut a piece of sheet good (plywood, particle board, chip board…) to your desired size. (Mine is 58″x20″) and attach it to a layer of homasote (which is what you can pin into) cut to the same size.
Secure the top to the ironing board base. Charles did this by screwing wood blocks from underneath.
Cover the top with paper and tape around the edges.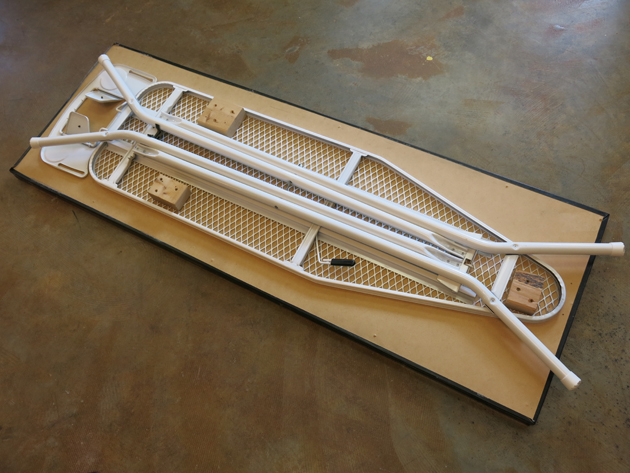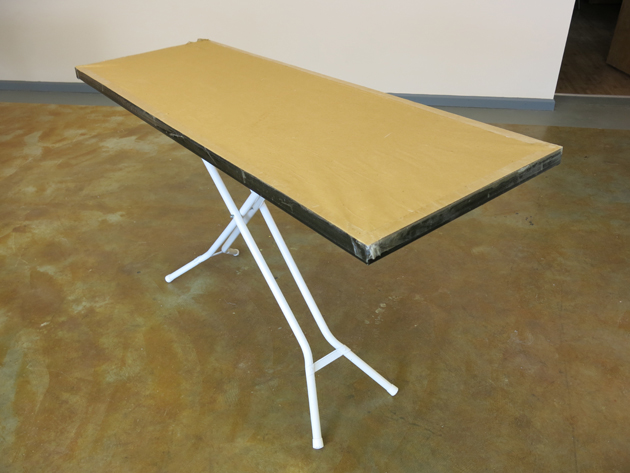 To make the ironing pad, I simply took quilt batting and cut it approximately the size of my table top. I centered and sandwiched the batting inside two layers of canvas cut a few inches larger all the way around. I zigged the batting in place and quickly turned under and "hemmed" the raw edges.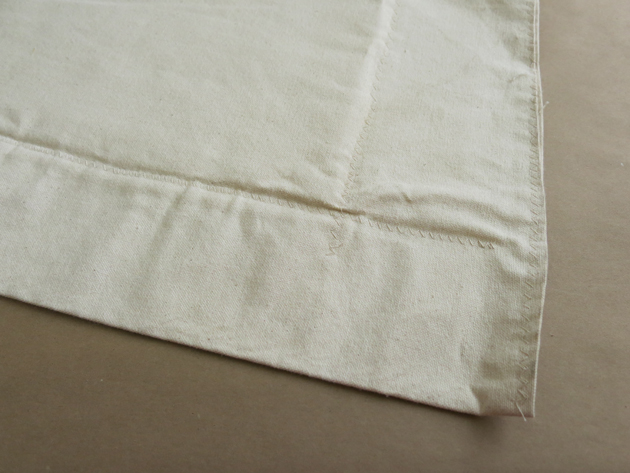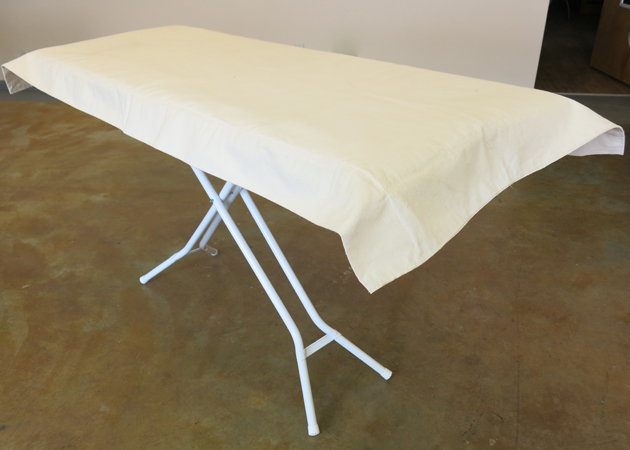 Nothing too special. Before making this "fancy" one, I used a folded wool blanket with a sheet over it.
Other ideas?
This is just one idea for creating work stations in a small space. Get creative to come up with something that works for you!
A woman in my online course Skirt Skills shared her solution:
"My work table upstairs is a tad to small to pin wide fabric and square it….especially with my sewing machine and jewelry/soldering station. It is said necessity is the mother of invention! I went to the lumber yard and bought 3 – 2×4 feet pieces of homasote and I taped craft paper to them. Now my dining room table can work as a pinning area and when I am done, the pieces are small enough to store in a closet!"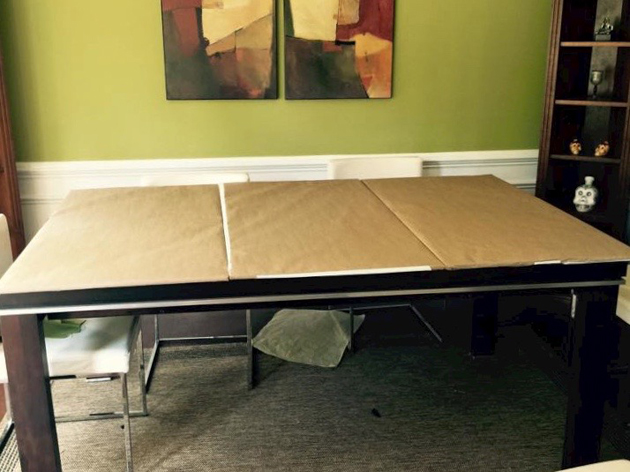 What do you think? How do you work on large projects in small spaces? Do you think you'll try any of these ideas?
NEXT POST: I'll share how I created my new permanent ironing station!