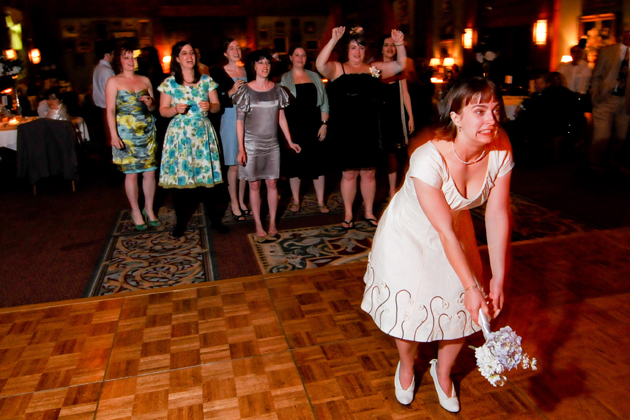 My current client is a fantastic bride-to-be named Leah, who I am fortunate to get to work with.  She suggested that I start a blog about what I do.  She's been fascinated by the process and all the little details and collaborations that are going into her dress.  She thought the blog would be fun to share with her family/wedding party and that future clients or other dressmakers might be interested in how a dress goes from an idea to a sketch to a finished couture garment.  She mentioned that her life was 'an open book' and she's happy to share this info with anyone who wants to read.  With that, my blog now makes its debut into the blogosphere.
We are currently about 100 hours into our process (ready to cut into the actual dress fabric), so I'll have to catch you up a bit.

Leah contacted me because I am a good friend of her fiancé.  They both attended my wedding where I made my own dress.  (The photo above is of me 'tossing the bouquet' at my wedding.  Leah is the woman in the white and blue floral dress.  She was muscled out of the catch, but that didn't stop her from being the first in the bunch to get engaged!)
When Leah started looking for dresses, she remembered me and that I was starting my own business.  I was honored that she wanted to become a client!
As soon as I read her finished Questionnaire, I knew we were going to work really well together and that this was going to be a very interesting dress that I couldn't wait to work on!