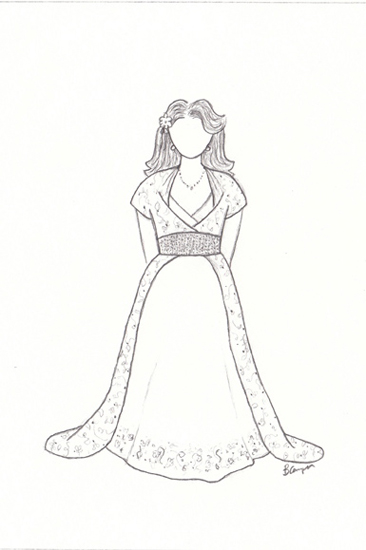 Original Sketch © Brooks Ann Camper Bridal Couture
Well, probably needless to say, Leah was sold on our fabric choices and I went in the next day for the purchase.  I then spent many hours considering all of our favorite images and ideas, as I began to sketch.  This design actually called for 4 sketches: a front and a back for each of our two looks.
I always do my first sketches in pencil only, because the dress always keeps evolving throughout the process.  Rarely ever do we end up settling for exactly what we decided upon in the beginning.  We continue to brainstorm and improve upon the idea with each step of the process:  fine tuning to your exact figure, letting fabrics do what they naturally want to do, and creating a perfect balance of comfort and aesthetics.  Once I was happy with the sketches, I started crafting her Design Proposal website, which can be viewed by clicking here.
I emailed Leah the link to her website, with a contract and a price quote and waited for her reply.  She accepted the proposal and came in for her extensive measurement session!
We met again and discussed the designs, what changes she wanted made immediately and what she wanted to try out in muslin.  She appropriately wore a T-shirt and 'yoga pants' for me to take measurements over.  When I take measurements, I am not just taking the normal bust, waist, and hips.  I take over 30 measurements, mapping your whole body through numbers.  These measurements along with a few quick pics of you from all sides (for reference only, don't worry that they will end up on a blog or in a portfolio), allow me to create a padded professional dress form that is as close to 'you' as possible.  Taking accurate measurements and manipulating the dress form is a tedious process, but it is the basis for all the patternmaking.
These are the steps that ensure that this dress will fit you perfectly, instead of settling for a standard size determined by the fashion industry and/or compromising the integrity of the dress and design via after-the-fact alterations.