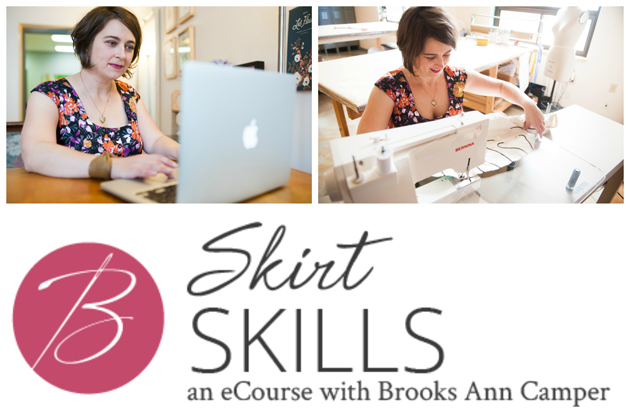 As I start to spread the word about my new online course Skirt Skills, I am realizing that it is causing intrigue and fear all at the same time.
When I tell people that I am teaching adults how to sew using their own designs and their own patterns their eyes get big.  Whoa… seems so mysterious…  so advanced…  so ambitious….
When I tell people the course is designed for beginners to garment making, frankly no one believes me.  Pattern drafting seems like it would be really hard;  something that only people who already have a lot of experience making clothes should even attempt…
I think it only seems hard because no one has shown you how to do it yet.  At least not in a way that makes sense.
In my opinion, the process for creating custom clothes makes sense.  That is, if you want clothes that fit and flatter.
Read more about Skirt Skills here.
[separator]
How I learned to sew…
I first learned to sew as an adult working in professional theatrical costume shops.  In that setting, you have to make all kinds of clothes for all kinds of bodies based on a sketch.  An envelope full of tissue paper is rarely helpful.
Lots of people learned to sew when they were young, but I think adults have a desire to learn in a different way than kids.  I think adults want to get a little more in depth and a little more nerdy.  We like to investigate, get personal, and grasp larger concepts.  We appreciate quality.  We cherish the occasional epiphany…
Creating custom clothing has a different process than "home sewing".  It's a process that I adore as it opens a whole world of design and fit opportunities for individuals.  As you learn the concepts, you get to adjust this system to create your own sewing style and you get to totally break free of "sizes".
Here's a little more about me and my sewing story.
[separator]
On being a beginner…
Here's a conversation I had with someone recently:
NJ: Honey, I took sewing classes and that's when i learned I'd never be a garment sewer!
BA: I think that happens to lots of people. Their first experience with "learning to sew" is really bad, so they stop, thinking that they just aren't good at it. If I had ever taken a traditional "beginner's approach" I would have too! I've got a completely different way to teach beginners that I think will inspire people to keep up with this really fun and rewarding skill!
NJ:  But I am not good with patterns. I lose the notches to line up the pieces. I do well with throw pillows and simple things. I took a very beginner class.
BA:  I can't do a commercial pattern either! As soon as I open that envelope with all those sizes and lines and "instructions", I pack it back up. It's so intimidating! Drafting your own pattern, can be simple and fun. And bonus: A custom drafted pattern fits you and nobody else, rather than the "it fits everyone, yet no one" patterns that you buy.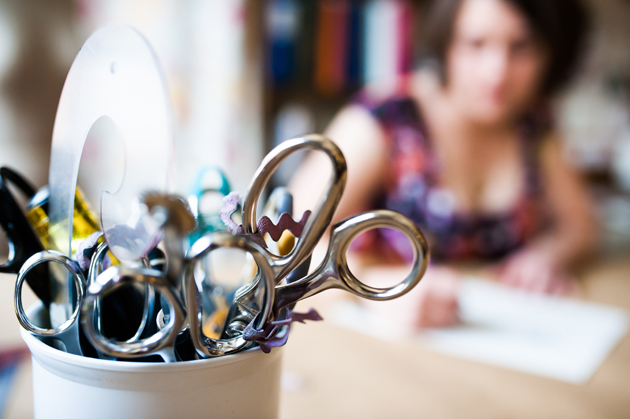 I think a lot of beginners are not given enough credit.   Many beginners are taught short-cuts in order to get projects done that are "quick and easy".  This not only makes for less-than-stunning results, it makes it much harder to grasp the larger concepts later.  This is why I think there are so few who make it to the "advanced" level.
I believe that you can do better.  I believe that you don't need everything dumbed down, that you don't need to be shown the short-cut first, and that you don't need to rely on someone else's work in order to create your own.
I believe that taking a slower more-comprehensive "whole picture" approach can be very rewarding and will get you better results right from the start.
Learning how patterns work, helps inform fit, helps inform design, helps inform sewing and fabric choices, helps you look and feel great…
Here's what some previous students had to say.
[separator]
The ideal student…
A potential student on the Skirt Skills Email List asked:
"I've never sewn with a pattern before and have only created lots of curtains and pillow cases.  Do you think I need to take a basic sewing class before taking Skirt Skills?  I have lots of sewing supplies, a decent sewing machine, and am a pretty quick learner."
My response:
"I actually think you sound like the ideal student!  I don't think taking a basic sewing class prior to Skirt Skills will be helpful.  It might even be counter-productive!  The custom process taught in Skirt Skills is different from the way most people are taught.  More advanced sewists who are used to working with sized patterns may end up having to relearn a lot in order to make custom clothes.  It can be easier when you are more of a blank slate!  In Skirt Skills, we really do start from the beginning.  The fact that you are a quick learner and already know how to use a sewing machine gives you a great foundation to start learning to sew custom clothes!"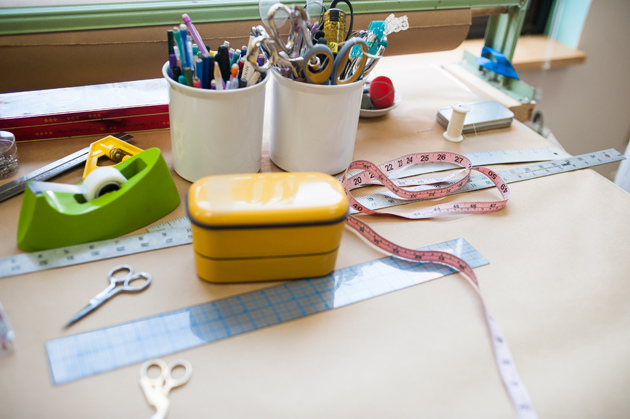 If you are one of the lucky ones…
…who already has experience making clothing, and can already fit and flatter your body and style through offerings from pattern companies, there may be no need to change a way of working that you already love.  Different people learn differently.
For me, what works, what makes sense, what is most empowering, and what I love is to have the knowledge to start from scratch.
In Skirt Skills, you'll learn an entire process, broken down as simply as possible.  I introduce the basics of fabrics, design, sketching, drafting, marking, pinning, cutting, hand sewing, machine sewing, mockups, fitting, finishing…
With my help, you will end up with a quality skirt designed by you, made by you to fit you, and the ability to create many more.
Check out the Course Breakdown.
[separator]
If the methods I mention intrigue you, you want clothes that fit, and you think you would enjoy having the ability to make them…
Don't be scared.  Give it a shot.  Let me show you.
Still have questions?  Check the Skirt Skills FAQs or send an email to Email@BrooksAnn.com
photos by Shane Snider