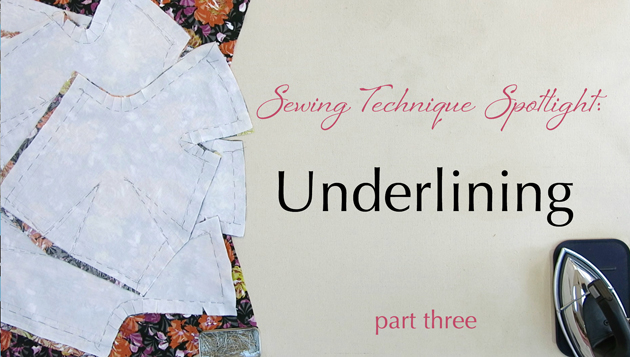 Today's post is the 3rd in a short series on underlining!
I get a lot of questions about underlining, so I finally decided to start dispelling the myths.  In the first post in this series, I talked a lot about what the sewing technique of underlining is, why you might underline a garment, and offered suggestions for fabrics to use when underlining.
In the second post, I talked about why I love using my muslin mockups as underlining and shared a how-to video of me creating the dress you see in this post using the technique.
In this third and final post, I share the results!
Here's my dress all done!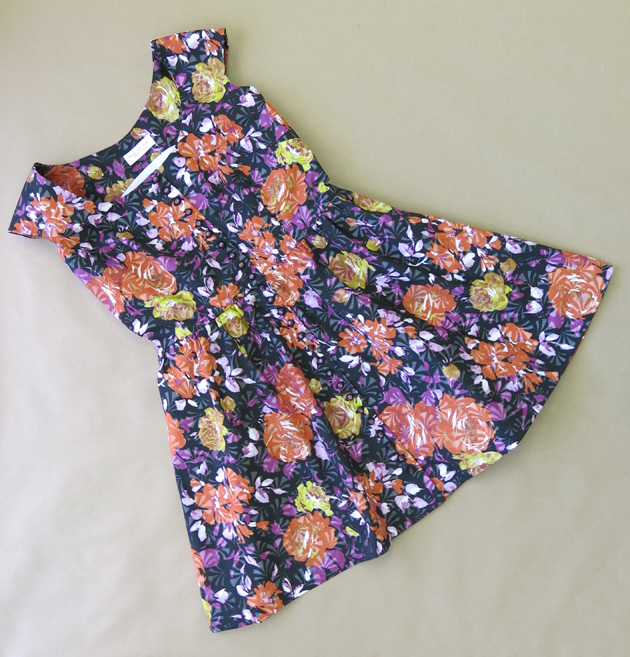 Isn't it cute?  It is made of a beautiful cotton blend print from my favorite fabric store Mulberry Silks & Fine Fabrics.  (At the time of this posting there is still some left, so if you love it as much as I do, go snag some yardage!)
And here's a peek at what it looks like on the inside: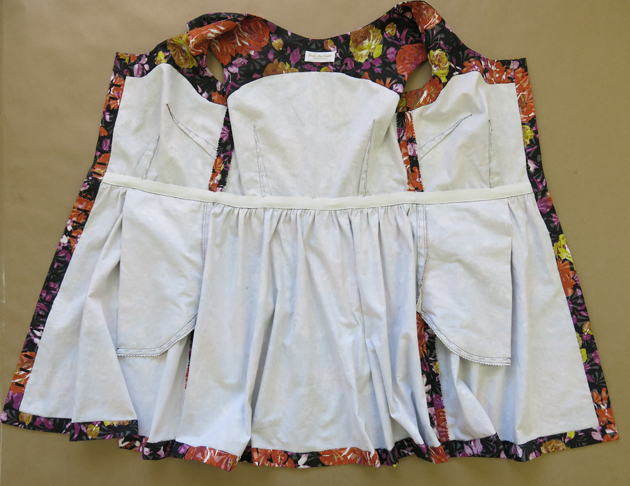 To beautifully finish my hems, button plackets, and facings, I was able to do a slip stitch by hand while hiding all my stitches in the underlining fabric.  As I sewed, I just picked my needle and thread through this muslin layer, leaving the fashion fabric free of any stitch lines or prick marks.
Here you can see how beautiful (and invisible!) the hem looks from the outside, and the tiny slip stitches along the edge of the hem and button placket that only catch the underlining fabric from the inside: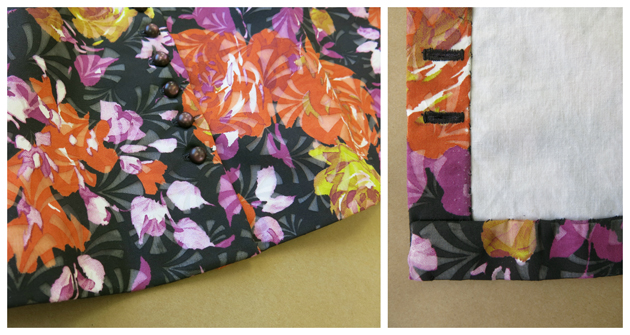 If I wanted to, I could even stitch down my seam allowances to the underlining keeping them nice and flat.  This is a casual dress for me so I didn't line it or stitch back my seam allowances.  I simply finished my raw edges using the stitch-and-pink method.
Stitched and pinked seams, slip stitched facing: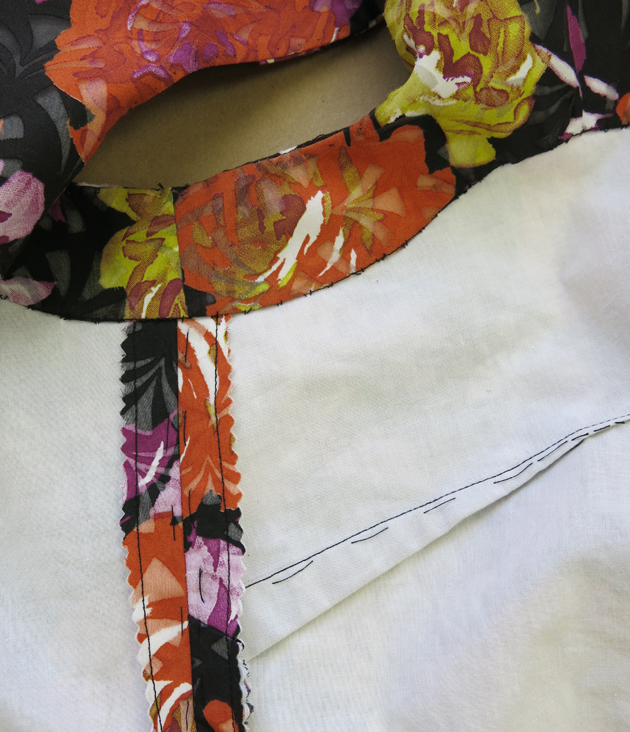 Yes, you can still see my underlining stitches!
Some people like to pull them out, but I usually just leave them in.  They don't affect the dress, so I see pulling it out is just extra work.   I actually love having the story of how the dress was made to stay visible inside.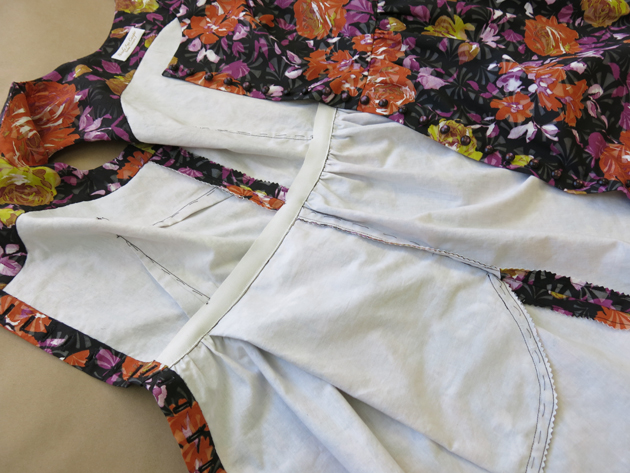 As I mentioned in the first post, underlining does not cover the inner construction details like a lining does.  If you'd rather not see seam allowances or markings on the inside, you can add a lining just like you would for any garment.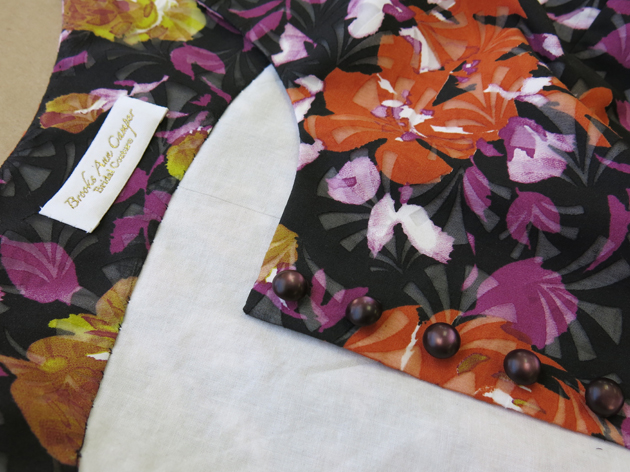 Yes, you can see my pencil marks from the mockup fitting inside the garment, but that also doesn't bother me one bit.  In fact to me, it is part of the appeal!
I love that custom clothes have stories and histories of their own!  I see these tell-tale signs of hand-crafted work as superior to factory-manufactured clothes.  I want my clothes to tell a story to someone who sees it, inside and out.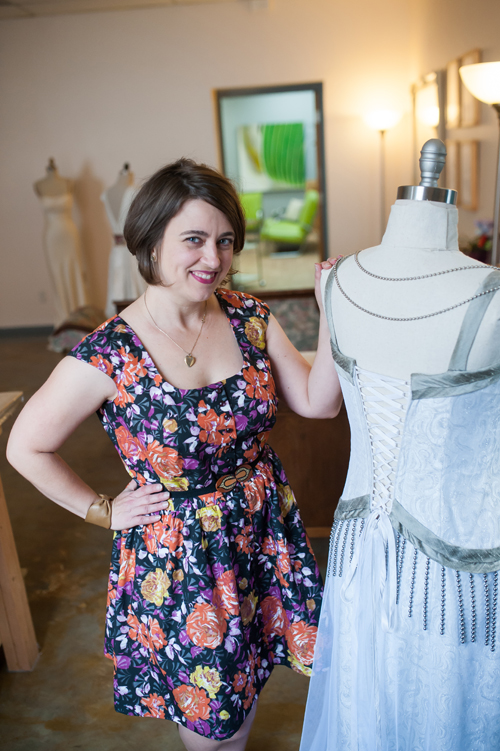 So that's it for this series on underlining!  If you missed the two previous posts and the video, start here.
I hope these posts inspire you to try underlining your next garment.  If you have any questions or comments just enter them below this post!
[separator2]
A condensed version of this blog series was published in Seamwork Magazine. Check it out here: https://www.seamwork.com/issues/2015/12/under-construction
Visit my Classes Page for info on online courses and more!  https://brooksann.com/classes/