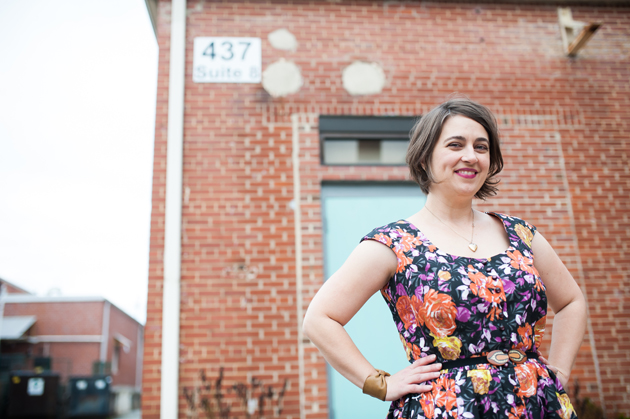 Happy New Year everyone!
2014 was a year of twists and turns and new directions.  This past year has forced encouraged me to explore and dig deep to discover all I have to offer as a custom designer, dressmaker, and sewing instructor.
Moving on
2014 started with a huge shift that I did not anticipate.  On this day last year, I went to a staff meeting at my part-time day job and learned the business was heading in a new direction that did not include me or the employees that I had worked with for almost a decade.  It was a job that I loved, that I was good at, and that allowed me the money and flexibility to start my dressmaking business along side of it.
It was a scary thing to suddenly be on my own.  I had been creating custom wedding dresses out of a 12×12 room in my 850sf home since 2006, while working part-time creating museum-quality handcrafted picture frames.  It was a strange double life of Satin vs. Sawdust.  Couture vs. Overalls.
But it was finally time to turn in my hand carving tools for my hand sewing needles full-time.  The choice was made for me and I needed to listen.
Since then, I've continued to listen and evolve.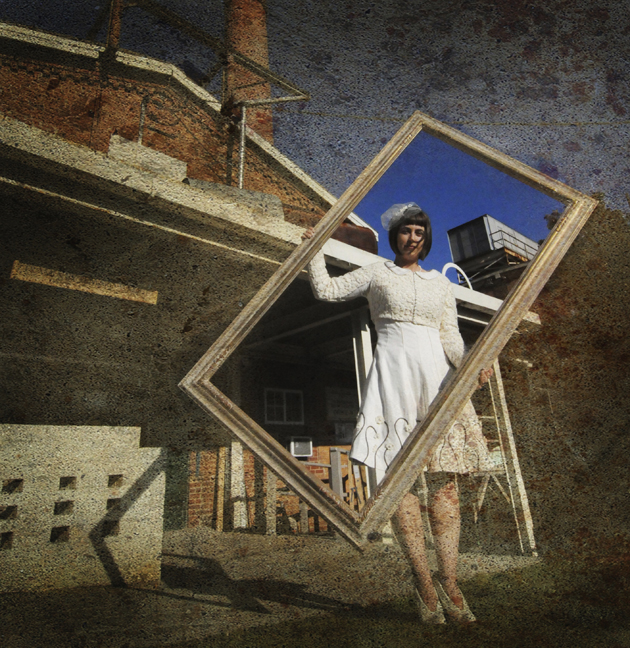 Life begins just outside your comfort zone.
At the time, I was working with a new bride named Diane to create an ensemble that posed new challenges.  She didn't feel comfortable in a dress and commissioned me to create a bridal blouse, vest, and pants.  Oh also, she was having weight-loss surgery.  While most dressmakers would have turned her away, I found the challenge to be right up my alley.   She was a wonderful beautiful person, we had a blast together, and she looked stunning on her wedding day.
You can read about our journey starting here.  See the photos from her April wedding and hear from Diane herself here.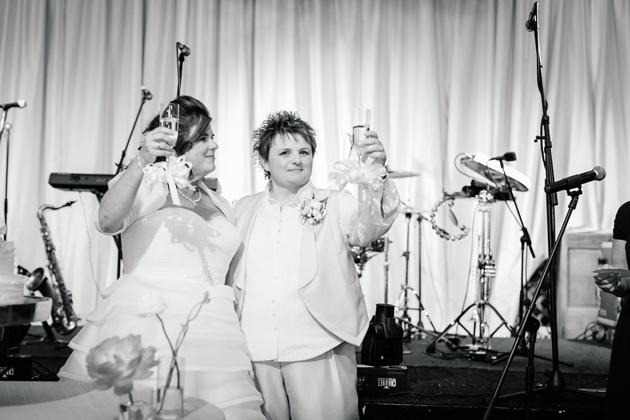 Moving out
Quickly outgrowing my home studio, I was able to secure a lease in the Eno River Mill starting in May.  I finally had the space for a dressing room, a place for someone to sit, a desk, a pressing station, and a new sewing room table.
The space needed a lot of renovation, but thanks to my handsome carpenter husband, I was able to get everything ready for an Open House on May 30.  Over 80 people showed up!
I was overwhelmed and excited at the response.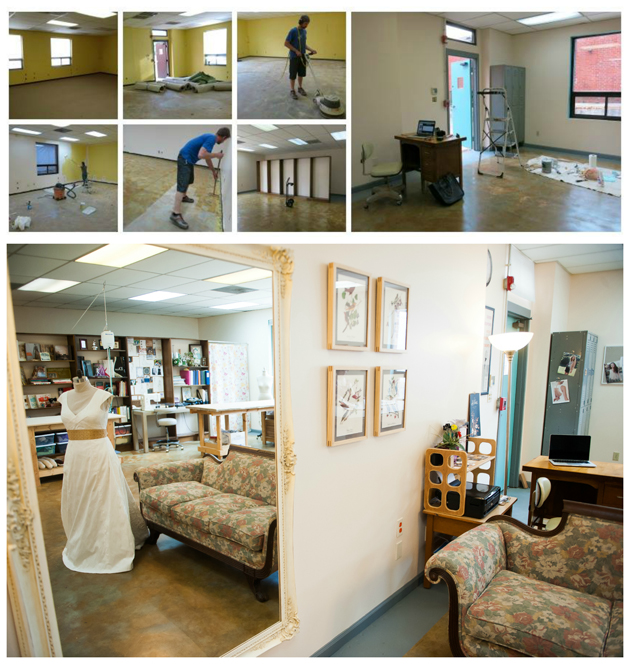 Expanding my Services
For many years, while growing my custom wedding dress business, I had been toying with the idea of teaching.
As I started to notice that sewing was making a comeback, I researched how most people were learning to sew as adults.  What I learned is that the way others were learning was not my style.
I felt like there was a hole in the sewing community for those who didn't want to buy an envelope full of tissue paper that represented someone else's size and someone else's style with an instruction sheet to follow.
I've always found the fun part of sewing to be that you don't have to follow sizes or trends.  Instead, you get to celebrate your uniqueness and creativity.  I've always been about promoting body positivity and bringing out the best in what is uniquely you.  This year, I started noticing that this lovely shift was starting to also happen in the outside world.
It seemed like the timing was right for a new approach to the way women learn to sew.
So, I had to do a lot of soul searching to find out exactly what I was all about and what made custom sewing so special.  How would I be able to share with the world the way I love to sew?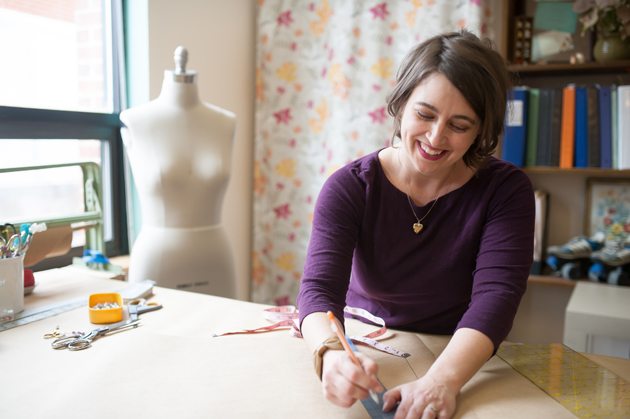 A teacher was born
During 2014, I created my first online course.  It was a huge endeavor.  LONG story short, I researched, wrote, created, filmed, edited, marketed, and taught the first session of a 5-week course called Skirt Skills.  In this unique eCourse, I introduce and guide students through the custom sewing process, broken down as simply as possible for beginners.
Since custom sewing is so personal, I didn't want the course to just be a set of videos that maybe someone will watch someday.  I needed the course to be interactive.  Skirt Skills has an online classroom for the daily lessons and bonus links.  There's a private Facebook Group where we meet, share, ask questions, and encourage each other.  There's even Skype and In-Studio Office Hours!
My motto for my brides has always been to create dresses and experiences that are comfortable, personal, and unforgettable. I tried to create the learning experience of Skirt Skills with these same words in mind.
The next session of Skirt Skills starts Feb 9.  Earlybird Discount Rate ends Jan 9.  Visit www.SkirtSkills.com for more info and to snag your spot.
I've also started teaching private lessons in my new Sewing Room.  Some of my favorite lessons were brides seeking help while making their own wedding dresses.  Right up my alley!
Meanwhile in 2014…
I was still making dresses!  During the move and the course creation, I created a gorgeous dress for a bride named Caitlin and I also created a custom dress for my beautiful mom for her 50th wedding anniversary.  (Blog posts on each coming soon!)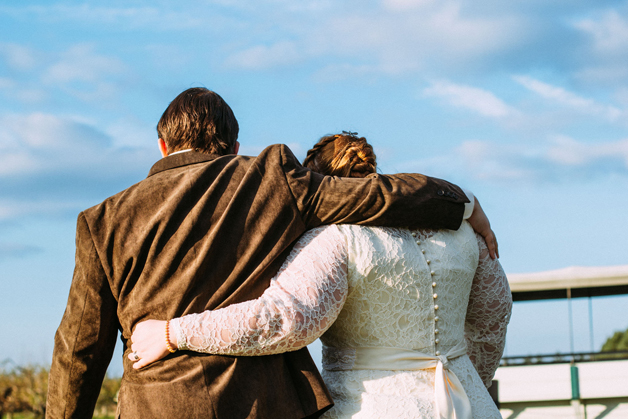 For 2015
I'm not sure exactly what 2015 will have in store for me, but I hope to share it all with you!
Setting future goals can be a good thing, but so can allowing things to happen naturally.  Make a plan, but let the chips fall as they may.  Do your best.  Try not to be "so busy", that you aren't able to really listen as unexpected opportunities arise.
Life moves pretty fast. If you don't stop and look around once in a while, you could miss it.
Yes, I did just quote Ferris Bueller.
Happy 2015 everyone!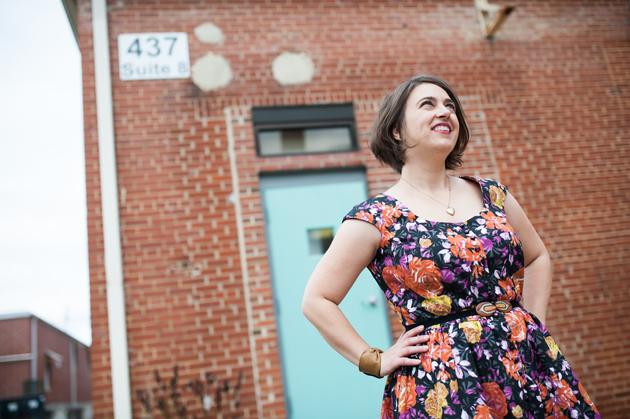 Share how you hope to evolve in 2015 in the comments below.  I'd love to hear from you!