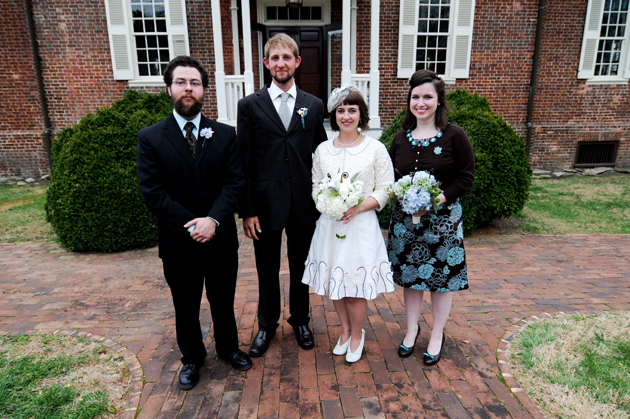 If you've been following the story of Greta's dress, you may know that- though I am behind in posting the progress of its construction- her amazing wedding day was last weekend.  I was absolutely honored to be invited to the event.  Greta is a truly amazing woman that I have had the privilege to get to know over the past 6 months.  Seeing her on her wedding day, radiant and in love, in the dress that we created together would have been such a special treat.
But life happens.  Early last week, (or was it this week?  The days and weeks seem to all run together) a good friend passed away due to unfortunate circumstances.  Cannon Taylor Staton was the best man at my wedding, and a best friend to my husband since the two were teenagers.  Also due to unfortunate circumstances, the two men had grown apart in the past few years, but they had made their peace and love runs deep.  My husband and I (and so many other family members and friends) are truly at a loss to no longer have Taylor in our lives.
The funeral was held on Greta's wedding day, and though I would have loved to be there for her and give her all my love and support, I needed to be with my own friends and family that day.  As heartbreaking as it all was, I needed to be a rock for my husband at the very same time that Greta was becoming a wife.  So it goes…
So this post is going to be a little bit tribute, a little bit wedding,  and a little bit about what we do for the ones we love.
To start with a bit of a tribute while keeping within the wedding theme of the blog, I feel compelled to share with you the role(s) that Taylor Staton played in my own wedding.   Looking back at everything  that this introverted and talented man contributed to the most special day of my life, it's hard to even know where to start…
I guess marriages often start with engagements.  Taylor (among his many talents) was working in metalsmithing at the time that Charles (my husband) went to ask my mom for my grandmother's engagement set.   When my grandmother passed away, she left me her gorgeous wedding ring set and a pair of small diamond stud earrings.   Charles was hoping that my mother would give him the rings so that he could give them to me in a marriage proposal.  Long sad story short, he learned that the rings had been stolen and that all that was left of my grandmother's gifts was one diamond earring.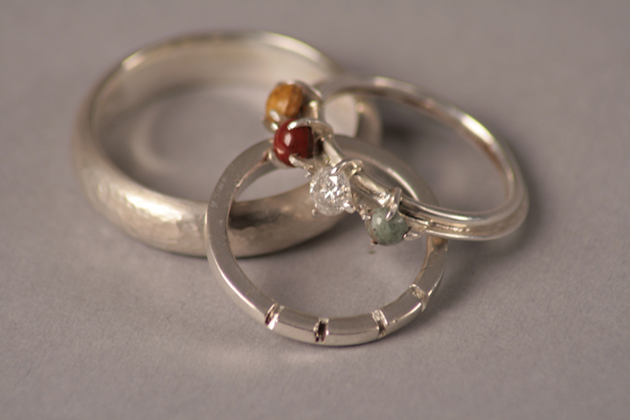 Charles took the one small diamond to Taylor, and the two friends designed a custom ring set that Taylor then handcrafted.  The colored stones were rocks that Charles had found on the beach in Greece the summer before he met me, and Taylor had them shaped and sized to match the one remaining heirloom diamond.  It is truly a masterful and meaningful work of art that I am honored to wear every day.
For the wedding ceremony itself (held in March 2008), Taylor provided all of the music.  Though a shy performer, he worked for months perfecting acoustic versions of our favorite love songs to perform live during the ceremony.  Prelude music included:  Here Comes Your Man by the Pixies,  Perfect Day by Lou Reed, The Whole Wide World by Wreckless Eric,  and Kiss You All Over by Exhile (Taylor suggested this one for the mix and I'm so glad he did!)  The wedding processional and recessional was She's an Angel by They Might Be Giants.  All of these songs (and many more) were performed live by Taylor on acoustic guitar and accompanied by a friend on stand up bass.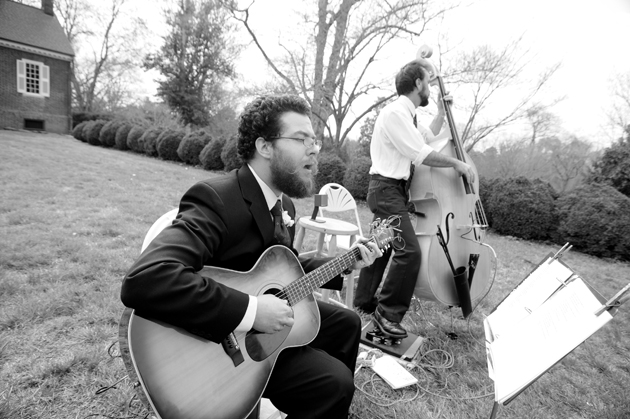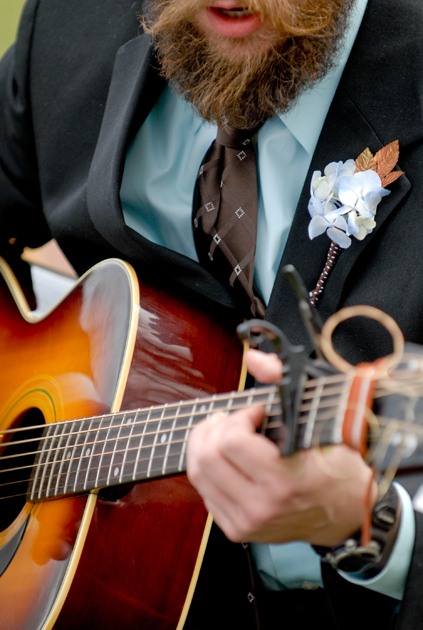 During the ceremony, just before the vows, another song was performed.  It started as a duet between the best man (Taylor) and my maid of honor.  It was I'm Sticking With You by the Velvet Underground.  Halfway through the song, the lyrics were passed on to my one true love, the man I was mere minutes from becoming his wife.  He sang directly to me, I joined in, and the song moved into four part harmony.  It was unforgettable.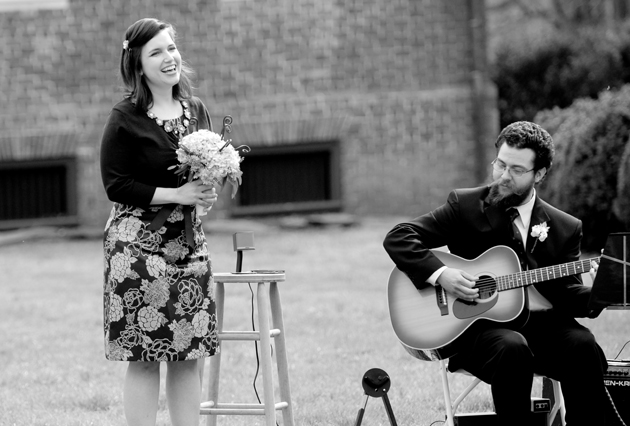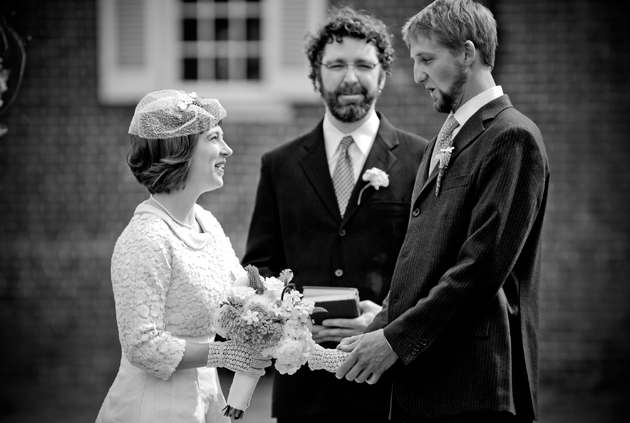 The message is simple. I'll do anything for you.  I'm sticking with you.  And that's what I was called to do this weekend.
Many of you readers are going through struggles right now.  Every day the tragedies seem to grow.  It reminds me of a quote that states Be Kind, for Everyone You Meet is Fighting a Tough Battle.  Maybe you are a bride to be, or a wife, or a husband, or a mother, or a son or a friend to someone who needs you to just be there for them.  Sometimes even when you yourself need a hero, you have to put yourself aside and be a hero for someone else who needs it even more than you at that moment.  People can't be who you want them to be, and they can't feel how you want them to feel.  It's really hard to know the right words to say.  Sometimes the best thing you can do is just listen.
I have an Uncle named Hurtis who has an amazing ability to find the person in the room who is struggling the most (whether it be my grandmother who is struggling with Alzheimer's or just someone who is feeling like an outcast at a party), and put himself aside to cheer them up.  It usually involves corny jokes, but deeper than that, it is pure love.  He recognizes the struggle and he does his best to just be present with that person.  So incredibly fitting for a man who goes by the name of Hurt.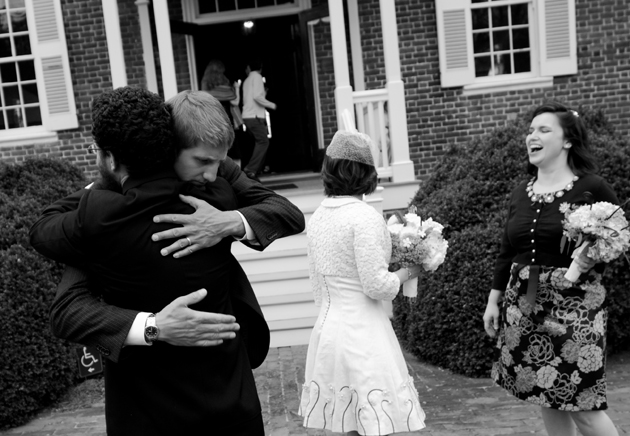 I am a person who believes that there is good in everything.  From tragedy, comes hope.  We had a simply amazingly heartfelt weekend, talking for hours with everyone about everything and nothing.  Finally there was a calm.  Finally there was a forgiveness.  We gained renewed outlook on life and are aware of the amazing support system that we have around us.  It was a hard weekend, one that I wish could have been spent celebrating the love between Greta and her new husband, but I wouldn't have traded that time for anything in the world.
Congratulations Greta!  There will be struggles, but I know you can be that rock for your new husband.  Your love runs deep and it shows.  I am blessed that you were my muse because you are beautiful inside and out.
Soon I'll get back to blogging, picking up with the Underlining conversation from before, but I felt like I needed a public forum to share these photos and stories of Taylor.  He was truly one of a kind and will truly be missed.
If you'd like to know a little more about what Taylor contributed to the music scene in North Carolina, this tribute article was written by someone who knew and admired him.
http://www.highcountrypress.com/columns/brewers_briefs/2011/09-22-11.htm
If you'd like to contribute something yourself, these two foundations have memorial funds set up  in Cannon Taylor Staton's name.
Seeds of Hope Food Bank, 324-7 Highway 105 Ext, Carriage House Square, Boone, NC  28607
National Alliance on Mental Illness (NAMI) of North Carolina, 309 West Millbrook Road, Suite 121, Raleigh, NC  27609