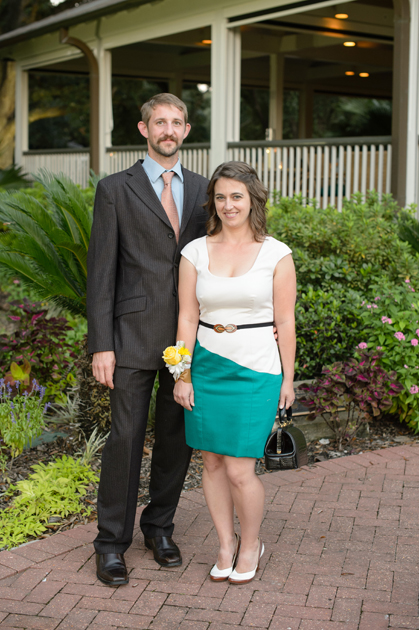 Yes, I got to wear a wrist corsage!
This is the second post about the creation of the dress that I wore to Loula's wedding, shown above with my handsome husband Charles.  It's an asymmetrical color-blocked wool sateen pencil dress.  You can see the inspirations and learn about the pattern drafting in my previous post.
Caught up?  Good.
I took my master draft and cut out my pattern pieces.  Shown below are the pattern pieces for the back of the dress.  The top two would ultimately be cut out of the white material, and the lower pieces from the green.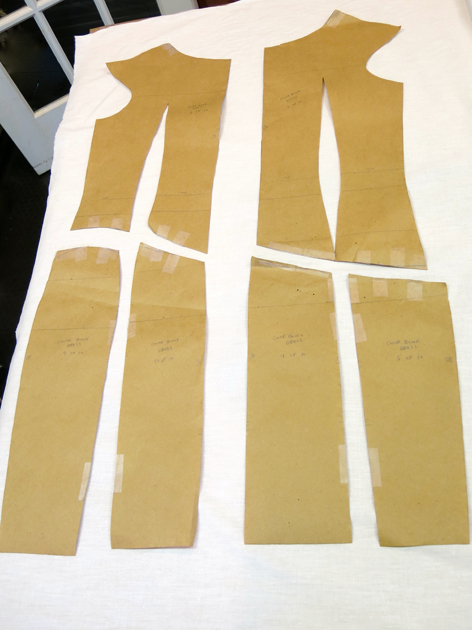 Below are the pattern pieces I created for the front of the dress.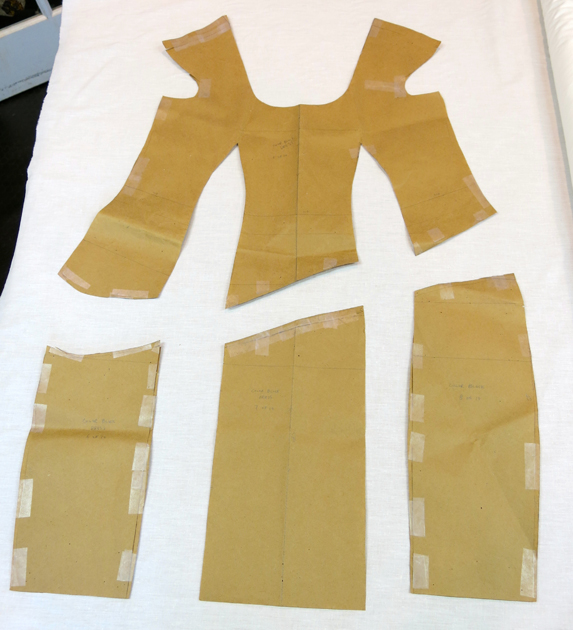 To test my pattern, I made a mockup out of lightweight cotton muslin and tried it on.  Not bad!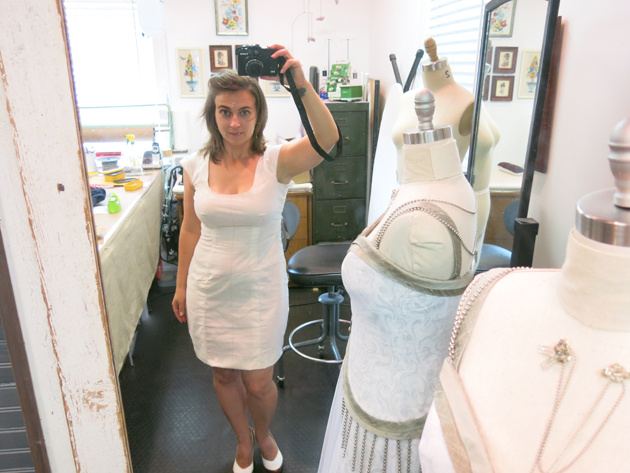 I tested and marked a few slight adjustments to the mockup for fit and then took this "test dress" apart.   I'd use it not only to mark and cut my real fabric, but as the underlining.  This dress would ultimately be part of the final garment.
Underlining (also known as flat lining) is one of my favorite couture techniques.   If you'd like even more details about the benefits of underlining, read this blog post I wrote a few years ago when I was creating Lila Rose's hot pink wedding dress.

Once I took the mockup dress apart, I pressed each piece and then pinned it to the back side of my wool.  I was careful to match grainlines and to make sure the two layers were completely flat and working together.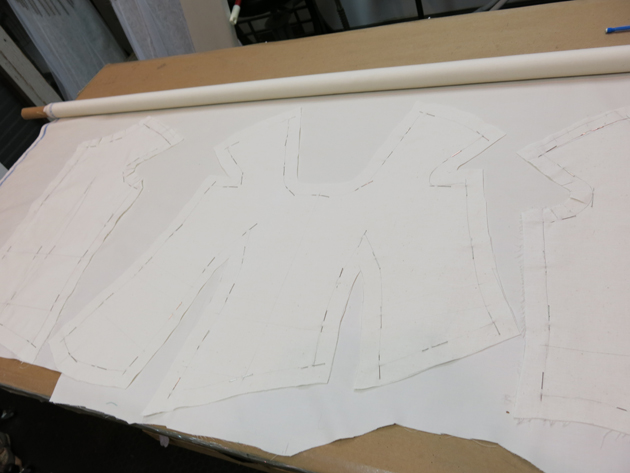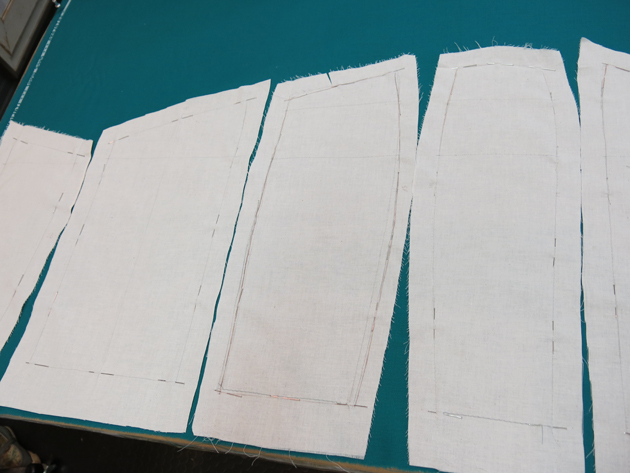 Then I cut out the fabric around each piece individually (no need for marking directly onto the wool!)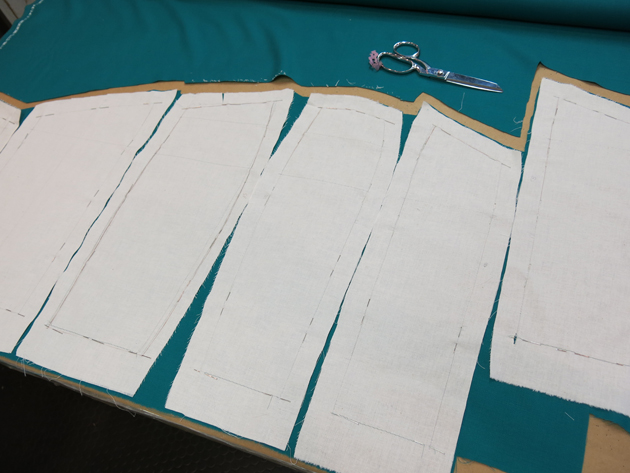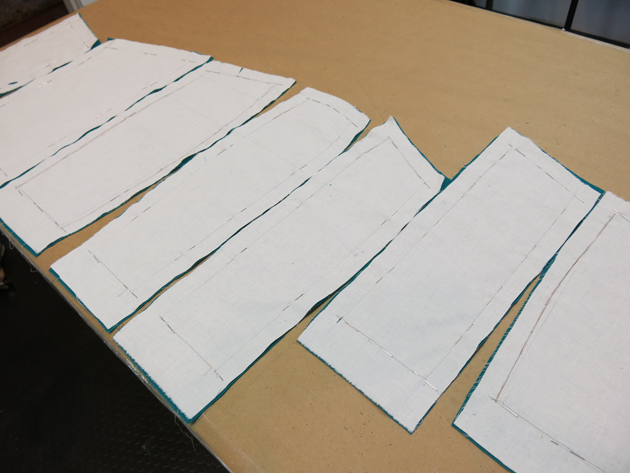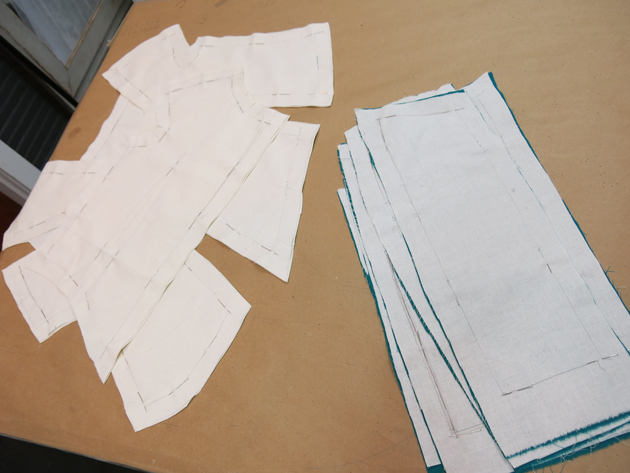 All my pieces were now cut and ready for underlining!
To underline, I hand sew just-to-the-outside of each and every stitch line, joining the two fabrics together as one.  This gives a nice body to the fabrics, an extra layer of durability, a place to hide your stitches…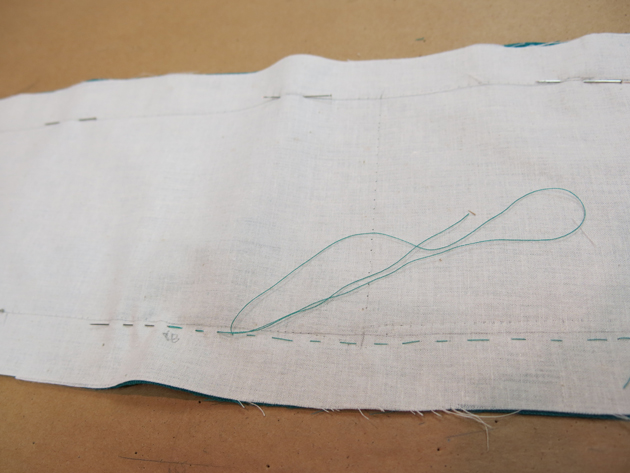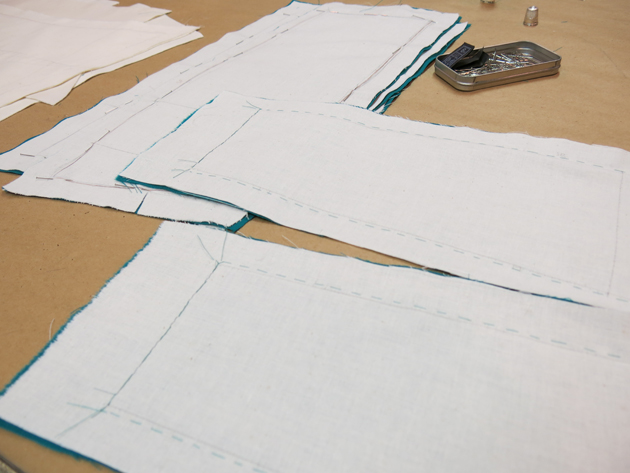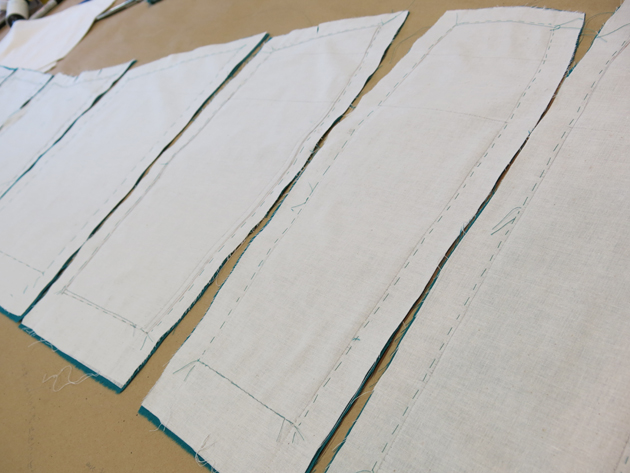 Then I was finally ready to start assembly!  It was easy to pin the skirt seams together all at once, so that I only needed one trip to the sewing machine and one trip to the iron.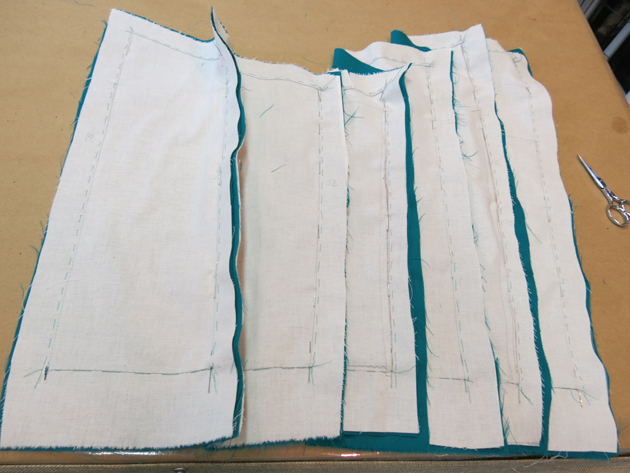 Once I got the top half sewn together and the bottom half sewn together, I tried it on my padded-to-Size-Brooks-Ann dressform.  It's starting to look like a dress!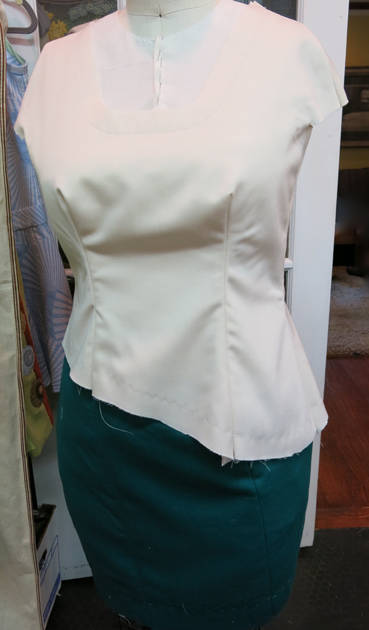 It was only at this point that I remembered how this particular white wool sateen was less malleable than other wools I've worked with.  Usually wool is a fiber that presses like a dream.  This wool (left over from Michelle's chic wedding dress) has a tight sateen weave, so every little pucker shows.  I would need to spend a little more time clipping and stitching back my seam allowances, as well as pressing and steaming before the final dress was ready to hit the dance floor…
In retrospect, if I were to use this pattern to make a dress like this again (which I plan to, since I really love how it turned out!), I would divide the bodice darts into two on each side.  I'm a busty gal, so adding a second bust dart in the side seam would have helped distribute the fabric a little better.  The way I drafted the darts here turned out a little pointy, but in the end it was still a gorgeous dress that I felt fabulous in!  Every garment is a learning opportunity!
I was finally ready to attach the white half and the green half!  In order to make sure that the asymmetrical hip line was perfectly placed, I hand basted and top-stitched the two halves together on my stitch lines.  It was easy to see my stitch lines, even on the front of the garment, because of the tiny hand stitches I did while underlining.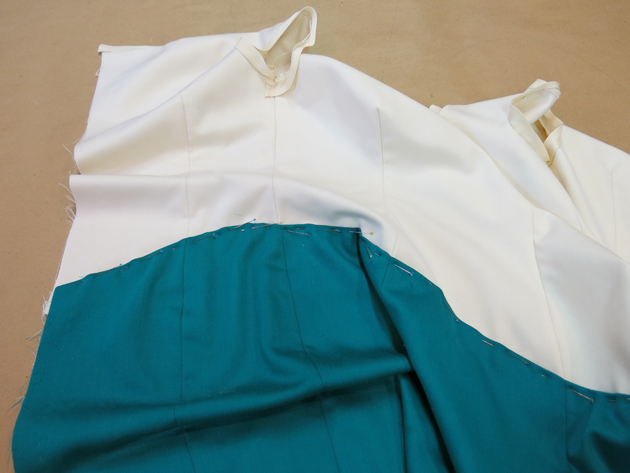 I installed an invisible zipper, added a lining, made a quick grosgrain ribbon belt with my cool new belt belt buckle…  Then almost immediately, my husband and I packed up the car, including Loula's wedding dress, and drove to New Orleans for an incredible wedding week!
Both dresses were a hit!  Loula and I danced the night away!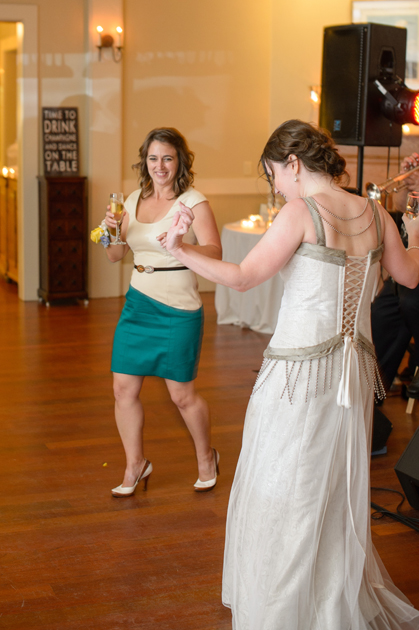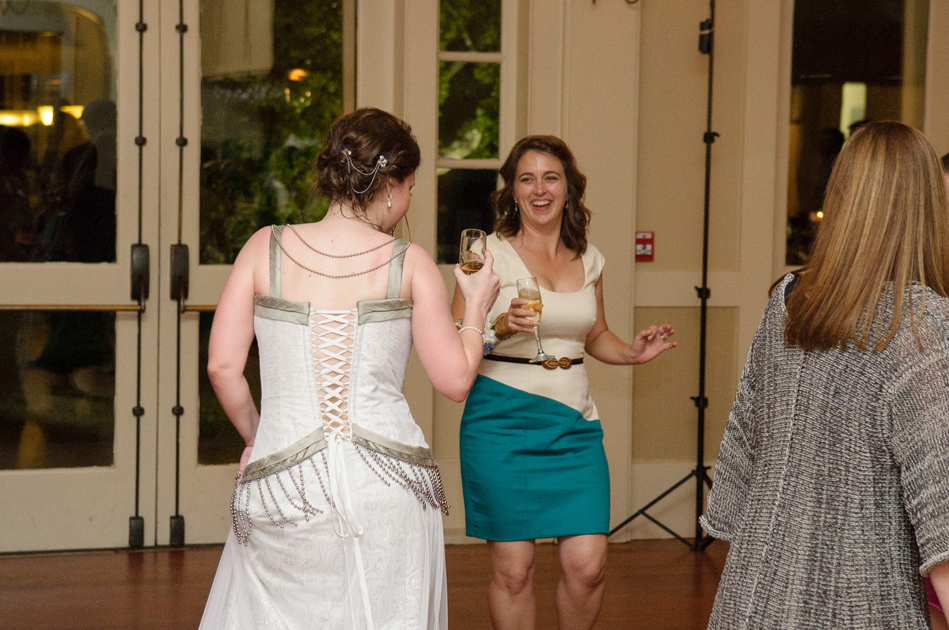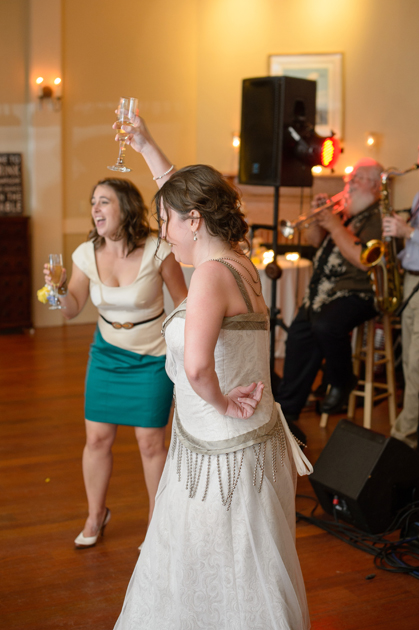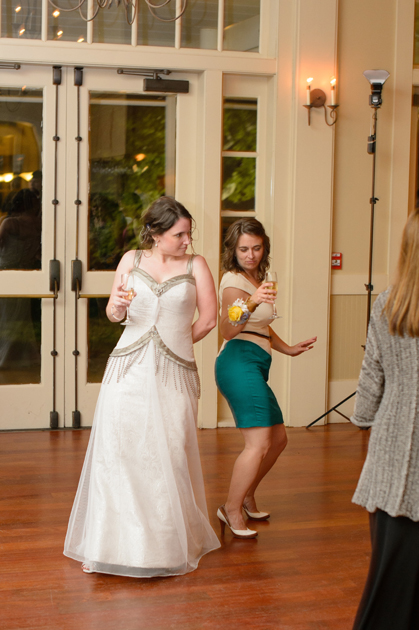 Awww…  We had a blast.  I'm going to miss writing about Loula.  As I type these words, I'm already having withdrawal.  I know this has been a long storytelling process, but I thank Loula for letting me share the detailed story.  I won't be able to spend this much time with every bride I work with, so I thought I'd seize the opportunity while I had the chance.  I'm sure it is clear from these posts that Loula and I share a special friendship that is easy to share with the world.  Thanks so much for following along!
Next post??  What's next???  What have I been working on since Loula's wedding???
I've been very busy and have a lot of very exciting news to share with you soon, not the least of which is a fantastic new bride whose wedding is next month!   You are going to love all of the new announcements and projects I have to share!
More soon….