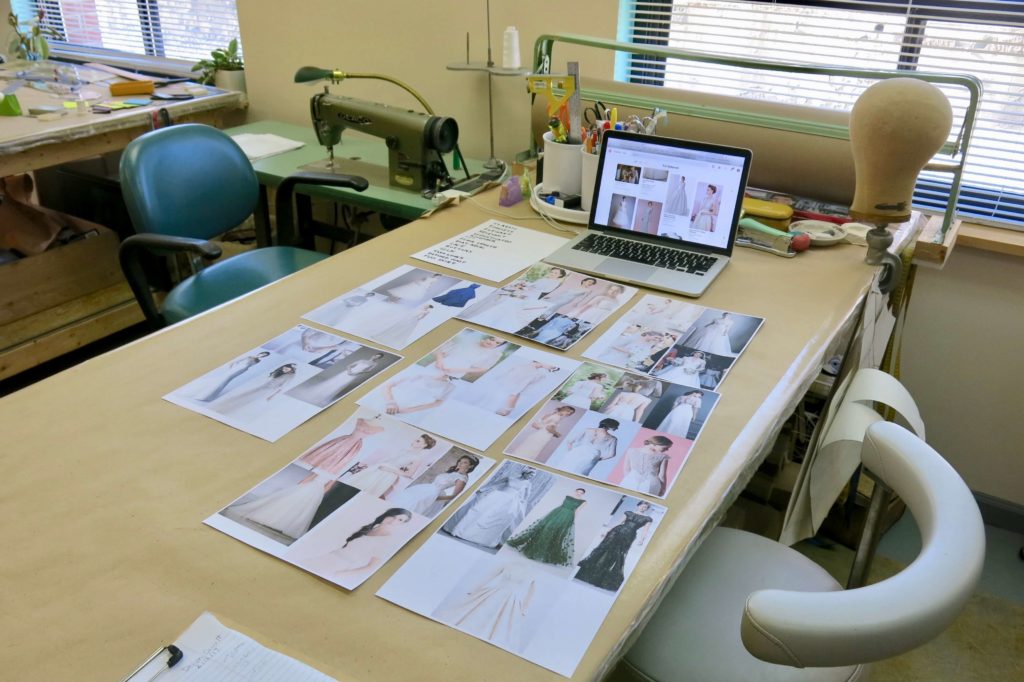 The Design Consultation
A week or so after meeting Deborah and reading through her questionnaire, we met again for our Design Consultation. The Design Consultation is the step of my custom process when we analyze our favorite inspirations for the wedding-dress-to-be while brainstorming, collaborating, and editing our choices. Deborah's mother Ola joined us for all the fun!
Before the meeting, I chose a lot of favorite images from the Pinterest board I created for Deborah and printed them out. This allows us to draw all over them and easily mix-and-match elements. Designing through inspirations instead of shopping for a dress offers a lot of freedom! You can play around with bits and pieces of many dresses rather than searching in stores for "the one".
Getting to know the bride and learning about her personality and style is essential to my design process. Rather than making her "a wedding dress", I want to showcase the beauty of who she is as a person. I love uncovering individual style and creating garments that are perfect only for the one woman who will be wearing it. I learned a lot about Deborah and what she liked (and did not like) as her dress design started to become more and more clear throughout our meeting. 
We had so much fun together brainstorming and designing that I almost forgot to take any photos for this blog post! As we were wrapping up in the studio, I grabbed my camera saying "Wait… pretend like we are still looking through these pages and having a great time…" and snapped this really fun (staged) shot.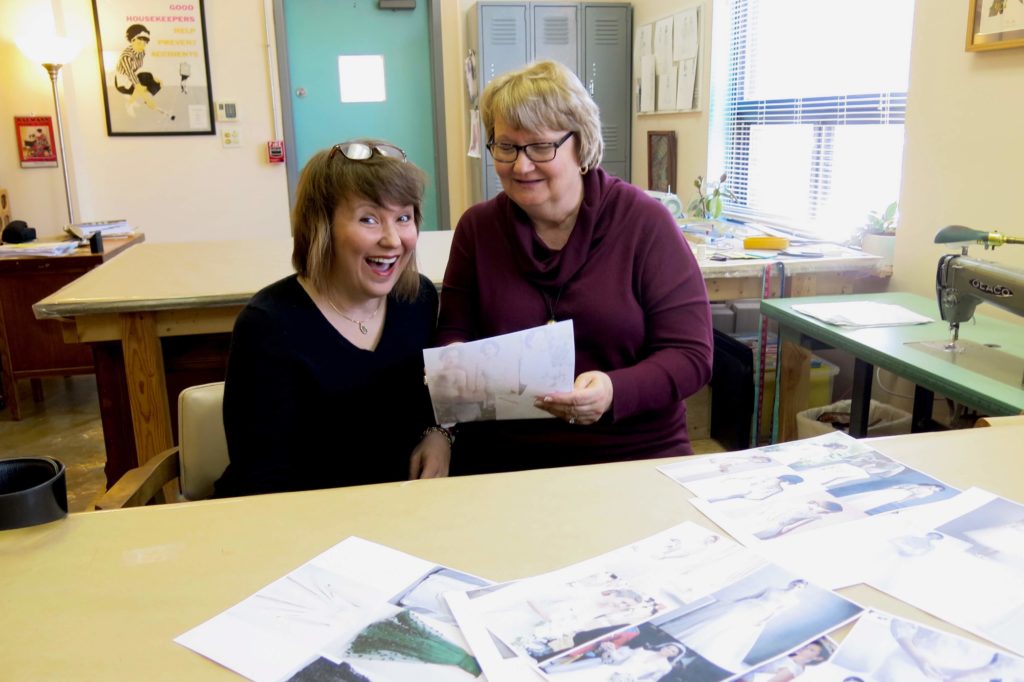 For the second half of our Design Consultation, we all travelled to Mulberry Silks & Fine Fabrics store. I wanted to see what Deborah was drawn to, especially since being able to pick the fabrics was one of her top reasons for going custom. Looking through fabrics and getting a sense of her preferences would be a huge help when designing her custom dress and creating her custom price quote.
And yes, their gorgeousness was very inspiring…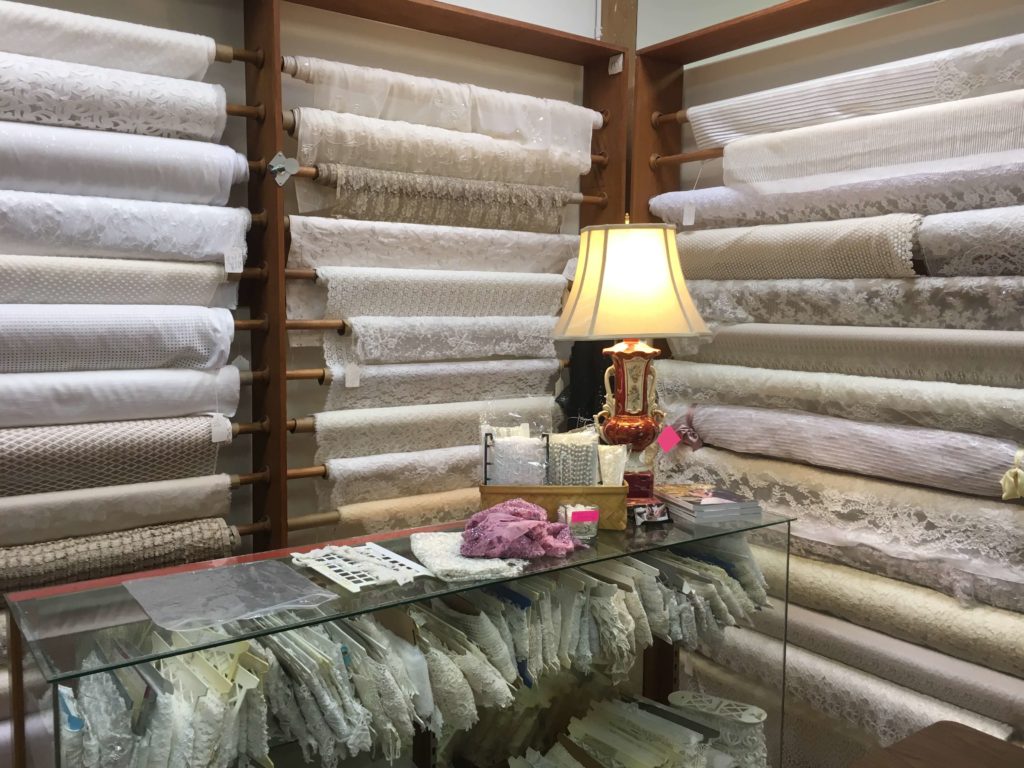 Sketching for Deborah
Once the studio was quiet and I was all alone again, I spent a lot of time thinking about everything we discussed together. With a list of adjectives/elements and a bunch of curated inspiration images, I was now feeling pretty confident about what would fit Deborah's style and personality. It was time to take those ideas and see what would fit Deborah's body!
Since I am a custom dressmaker and not a fashion designer, my sketches begin with my bride's silhouette instead of a stylized model coqui. This allows the bride to "try on" dresses before they exist!
To draw my sketches on Deborah's body, I started with posed photos of her and printed them out on a sheet of plain paper.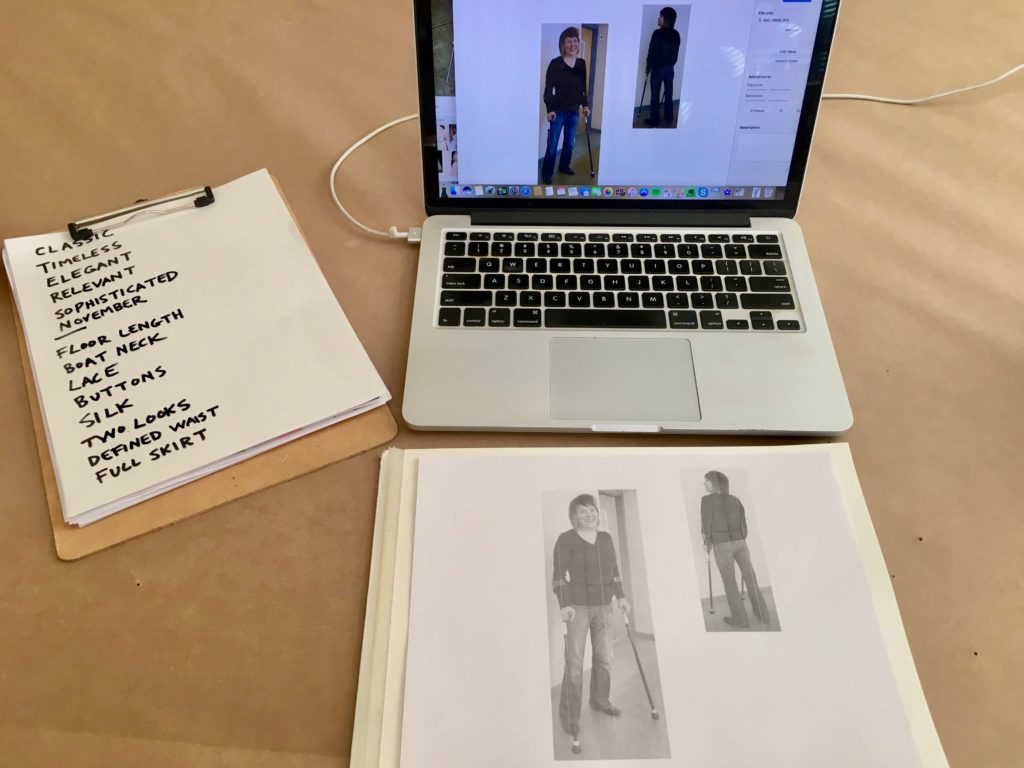 Then I flipped the printed page over and scribbled all over the area that included her…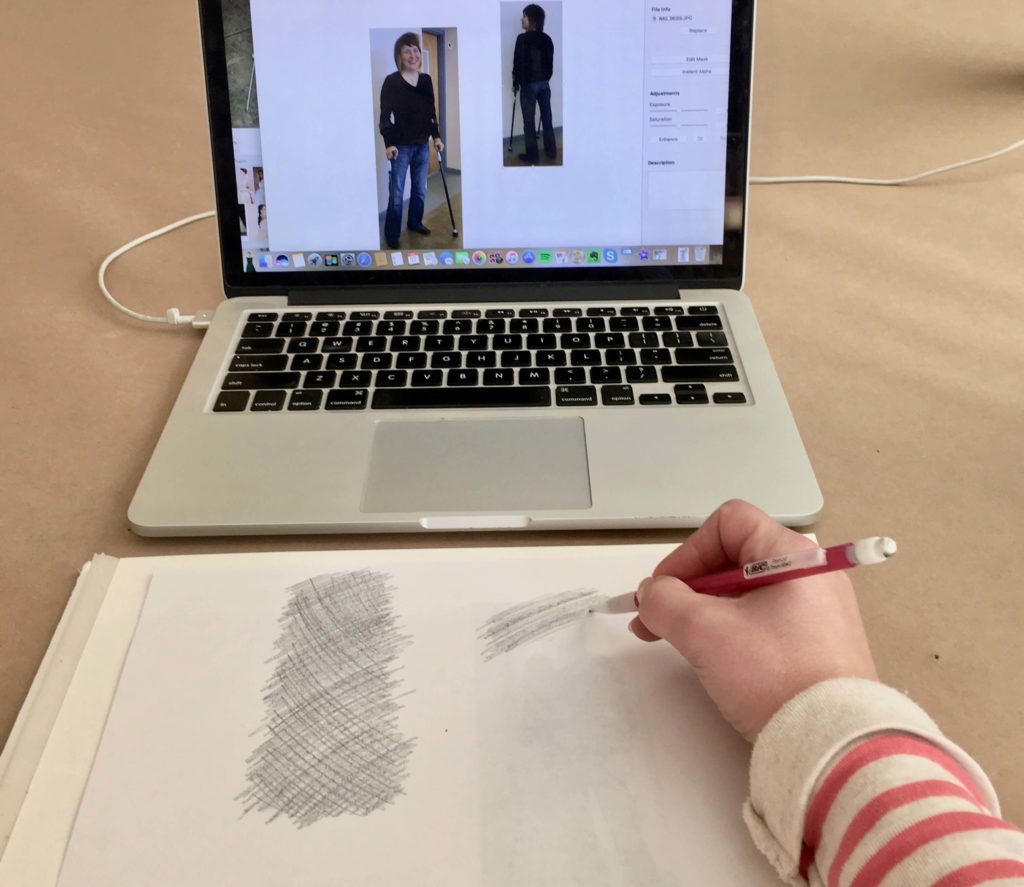 Next, I lightly taped the printout scribble-side-down onto some watercolor paper before tracing around her body's outline with my pencil. (I usually do not include faces in my sketches, but Deborah's smile was so pretty that I considered adding it in!)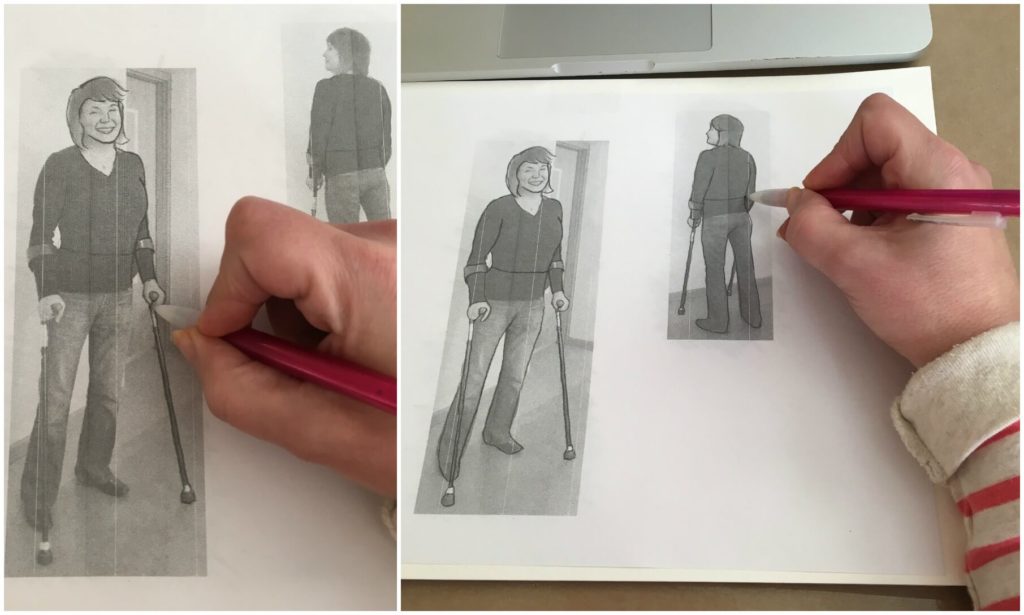 The scribbles work to lightly transfer the traced lines to the paper beneath! All I need/want is a hint of her outline to get me well on my way to a very custom sketch.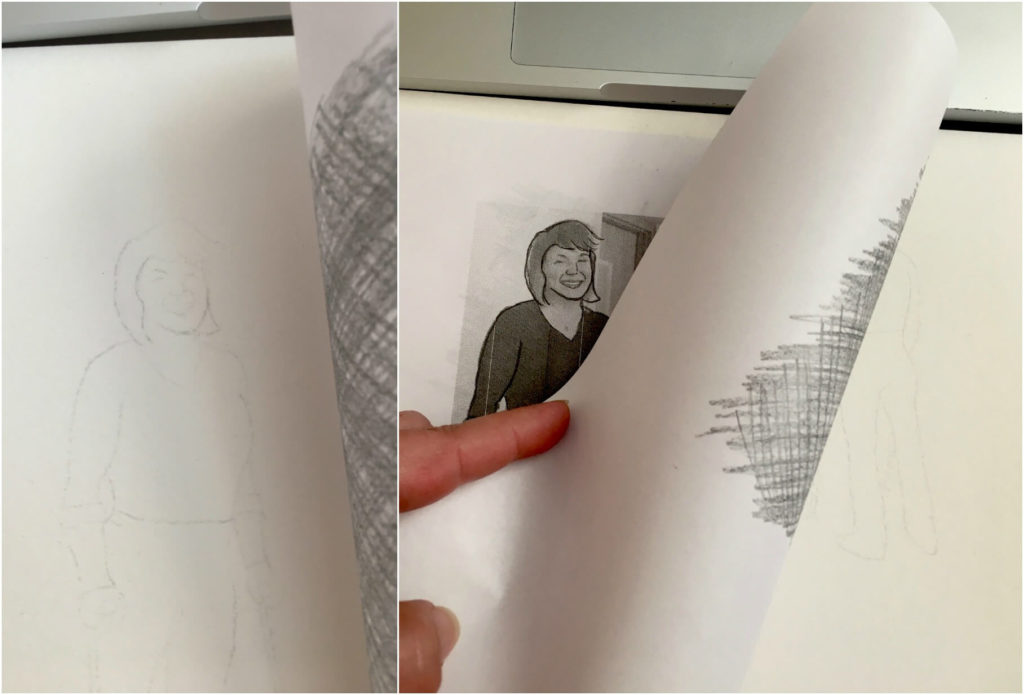 When I removed the printout, I revealed a very faint Deborah! I just love how easy/accurate/quick/valuable this "custom coqui" method is!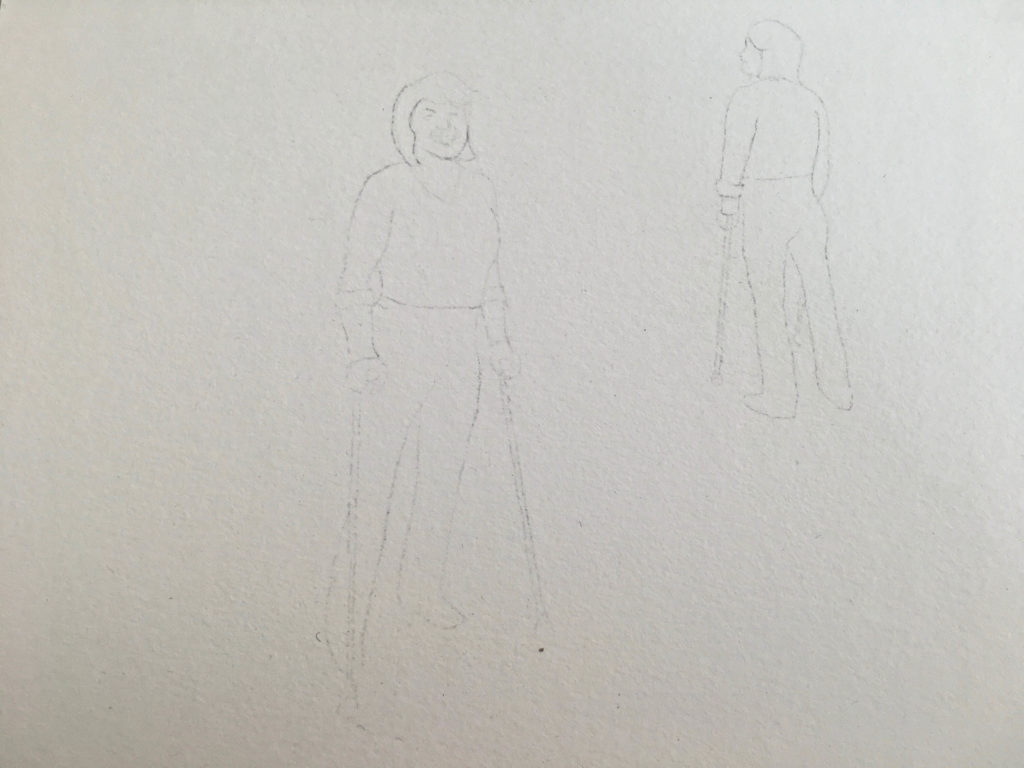 With the traced silhouette as the starting point, I like to sketch very slowly by starting very lightly. As I lightly try out ideas and make design decisions, I'll darken bits I want to keep and erase ideas that don't work or body bits covered by the dress.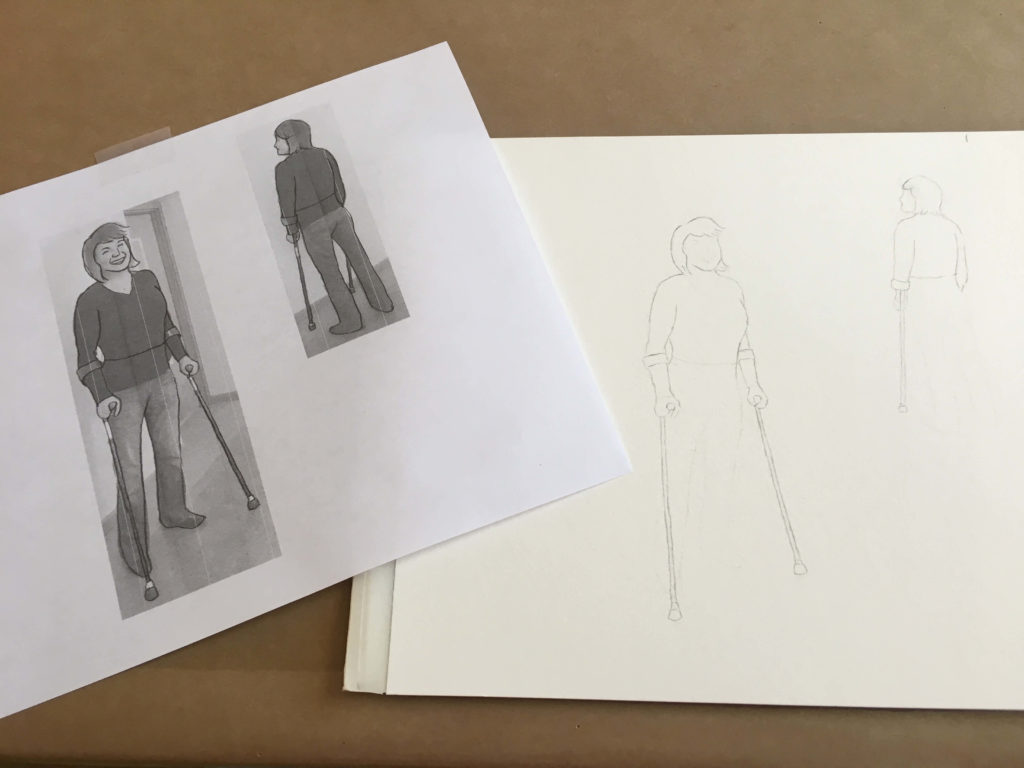 And again, I got so 'in the zone' when sketching Deborah's dress that I forgot to snap mid-sketch photos. After a captivating process of slowly sketching, playing around, testing ideas, changing proportions and fullness, erasing and darkening, here's my completed first attempt at sketching Deborah's reception dress design!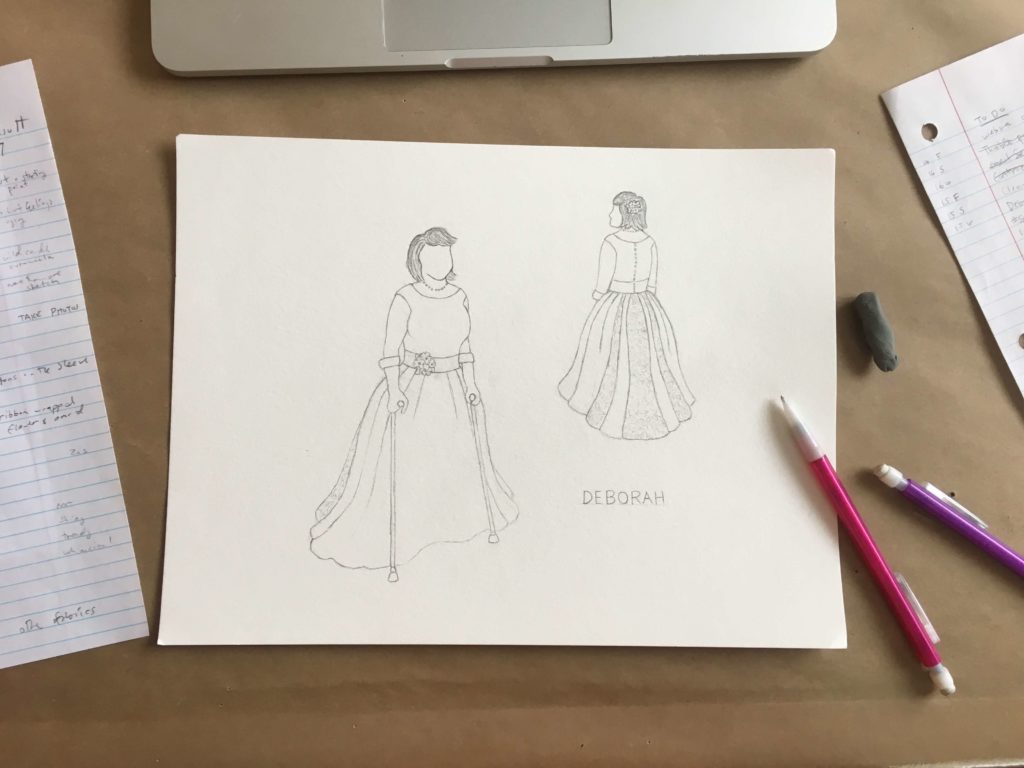 Two Looks = Two Sketches
You may remember from her questionnaire that Deborah wanted two wedding day looks: A 3/4-sleeved lace top would be worn for the ceremony before being removed to reveal a sleeveless reception dress. I started by sketching the dress underneath so it could be my basis for a second look adding a lace top!
So for the second sketch, I was able to use my first sketch as the printout…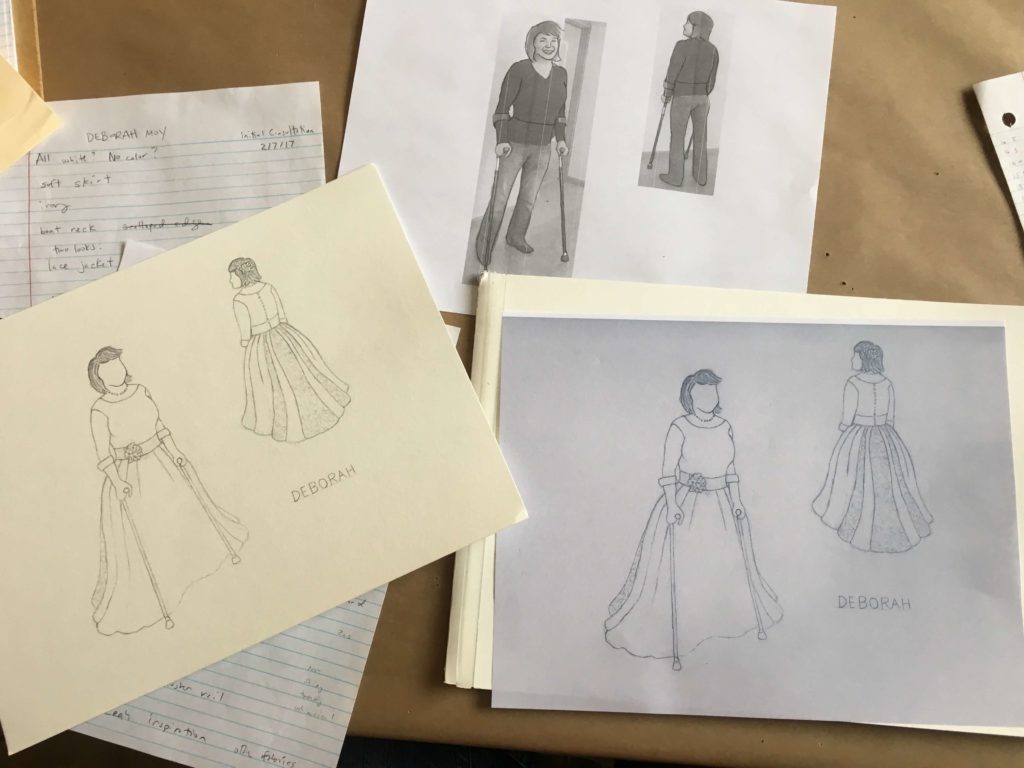 …which I scribbled on the back of…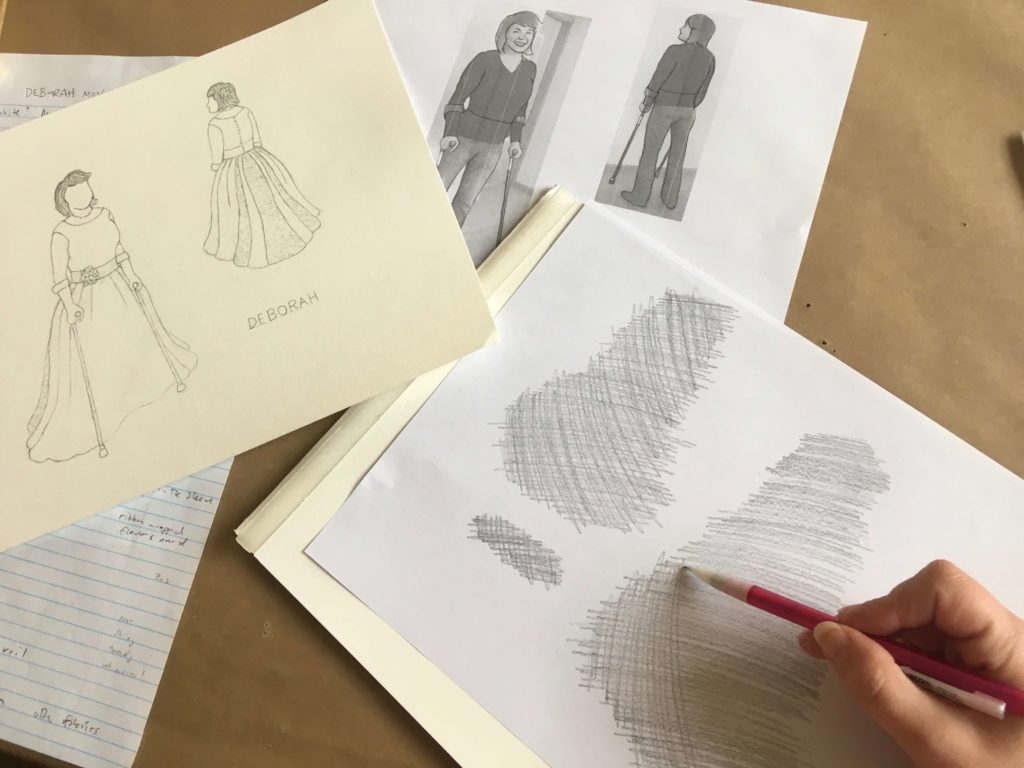 …and placed scribble-side-down on a fresh sheet of watercolor paper.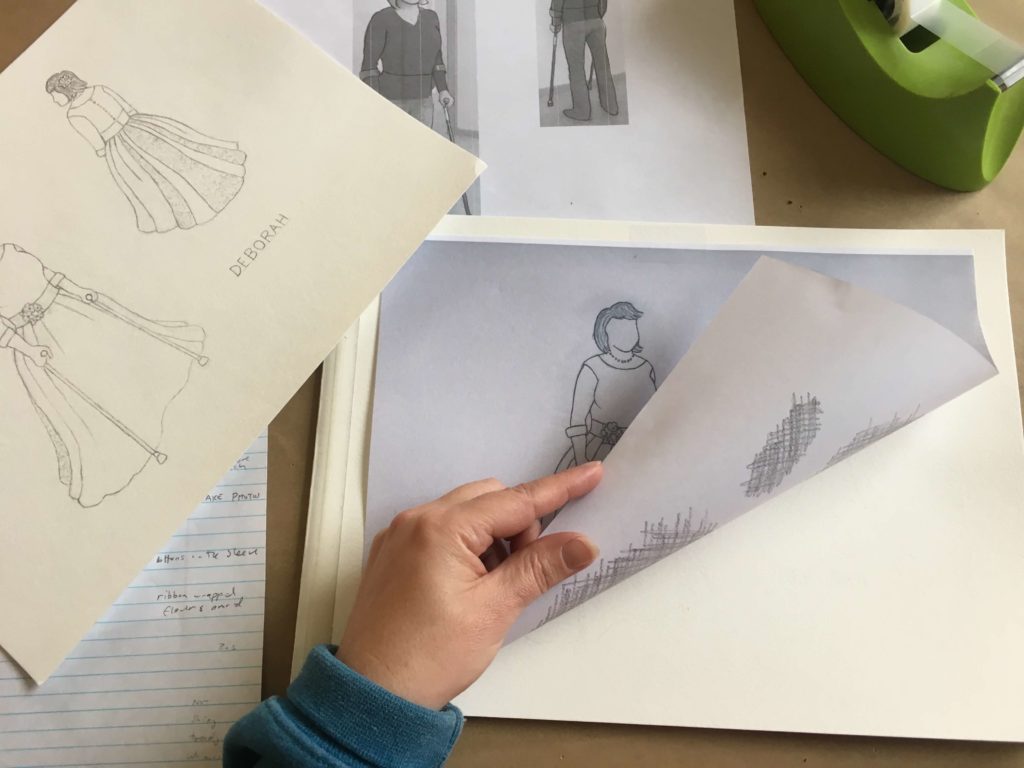 Next, I traced around the reception dress sketch to create a faint outline…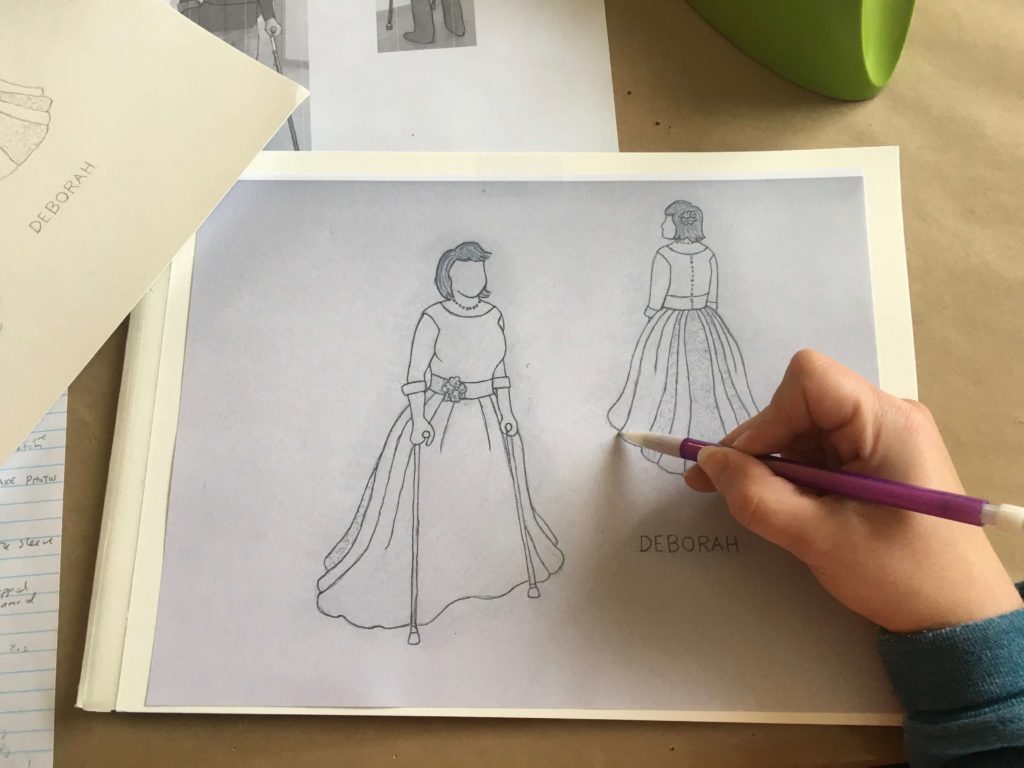 …to slowly use it as my erasable starting point for adding a new top and veil to the original design.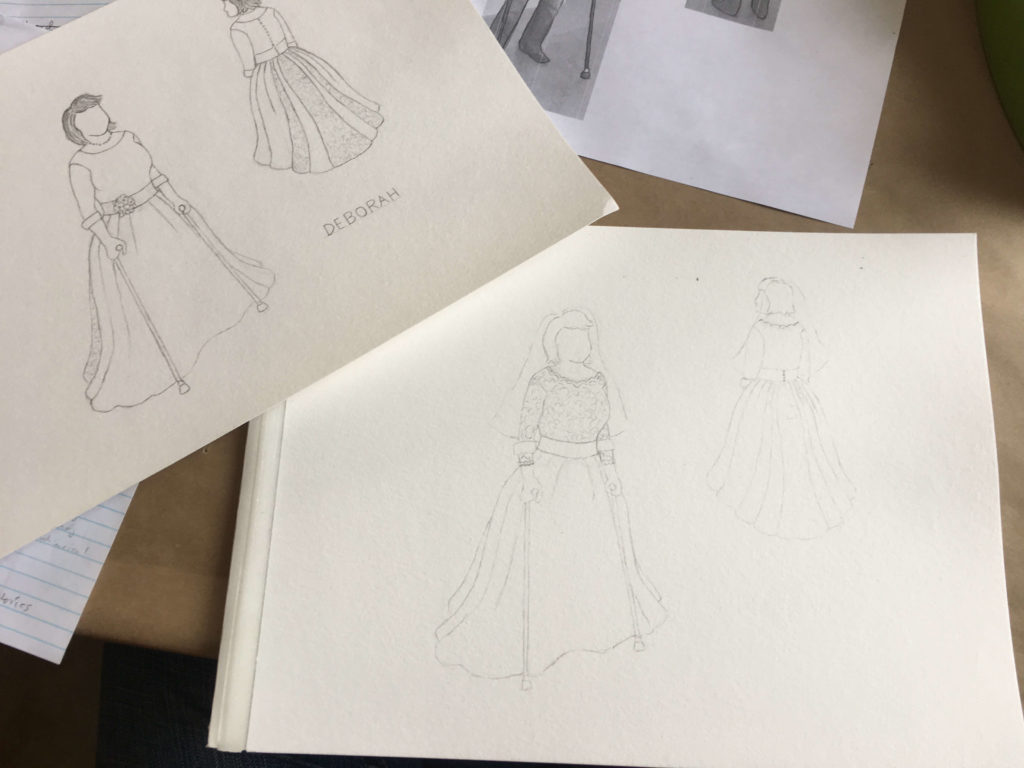 Slowly, I darkened the lines I wanted to keep and erased the ones I didn't. My second sketch gradually emerged and I was excited to show them both to Deborah!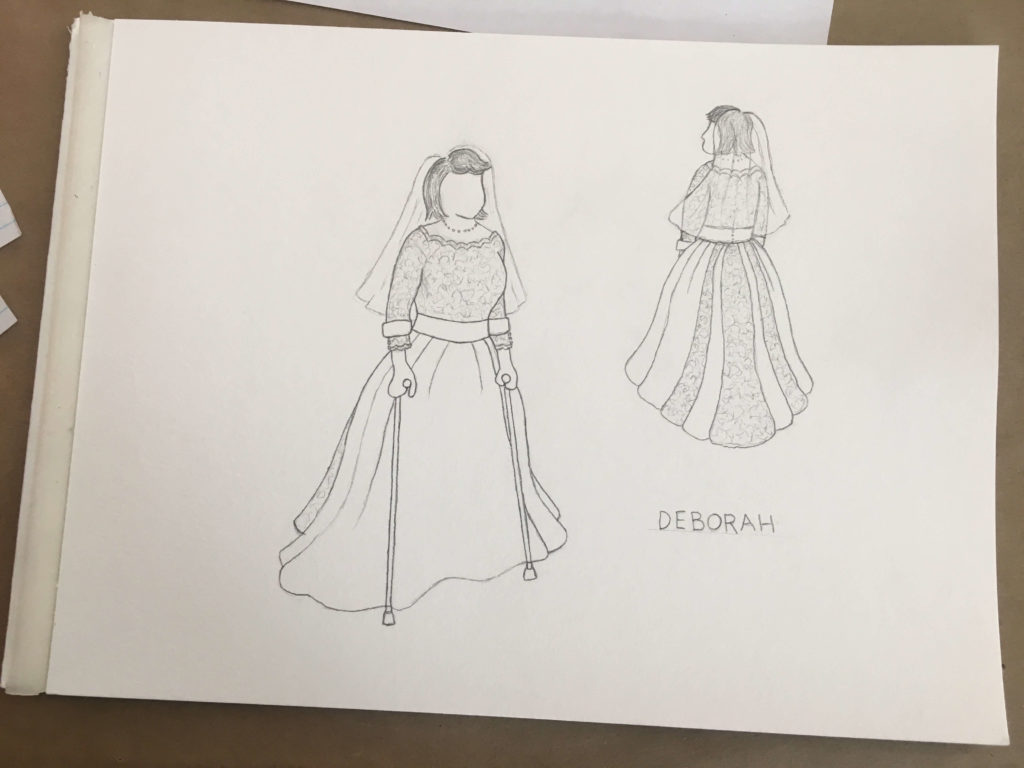 Design Proposal and Sketches: Round One
Along with a contract and a price quote, I presented Deborah the two sketches along with written descriptions and inspirations via a Design Proposal Website.
Deborah's Custom Wedding Dress – Ceremony look
An off-white silk wedding dress with a pleated floor-length full skirt, a wide belt with button closure, and a lace jacket with 3/4 sleeves and boat neck edged in scallops. The skirt will feature pockets and contrasting fabric in several of the back pleats.

Deborah's Custom Wedding Dress – Reception look
The lace ceremony jacket is removed to reveal the top of the sleeveless dress underneath, featuring a row of bridal buttons as the back closure. A floral accent is added to the belt.

Inspirations
This collage features some of our favorite inspiration images that helped me create the designs.

More inspiration images can be found on my Pinterest Board "For Deborah":  https://www.pinterest.com/brooksann/for-deborah/
Sketches: Round Two
Another benefit of sketching the way I do is the ability to make changes! After reviewing the Design Proposal, Deborah wanted to see a slight change in the neckline and had an even better idea for the pleats in the back. I was easily able to use the original sketches to erase lines and add new features.
In the back views, you'll see how we moved the lace panels of the skirt into the inside of the pleats. In the revised design, the lace in the skirt would only be seen as Deborah moved creating a really cool peek-a-boo effect that we both loved!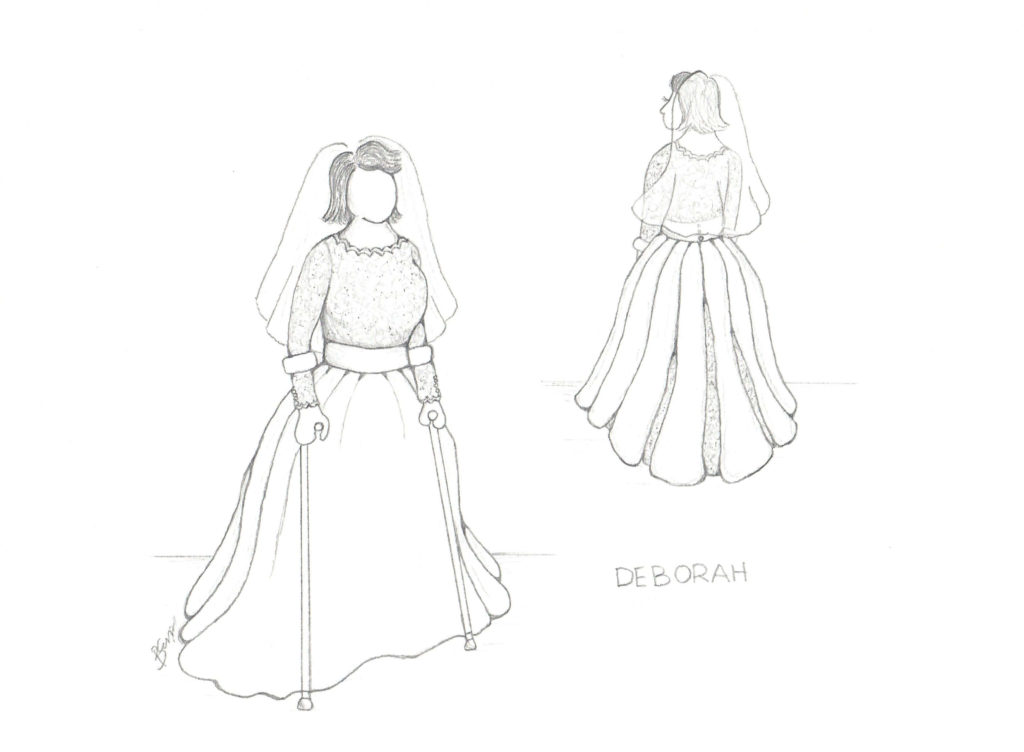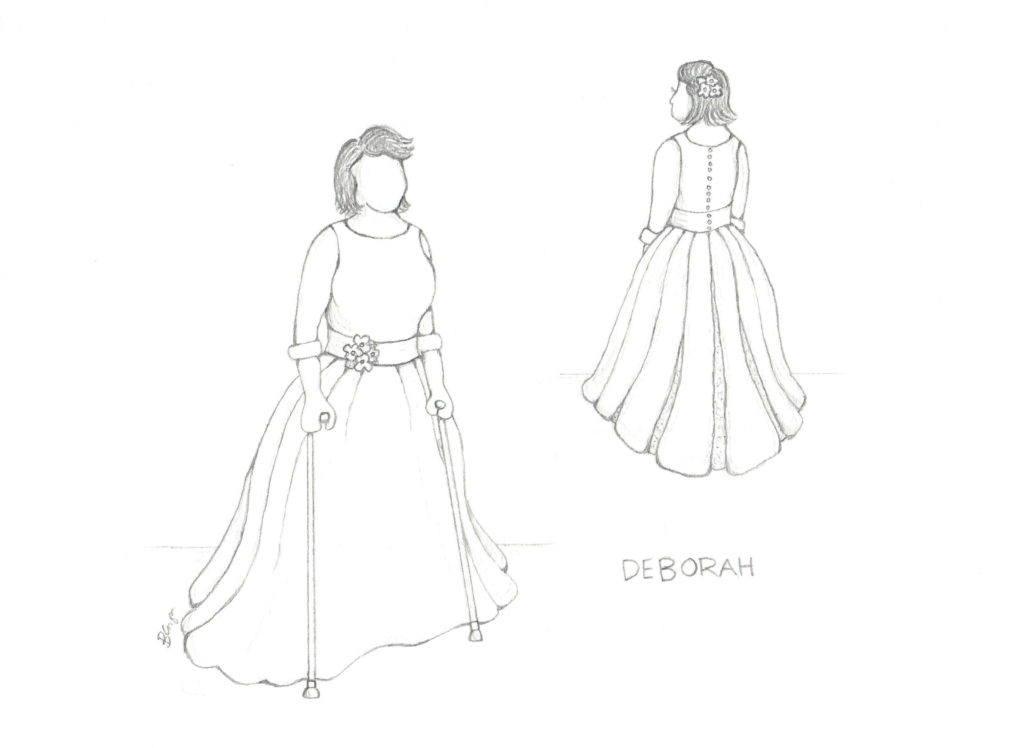 These sketches were winners! Deborah wanted to book the dress! HOORAY!
I invited her back to the studio to sign the contracts and take a lot of measurements. This gave me enough info to create a Size-Deborah dress form which prepared me for custom pattern making (which is probably my favorite part of the custom process!) YAY!
NEXT POST: I begin to draft Deborah's custom patterns!