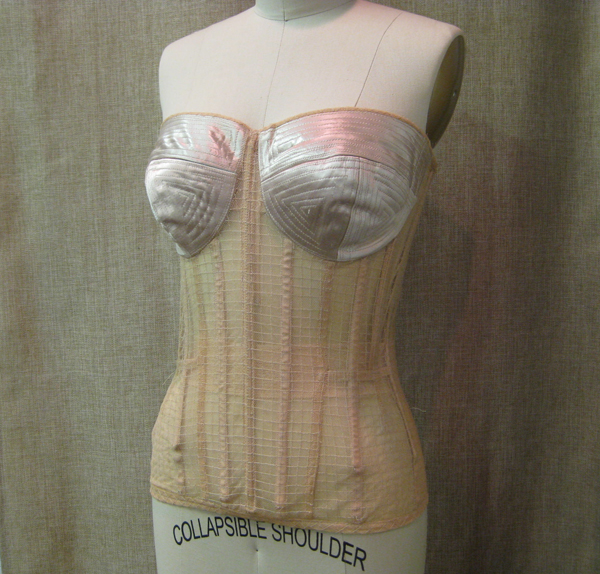 As I explained in pt. 1 of this blog post, Michelle's face lit up when we started talking about style.  She loved the inspiration of a stylish "put-together" woman in a pencil skirt from an old movie in the fifties.  But when she started describing her ideas for her wedding dress, I was a bit surprised at how traditional and ordinary it was.
Not to say that I can't make her look like an extraordinary knock-out in a traditional style, I was just surprised.  She described a draped floor length white strapless bridal evening gown.  To me, this is something that anyone can find in any bridal salon today and would look just like every other bride who is walking down the aisle this season, or really this decade.  Though it is not particularly my style aesthetic, I am certainly not one who wants to try to talk a client out of the dress she wants to wear on her wedding day.  It is not my wedding; it's Michelle's wedding.
The one part of the dress that she described that concerned me the most was that is was to be strapless.  Once again, it's not that I don't think she would look beautiful in a strapless dress. I was worried about her comfort considering her busty "apple" shape, but mostly that a couture strapless gown was going to be out of her budget.
Let's talk a little bit about gravity.  A couture strapless dress is made of magic.  Really expensive, highly engineered, handmade magic.  When making a couture strapless dress, one must defy gravity to have the dress held up from underneath, with no help from the shoulders and in direct conflict with gravity.  Obviously, somehow, sewing factory dress designers have figured a way to get these strapless gowns on pretty much any bride, but I feel that the comfortability (and in my opinion, the dress's integrity) is sacrificed.
Do you really want to be tugging and pulling up your altered all-in-one factory strapless gown on your wedding day?  Do you really want to have basically the same look as every other bride out there when you are hiring a couture dressmaker to make a one of a kind custom creation?  I asked Michelle if she has ever worn a strapless dress before.  She said that she had worn one once and was really uncomfortable.  I asked her if she'd like her wedding day to be spent with that feeling, especially considering that one of the priority words that she had chosen from my Questionnaire list was that she wanted her dress to be "Comfortable."
A comfortable strapless dress can be achieved!  When I make a strapless dress, I make a couture strapless bodice first and then build the dress onto the strapless bodice.  This is not an undergarment that is worn under the dress; It is the foundation upon which the dress is built.  The dress is attached:  usually the top edge of the bodice becomes the top edge of the dress and the zipper in the back of the bodice is the same zipper in the back of the dress.  In doing this, the dress is totally stable and will fit you like a glove every time you put it on.  A picture of a strapless bodice foundation that I made for a dress several years ago can be seen above, at the top of the page.  Christian Dior used a similar concept for all of his couture strapless dresses.  Pictured below is a peek inside a Dior dress worn by Marie Callas in 1962.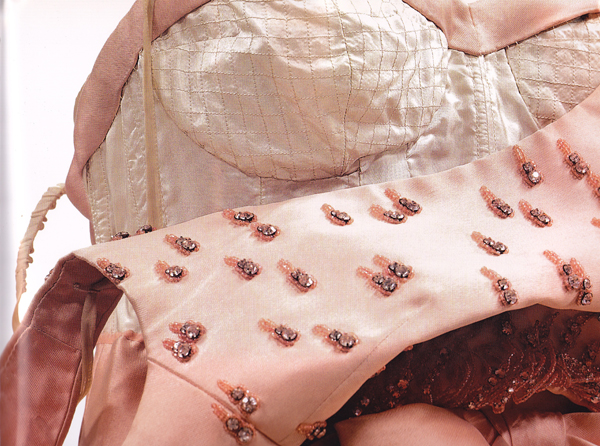 I learned to make the strapless foundation (that is in the photo at the very top of the page) from the woman who made the exact same foundation for Hillary Rodham Clinton's 1993 beaded Inauguration Ball Gown.  This couture foundation is used a lot in professional theatre (my background) because hopefully when a show gets to Broadway it will be a big hit and run for years.  The famous actress needs to look flawless every night (no matter if her body has fluctuated or not) and she probably also has to do a sword fight in it.  There is no room for error.  Like the actress, the dress must perform absolutely perfectly no matter what.
If I am going to make a strapless dress for a client, this is the way that I am going to make it.  It is the right way and I don't want to compromise the quality to fit into someone's budget.  In this case especially, I truly feel that the dress Michelle is describing is out in a bridal salon right now available within her budget for her to purchase and have altered.  I will sacrifice the booking before sacrificing the couture quality of my work.
So, I explained the strapless foundation bodice to Michelle and her mother and let them know that commissioning a strapless dress from me usually doubles the price and the timeline.  In order to create this flawless strapless dress, I'd have to first pattern, construct, fit and finish the complicated foundation structure to perfectly fit her unique figure, and then begin the dressmaking process.  By simply adding some straps to her dress, she can purchase her own foundation garments and it could literally save her thousands of dollars.  By utilizing her shoulders and eliminating the need to defy gravity, a Brooks Ann Camper Bridal Couture dress could be a reality for her.  I promised that if we took the next step (the Design Consultation) that I could come up with a (non-strapless) dress design that she would love;  a dress that was unique and figure-flattering while staying within her budget.
Unfortunately, Michelle seemed pretty dead-set on strapless.  A few days earlier she had tried on dresses in a store (which I encourage!) and she had found two strapless dresses that she liked.  I don't think she had ever really imagined herself in anything but a strapless dress, so it was hard for her to get her mind around.  She had it in her mind that unless she had bare shoulders, she'd "look like a line-backer".  I assured her that it would be my job to make sure that would not happen.  We had hit it off so well during the consult and she really seemed to still want to work with me, but was going to "think about it".
When the meeting came to an end, I assumed I had lost the commission to one of the bridal shop dresses that she had tried on, but I was happy that I hadn't compromised my quality or her budget.  Ultimately, I just want everyone to find the right dress for them, whether it is one of my dresses or not.
BUT… I am learning, as I get to know her, that Michelle is full of surprises.  In a good way.  Stay tuned.