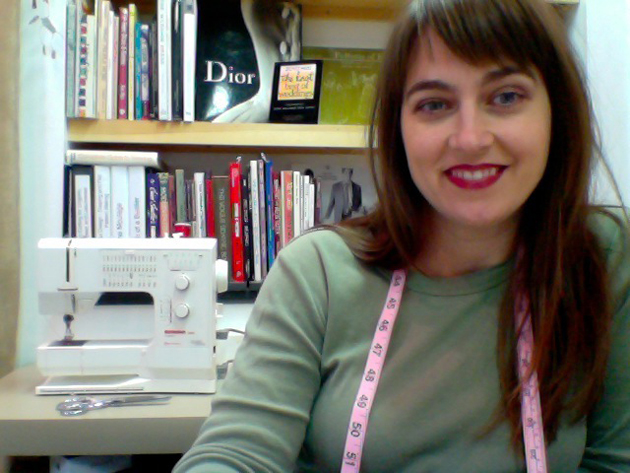 I've been blogging specifically about Greta's wedding dress for many months.  This post will feature other projects that have been going on in my life, all at least loosely related to sewing and/or weddings and then loosely threaded together.
As soon as I finished Greta's dress, I began handcrafting the dress that I would be wearing to her wedding.  I rarely have time to make clothes for myself, but I make it a point to make something fabulous to wear to the wedding of a bride who will be wearing one of my custom dresses.  Invariably, someone is going to ask the dressmaker "Did you make the dress you are wearing?".  In this case, I like the answer to always be "Yes!".
So what do I make??  I went to Mulberry Silks Fine Fabrics for fabric inspirations and fell in love with this beautiful silk.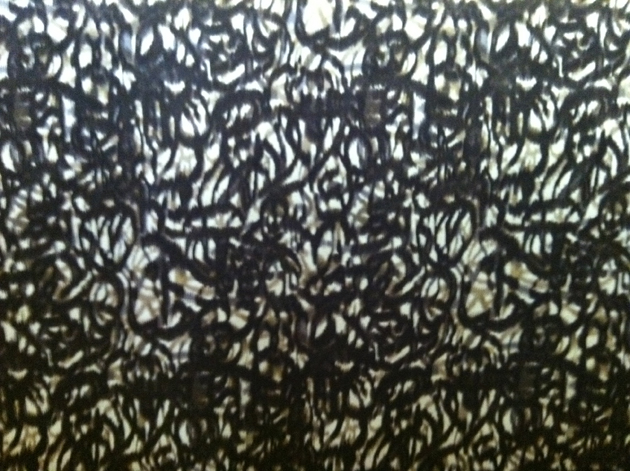 This silk had a really nice drape and weight to it.  I also really loved that it was a pattern of lots of neutral colors, featuring black and white and gray and brown.  It seemed like it would be really easy to accessorize.  The drape of the silk seemed like it would work really well with a flattering skirt pattern that I had been eying.
As most of you know, I draft all of my patterns by hand from scratch in true bespoke style.  I've actually never really worked with commercial patterns before, having learned to sew in a professional shop making custom clothes from measurements.  Every class that I have ever taken has used hand-drafted patterns.  But lately, I've been flirting with the idea of teaching and thought it would be nice to have a working knowledge of how to teach as well as how to use pre-drafted patterns.
Enter Gertie.
I read a lot of wedding and sewing blogs.  A lot.  And Gertie's New Blog for Better Sewing is one of my favorites.  She's got a cute and fun style that is geared toward the home sewist, while keeping an eye and passion for couture.
Gertie had also been experimenting!  As a sewing teacher in NYC, she teamed up with Craftsy and started offering an online sewing course. It is called "Sew Retro: Perfect Bombshell Dress".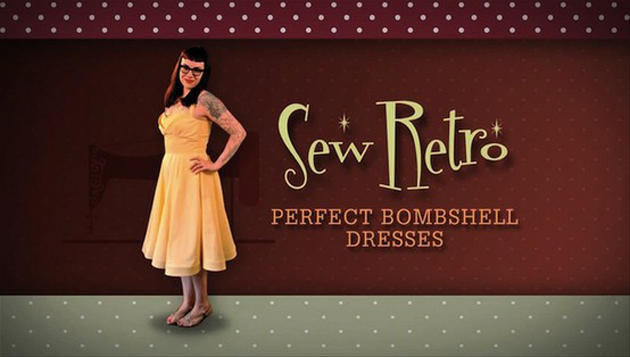 I thought this course sounded like a fun way for me to see how someone teaches such a class, while also experimenting with commercial patterns and strapless bodices.  I really enjoyed watching the course online, but did not sew along.  Just watching each lesson fueled some fires for other projects.
For my own dress for Greta's wedding, I was really interested in the sarong-style skirt in this course.  (I'll "loosely thread" what I did with the bodice part of this course in part 2 of this post!)  It was Burda Pattern #122A .
I thought that the draped style would be really flattering on my curvy body and would look amazing in the silk fabric I picked out.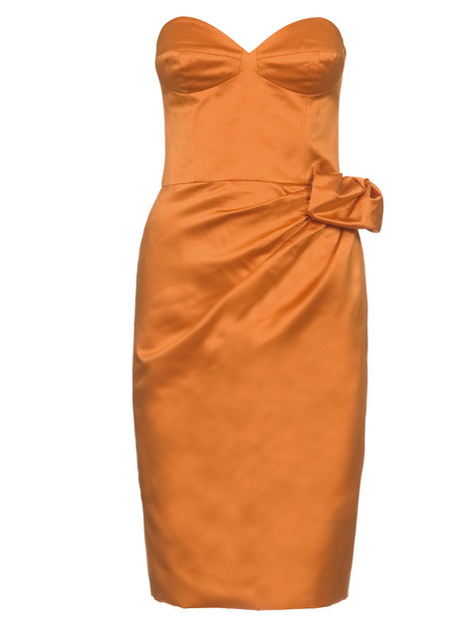 I drafted a new bodice to go with the Burda skirt pattern and made a mockup.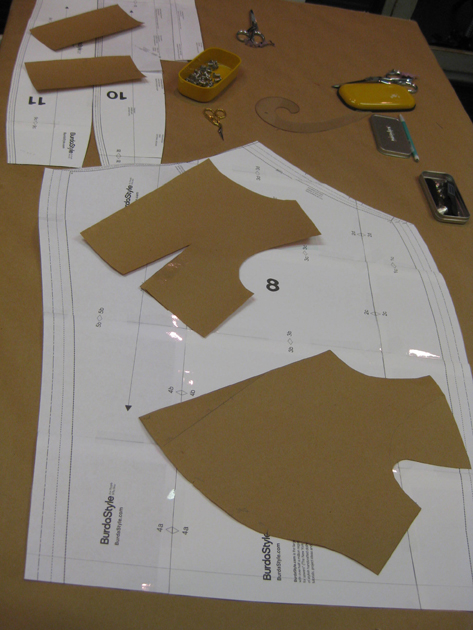 I experimented with two ways to do the neckline.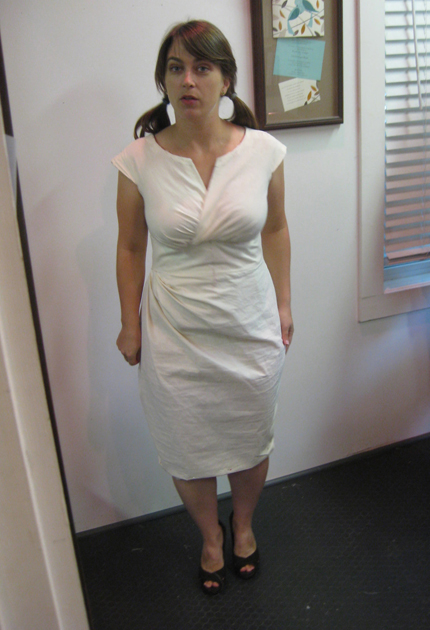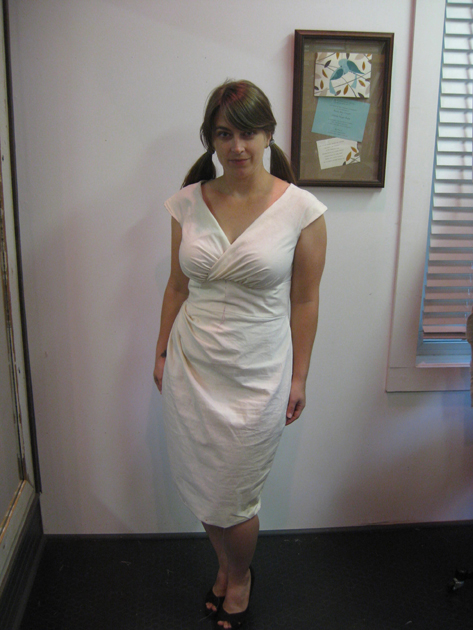 Once my mockup was fit and completed,  I took apart the sample dress and used it as my underlining!  The muslin gave really nice shaping to the already gorgeous silk.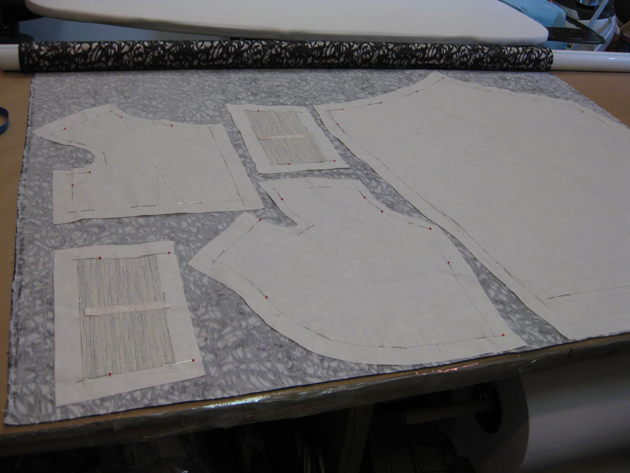 And here's the finished product!  I really love the way it turned out!!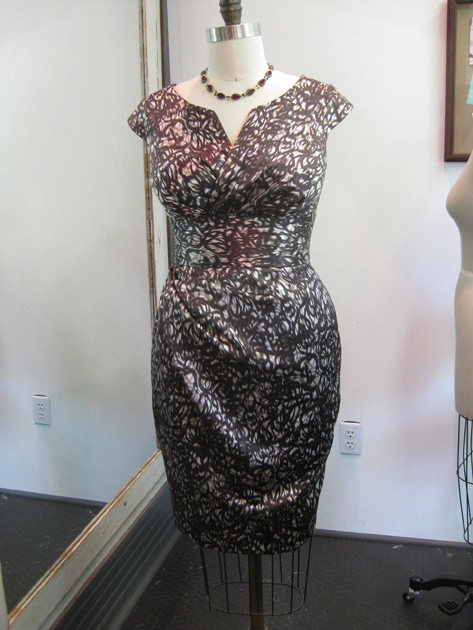 More on this dress and a whole lot more in part 2 of this Loosely Threaded post- Coming Soon!