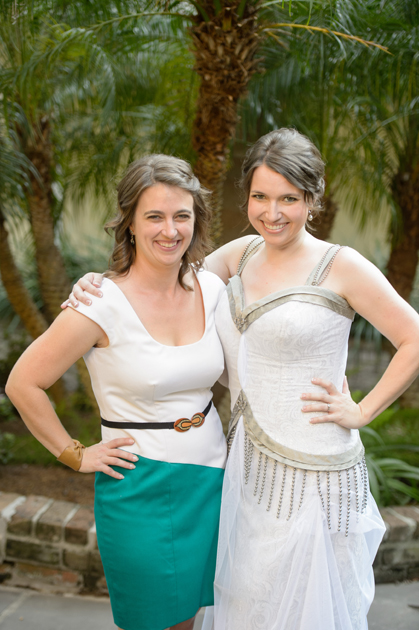 Whenever I attend a wedding in which I made the bride's dress, I always try to also make the dress that I am wearing.  Inevitably, someone attending the wedding will ask the dressmaker about her own clothing: "Did you make this too?"  I feel like the answer should be "Yes".  Bonus: I get a cool new dress as a reward for all my hard work leading up to the wedding day!
For Loula's wedding, I made myself an asymmetrical color-blocked wool sateen pencil dress.  I started drafting this dress even before I had a design.  When I was creating a moulage for Loula, I also drafted one for myself.  This was the basis for the dress that I would eventually create and wear.
MY MOULAGE
A moulage is a basic draft that fits you exactly.  No design interest, no ease, just a pattern that exactly fits your unique body shape.  For this particular draft, I was following along with Kenneth D. King's book "The Moulage".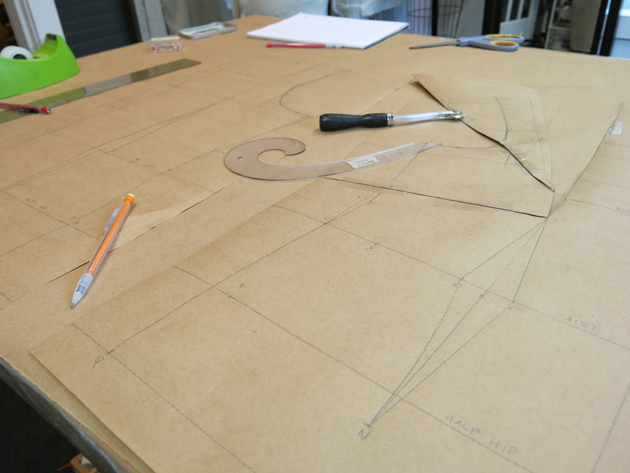 The rough draft is cleaned up on paper…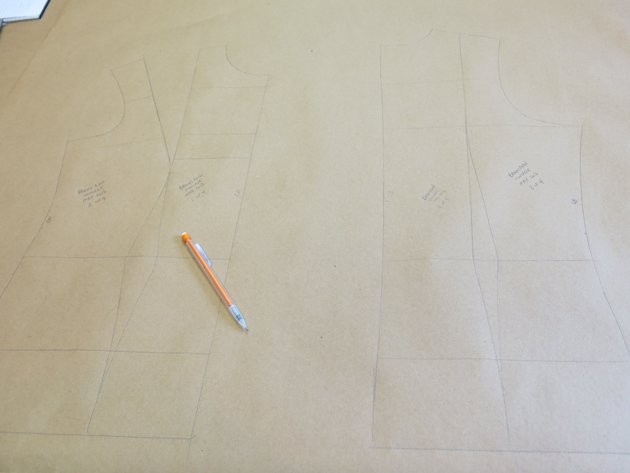 …then cut out of muslin…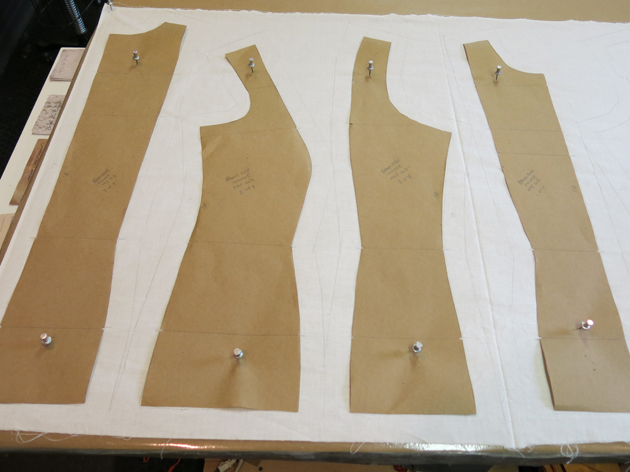 …sewn up and tried on for fit.  Here's a pic of my moulage fitting on a dressform padded out to my measurements.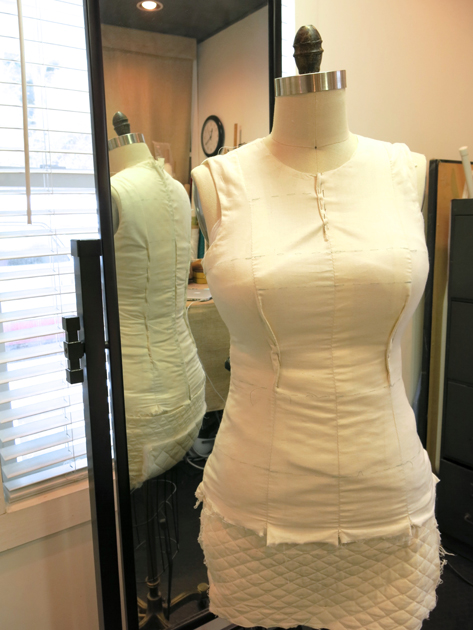 My assistant Alyssa also helped me fit this on my body.  All minor adjustments were transferred back to the paper for my unique and perfect fit.  Now I can use this plain featureless draft to create perfect-fitting patterns in countless designs, including a cool new dress worthy of Loula's wedding!
THE DESIGN
I came up with a few specifics that I knew I wanted to include in this new dress's design.  I didn't have a lot of time so I wanted to keep close to the basic draft and choose design features that would be easy to pattern and construct.  I wanted this dress to have a pencil skirt, short sleeves, and some sort of definition at my waist.
I looked through my collection of "My Style" images on Pinterest for inspirations and started quickly sketching out some ideas.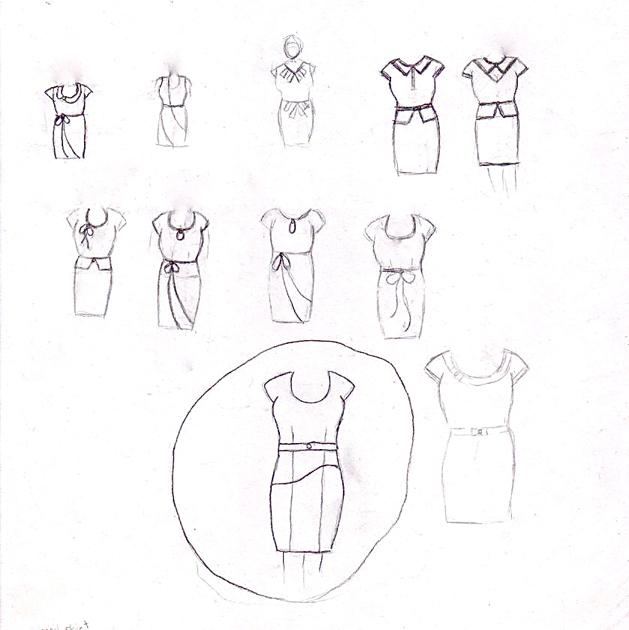 The one that stood out was based on this Ronnie Peplum Color Block Dress featured on ElfSacks: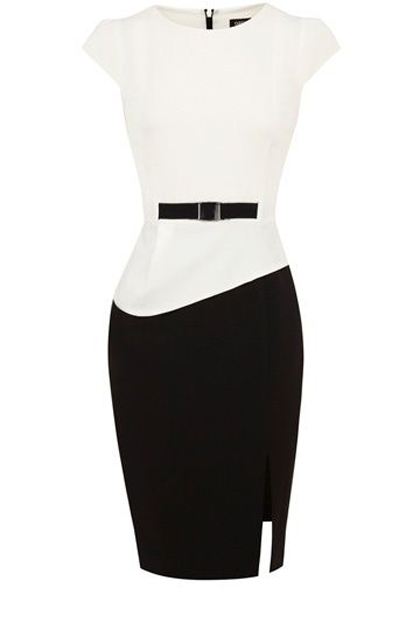 I liked the asymmetrical hipline and color blocking of this dress.  I used these two elements to spark my own design.
I'd make my dress a little shorter and I would not include the slit in the skirt.  I also wanted to make it more colorful.  I could use the little bit of leftover wool sateen from Michelle's wool cashmere wedding dress as the top, and I found some gorgeous teal green wool sateen on sale at Mulberry Silks for the bottom.
I wanted to change the waistline belt detail on the inspiration dress into a full belt with maybe a cool belt buckle.  I found this amazing vintage celluloid clasp on Etsy: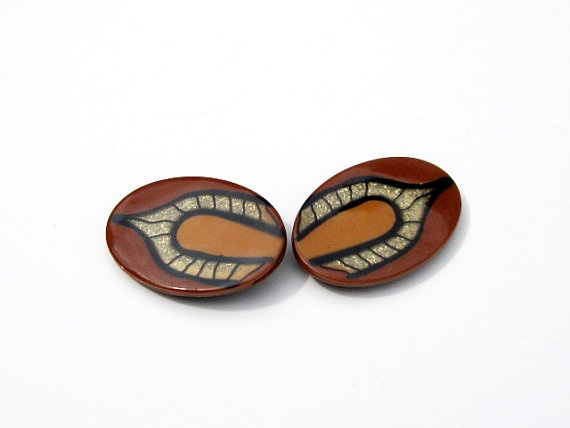 I also wanted to utilize some of my personal patterns from dresses I've created for myself in the past in order to change the moulage draft into something I already knew would be flattering on me.  I loved and wanted to steal the cute cut-in-one cap sleeves from this dress I made (shown here with my handsome husband in October of 2011):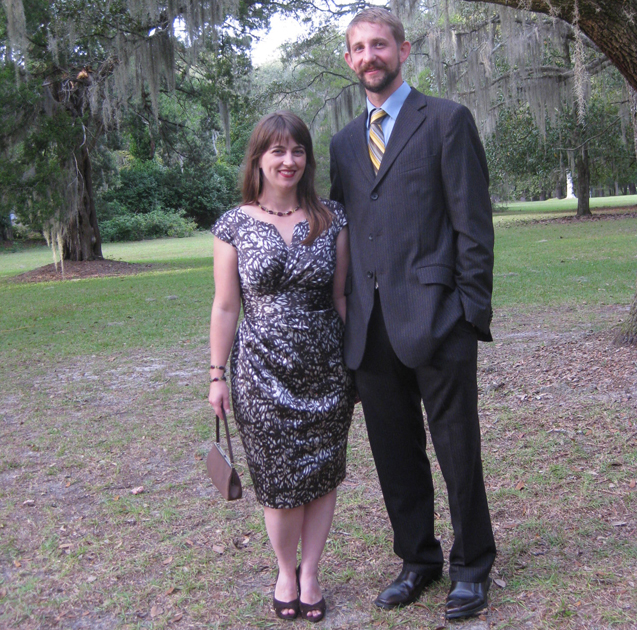 I also wanted to steal the scoop neckline from this dress that I made for myself last summer (shown here with my gorgeous cousin and my equally gorgeous mother in July 2013):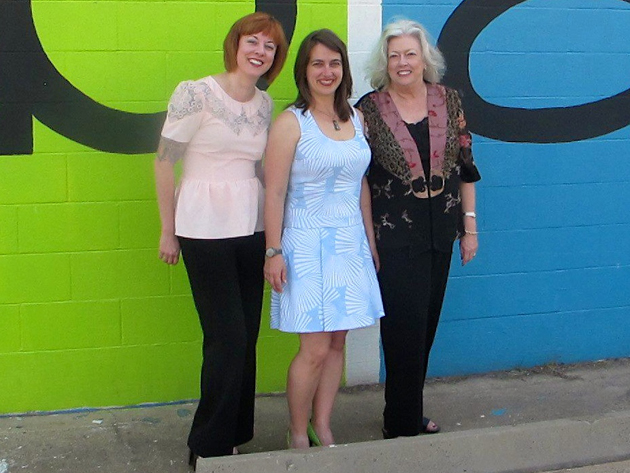 It was easy to take these two old patterns out of storage and use them to alter my moulage draft to include the specific elements I wanted to duplicate in my new design.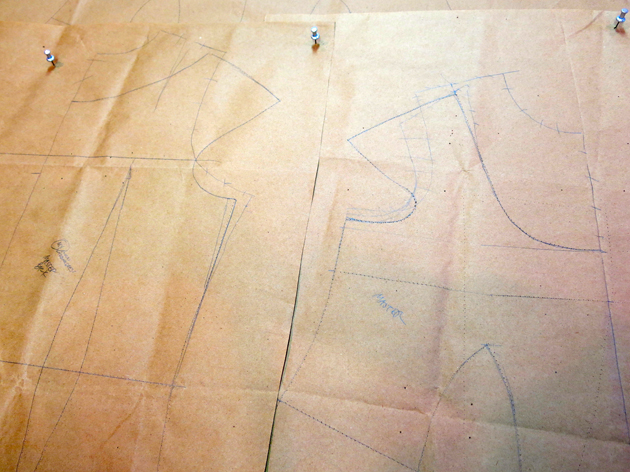 Next post:  I'll show how I took this draft and turned it into a pattern, then into a mockup, then into a knockout couture dress!