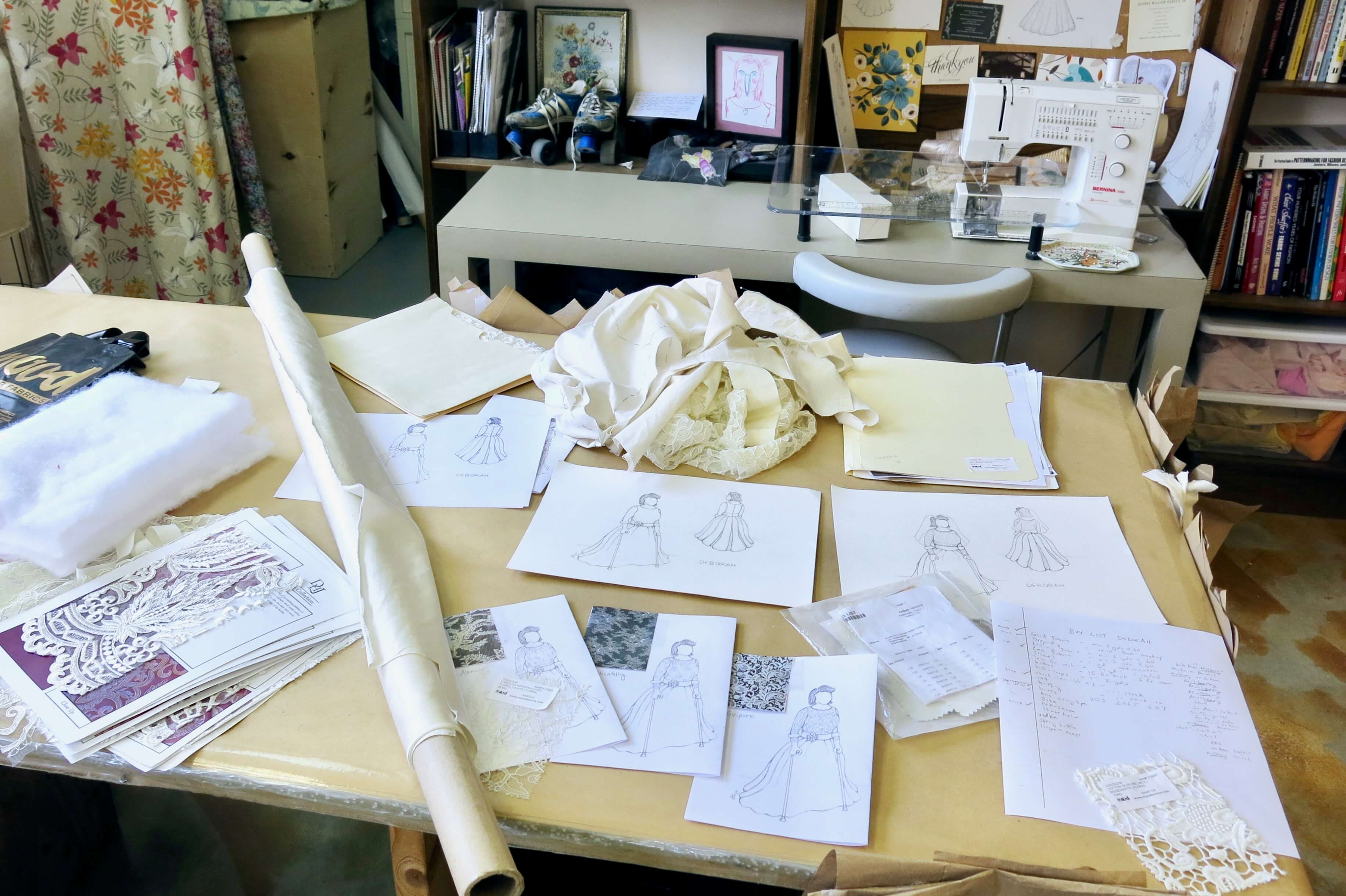 After working our way through 3 fittings of mockup dresses, it was time to finalize our fabric decisions for the real thing: Deborah's custom wedding dress!
The majority of the custom process happens before the fabric is cut. Months pass while working on sketches, and patterns, and mockups. Most retail fabrics come and go, without the ability to reorder yardage once a bolt is sold.  So, in the design stage of the custom process, we explore a general idea of fabrics for the design, but the ideal time to purchase is usually after the pattern is complete. Otherwise you have to guess how much to get!
I'm not a fan of guessing! That's why I spend so much time preparing, experimenting, learning, and discovering the answers to all my questions before I start cutting precious fabrics and making permanent stitches.
Shopping at Mulberry Silks
You may recall from when I first introduced Deborah that one the reasons she was considering custom was the ability to pick out her fabrics (since "that is what makes the dress"). She invited her mom and her sister (who drove 6 hours!) to join our shopping trip to my local fine fabric store Mulberry Silks. I'm so lucky to have this gem of a store nearby! It's a small store, but even this is a bonus. They have already curated the best of the best! There's no sorting through junk to get to the good stuff. It's all good stuff.
Our quest was to find two fabrics: the perfect solid ivory silk for the dress and the perfect coordinating lace for the ceremony top and inside the pleats. We had a lot of gorgeousness to choose from!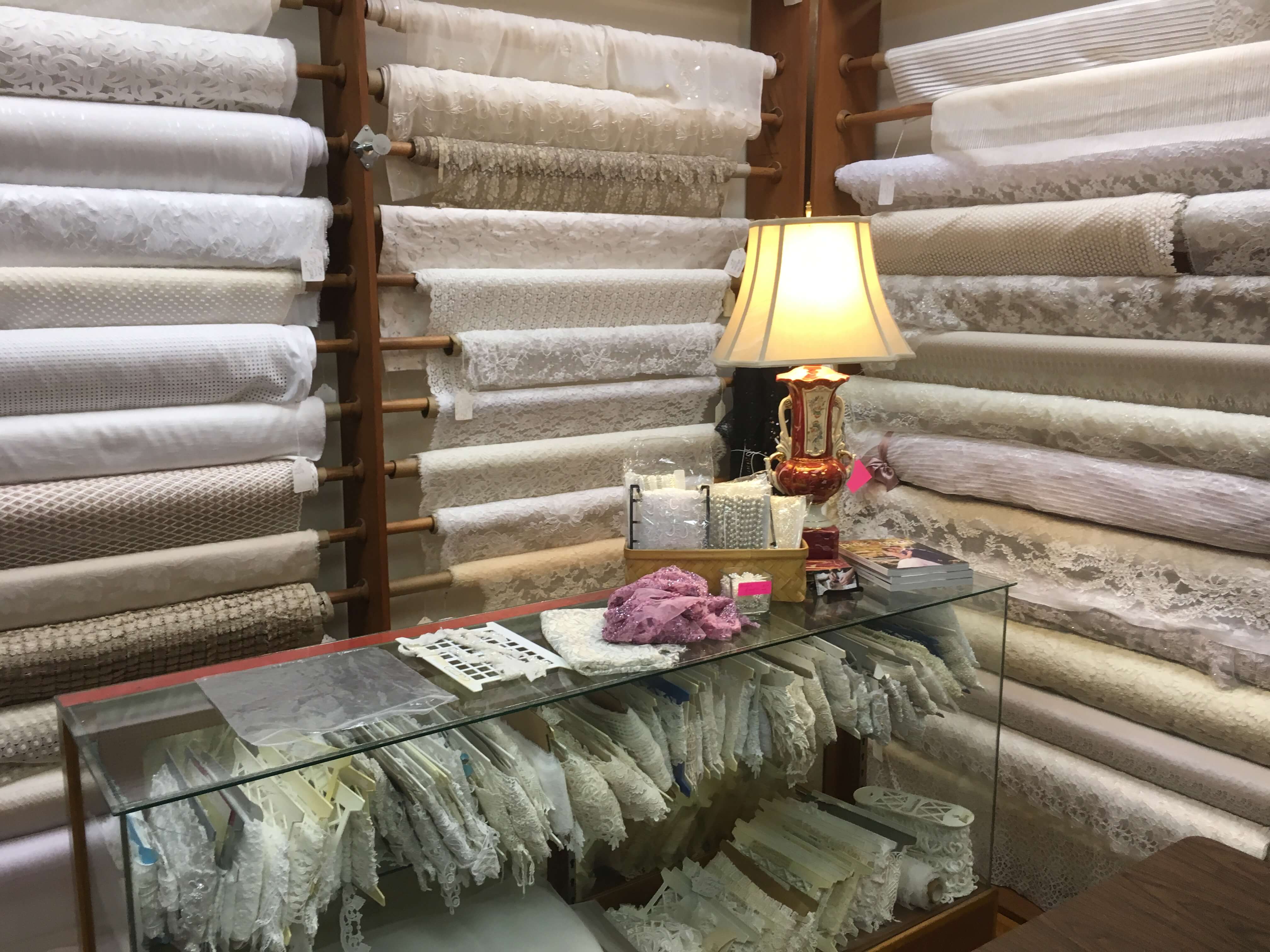 Yet when I'm having so much fun shopping, I am the worst at remembering to take blog photos! Luckily, Deborah's sister Mary Beth snapped the following two shots…
You can probably tell that we had a blast pairing laces with silks…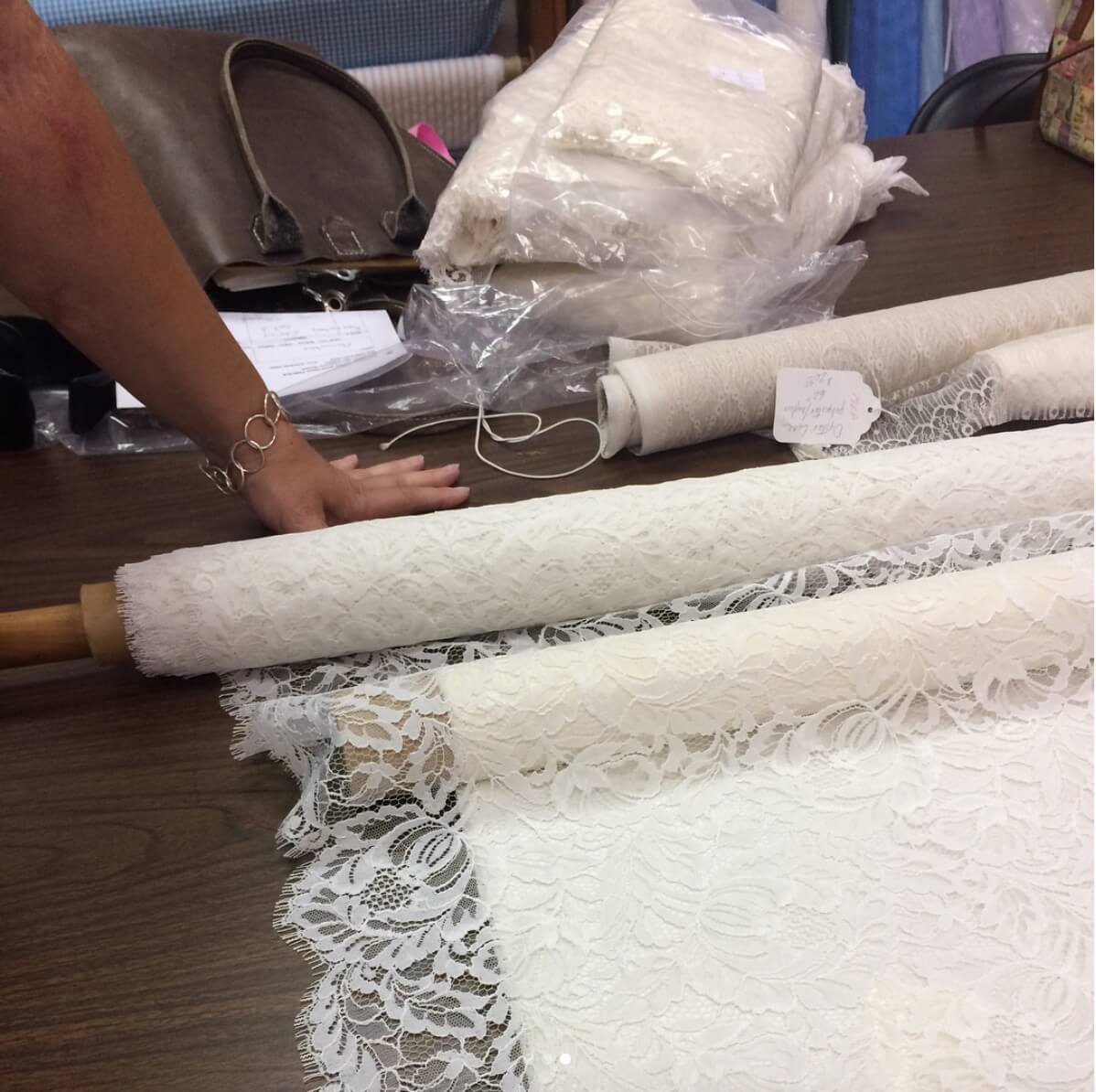 …and looking through the 'special order' swatches.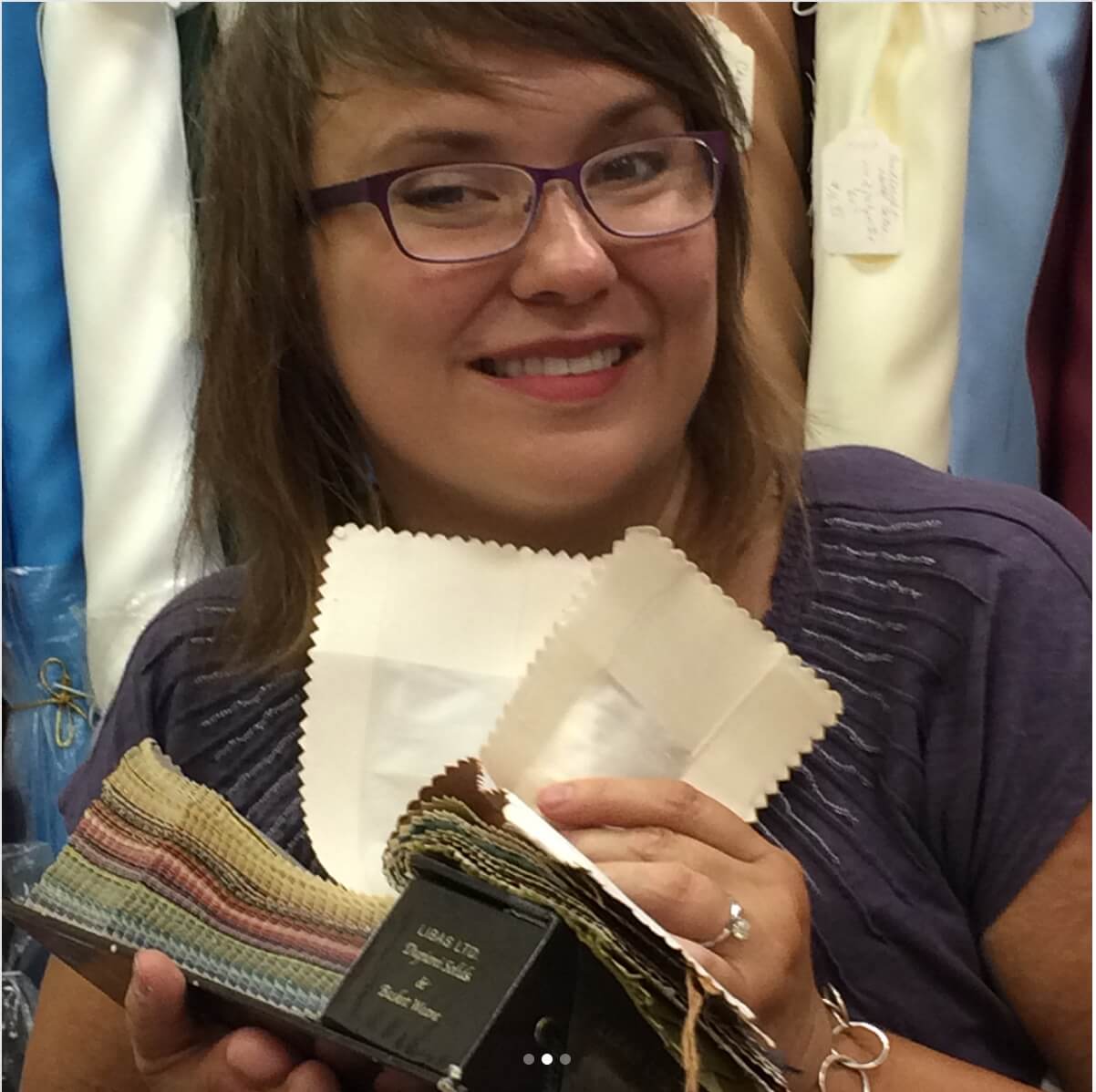 There were only a few in-stock choices for our solid silk that had enough yardage for our design. None were exactly what Deborah was hoping for. Our favorite solid silk was an ivory shantung available as a 'special order'.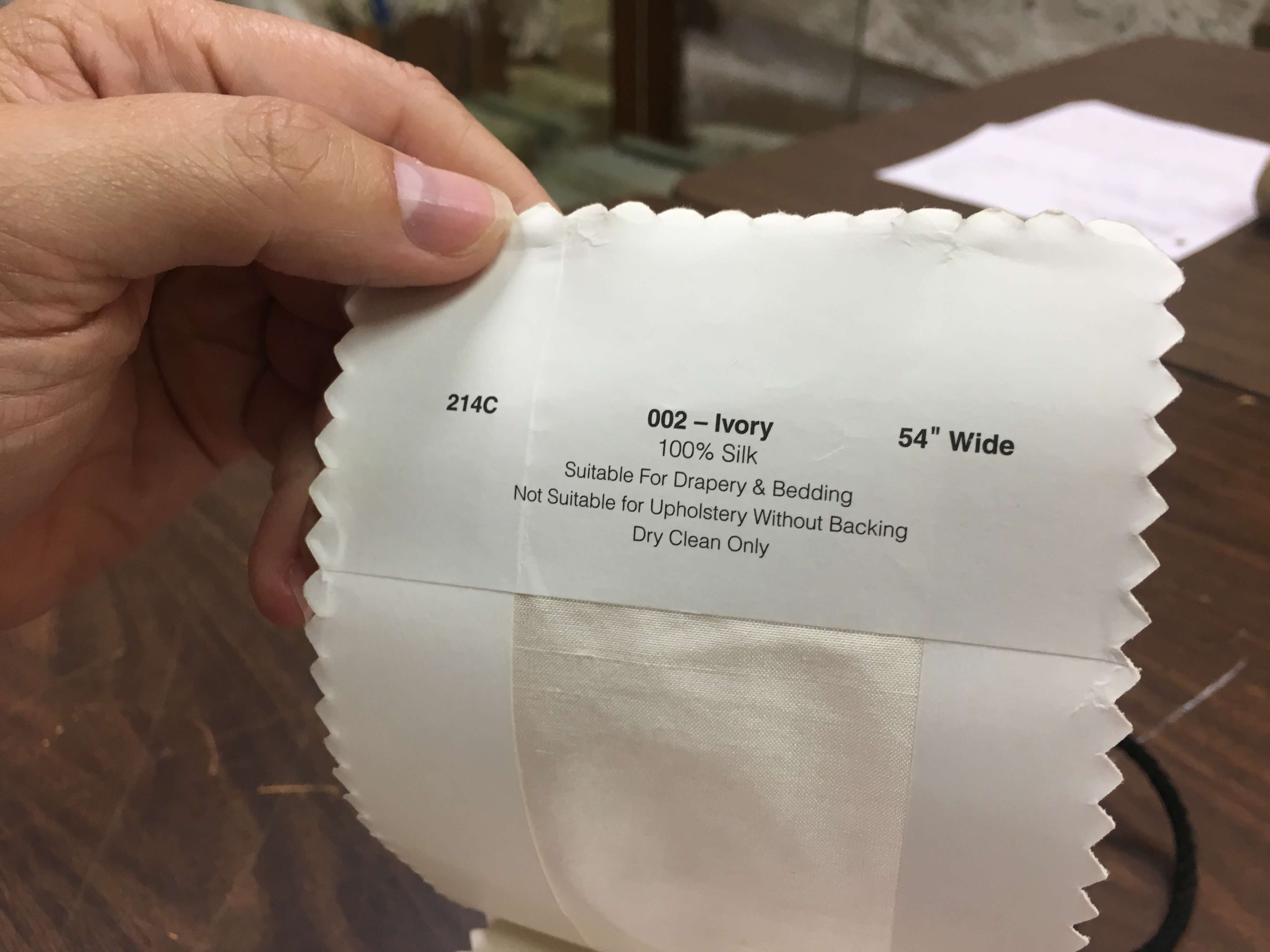 The favorite fabric that really caught Deborah's eye was sadly only a remnant. The yardage of this really cool and interesting lace was already sold out. This super small strip was all that was left!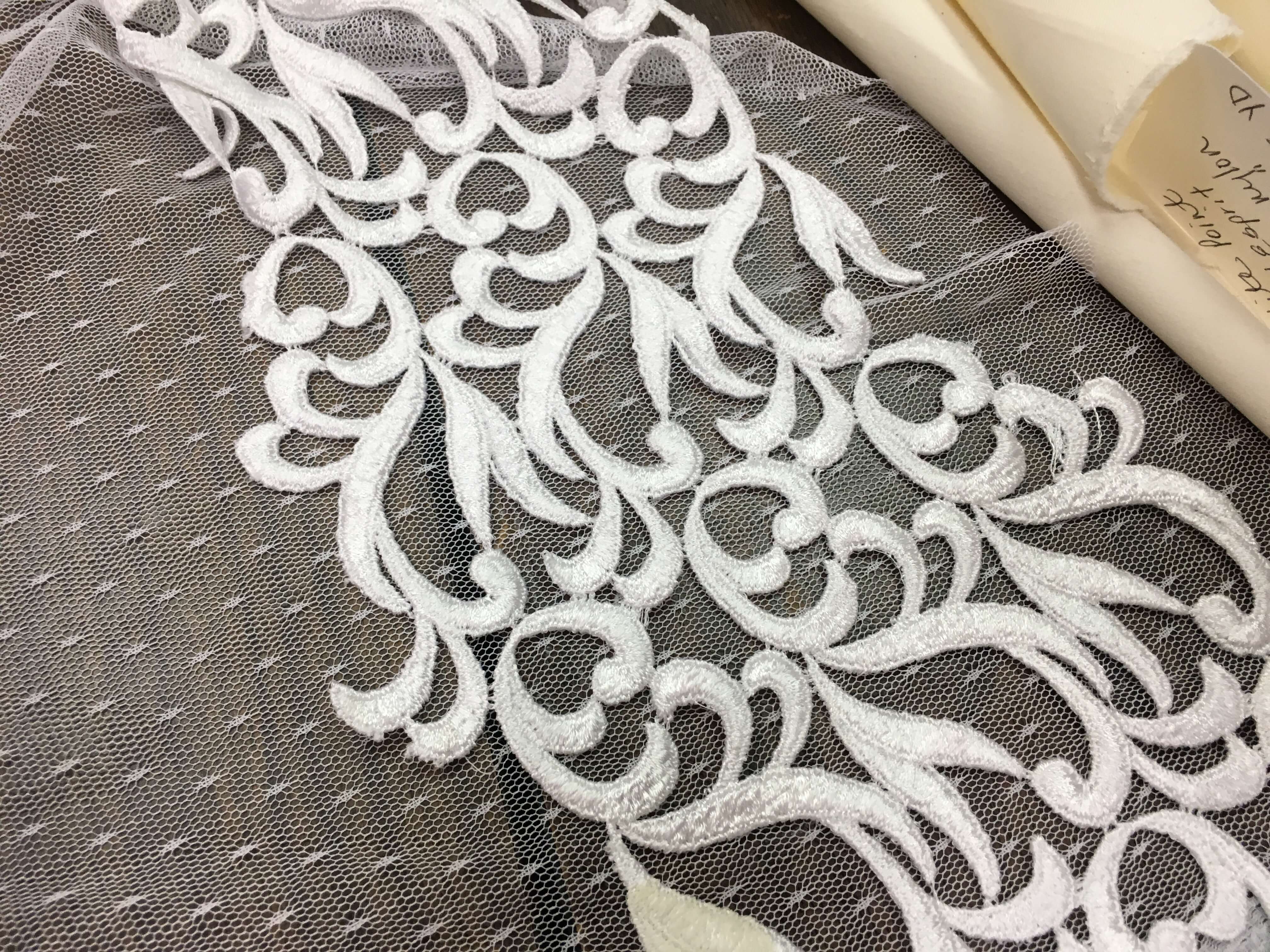 The lace I loved most for Deborah was this gorgeous Alencon lace. It reminded me of the wedding laces worn by Princess Grace and Princess Kate (which were both inspirations for Deborah's dress design).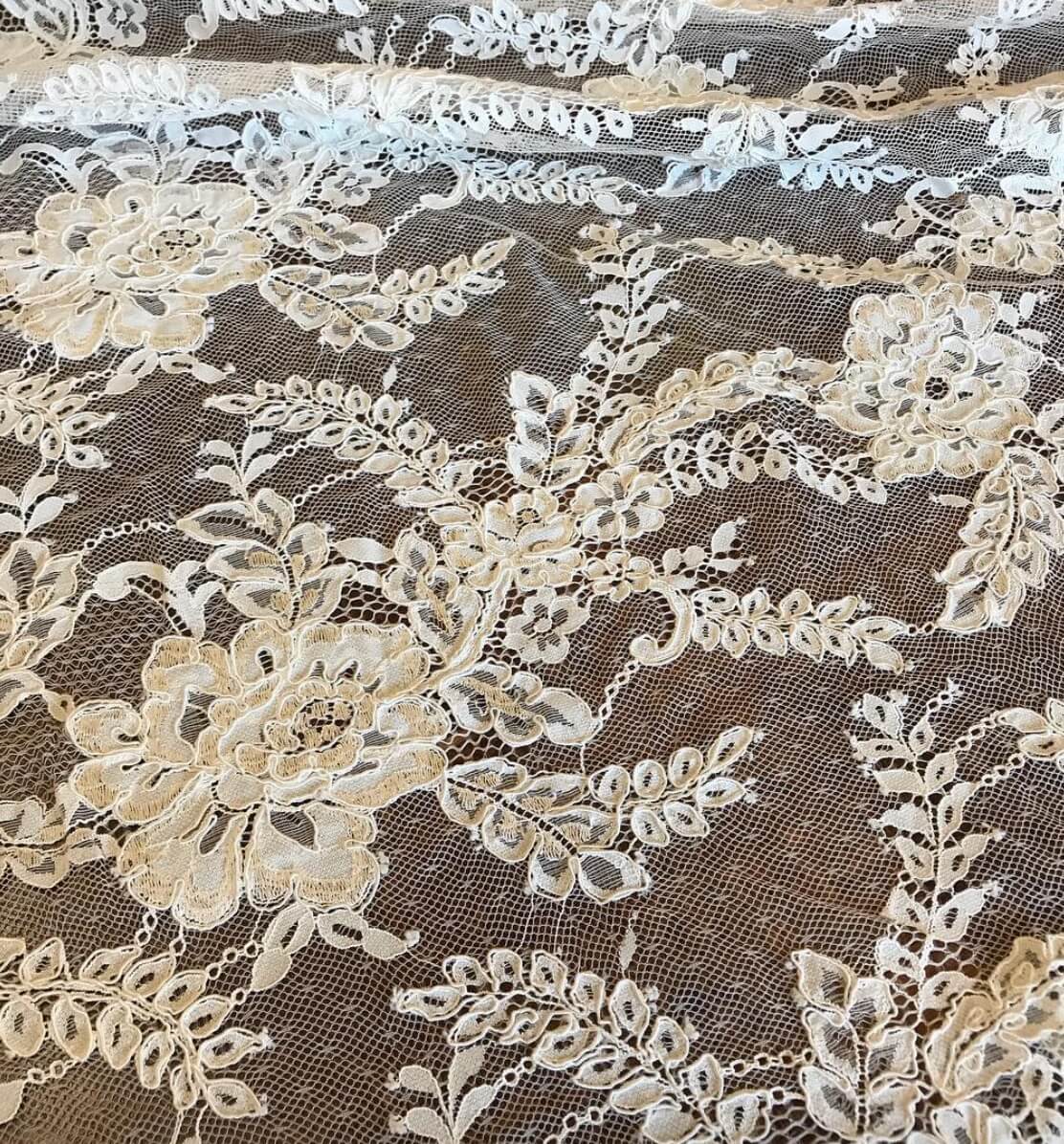 Deborah really liked the Alencon too, but not enough to fully commit. She still needed some time to think. We left the store with direction, but without fabric.
Three Lace Options
Deborah (and her sister) were really jazzed about fabric shopping and didn't want this part of the process to end. Not long after our in-person shopping trip, Deborah emailed me two more lace options that they found online at Mood in New York.
I always encourage my brides to choose fabric from Mulberry Silks because I really want to support them and love shopping local. It's also such a pleasure to be able to see and feel actual yardage and walk out of the store with it neatly rolled onto a tube, instead of the much longer and more questionable process of shopping online- ordering/comparing swatches and then waiting to have your precious fabric folded up and shipped to you.
But even more than supporting my store, I support my bride! If she's not thrilled with the local experience, shopping online can be a fun part of our process with a whole lot more choices.
The first lace Deborah shared with me was this Guipure lace. I really liked it too! It's not only gorgeous, it had a fun vibe and seemed like a happy medium between the two Mulberry favorites: the floral Alencon and the bold remnant.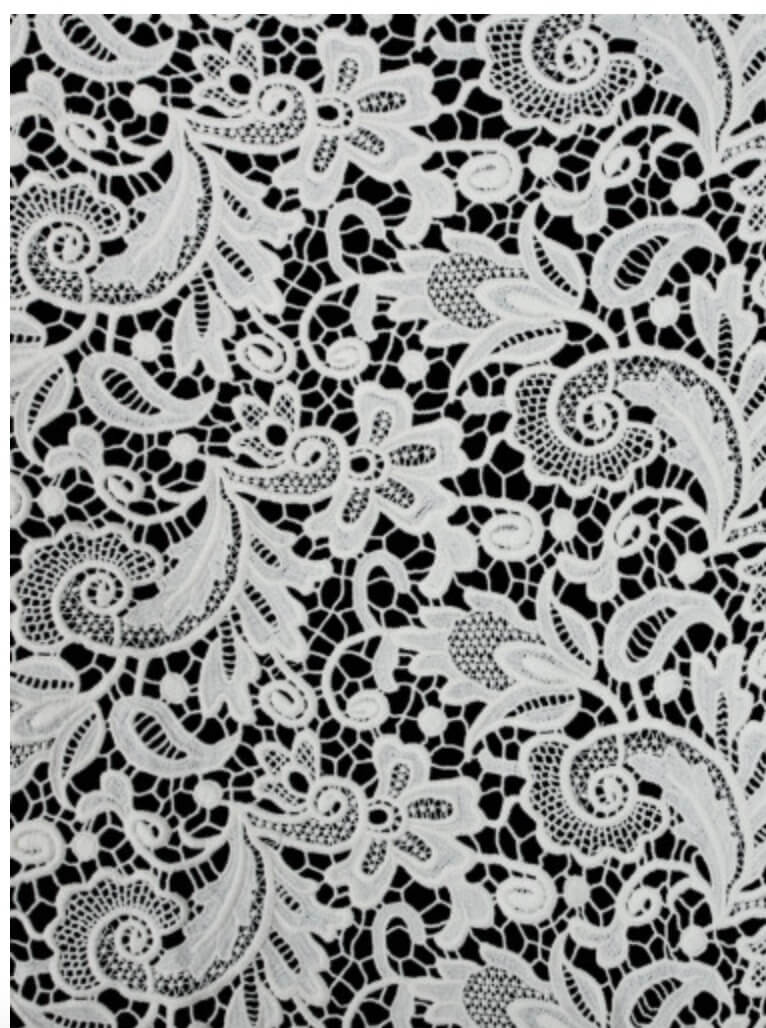 Deborah also found a more delicate option of this beautiful Carolina Herrera Chantilly lace. I loved this one too!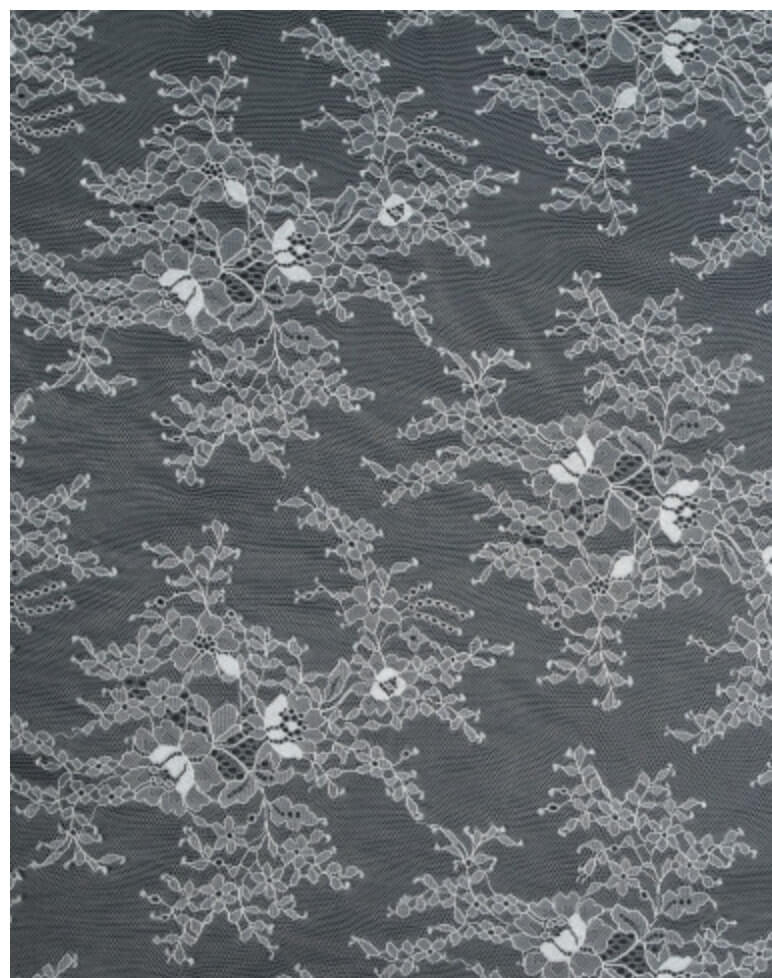 I was really impressed with Deborah's ability to go out on her own and come back with excellent choices! Since all three options were quite different from each other, I played around with how each might look in 3D using Deborah's custom sketch.
I emailed these 3 lace sketches to Deborah and was really excited to learn more about which would be her #1 choice!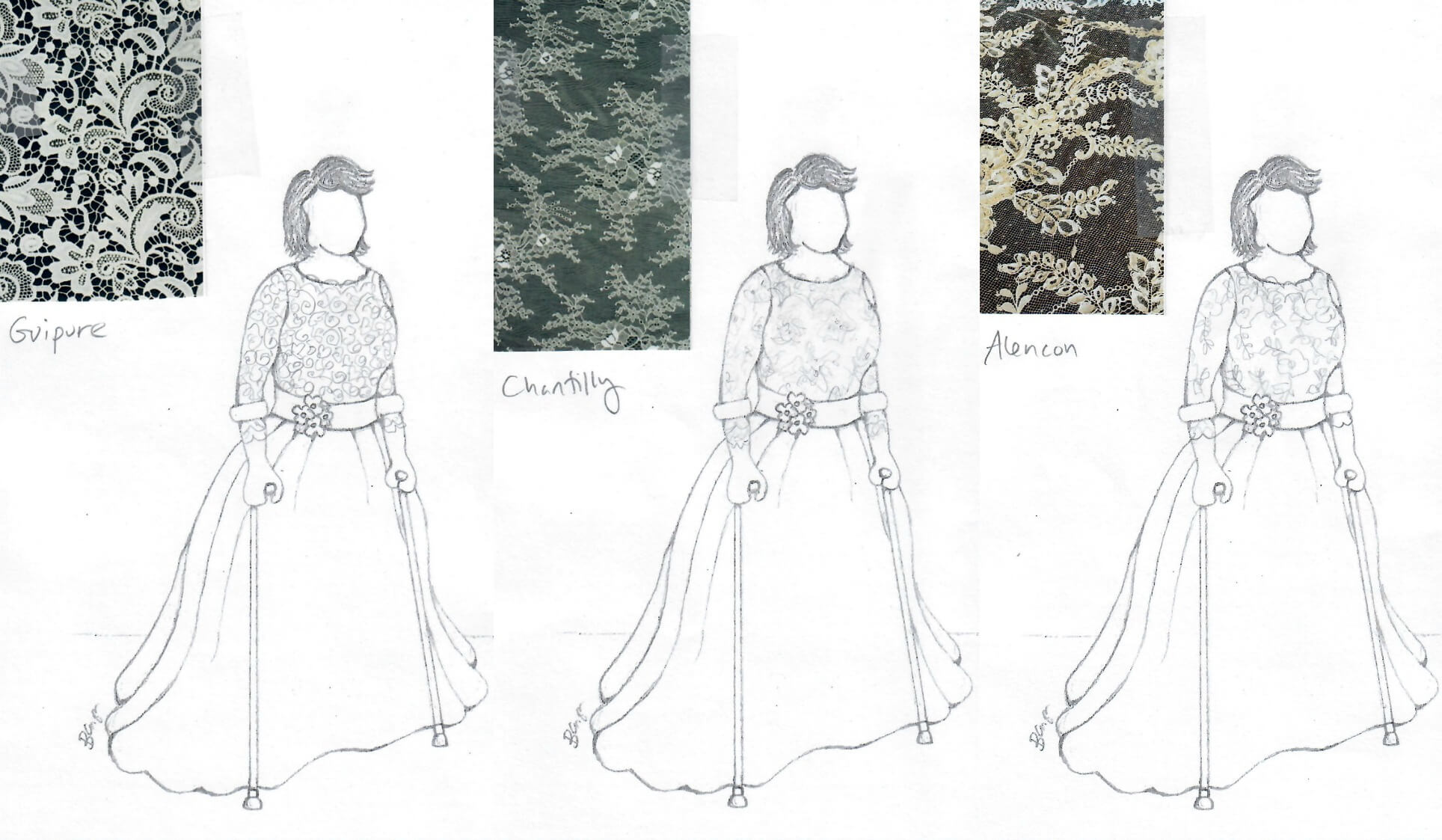 While waiting for her decision, I ordered swatches of the two new laces to examine them in person. While I was at it, I became curious about a gorgeous silk and wool twill from the same store. I ordered this swatch as a potential new option for our solid dress fabric. When the swatches arrived, they were all even more gorgeous in person than online!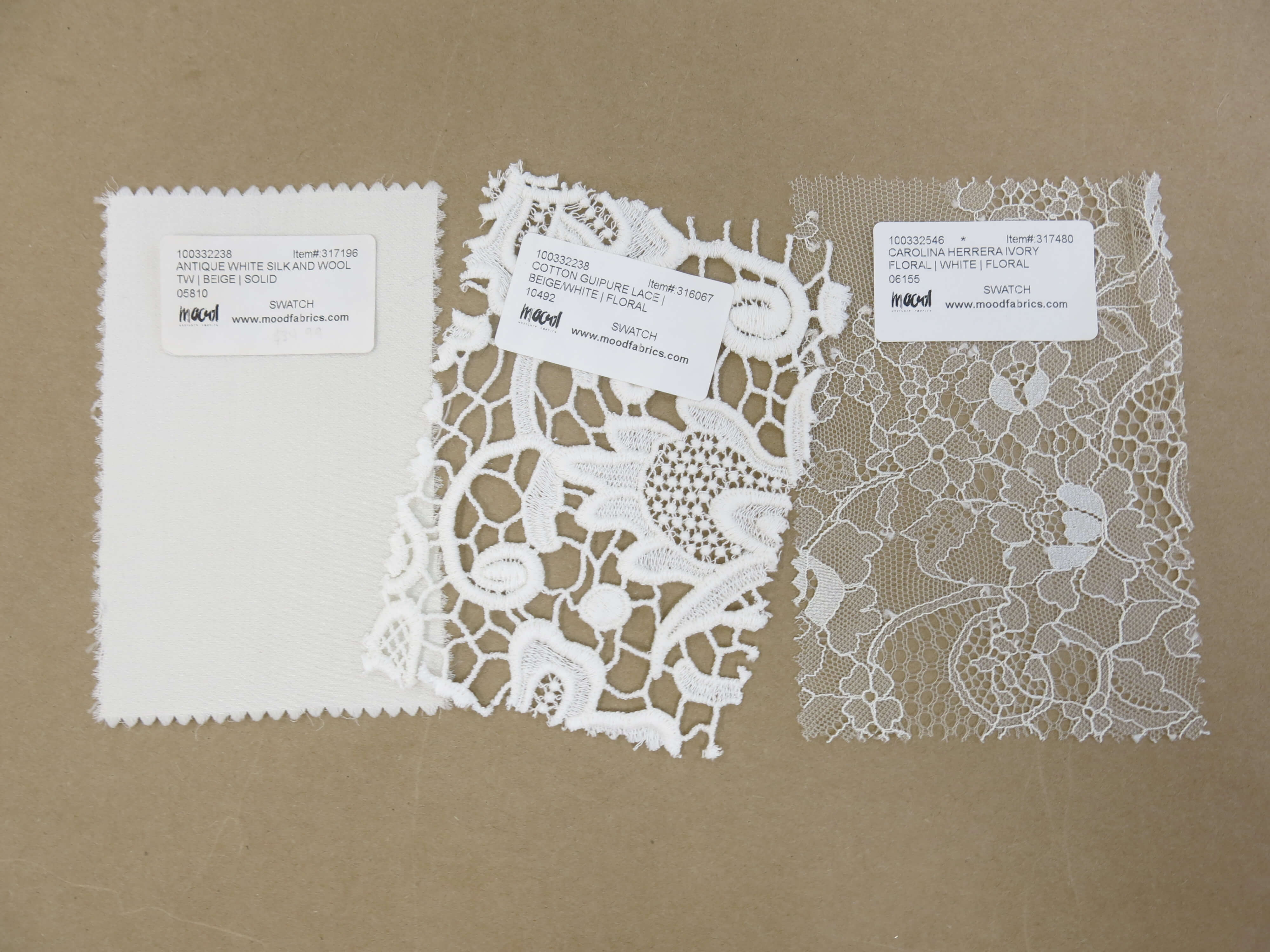 Which would you choose? Which do you think Deborah chose?
More Online Lace Shopping
The answer is: None of them! When I finally heard back from Deborah, she had taken matters into her own hands. She (and her sister) found an online retailer based in the UK called Bridal Fabrics and ordered about a dozen swatches from them. I loved their huge ~8″x10″ swatches…
I generally don't recommend the bride shopping on her own since I'm the one who will be sewing the fabrics and the one who can predict how the fabric will work with our design. I'd hate for a bride-to-be to fall head-over-heels in love with something that wasn't going to be suitable from a dressmaking perspective. Luckily Deborah was totally understanding when I needed to eliminate almost all of her favorites!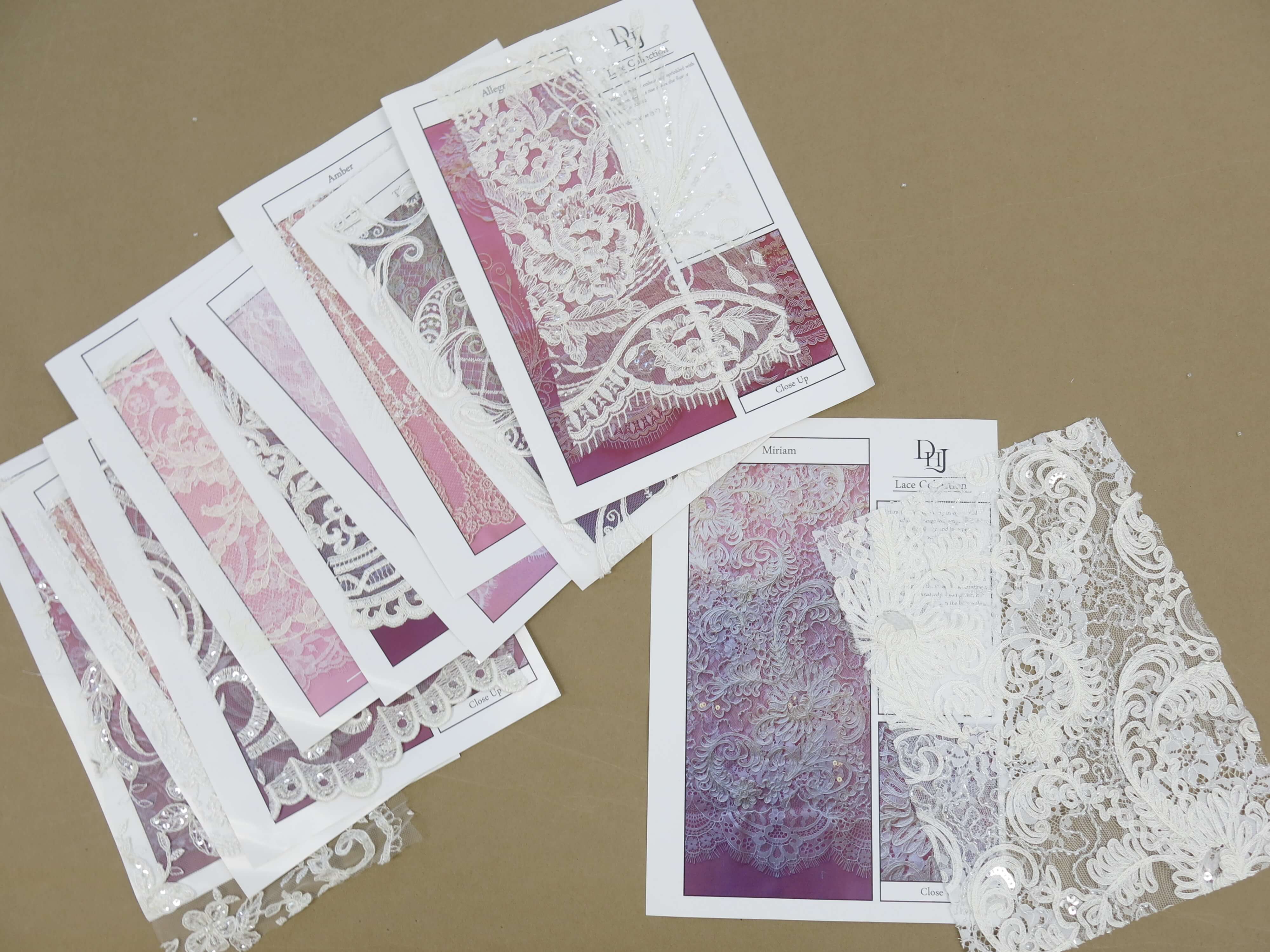 Many of the options Deborah chose had very large and distinctly bold or linear patterns that I knew would not look right when broken up by the bodice darts. But their ivory beaded and sequined lace called Miriam, was possibly the most gorgeous lace I'd ever seen and seemed absolutely perfect for our design.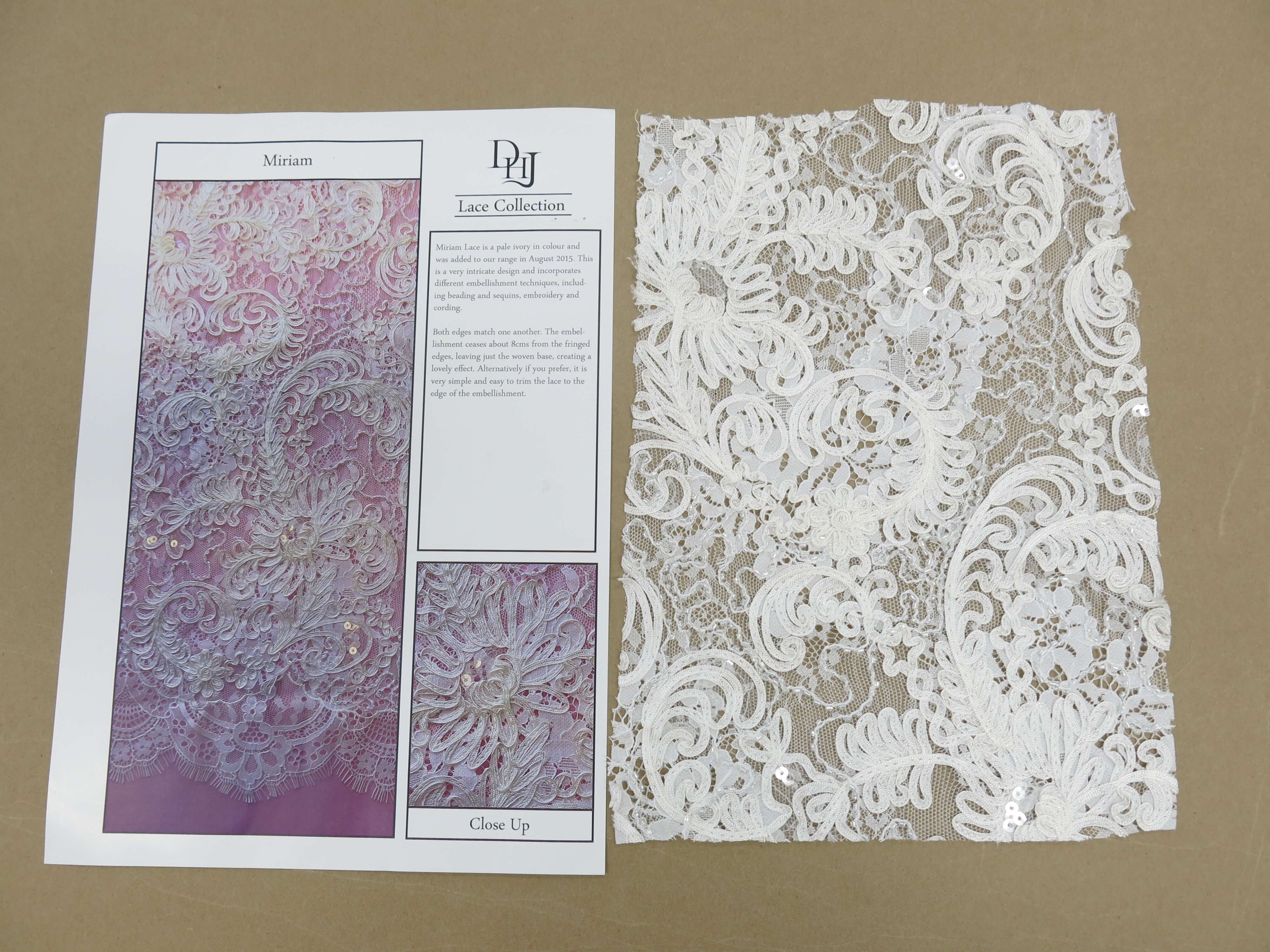 With the swatches draped over the mockup on the dress form, I was totally smitten with the silk/wool twill paired with the Miriam lace. These fabrics made my heart go pitter pat!
And Deborah agreed! HOORAY!!! Our fabrics search was over and everyone was THRILLED!
Preparing the Mockup
After placing my orders online and while waiting for the delicious fabrics to arrive, I began to prepare the mockup. My custom wedding dresses are almost always created using the couture technique of underlining. This is where you back your fancy fabric with another fabric, which offers lots of benefits.  (Learn more about underlining in my 3-part blog series with video or this condensed version I wrote for Seamwork Magazine.) Whenever possible, I love to reuse my mockup as my underlining fabric.
This means our 'fake' dress will actually be hidden inside the real dress!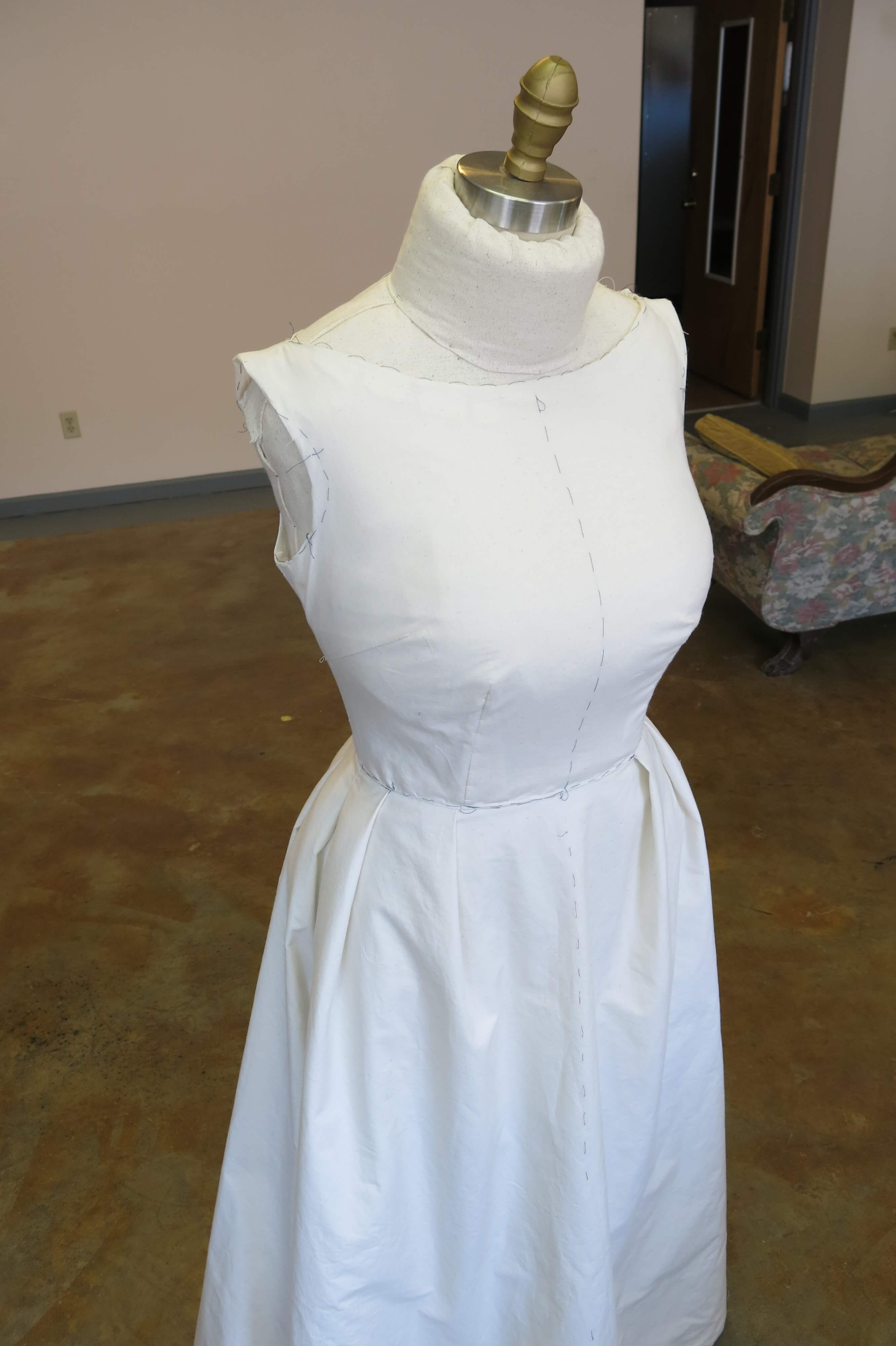 So I needed to take it apart! Watch me take Deborah's mockup completely apart in this video! Everything was basted by hand or machine, so it was a quick process (but not nearly as quick as this video suggests!)
You may notice that I don't use a seam ripper. I actually don't own one! This is not because I don't make mistakes, but because I prefer to use thread snips. I find this tool can do everything a seam ripper can do and more! Read more about my favorite multi-purpose tools in "Sew Like a Pro" which I wrote for Seamwork Magazine.
Once all the mockup pieces were disassembled, I pressed them flat and pinned them to the custom dress form. They'd hang here until it was time for underlining.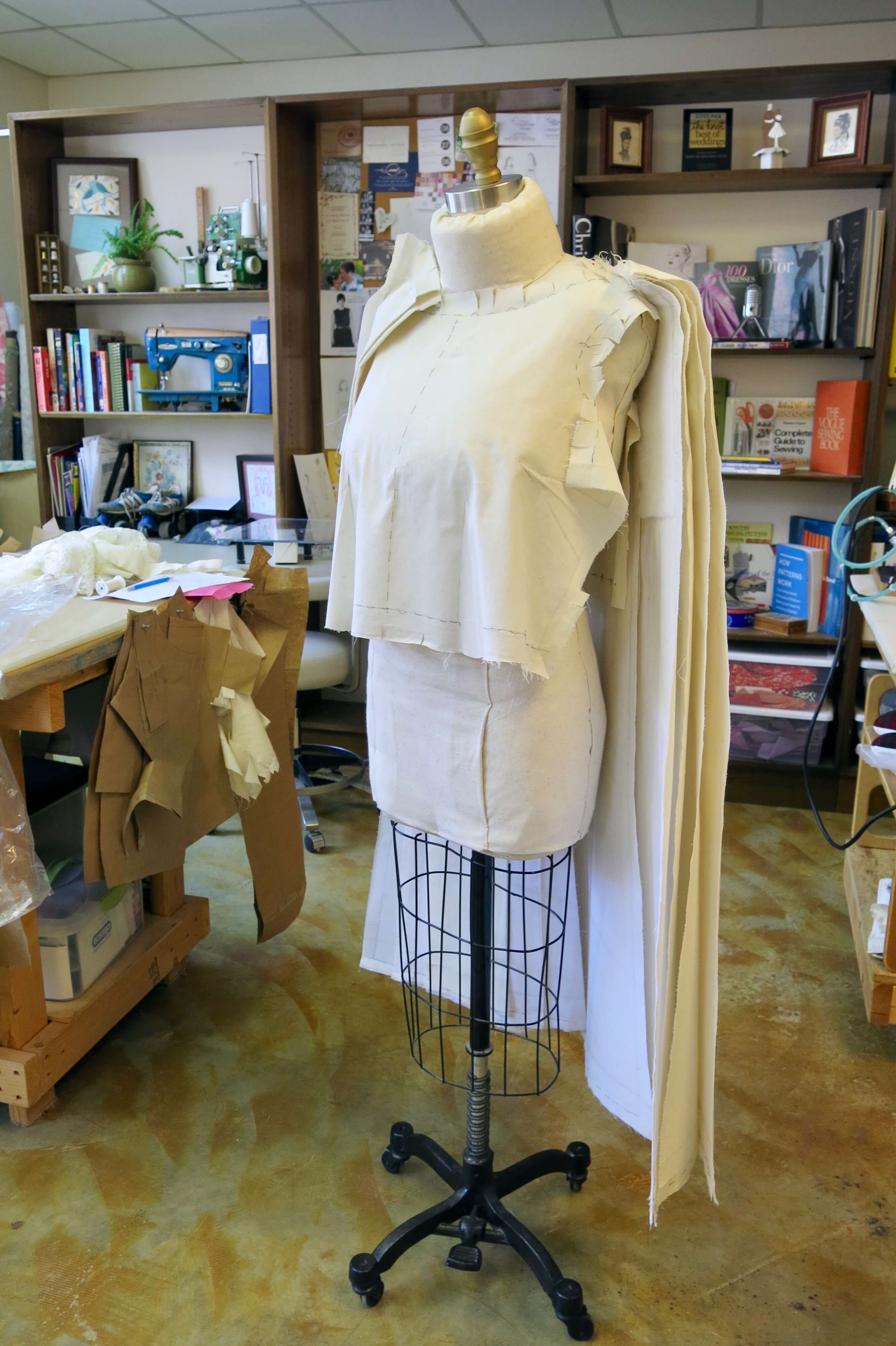 Preparing the Fabrics
The gorgeous fabrics eventually arrived (all folded up in boxes) and it was time to prep them for dressmaking!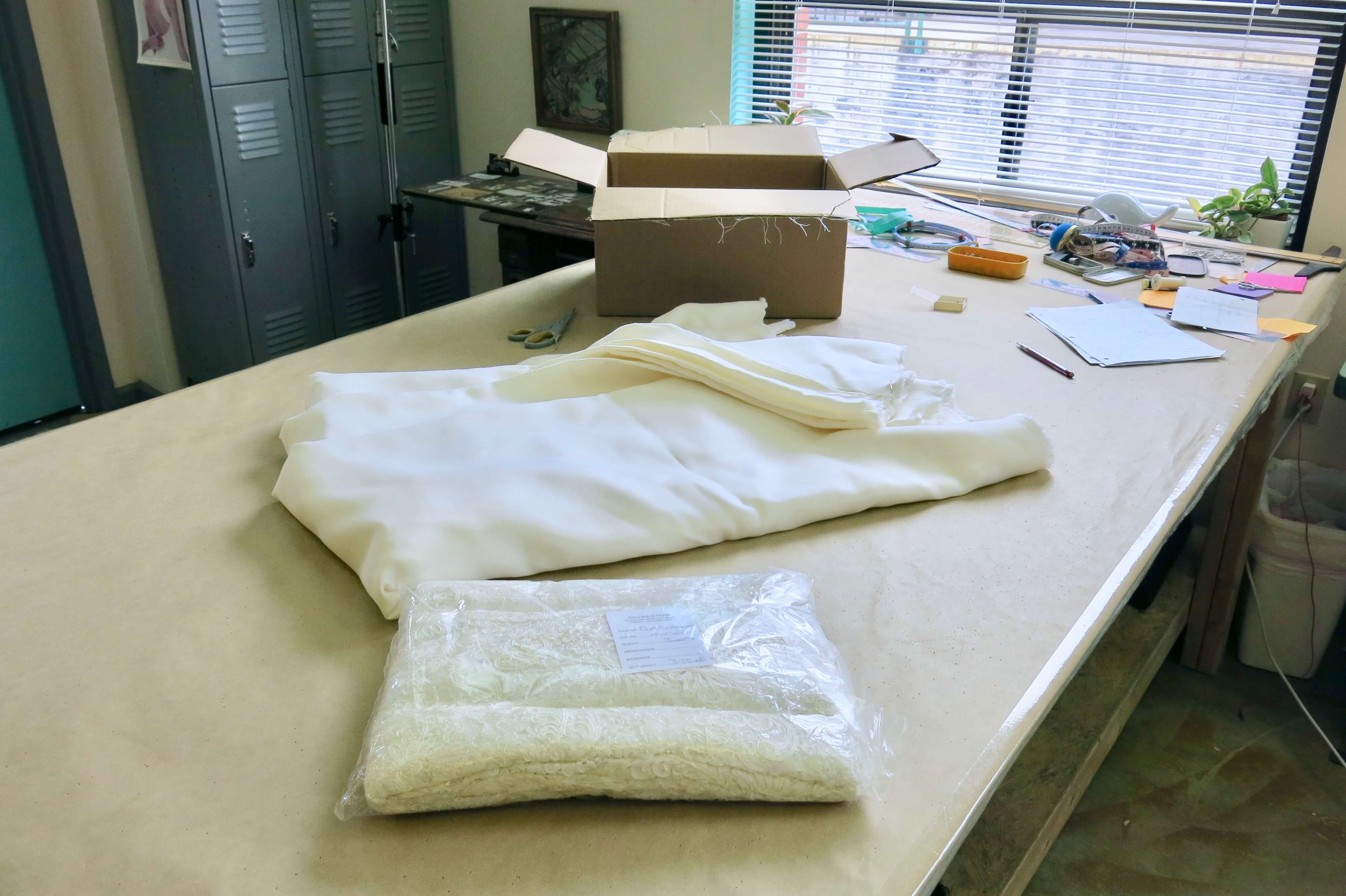 I always cut fabric on a single layer (I prefer the fabric never to be folded, if possible), so I set up my custom ironing table to press and steam them onto cardboard tubes.
I use a gravity feed iron (Amazon affiliate link) with the hoses/cords held up with a length of elastic. To take advantage of the entire table for the wide-width fabric, I moved the iron off the surface and onto a chair rigged with a smaller ironing board. I also put a mattress cover over the stuff stored under my table so that I had somewhere clean for the fabric yardage to rest as I pressed and rolled it up. You know I love custom and creatively making things work!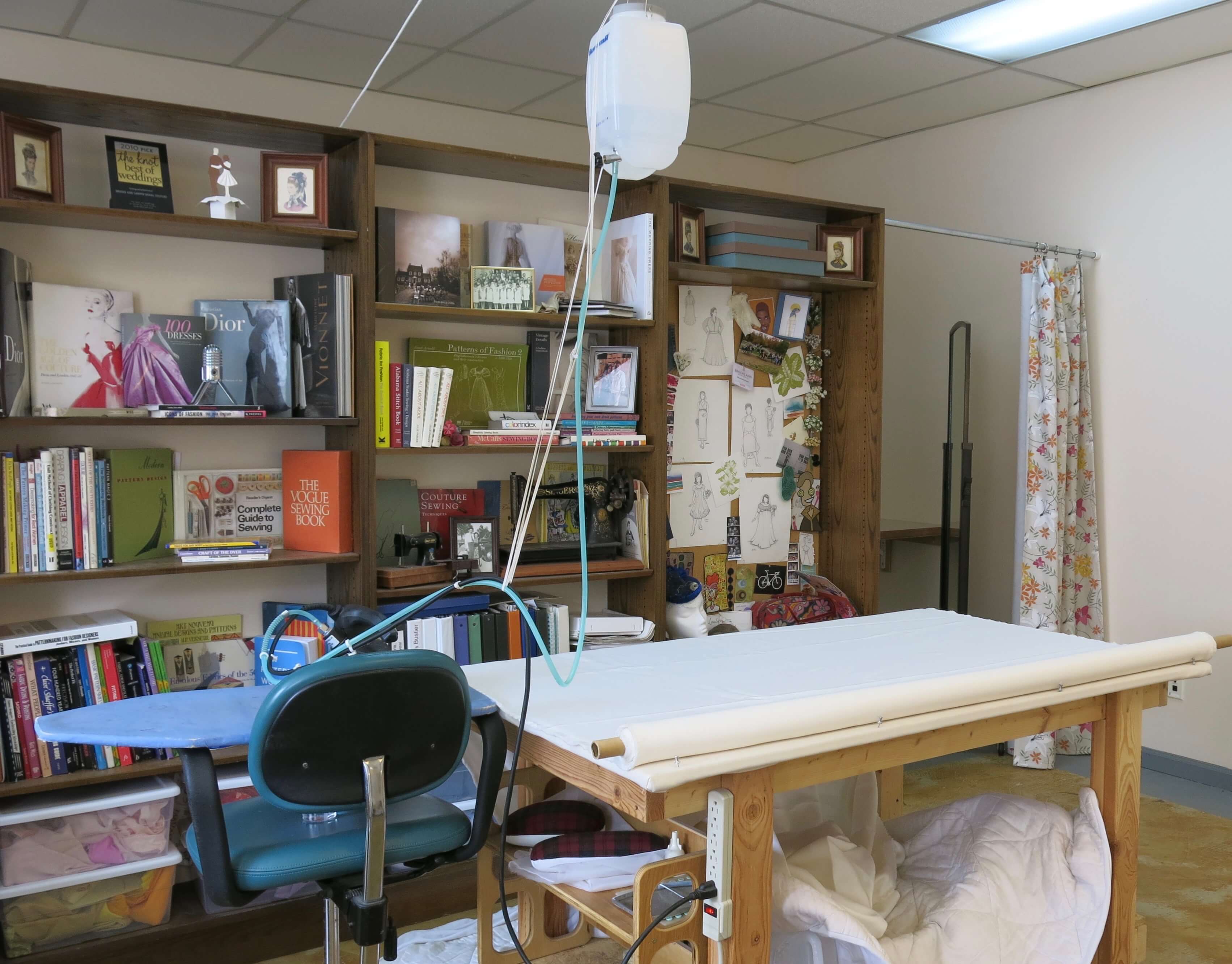 The silk/wool twill was so dreamy to handle! Using lots of steam while pressing the yardage flat onto a roll was my equivalent to "pre-washing/pre-shrinking" this fabric.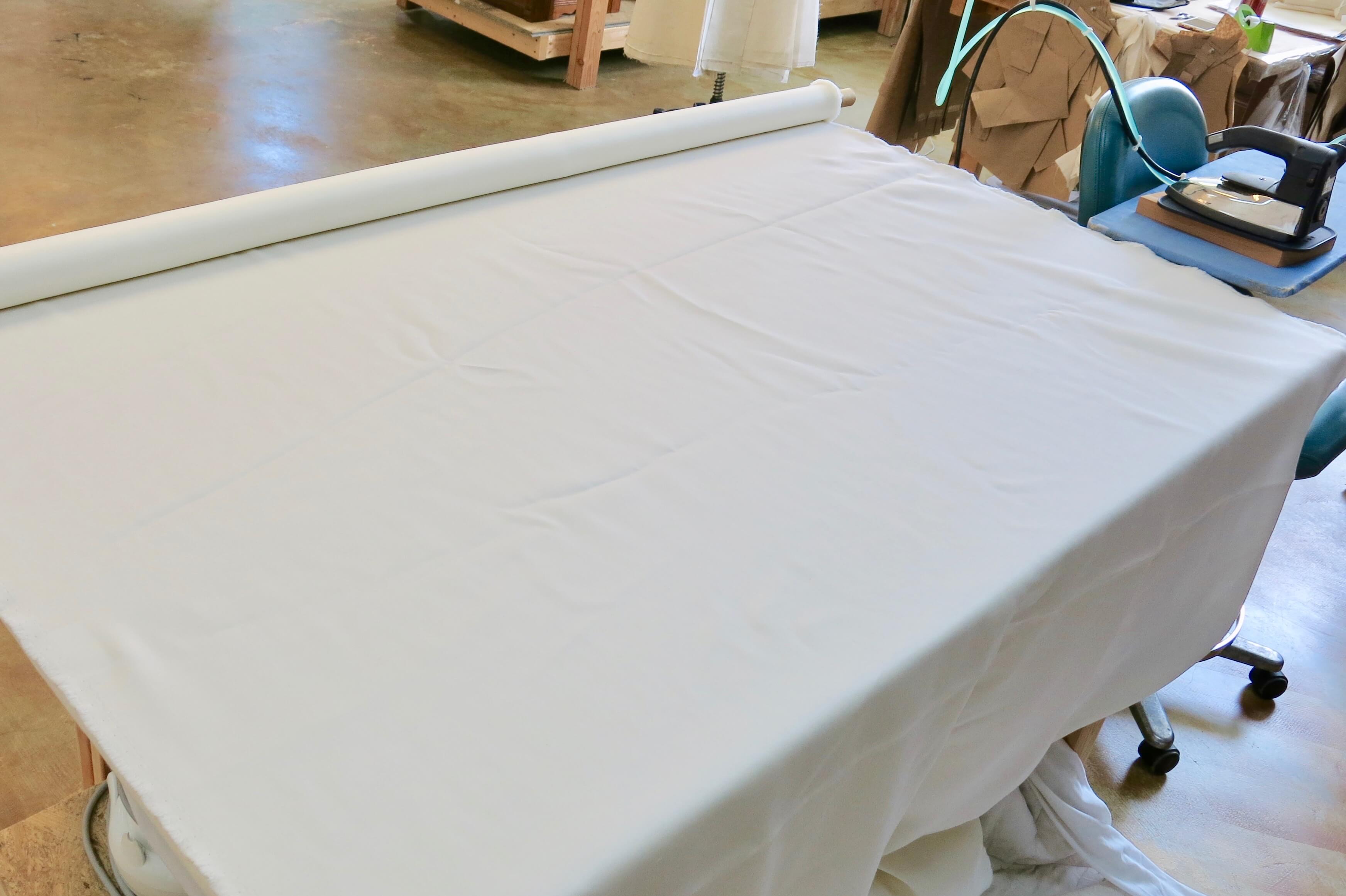 Though the lace didn't really need to be "pre-washed", I did give it some steam while rolling it up to remove the shipping wrinkles. This lace about took my breath away with its gorgeousness!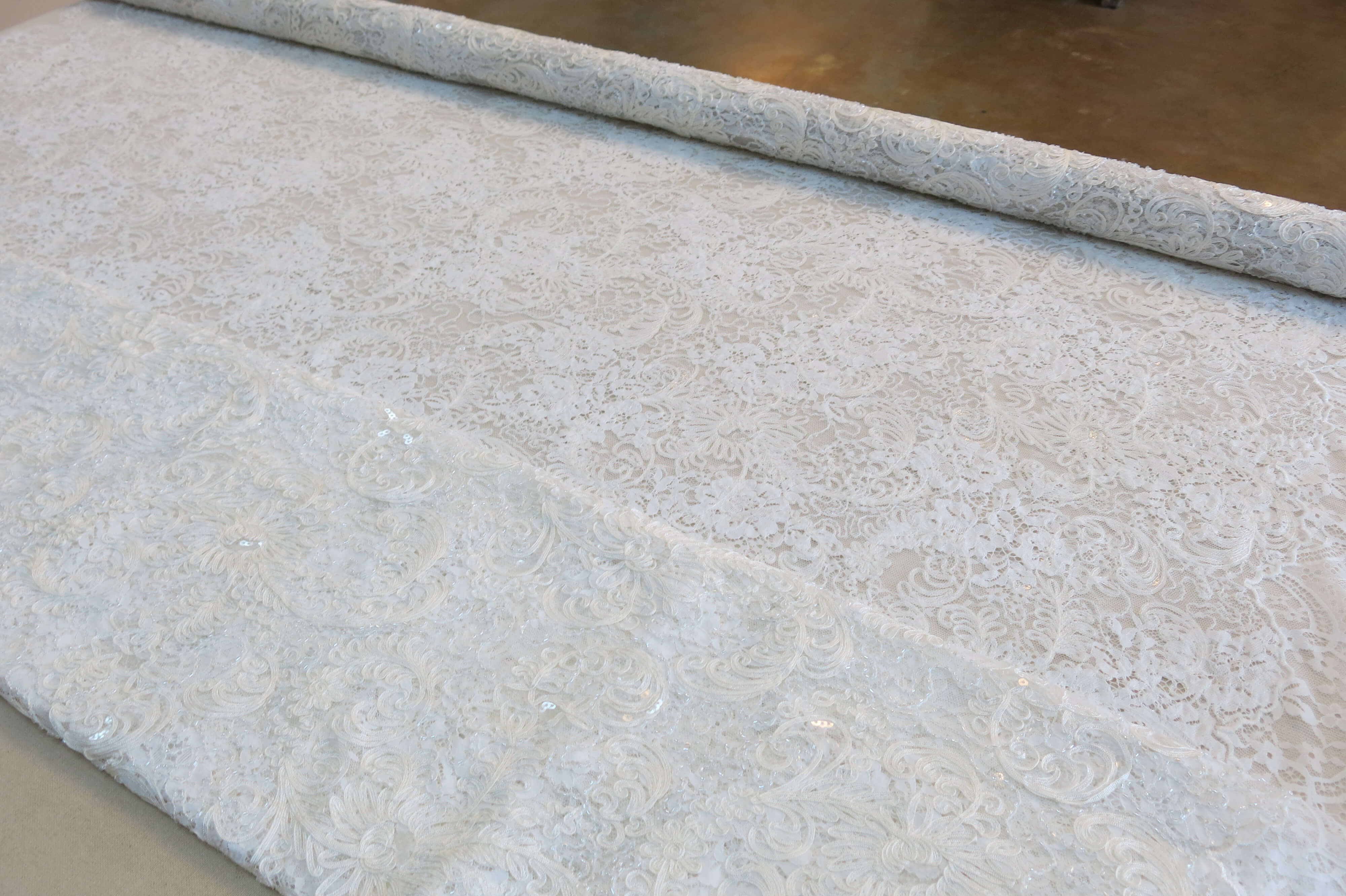 Our scrumptious choices were finally prepped and ready to roll!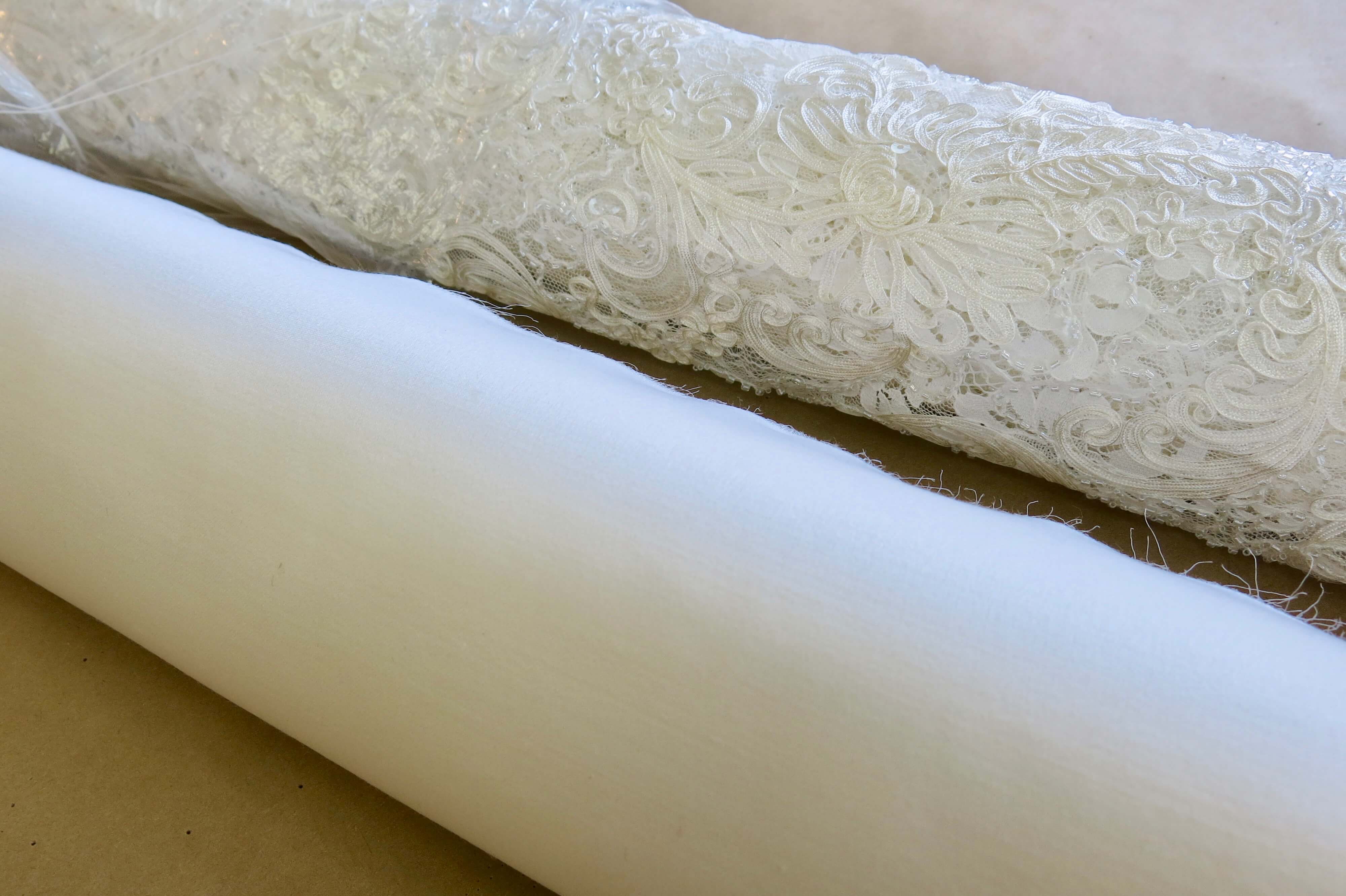 Prepping the Studio
With the fabric rolled and the mockup disassembled, I was almost ready to start dressmaking but the studio had become a bit of a mess…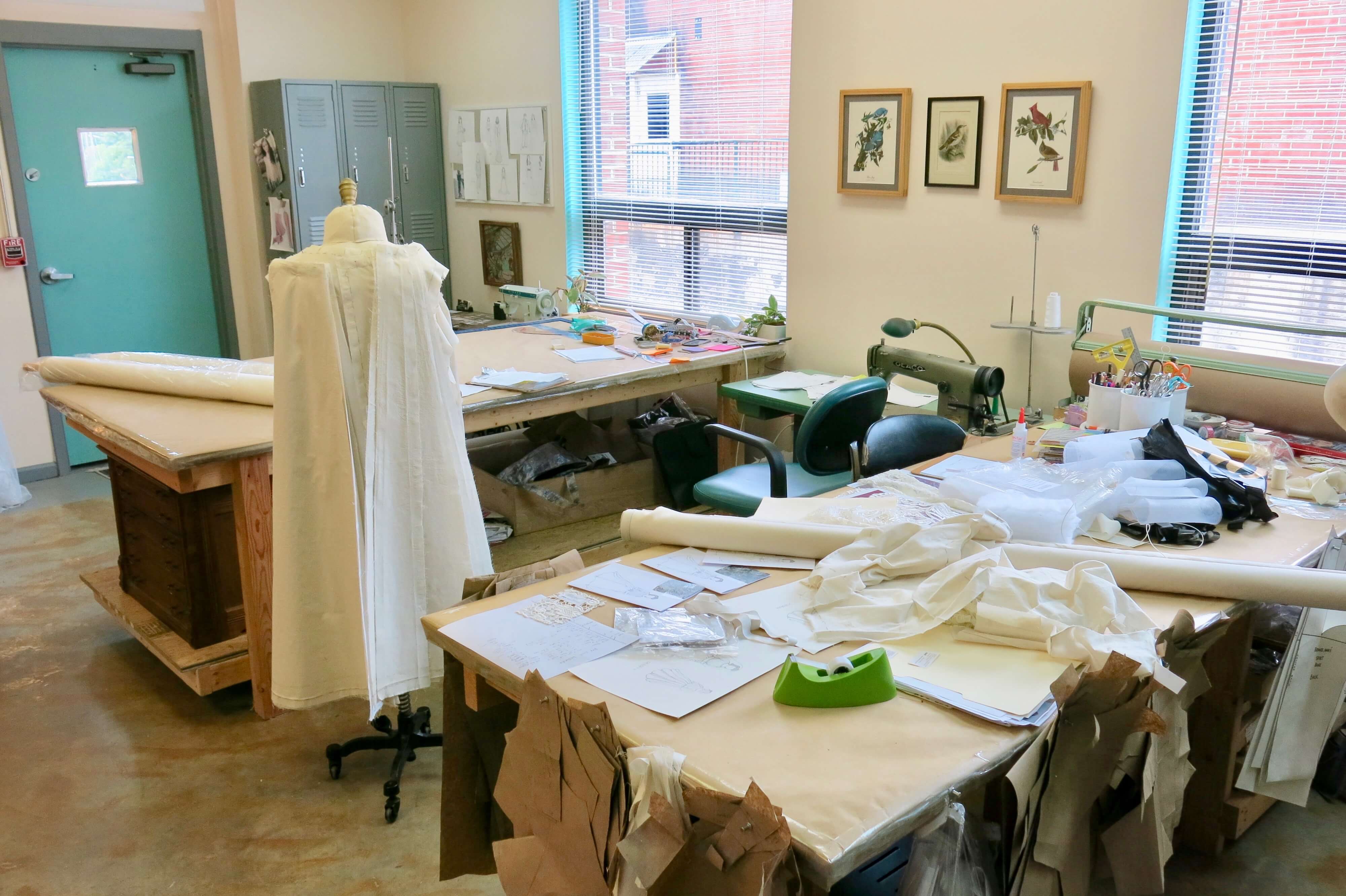 After cleaning up the clutter, I was inspired to add a fresh layer of paper to the top of my custom cutting table and my handsome husband Charles added a fresh canvas cover to my custom ironing table. Sew fresh!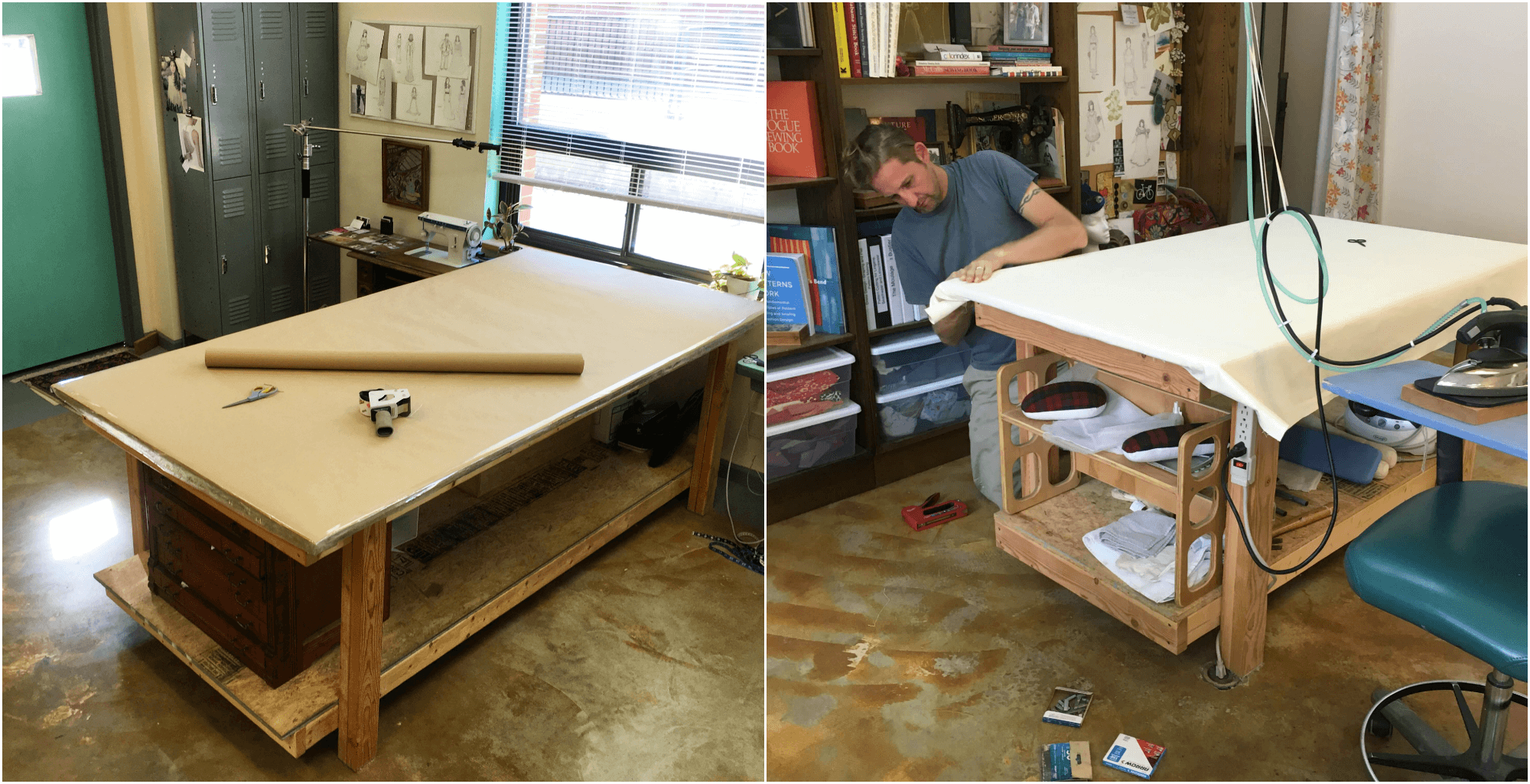 My studio and my fabrics were finally ready for wedding dressmaking (and so was I!)
Have you worked with fabrics that make your heart flutter and take your breath away (in a good way)?
NEXT POST: Cutting and underlining!