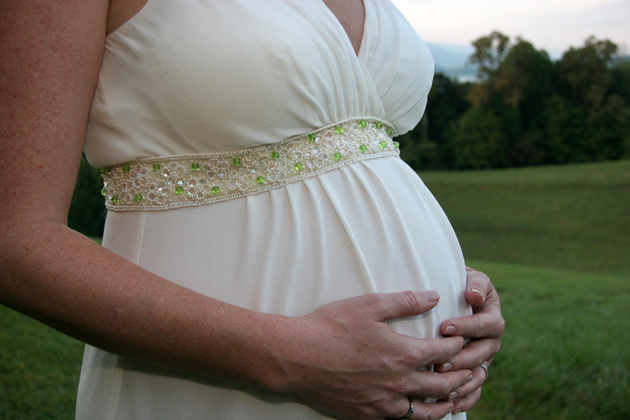 As you may remember from my first "retrospective blog post" last week, the first real wedding dress that I ever made was for my (now) husband Charles's sister Katie.  Well, Charles has more than one sister!  Not long after Katie's wedding, his sister Melissa announced her engagement.  I had such a great experience working with Katie on her custom wedding dress, that I offered Melissa a custom dress as well!
The year Melissa got married (2007) was quite a year for her!  She bought a house, got a puppy, defended her doctoral dissertation, got engaged, and got pregnant!  This was all part of her plan and it worked out exactly how she envisioned it.  This was no unplanned-pregnancy-shotgun wedding!
Melissa was eager to start a family and was hoping to be pregnant on her wedding day.   When I heard about this, I was also excited at the possibility.  I thought it would be an interesting challenge to work on a maternity wedding dress,  a great reason for a bride to go custom.
Melissa was 6 months pregnant on her wedding day!  Throughout the dressmaking process, her body (and my patterns) were changing.  We designed the dress with this in mind.  She did not want to hide the fact that she was pregnant, but instead celebrate it!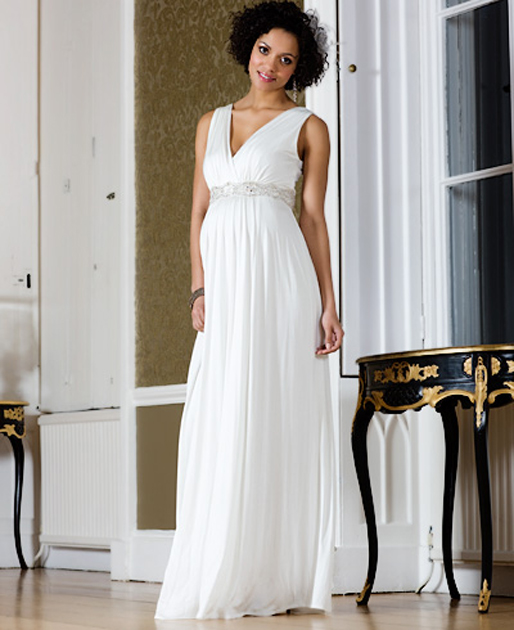 Melissa wanted a dress that was soft, flowy, and romantic.  She had tried on a few dresses in a store to see what flattered her.  She really liked the look of the dress above, but she didn't want it to be floor length.  She liked the idea of soft silk layers, with the top layer being sheer and a bit longer than the inner layer.
I drew this sketch of Melissa's custom maternity wedding dress: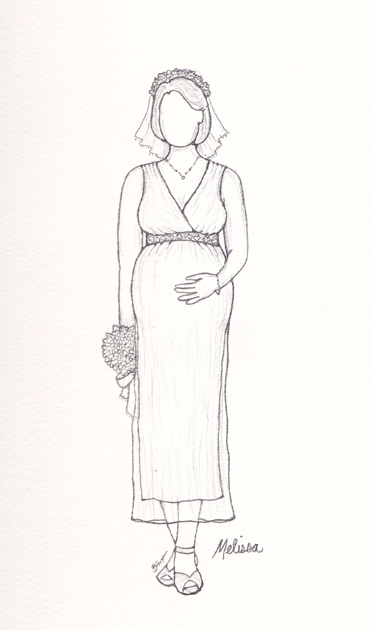 She loved it!  I took her measurements and made a custom dress form.  I continued to take her measurements and add padding where Melissa's body grew throughout our process!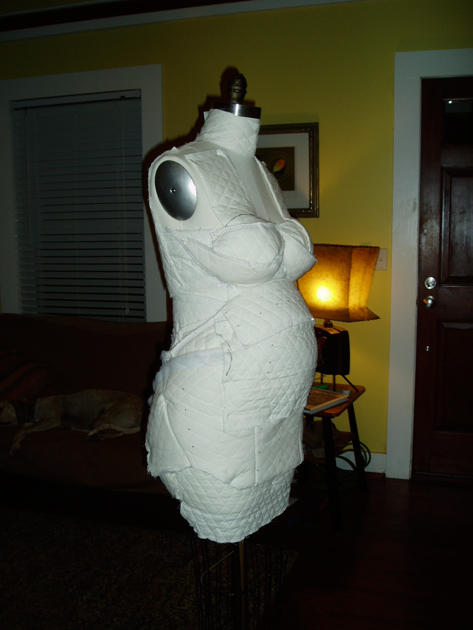 We had our mockup/muslin fitting at my home, which, you may remember from my previous post, was in a state of renovation.  Had I known that I would one day be using these photos in a blog post (I'm not sure I knew much at all about blogging in 2007!), I probably would have had her stand somewhere other than in front of the dog bowls!
I was able to get the mockup dress close enough to move into the real fabric, knowing that further alterations to the pattern would continue, probably up until the wedding day itself.
Here's a shot I found from Melissa's first fitting of her dress in the real fabrics: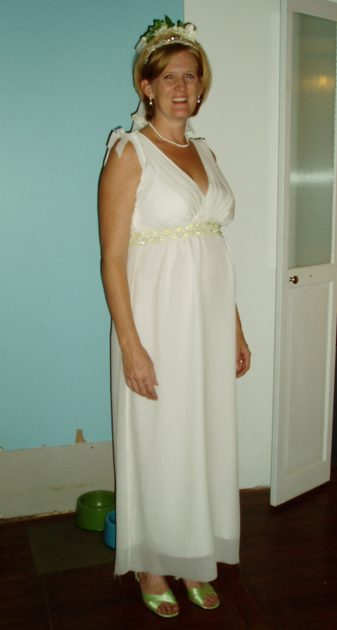 Not bad!
The week before Melissa's wedding, I was able to finish the dress with the exception of the back hook closures.  Those I waited to set until the day of the wedding to ensure a perfect fit!
Here I am finishing up the closure and helping Melissa get dressed for the big day!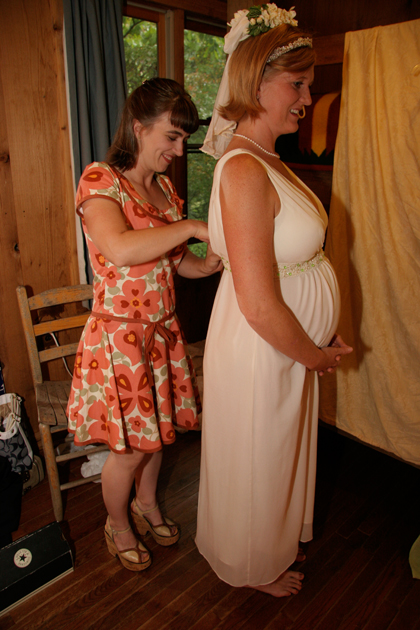 A beautiful bride perfectly dressed and heading to her wedding!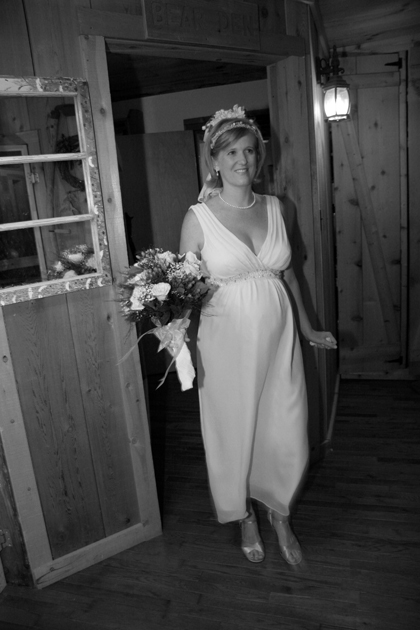 The whole look was just perfect for their mountaintop ceremony!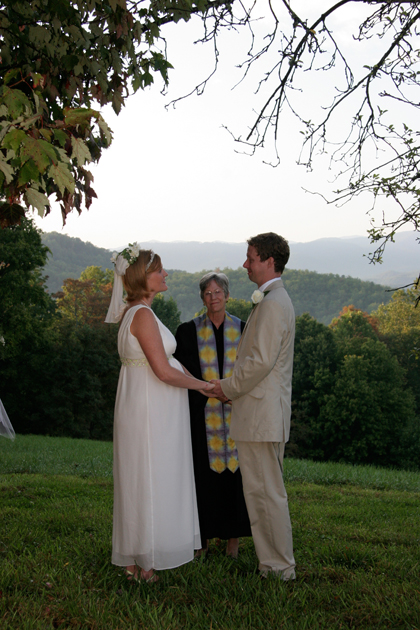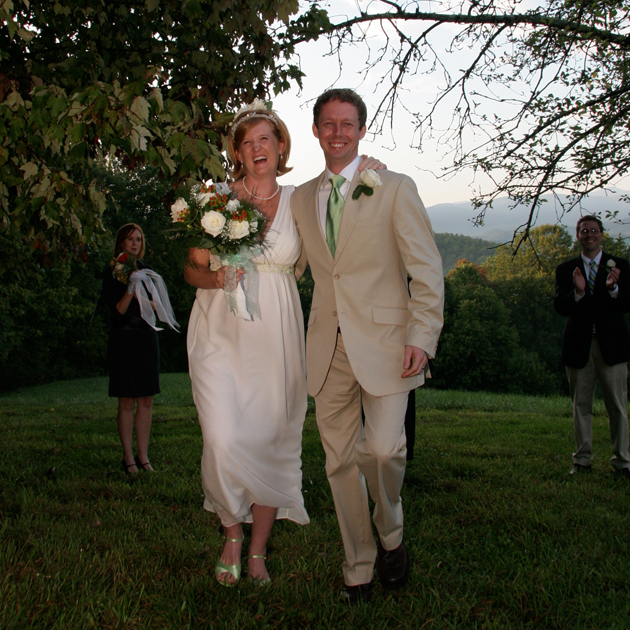 Melissa's dress was made of an ivory silk crepe de chine with a soft layer of textured ivory silk chiffon on top.  The beading at the waistline was a purchased piece of trim, but I hand beaded the green accent beads to give her a little color and to match her cute shoes.  The silk tulle veil was also handmade.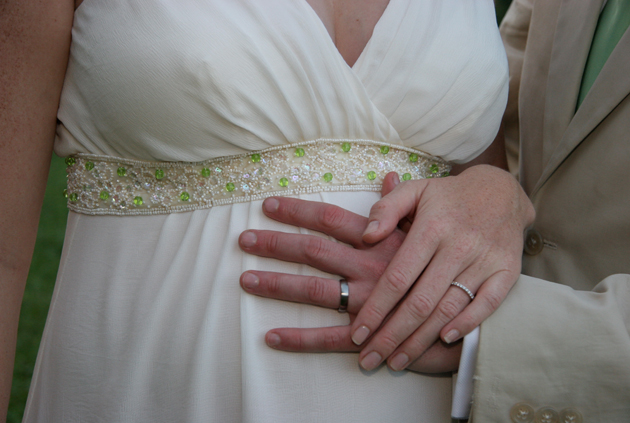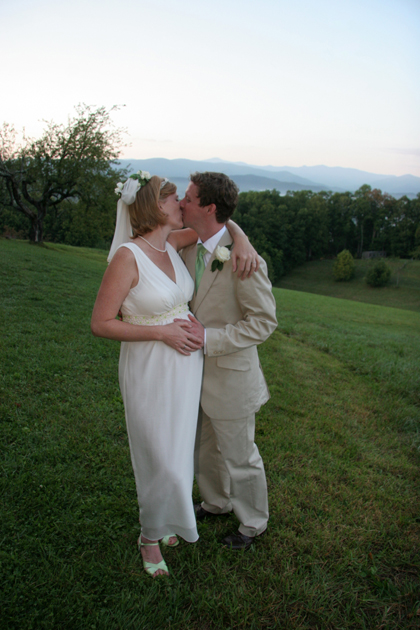 From Melissa- "I wanted a wedding dress that showed off my blossoming baby-belly and fit the mood of our celebration – a beautiful mountain setting, the people we hold dear, and the joy of new creations.
We had multiple fittings, and Brooks Ann was infinitely patient as my body changed between every one!  On my wedding day she was there by my side to make final tweaks, put my headpiece on straight, and send me on my way feeling sensual and full of life!"
A perfect dress for a perfect day!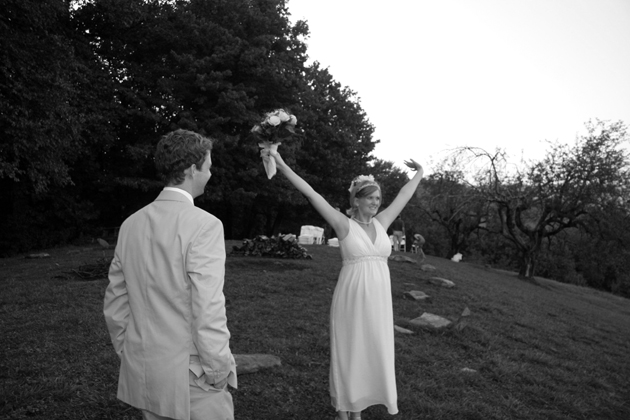 Melissa gave birth to a happy healthy little boy just a few short months later.  Now that little boy has a little sister!  They are such a beautiful happy family that I am delighted to now be related to.
By the time of Melissa's wedding, Charles (her brother) and I were engaged!  Next post, I'll feature the making of my own wedding dress.