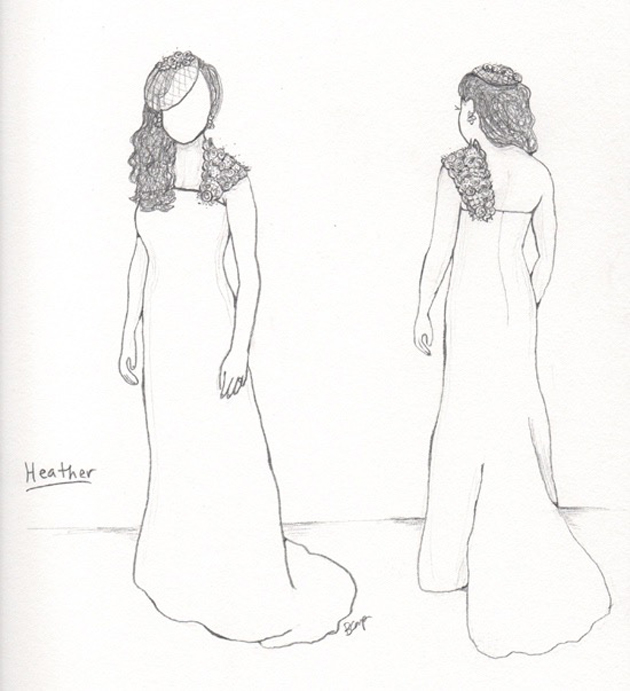 As I mentioned in my previous post, a beautiful bride named Heather hired me to create unique accessory statement pieces to add personality to her plain thrift store dress. After learning more about her and her ideas and inspirations, I was able to come up with the sketch above! Pretty cool, huh?
Heather's Asymmetrical Shoulder Piece and Veilette
I proposed to create a textured hand crafted one-of-a-kind asymmetrical shoulder accessory featuring soft dark blue tulle flowers with pearly centers and green leaves, ribbon flowers, striped feathers, dotted feathers, pearls, and various white laces.
The veilette would be made of white english net and feature some of the same flowers, feathers, pearls, and laces as the shoulder accessory.
Below you'll see some of the inspirations that led me to the sketch. We also collected inspirations on a Pinterest board called "For Heather".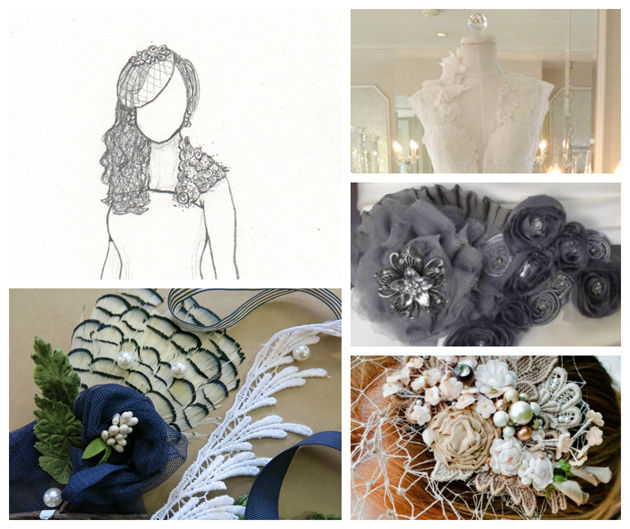 I shared the sketch and inspirations with Heather via her Design Proposal Webpage.
Heather's response: "LOVE! Yes yes yes! These are beautiful Brooks Ann!!! I'm very excited about what you have created and I too believe they will make a memorable, romantic statement for the day."
Making the Mockups
Once I had the go-ahead from Heather, I was able to start making some mockups. Mockups are test versions of the idea to learn how it will all fit/look/work together once it is handcrafted into the actual final product. I began playing around with the feathers, trims, and fabrics we had chosen together, pinning them onto a dress form…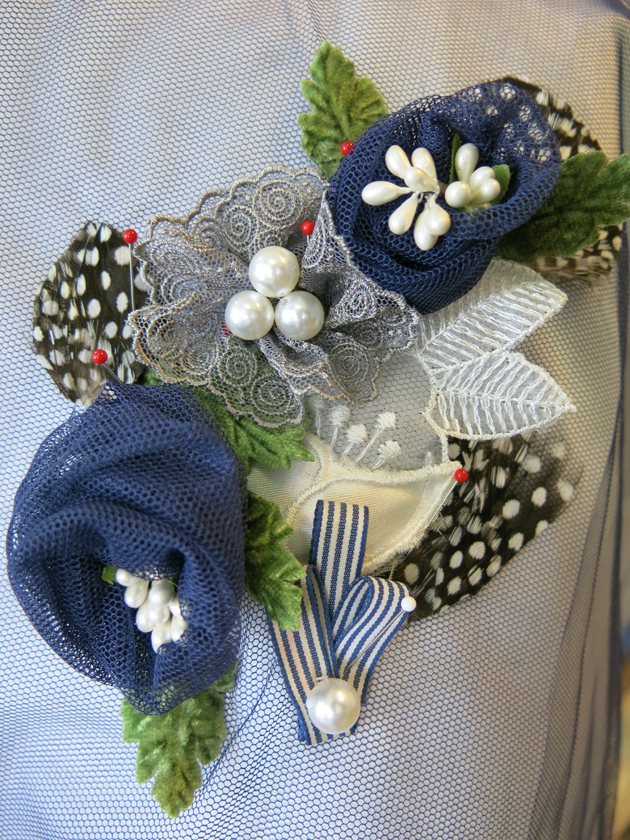 I kept playing around and pinning until I came up with something that might be along the lines of what Heather and I dreamed up together. I wouldn't stitch this up for her to try on, but I simply pinned inspirations to a dress form for her to decide what she likes/doesn't like when she arrives at her first fitting.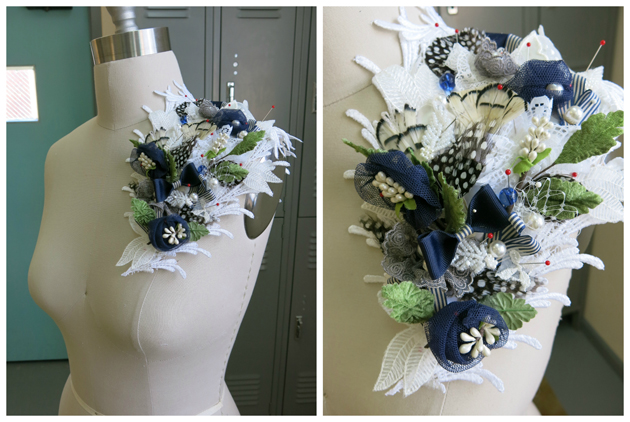 The Mockup Fitting
When Heather arrived for her fitting, we refined the ideas in the pinned mockup above, and she tried on a plain base shape. I was able to adjust this shape to fit her body, so that once I create the final statement piece it will fit perfectly.
We also tried on a test version of her veilette to make sure we liked the scale and how it would fit on her head.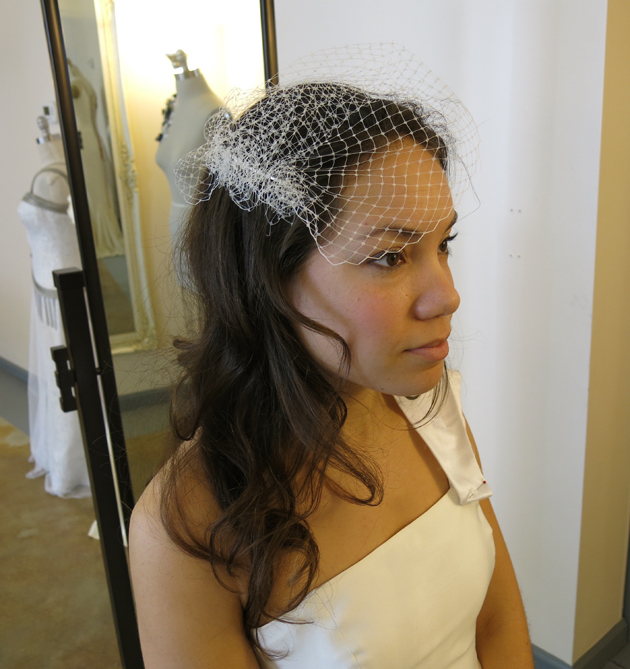 We even started toying around with the idea of adding another accessory: a belt! We loved all the accessories close to her beautiful face and wondered if adding a belt might tie the whole look together even better.
I had the belt from Leah's wedding dress nearby in my studio, so we tried it on over Heather's dress, just to get an ideal of scale and proportion.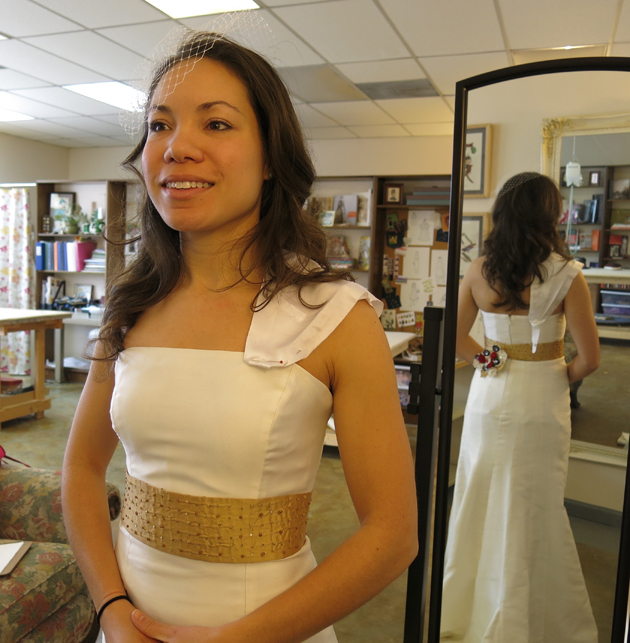 We both really loved it and moved forward with adding a custom belt to her design!
Adding a custom belt to Heather's ensemble
After our fitting, I went to Mulberry Silks & Fine Fabrics to search for belt fabric. I would also end up using our chosen fabric as the base for the shoulder piece. I took one of the flowers I had made with me to the fabric store for color inspiration.
There were quite a few fabrics that I liked, but only one that I loved. I sent some options to Heather and we both agreed on a beautiful navy cotton brocade!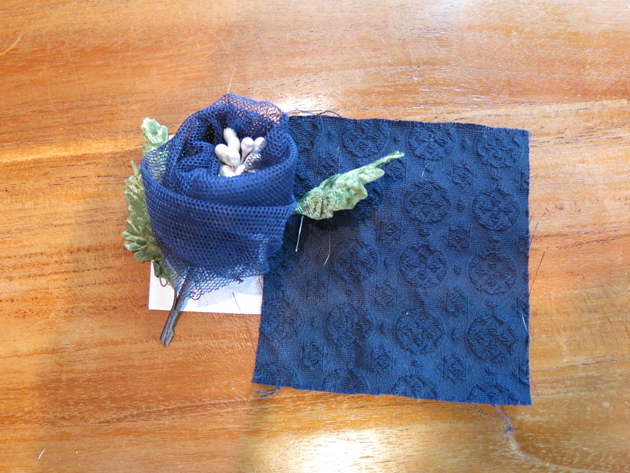 The sketch was revised and we were well on our way to beautiful handcrafted custom accessories that would turn her thrift store dress into something that would be turning heads!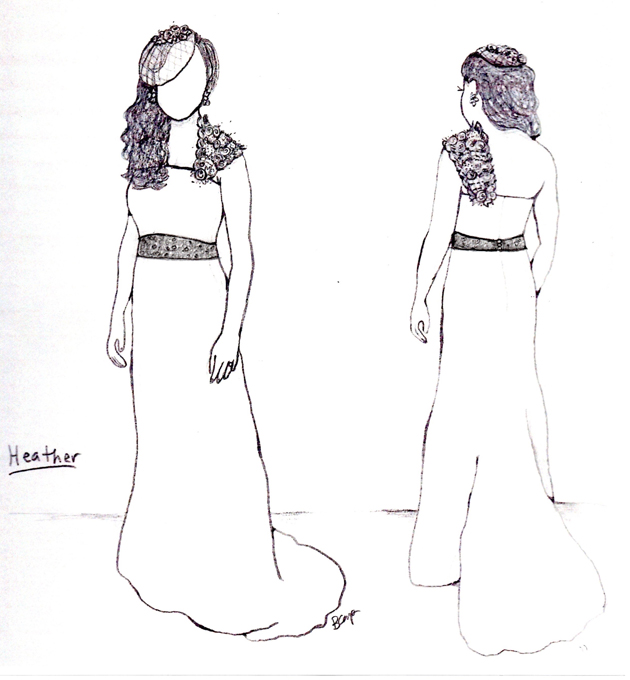 NEXT POST: I'll begin sharing the behind-the-scenes process of how I crafted these custom accessories!